What do JFK, Jackie O., William Randolph Hearst, Beyonce, Francis Ford Coppola, and Whitney Houston have in common, besides incredible fame and fortune?
They're all tied, in one way or another, to the house at 1011 N. Beverly Drive in California.
Also known as the Beverly House (or the Godfather house, or the Bodyguard house, take your pick), it's long been one of the most expensive houses for sale in Beverly Hills, having last been listed in 2018 for $135 million, down from its ambitious initial ask of $195 million.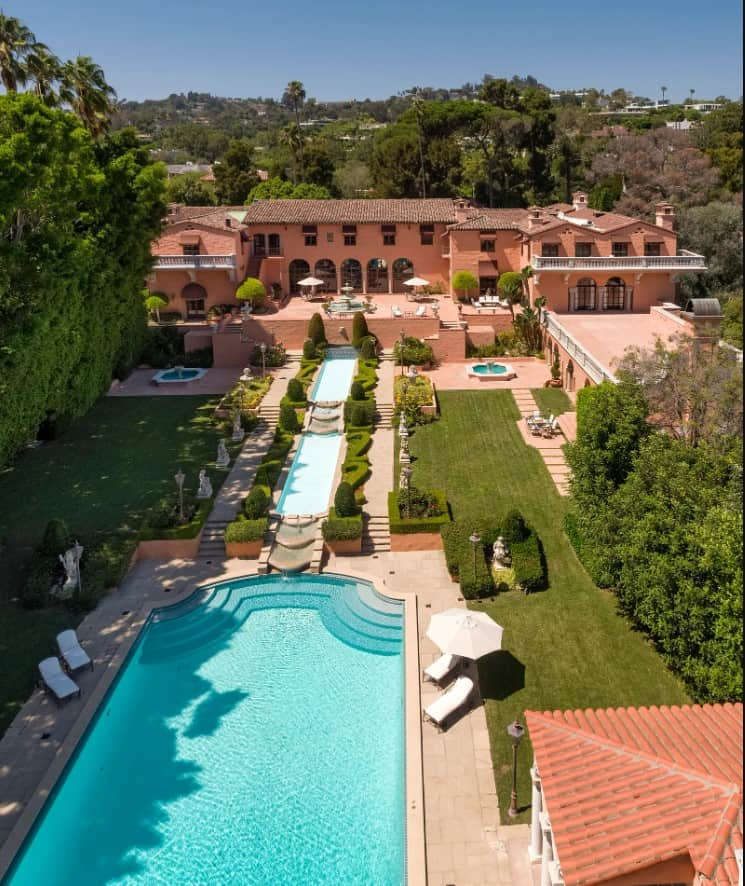 But despite its countless attributes and storied history, the property known simply as the Beverly House failed to attract a buyer, and was auctioned off in 2021 with a $63.1 million winning bid.
So, you're probably wondering, 'what makes this house so expensive?'
As it turns out, the Beverly House has an illustrious history of hosting famous individuals and serving as filming grounds for some of the most memorable Hollywood movies.
The history of the Beverly House – and its glamorous Hollywood roles
The Beverly House, as we call it today, was designed by Gordon Kaufmann and built in 1926 for banking executive Milton Getz.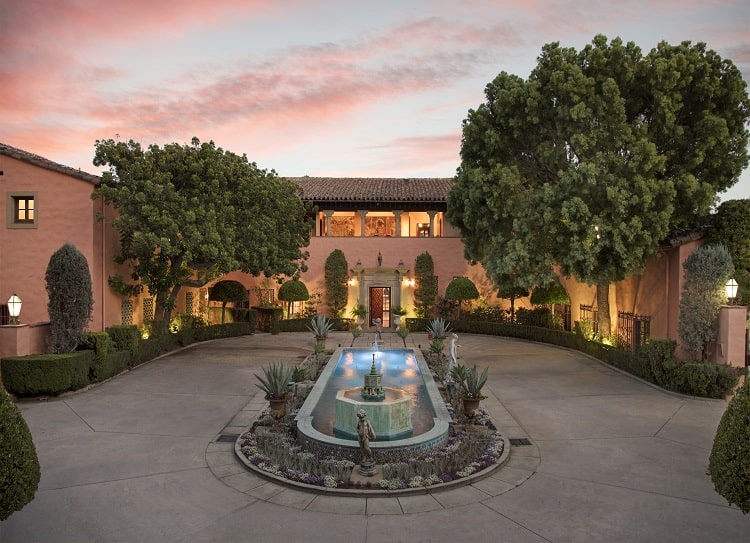 In 1946, it found a new owner in actress Marion Davies, who bought it for her lover, American media mogul William Randolph Hearst, a time when the sprawling property came to be known as the Hearst estate.
The businessman, who never divorced his wife, Millicent Hearst, lived at the estate with Marion until his death in 1951.
Their love affair, along with the wealth that surrounded it, was highly publicized at the time, with Orson Wells' iconic Citizen Kane — recognized as the best movie ever made — being inspired by Hearst and Davies' story.
Most notably, in 1953, the Beverly House was one of the destinations for JFK and Jackie Kennedy's honeymoon, and later, it even served as Kennedy's West Coast presidential election headquarters.
But the estate's interesting history doesn't end here.
Remember that scene in The Godfather when Hollywood producer Jack Woltz, after having crossed the Corleones, wakes up with a severed horse head in his bed?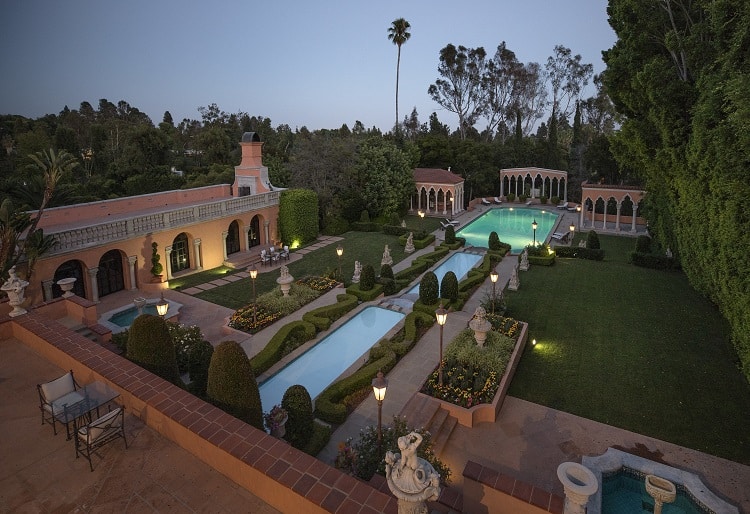 The infamous scene was allegedly filmed at the house at 1011 N. Beverly Drive, although the property's previous owner suggests that might not be true after all.
True or not, the estate has been often referred to as 'the Godfather house' because of its alleged appearance in one of the most famous movies of all time.
And while it may be up for debate whether 1011 N. Beverly Drive is indeed the Godfather house, one thing that can't be contested is that the property is The Bodyguard house.
Prominent scenes from The Bodyguard, the wildly popular 1992 movie starring Whitney Houston and Kevin Costner, were filmed on-site at the 1011 N. Beverly Drive house.
The pool and outdoor area in particular have been heavily featured in the 1990s box office hit.
In recent years, the estate's biggest claim to fame — other than being one of the most expensive homes for sale in the area — was its feature in Beyoncé's latest visual album, Black Is King.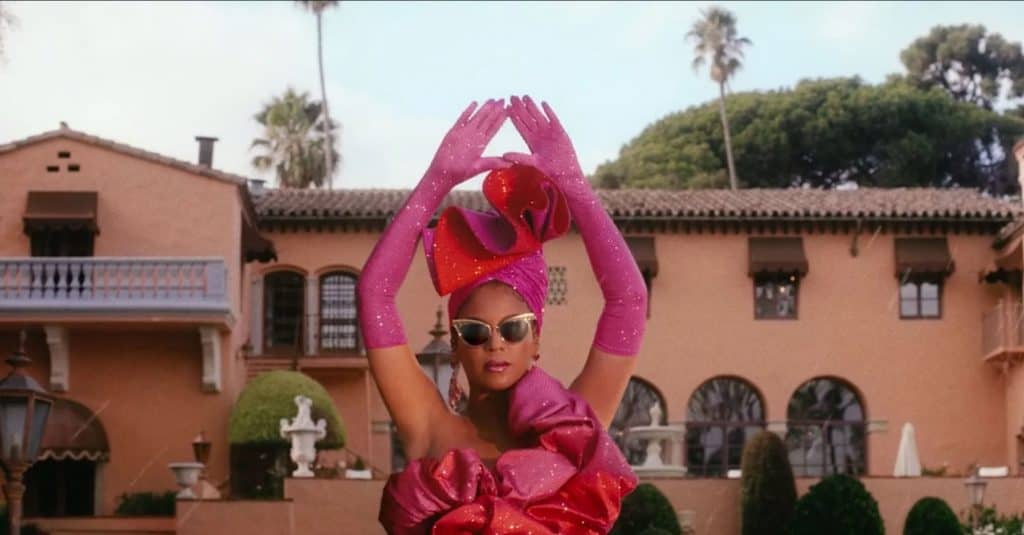 Queen Bee shot a number of scenes in the Spanish-style mansion, which served as the perfect backdrop for the colorful visual feast thanks to its light pink hue and pops of green foliage.
1011 N. Beverly Drive's many attempts at finding a new owner
You would think that buyers would line up to snag such a prestigious estate, but the Beverly House was a tough sell, despite its fame.
It was put up for sale in 2007 with an asking price of $165 million, a pretty steep price at the time. After a few years on the market, it was listed again in 2010, with a 'discounted price' of $95 million.
The Beverly House hit the market again in 2016, asking a whopping $195 million, but it failed to find a buyer. By 2018, it made the news rounds again, being listed with a price tag of $135 million.
Prospective buyers were long put off by the steep asking price. Besides, there probably isn't a lot of demand for 19-bedroom, 29-bathroom homes, not even in ritzy Beverly Hills.
But the estate's long wait for a new owner came to an end in 2021, when the property hit the auction block.
Who owns the Beverly House now?
Billionaire investor Nicolas Berggruen is the newest owner of the former Hearst Estate, after paying $63.1 million for the property at auction in 2021.
Prior to that, the Beverly House had been owned by financier and attorney Leonard M. Ross for more than 40 years.
Ross declared bankruptcy in 2010, which might explain why the house was listed for 'just' $95 million that year, however, he didn't have any luck finding a buyer.
Even prior to the auction, Ross openly admitted that he was aware that there aren't a lot of buyers out there interested in a property of this size, so he'd be willing to sell just a percentage of the home, if needed.
That's likely why he was also open to renting out the Beverly House for a monthly rate of $600,000 to $900,000, or $20,000 to $30,000 a day.
A closer look at the sprawling estate with 19 bedrooms and 29 bathrooms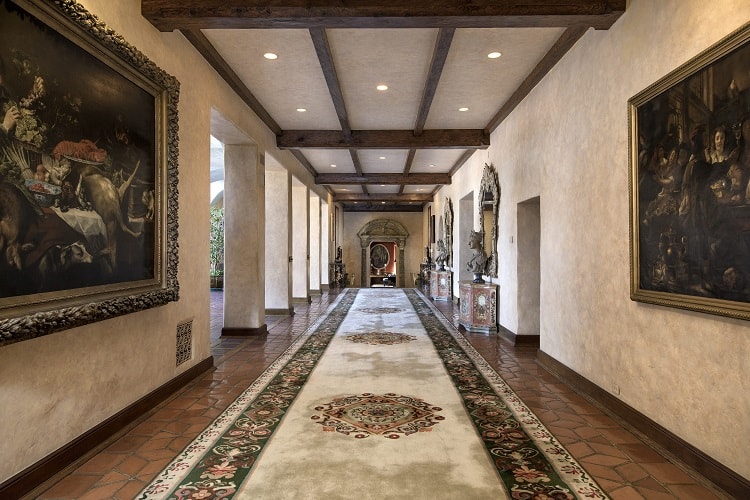 The Beverly House, or the Hearst estate, as some still call it, is spread across 3.5 acres of land, on a 153,692-square-foot lot.
It features 19 bedrooms and a whopping 29 full bathrooms, as well as a jaw-dropping wood-paneled library, a covered ballroom that can accommodate more than 1,000 guests, a billiards room, and a tiled formal dining room that can seat up to 400 people.
Other features include a massive courtyard and garden, gated entry, a hot tub/spa, swimming pool, a wine cellar, a bar, a tennis court, terrace and balconies.
Outside, in the expansive gardens, there are Venetian columns, waterfalls, a projection room, and even a nightclub.
Leonard Ross further added to the dazzling array of fabulous amenities by creating his very own Art Deco-style lounge modeled after 'Touch,' Hugh Hefner's former Beverly Hills club.
Ross reportedly purchased the doors of the club when it closed, doors that were commissioned by Hefner himself, along with the etched glass and the bar.
The billiards room is also one of a kind, featuring herringbone parquet floors, a hand-carved stone fireplace mantle, and an intricate ceiling that's identical to one of the ceilings at Hearst Castle.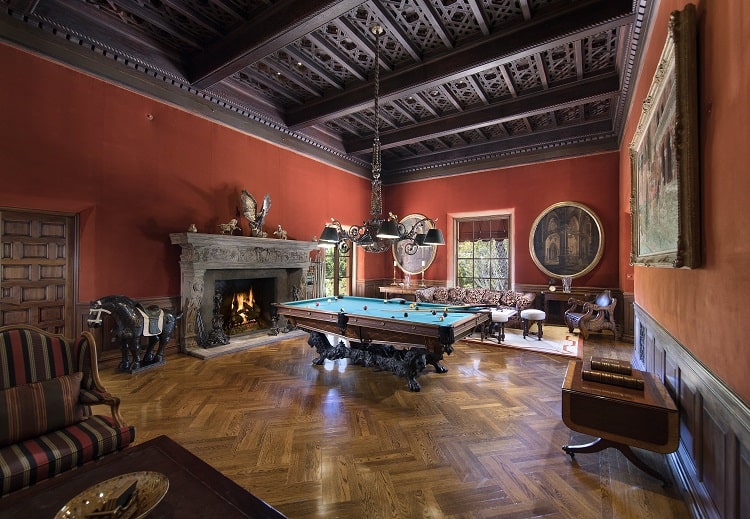 All of this within just three blocks from the Beverly Hills Hotel and the bustling Sunset Boulevard.
The property on Beverly Drive is known by many names: the Beverly House, the Godfather house, the Kennedy estate, the William Randolph Hearst house, or 'that gigantic thing that everyone always talks about but that nobody wants to buy.'
Even so, we're happy to see that the house proved naysayers wrong and that a new owner took the reigns at 1011 N. Beverly Drive.
If you'd like to take a closer look at this iconic estate, you can take a short tour of the house by watching the video below:
More iconic homes
The Gigantic Manor that Aaron Spelling Built
Jackie O. Turned a Sheep Farm into her Dream Retreat on Martha's Vineyard; It Now Costs $65M
"Neverland" No More! The Sycamore Valley Ranch is Much More than Michael Jackson's Former Home
Step Inside Bing Crosby's Rancho Mirage Estate that Once Welcomed JFK and Marilyn Monroe