Bing Crosby's midcentury modern home in Rancho Mirage, Calif. is back on the market
Asking $4.5 million, the property has been listed for sale a few times before, with no takers
The home is most famous for hosting illustrious guests, and rumored to be the place where JFK and Marilyn Monroe spent time together
The Palm Springs area was a crazy popular celeb destination in the 1950s and '60s. Frank Sinatra had his own place in Rancho Mirage, with Dean Martin and Marilyn Monroe each having vacation homes in Palm Springs.
Other notable celebrities of the times like Ginger Rogers, Lucille Ball and Desi Arnez all had homes nearby.
So there's no surprise that the mid-century home built for Bing Crosby and his second wife, Kathryn Grant — shortly after their marriage in 1957 — was set in Rancho Mirage.
The 70375 Calico Road house which became home to the Crosbys had been designed to accommodate guests and parties as extravagant and entertaining as its owner — America's first multimedia superstar, who at the time was the first celebrity to lead the charts in record sales, radio ratings, and motion picture grosses alike.
The home's most famous guests, though, were definitely Marilyn Monroe and John F. Kennedy.
As the story goes — according to Monroe's biographer — the two stayed at Crosby's 70375 Calico Road home at the same time, with many speculating that this is the place where their rumored love connection may have blossomed.
In honor of their stay here, the two-bedroom attached casita has been named the JFK Wing.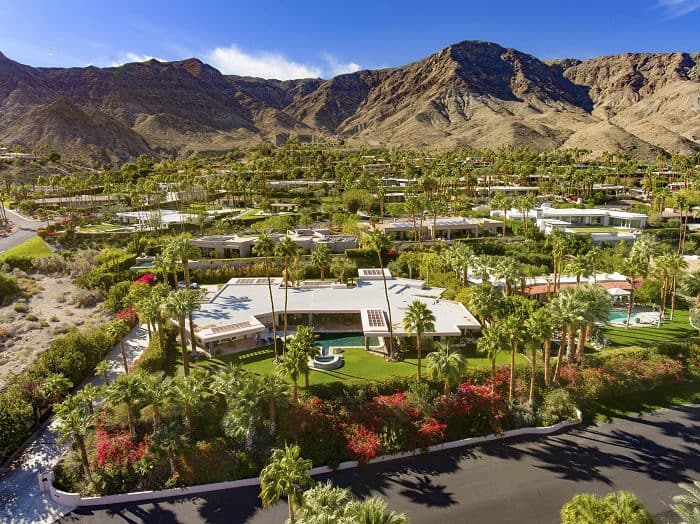 We first covered the property at the beginning of 2019, when it was listed for $5 million, with Linda Taglianetti, Fredrik Eklund, and Gail Vasquez of Douglas Elliman. (Please note that the images used in this article come from that listing, and the property may have seen some style changes since).
By May 2020, the celebrity home was taken off the market, failing to attract a buyer even after a series of price cuts.
In fact, owner Robert Teller told the Wall Street Journal (paid content) that he first listed the property in 2010, and a few more times in the following decade, but he "hasn't sold it yet because he hasn't received an offer he feels represents its value
Now, the estate has been relisted with new representation, with Compass' David Emerson and Alejandra Trejo in charge of finding the right buyer.
Inside Bing Crosby's former home
Crosby only lived at the Rancho Mirage home for a few years, before he moved to another home he had built in nearby Palm Desert.
But the home retains quite a few elements from its past celebrity owner who loved to live large.
That includes expansive indoor and outdoor living areas with sliding glass doors that completely recess into the walls, a theater room with projector, and a huge living room with stone fireplace.
Spread on nearly 1.14 acres, the 70375 Calico Road home comes with approximately 6,700 square feet of living space that extend into the outdoor areas. The stylish residence beautifully blends art and architecture in a mid-century design with a nice Moroccan theme.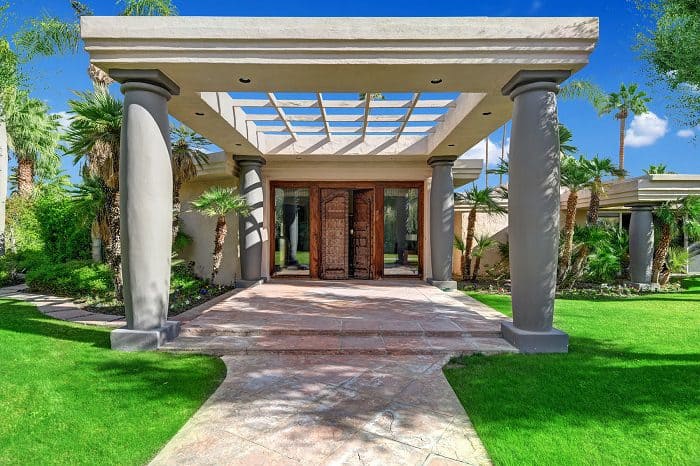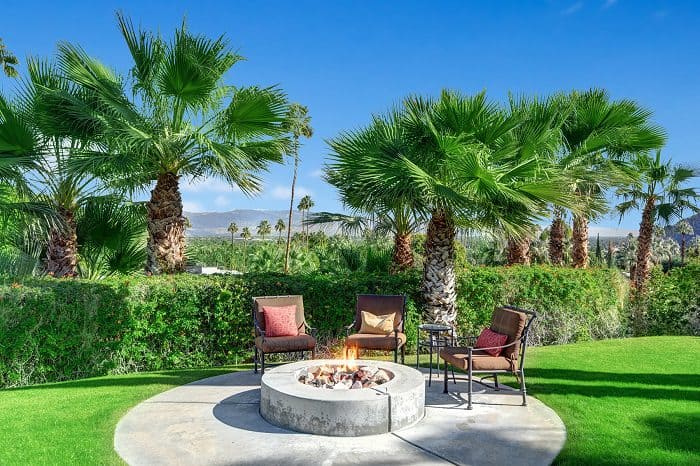 Set in the Thunderbird Heights community of Rancho Mirage, a city near Palm Springs, the 70375 Calico Road estate comes with great views of the Coachella Valley.
Among its most striking features, Bing Crosby's former home lists a large living room with a stone fireplace and bar, a chef's kitchen, movie theater, a beautiful and spacious 1,400-sq. foot master suite with a stunner of a walk-in closet and a fireplace, and four additional en-suite bedrooms.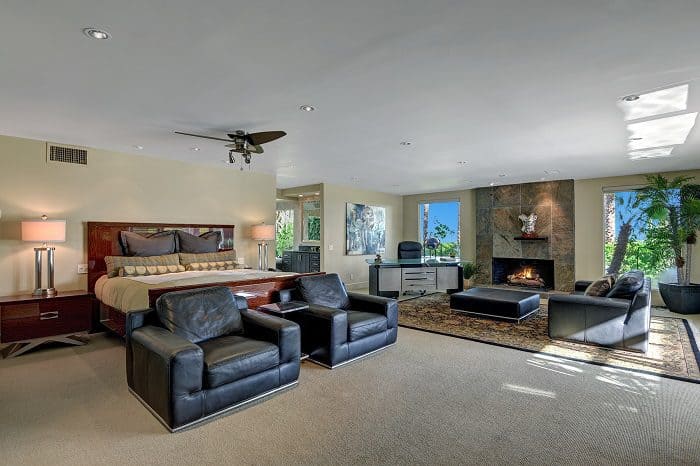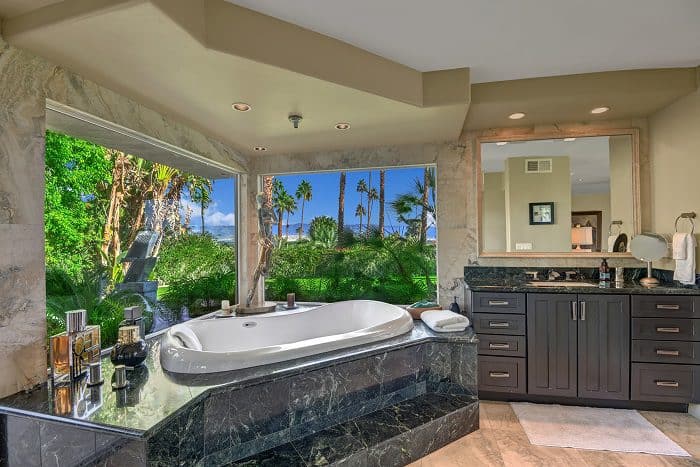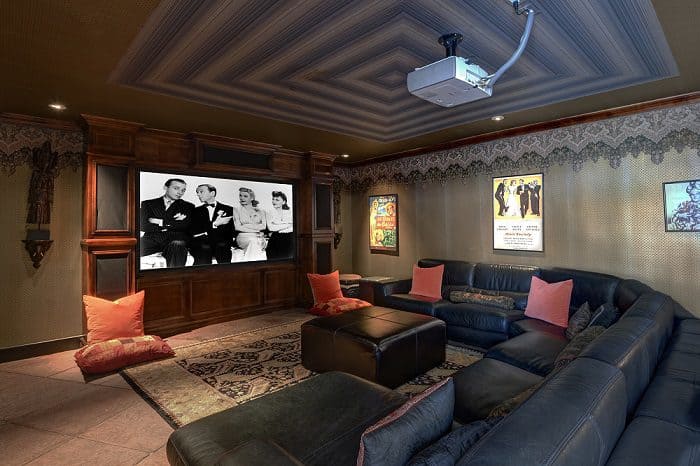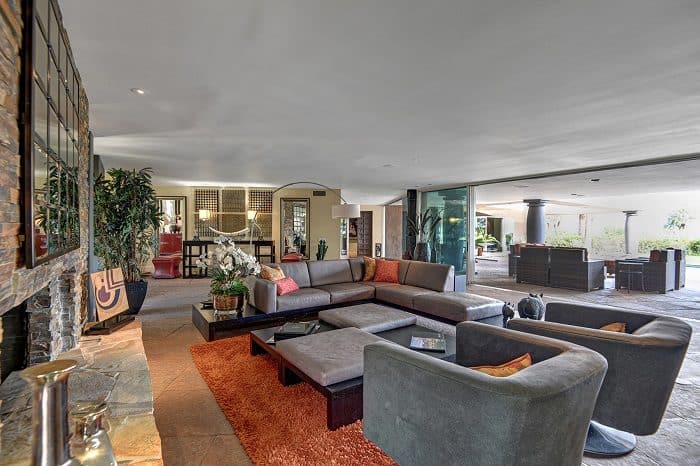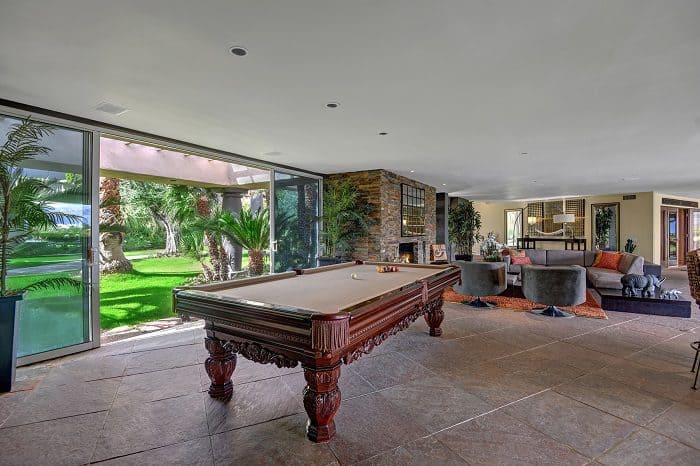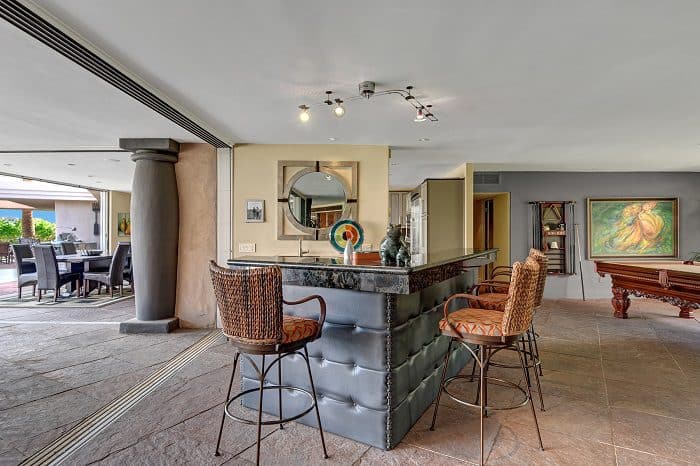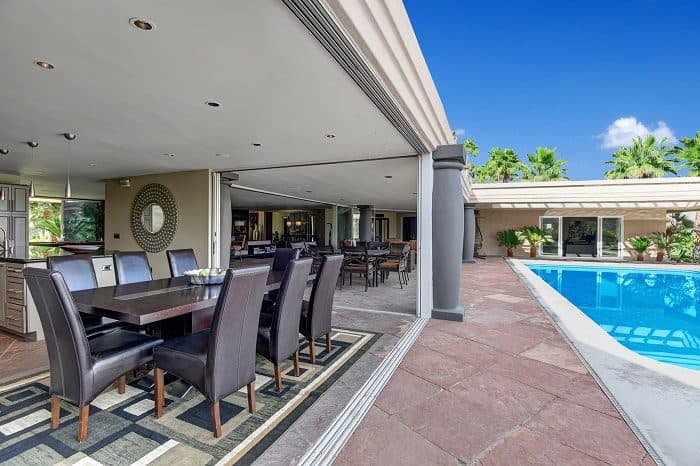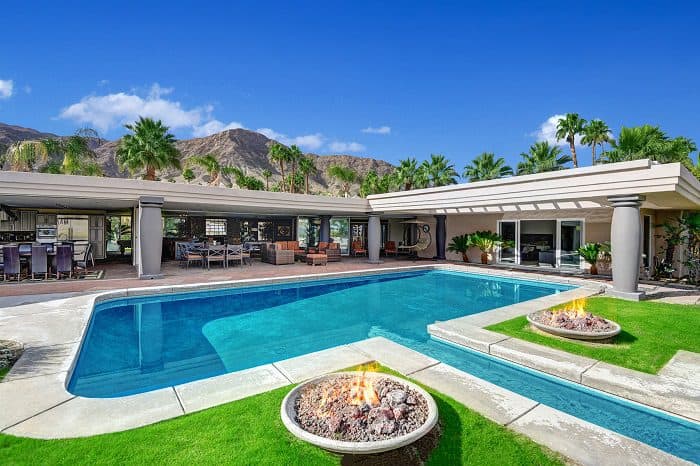 *This article was updated in December, 2021 to reflect the status of the property after it was relisted for sale. A first version of this article was published on February 2019.
More celebrity homes
The Beverly House, where Jackie O & JFK Honeymooned and where Coppola Shot "The Godfather"
The Opulent $120 Million Manor that Aaron Spelling Built in Holmby Hills
The Story of Taylor Swift's Holiday House — Home to "the Last Great American Dynasty"
Villa Sophia is a Hollywood Darling with Old World Tuscan Charm