Recently listed for a whopping $21.5 million, this mid-century Los Angeles compound is by no means your ordinary luxury home.
Judy Garland held her wedding here. Marilyn Monroe once lived in the guest house. Frank Sinatra himself called it home for over a decade, throwing roaring parties for all of his Rat Pack friends, with names like Sammy Davis Jr., Dean Martin or Ava Gardner in attendance.
In recent years, the estate — which goes by the name Byrdview — served as filming set for popular productions like Mad Men, Dreamgirls, and Californication, adding a few extra notches on its popularity belt.
Now, the 8,000+ square-foot compound, along with the massive lot it stands on (close to 14 acres), are looking for new owners to capitalize on both the bragging rights and the rare opportunity to own such a large stretch of land in the Los Angeles area. The property is listed with Craig Knizek of The Agency and Barrie Livingstone of Sotheby's.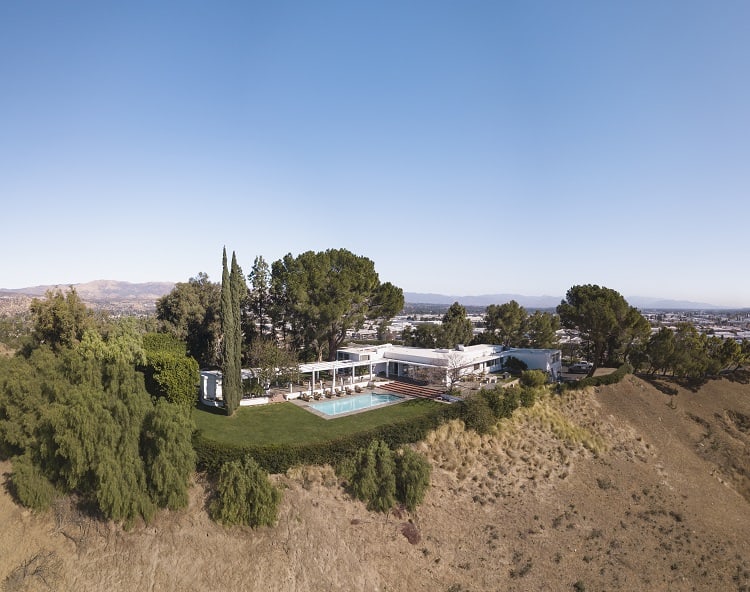 The house was designed by legendary architect William Pereira
Built in 1949, Byrdview is one of only a handful of homes ever to be designed by the great American architect William Pereira, co-founder of famed architectural firm Pereira & Luckman.
Known for designing the Los Angeles International Airport Theme Building, Pereira and Luckman parted ways roughly 10 years after Byrdview was built, and went on to create timeless structures like the Transamerica Pyramid in San Francisco (Pereira) and Madison Square Garden in New York City (Luckman).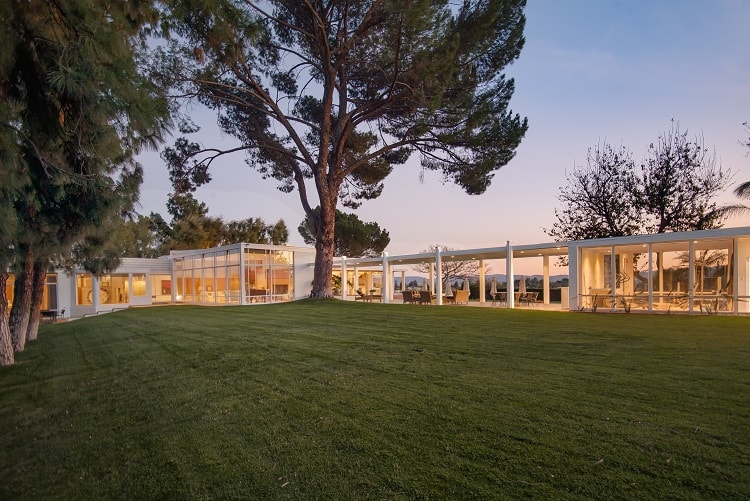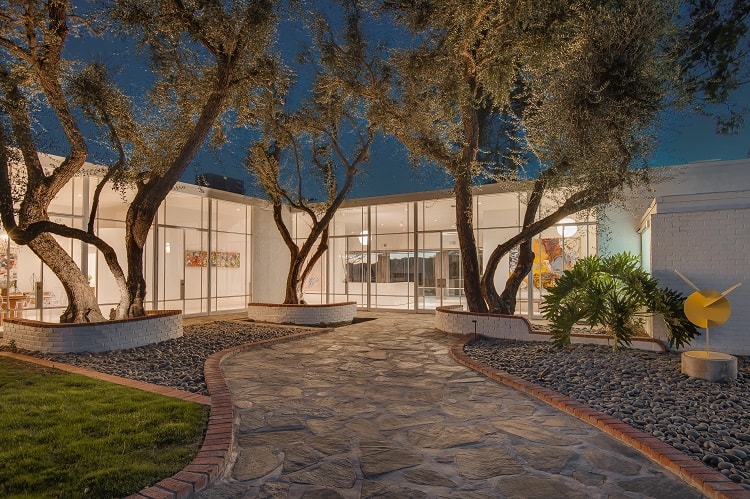 Frank Sinatra called it home in the 1950s
The house was commissioned by Dora Hutchinson, heiress to the Chase Manhattan bank fortune, who then rented the property to Frank Sinatra.
Old Blue Eyes lived in the sprawling home in the 1950s and '60s and often hosted his famous friends here. In fact, Marilyn Monroe is said to have lived in the guest house for some time, and actress Judy Garland married Vincente Minnelli on the property.
This is one of six homes Sinatra lived in throughout his life (he died age 82), and one that bears a striking resemblance to his first house, Twin Palms — a mid-century home in Palm Springs which the crooner had built for himself and his first wife, Nancy.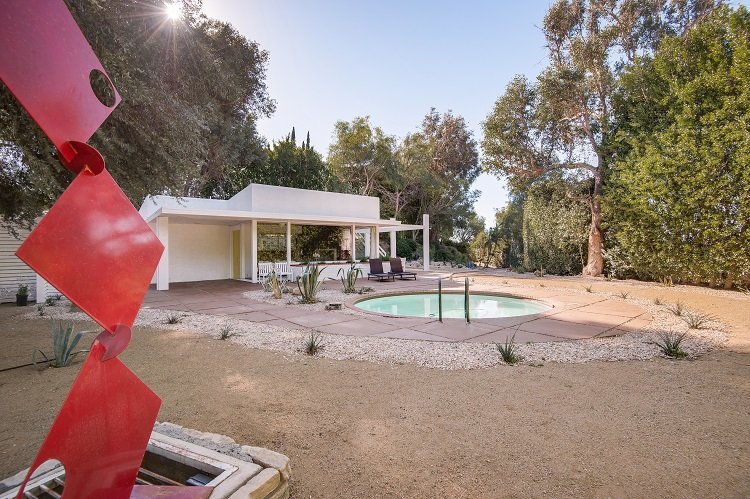 For those of us who can't afford a multi-million dollar estate but still want to walk a mile in the crooner's shoes, Twin Palms, Frank Sinatra's initial mid-century home in Palm Springs is offered as a vacation rental on Airbnb.
A light-filled home surrounded by walls of glass
You'll find the lovely home in Chatsworth, a suburban neighborhood in the City of Los Angeles, in the San Fernando Valley.
To make the most of its unique location (atop a private promontory) and 360-degree views, the house has full-length glass walls which overlook the Chatsworth Reservoir nature preserve. The glass walls also flood the house with natural light which, paired with its crisp white walls, bright interior design and 16-foot ceilings, make quite an impression.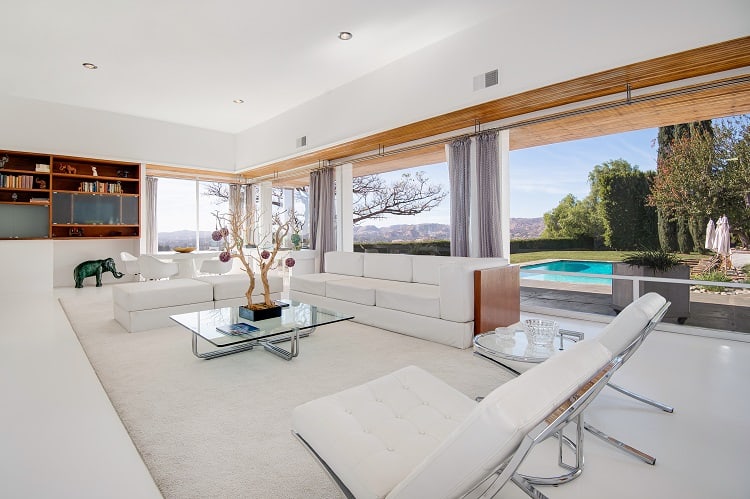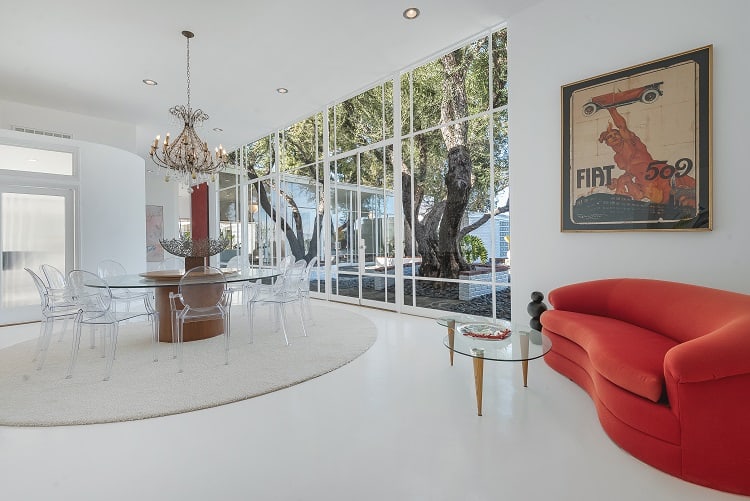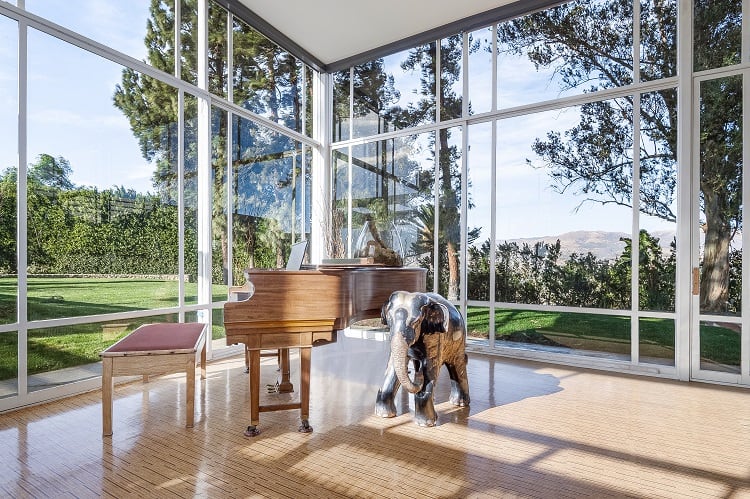 8,000+ sq ft of pure mid-century design, plus enough land to build an additional 11 homes
The living space amounts to 8,161 square feet spread across the property's existing three structures, with a total of 7 bedrooms, 7 full baths and 2 half baths.
Each and every space in the house pays homage to the time when it was built, characterized by uncluttered and sleek lines with gentle organic curves, liberal use of traditional material, such as wood, and non-traditional materials such as glass, plywood or Plexiglass.
The living areas, kitchen, and bedrooms all exemplify mid-century design and stand as testament to the timeless quality of the style.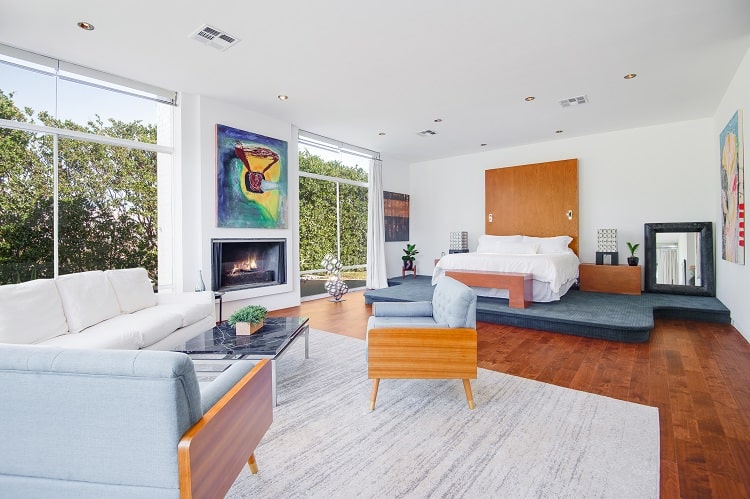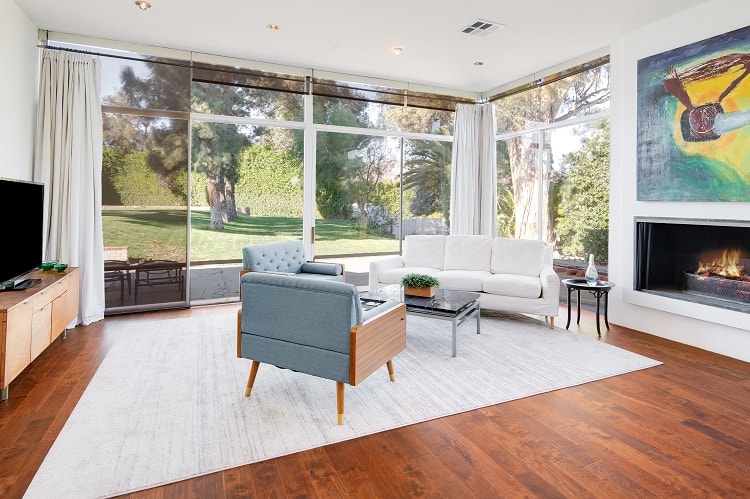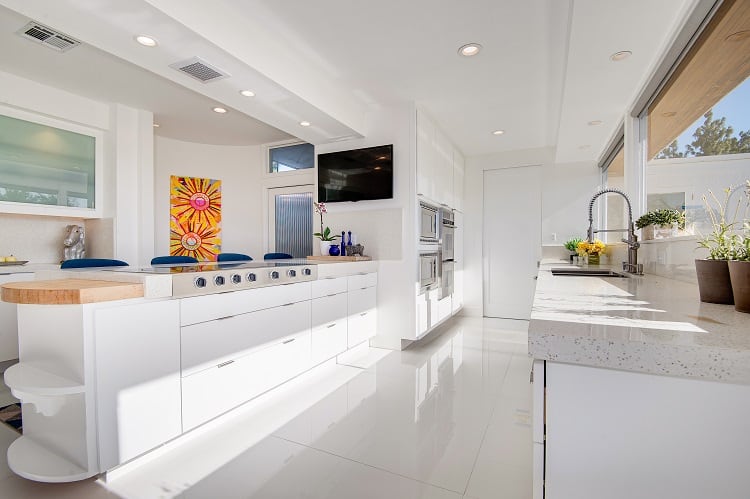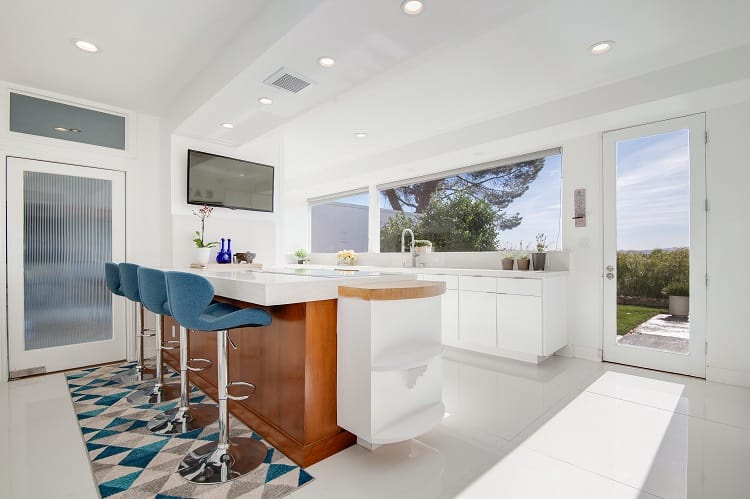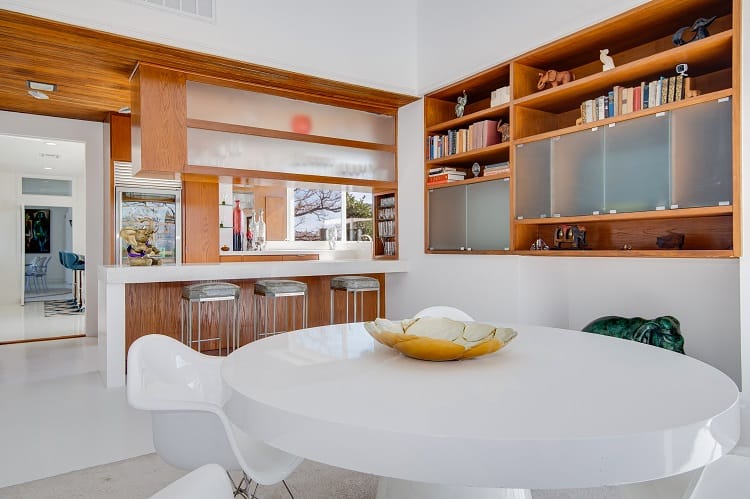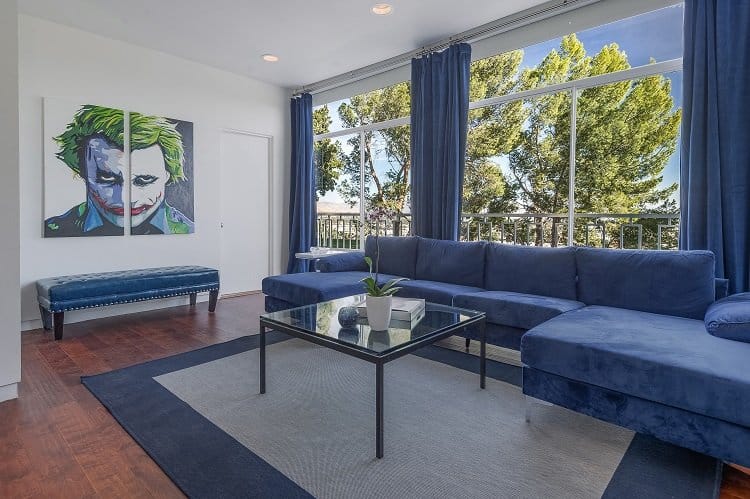 There's also a gym, massage/steam room/sauna, as well as a 50-foot pool and a more than generous pergola lounge area.
Believe it or not, that's not even the biggest draw. The property is being offered for sale along with adjoining parcels that total close to 14 acres, a massive stretch of land the likes of which we don't see very often in the Los Angeles area.
In fact, the final tract map is approved for development of 11 individual home sites with separate entrance, situated below and not in view of the main residence.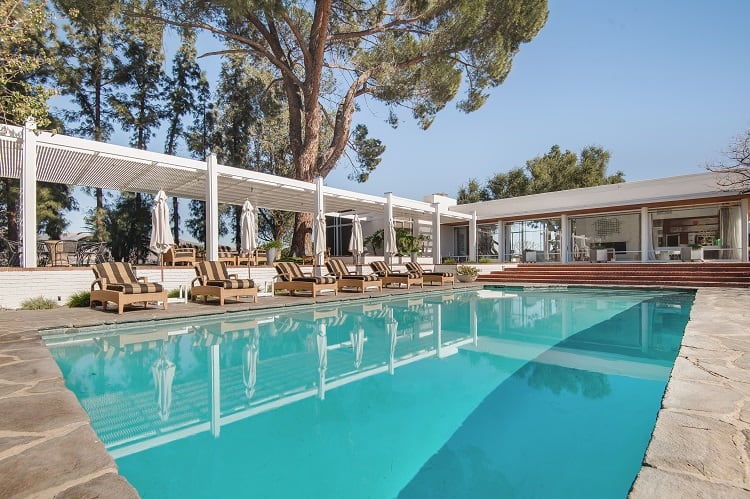 Byrdview (or Farralone, as the iconic home has often been called) sits at the end of a near mile-long driveway atop a private promontory that overlooks the vast 1,325-acre Chatsworth Reservoir nature preserve.
It has previously been offered for sale, but the past listing did not include the massive adjoining parcels. This opens up a lot of possibilities for discerned buyers to further expand this iconic property. So not only does Byrdview have an illustrious past, but we're looking forward to see what its future has in store.
More celebrity homes
Mindy Kaling is Moving Into Frank Sinatra's Beach House in Malibu, Known as Ol' Blue Eyes' "Happiest Place on Earth"
Step Inside Bing Crosby's Estate — That Once Welcomed JFK and Marilyn Monroe
What Happened to Michael Jackson's Neverland Ranch? A History of the Iconic House
George Lucas' Skywalker Ranch is a Fanboy Paradise with Victorian Roots