Despite recent data showing that the red-hot housing market is starting to cool off, there's no denying that 2021 has been a nightmare for would-be home buyers across the U.S.
The first half of the year was marked by low inventory and crazy bidding wars, and a recent analysis by real estate website Zillow.com sheds light on just how far things went.
Their research found that the second quarter of 2021 saw more houses sell for $500,000 or more over their original list price, more than three times that of Q1.
And if you think an extra $500k over ask is a crazy amount of money — especially since it could buy you another house entirely — know that the number of homes sold for at least $1 million over list price also doubled from the first quarter.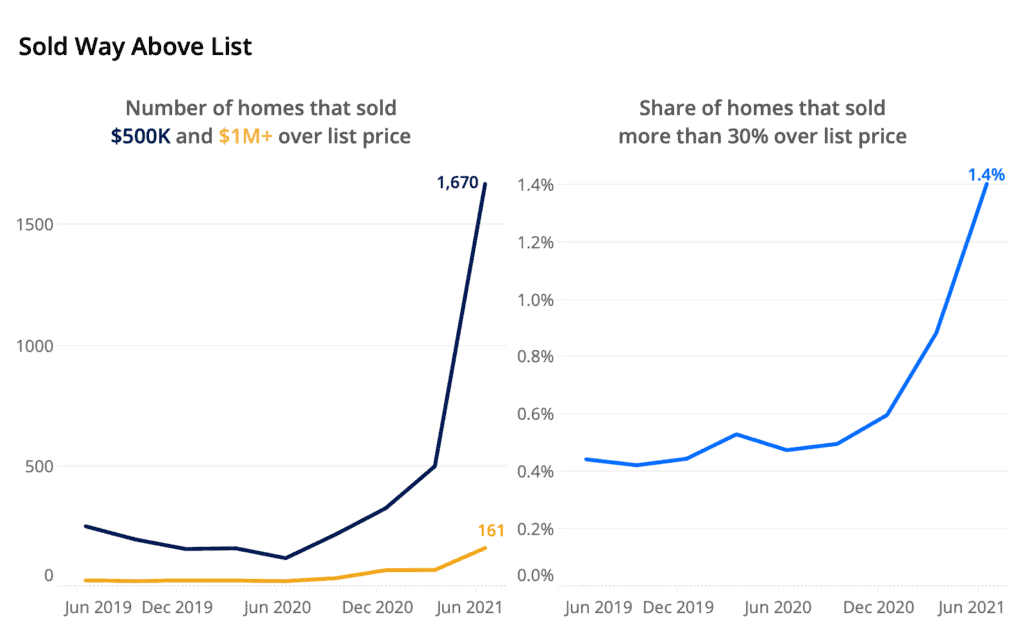 To break that down further and give you a better idea of how many homes fell in this range, Zillow found a total of 1,670 houses that sold for $500k extra in the second quarter of 2021.
And while buyers all over the country submitted offers with amounts well over ask, only a handful of markets had the power to command such mind-blowing prices. San Francisco is in the lead with 657 sales closed for over $500K extra than the initial listing price, followed by San Jose (with 283 sales), and Los Angeles (99 sales).
Outside of California, the top markets to see homes sell for at least half a million over asking were Seattle (with 88 sales) and Miami (74).
San Francisco also took the lead when it comes to homes sold for 30% or more over ask. The report found that 7.4% of all homes sold in the Bay Area metro during the second quarter of the year closed for nearly a third more than the price they were listed for — which isn't news to locals, who have long been plagued by sky-high home prices.
The San Francisco Bay Area has long been one of the most expensive property markets in the United States, with single family homes selling for about three times the national average. But despite expectations that the effects of the pandemic — and the rise of remote work, especially among tech workers — would lessen the demand for houses in the area, properties in the suburbs surrounding San Francisco, Oakland and San Jose have been selling for hundreds of thousands of dollars over list price in super-competitive bidding wars.
More recent real estate news
The Barbie Penthouse Where the Real Barbie and Ken Grew Up Hits the Market for $10 Million
Neil Patrick Harris Lists Stylish New York City Brownstone for $7.3 Million
This $70 Million Contemporary Marvel Reimagines Luxury Living for the 21st Century
Blogger Ashley Petrone of Arrows & Bow Is Selling Her Charming, Custom-Designed House