Neil Patrick Harris is having one hell of a year.
With a successful new show on Netflix — Uncoupled, created by Darren Star, the same producer that brought us Sex And The City — and a role in the upcoming season of Doctor Who (for which he had to travel to Whales for filming), the actor's career is booming.
But he's been making some big moves in his personal life too.
The How I Met Your Mother actor has recently sold his stylish New York City brownstone for $6.99 million, sources tell us.
The price point sets a new record for the neighborhood, just months after a neighboring property traded for $6.4 million, raising the bar for Harlem townhomes.
Neil Patrick Harris and David Burtka's Harlem home, a carefully restored 1908 brownstone that's been heavily (and repeatedly) featured in tens of interior design magazines over the years, was first listed for sale last year for $7,325,000.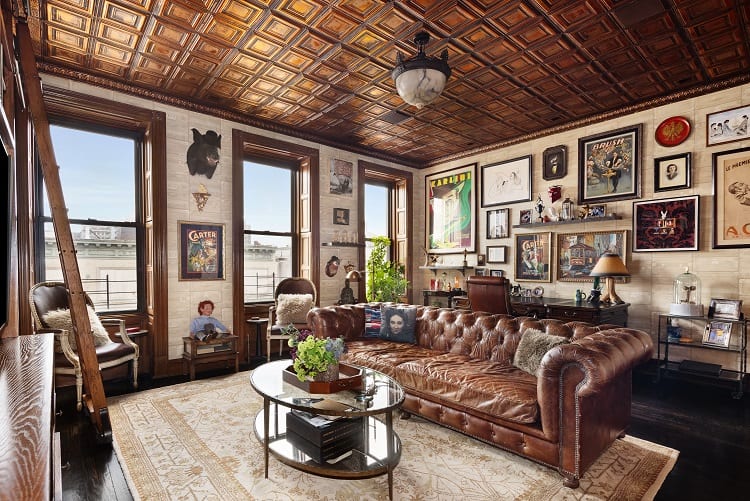 It was then taken off the market for a few months, but the couple's listing agents — Vickey Barron and Pacey Barron of Compass — seem to have been hard at work securing a buyer for the celebrity couple.
The couple bought the home in 2013 and have invested time, money, and lots of love into converting and restoring the property — which was run as a bed-and-breakfast before they took ownership.
Now, Harris and Burtka will be parting ways with their 5-story Harlem home and likely moving their family to East Hampton, where they own a 13.5-acre estate they bought a few years back for $5.5 million.
Previously operated as a bed-and-breakfast, the townhouse has been meticulously restored to welcome the family of four
The couple bought the brownstone back in 2013 and embarked on a massive renovation project that lasted close to 14 months, Arch Digest reports.
They moved into the 5-story residence as soon as Harris wrapped up filming for How I Met Your Mother, where he played the suit-wearing ladies' man and bro supreme, Barney Stinson.
L.A.–based interior designer Trace Lehnhoff, in collaboration with New York architect Jeffery Povero, worked to transform the space — which was previously operated as a bed-and-breakfast, after serving stints as a speakeasy for millworkers and music schools for girls — into a welcoming family home for Burtka, Harris, and their two adorable twins, Gideon and Harper.
The restoration retained many of the building's original features, while also rethinking the layout to turn it into a single-family residence.
The area that saw the biggest transformation was the kitchen, which was dramatically reconfigured and equipped to meet David Burtka's high standards.
Let's not forget that Neil Patrick Harris's husband (or Scooter, as How I Met Your Mother fans remember him) is not only a talented actor but also a professional chef trained at Le Cordon Bleu, who previously worked at Mario Batali's Greenwich Village restaurant, Babbo.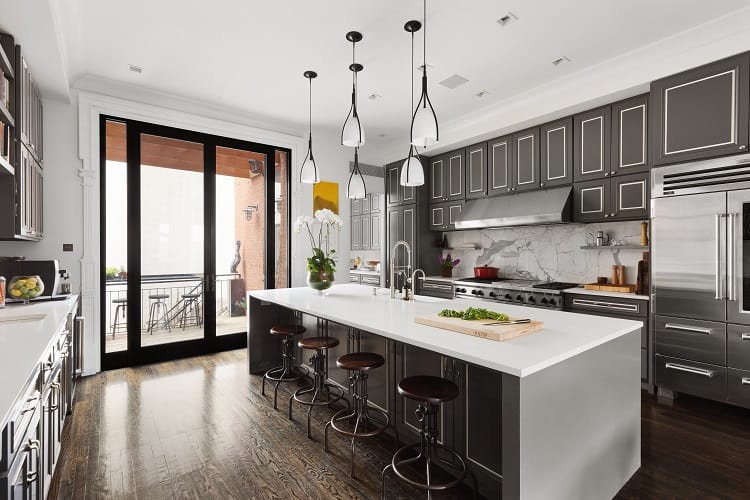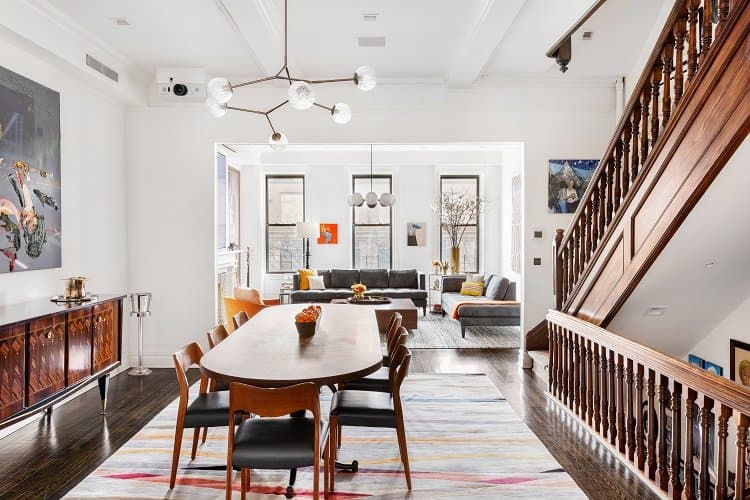 With soaring 12' ceilings, original dark-wood wainscoting, and an elegantly restored wood staircase, the 1908-built brownstone boasts approximately 8,000 square feet of light-flooded interiors.
Visitors are greeted by an elegantly appointed parlor floor whose central hallway leads to the back parlor lounge outfitted with a gas fireplace (the first of the home's three fireplaces).
The centerpiece of this room is a vintage bar that was sourced from an old hotel and restored with new appliances and two fully functional built-in taps.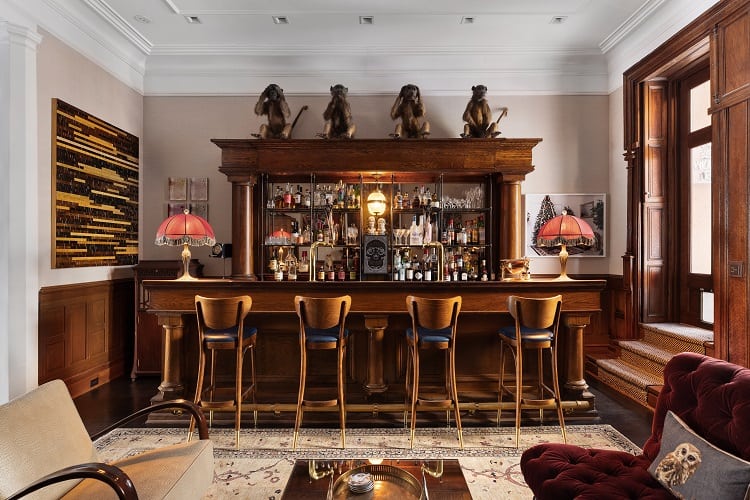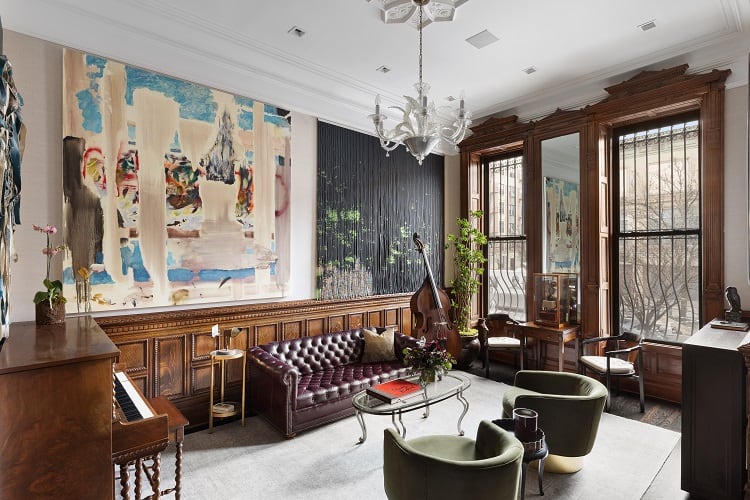 Neil Patrick Harris' house has 5 bedrooms, a 'secret' office, and plenty of outdoor space
The Harlem residence packs quite a few rooms in its 8,000 square feet of living space.
Among them: 4 bedrooms, a library/den that can easily serve as a 5th bedroom, 4 full baths and 2 half baths, a music room, home theater, laundry room, and full basement with a gym, wine cellar and a playroom.
Even the basement got its own minute of fame when it was featured on the Netflix show, Get Organized with The Home Edit.
The primary suite anchors the home's third floor and comes with a gas fireplace, a custom walk-in closet, and a stunning five-fixture bathroom.
The bathroom has been outfitted with Nero Marquina marble, double vanity, and a separate water closet. Right outside the door is a private outdoor Jacuzzi which provides a quiet respite in the city.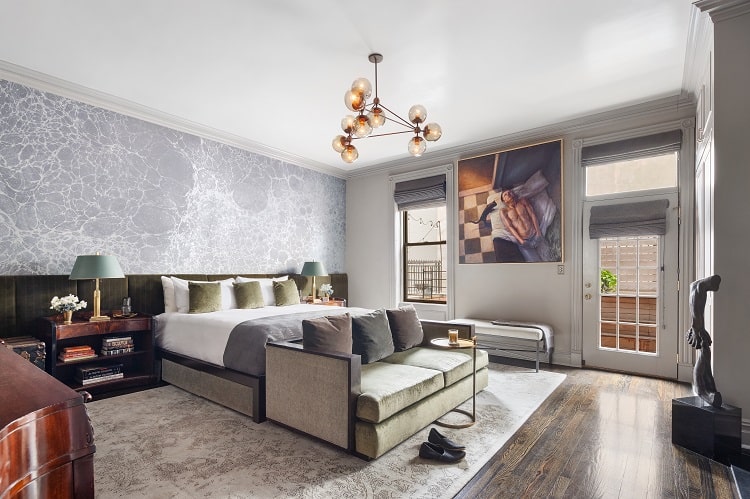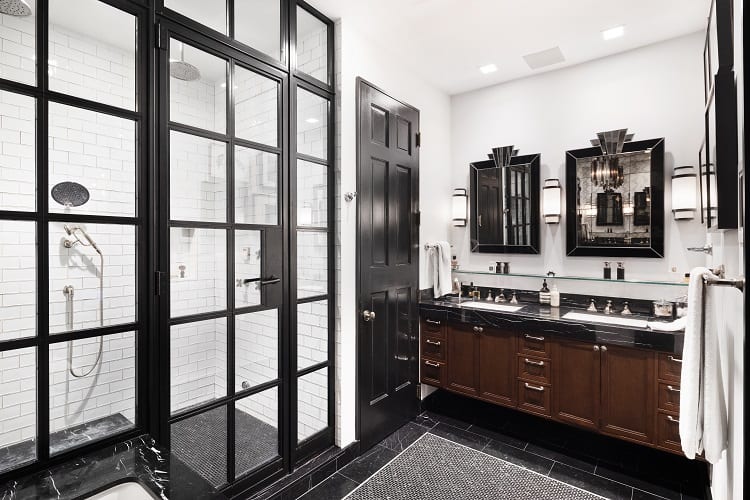 The top floor features three additional bedrooms and two bathrooms, as well as a large laundry room and a magical, "secret" office.
Hidden behind a trick door, the office opens by pressing the eyeball of a magician on a vintage poster, according to a 2016 profile of the brownstone by Architectural Digest.
Atop the five-story home is a fully furnished roof deck with a built-in gas grill, a dining table that sits 8 under a wood pergola, and an irrigation system to maintain the lush garden and landscaping.
In fact, the home has a whopping total of 2,000 square feet of private outdoor space, including a terraced rear garden, the third-floor deck, and the outdoor Jacuzzi off the primary bedroom suite.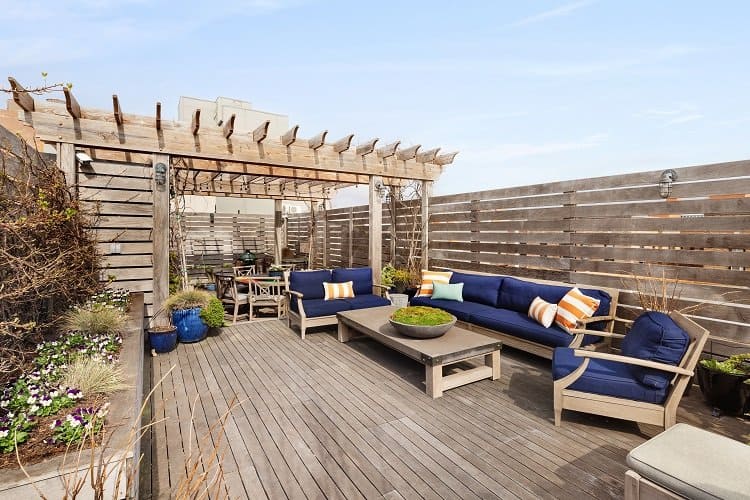 The garden level of the home is currently used as a production office and includes a 10-seat home theater.
In terms of location, the couple's townhouse sits in Central Harlem, a historic neighborhood buzzing with soul-food spots, trendy restaurants, and cocktail bars, as well as jazz clubs, Baptist churches, and barber shops.
It is surrounded by historic blocks of townhouses and adjacent to pocket parks and tree-lined streets, all within a mile from Central Park.
And while we're sad to see Harris and Burtka part ways with their charming New York City brownstone, come the holiday season we're looking forward to seeing more of their East Hamptons home. After all, be it Halloween or Christmas, the family of four loves to spread the joy.
More celebrity homes
Actor Nathan Lane is Selling His Designer Apartment in Tribeca for $4.65 Million
'Modern Family' Star Jesse Tyler Ferguson Buys Gorgeous $8.7M Encino House
Inside Ellen Pompeo's House and Multi-Million Dollar Real Estate Portfolio
Shonda Rhimes' Apartment is "Comfy and Cozy" with Bridgerton Vibes