Fashion icon Giorgio Armani must have seen a great opportunity when his neighbor, T-Mobile CEO John Legere, purchased a sprawling waterfront estate in Naples, Florida.
With Legere showing more interest in sunnier climates, time must have been ripe for Armani — the only other resident of the top floor at 91 Central Park South — to swoop in with an offer to buy him out.
And quite generously, one might add, as Armani paid the T-mobile CEO a whooping $17.5 million for the palatial penthouse, the Wall Street Journal reports.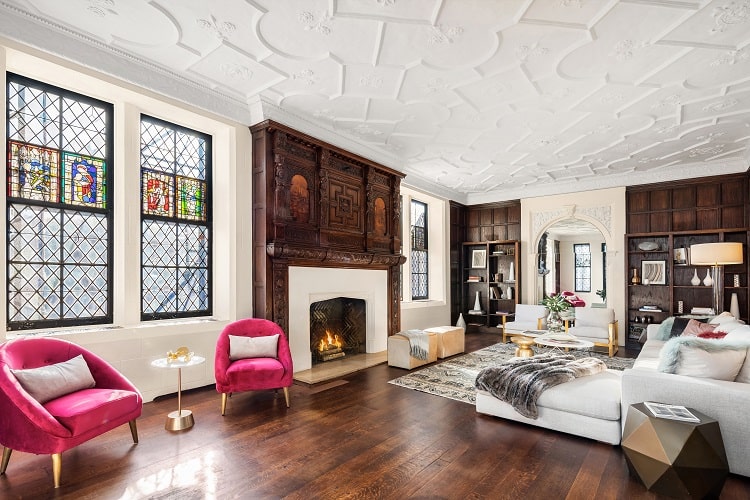 Of course, we don't know the full course of events, and can only hope that the deal between the two was struck as a result of a friendly neighborly chat; and while we'd love to think that's the case (because that would mean the ultra-rich and famous are just like the rest of us, wouldn't it?), but know that it probably isn't, here's what we do know: the property wasn't even on the market!
Armani bought the property in an off-market transaction.
See also: Gianni Versace's mansion
The penthouse was last listed in February 2018 for $22 million, with Compass agents Heather McDonough Domi and Henry Hershkowitz as the last listing agents, but has since been taken down.
But as John Legere is getting ready to step down from his executive position with T-Mobile in May, he may have had a change of heart, especially if tempted by his vastly rich neighbor, Giorgio Armani, whose personal fortune is said to be in excess of $8 billion.
And while the wealthy fashion icon already owned a penthouse in the building, his older apartment might not bear the same historic significance as the one he just purchased.
The nearly 3,000-square-foot penthouse with resplendent glass windows is said to be the one-time home of publishing magnate William Randolph Hearst.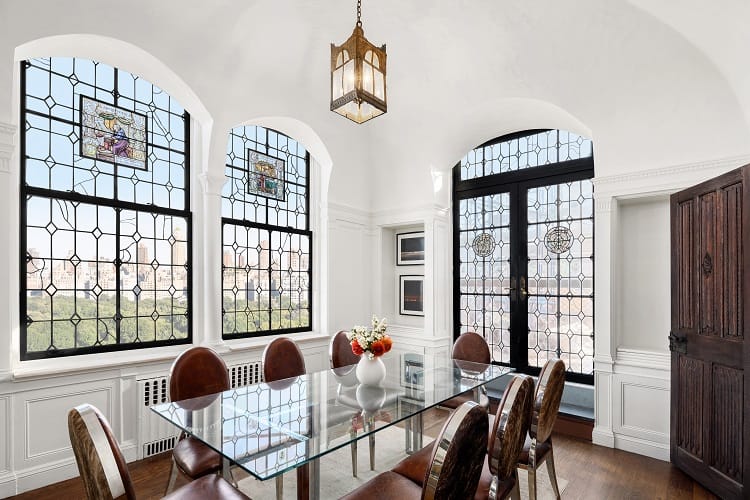 In fact, as Legere was restoring the residence, the architects reportedly found the initials of Marion Davies — Hearst's longtime mistress — carved into the fireplace, as well as a portrait of a woman that appeared to be Ms. Davies in the stained glass.
Given W.R. Hearst and Marion Davies' fine taste when it comes to real estate, it's not at all difficult to imagine the two living here.
Giorgio Armani's new penthouse at 91 Central Park West
The four-bedroom, four-bathroom residence was built back in 1929 and retains quite a lot of its intricate original detailing. Designed by renowned architectural firm Schwartz and Gross, the penthouse was recently brought to modern standards by contemporary architectural design firm SheltonMindel.
Giorgio Armani's new home comes with a stunning terrace with 100 linear feet of Central Park frontage — probably fairly similar to the one in Armani's neighboring apartment, but hey, the man is known to be very particular of his angles.
Featuring a beautifully restored elevator that opens directly to the penthouse's private stone foyer, a stunning plaster ceiling over 11 feet high, and a wood-burning fireplace surrounded by an ornate floor-to-ceiling mantle, the luxurious home is fit for royalty.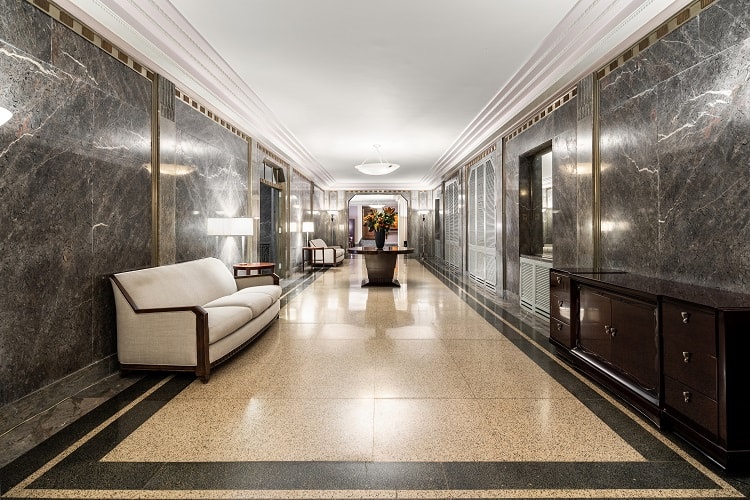 Both the living room and adjacent dining room open to a magnificent wraparound terrace which spans over 1,700 exterior square feet and extends the entire length of the building. Perched above Central Park, the outdoor space boasts unparalleled views of the skyline to the north, south and east.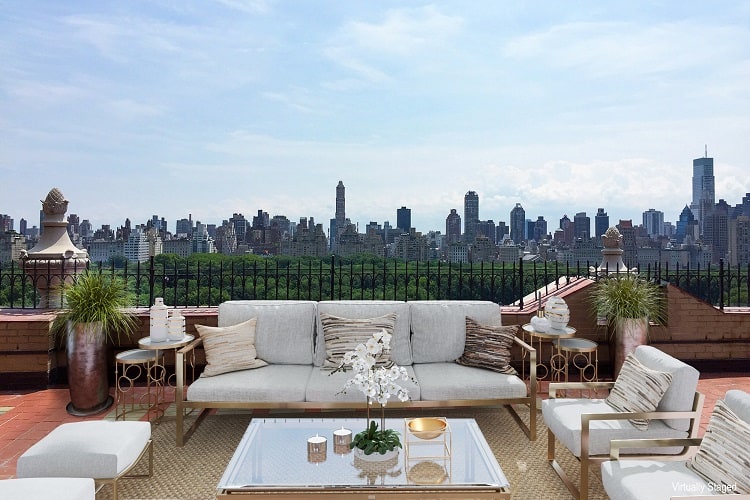 The four large bedrooms in the apartment all feature en-suite bathrooms, custom millwork and bespoke carpentry; two of these rooms have direct Park views. The master is 18-feet-wide with parquet floors and two glass doors that open up to the Central Park-facing terrace.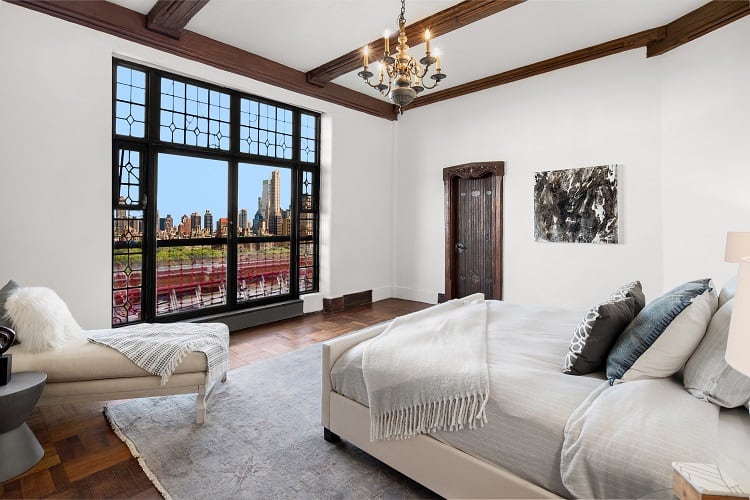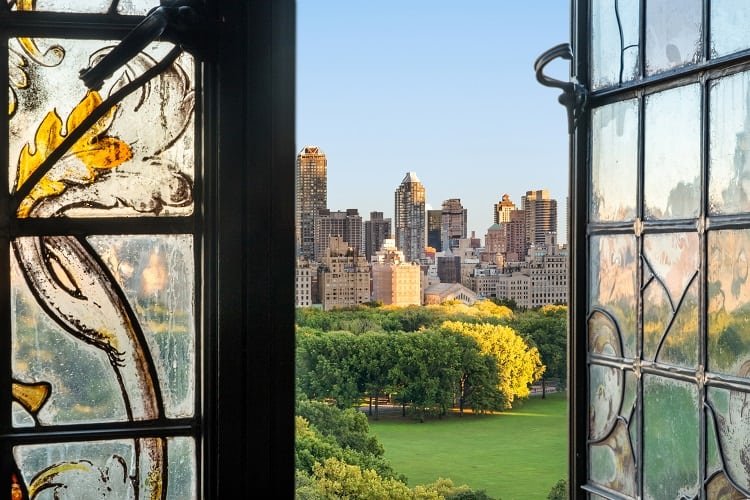 With this $17.5 million purchase, Giorgio Armani now owns the entire top floor at 91 Central Park West, which is a premier full-service Upper West Side co-op set on the northwest corner of West 69th Street.
The building sits directly across from a coveted pedestrian entrance to Central Park and was designed by renowned architectural firm Schwartz & Gross, whose other notable works include The Mark Hotel and many other prestigious residential buildings along Fifth Avenue, Park Avenue and Central Park West.
Completed in 1929, this 16-story, 94-residence building features a stately brick, stone and terra cotta facade, and was crafted in the Neo-Renaissance style with Beaux-Arts elements. Sounds like quite a perfect fit for the style icon, one might argue.
More celebrity homes
Kerry Washington's New York Apartment Is Just as Stylish as You'd Expect
$25M Corner Apartment at the San Remo is the Epitome of Elegance
Trevor Noah's Penthouse in Manhattan
Breathtaking Dolce & Gabbana Villa on Sicily's Idyllic Stromboli Island Hits the Market