The San Remo has been setting the bar for majestic living since it first came to market back in the 1930s. With its Old World elegance and prime Central Park location, the San Remo is home to some of the most sought-after apartments in the city, with units that are grand in scale with large entrance galleries, lofty ceiling heights, and stunning prewar details.
One such apartment recently hit the market, and it's a massive corner residence with a total of 14 rooms.
The stellar residence has all the Central Park and Manhattan skyline views you'd expect from the iconic building's north tower, and spans 5,500 square feet — as the current owners combined two units at the San Remo to create the sprawling three-bedroom home that also features a library, study and media room.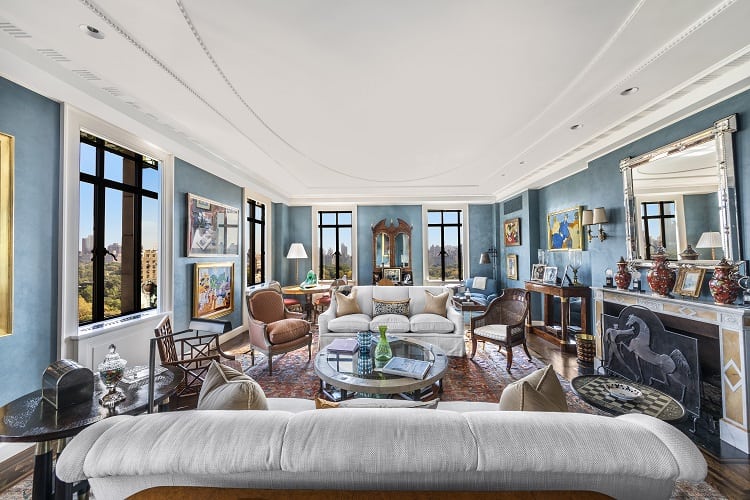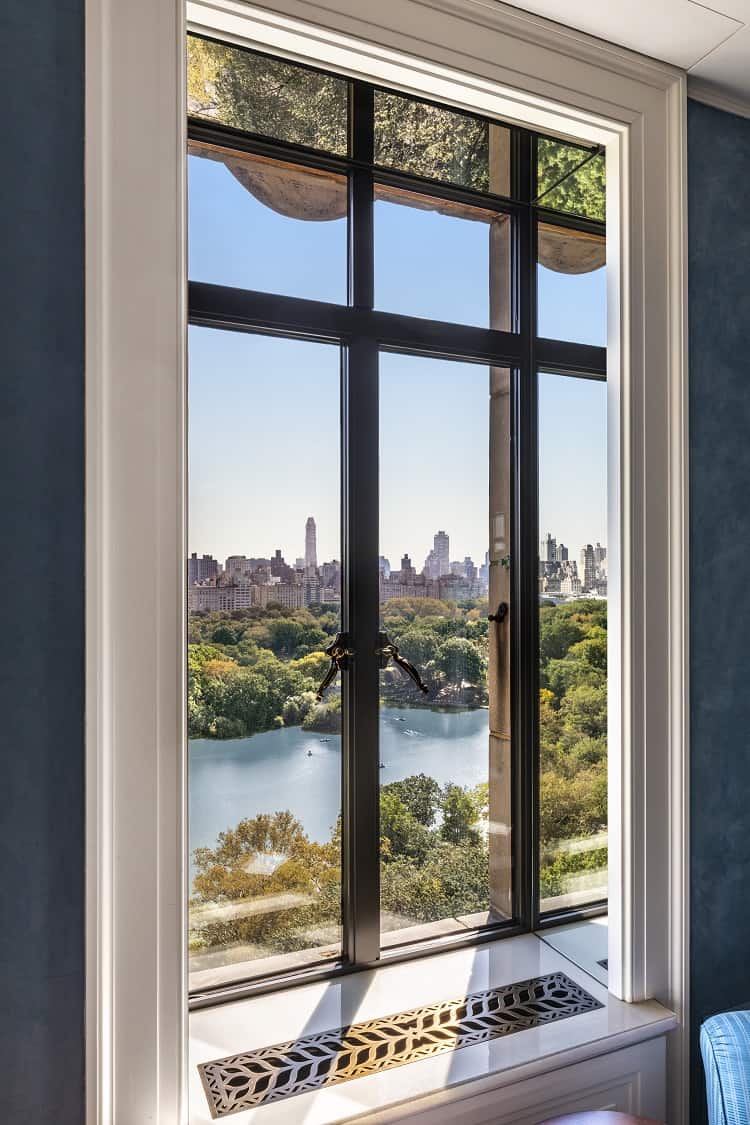 Offered for sale for the first time since the owners combined the two units, the 5,500-square-foot co-op is priced at $25 million — which is half the price Demi Moore's former apartment in the building is selling for (it recently came to market with a mindboggling price tag of $50 million).
Apartment 15EF is listed by Bonnie Chajet. Lisa Chajet, and Ronnie Lane of Warburg Realty
Among the apartment's most noteworthy features: a grand center entrance gallery, an exquisitely detailed ceiling, two-toned, geometric-designed wood flooring, a corner living room with a gas fireplace, and mirror-lined casement windows to enhance the stunning city views.
SEE ALSO: Giorgio Armani Buys Neighbor's Palatial Penthouse for $17.5M, Now Owns Entire Top Floor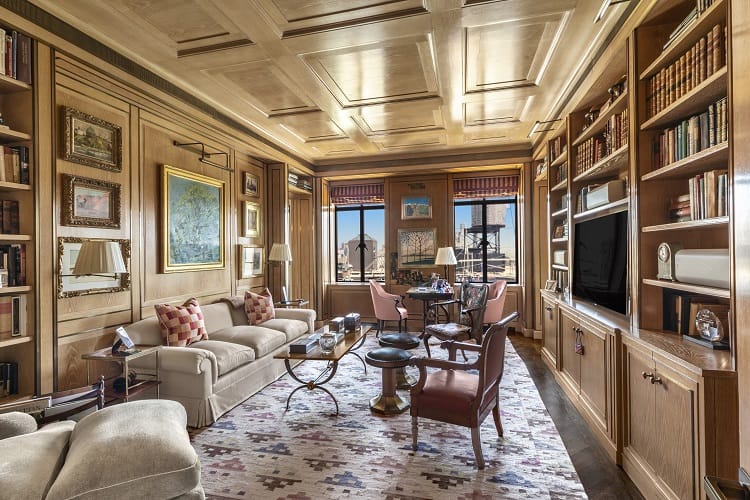 The masterfully designed home is as private as can be, with special measures being taken to complement the safety of the building, including a professional security camera installation.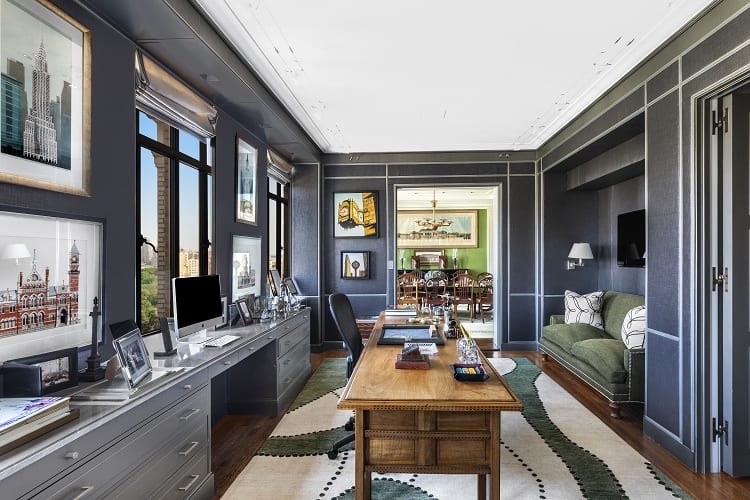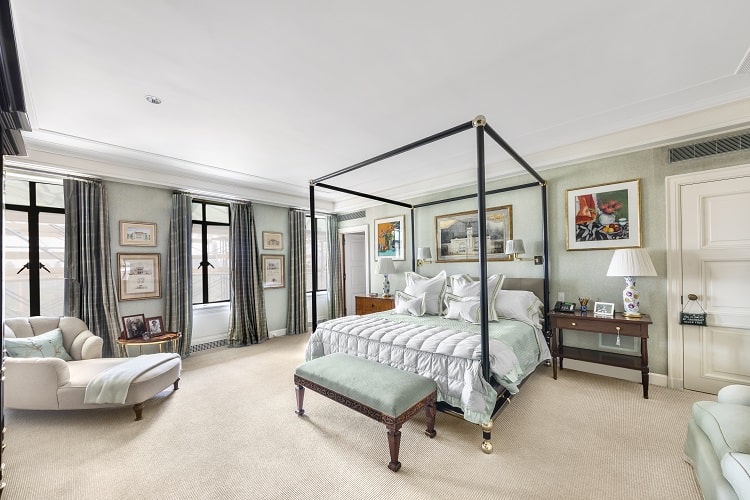 The 14-room home is currently owned by money manager Peter W. May and his wife, Leni, who recently opened up to The New York Times about their decision to part ways with their San Remo unit.
"I love the apartment," said Mr. May, founder and president of the asset management firm Trian Partners, "and the views of the park attracted me in the first place". But one thing this residence lacked, he said, was private outdoor space.
That's what prompted the Mays to trade one exclusive co-op address for another across town. Over the summer, they bought a 17th-floor apartment at 740 Park Avenue near 71st Street, designed by the equally renowned architect Rosario Candela.
However, there are quite a few things the Mays are bound to miss after no longer being residents of the San Remo. The building's amenities include a state-of-the-art fitness center, recreational area, private garden for residents, and a bike room. Plus, you're more likely to have celebrity neighbors than in most other buildings in the city, with A-listers like Dustin Hoffman, Steve Martin, Diane Keaton, Bono or Bruce Willis all having lived at the San Remo at one point.
Fun fact: one celebrity who wasn't able to secure an apartment in this star-studded building was Madonna, who applied to buy a $1.2 million co-op unit back in 1986, but got her application rejected (Diane Keaton, who was a member of the building's co-op board, was the only person to not reject her application).
More luxury real estate news
You Can Buy Anne Hathaway's Co-op from "Modern Love" for $3.5M
Newly Listed $1.8M Condo Spans an Entire Floor of a Stylish Pre-War Building in Cobble Hill
Lenox Hill Loft Opens Up to Picture Perfect Queensboro Bridge Views
Fully Renovated Flatiron Loft Once Owned by Iconic Photographer On Sale for $10M