A two-home compound in La Crescenta, Calif. is looking for a new owner — and there are so many interesting elements to it that we don't even know where to start.
From its distinctive, futuristic architecture to its famous rock star owner, all the way down to a Richard Neutra connection that anchors it firmly in the past, one thing's for sure: there's nothing ordinary about this million-dollar property.
Owned by Red Hot Chili Peppers bassist Michael Peter Balzary, known professionally as Flea, the compound sits amidst a 5.7-acre curated succulent garden.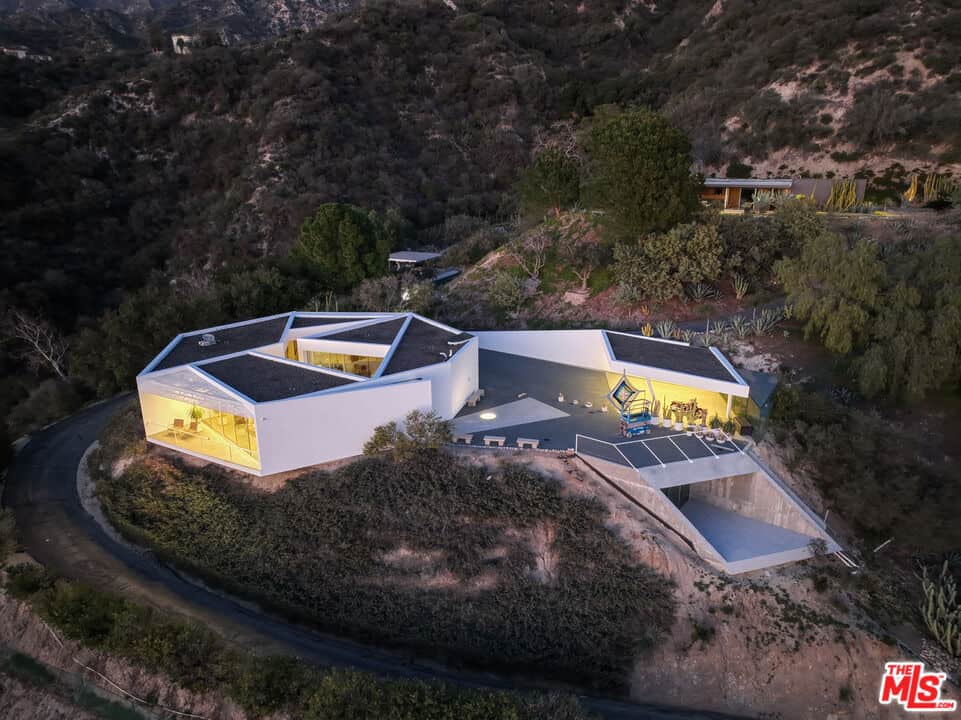 But before we go into the reasons why the bassist is parting ways with the striking property, let's go over some of the most distinctive merits of the compound.
Especially since it consists of not one, but two architecturally significant homes: one a modern heptagon-shaped house designed by AD100 architect Michael Maltzan and the other a lovely midcentury-style house built by famed architect Richard Neutra in the early 1950s.
Priced at $7,997,000, the unique property is listed with Sherri Rogers, Elisa Ritt, Anthony Stellini, and Asher Ehsani of Compass.
The original midcentury house was built by lauded architect Richard Neutra for his secretary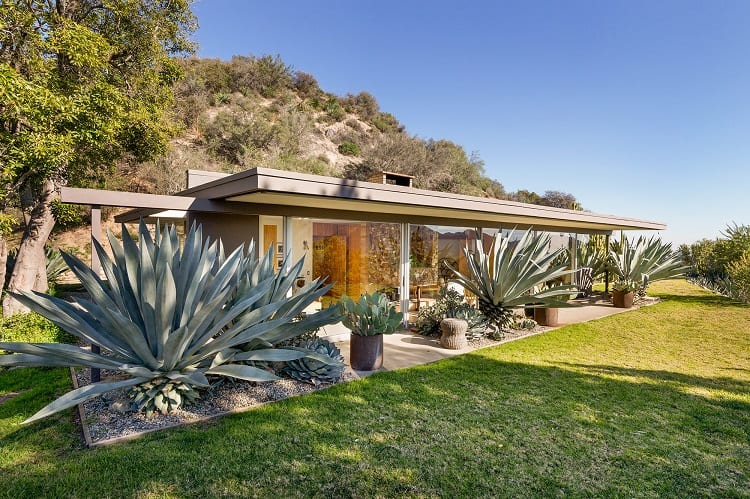 The original structure on the property was built by Richard Neutra for his secretary, Dorothy Serulnic, and her husband, George, back in 1953.
Neutra, one of the most influential architects of the twentieth century, made sure to make his secretary's home as livable and comfortable as it is visually appealing.
He designed several built-ins including a sofa system with a record player and concealed speakers, multiple desks, shelving systems, a dining room table, and a sliding breakfast nook.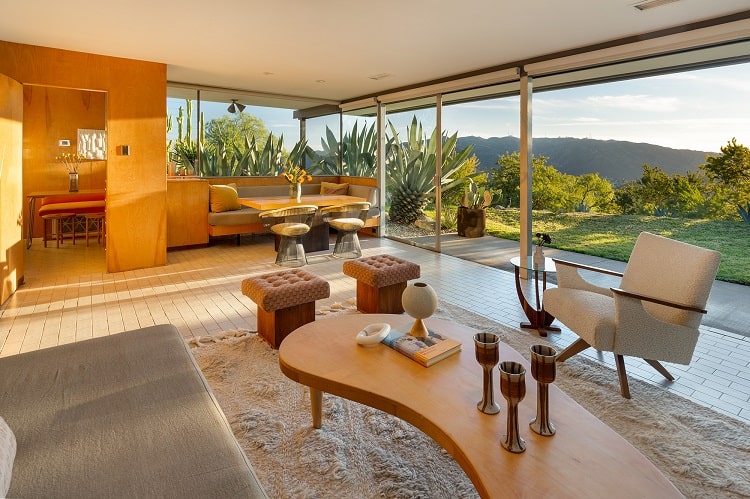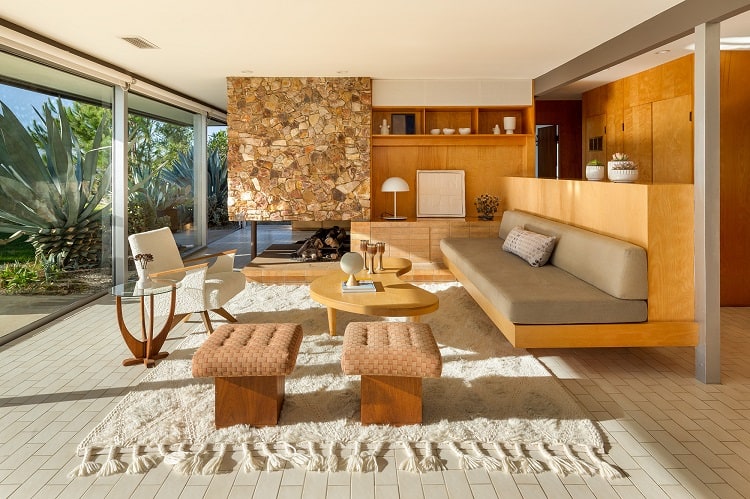 Clocking in at 1,350 sq ft, the midcentury-style home has 2 bedrooms and 1 bath, and is surrounded by walls of glass.
But despite its architectural pedigree, the Dorothy Serulnic Residence is not the main structure on the property.
Flea's house is a futuristic, heptagon-shaped structure with an open-air courtyard at the center
In what looks like a tribute to Richard Neutra's cutting-edge modernism, architect Michael Maltzan built a dramatic, seven-sided house on the property half a century later.
The spaceship-like house is surrounded by seven exterior walls (some made out of glass) and is anchored by an open-air courtyard that sits right at the center.
Nearly all the rooms of the house come with sliding floor-to-ceiling windows that open up to either the serene courtyard, or to beautiful mountain and city skyline views.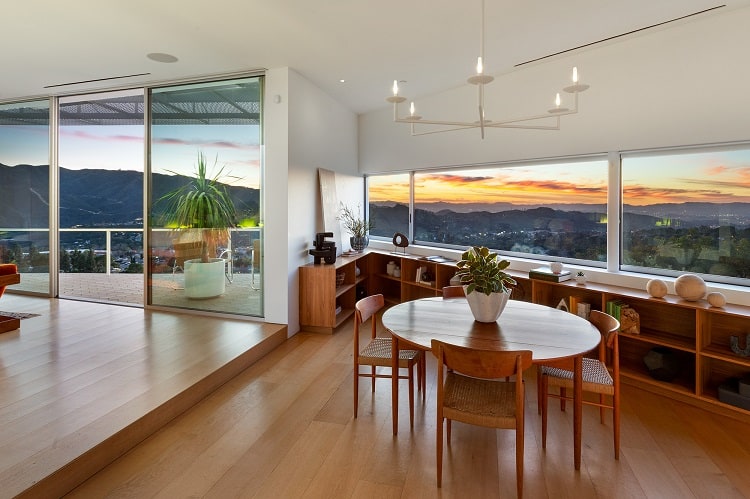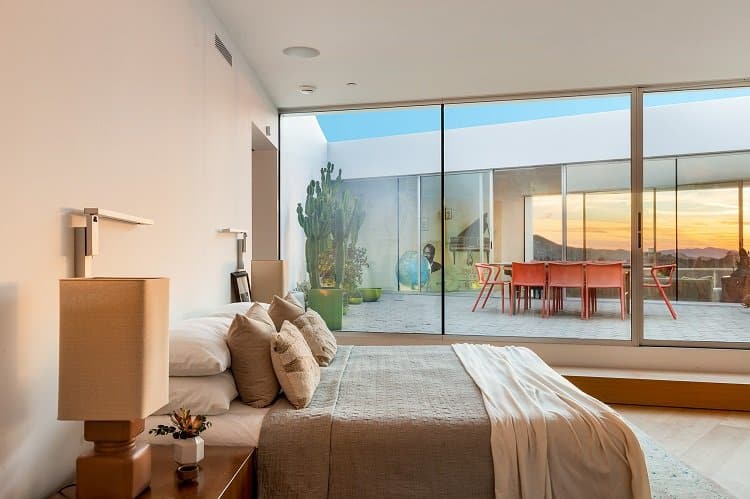 Stand-out features of the heptagon-shaped house include a primary suite with an entire wall of glass that opens up to a generously sized balcony and a particularly unique bathroom with a blue curved penny-tiled wall surrounding the shower.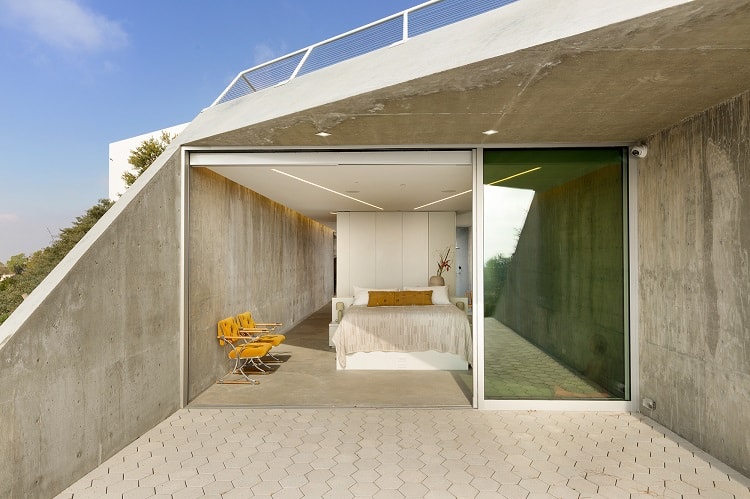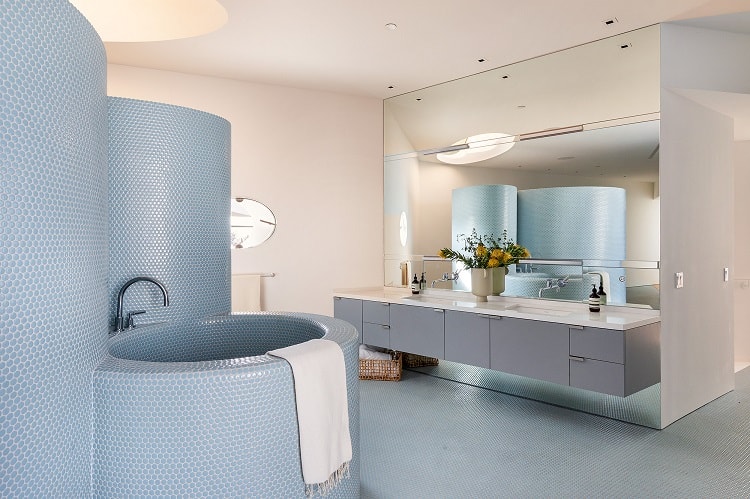 Outside, amenities include a 50-foot-long Johnston Vidal lap pool, a driveway that connects the two homes, and an outdoor movie pavilion with a windscreen and a catering kitchen for entertaining guests.
There's a bonus cabin on the property
While the two architecturally significant homes get all the attention, there's also a third — albeit tiny — structure on the grounds (also added during Flea's ownership).
A small cabin built by artist and craftsman Peter Staley provides a little extra space for guests — and an eye-grabbing feature.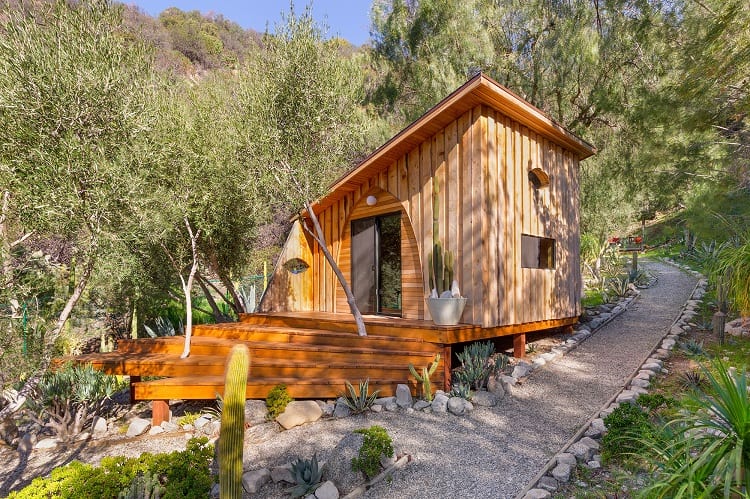 Staley uses naturally felled locally sourced trees to create "one-of-a-kind pieces in reverence to the majesty and poetry of the natural landscape", per his website.
The artist's cabins are very small and space efficient, with a carefully designed exterior that blurs the lines between lodging and art — a combo that perfectly sums up this unique property.
Flea's house and the rest of the structures on the property were even featured by Architectural Digest, and you can take a tour of the property here.
The Red Hot Chili Peppers bassist is selling the retro-futuristic compound after buying $14M Beverly Hills house
The Australian-born musician bought the two-home compound back in 2018 as an upgrade from a 1930s traditional in Los Feliz that he had just listed for sale at the time.
He held on to it for a few years and made some significant improvements during his ownership — including commissioning Maltzan to design an 875-square-foot addition for the main house, which was added in 2021.
After that, the Red Hot Chili Peppers bassist was ready to move on. He first listed his house for sale in February 2022, asking $9,799,000 for the compound. With no takers, the price has since been adjusted, first dropped to $8.8 million, then to the current price of $7,997,000.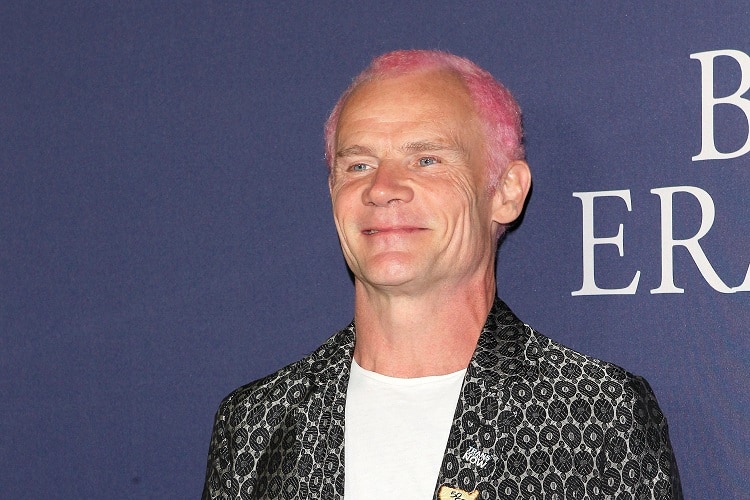 Where does Flea live now? Well, it would seem like his striking hilltop compound in La Crescenta is no longer the rocker's full-time residence.
Back in December 2021, Michael "Flea" Balzary bought a $14 million Beverly Hills home with a treehouse and leaf-shaped pool.
His new home, which he shares with wife Melody Ehsani, packs seven bedrooms and eight baths in over 7,300 square feet of living space. Originally built in 1948, Flea's house was completely renovated in the early 2000s by L.A. architect Aleks Istanbullu, Dirt.com reported at the time of the purchase.
Given Flea's track history of picking up beautiful homes to later sell at a profit, we wouldn't be all that surprised to see his new Beverly Hills digs surfacing on the market a couple of years from now.
*Editor's note: we first covered Flea's house when it was initially listed for sale back in February 2022. The above coverage dates back to that time, but the article has been updated to reflect the property's current status and renewed listing price.
More stories
The most iconic rock star houses from the 1960s: from Jimi Hendrix's Red House to Janis Joplin's pink home
Where Does Tommy Lee Live Now? Inside his Japanese-Style House in L.A.
Take a Tour of Lenny Kravitz's House, a Massive 1,000-acre Farm Compound in Brazil