One of New York's finest new residential buildings has recently unveiled its crown jewel.
Rising above West 23rd Street in trendy Flatiron District, Flatiron House is a two-building condo development that aims at bridging the gap between luxury city living and a much-needed connection to nature.
With planted and irrigated Juliet balconies in most of its residences, a lush central garden, and a distinct focus on biophilic design — a design philosophy centered around the idea that the indoors should mimic the great outdoors to improve people's lives and enhance happiness — Flatiron House stands out from its concrete and glass counterparts.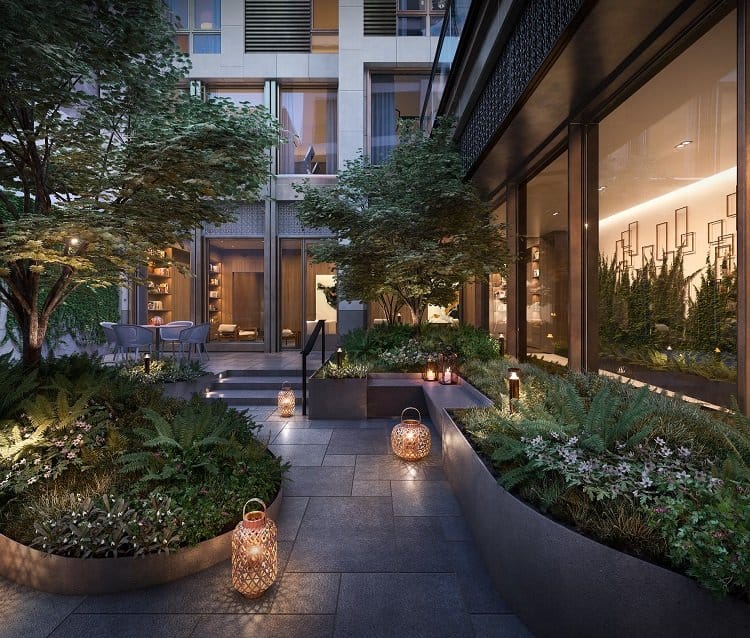 Now in the final stages of development, Flatiron House was designed — both inside and out — by COOKFOX Architects, a leader in biophilic design, in collaboration with Anbau Development.
Drawing upon the aesthetic of its landmarked neighbors through a distinctly contemporary lens, Flatiron House consists of two residential buildings connected by a central garden.
The first, a more intimate structure dubbed 'the Loft', offers only seven one- to five-bedroom residences (many of which span the full floor with direct elevator access) and an entrance on 24th Street.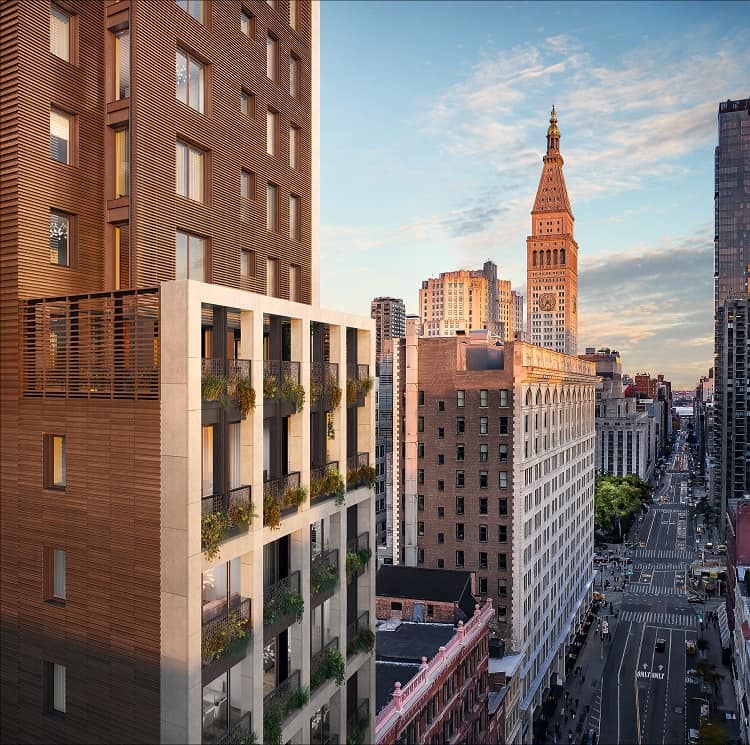 The second, and biggest, goes simply by 'the Tower', and consists of 37 one-to four-bedroom residences with a separate entrance on 23rd Street.
But the Tower too offers a full-floor residence: the 3,194-square-foot unit Residence 21A, the building's most expensive home, which towers above downtown Manhattan offering 360-degree views.
Priced at $13,500,000, the full-floor home comes with 4 bedrooms, 4 bathrooms, a corner living / dining room with bright south and east exposures, and a perfectly-appointed kitchen.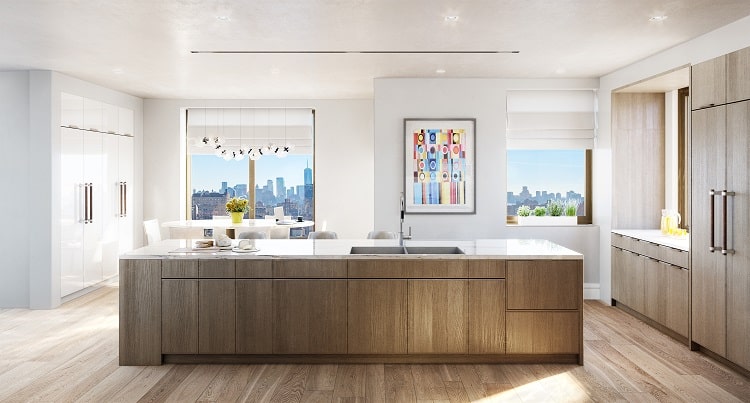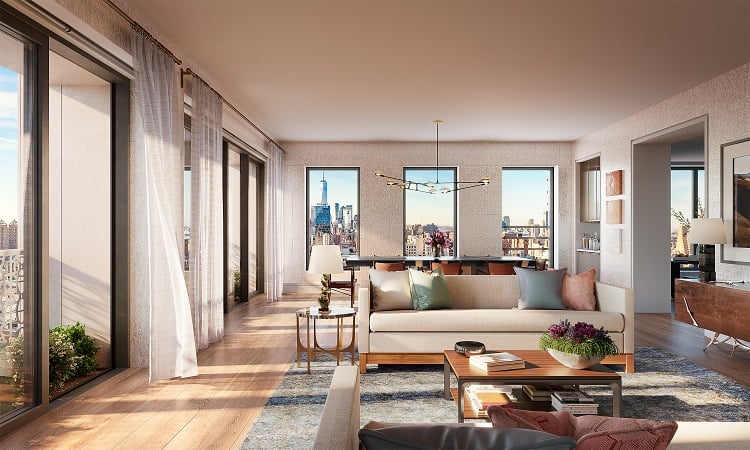 The living room opens up to captivating city views that include the Clocktower and downtown Manhattan, while two of the secondary bedrooms offer Empire State Building views.
As for the primary bedroom of the upscale residence — which features a large walk-in closet and windowed dressing room, and 5-fixture bath — it opens right into the planted balcony, also called a loggia (defined as an open-sided extension to a house).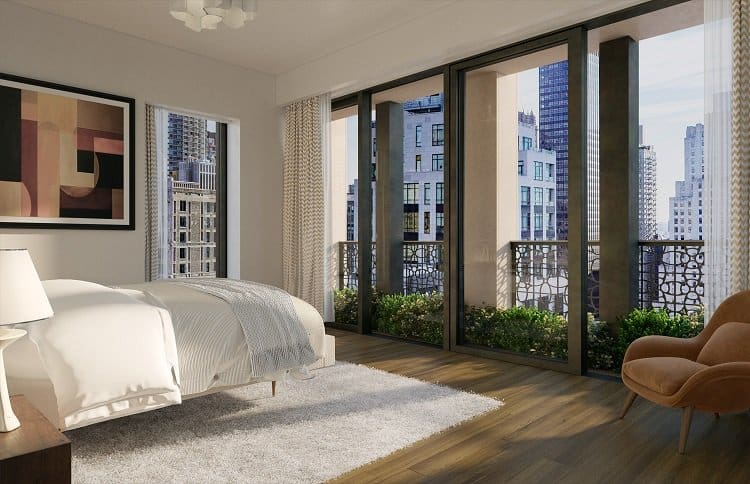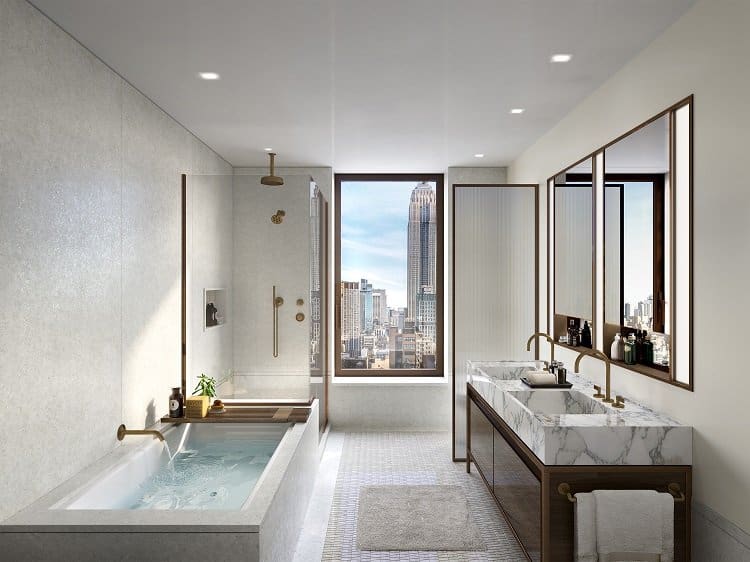 In fact, the $13.5 million residence has a 222-square-foot planted and irrigated loggia that runs the full length of the east windows, adding to the rhythmic grid of windows and leafy balconies that are characteristic to the building.
Designed in collaboration with Brooklyn-based landscape architect Future Green Studio, plant species will be included in the home, such as periwinkle, thyme, oregano, lavender, alpine strawberries, and lowbush blueberries.
The planting choices are very specific and based on a Mediterranean approach to be edible, fragrant and open to regular sun exposure.
But the lushly planted gardens are by no means the luxury building's only upscale additions. Indoor amenities include an attended lobby, a fitness center with yoga area and terrace access, a lounge, a game room with billiards table and dining area, and discreet on-site parking.
Residence 21A is the most expensive unit at the Flatiron House, with the lowest priced residence being $1.98 million at the time of writing.
More stories you might like
Britney Spears' Star-Studded Former Penthouse in Manhattan is Up for Grabs
If You Want to Live in a Celebrity Building, Here are Your Best Options
The Many Famous Residents of the San Remo, NYC's First Twin-Towered Building
Live Like Kevin in 'Home Alone 2: Lost in New York' in This $6.5M Residence at the Plaza