Shaq is ready to say goodbye to his Los Angeles home, and has found a new way to attract potential buyers.
The retired basketball star took to Instagram to give his 15.4 million followers a video tour of his five-bedroom home set in a cul-de-sac in the gated community of Bell Canyon.
And while it may not be as insane as Shaq's house in Orlando, the Bell Canyon property has quite a few features worthy of NBA royalty — and it's yours to buy, if you have $2.5 million ready to invest.
A beautiful traditional estate with modern flair, the 5,217-square-foot home comes with bright and open interiors, punctuated by beamed ceilings and statement walls.
Featuring five bedrooms, a large living room, a perfectly equipped family kitchen, and four-and-a-half bathrooms, Shaquille O'Neal's L.A. home also comes with a master suite that has not one, but TWO walk-in closets.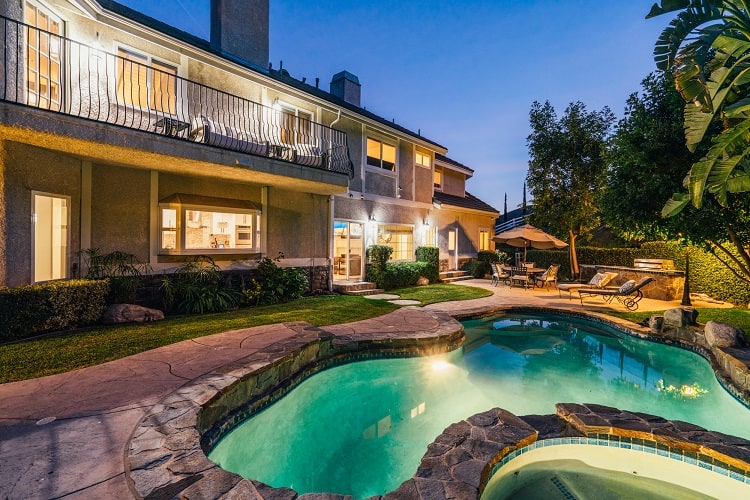 For your celebrity-worthy amenities, look no further than the private driveway, private pool and spa, jacuzzi, and a fireplace retreat.
But there's one thing that stands out from the listing, something you're unlikely to see in any other home on the market.
More stories you might like
And that's an impressive art collection featuring the likes of Biggie, Tupac, Nipsey Hustle, even Bugs Bunny, that caught the eye of everyone watching Shaquille O'Neal's house tour on Instagram.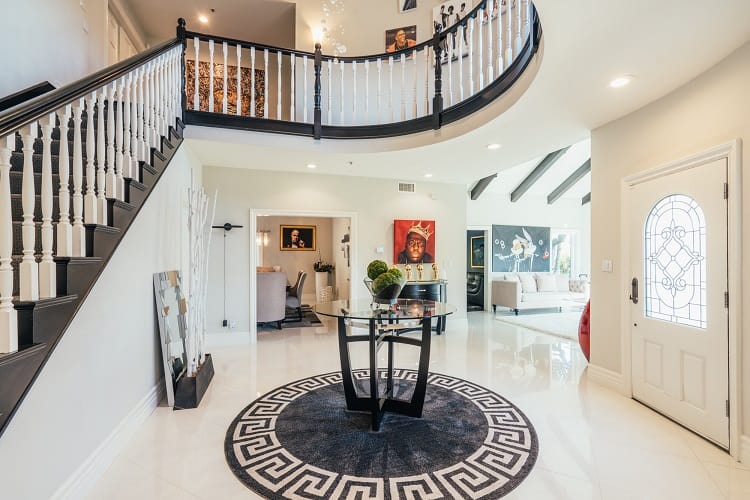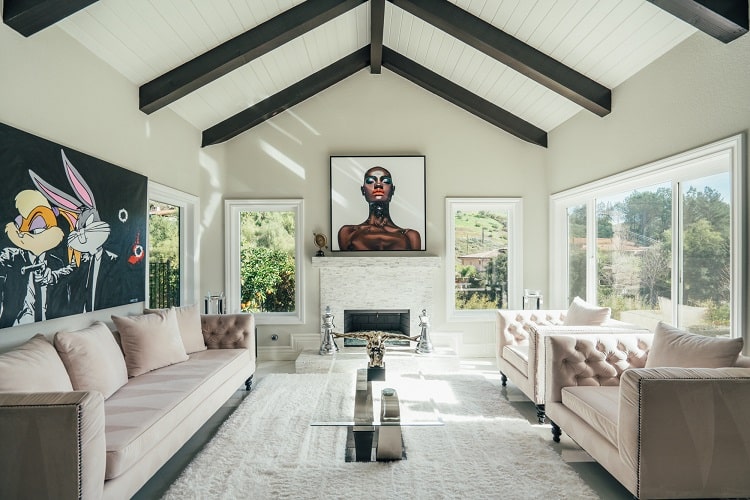 The house is not new to market, as news that the basketball player will be selling his Los Angeles digs broke last November.
But it's worth noting that the new marketing approach coincides with new representation for the property. While Shaq's Los Angeles home was previously repped by the Fridman Group, the listing is now with The Agency — agents Emil Hartoonian and Nicholas Siegfried in particular.
The Bell Canyon home is one of the most recent assets in Shaquille O'Neal's real estate portfolio; the basketball player reportedly purchased it in early 2018 for $1.81 million, which means he stands to make a sizable profit if he sells the home at full ask.
Originally from Newark, New Jersey, Shaquille O'Neal first moved to Los Angeles in 1996, when he signed as a free agent with the Los Angeles Lakers, following a four-year streak with the Orlando Magic.
He stayed on to win three consecutive championships with the Lakers — in 2000, 2001, and 2002 — before being traded to the Miami Heat in 2004. He is now a sports analyst on the TV program Inside the NBA on TNT.
More sports celebrity homes
What Happened to Aaron Hernandez' Former Mansion?
Serena Williams' House in Florida is Bold and Beautiful, Just Like Her
Lance Armstrong's West Aspen Home Has All the Charm – And Fridges
Maria Sharapova's Japanese-Inspired House on the Beach is a Minimalist's Dream Come True