Best known as Gianni Versace's house

, the Miami Beach property known simply as the Versace Mansion is one for the history books

It was built in the 1930s

for Alden Freeman, the heir to the Standard Oil fortune

The architecture

was based on the oldest house in the western hemisphere, built in 1510 by Diego Columbus, son of explorer Christopher Columbus
The house was featured on American Crime Story: The Assassination of Gianni Versace, as the filmmakers shot the scenes on location at the actual Versace mansion

Now named Villa Casa Casuarina

, the iconic home operates as a boutique hotel

Its current owners paid $41.5 million

for it at an auction in 2013, beating a bid from former President Donald Trump.
Despite its grim history, the Miami Beach mansion that was once owned by Italian fashion designer Gianni Versace hasn't lost its appeal, still drawing crowds of tourists each year.
In fact, people stop here every day to pose for pictures in front of the home where Versace was fatally shot by Andrew Cunanan in 1997 — making it one of the most photographed homes in America.
But the story of the Versace mansion goes back almost a century, long before its illustrious owner took residence here.
And some parts of it are far more interesting than the gruesome murder tales it's been reduced to over the years.
The history of the Versace mansion, now known as Casa Casuarina
Located at 1116 Ocean Dr, in Miami Beach, Florida, the now-former Versace mansion is a palatial 23,462-square-foot property.
It was commissioned in 1930 by architect, author, and philanthropist Alden Freeman, who was also the heir to the Standard Oil fortune.
Alden Freeman modeled the mansion after the oldest house in the western hemisphere, the "Alcazar de Colon" in Santo Domingo — built in 1510 by Diego Columbus, the son of explorer Christopher Columbus.
Freeman actually incorporated brick from this ancient house in the construction of Casa Casuarina.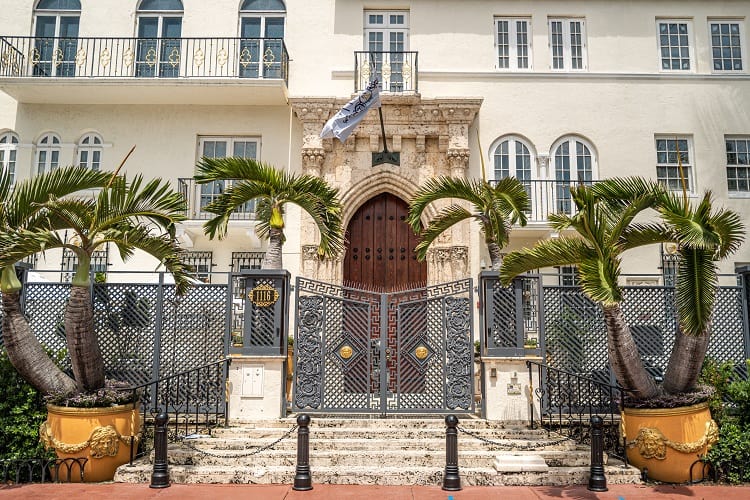 When Freeman died in 1937, the property was purchased by a man called Jacques Amsterdam.
It was renamed "The Amsterdam Palace" and turned into a 30-unit apartment building that attracted many local artists with its unique design.
How Gianni Versace fell in love with the Miami Beach mansion
As the story goes, Versace was passing through town on his way to Cuba when he asked a cab driver to show him something "fancy and fun" about Miami.
When the cab driver took him to South Beach, Versace first laid eyes on the villa-turned-eccentric-apartment-building, and he just had to have it. According to sister Donatella Versace:
"Gianni just stopped in front of the building and said, 'I want this house.' Just like that, 'I want this house.' But it wasn't a house; it was literally an apartment building, and people were living in it! I said, 'Gianni, how are you going do that?'

Donatella Versace
But Gianni Versace didn't let that intimidate him, and bought the house in 1992, spending more than $32 million to turn the rundown apartment building into the opulent mansion that would serve as his home from 1992 until his death in 1997.
As part of an extensive three-year remodel, the 24 apartments became 10 spacious suites.
He also added a 6,100-square-foot wing and a 54-foot-long mosaic-tiled pool that was inspired by his Marine Vanuras collection and made up of more than one million mosaic tiles.
Thousands of those mosaic tiles are real 24-karat gold.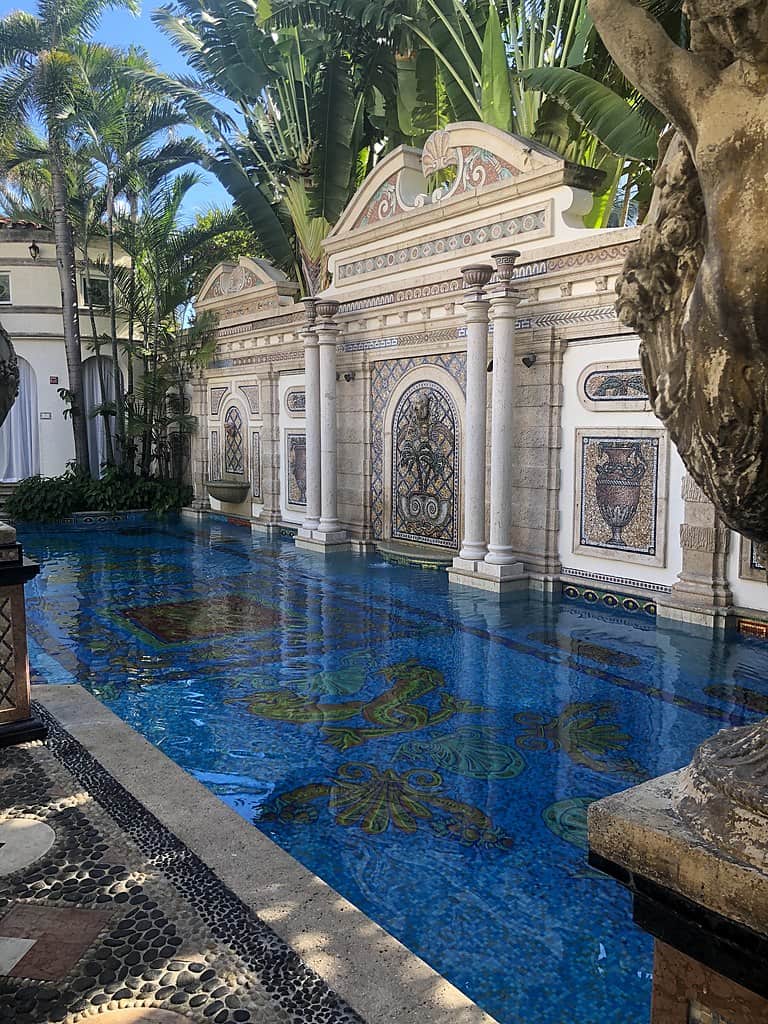 In an ironic twist of fate, Gianni Versace was gunned down five years later on the front steps of his beloved Ocean Drive mansion.
You can now stay at the former Versace mansion next time you visit Miami Beach
In the 20 years since Gianni Versace's death, Villa Casa Casuarina has had a troubled course.
Donatella Versace sold the property three years after the murder and it changed hands several more times, eventually becoming a hotel owned by the Nakash family, founders of the Jordache clothing/jeans brand.
They paid $41.5 million for it at an auction in 2013, beating a bid made by former President Donald Trump.
Now a boutique hotel called The Villa Casa Casuarina, Versace's house retains his glamorous designs and opulent lifestyle.
Visitors can swim in the pool he lined with 24-karat gold tiles, sleep on double-king-sized beds so large they require custom-made sheets, gaze at the ocean from his rooftop observatory and dine in a gourmet restaurant opened in the fashion designer's former dining room.
SEE ALSO: What happened to Michael Jackson's house, Neverland Ranch?
All that luxury doesn't come cheap.
It'll cost you upwards of $1,000 to spend a night in the Versace mansion. And if you feel like splurging even more, you can even sleep in Gianni Versace's former bedroom.
Having dinner at the Versace mansion will also cost you a pretty penny. A meal at Gianni's costs $195 / person, plus tax and service charge.
You can book your stay here; or, if you find the daily rates at the former celebrity mansion to be out of reach, there are plenty of vacation rentals and hotels nearby.
Since the former single-family home now operates as a boutique hotel, nobody actually lives inside the Versace house anymore.
But fans of Ryan Murphy's American Crime Story series would never have been able to tell, as the Versace house briefly returned to its past glory to serve as filming location for the thrilling FX show.
Back in the spotlight: Gianni Versace's mansion was featured in 'American Crime Story: The Assassination of Gianni Versace'
In the second season of American Crime Story, FX made the world turn its eyes to Miami Beach and a very grim part of its history: the assassination of Gianni Versace.
The hit series explored the assassination of Gianni Versace, who was gunned down right on the front steps of his Ocean Drive mansion in 1997.
The death of the iconic Italian fashion designer stunned South Beach and sent police scrambling to find the murderer.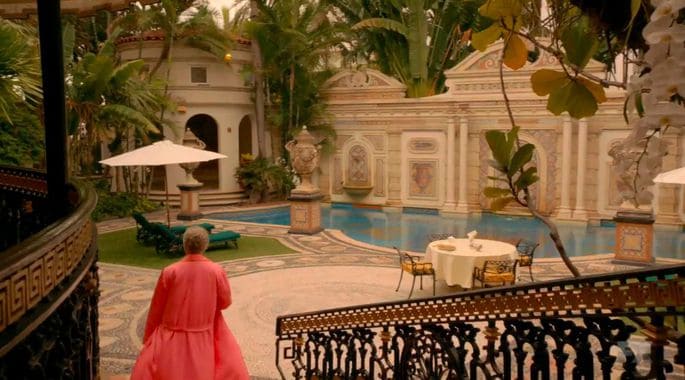 The narrative of the nine-episode season follows the search for suspect Andrew Cunanan, a 27-year-old serial killer who became obsessed with attaining celebrity status and who, despite his very short stay in South Florida, has managed to leave a permanent mark on Miami Beach's history.
And while a big part of the series was filmed in California in 2016, when it comes to scenes filmed in and around the house, those were all shot on the actual property once owned by Gianni Versace:
"The entire opening of the show was completely shot in the Versace mansion, in the interior. Then we shot the exterior quite a bit, especially the pool area and first courtyard," says Judy Becker, American Crime Story's production designer.
Versace's interior designs were so intricate and extravagant that it would've been close to impossible to recreate them. Producer Ryan Murphy told Page Six:
"I don't think I could have made the show if I couldn't have gotten that house. There was no way you could build [a set] of it. Two of the rooms were made out of seashells. [Gianni Versace's sister] Donatella [Versace] took all the furniture and the art when she sold the house, but through pictures we were able to recreate them."

Ryan Murphy
More stories you might like
Sharon Tate's house at 10050 Cielo Drive and its sordid past
Step inside the breathtaking Dolce & Gabbana Villa on Sicily's idyllic Stromboli Island