Grey's Anatomy star Ellen Pompeo is one of the most successful actresses in Hollywood — and her real estate portfolio reflects that.
According to Forbes, Pompeo is the eighth highest paid actress, ranking just behind the likes of Nicole Kidman, Meryl Streep and Angelina Jolie.
Clocking in at $550,000 per episode of Grey's, the mother-of-three, 52, also receives $6 million per year from her share of syndication profits, earning her a total of $19 million per year.
But acting isn't her only talent.
In real life, she's no stranger to the real estate market and has a self-proclaimed hobby of buying and designing homes. Continue reading all about Pompeo's passion for real estate and home design.
Where does Ellen Pompeo live now?
Although she's sold three different homes in recent years, the SAG Award-winning actress currently owns two homes in California. Let's take a look at these houses located in the Los Angeles area.
The actress' Los Feliz home
First up, here's a look at Pompeo's Mediterranean mansion in the gated and celeb-filled community of Laughlin Park in Los Feliz.
The Grey's Anatomy star and husband Chris Ivery are raising their three children — daughters Stella, 12, and Sienna, 7, and 5-year-old son Eli — in the 16,000 square-foot mansion.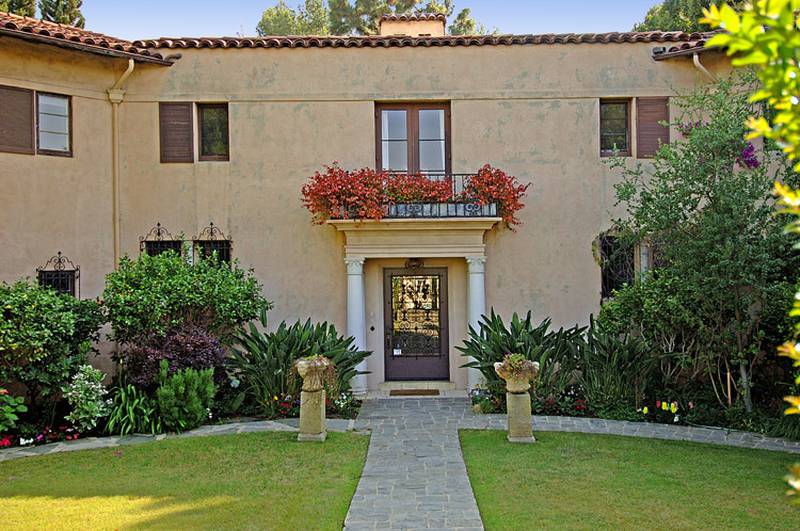 "I love a project," Pompeo told Architectural Digest of the top-to-bottom renovations they did to the Mediterranean-style mansion.
Originally crafted by architect Paul Revere Williams in 1930 for Antonio Moreno, a famous actor from the silent film era who married oil heiress Daisy Canfield Moreno, the property was known throughout the decades as The Antonio Moreno estate.
The Pompeo-Iverys completely transformed the nearly century-old house.
After purchasing the property in 2009 for $3.475 million, Pompeo hired decorator Martyn Lawrence Bullard to help with the task of "giving the house the attention it desperately needed," Pompeo shared.
And the results are stunning.
With luxurious features from reclaimed terra-cotta tiles, to planks of textured French oak, to antiqued moldings, to six-and-a-half-foot-tall wood-framed French doors, to a swimming pool and cabana, to the outdoor kitchen and pizza oven, this stunning estate has it all.
If you'd like to take a closer look at Ellen Pompeo's house – and primary residence – check out this video tour she gave to Architectural Digest in 2014, when her home was featured in the November issue of the magazine:
Ellen Pompeo's house in Malibu
In 2014, the People's Choice Award-winning actress purchased a plush property in Malibu for $6.365 million, Dirt.com reports.
The waterfront home is located on a low bluff in the semi-remote, far western end of Malibu.
Pompeo bought the Buff and Hensman-designed house from Friends co-creator/ writer/ producer Marta Kauffman.
Featuring jaw-dropping ocean views and an infinity pool, Pompeo and her family-of-five enjoy the privacy on the western-most tip of Malibu.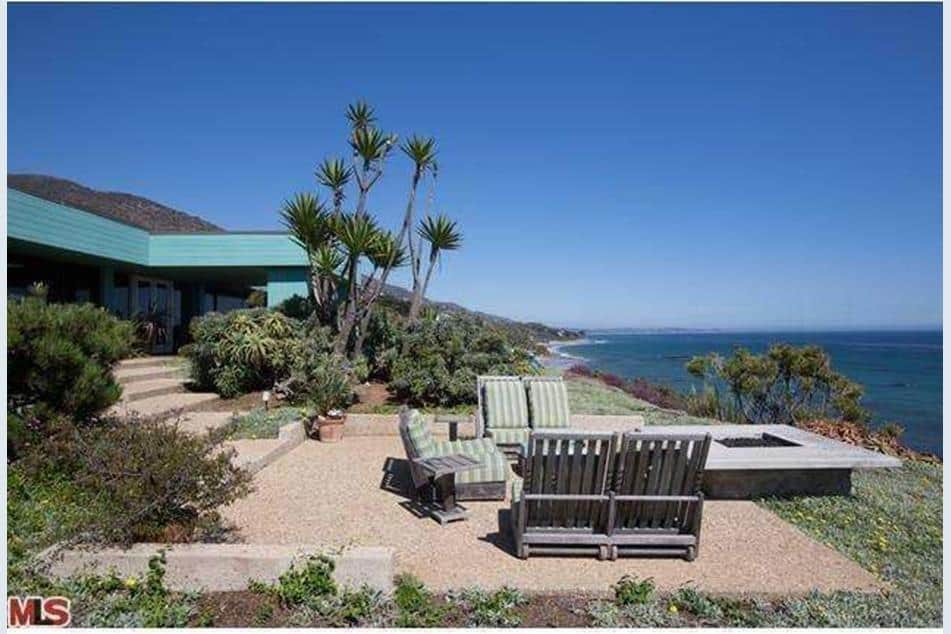 According to Variety, the Malibu beach house boasts 2,130 square feet, three bedrooms and three bathrooms. 
3 other homes Ellen Pompeo has recently sold (including one she designed herself)
"This is my hobby and I absolutely love it," Pompeo told Architectural Digest of buying and designing homes.
Although she's best known for her starring role in the ABC popular medical drama, the Grey's Anatomy star also loves to dabble in real estate.
And did we mention she even made her design debut in the Hamptons? Here's the full scoop on the three homes she's sold in recent years.
East Hampton:
In 2019, the actress sold her East Coast modern farmhouse for $2.995, Los Angeles Times reports.
Located in the Hamptons, Pompeo designed this home herself. Spanning 2,400 square feet on eight acres in Sag Harbor (a small village in Suffolk County, New York), the house features five bedrooms and four bathrooms.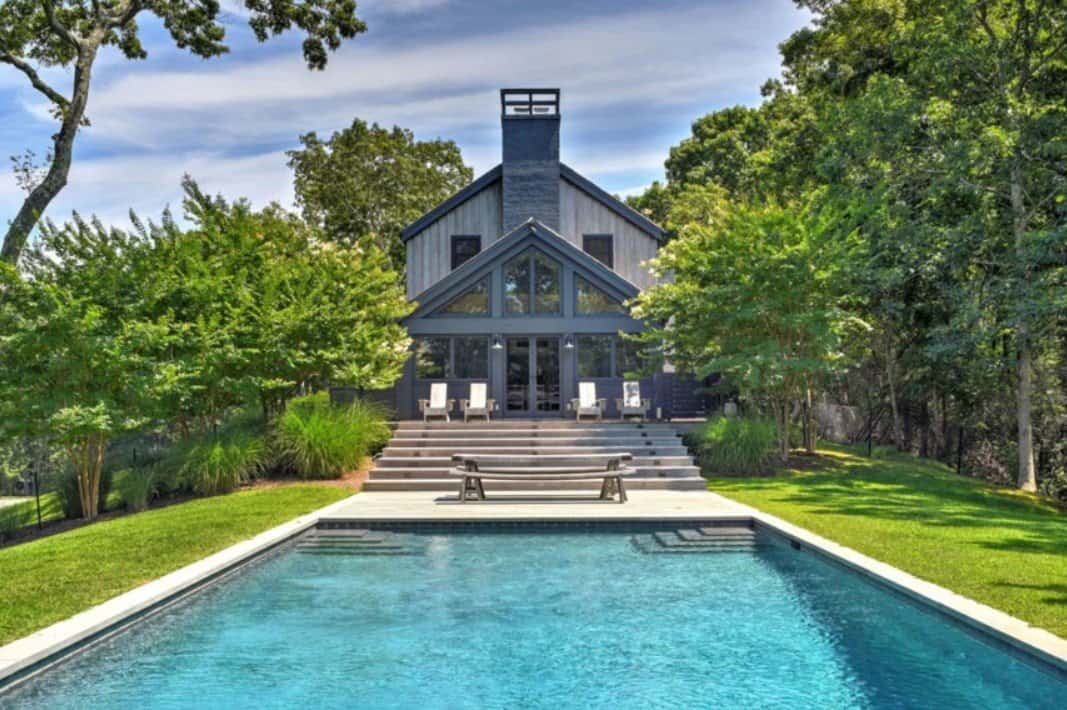 Some of the luxurious features include a master suite with a private lounge and office, and an outdoor wood deck that descends to a gunite pool surrounded by landscaped lawns.
Hollywood Hills:
In 2017, the actress sold her mid century mansion in LA's Hollywood Hills for $2.075 million, Los Angeles Times reports.
Designed in 1957 by architect Harry Greene, the house spans 1,889 square feet, features a stainless steel kitchen, media room, stunning glass walls and concrete floors, and an outdoor courtyard with a fire pit, pool and spa, Architectural Digest reports.
Hollywood Hills: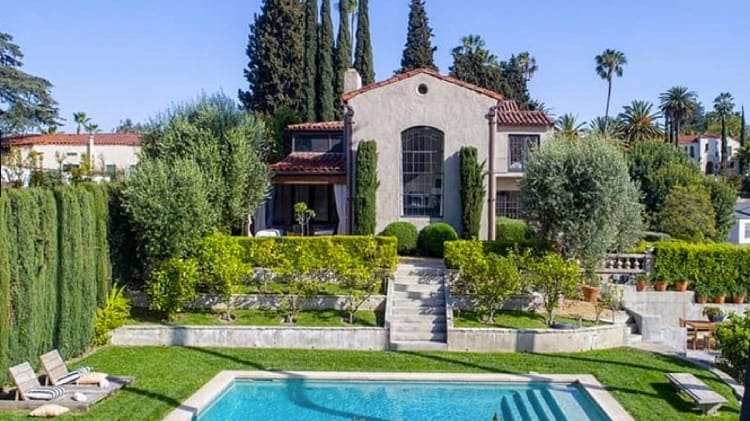 Also in 2017, Pompeo sold a second Hidden Hills home, according to the Los Angeles Times. Cashing in at $2.765 million, the 2,456-square foot home in the historic Whitley Heights neighborhood features two bedrooms and two bathrooms.
The Pompeo-Iverys heavily updated the 1920s Spanish villa before putting it on the market.
More stories you might like
Shonda Rhimes' Apartment is "Comfy and Cozy" with Bridgerton Vibes
'Dallas' Star Linda Gray Lists Mid-Century Modern Home Designed by A. Quincy Jones
Kerry Washington's New York Apartment Is Just as Stylish as You'd Expect
Where in the World Do George Clooney & Amal Clooney Live?