It's been more than two decades since Friends first aired on NBC, luring in no less than 21.5 million viewers from its very first episode.
By the time the show finale aired in May, 2004, the television series had become so popular that it drew in 52.5 million viewers in what became the most watched episode of the decade on U.S. television.
Riding the changing waves of the TV industry at all the right moments, the '90s sitcom left a complex (and somewhat controversial) legacy — that extends far beyond the Rachel haircut.
Following the lives of six quirky, independent friends living in Manhattan, the series jump-started the careers of Jennifer Aniston, Courteney Cox, Lisa Kudrow, Matt LeBlanc, Matthew Perry and David Schwimmer (see their million dollar homes here) and went on to become one of the most successful TV shows of all time.
And that comes as no surprise, since each episode of the sitcom went far beyond its goal of grabbing a few chuckles from the audience. Friends stayed true to its name, providing comfort, warmth, and feel-good storylines, along with a big dose of 'aspirational normalcy'.
If you're not familiar with the term, Kelsey Miller, author of the book "I'll Be There For You: The One About Friends", explains:
"Television really represents the national mood, economy and political events of its time, and in the '90s, the vibe was this aspirational normalcy and the appearance of attainability. 'Friends' is like real life, but a little bit better."
"The characters have relatable problems with dating, looking for work, and struggling with their parents', but everything is fine and everything works out."
And nowhere is that 'aspirational normalcy' better reflected than in their living situation.
One of the most contested elements of the show, the New York City apartments where the characters live have often been quoted as one of the biggest plot holes in the storyline — with Monica's apartment being singled out as a highly unrealistic scenario given real estate prices across New York (even in the '90s).
Which naturally makes you wonder: is the Friends apartment real? And if so, where can you find it in real life? And how is it that Monica and Rachel could afford such a spacious NYC pad? Well, we've got answers.
Tracking down the 'FRIENDS' apartment in real life
As the primary setting for the series, Monica's apartment in Friends has made history along with the show.
It's where most of the episodes take place and it has been the home of every member of the group at one point or another during the show's 10-season run.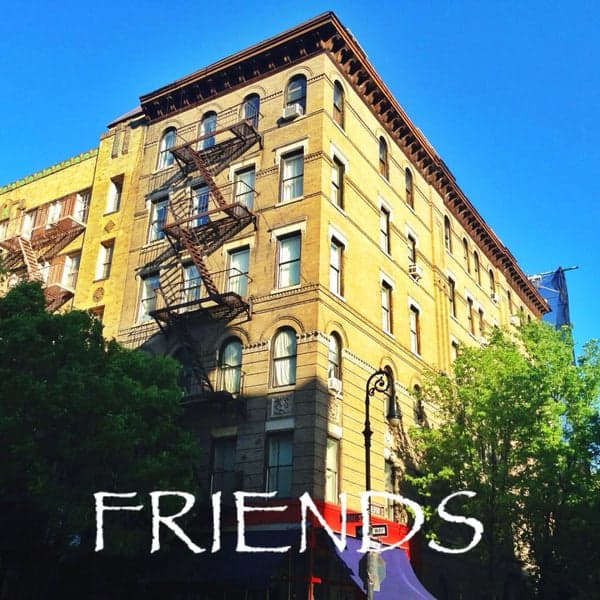 And just in case you were wondering where you might find it on the map, the Friends apartment is set at 90 Bedford Street in West Village, New York, a short walk from the Christopher/Sheridan Sq. Subway station.
But that's just the building. The apartment itself doesn't exist, and all interior shots were filmed on carefully-designed studio sets in Los Angeles.
That doesn't mean you shouldn't take a walk on the corner of Grove and Bedford Streets if you're ever in New York and find yourself feeling nostalgic; the surroundings are bound to look quite familiar.
And if you want to scout another iconic TV location while you're at it, know that Carrie Bradshaw's apartment from Sex And The City is roughly 7 minutes away, by foot.
How could Rachel and Monica afford their spacious two-bedroom set in a prime NYC neighborhood?
For most of the series, Monica (Courteney Cox) and Rachel (Jennifer Aniston) split the two-bedroom, one-bathroom apartment set in the city's pricey West Village neighborhood.
Throughout the show's 10-year run — and many, many years after it stopped running — the biggest question on fans' minds was: how could Rachel and Monica afford their ultra-spacious two-bedroom apartment in a prime New York neighborhood?
Given Manhattan's notoriously high rental rates, such a spacious pad would be so ridiculously priced that no waiter, cook, or whatever Chandler does for a living could have afforded the rent.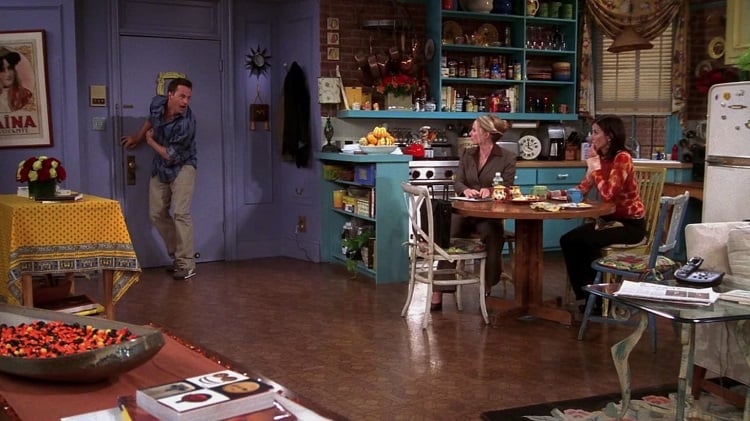 Today, a similar apartment in the area would easily rent upwards of $5,000/mo, according to CheatSheet.
Even with some major salary increases, Monica and Rachel wouldn't have been able to swing the hefty rent and keep up the lifestyle they enjoyed, with daily trips to the coffee house.
The writers did have an explanation for the generously-sized apartment though: rent-control.
In Season 1, Monica tries to clarify the rent situation and says that the apartment is on her grandmother's name — so "If anyone asks, tell them an 80-year-old woman lives here".
Which goes hand in hand with the rent control story, basically stating that her grandmother rented the apartment for a great rate before NYC real estate got out of control, and Monica is now reaping the benefits.
But even if that may be a bit of a stretch, we'll let it slide, as we couldn't have pictured the show taking place in any other setting than New York (where else would one find a Central Perk coffee shop downstairs?)
Revisiting Monica's apartment and its oh-so-familiar rooms
Now, while the apartment may not be real in the traditional sense, it will forever hold a special place in our hearts.
After watching — and re-watching — the show time and time again, the purple apartment with the perfectly appointed kitchen, cozy sofa, and secret closet feels like an eerily familiar place.
So let's forget for a moment that the entire place was created on set, in a filming studio, and revisit it through our heart's eye, one room at a time:
The one with the open space
As soon as you walk into Monica and Rachel's apartment, you're greeted by an open space, where you'll find the lively, colorful kitchen and the welcoming living room.
The walls of the living room are painted purple and there's a cool vintage French poster behind the TV. It's one of the advertising posters that Jules Cheret designed for a department store in Paris that was known as "Aux Buttes Chaumont".
The couch and the coffee table are exactly where they need to be – in front of the TV – perfectly aligned with the rest of the universe so Monica won't have a panic attack.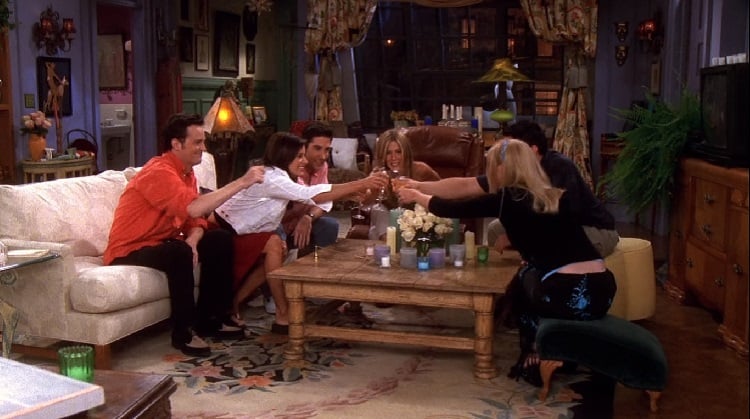 There's also a little desk placed in front on the window that no one seems to use, but it's cute nonetheless.
The kitchen's furniture is blue, and for all of you who love to cook, but don't have an enormous space for organizing all the tools you need, here's your inspiration. Monica is the host, the chef and the cleaning lady in her house so she made sure she has everything at hand.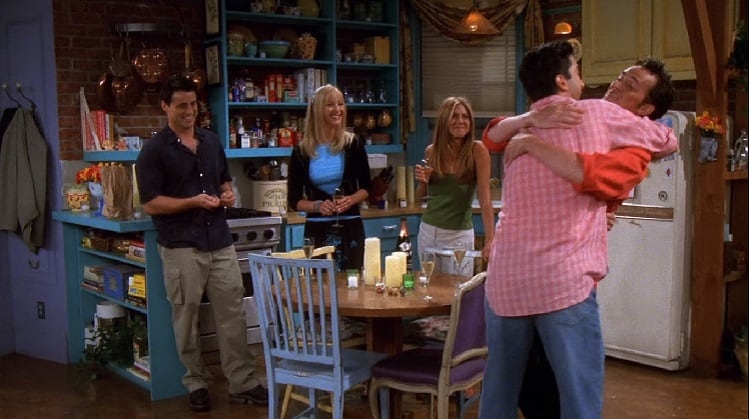 The one with the bedrooms
Monica's bedroom seems to have it all, including some sort of survival kit that Joey managed to sneak under the bed in case of "an emergency"… How did she not know it's there??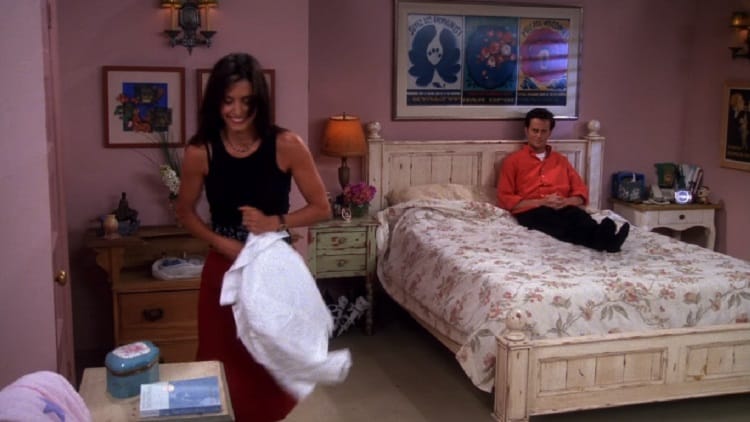 The second bedroom changes along the series. We don't know exactly what it looked like when Phoebe lived there — especially since she moved out before even Monica realized — but we're certain it just screamed 'Phoebe'.
For the biggest part of the series, the second bedroom is known as Rachel's room AND as the place where she's had the best sex ever… before being in a relationship with Ross, of course.
When Rachel moves out, it becomes a lovely guest bedroom where, ironically, no one wants to stay for too long. Monica might seem like a perfect host, but her strict rules drive everyone crazy.
The one with the bathroom
Everything looks just fine in the bathroom until Joey gets bored and decides to be a "handyman".
It appears it needed some changes – new tiles, to be more specific. It's also the place where Chandler likes to take his bubbly, oil scented baths (pour les connaisseurs).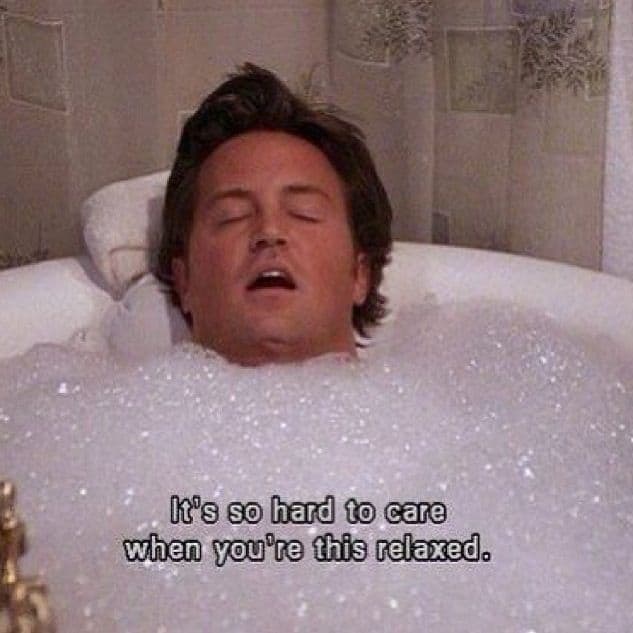 The purple and beige bathroom in Monica's apartment is not too spacious, but it's big enough to fit a free-standing bathtub and all the essentials two girls might need.
Not many scenes were filmed here, but the ones that have been, were definitely memorable.
"The one with the secret closet"
We all have a dirty secret or two, and we finally find out Monica's once Chandler got curious about what's behind the door next to the bathroom.
He obviously doesn't have a key, but eventually finds a way to open it and there it is — Monica is messy too! She managed to keep her apartment neat by stuffing everything that's "extra" inside that closet, and it's chaos in there!
But that's just something that happened over the years . If you really pay attention, Monica's closet hasn't always been closed.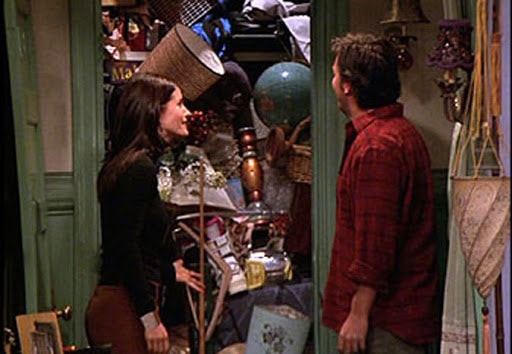 Now, if you've ever found yourself wondering how Monica's apartment would have looked like with a different design, you're not the only one.
Here's the FRIENDS apartment re-decorated in seven of today's most popular interior design styles.
More homes from movies and TV shows
Is it Real? The Story Behind Carrie Bradshaw's Apartment in "Sex and the City"
Charlie's Beach House in 'Two and a Half Men'
Tracking Down Barney Stinson's Apartment from HIMYM? Challenge Accepted!
Revisiting the Real 'Full House' in Honor of Bob Saget's Most Memorable Role