For nearly a decade, six friends entertained us with their antics, jokes, and oh-so-relatable highs and lows. With each passing season, we fell more and more in love with these characters.
At some point, they went from being just another TV show to becoming an intrinsic part of our lives. Whether it was Ross and Rachel's "Will They or Won't They" storyline, Monica's endearing neurosis, Chandler's sarcastic sense of humor, Phoebe's quirks, or Joey's charm, life was incomplete without them. Even today, whenever there's a rerun on TV, chances are you're going to watch it again and again. I know I am!
The show was not just popular in the US but has been broadcasted in 200 odd countries over these years. Recently, the iconic gang got together for a much-awaited reunion show that got fans hooked all over again. Suddenly, we transported back in time to Monica's purple apartment which undoubtedly gave us the best moments on the show. The reunion filled us with nostalgia, made us laugh, tear up, and feel like we were home again.
Speaking of home, this got us thinking about the cast of 'Friends', wondering where each of them lives in real life. So we set out to find out just that. Keeping in mind that all of them were making $1 million per episode by seasons nine and ten and have had successful careers in Hollywood, it's not surprising that they have stellar homes. Let's take a look…
The million-dollar homes of our favorite 'Friends' actors
Jennifer Aniston's clifftop mansion
There's only one way to describe Jennifer Aniston's Beverly Hills home – out of this world! The views are spectacular and the interiors are just as fabulous.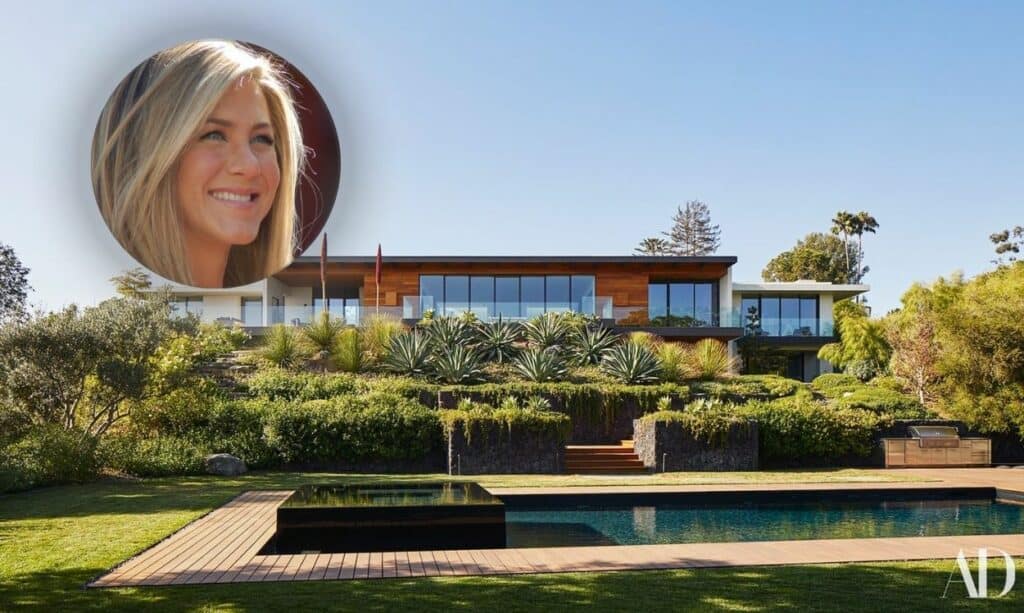 Aniston had once said that she would have loved to be an interior designer if she wasn't an actor, and looking at her home, it seems like she definitely has the talent for it — and she puts that skill to good use: Aniston is one of Hollywood's most famous house flippers.
But she kept her own home life private, and it was only after the Friends star joined Instagram in 2019 that fans got a sneak peek into her lavish life and glamorous den. She then landed on the cover of Architectural Digest, which gave us the full tour of her extraordinary Zen home.
The mid-century residence is full of Japanese-inspired design elements. It spans over 8,500 square feet, has four bedrooms, six and a half bathrooms (one of which has an Asian-inspired garden), a swimming pool, a guesthouse, and a wine cellar.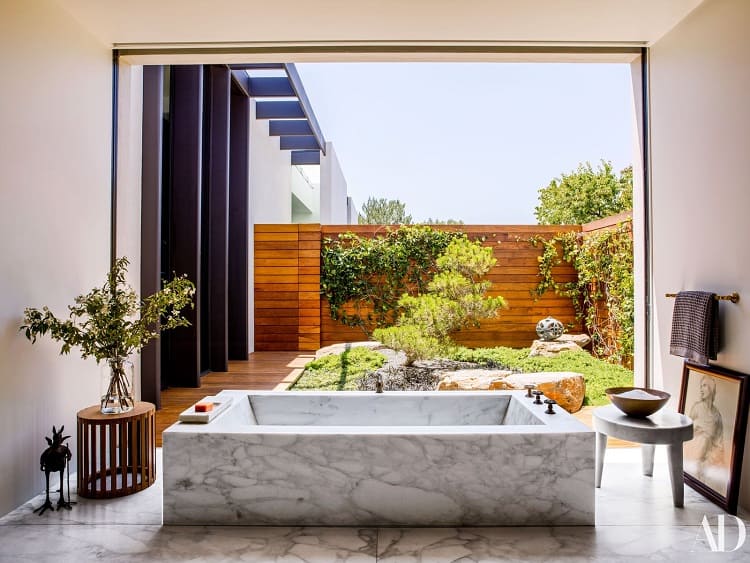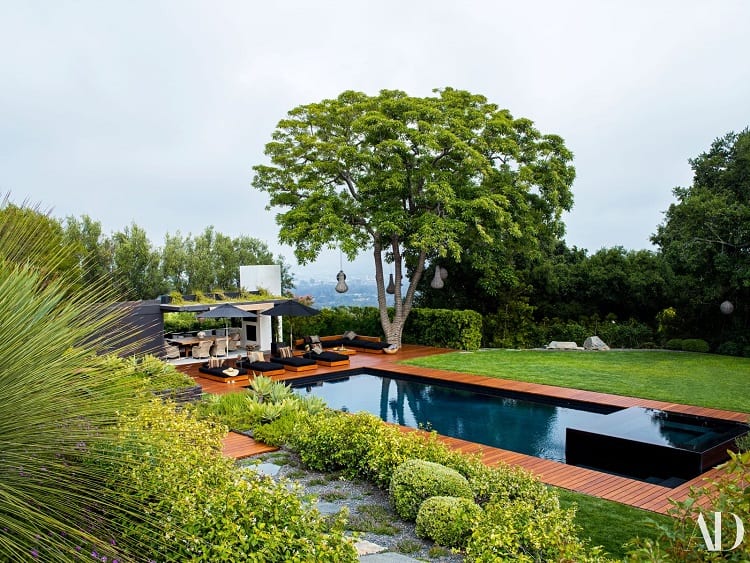 As you'd expect from an actress that reached stardom portraying a character known for her great fashion sense, Aniston's walk-in closet is massive (Rachel Green would surely approve) and every corner of the home redefines luxury. In case you're wondering, yes, she does have her friends over often including those from the show (especially Courteney).
Courteney Cox's Malibu beach house
Courteney Cox's home in Malibu is nothing like her purple apartment on the show. She once told Architectural Digest magazine that her house is really special and she will never move from it — and we can see why.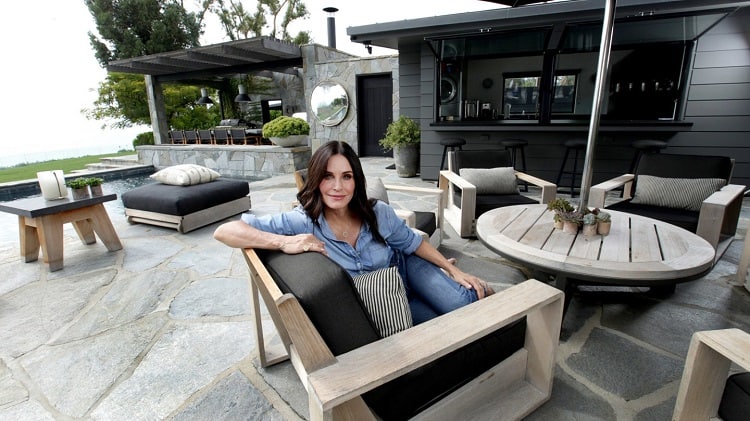 From gorgeous sea views, a massive white kitchen where she often posts recipe videos from, a barbecue area,  a tennis court, and a private pool, this house is what Californian dreams are made of.
The estate also has guest cottages where Ed Sheeran stayed in 2013 while he was working on a new album. Cox wanted to be an architect so it's not surprising that she was closely involved with every aspect of her beautiful home.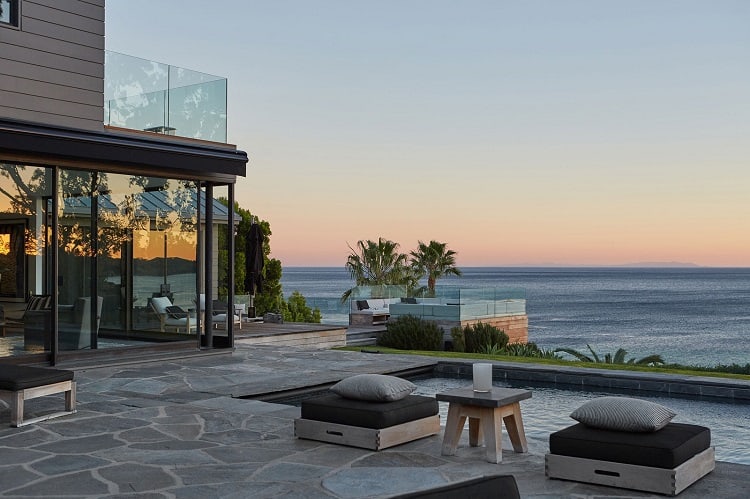 Matthew Perry's ranch-style cottage in L.A.
For a long time, everyone's favorite funny guy from the show lived in a gorgeous sea-facing mansion in Malibu. He also owned a luxury penthouse in LA. Recently however, he sold both these places and downsized to a dreamy cottage in the Pacific Palisades neighborhood of Los Angeles.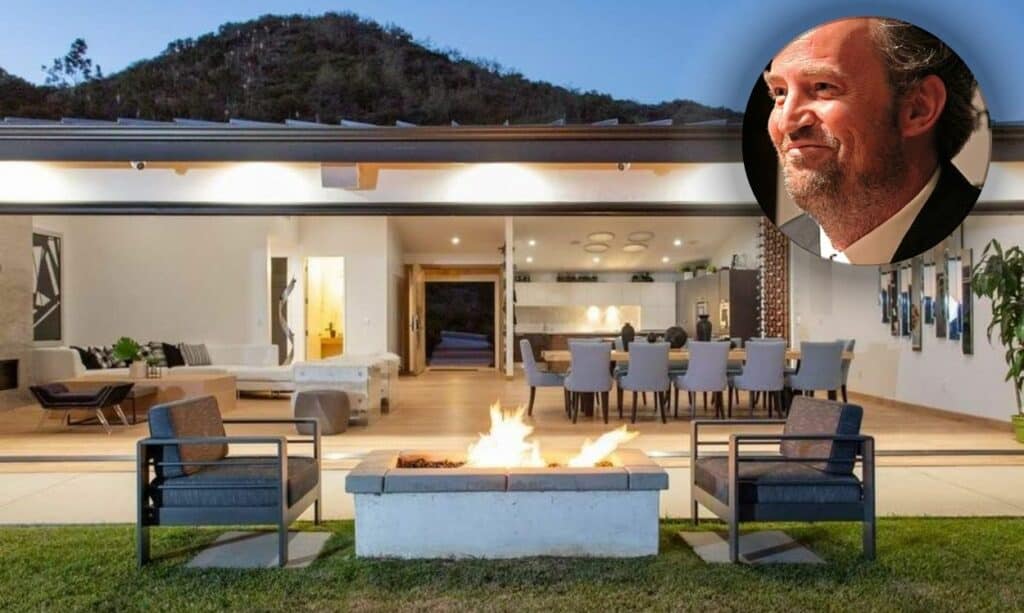 The midcentury modern home spreads over 2,500 square feet, has four bedrooms, and 3.5 bathrooms. It was originally built in 1965 but was renovated in 2018 to give it a contemporary makeover. The house has oak wood floors, smart home technology, a grassy yard that covers 0.37 acres, and two master bedrooms that open up to pergolas. There's also a fire pit and a raised pool that overlooks the ocean.
It may be a more humble abode compared to his previous houses but the floor-to-ceiling windows, clean-lined design, and views of the Pacific coast more than make up for it.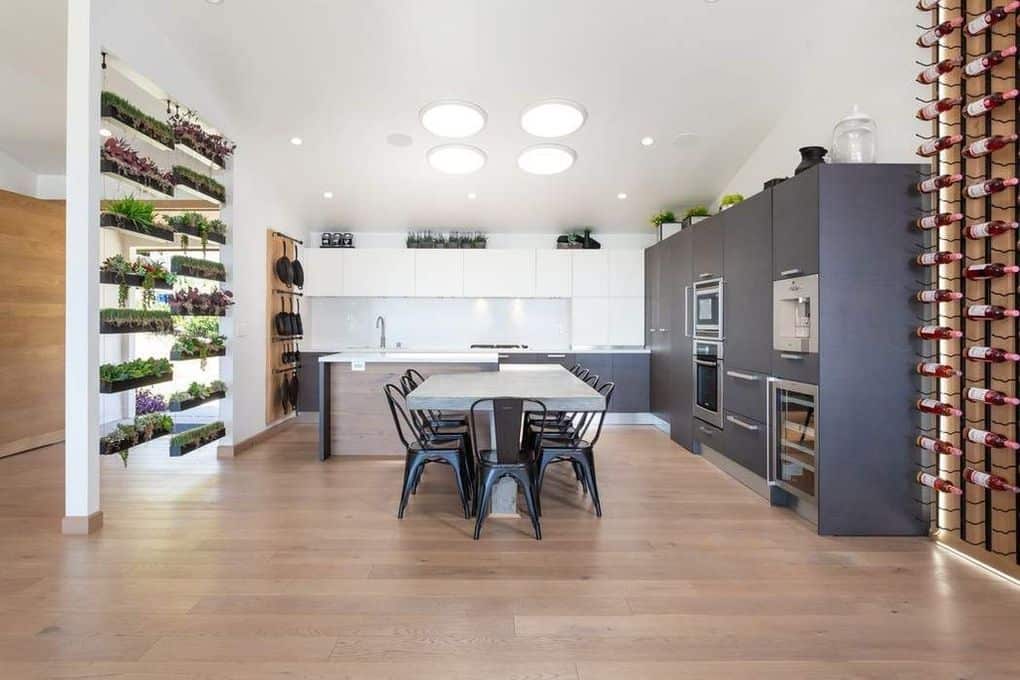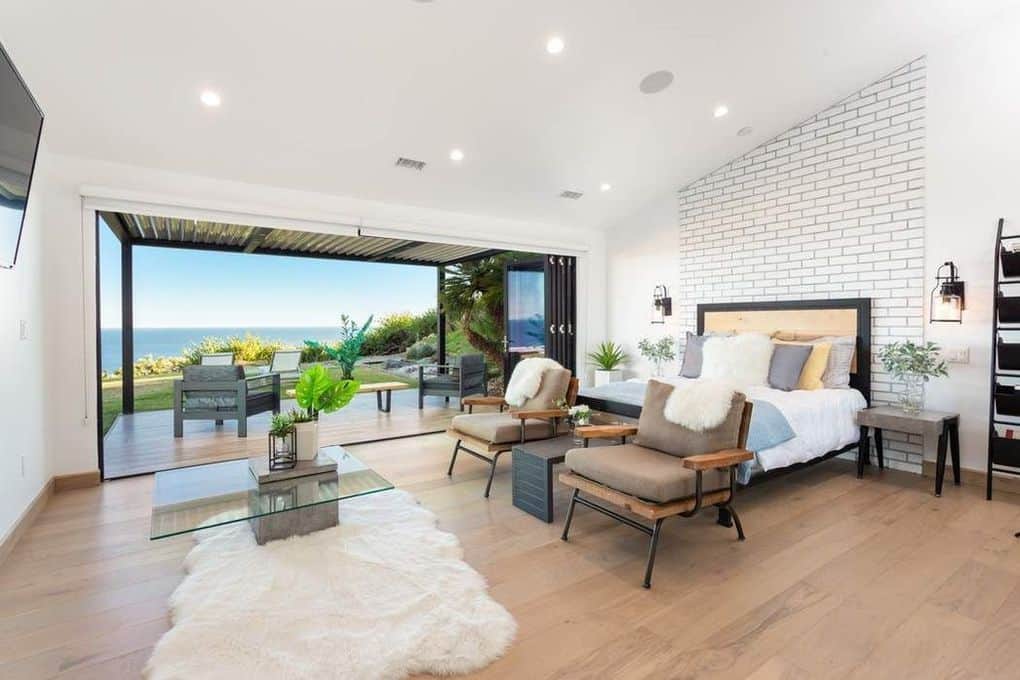 Lisa Kudrow's sprawling Beverly Hills home
Lisa Kudrow may have played the character of the endearingly eccentric Phoebe Buffay but her home is more chic and sophisticated than quirky and sits right in the den of stars, in Beverly Hills. You can catch glimpses of her stylish home by paying close attention to her Instagram posts, but other than that, the star is pretty private about her home life and you can't really find photos of her home online.
The actress purchased the property in 1996 and lives there with her husband, Michael Stern, and their son Julian. Kudrow also has a second home in Palm Springs and, up until recently, was the proud owner of this amazing chalet in Utah.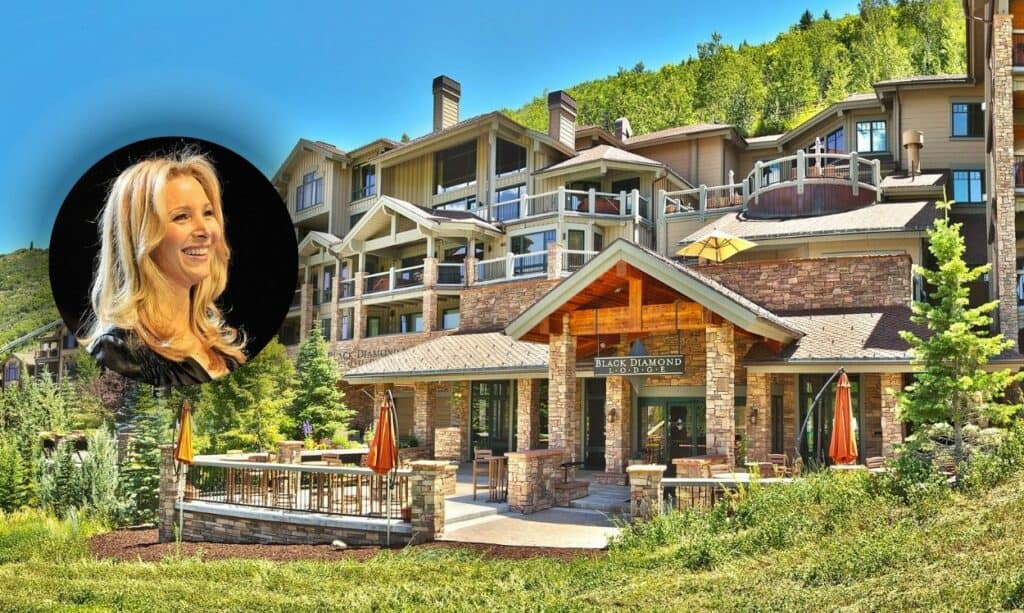 From the pictures Kudrow has shared on social media, it's clear that her Beverly Hills mansion is spacious and absolutely gorgeous. The lush outdoor area, in particular, is one of our favorite parts of her home. 
David Schwimmer's Townhouse in Manhattan
David Schwimmer is notoriously private about his personal life but we do know that he has a few properties under his belt. These include a Mediterranean-style L.A. mansion (which he sold a while back), a Chicago loft, and a townhouse in New York's East Village. But he appears to be the only member of the Friends cast to have remained faithful to Manhattan, where the show took place.
During a recent interview on 'The Tonight Show Starring Jimmy Fallon,' fans got a rare glimpse inside his home. He seemed to be in his living room, sitting in front of a black bookcase that had tons of books and neatly-lined CDs. He lives here with his daughter Cleo whose custody he shares with ex-wife Zoe Buckman.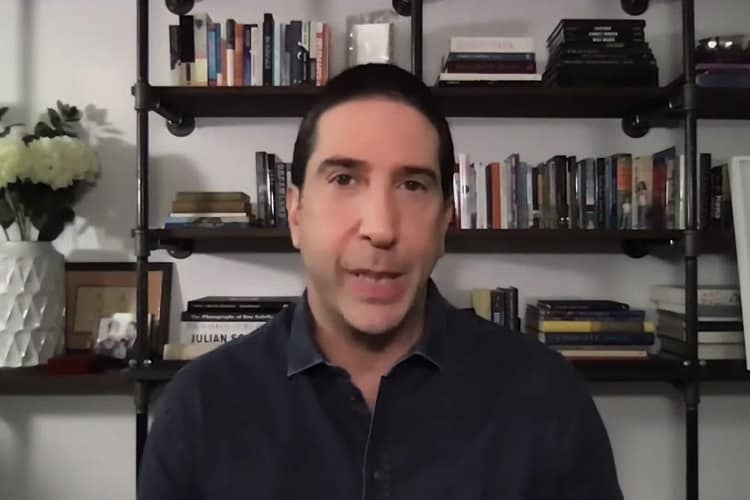 Matt LeBlanc's Spanish-style home
Just like Schwimmer, Matt LeBlanc is pretty private when it comes to his personal life. He used to live in a stunning Spanish villa in Pacific Palisades that spanned 3,930 square feet with four bedrooms and views to die for. However, he has since sold the property.
The actor still lives in California, but not much is known about his current place. One of the highlights of the reunion episode, however, was when LeBlanc recalled how all their homes were being shown on a TV show and when he saw the aerial shot of his house, all he could think was "My roof is a mess!" It seems like LeBlanc and Joey share the same hilarious sense of humor.