Hollywood celebrities are some of the busiest people on the planet, and yet they can't seem to stop adding things to their checklists.
They're constantly taking on new roles, going from acting, singing or dancing to philanthropy, event planning, entrepreneurship and — last but not least — real estate. 
Some of your favorite celebs could make a more-than-decent living as real estate professionals, should their Hollywood careers go bust. That's because they've added house flipping to their list of hobbies, and they seem to be quite successful at it.
Celebrities like Ellen, Diane Keaton or Scott Disick have turned this hobby into a profit-making side gig, and we're going to tell you all about it today.
We've compiled a list of 10 celebrities who have a passion for flipping houses, so check it out — some of the names on our list might surprise you. 
1. Jason Statham
When you think of tough guy Jason Statham, the first thing that comes to mind isn't house-flipping, for sure. But you'd be surprised to find out that the action movie star has a passion for real estate.
Statham partnered with long-time collaborator, architect Jeff Allsbrook of Standard Architecture, to renovate his home on Glen Road in Los Angeles.
The project took roughly 18 months to complete, and the house is currently on the market with an asking price close to $7 million.
Earlier this year, Statham and his wife, Victoria's Secret model Rosie Huntington-Whiteley, sold their Malibu beach home for $18.5 million; that house was also renovated by Statham, so he obviously doesn't intend to quit this hobby anytime soon. 
2. Scott Disick
If you've watched Keeping Up With the Kardashians, then you'll know that Kourtney's ex, Scott Disick, has a lot of expensive hobbies. Think luxury sports cars, fancy designer suits, and last but not least, fabulous real estate.
Disick is a passionate house flipper, so much so that he even has his own house-flipping reality show.
The show, dubbed Flip It Like Disick, debuted in 2019, and it revolves around Disick and his team, which includes Willa Ford, as they renovate luxury properties in the Los Angeles area.
The first season, which concluded last fall, included appearances by celebrities like Kris Jenner, Sofia Richie, and Steve Aoki.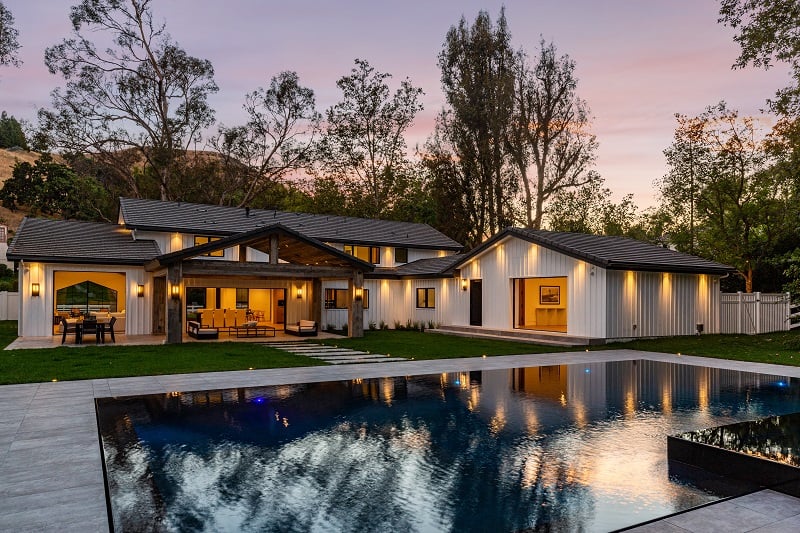 3. Ellen DeGeneres
Talk show icon Ellen DeGeneres is already famous for her impressive house-flips in Los Angeles. DeGeneres is on her way to renovating and re-selling all the fabulous homes in L.A., and her and wife Portia De Rossi have owned 7 homes in Beverly Hills so far.
The couple doesn't seem to get too attached to their homes, even though Ellen told The New York Times that she never buys intending to sell. The talk show host has turned a hobby into a veritable real estate empire, having renovated and sold numerous upscale properties in Greater Los Angeles.
If you ever buy a luxury home in L.A., you might want to check its history – it's probably been owned at some point by Ellen DeGeneres.
4. Jeff Lewis
The star of Bravo's Flipping Out reality show is another big fan of real estate and interior design.
Jeff Lewis was the star of the reality series, which focused on his flip projects and interior design business. In 2012, he starred in a spin-off of Flipping Out, dubbed Interior Therapy with Jeff Lewis, and was also a regular guest on Property Envy.
Clearly, Lewis has a knack for flipping houses, and he's managed to make a successful career out of it. He sure knows what he's doing; a prime example is a home in Hidden Valley he bought back in 2017 for $1.37 million.
Lewis renovated the property and turned it into a modern farmhouse-style home that he actually lived in for a brief time. The house sold earlier this year for $3,495,000, according to Zillow.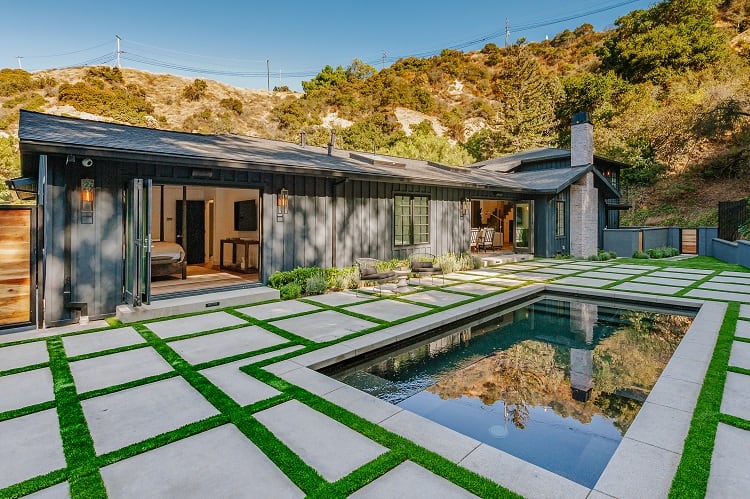 5. Jennifer Aniston
Our best F.R.I.E.N.D. Jennifer Aniston is another celebrity who's no stranger to successful real estate investments. The movie star has a burning passion for interior design, and seems to really have a knack for it.
She's bought and renovated several properties in the Greater Los Angeles area, including the home she once shared with Brad Pitt, which hit the market this year for $44.5 million.
In 2006, Aniston made the pages of Architectural Digest with a $42 million Beverly Hills mansion that she renovated with the help of Stephen Shadley. Aniston and Shadley worked together again to revamp her current home in Bel Air, which — until recently — she shared with former hubby Justin Theroux.
6. Adam Levine
Maroon 5 frontman Adam Levine and wife Behati Prinsloo are a Hollywood power couple that's passionate about interior design and renovations. The couple has joined forces multiple times to buy and sell properties together, and we have to say, they're quite talented.
Their latest project was a 10,376-square-foot Beverly Hills mansion that sold to Ellen last year for $45 million.
Levine and Prinsloo had purchased the Tudor-style home the year before for $33.9 million in an off-market deal, and worked on renovations and upgrades before selling it to Ellen.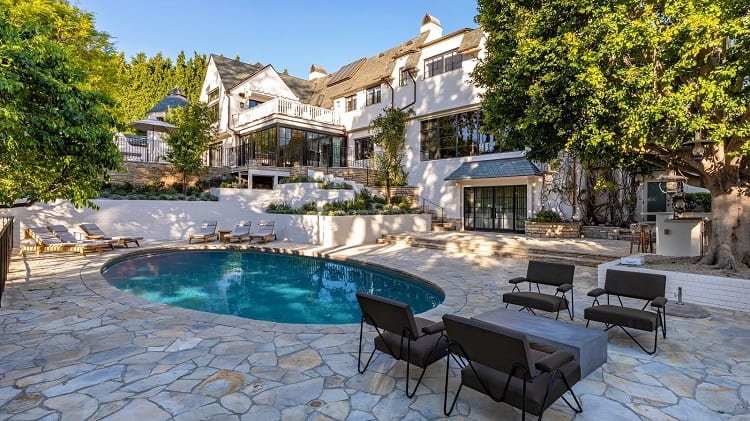 7. Courteney Cox
Best F.R.I.E.N.D.S. Jennifer Aniston and Courteney Cox have a lot of things in common, and one passion they both share is for interior design and house flipping.
Courteney Cox has completed several successful renovations in her career as a real estate investor, including a $5.45 million property she purchased in 2004, which she then listed at $20 million.
Cox also bought a $33 million Malibu home in 2001 with her then-husband David Arquette, and turned it around, selling it in 2007 to the owner of the Dodgers. The actress' late father was a contractor, so it's safe to say that he passed down his talent and passion for real estate to his daughter.
8. Jeremy Renner
Action movie star Jeremy Renner also enjoys spending his free time revamping and selling houses, alongside friend and business partner Kristoffer Winters.
The Avengers star reportedly has more flips under his belt than Ellen or Jennifer Aniston. His home-flipping side gig started back in 2002 when he made his first investment with Winters, purchasing a $659,000 home in Nichols Canyon. The partners revamped the property and sold it for $900,000 after just a few months.
Over the years, Renner and Winters have bought and sold more than 16 homes, including a Holmby Hills home that they purchased for $7 million and sold in 2013 for $24 million.
9. Sharon Osborne
The best way to describe Sharon Osborne's real estate career is in her own words: 'What most people don't know about me is that I flip houses, and I'm damn good at it.' She is in fact damn good at it — so good that her passion landed her own TV show called Sharon Flipping Osborne.
Osborne has reportedly made millions upon millions from buying and selling homes around Los Angeles, and this talent seems to run in the family.
Her daughter Aimee Osborne might be taking on this hobby as well, after flipping her Hollywood Hills home in 2018 for $2.65 million. 
10. Diane Keaton
Iconic A-list actress Diane Keaton is known to take on complicated, historic renovation projects. She purchased a $8.1 million Spanish Colonial Revival in Beverly Hills in 2007, and then sold it to Ryan Murphy for $10 million three years later.
But house flipping is more than just a hobby for Keaton; she authored a book on Spanish architecture, dubbed California Romantica, she released a coffee table book, and even designed a dish-ware line for Bed, Bath & Beyond.
One of the highlights of Keaton's real estate career was renovating the Alfred Newman Estate, a Frank Lloyd Wright-designed property in the Pacific Palisades. She sold that home in 2007 for close to $11 million.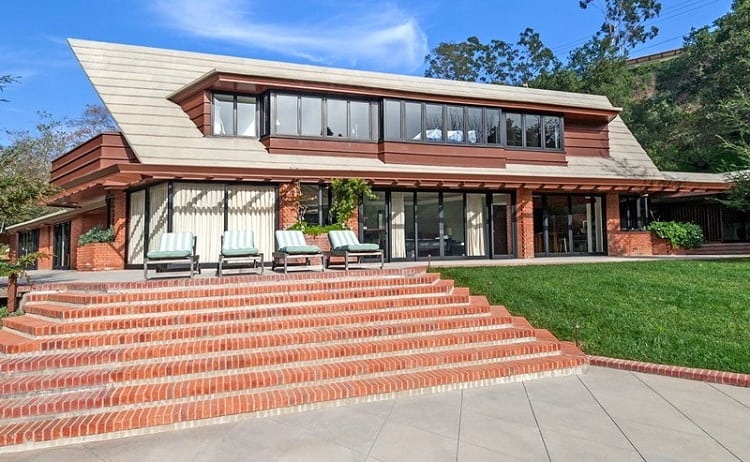 More celebrity real estate stories
Where Does Lady Gaga Live? Check Out Her 'Gypsy Palace' in Malibu
Inside Supernatural Star Jensen Ackles' 'Very Hip' Lake House in Austin
The Playboy Mansion: Hugh Hefner's Party Home is Now Part of Modern History
Basketball Legend Michael Jordan is Selling His Famous Chicago-Area House