There's this term that often gets thrown around when talking about Los Angeles' biggest and boldest real estate projects.
Spec homes are often referenced in the media when talking about the highly customized newly built mansions (with endless lists of amenities) that come to market with mind-boggling prices. They're also mentioned by real estate agents and home builders when promoting some of their "move-in ready" properties to prospective home buyers.
So we thought we'd help you make sense of this term and better explain exactly what spec homes are, what separates them from other real estate projects, and why they often command prices of tens (if not hundreds) of millions of dollars.
What is a spec house?
In real estate, a spec home is a custom residence built by a developer under the speculation that someone will come around and buy it.
It's a newly built, highly-customized home, but it's not the future home owner that picks the customizations, but rather the builder, who makes an educated guess (and speculates future interest, hence the name).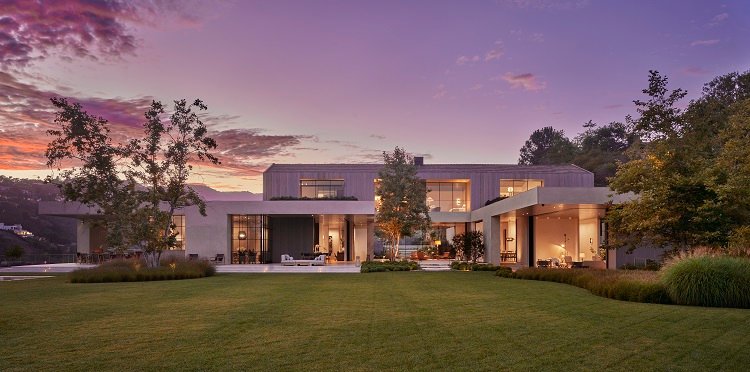 Put simply, the builder picks what they think is a desirable location, erects a nice-looking home, fits it with the finishes and amenities that they think will appeal to buyers, and when it's either completed or near completion, they set out to find the right buyer for the home.
When it comes million dollar homes, the term spec house is most often used to single out ambitious real estate projects with very unique features — think distinctive architecture (see our examples below, where we show a cliff mansion with yacht-inspired architecture), crazy amenities, massive size, or a unique angle that targets the type of buyer they're looking to attract.
How are spec homes different from custom homes? And why do celebrities buy them?
When you're building a custom home for yourself, you'll typically be very involved in the process. You pick and buy the land it will sit on, you'll decide on the architecture, choose the layout based on your needs, and hand-pick interior finishes (wall colors, light fixtures, materials used etc.)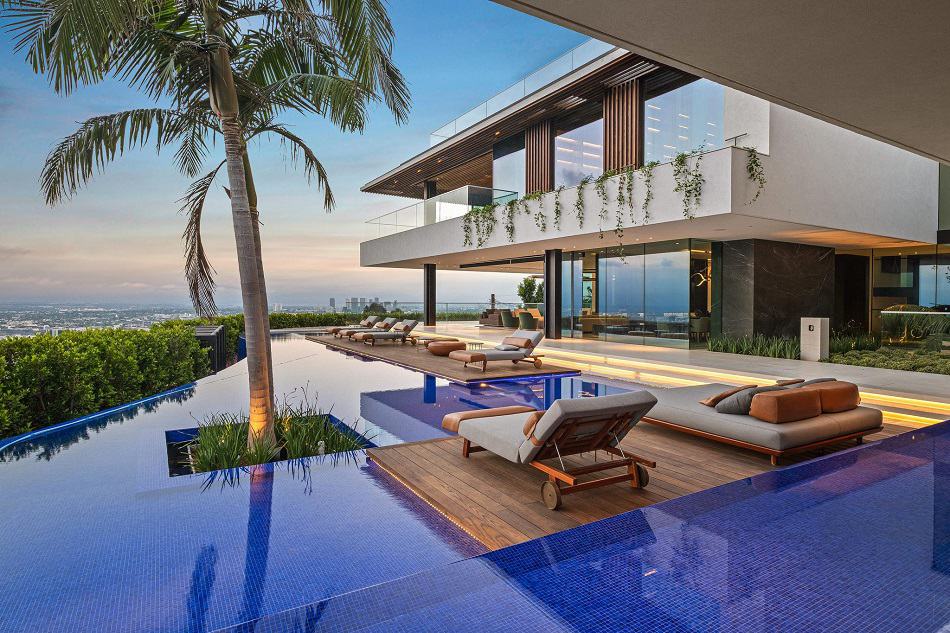 Spec homes take those decisions out of the home owner's hands — and leave it to the builder. Depending on how experienced the builder is and how well they can gauge the level of interest their project might attract, spec homes can be quickly snapped up by buyers, or linger on the market for years.
When it comes to Los Angeles' spec mansions, it's worth noting that these homes target the richest of the rich. People with distinct tastes, very deep pockets, and already quite a few properties under their belt — Beyoncé-level recording artists, Hollywood A-listers, sports champions, finance magnates or start-up founders usually end up buying these high-profile homes.
They could easily commission a house to be custom-built for them. But (A) sprawling mansions take years to build, (B) celebrities rarely have the time to work closely with their developer, and (C) these ready-built project attract them with stand-out amenities purposefully designed to cater to their lifestyle.
Luxury spec homes have been popping up in and around Los Angeles for the past decade
Spec houses — while available at all price points — are most lucrative in the luxury real estate industry. Empty parcels of land all over Los Angeles' poshest neighborhoods are being transformed into lavish mansions with price tags in the tens, or even hundreds of millions of dollars.
A 2019 report by the Wall Street Journal estimated that there were about 50 ultra high-end spec houses under construction in the area, from Beverly Hills to Bel-Air and Brentwood. Some of them were planning to list for mindboggling prices — like Nile Niami's mega-mansion dubbed 'The One', which wanted to fetch $500 million upon completion.
The trend was fueled by the heady days of 2014 and 2015, when foreign buyers poured into Los Angeles and luxury markets across the country logged record sales, WSJ reports.
Add to this a few heavy weight deals — like the $70 million sale of a Beverly Hills compound to billionaire Minecraft creator Markus Persson in 2014 — which inspired developers to go bigger and bolder with their real estate projects, and cash out tens of millions of dollars in profit from a single home.
Some of the biggest, boldest spec mega-mansions ever built
Many high-profile spec mansions have popped up on the Los Angeles luxury scene over the past decade.
Some of them went on to land buyers and break price records, some are still in the works, while others have been the subject of endless legal battles (and might never see the light of day) or their developers defaulted on their loans.
** The One, Bel-Air **
A perfect example of the latter is Nile Niami's 'The One', a massive 105,000-square-foot spec mansion planned on a five-acre parcel in Bel-Air. The mega-mansion was once expected to list for $500 million, but has now gone into receivership after the owner defaulted on more than $165 million in loans and debt, CNBC reports.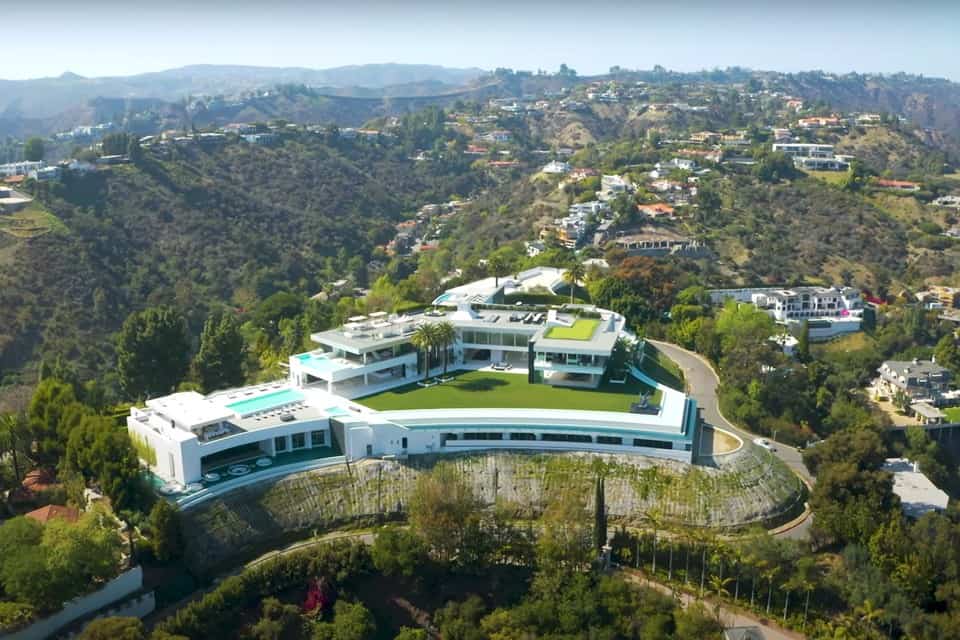 'The One' has been holding headlines for years. With its almost-unheard-off-before size (it's twice the size of the White House) and an ultra-modern design that bears the signature of lauded architect Paul McClean, the mega-mansion took more than 8 years to build.
The master suite alone is the size of another mansion — spanning 6,000 square feet — and the garage can fit a total of 50 cars. It also comes with an Olympic-sized indoor swimming pool with lounge decks, its own beauty salon, four-lane bowling alley, and cinema-level home theatre, among other lavish features.
Now headed into foreclosure, it remains to be seen how much money 'The One' can fetch on the auction block. One thing's for sure: it will be nowhere close to its ambitious aspirations of selling for $500 million.
Read The One Mansion mansion saga: from a $500M listing to its $141M auction sale
** Mohamed Hadid's controversial Vecchia Road project in Bel-Air **
Bella and Gigi Hadid's father has faced quite a few legal battles in an attempt to protect his yet-to-be-completed mega-mansion perched in the hills of Bel-Air.
The Strada Vecchia project was Hadid's most daring project yet, and he had big plans for the 30,000-square-foot manse. Unfortunately, the unfinished structure has been declared a "danger to the public", and an L.A. County court has ordered it to be torn down.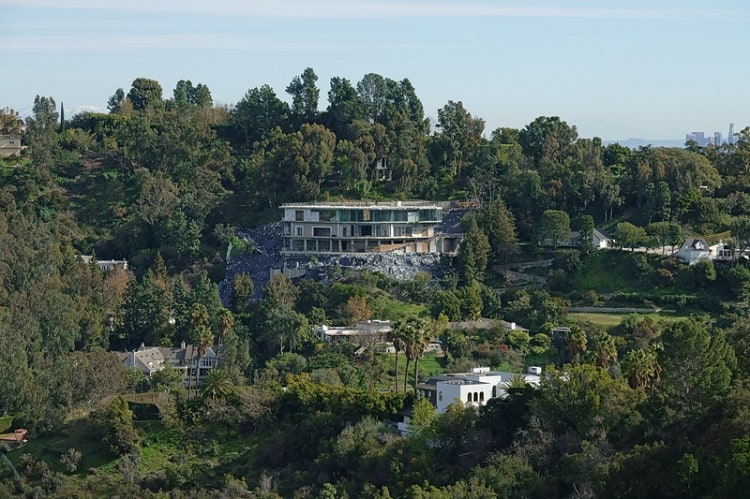 The massive home is both bigger and taller than the city laws allow, and it sits on a steep hillside lot — worrying neighbors below it that it might one day slide down, destroying their homes.
Hadid tried listing it earlier this year for a modest $8.5 million — price meant to support the costs of the demolition — but there were no takers, and this project too is headed into foreclosure, after which it will be razed down.
** Hadid's $250 million Beverly Hills compound **
Despite the challenges and ill fate of his Bel-Air project, Mohamed Hadid is not one to let himself get discouraged. The luxury developer is shifting focus to the behemoth he's working on in Beverly Hills, where he's now building the largest property ever permitted in the city of Los Angeles.
The Cedarbrook Drive mansion sits on a sprawling 38-acre trophy property, and permits show that it will have 80,000 square feet of total living space upon completion. The project, which is estimated to be completed in under 24 months, has already been listed for a whopping $250 million — if it lands a buyer anywhere near the asking price, it would make it the most expensive home ever sold in California.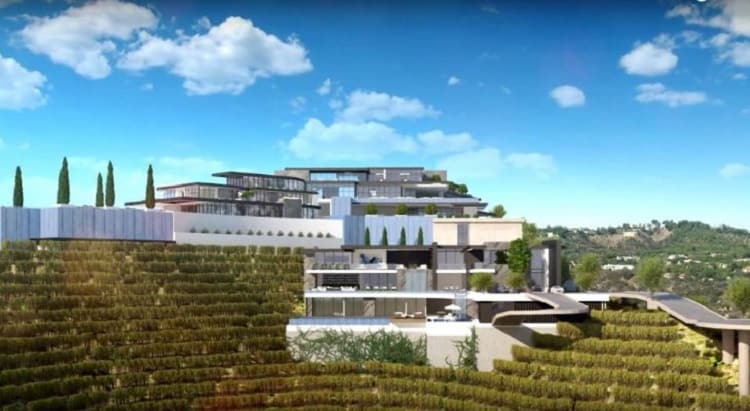 Plans for the Beverly Hills property — which is still in the early phases of construction — include a huge main house with 52,000 square feet of living space, an additional guest house spanning approximately 26,000 square feet, indoor and outdoor swimming pools, multiple car galleries, a bowling lane, a theater and spa facilities.
** Spec homes bought by celebrities **
While many of the lavish spec homes built around Los Angeles have landed themselves wealthy buyers, a select few made front-page news with the star power they attracted.
Among them is a modern, architecturally distinct Brentwood property that was listed for a whopping $70 million. The Noah Walker-designed home fetched $65 million, and was purchased by manager to the stars Scooter Braun (who reps artists like Justin Bieber and Ariana Grande).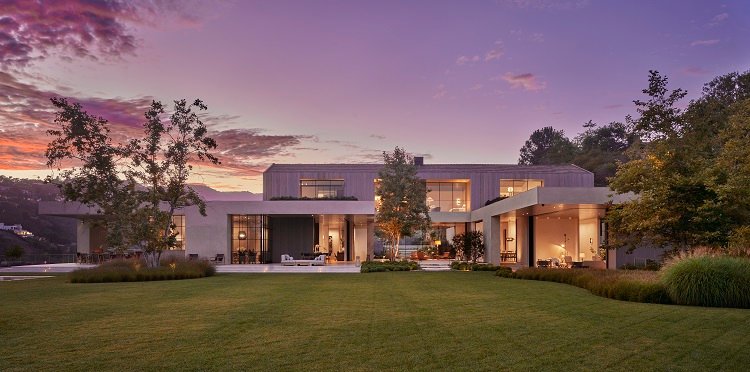 Another Brentwood property to stun with its unique ultra-modern design, endless list of amenities and breathtaking views was a yacht-inspired property perched high atop the Los Angeles hills.
Initially listed in 2019 for $42 million, the futuristic spread was purchased by rapper Travis Scott in June 2020. The Astronomical rapper dropped a cool $23.5 million (IN CASH) for the massive mansion which also comes with a 10,000-square-foot garden that has a 75-foot infinity edge pool overlooking the hills — and that has a killer underwater sound system for Scott to blast music during his pool parties.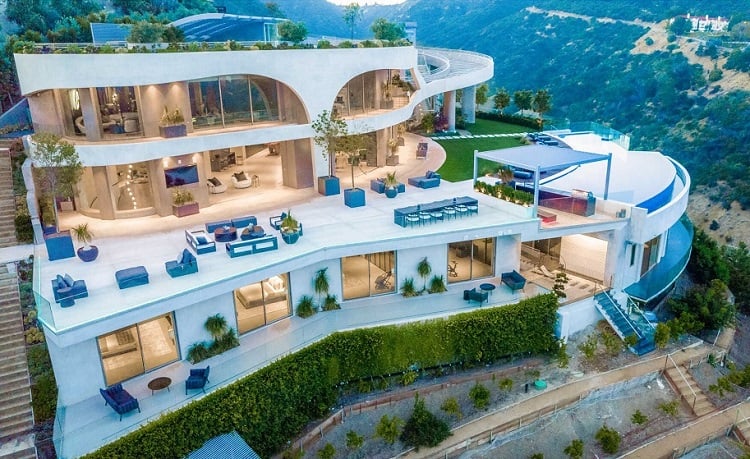 More luxury homes in Los Angeles
The Story of the Opulent $120 Million Manor that Aaron Spelling Built in Holmby Hills
Dwayne 'The Rock' Johnson's New $27.8M Mansion Is a Piece of Real Estate Heaven
Villa Sophia is a Hollywood Darling with Old World Tuscan Charm
The Barbie Penthouse Where the Real Barbie and Ken Grew Up Hits the Market for $10 Million