With one of the best 'whodunit' scripts to grace our screens in decades, a frankly incredible all-star cast, and a devilishly mysterious mansion setting to top it all off, it's no wonder we're all so enthralled by Knives Out and the epic locations where its eternally compelling plot unfolds.
The all-star ensemble cast was led by none other than James Bond himself, Daniel Craig, with supporting roles being awarded to some of Hollywood's most seasoned actors, including Christopher Plummer, Jamie Lee Curtis, Don Johnson, Michael Shannon, and Avengers leading man, Chris Evans.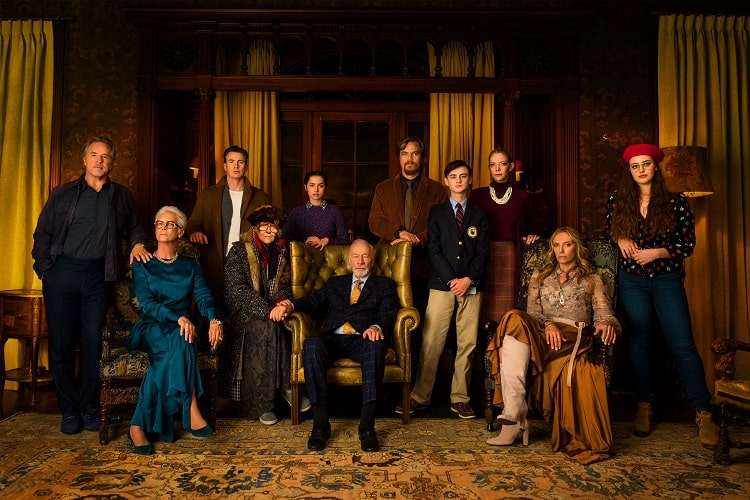 Following its cinematic release two years ago, it became an instant hit with both moviegoers and critics alike — prompting Netflix to pay a whopping $400 million to purchase the rights to produce two sequels.
The film even picked up three Golden Globe nominations for Best Motion Picture, Best Actor (Daniel Craig), and Best Actress (Ana De Armas), plus an Academy Award nomination for Best Original Screenplay (Rian Johnson).
SEE ALSO: Is the 'Glass Onion' house real?
And, while I agree that Knives Out more than excels in all of these areas, it is, of course, the striking home where most of the movie's action takes place that has piqued our interest.
'We are the Thrombeys, goddamnit! This is still our house!'
If you've yet to watch the movie and set eyes on the wonder that is the now iconic Thrombey estate, prepare to be utterly wowed.
Its extravagant Gothic exterior will take your breath away whilst the inside of the home is filled with the most fascinating historical artifacts (who doesn't have a casual circular knife display or two in their home?), countless ornately framed oil portraits, and enough books to fill the Library of Congress!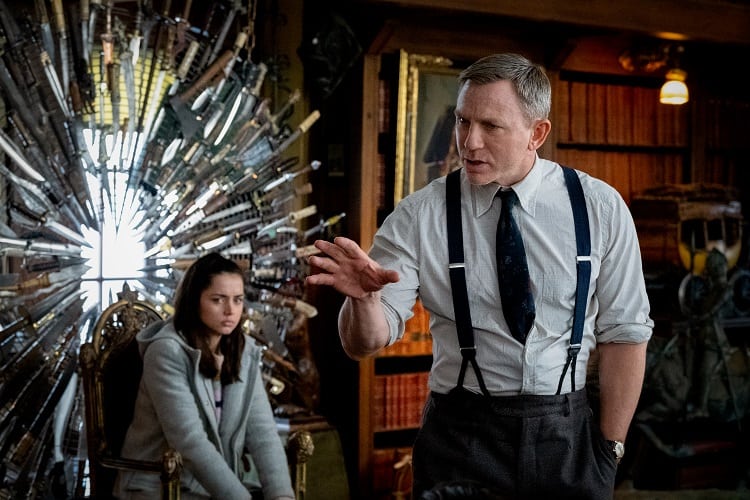 Speaking of which, the Knives Out art department had a series of novels specifically made to display in one of the studies' bookcases. Rian Johnson himself created the titles, two books for each year Harlan Thrombey had been a writer.
It's thanks to exquisite details like these, executed perfectly by legendary production designer, David Crank (The Master, There Will Be Blood) and set decorator David Schlesinger (Jessica Jones, John Wick 2/3), that the house becomes as much a character in the movie as the rest of the family.
'Look around. The guy basically lives in a clue board.'
By fully delving into the mindset of Harlan Thrombey (Christopher Plummer), an 85-year-old mystery novel writer and the film's main protagonist, they were able to create an undeniably grand interior brimming with pieces that consistently relate back to Harlan — and his writing.
No item is purely decorative, with each and every piece being carefully picked to fit the narrative.
Like the statue of two German Shepherds reminiscent of Harlan's own dogs, the intricate dollhouse dioramas providing insight into the writer's mind, and, of course, the wheel of knives in front of which Harlan's entire family are interrogated over his suspicious death.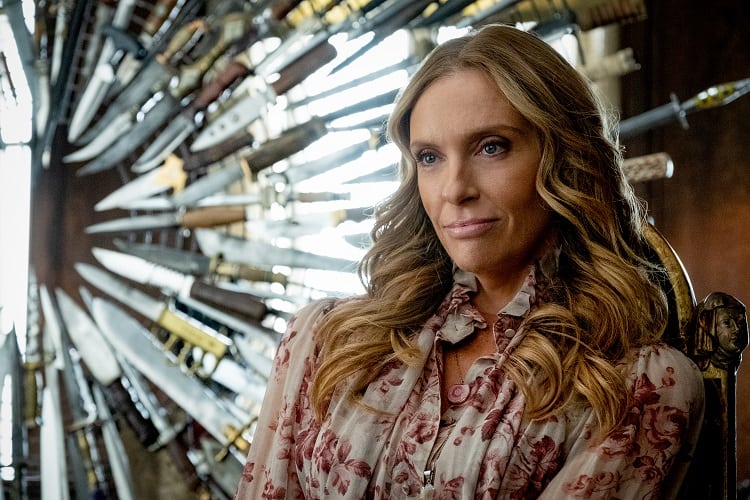 So, is the Knives Out house real?
Yes! And, also no. While many aspects of the house are shot in real-life locations, the upper floor seen in the movie was actually built on a sound stage.
Before we get into the inner working of that particular feat of design, let's take a look at the locations that actually do exist in real life…
The grounds of Thrombey mansion
Exterior shots of the Knives Out house were filmed at a breathtaking gothic revival mansion located just outside of Boston.
The mansion is a private residence and the owners — understandably so given how popular the movie became — wish to keep its name and exact location private (and we're happy to honor their wishes).
It's therefore not possible to visit the grounds of the estate but we can still marvel at it on our twentieth viewing of the film, of course.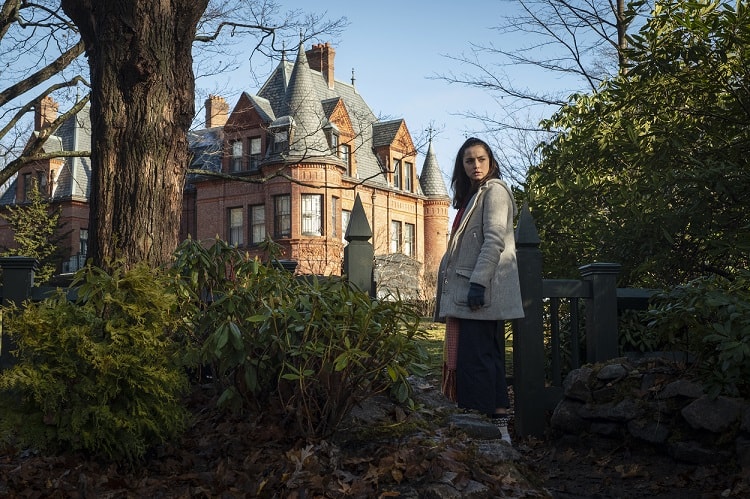 Inside Harlan Thrombey's mysterious mansion
Believe it or not, the majority of scenes set inside the house were filmed at a completely different location — and a real one at that. Which one, you might ask? The Ames Mansion.
The Ames Mansion is a stunning 20-room property located in Borderland State Park in Boston, Massachusetts, whose history dates all the way back to 1871. In its early years, the residence passed through the hands of some of the city's most influential industrial magnates, including Frederick Lothrop Ames, whose fascination with European art and fine craftsmanship resulted in the merging of artistry and architecture in his family's urban home.
If it looks familiar, that's because you may well have seen it before! The Ames mansion also features in movies such as Shutter Island, and the 2016 Ghostbusters reboot.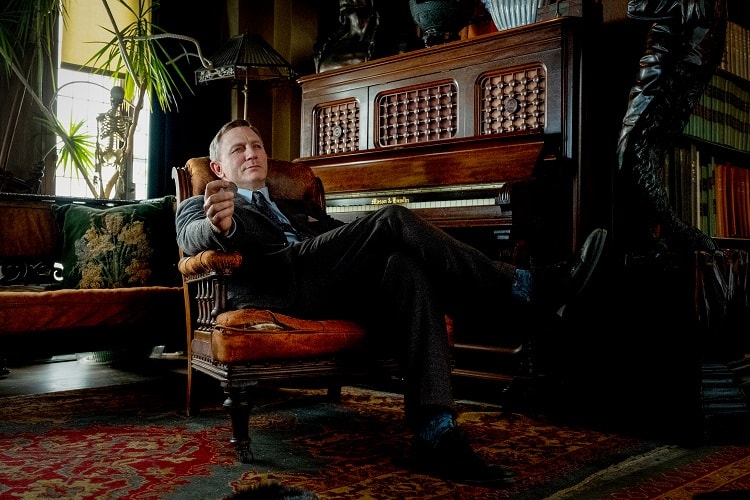 Although the Ames Mansion was the perfect backdrop for many of the movie's most iconic scenes such as the living room interrogation, it didn't have a space that perfectly befitted Harlan's study. So, onto location number three!
Since the production team couldn't find the perfect space, they decided to create one instead.
Harlan's enchanting office set and the adjoining hallway were built on a sound stage in just three weeks! With floor-to-ceiling bookshelves, a cozy reading nook, and a desk surrounded by Harlan's color-coded post-it notes, it perfectly completed the home and provided a picture-perfect location for the movie's most crucial scene to play out in.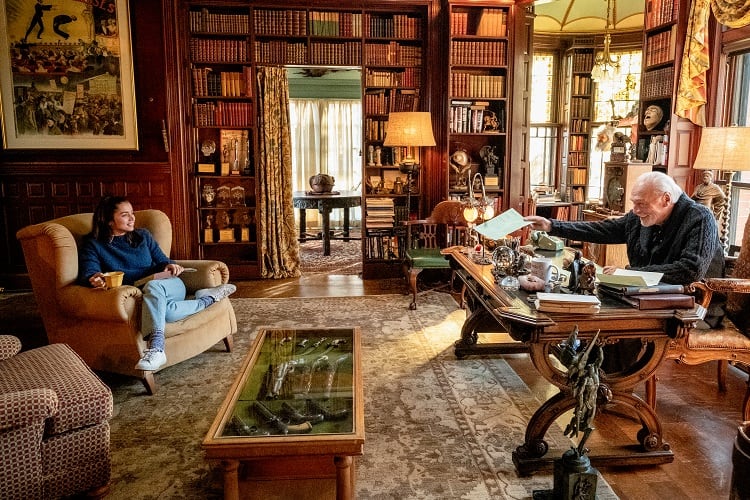 It's also worth noting that the Thrombey mansion wasn't the only memorable house in Knives Out. Chris Evans' character, the spoiled, conniving and ultimately ruthless grandson of Harlan Thrombey, lives in a pretty cool, retro-futuristic-style house. Not only is that house real, but was listed for sale back in 2020 with a $1.4 million price tag (read our story here).
That being said, we can only imagine how incredible the sets and locations will be when Knives Out returns to the big screen next year with a second installment!
Will they be just as fascinating and detailed as their predecessors? And what mysteries will lie within their intricate design concepts?
'This is a twisted web, and we are not finished untangling it, not yet.'
More homes from movies
Is it Real? The Mansion in American Horror Story: Murder House
The Downton Abbey House is Real – And You Can Go Tour the Castle
The Sharon Tate Murder House on Cielo Drive and Its Sordid Past
Greystone Mansion: the Most Familiar House You've Never Visited