There's this mansion in Beverly Hills that a large part of the world's population has already seen, even though they might not realize it.
It's a historic house that's been used in endless Hollywood movies, TV series, and music videos. After you finish reading this article, you might just realize that you've seen this house before, too. Well, now you will also know its history, and when you see it again on your TV screen (and more than likely, you will), you'll recognize it.
The place we're referring to is known as Greystone Mansion or Doheny Mansion, and it's located at 905 Loma Vista Drive in Beverly Hills. The Tudor Revival mansion was originally completed in 1928, after three years' worth of construction and a total cost of over $4 million — an insane amount at the time.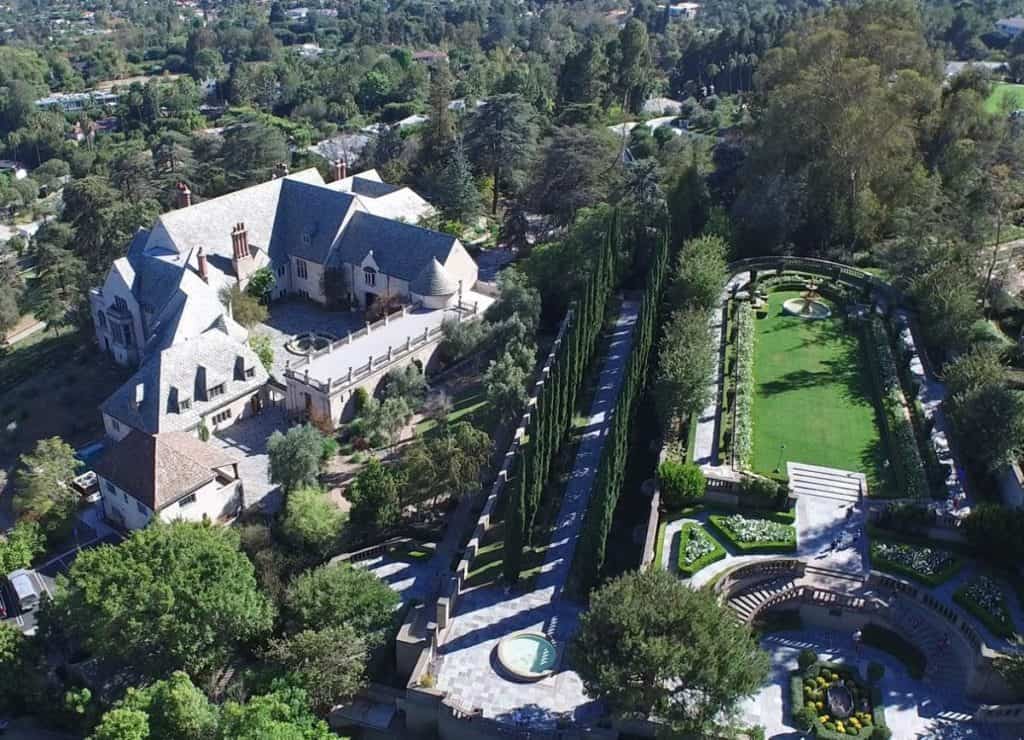 The history of Doheny family home and how it became known as Greystone Mansion
The 55-room, 46,000-square-foot mansion lies on a 16-acre site within Trousdale Estates — a neighborhood of Beverly Hills, California located in the foothills of the Santa Monica mountains.
It was designed by architect Gordon Kaufmann and built by the P.J. Walker Company. The land was actually a wedding gift from oil tycoon Edward Doheny to his son, Edward 'Ned' Doheny, and his new wife, Lucy Smith.
Edward Doheny was an American oil tycoon who drilled the first oil well in Los Angeles in 1892. His story was depicted in the Academy Award-winning movie There Will Be Blood, starring Daniel Day-Lewis. Interestingly enough, the movie was actually filmed at Doheny Mansion.
Ned Doheny's house became known as Greystone because it was built mainly out of stone, and has a grey, stone-cold appearance. The house took roughly three years to build, and included stables, kennels, tennis courts, a gatehouse, a swimming pool and pavilion, a lake with babbling brooks and waterfalls, and even a fire station.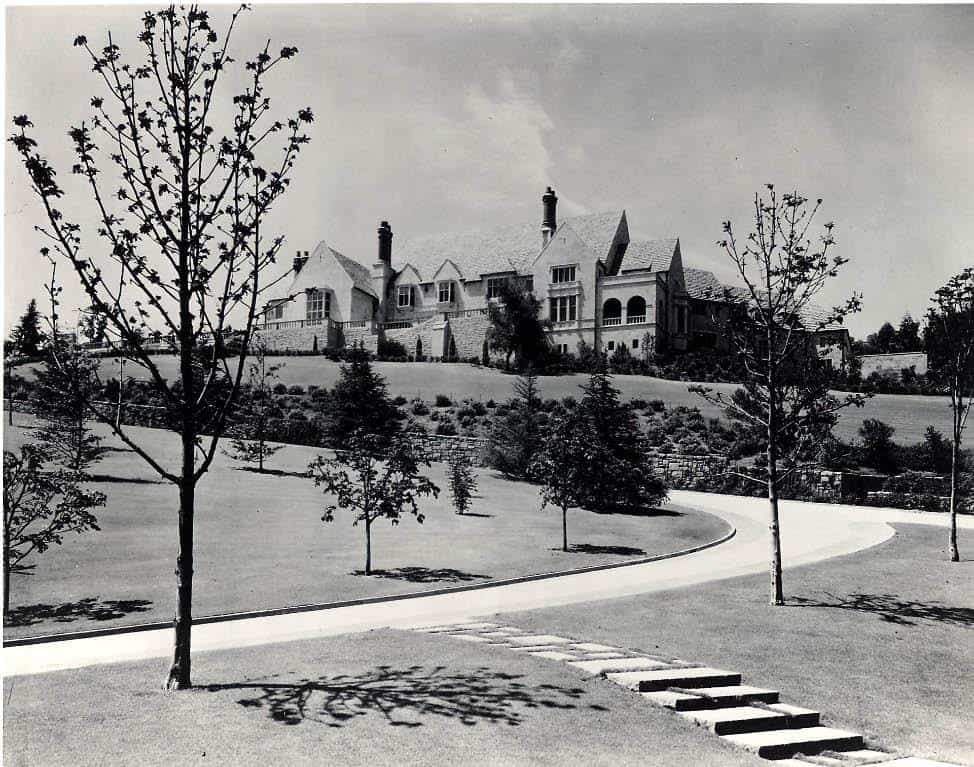 A bittersweet move-in for the Dohenys
Unfortunately, Ned Doheny didn't get to enjoy his new home for too long. Just four months after moving into Greystone Mansion, Doheny was found dead in the house, alongside his secretary and friend, Hugh Plunkett. The case was ruled a murder-suicide, however, some claim that there's more to that story.
Doheny was killed by his own gun, and he was not buried with the rest of his family, but in a different cemetery, just a few yards away from where Plunkett was laid to rest. This has led some to believe that Doheny might have committed suicide, however, this is just a theory that certainly adds a bit of mystery to Greystone Mansion.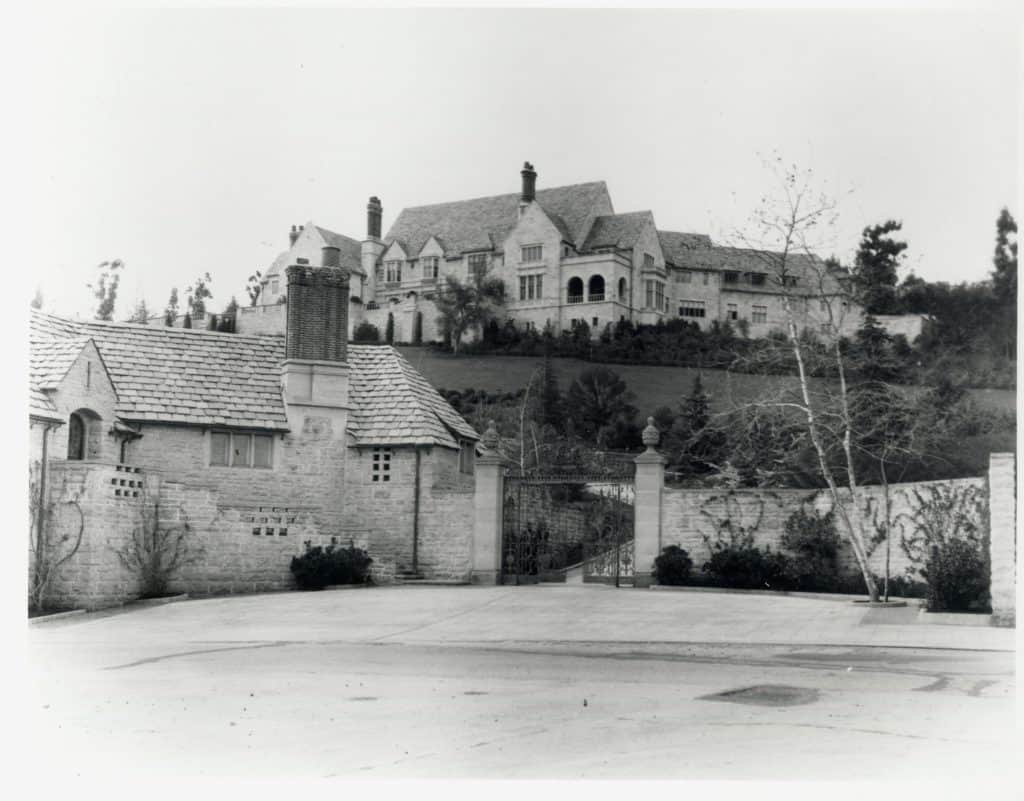 Following Ned Doheny's death, his wife Lucy remarried and lived in the house with her children until 1955. Greystone Mansion was later sold to Paul Trousdale, the developer of Trousdale Estates, who then sold it to Henry Crown of Chicago.
The businessman never actually lived in the house, but leased it out to film studios — and that's how Greystone's prolific movie career started.
Greystone Mansion, Hollywood's favorite filming location
Over the decades, Greystone Mansion has been featured in numerous Hollywood movies and TV series, including classics like The Big Lebowski, Eraserhead, The Witches of Eastwick, Death Becomes Her, Batman & Robin, The Bodyguard, Dark Shadows, The Prestige, The Social Network, and X-Men.
The mansion has also made appearances in TV series, including Alias and The Young and the Restless, and it also played the part of Chilton Academy in Gilmore Girls.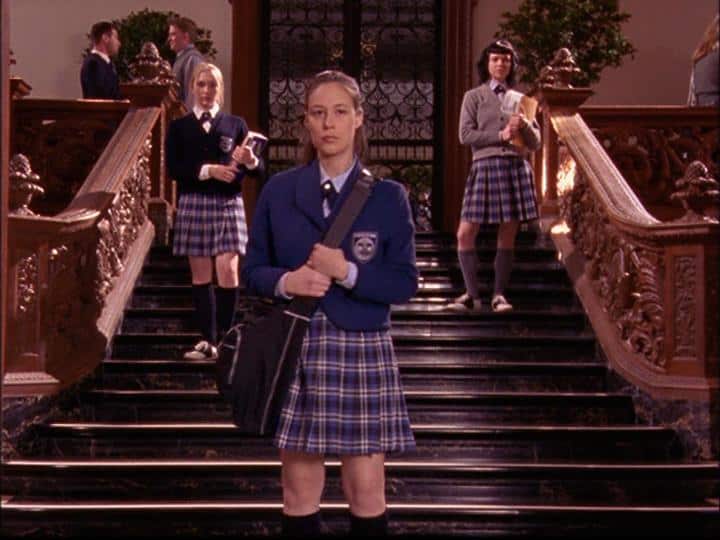 Most popular movies filmed at Greystone Mansion
In Goldmember, Austin Powers' graduation from the 'British Intelligence Academy, 1958' takes place at the Greystone Mansion. And while this popular flick mostly shows us the building's exterior, it's 2002's Spider Man starring Tobey Maguire that gives us a tour inside the mansion — where the indoor scenes of Norman Osborn's Gothic mansion were filmed.
According to Movie-Locations.com, the historic estate served as filming location for the 'Pasadena' mansion in the Coen brothers' The Big Lebowski, a hospital in Star Trek Into Darkness, the funeral home in Death Becomes Her, Swan's mansion in Brian de Palma's Phantom Of The Paradise, Abigail's (Diane Kruger) home in National Treasure: Book of Secrets as well as Jack Nicholson's 'Massachusetts' home in The Witches of Eastwick and the mansion of Robert Angier (Hugh Jackman) in Christopher Nolan's The Prestige.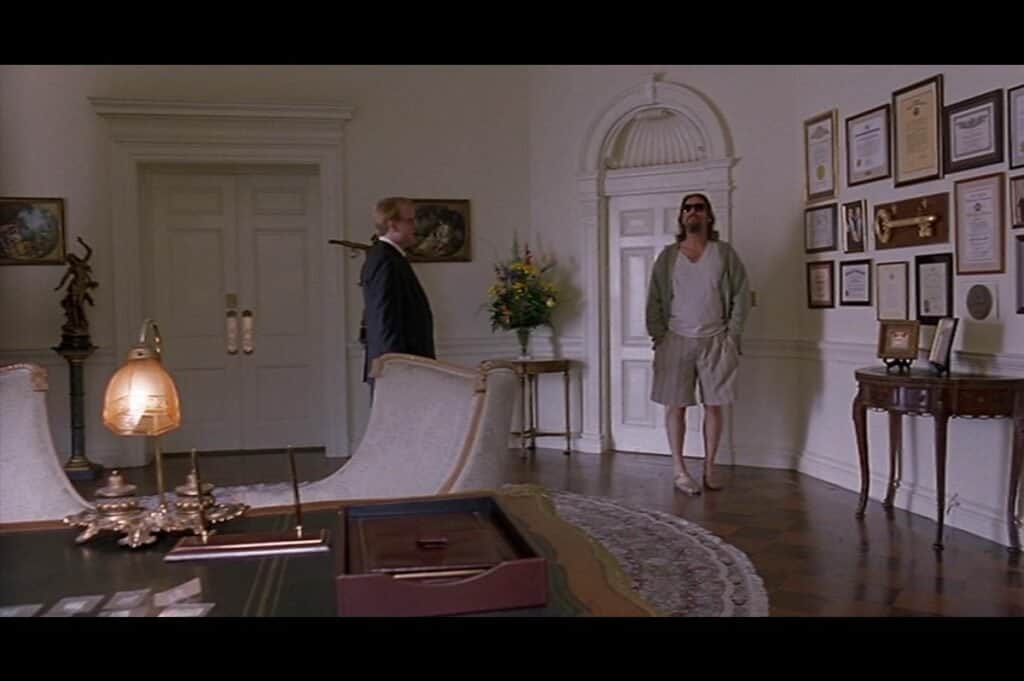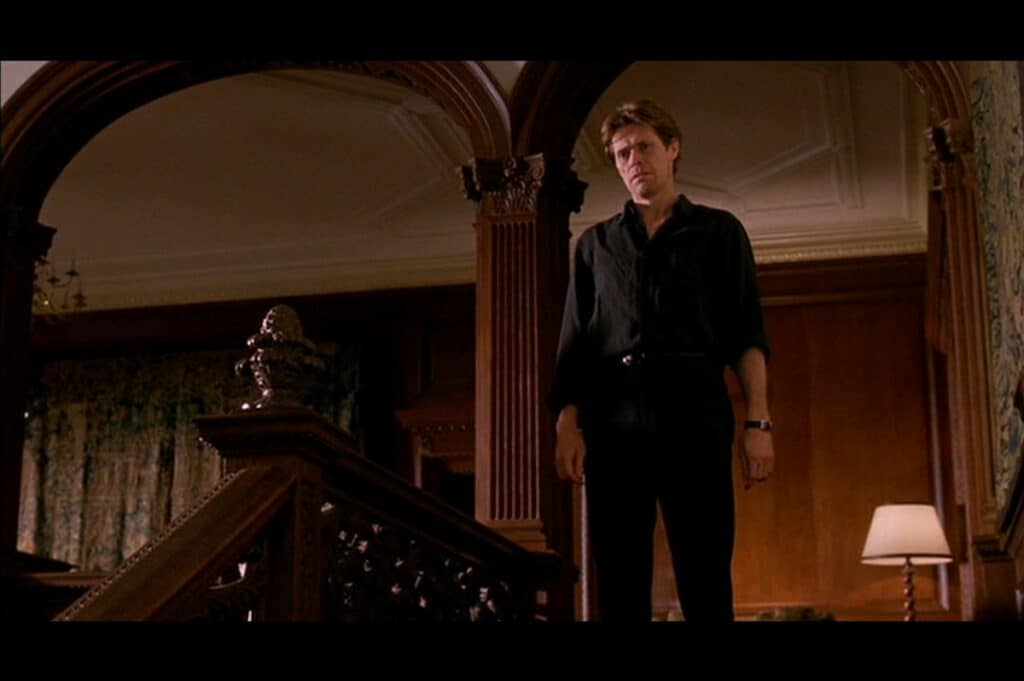 Ghostbusters II also filmed here (with the estate playing the role of Gracie Mansion — which is traditionally the residence of the mayor of New York City); in Indecent Proposal, Demi Moore's character, a real estate agent, gives Robert Redford a tour of the place; and while all outdoor scenes in The Bodyguard were famously filmed at the Beverly House, indoor shots of Whitney Houston's house were all taken here.
Last but not least, Greystone Mansion has been featured in commercials and even music videos. You might have already toured the house alongside Robert Downey Jr., in the music video for Elton John's single I Want Love, whom we get to see wandering about inside the Greystone mansion, lip-syncing the words to the song.
The estate's grounds are open to the public
In 1965, the City of Beverly Hills purchased Greystone Mansion, and a few years later, the property became a public city park. It was added to the National Register of Historic Places in 1976, as Doheny Estate/Greystone.
The mansion continues to be used as a filming location and a destination for special events such as music festivals, fundraisers, and even weddings.
Greystone Mansion houses the Beverly Hills Flower & Garden Festival, the yearly Catskills West drama camp, and The Annual Hollywood Ball, among others.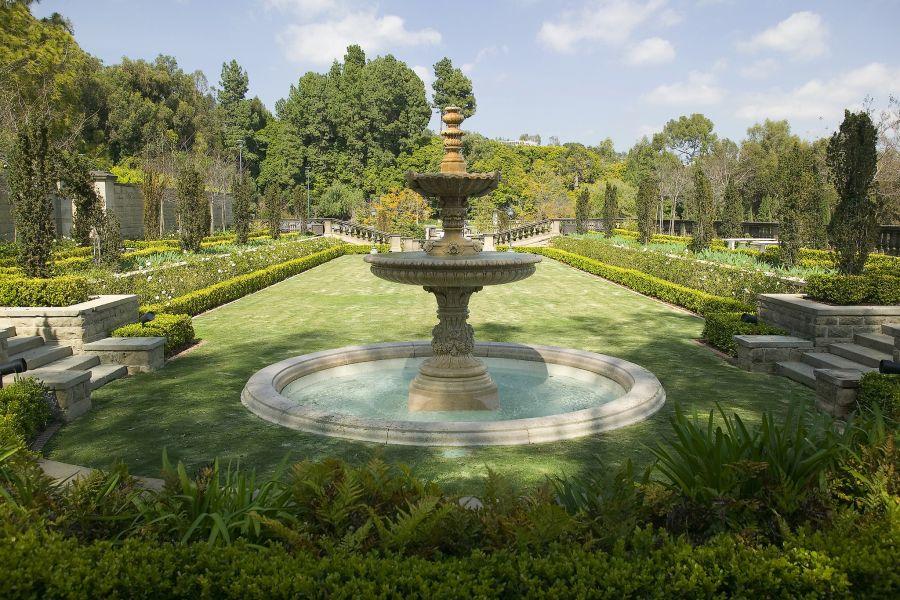 A carefully preserved slice of L.A. history
Greystone Mansion is a remarkable feat of architecture, and most of its original features have been carefully preserved over the years.
The property features hand-carved oak banisters, balustrades and rafters, seven chimneys, each designed by a different artist, a movie theater room, a billiard room, a hidden bar, and a two-lane original Brunswick bowling alley. The alley was renovated so that it could be used by the filming crew for There Will Be Blood.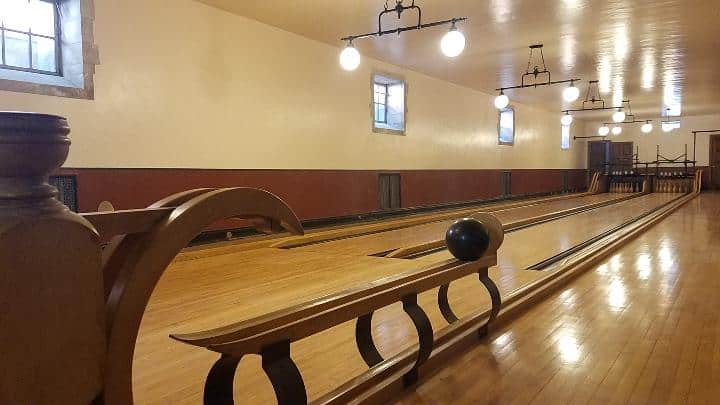 There's a grand hall with distinctive, black-and-white marble floors and a very famous staircase. In fact, the staircase at Greystone Mansion has been featured in numerous productions, due to its majestic appearance.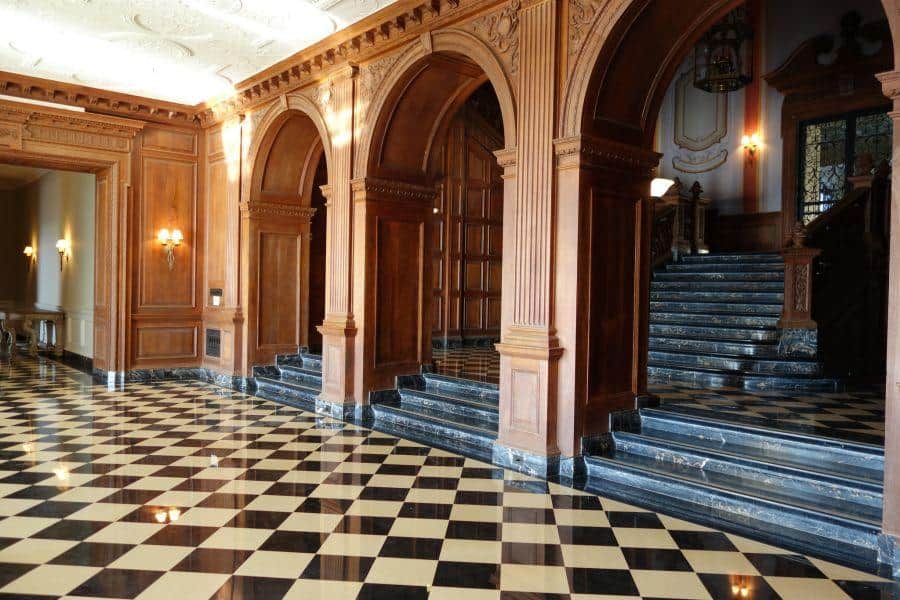 Greystone Mansion also included a servant's quarters that took up two entire floors on the east wing and was built to accommodate a live-in staff of 15.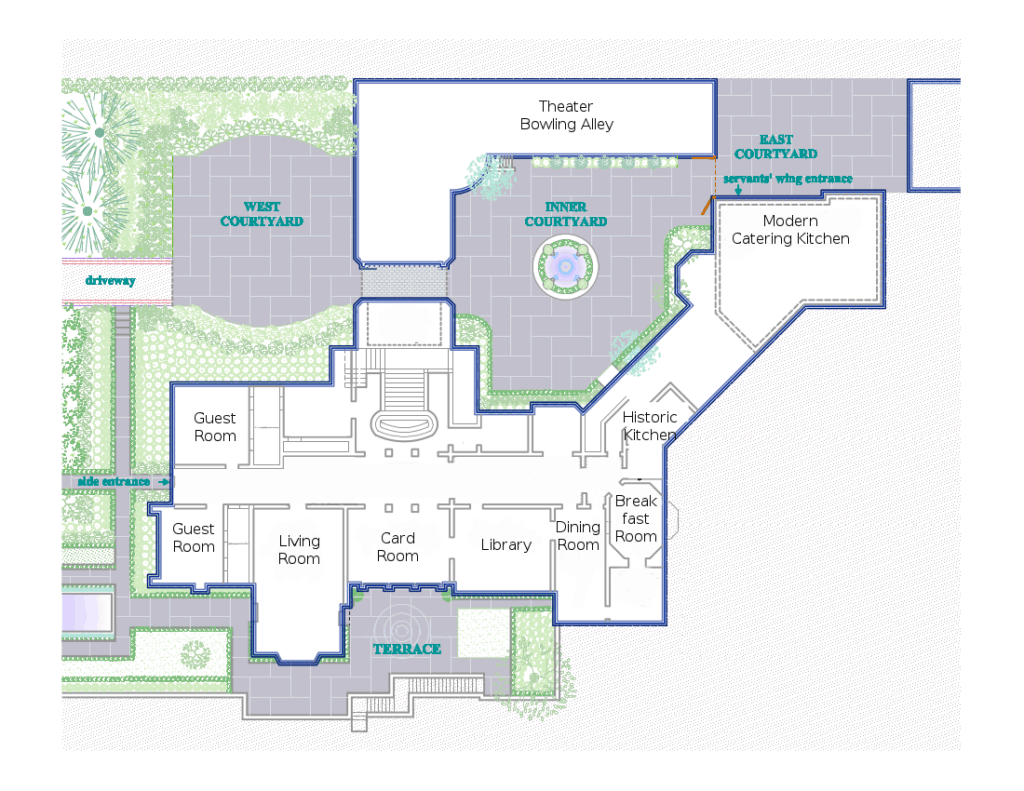 There was also a living room with a balcony where musicians performed at special events, and a kitchen pantry with a secret wall safe that held the family's silver and gold kitchenware.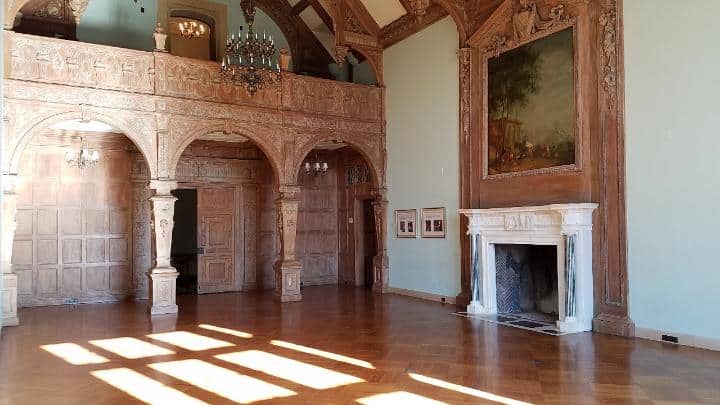 This stunning, stone-clad Beverly Hills mansion continues to attract filming crews, and we're definitely going to be seeing it again on the big screen. At the same time, its beautiful, lush gardens and its rich history will continue to attract visitors from around the world.
Here's a further glimpse into the mansion's history, to keep you occupied until you get a chance to visit in person:
Featured image courtesy of The City of Beverly Hills
More stories you might enjoy
Here's the Estate that Served as Inspiration for "The Great Gatsby's" Opulent House in the 2013 Movie
The Beverly House, where Jackie O & JFK Honeymooned and where Coppola Shot "The Godfather"
Richie Rich's House is Actually the Biltmore Estate, America's Largest Home
The Story of the Opulent $120 Million Manor that Aaron Spelling Built in Holmby Hills