Based on Anne Rice's beloved book trilogy, Lives Of The Mayfair Witches, AMC's series adaptation follows Dr. Rowan Fielding — played by Alexandra Daddario (The White Lotus, American Horror Story) — a brilliant neurosurgeon who, after her adoptive mother's untimely death, discovers she is the direct descendant of a powerful witch, Deirdre Mayfair (Annabeth Gish, The Haunting Of Hill House, Midnight Mass, The X Files).
Alongside battling with her newfound supernatural gifts which seem to include the monstrous and evidently erratic ability to kill people with her mind, like her mother before her, Rowan will now also have to face Lasher (Jack Huston, Boardwalk Empire, American Hustle, The Irishman). A sinister, shape-shifting demon who has lived alongside and terrorized the Mayfair Witches for generations.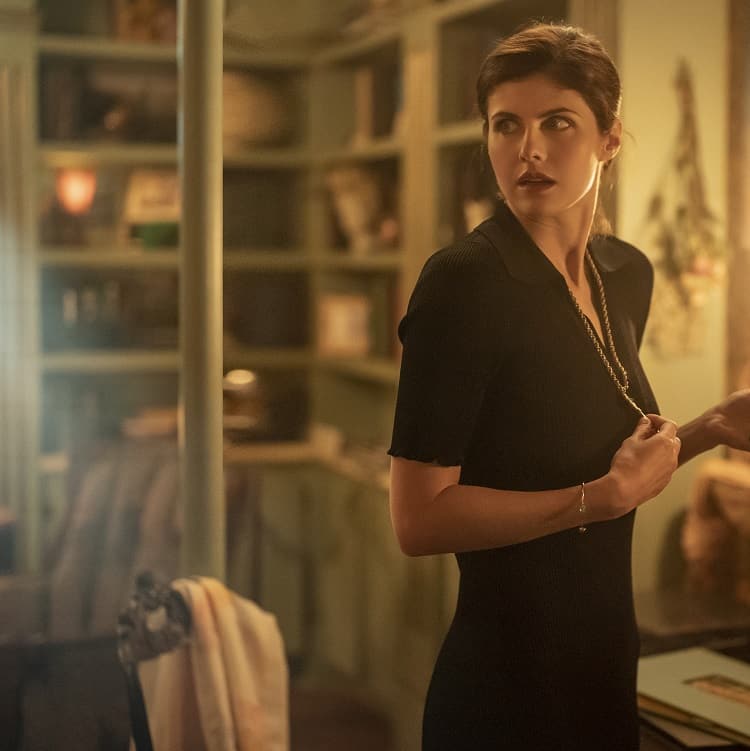 Impressively, Mayfair Witches' first episode which aired on January 8th of this year, attracted an even larger audience than AMC's initial Anne Rice series adaptation, Interview With The Vampire.
Not an easy feat considering the widely acclaimed show currently boasts a formidable 99% approval rating from critics on Rotten Tomatoes!
Just two episodes in and – shock horror – I'm already hooked. Not only on the compelling performances and Rice's darkly spellbinding storyline but also on the seemingly authentic New Orleans filming locations.
Particularly, I'm fascinated by Deirdre's hauntingly beautiful yet foreboding family mansion, a silent and deeply sinister principal character that's arguably one of the most intriguing characters of the show so far. Question is… where is it?
The Mayfair Witches house and where to find it in real life
Standing in for the Mayfair house is the very real Soria-Creel house located at 3102 Prytania Street in New Orleans — fact confirmed by the Mayfair Witches production crew.
This historical dwelling was built in 1875 and bares a striking resemblance to Anne Rice's real-life home, Rosegate House, on which she based the Mayfair Mansion.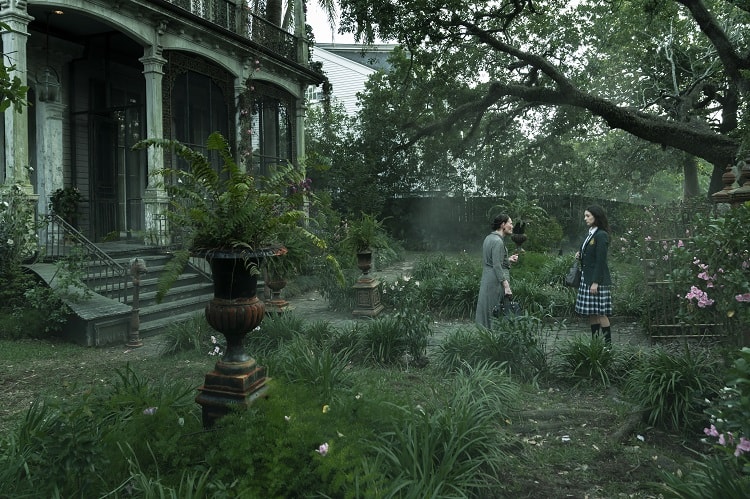 "When I wrote "The Witching Hour," I made the house I was living in, in the Garden District of New Orleans, on the corner of Chestnut and First Street, into the home of the Mayfair family of witches," Anne Rice confessed back in 2014.
"I lived in this spectacular house for 15 years, and it figured in a total of five novels," Rice added.
Since they weren't able to film at the former Anne Rice residence, it seems the Soria-Creel House was certainly the next best thing.
"Both houses are of similar architectural styles. They are both iconic New Orleans double gallery townhomes built in the late 1800s with large gardens and gnarled live oaks surrounding the house," says Meghan Rogers, the production designer for Anne Rice's Mayfair Witches, in an exclusive quote for Fancy Pants Homes.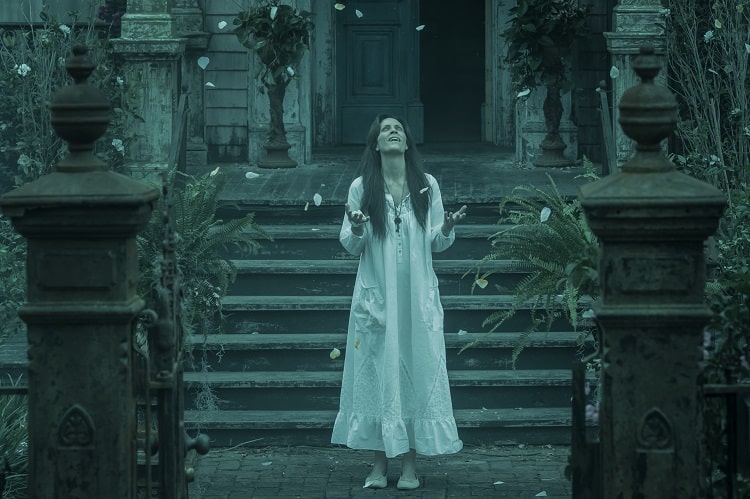 Making of the Mayfair Mansion
With some expertly crafted production design, the Mayfair Witches team more than managed to age and distress the exterior of the property to capture the unsettling vibe of the book and show — only temporarily of course!
Letting Fancy Pants Homes in on the details, production designer Meghan Rogers says that "The Art Department added all the Gothic rose wrought iron details and stained glass to the location house and aged all the property and gardens to bring the unkempt and mysterious character of this legacy house to life for the story of the show."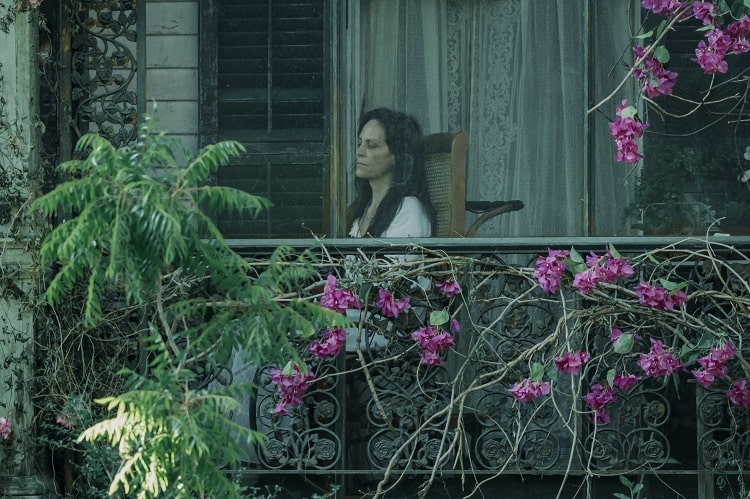 As you'll see in the already-aired episodes, they did an incredible job. The house looks full to the brim with decades-old secrets and plenty of malevolent magic.
Were all scenes shot in and around the house?
Thanks once again to the production crew, we know that the exterior shots of the mansion were indeed filmed at the house.
"The hero Exterior Mayfair House for "Anne Rice's Mayfair Witches" was shot on location in the Garden District in New Orleans less than a mile from Anne Rice's former home."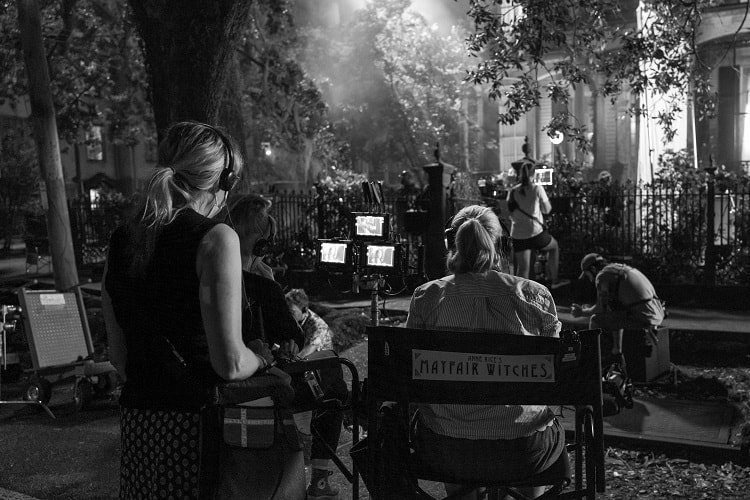 However, when it comes to scenes inside the house, I've been desperate to know whether they were filmed there too.
As it turns out, the answer, excitingly, is… partly! According to Meghan Rogers, 'only the library interior connected to the screened-in front porch was shot on location. All other interiors were built on stage."
Anne Rice's house served as inspiration for Mayfair Witches
Anne's previously mentioned New Orleans home, Rosegate Mansion sits at 1239 First Street in New Orleans and, as we know, features heavily in the Mayfair Witches book series with much of the action taking place there.
Back in 2014, Anne Rice herself shared a lengthy post on her Facebook page talking about her home — and the decision to use it as inspiration for the Mayfair house:
"When I wrote "The Witching Hour," I made the house I was living in, in the Garden District of New Orleans, on the corner of Chestnut and First Street, into the home of the Mayfair family of witches. I lived in this spectacular house for 15 years, and it figured in a total of five novels."
"The house is a private home, and not open to the public, but any trip to New Orleans is enhanced by a walking tour of the great houses of the Garden District. (Don't do this alone. Go in groups and during daylight hours,)" Rice added.
Fun fact, though this may be the home we all most associate with the celebrated author, Anne actually owned a wealth of properties both in her native New Orleans and in California.
This includes one 5-bed and one 6-bed house in California, her previously mentioned Rosegate mansion, and a 5-bedroom home also located in the Garden District and just a mile away from Soria-Creel house.
That home is located at 3711 St Charles Avenue and Anne lived at the property for 15 years. Moving in in 1989 and only leaving in 2004 when, according to velvetropes.com, she relocated to California to be closer to her son.
Last, but certainly not least, was an enormous 55,000-square-foot property built in 1965. Purchased by Anne's family in 1993, the sprawling residence consists of three separate three-story buildings and occupies an entire city block!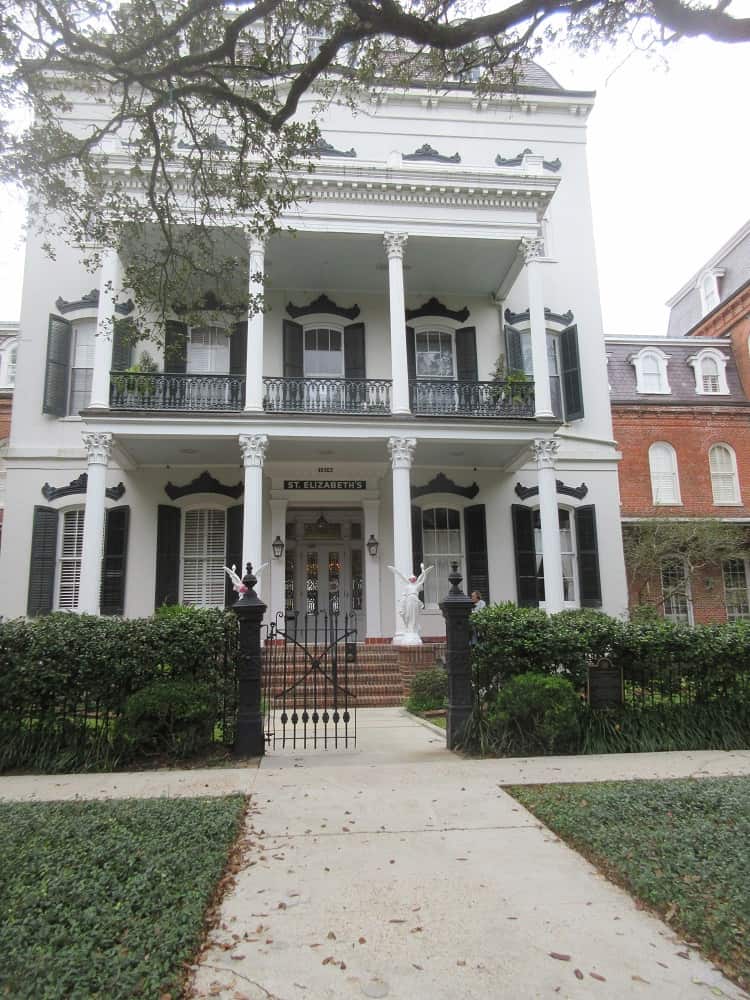 As you might expect, this home too has a long and storied history. Originally called St Elizabeth's, it started out as a chapel, boarding school, and orphanage for Catholic school girls.
Today, however, the structure with its imposing original exterior still intact consists of several new townhouses with decidedly more modern interiors. A far cry from Anne's beloved and more historically correct vintage design style, but beautiful nonetheless.
AMC is working on a whole new supernatural universe based on Anne Rice's most celebrated works
If you're hoping for further installments of Mayfair Witches, Interview With The Vampire, and more, I have some excellent news for you.
In 2020, the year before she sadly passed away, Anne Rice entered into an agreement with AMC which saw the network acquire many of her major literary works.
In their press release announcing the news, Rice said that "It's always been my dream to see the worlds of my two biggest series united under a single roof so that filmmakers could explore the expansive and interconnected universe of my vampires and witches… That dream is now a reality, and the result is one of the most significant and thrilling deals of my long career".
We've already had season one of Interview With The Vampire which, according to AMC this past December, "became the number two new drama on ad-supported cable in 2022 and the number one new series launch in AMC+ history."
I can only imagine what exciting new (and spooky) projects are on the horizon in the years to come!
Anne Rice's Mayfair Witches airs on Sundays at 9pm ET/PT on AMC and AMC+.
More stories you might like
 Actress Alexandra Daddario Sells Cozy NYC Pad
Is the Practical Magic House Real? A Throwback to the Magical Movie House that Bewitched Us All
Wonderfully Witchy: The Full Story of the Spadena House in Beverly Hills
The wonderfully witchy Hocus Pocus Houses & filming locations for the new movie