Love them or hate them, you just can't ignore the phenomenon that is the Kardashian-Jenner family.
For over a decade, this family of strong women has entertained us with their drama and scandals and kept us on our toes with their hit reality show, Keeping Up with the Kardashians.
While many people may argue that they're just "famous for being famous," the truth is that there's so much more to them.
It's no easy feat going from being Paris Hilton's relatively unknown assistant and friend to becoming one of the most famous faces in the celebrity world and yet, that's exactly what Kim has managed to do.
It's doesn't just stop at her, though. Each of the "Kar-Jenner" ladies has shining resumes that go well past their "KUTK" fame.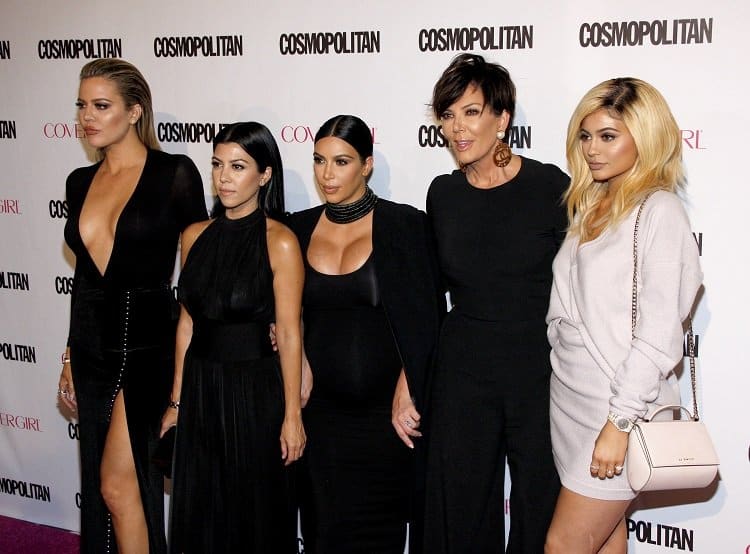 Whether it comes to business, modeling, or being social media moguls, the Kardashian-Jenner clan is more than just a TV show, they are a whole empire! After all, Cosmopolitan magazine didn't just name them "America's first family" for nothing.
While we will miss keeping up with all of them after the final season of their show, the good news for reality TV junkies is that they're not going anywhere. According to Khloé Kardashian, their new Hulu show could hit screens in early 2022 and we can't wait!
With all that fame and success, it's not surprising that the Kardashian-Jenners have an impressive real estate portfolio — and we're here to break it down for you and give you the inside scoop on where the Kardashians live.
Who can forget Kim K's iconic video for Vogue's 73 Questions where we first got a glimpse inside her minimalistic home in Hidden Hills?
Kim and Kanye reportedly purchased the property for $20 million in 2014, but according to sources, it's now worth $60 million.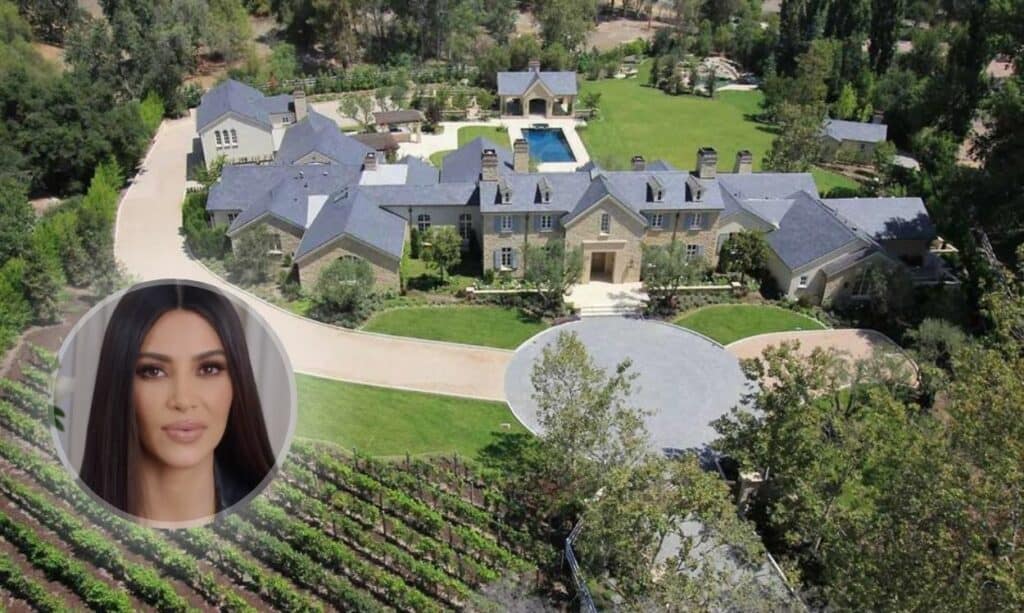 The couple spent close to three years renovating the property together with Belgian interior designer, Alex Vervoordt and transformed it from a suburban mansion to a "futuristic Belgian monastery" (in the words of Kanye).
What stands out most about Kim Kardashian's house is the all-white and neutral interiors, open-plan kitchen and living room, and intriguing pieces of furniture and sculptures that may not be everyone's cup of tea. Still, to them, it was an oasis and an escape from the chaos of the world.
Now that they're divorced, reports say that Kim has paid $23 million to estranged husband Kanye West and will continue to live there with their four children — North, Saint, Chicago, and Psalm.
The couple also spent $8 million on a ranch in Wyoming before their divorce. The ranch spans over 3,000 acres of land, has two lakes, a restaurant, a saloon, a cattle ranch, ten cabins, and a working horse barn. There's also a private mountain range. Talk about going big!
Apparently, Kanye West has recently listed it on the market and is looking for a buyer.
There are families that are close and then there are the Kardashians.
Not only do they all call Los Angeles home but they all live just a few minutes away from each other. Khloé and Kourtney both bought mansions in Calabasas for $7 million each back in 2014 and were practically living on the same street.
The stunning Spanish-style home was previously owned by Justin Bieber and was even featured in Architectural Digest, with The Home Edit also giving us a sneak peak inside. But in 2020, Khloé sold the place for a whopping $15.5 million.
Her new home in Hidden Hills, however, will take her closer to mom, Kris Jenner and when we say "close," we mean literally side by side.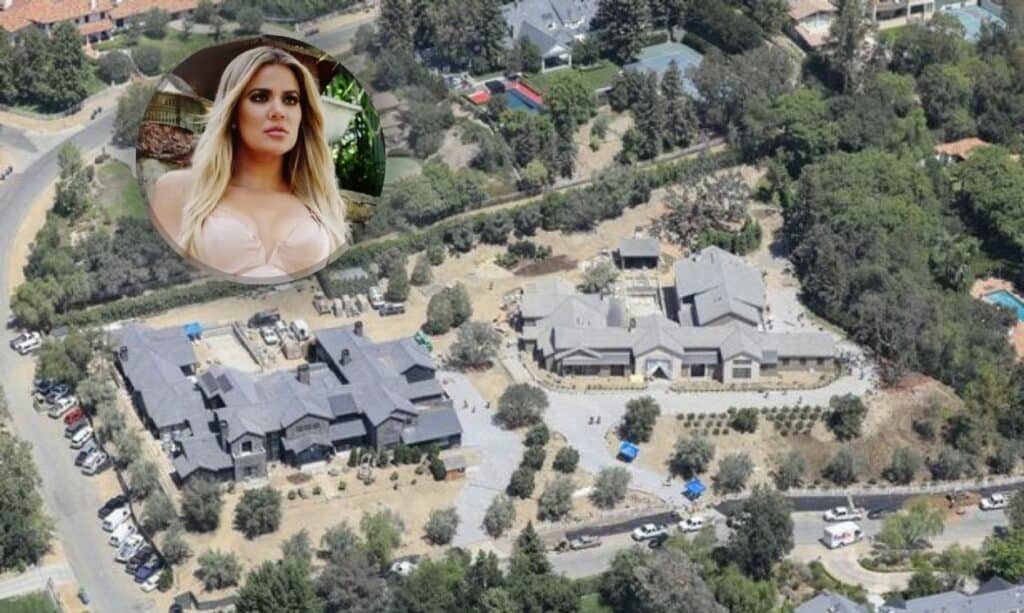 The property was originally a 3-acre plot that the developer split into two and after Khloé purchased one half, the other half was bought by Kris. Her new estate weighs in at around 10,000 square feet of living space and ran her $17 million.
Khloé is sticking to the ever-trendy modern farmhouse architectural style and while not much can be said about the amenities just yet, the place will have 8 bedrooms, 9.5 bathrooms, an 8-car garage, a basketball court, and an oversized pool with cabanas…of course.
It's not surprising that her mansion is located in the most exclusive section of Hidden Hills with neighbors like Jeffree Star, Lori Loughlin, Vin Scully, Howie Mandel, and French Montana. The house is nearly completed and should be ready to welcome the star soon!
Kris Jenner will be living right next to daughter Khloé Kardashian
They say that business and family don't mix but this self-professed "momager" and her family-run empire have proved us wrong time and again.
Not only has she taught the Kar-Jenner ladies everything she knows about business but the matriarch is also quite the property flipper.
She recently sold her Hidden Hills home that was right across the street from Kim and Kanye's pad for $15 million after purchasing it around three years back. Kris is also the proud owner of a minimalist modern mansion in La Quinta, in California's Coachella Valley.
Kris's most recent purchase, however, will make her neighbors with daughter Khloé. Her new mansion spans over 16,000 square feet and cost her $20 million.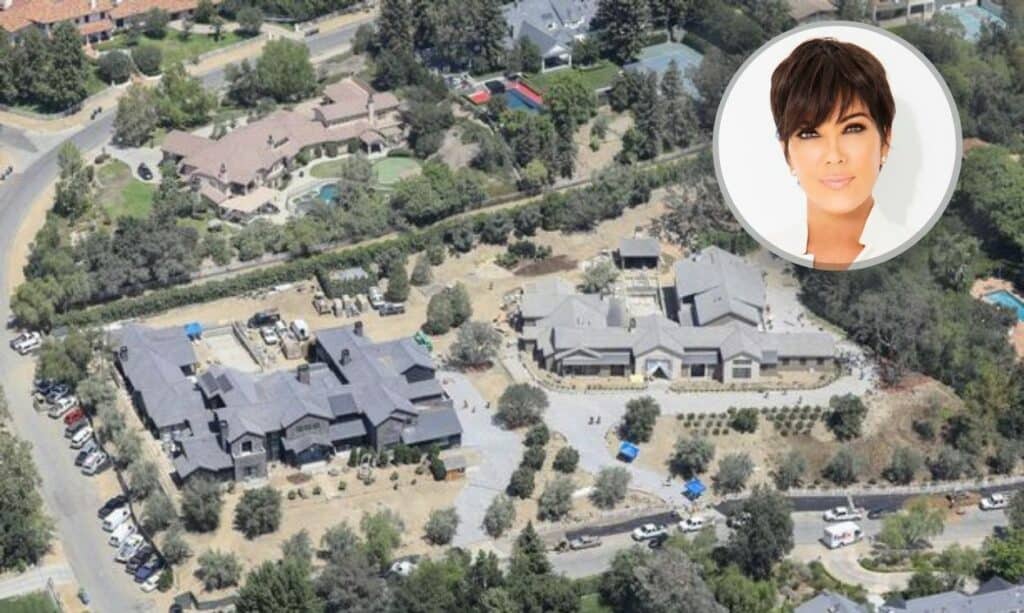 Just like Khloé's home, this too is built in farmhouse-style and comes with many rooms, a pool, a movie theater, a gym, a lounge, and an office. The house is nearing completion and when last seen, all the floor-to-ceiling windows had been installed and most of the scaffolding had been taken down.
We can't wait to see the interiors! Both Kris and Khloé's places have neat rows of conifer trees at the entrance for maximum privacy.
Just in case you're wondering what happened to the original Kardashian family home that we saw so often on "KUWTK," Kris still owns the place.
Did you know that although many episodes of the show were filmed inside the house, a fake property was used for the exterior shots to keep the paps away?
Kourtney Kardashian's chic Calabasas home
It seems that impeccable taste just runs in the Kar-Jenner family. Take one look at Kourtney's glamorous Calabasas home and we're sure you will agree.
She bought the 12,000 square foot home along with former partner, Scott Disick, from NFL star Keyshawn Johnson for $8.5 million in 2014.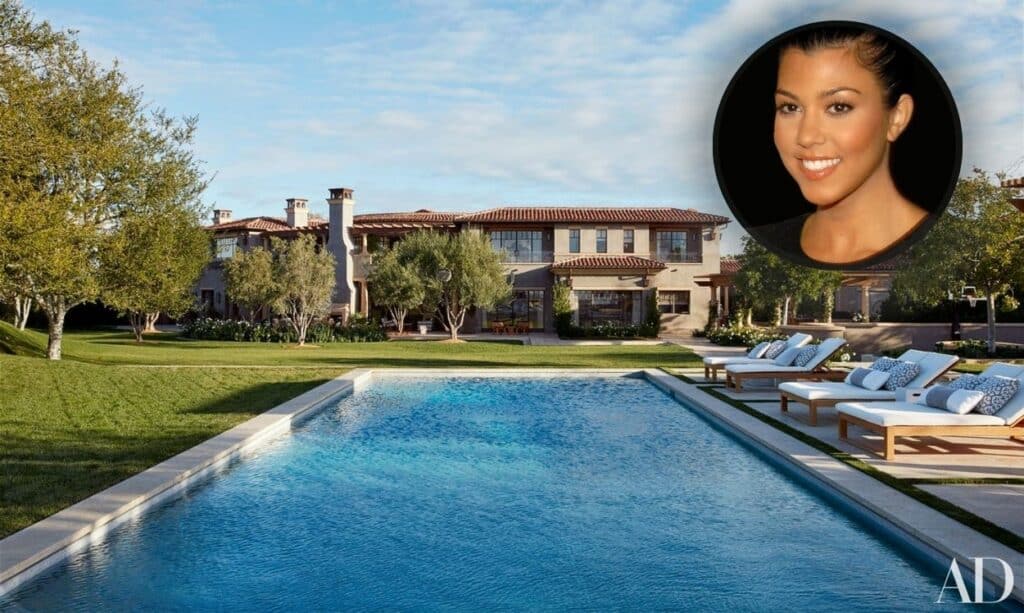 The first thing that stands out is the incredible Tuscan-style exterior. The interiors, of course, are just as impressive with 6 bedrooms, 9 bathrooms, a state-of-the-art kitchen, a massage room, and a gym.
The space was designed by Martyn Lawrence Bullard but Kourtney also played an active role in the process. She is not only passionate about interior design but has even toyed with the idea of working as a designer herself.
Her mansion was featured in Architectural Digest and is sophisticated, classy, yet extremely family-friendly.
But if you're dreaming about becoming Kourtney Kardashian's neighbor, that will cost you a pretty penny, as homes on her street are priced in the $20 to $30 million range.
We don't use the word "mogul" lightly but if there's anyone who deserves the title, it's Kylie.
After all, not everyone is dubbed the world's youngest "self-made" billionaire at the age of 21 by Forbes magazine.
Following in her mother's footsteps, Kylie has purchased many properties over the years but her primary residence is in, surprise surprise, Hidden Hills. She bought the Cape Cod-inspired place in 2016 for $12.05 million and transformed it with the help of designer Martyn Lawrence Bullard.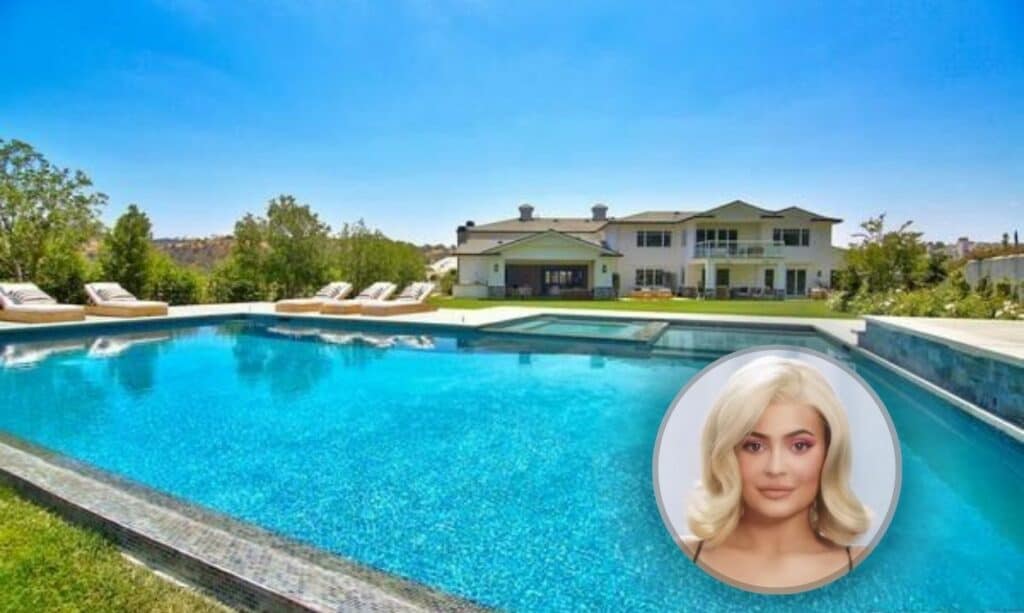 The property spans over 13,000 square feet and features 8 bedrooms, 9 bathrooms, a gourmet kitchen, a game room, a gym, a 6-car garage, a home theater, and a pool.
The mansion is a true extension of her personality with a fresh, fun vibe, modern artwork, and lots of pink!
Kendall Jenner Boho home in Mulholland Estates
Kendall is the most independent of the lot and is the only member of the Kar-Jenner clan who doesn't own a home in Calabasas or Hidden Hills.
The supermodel used to live in a West Hollywood mansion but she sold it in 2016 after it was broken into. Shortly after that, she closed on her current home in Mulholland Estates in Beverly Hills for $8.55 million.
The Spanish-style home (which we've covered at length here) spans 6,625 square feet and was previously owned by actor Charlie Sheen.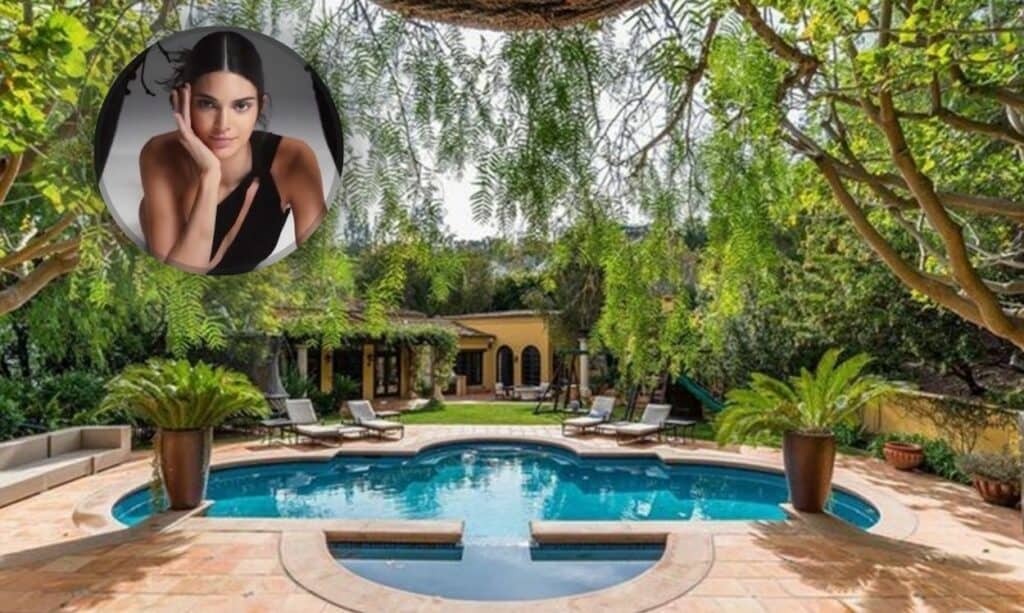 It features 5 bedrooms, 6 bathrooms, a tennis court, fire pit, a pool, and a massive backyard. There's also plenty of greenery that adds to the tropical vibe of the place.
Designed by mother-and-son duo, Kathleen and Tommy Clements along with Waldo Fernandez, Kendall's house is filled with warm, neutral tones, plenty of funky boho elements and contemporary art.
Rob Kardashian takes a trip down memory lane
Compared to the rest of the family members, Rob likes to keep a low profile. What we do know about him is that he used to live in Kylie's spare house in Hidden Hills back when he was with Blac Chyna.
More recently, word on the street is that he moved into Kris's old Hidden Hills home that was often featured on "KUWTK."
Caitlyn Jenner's secluded Malibu house
Last but not least, we have Caitlyn Jenner's ocean-view paradise in Malibu.
With 3,500 square feet of living space, Jenner's home features four bedrooms, 3.5 baths, and sits on an 11-acre-plus spread high above El Pescador State Beach.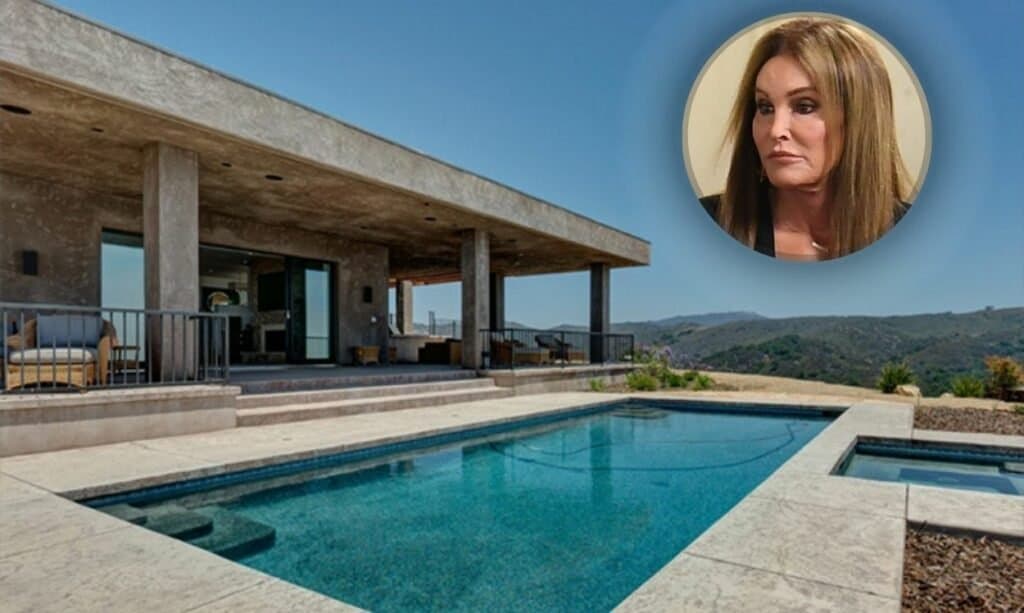 Caitlyn purchased the secluded mountaintop retreat not long after her divorce from Kris Jenner, after which she moved out of the house the two shared in the guard-gated Hidden Hills community.
However, this wasn't her first home following the split; before buying the $3.5 million house, Caitlyn set up shop in a different Malibu beach house, which was recently put up for auction (with an $8 million starting bid).
More celebrity homes with ties to the Kardashians
The House Kim Kardashian Shared with Former Husband Kris Humphries
See Inside Travis Scott's House: a $23.5M Ultra-Modern, Yacht-Inspired Mansion
Scott Disick's Contemporary Farmhouse Flip Hits the Market for $6.89 Million
How Celebrities Decorated their Homes for the Holidays