If you're a die-hard Supernatural fan like us, you're probably still reeling from the show's finale and coping with the fact that there won't be any new Winchester adventures for us to follow (unless you count the new CW series, The Winchesters, which we don't).
But we're not here to talk about that, but rather snoop into the private life of one of the series' leading men. More specifically, Jensen Ackles' house — which we actually think Dean Winchester would approve of.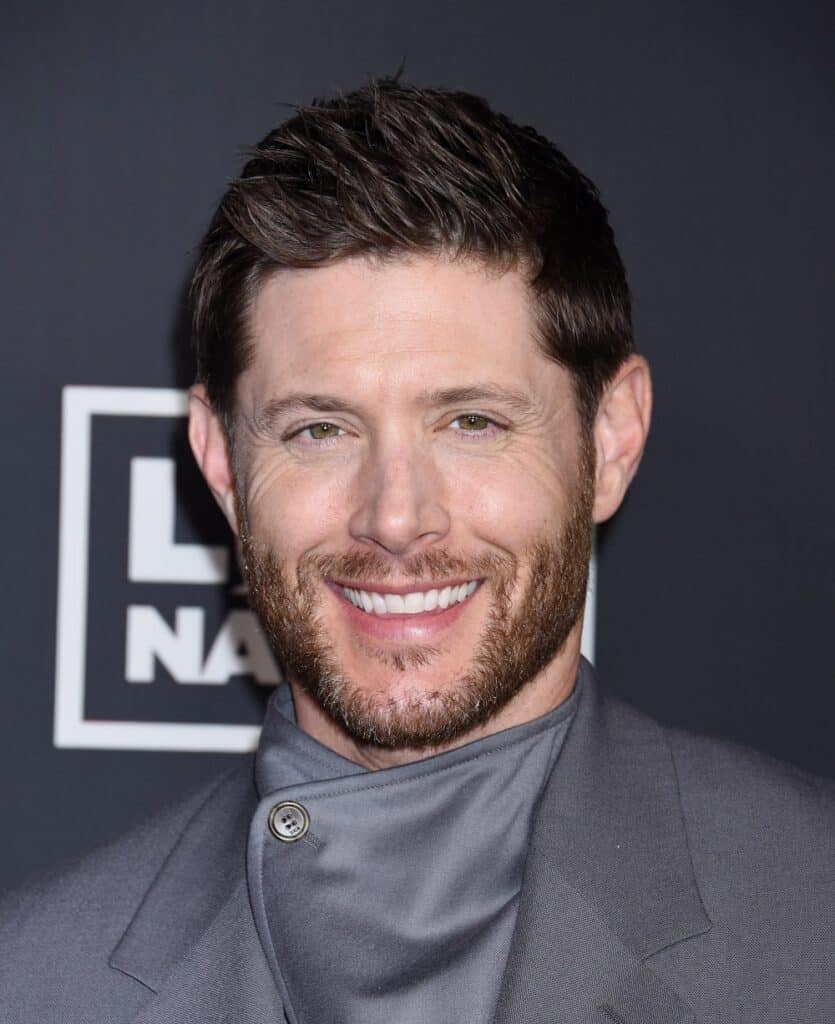 A while back, the Supernatural actor — who recently donned his superhero cape as Soldier Boy in Amazon Prime's gory comic book adaptation, The Boys — and his wife Danneel opened up their 7,500-square-foot home in Austin, Texas to Architectural Digest, giving us a rare glimpse into the heartthrob's home and personal life. And it's nothing short of spectacular! 
Jensen Ackles lives in a beautiful lake house in Austin, Texas
As the story goes, the couple was relocating from Los Angeles to Austin, Texas and initially considered buying a house down the road when they noticed this idyllic property right next to Lake Austin (that wasn't even for sale).
As they fell in love with it, the couple went ahead and asked the previous owners if they'd be willing to sell. And since it's not easy resisting Jensen Ackles' charms, they managed to convince the owners so the Ackles' moved on to the next step –- redecorating the house.
To help out, they hired architect Paul Lamb and interior designer Fern Santini and together they came up with some brilliant ideas on how to best revamp their already-stunning new house.
"It was imperative that the house express the Ackleses — young, bold, and irreverent," Lamb told Architectural Digest.
Jensen Ackles' house, which boasts five bedrooms, revolves around Danneel's decorating outlook of "more is more is more!" There is a lot of color, texture, plenty of woodwork going on to make it look like a lake house, and endless decorations with some of the coolest background stories.
Let there be music in the Ackles household
In Supernatural, Jensen's character loves music. Who could ever forget his spontaneous Eye of a Tiger outtake, which to this day is one of the coolest things on the internet — and I'm sure many other fans of the Winchester brothers will agree.  
There's definitely more of where that came from in real life, since Jensen did his best to create an amazing acoustic sound in his house.
The living room is scattered with guitars and all across the shag rug lie comfy and colored floor pillows. All this because the couple loves having friends over, sitting on the floor, singing and playing the guitar in his sunken living room.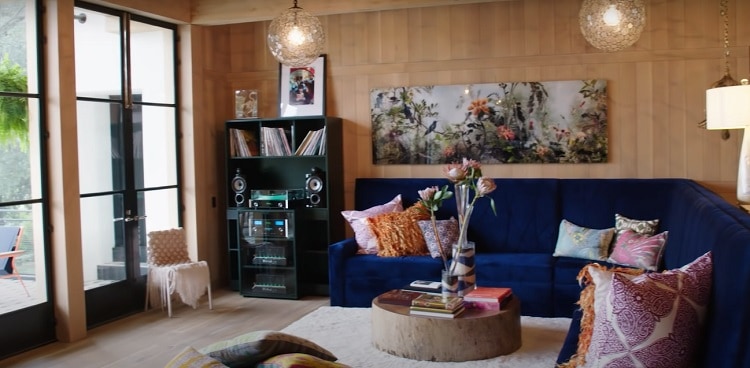 Jensen was excited to talk about one of his favorite features of the house:
"The hand-scraped wood floors undulate quite heavily, and we've got these giant beams and wood all around that feel like you're in the hull of a giant ship." "What that does is it creates an amazing acoustic sound," he continues. "We've always had music in our lives, and we wanted to pass on that tradition."

Jensen Ackles told AD
Jensen's house has a kick-ass bar
They've taken care of the music, and to complete the ambiance they got rid of the formal dining room (that nobody used anyway) and replaced it with a kick-ass bar.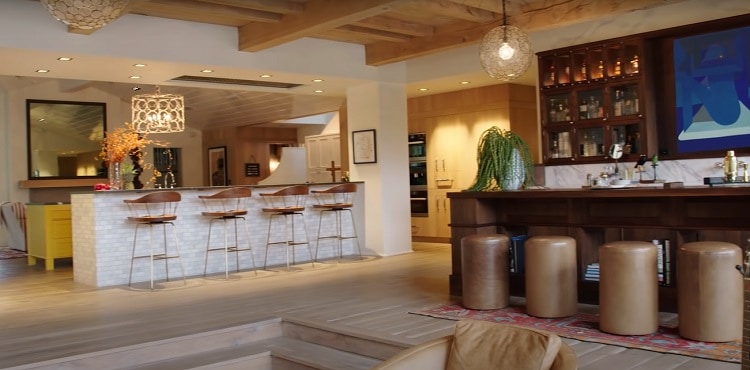 Placed on one end of the large living room, the bar is made out of black walnut with black and white veined marble. The cabinets were specially made to light the expensive bourbons it holds inside.
The master suite
There's a master bedroom swaddled in Trove wallpaper bearing vintage photography of 1920s opera boxes.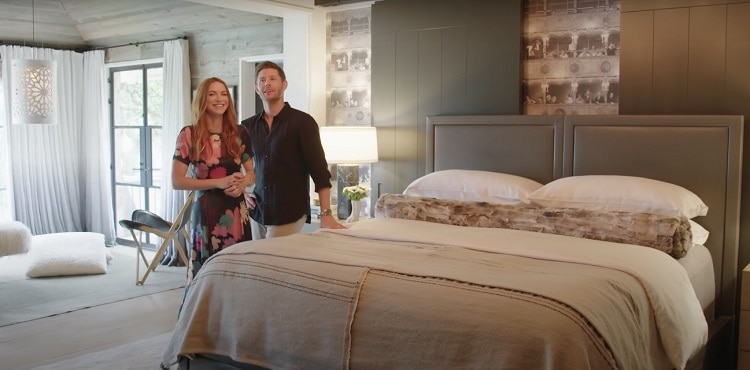 The wallpaper is covered in sections by Japanese-inspired barn door panels "because sometimes you need an audience and sometimes you don't".
The master bathroom has a beautiful bathtub sitting in front of a large window that provides stunning views of the lake.
The Mr. and Mrs. own two separate counters, because, you know, it just makes things easier in the mornings; and the inspiration for their master bathroom shower came from an Architectural Digest story featuring a steel and glass shower in the home of Neil Patrick Harris.
Jensen Ackles' bright, wood-framed home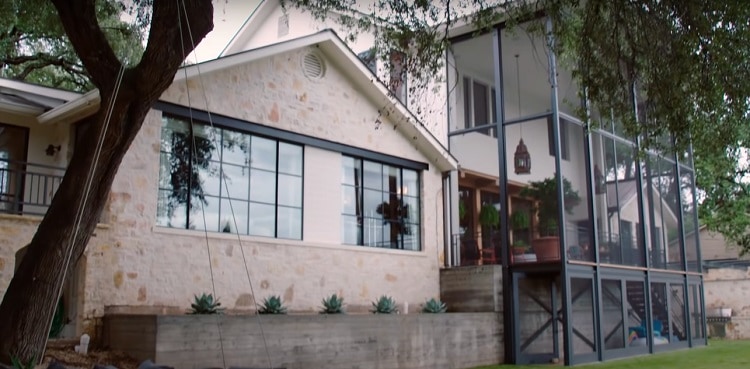 Thanks to exposed beams, larger expanses of windows, and rich wooden ceilings, the architect managed to simplify and open the spaces. They simply tore down walls to let more natural light into the home.
Jensen's favorite space is the breezy two-story screened porch that transformed the entire profile of the house; and his favorite piece – a custom long table made using a 2,000-year-old cypress log.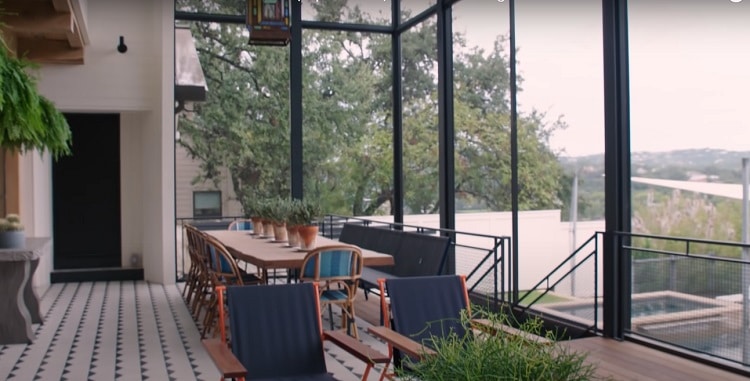 Parents of three
Jensen and Danneel have three beautiful children, so they had to choose the decor and furniture according to their needs as well, and many of their items are both stylish and family-friendly.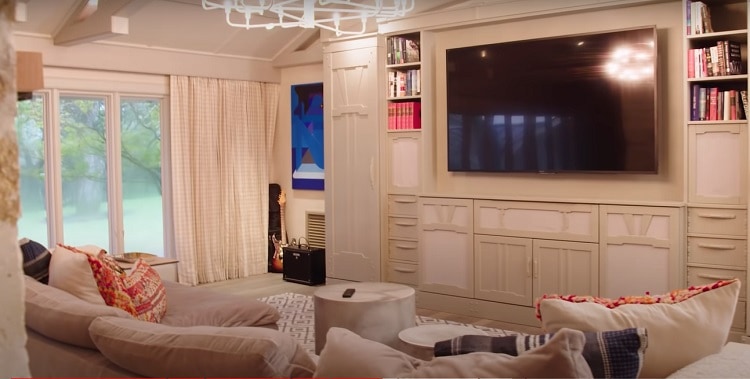 It appears that the couple's eldest daughter would make a great interior designer once she grows up. The nine-year-old girl, JJ, helped pick out all her own bedroom decor.
Unsurprisingly, the kids' favorite toy is a rolling acrylic table from the '50s, placed in the kitchen. Everybody loves a happy kitchen!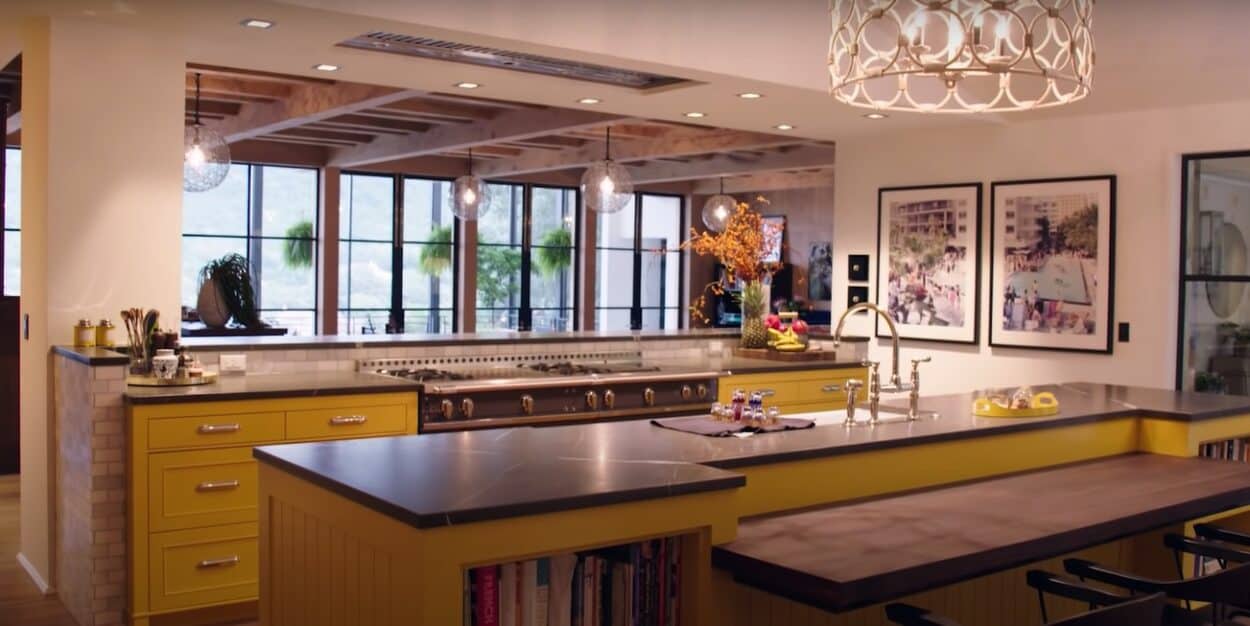 Jensen Ackles' house is full of hidden gems
The actor's house is a personalized, eccentric, yet highly livable place. It was designed to resemble the Laurel Canyon bungalow the couple had once lived in and it's a testament to the old-school, Austin-style lake house.
The space is filled with all kinds of eccentric and eclectic objects—some useful, some decorative, some both. The decorations could be found in abundance in Austin during its bohemian period (the Ackles' are active supporters of local art), as well as in late-60s California.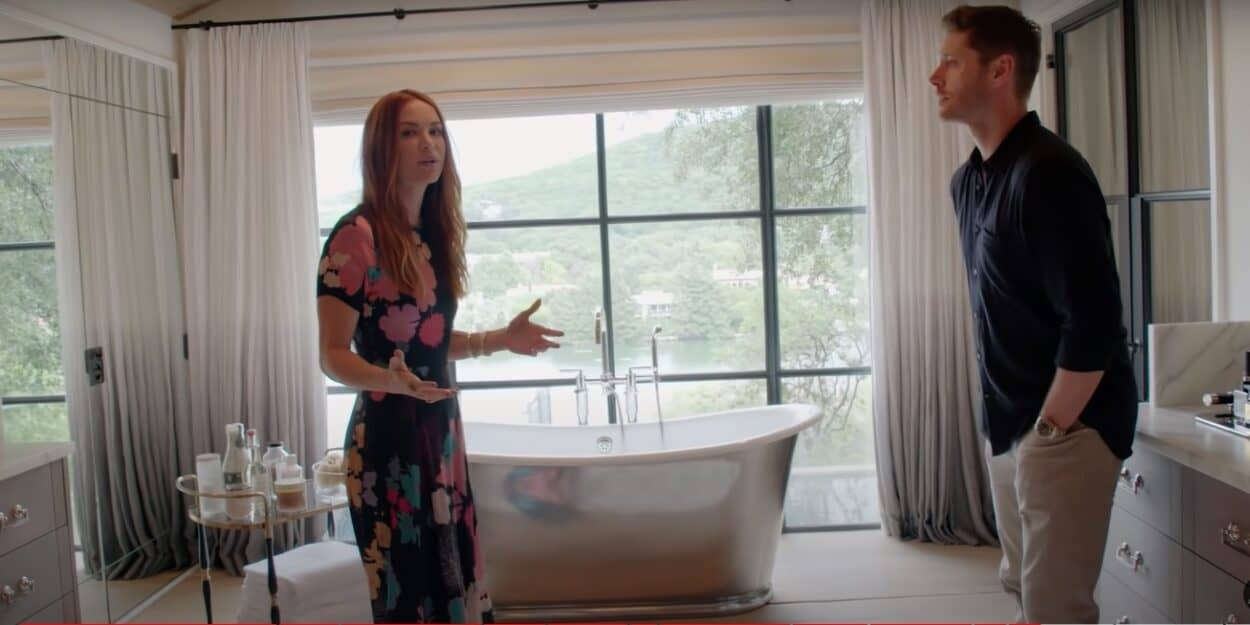 More celebrity homes you might like
Where Does Keanu Reeves Live? What We Know about the Actor's Hollywood Home
Mark Cuban's Million-Dollar-Mansions are the Definition of Luxury Living
Chrissy Teigen and John Legend's house, a Beverly Hills trophy home
Arnold Schwarzenegger Now Lives in a Pacific Palisades Mansion