Frank Lloyd Wright is undoubtedly one of the most influential architects of all time.
A champion of organic architecture, a philosophy he promoted throughout his career that focuses on the harmony between human living and the natural world — incorporating buildings into their surroundings — Lloyd Wright designed more than 1,000 structures in his lifetime, out of which 532 were actually built.
Credited with building some of the most innovative spaces in the United States, Frank Lloyd Wright's most famous works include the Solomon R. Guggenheim Museum in New York, the striking Fallingwater in Mill Run, Pennsylvania, Taliesin West in Scottsdale, Arizona, Hollyhock House in Los Angeles, California, Robie House and the Illinois Unity Temple in Oak Park, Illinois, the Tokyo Imperial Hotel in Inuyama, Japan, and the famous Blade Runner-featured Ennis House.
But of the hundreds of architecturally distinct homes he built in the span of his 70-year career, Lloyd Wright's own home in his native Wisconsin has the most interesting — and downright tragic — backstory.
While undoubtedly one of the legendary architect's best works, Frank Lloyd Wright's Taliesin house was the site of a gruesome attack that took the life of Wright's girlfriend and her two children.
It also burned to the ground (more than once), growing bigger every time the architect had to rebuild it. So let's take a look at the storied history of Taliesin.
What is the story of Taliesin, Frank Lloyd Wright's personal home in Wisconsin?
The American architect was born and raised in the Driftless Area of Wisconsin, which left a lasting impression on his young mind and inspired many of his most iconic works.
At the age of 29, in 1896, Wright built a windmill on the Taliesin estate, on land that belonged to his mother's family.
The project, requested by his aunt, was the first in a series of developments that over the years became part of the 600-acre Taliesin estate as we know it today.
Wright would return to his homeland of Taliesin in 1911, under more controversial circumstances.
In the early 1900s, Wright was married to Catherine Lee Tobin, had six children, and was living in Oak Park, Illinois.
He was then tasked to design a house for his friend and neighbor Edwin Cheney when he fell in love with his friend's wife, Mamah Borthwick Cheney.
In a daring and controversial move, the two lovers ran off to Europe, where their affair flourished, and when they returned to the U.S., they wanted a place to call their own, far from the judgmental eyes of the public.
That's when Frank Lloyd Wright decided to leave his Chicago family behind, return to his roots and build a house for himself and Mamah in the secluded hills of Taliesin.
Frank Lloyd Wright's Taliesin I — the "love cottage" with a harrowing story
Lloyd Wright's Taliesin I, as we now call it, was completed in 1911 near Spring Green, Wisconsin, to serve as the home of Wright and Borthwick.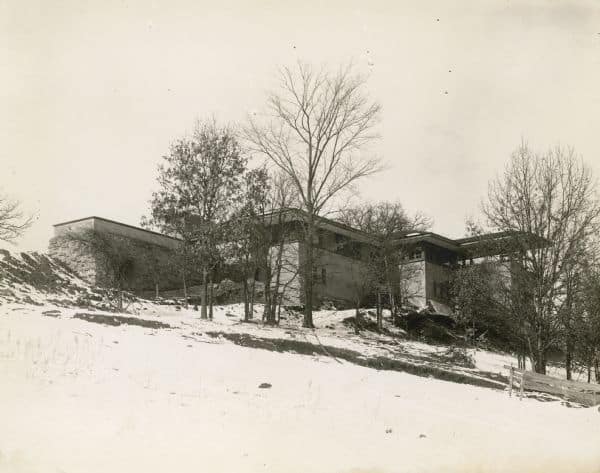 The home/studio that Wright created is the quintessential representation of the architect's Prairie School design.
Wright described the 12,000-square-foot house as 'low, wide, and snug,' and that's exactly what it is.
The house, which was named after the Welsh bard Taliesin — and translates into 'radiant brow' — was the result of Wright's attempt to blend man-made structures and materials with nature and the elements.
The house had an open-space design, with windows placed so that the sun could come through in every room at every point of the day.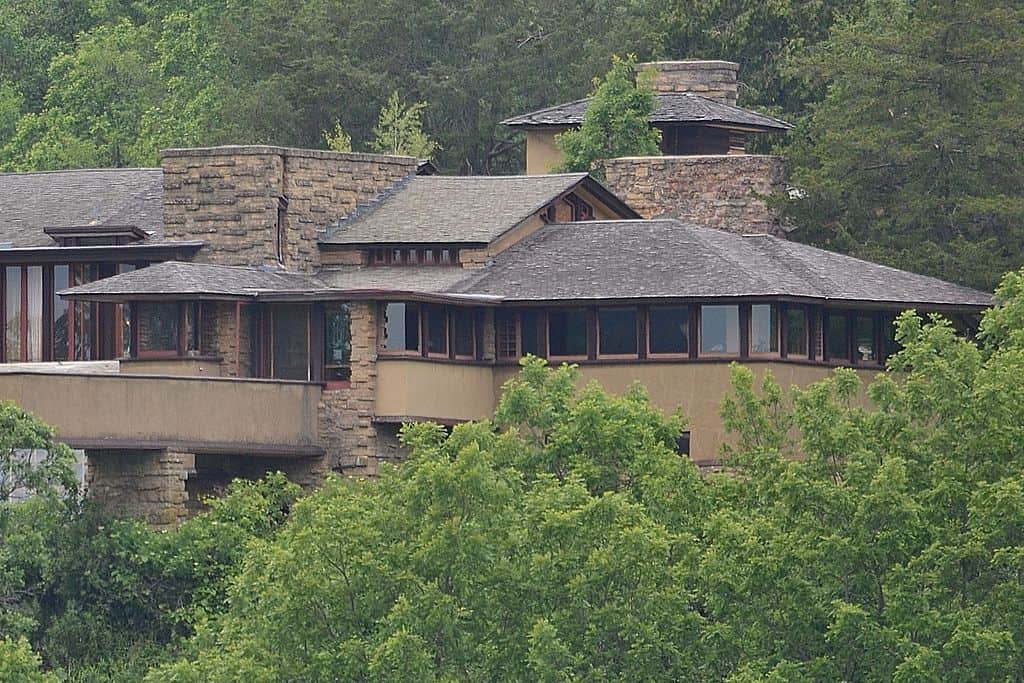 All the materials used in the construction were locally sourced, in an effort to seamlessly integrate the house with its surroundings.
Wright was a big fan of Japanese culture and architecture, and he was inspired to bring a taste of Japan to Taliesin, as well. The architect's home included an artificial lake stocked with fish and aquatic fowl, a water garden, as well as a 'tea circle' in the middle of the spacious, green courtyard.
The home that Wright built was stunning, and to this day it remains one of his most beautiful creations.
The beauty of Taliesin, however, did not do much to impress those living in nearby communities, who disapproved of Wright's relationship with Borthwick.
At the time the couple lived in Wisconsin, Borthwick had divorced Cheney, but Wright was still married, as Catherine Tobin refused him a divorce. Due to the scandalous aspect of their relationship, locals and media dubbed Taliesin 'the Love Cottage.'
Nonetheless, the couple lived happily at Taliesin, joined by Mamah Borthwick's two children and a number of household workers and employees.
Among those employees were Julian Carlton, a handyman and servant, and his wife Gertrude.
In 1914, the 31-year-old worker started acting strangely, becoming more and more paranoid and staring out the windows holding an axe. Given his strange behavior, Wright and Borthwick decided to let the couple go, and they gave Carlton and his wife notice in mid-August.
The events that followed the next day, on August 15, 1914, were so shocking that Taliesin will unfortunately forever be associated with them.
That August day, while Wright was away on business, Julian Carlton attacked Mamah Borthwick and her two children, ending their lives.
He then turned against the other members of the household, after which he set the house on fire.
His killing spree ended the lives of Borthwick, her two children, as well as two other workers and their young boy.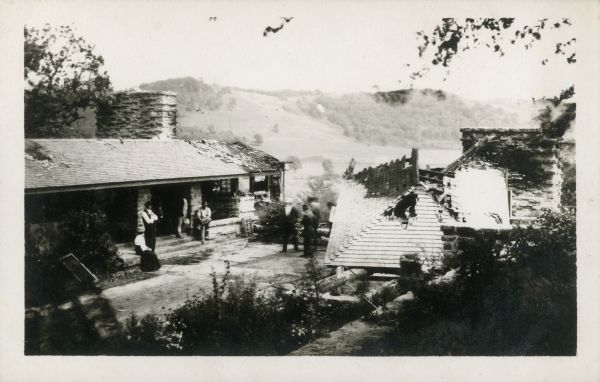 Following the attack, Carlton hid in the basement's fireproof furnace and swallowed hydrochloric acid in an attempt to end his own life. Somehow, he survived, and he was arrested and taken into custody.
While awaiting his trial and sentencing, he died of starvation, as the acid he swallowed had burned his esophagus to the extent that he could no longer eat.
Carlton's wife was luckily not in the house at the time, as she was waiting for her husband to join her on a train to Chicago.
Taliesin II – Frank Lloyd Wright rebuilds his Wisconsin house
Taliesin I was, in large part, destroyed, and Frank Lloyd Wright was left heartbroken, losing the love of his life and the beloved home that they shared.
He was so devastated that he couldn't even bring himself to hold a vigil or a formal funeral for Borthwick, instead burying her in an unmarked grave in a nearby graveyard.
However, Wright soon got back on his feet and decided to rebuild Taliesin.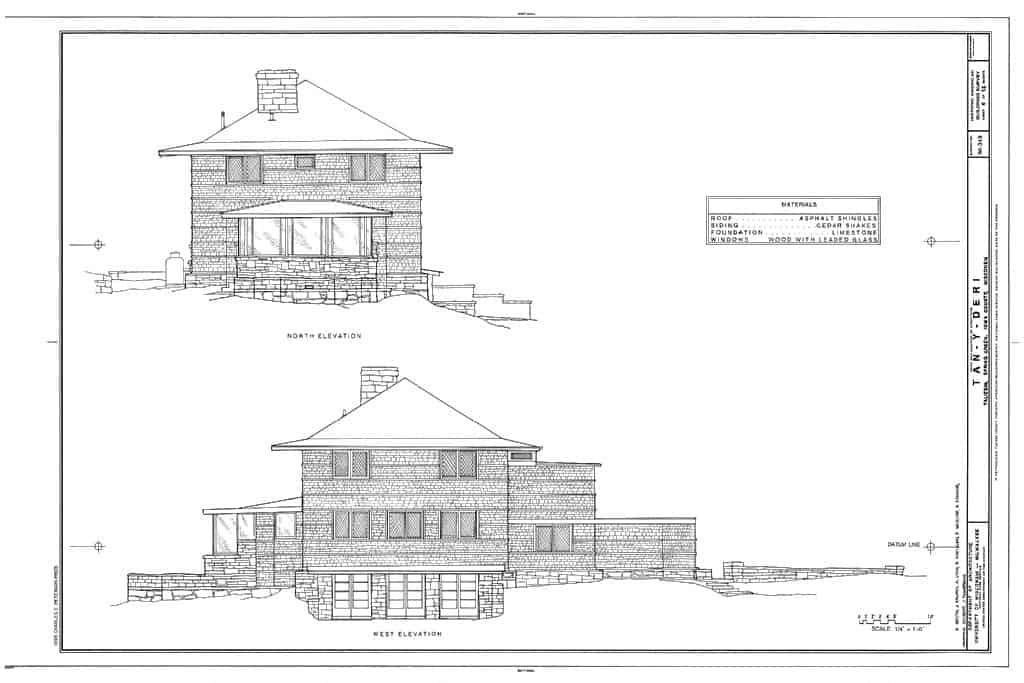 By the end of 1914, he had built Taliesin II, and had found companionship in Miriam Noel, who sent him a condolence letter after that summer's massacre.
Wright, however, only settled in at Taliesin II in 1922, after he finished work on the Imperial Hotel in Tokyo.
RELATED: Frank Lloyd Wright's Ennis House also known as The Blade Runner House
He was finally granted a divorce by Catherine Tobin, and married Miriam Noel in 1923. The marriage, however, was doomed to not last, as Noel's erratic behavior, later diagnosed as schizophrenia, led to a tense relationship between her and Wright.
Noel eventually left Wright and moved out of Taliesin II in 1924. One year later, in an eerie turn of events, Taliesin II burned to the ground due to faulty wiring, and Wright was back to square one.
However, like a phoenix, Taliesin would rise from the ashes once again.
Taliesin III – Wright rebuilds it once more, but the costs drive it into foreclosure
Even after two fires tried to destroy his work, Frank Lloyd Wright was not ready to give up on Taliesin, and he rebuilt it once again, as Taliesin III.
Each time the architect had to revamp Taliesin, the house grew bigger.
In its third and final form, Taliesin featured 37,000 square feet, and all the buildings on the estate combined totaled no less than 75,000 square feet on 600 acres of land.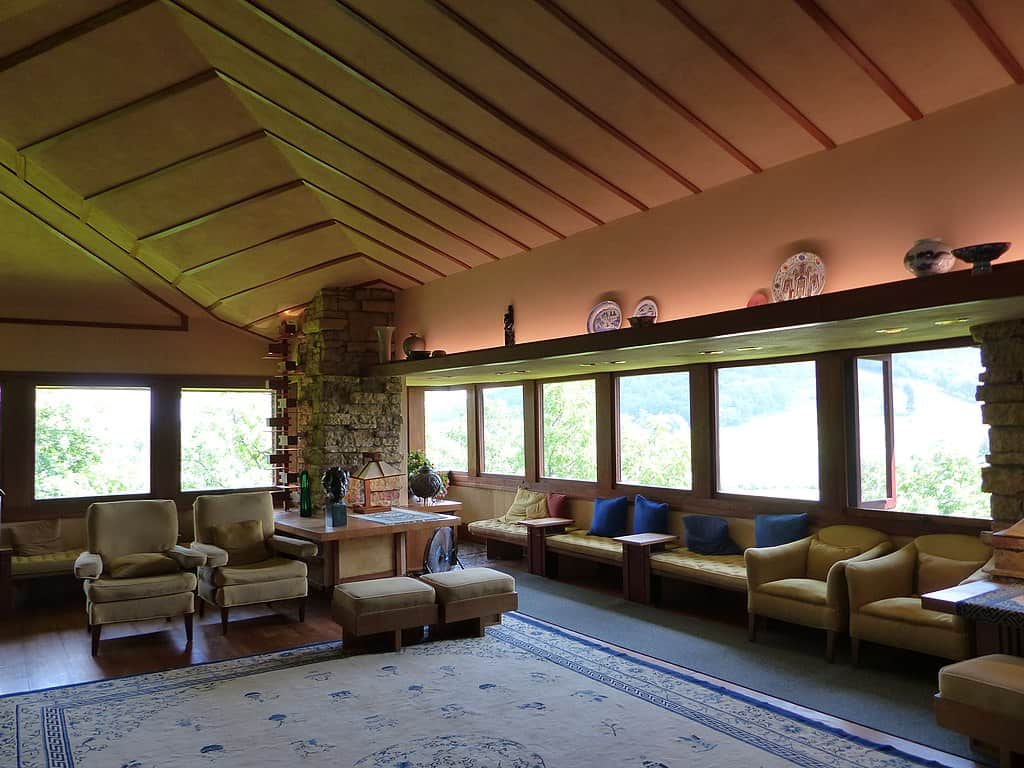 The third reconstruction of Taliesin did, however, create a pretty big dent in Wright's pockets, and he was severely in debt at the time work on Taliesin III was finished.
In 1927, the Bank of Wisconsin foreclosed on the property, and the architect moved to La Jolla, California, forced to leave his beloved hilltop home behind.
His fans and students, however, devised a plan to have the revered architect reunited with Taliesin.
Darwin Martin, a former client of Wright's, formed a company dubbed Frank Lloyd Wright Inc., to issue stock on the architect's future earnings. Various other clients and students purchased stock and ended up successfully bidding on Taliesin for $40,000, giving it back to Wright.
SEE ALSO: The Chemosphere House and 6 other striking John Lautner-designed homes
Thankfully, the innovative design and historic importance of Taliesin were recognized by Wright's clients and admirers, and the efforts to preserve and keep the estate alive paid off.
In January 1976, Taliesin was named a National Historic Landmark District by the National Park Service. More than three decades later, Taliesin was one of the buildings included in The 20th Century Architecture of Frank Lloyd Wright, a UNESCO World Heritage Site featuring a selection of eight buildings designed by the architect across the U.S.
Today, Taliesin is a historical and architectural gem, and Frank Lloyd Wright fans can visit the estate on professional, guided tours.
If you're an architecture fan, a student, or design aficionado and you're ever traveling near Spring Green, Wisconsin, you don't want to miss out on the chance to visit Taliesin.
Frequently asked questions
Where is Taliesin?
Frank Lloyd Wright's house in Wisconsin, Taliesin, is located at 5481 County Road C, Spring Green, WI 53588, USA, about 2.5 miles south of the village of Spring Green in the Driftless Region of southwestern Wisconsin.
What does the word Taliesin mean?
Taliesin is a gender-neutral name of Welsh origin, meaning "radiant brow" made famous by a 6th Century Welsh bard who is said to have performed at the courts of three different kings. Lloyd Wright reportedly named his house in Wisconsin Taliesin to signal that was "of the hill," not on it, building it below the hillcrest, on its brow rather than its crown.
Did Frank Lloyd Wright rebuild Taliesin?
The legendary architect had to rebuild his Taliesin house in Wisconsin twice. The first time was in 2014 after a gruesome attack by employee Julian Carlton who ended the lives of Wright's then-girlfriend, Mamah Borthwick and her two children, and then set the house on fire. The second time was in 1925 when Taliesin burned to the ground due to faulty wiring.
More stories you might like
The Complete History of Hearst Castle in San Simeon
An Iconic Richard Neutra-Designed Stilt House Looming Over the Valley
A Piece of Architectural History: Lloyd Wright's Derby House
The House that Zaha Hadid Built: The Story of the Only Residence Ever Designed by "The Queen of the Curve"