It seems like it was only yesterday that Zendaya was dancing her way into our hearts as Rocky Blue on the hit Disney series, Shake It Up. Since then, the young and dynamic star has accomplished quite a bit to become one of the coolest Gen Z celebrities.
From being the youngest winner of the Primetime Emmy Award for her role in HBO's Euphoria to starring in Spider-Man movies and Dennis Villeneuve's epic sci-fi adaptation of Dune, to bravely doing her own stunts in The Greatest Showman, Zendaya continues to wow us every single day!
Besides being a successful actor, Zendaya also has the voice of an angel and is the author of a book, 'Between U and Me: How to Rock Your Tween Years with Style and Confidence' that she wrote when she was just 17!
She is also a certified fashionista who is consistently applauded for her style. We mean, who can forget her big Oscars moment from 2015 when she subtly clapped back at Giuliana Rancic for her unsavory comments? She even got rave reviews for her gorgeous and inclusive Tommy x Zendaya collection in 2019.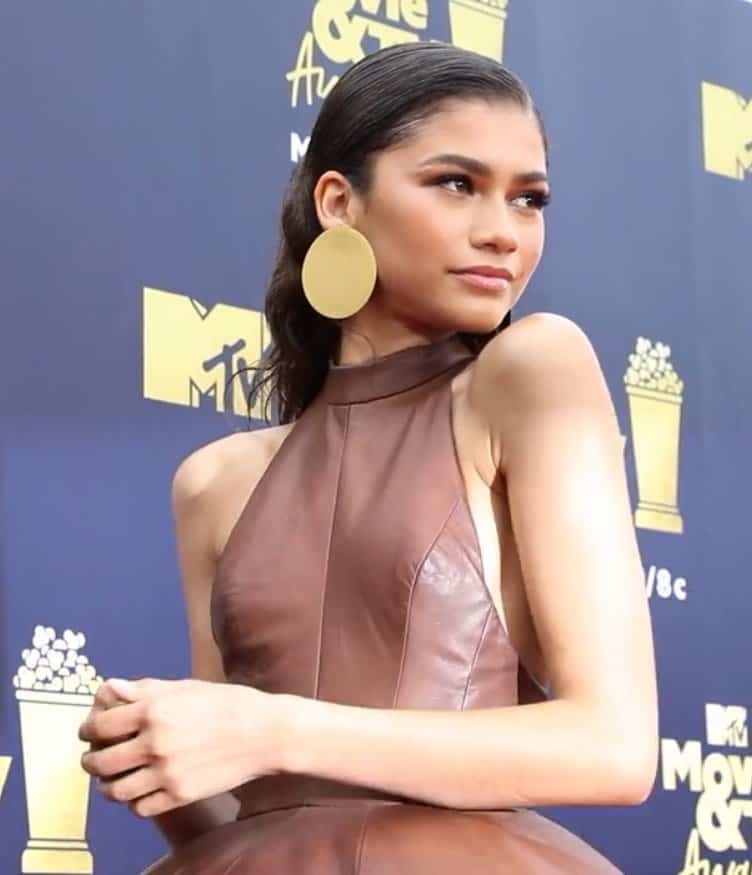 That's not all – 'Daya' as her fans call her has been an active and vocal supporter of women's rights and the Black Lives Matter movement. Another thing to add to her list of achievements? That she's already an experienced homeowner.
Her starter home was a $1.4 million property in Northridge, Los Angeles that she shared with her adorable dog, Noon. In 2020, however, the superstar upgraded to a $4 million home in the San Fernando Valley neighborhood of Encino, followed by a $4.9 million purchase of a gorgeous condo in Brooklyn, New York.
And just in case you were wondering where Zendaya lives nowadays, we have the full scoop on the Dune star's homes — and we'll even debunk the myth that she's living in London with Tom Holland. So let's take a closer look at Zendaya's houses and recent purchases.
Zendaya's house: secluded, ranch-style living in Encino
Back in 2020, the Euphoria actress quietly bought her beautiful Encino home in a $4 million deal that didn't make the papers until a few solid months later. Kudos to her for managing to keep it under wraps for so long; but now that the cat's out of the bag, we couldn't help but take a peek at the lovely property Zendaya calls home.
The property sits on four acres of land and includes a massive main house, a large backyard, a guesthouse, and an open pool area surrounded by palm trees and greenery.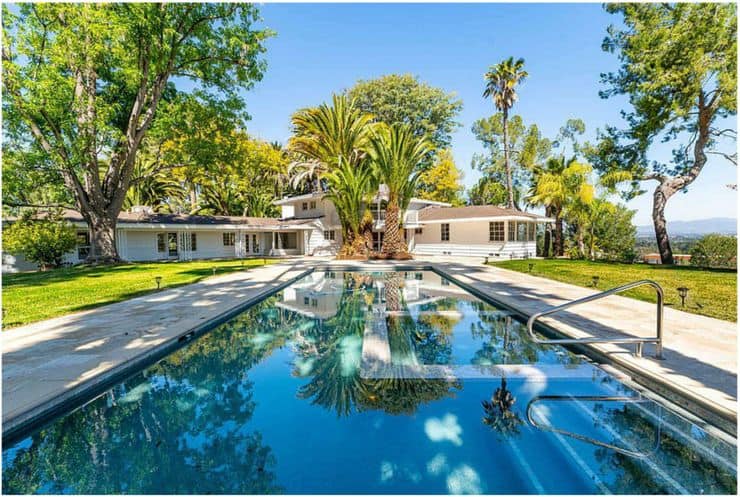 The ranch-style building was built in 1939 and features over 5,000 square feet of living space. All in all, Zendaya's house comes with six bedrooms and seven bathrooms, which may sound like a lot for one person but we're sure Zendaya enjoys hosting her friends and family here.
See also: Where does Ariana Grande live? The pop star's many luxury houses
To ensure privacy, the entire property is hidden from prying eyes at the end of a long driveway that leads guests to the actual house. From California palm trees to beautiful oaks, the landscape is filled with greenery and is stunning to look at (and likely a great place to be homebound during a pandemic).
Open-plan living space and tons of charm
Considering the age of the house, it's not surprising that it has undergone many renovations over the years. Currently, the first floor has an open plan with stunning hardwood floors, recessed lighting, and high ceilings. There's also plenty of natural light thanks to all those windows and multiple fireplaces which may seem like an odd addition for California but we're sure the star is not complaining.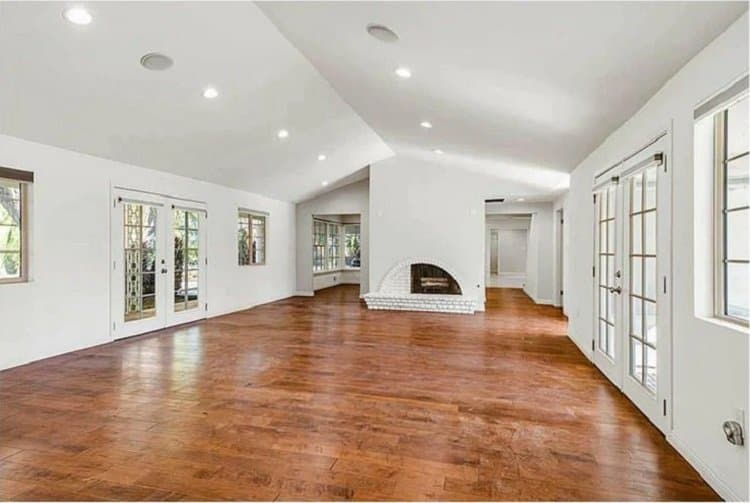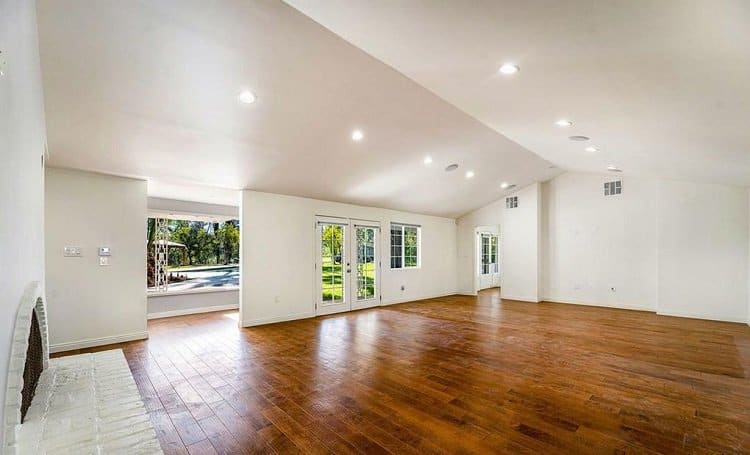 Like the rest of the space, the kitchen too is huge with loads of storage space in the form of drawers and cabinets. It features stainless steel appliances, granite countertops, and an island that is perfect for entertaining guests.
All the bedrooms have tons of windows bringing in plenty of natural light. The master bedroom, in particular, is stunning and has a private balcony. Similarly, the bathroom is covered in Carrera marble tiles and has a lovely built-in soaking tub, with large windows opening up to the beautiful outdoors.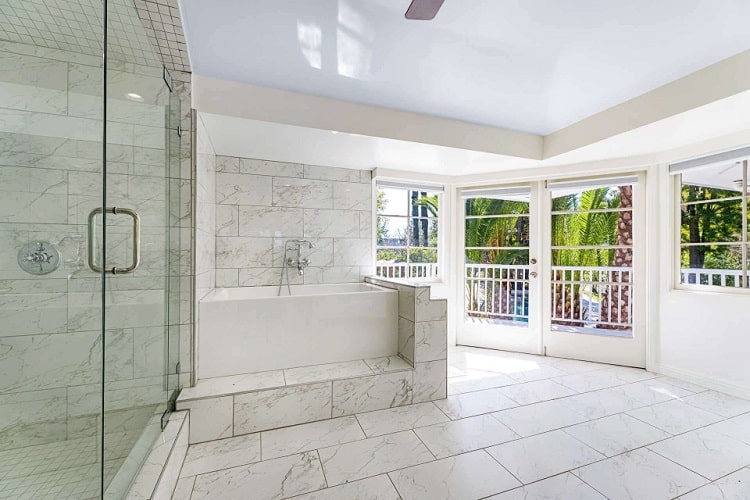 The backyard is like a dream…
With plenty of sun, beautiful palm trees, lush green lawns, and a large pool with an outdoor spa and stone patio, Zendaya's backyard is the ultimate Californian dream. If this isn't the perfect spot for pool parties with friends and family, we don't know what is.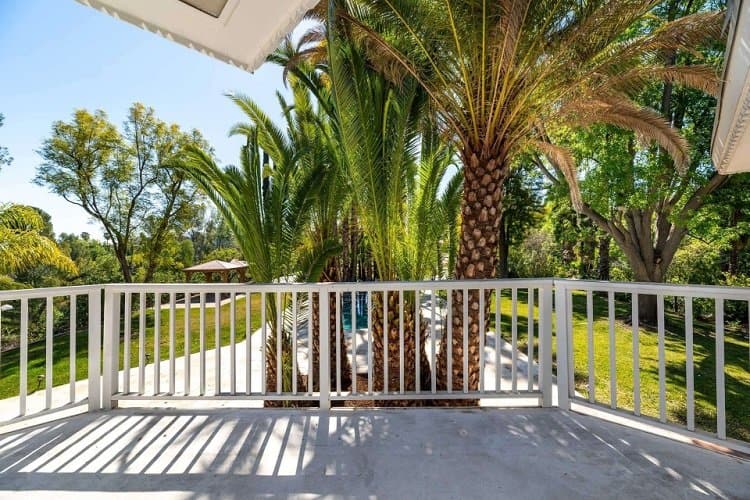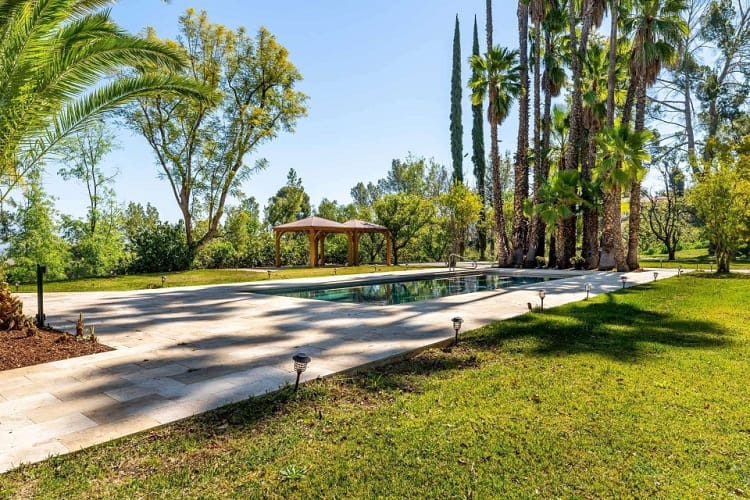 The property also includes an independent two-bedroom guesthouse with its own bathroom and kitchenette.
We aren't sure whether Zendaya has yet had the chance to re-decorate and make the home her own, but with so much potential, we can't wait to see what it looks like when it's done. Considering her amazing design sense, we bet it's going to be fantastic!
Zendaya also owns a gorgeous apartment in New York City
Adding to her list of spectacular homes, the Dune star also owns a spectacular 2,050 square feet, $4.9 million condo in Brooklyn, New York, that she purchased back in December 2020.
The three-bedroom, two-and-a-half-bathroom unit is filled with show-stopping floor-to-ceiling windows, which give it a stunning view of the breathtaking Manhattan skyline and New York Harbor from every room.
Rather than take a public elevator to get to her floor, Zendaya can skip the wait as her condo comes with a private elevator that only opens at her unit.
Fittingly, the condo's main bedroom has a formal dressing area and plenty of storage. Zendaya's bathroom could double as a mini spa with its soaking tub which helps to relieve stress and anxiety. The tub sits right by the floor-to-ceiling windows. The luxurious oak floors are heated which makes for quite the cozy bubble bath experience.
The corner living and dining room opens up to a chef's kitchen lined with wide plank oak floors and more floor-to-ceiling windows that open up the space and flood it with natural sunlight on the inside.
It was rumored that the 'Euphoria' star and boyfriend Tom Holland bought a house together in London
Since being cast as the leads of Marvel's Spider-Man: Homecoming in 2016, Zendaya and Tom Hollard became close friends and later announced (much to the delight of their fans) that the two are an item.
The couple started dating around 2021 when they were filming their third Spider-Man movie together. They are now one of the most popular Gen Z power couples, occasionally sharing their love for each other on social media, with fans absolutely thrilled to see this on-screen romance becoming a reality.
In early 2022, a rumor that the lovebirds took their relationship to the next level by moving in together took the internet by storm. According to many online sources, Zendaya and Tom reportedly bought a $4 million mansion in the British capital of London, close to Tom's hometown.
At the time of the purchase, a source told the Mirror: "They are over the moon about the property and getting their first home together. They are very much in love and wanted their first home to be in London where Tom grew up. Everyone is thrilled for them." It was even said the two were planning a nearly $311,000 renovation to include a gym, cinema, and man cave.
But soon after all the major UK publication ran their headlines announcing the couple's news, Tom Holland went on Live with Kelly and Ryan to put an end to the rumors by clarifying that he DID NOT purchase a London house with Zendaya and that there's no truth to the story.
Zendaya has upgraded her father to a home close to hers
While she may not have bought a house with Tom Holland, Zendaya did invest more of her earnings in real estate — but for a very heartfelt reason.
Zendaya proved that her wealth should be enjoyed by those she loves too in a grand gesture to her parents whom she's very close to. According to Dirt, in 2022, the famous actress bought her father a $1.9 million house in San Fernando Valley's West Hills neighborhood near Woodland Hills and Calabasas.
The two-story residence has 5 bedrooms and 5 bathrooms, 3,391 square feet of living space, and is just beautiful. Added bonus: the house is near her own Los Angeles pad (how sweet is that?).
We love this Gen Z actress, her fashion sense, generosity, and honestly hope that her booming career means we can probably expect her to score more phenomenal properties in the future.
More celebrity homes
Tour Kendall Jenner's House: A Peaceful, Art-Filled Home in Beverly Hills
The Story of Taylor Swift's Holiday House — Home to "the Last Great American Dynasty"
Where Does Lady Gaga Live? Check Out Her 'Gypsy Palace' in Malibu
Step Inside Andrew Rea's (Binging with Babish) House in Brooklyn