Few areas around Los Angeles achieve that small town feel with a slightly urban edge; but the family-friendly Encino excels at that, and word has gotten around.
So much so, that even celebrities are now looking to settle down here with their families, snapping up beautiful homes in the area (scroll down for a list of celebrities that call Encino home).
Set in the San Fernando Valley region of Los Angeles, Calif., the lovely neighborhood traces its history all the way back to the 18th century.
According to the Encino Chamber of Commerce, a Spanish expedition led by Gasper de Portola landed in the Monterey region of California in 1769. Once here, the Europeans (who were also the first to see inland areas of California) were greeted by several hundred Grabielino Indians near Encino Springs under the mighty oak trees that would give Encino its name, which is Spanish for "oak".
And while the mighty oak that served as the area's most iconic landmark — the Encino Oak Tree, a 1,000-year-old California live oak tree designated as a historic cultural monument in 1963 — was almost completely destroyed by El Niño (in 1998), the name is still a great fit for the vibrant neighborhood that sits on the north slope of the Santa Monica Mountains.
Living in Encino: quiet, tree-lined streets offer great real estate & plenty of outdoor activities
With its tree-lined streets and beautiful homes in the hills, Encino is frequently ranked as one of Los Angeles' best suburbs.
Set just over the hill from Santa Monica, Pacific Palisades, and Westwood, Encino is only a short 15-minute drive away from Hollywood, but offers a plentiful lifestyle that many would otherwise be unable to afford in more glamorous parts of the city.
Strikingly beautiful homes (with generous square footage and backyard space), upscale retail stores and a large financial district continue to attract affluent residents, who earn the Valley's highest average household income.
Access to the outdoors is a major draw for the area, with both the beach and the 11,000-acre Topanga State Park being within a few minutes' reach. There's also the Sepulveda Dam and Recreation Area, which is a green haven for wildlife and outdoor enthusiasts, and where residents can go play a round of golf or some cricket or take a ride on one of the beautiful bike paths.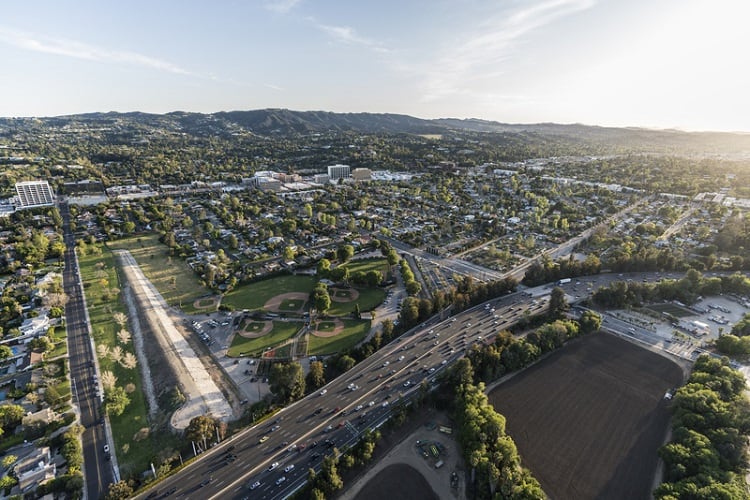 Other major attractions include Woodley Park (which has a dog park, cricket complex, and a nice picnic area), one of the nation's best public Japanese gardens (with waterfalls, stone lanterns, and peaceful lakes), an 80-acre Lake Balboa Park where residents can fish or rent boats, and a total of three 18-hole golf courses.
Unlike some of the other San Fernando Valley communities, Encino has a quite vibrant shopping and dining scene, with hundreds of restaurants and retail stores, including world-class sushi spots and first-class tasting menu lounges.
While it may be an affluent area, Encino real estate prices are not completely unaffordable. According to Realtor.com, the median home price hovers around $1.1 million. That's almost 20% cheaper than the neighboring Sherman Oaks.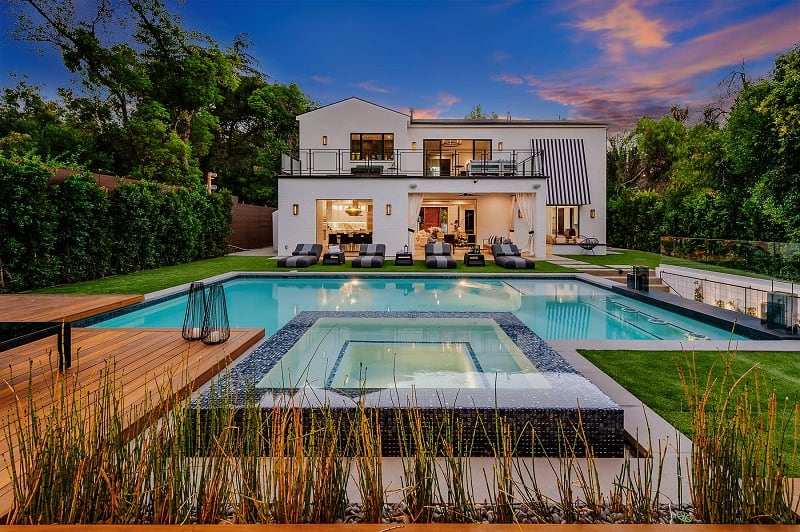 Encino in popular culture
The neighborhood made its big break into pop culture along with the release of Karate Kid, whose characters each lived in different parts of L.A. — highlighting the divide between their upbringing and social status. Both Johnny Lawrence (played by William Zabka) and Elizabeth Shue's character, Ali Mills, lived in Encino in the 1984 movie, while Daniel San lived in Reseda.
Ironically, the tables have turned by the time the Cobra Kai series came out, with Daniel LaRusso owning a stunning house in Encino, while Johnny moves into a run-down apartment building in Reseda.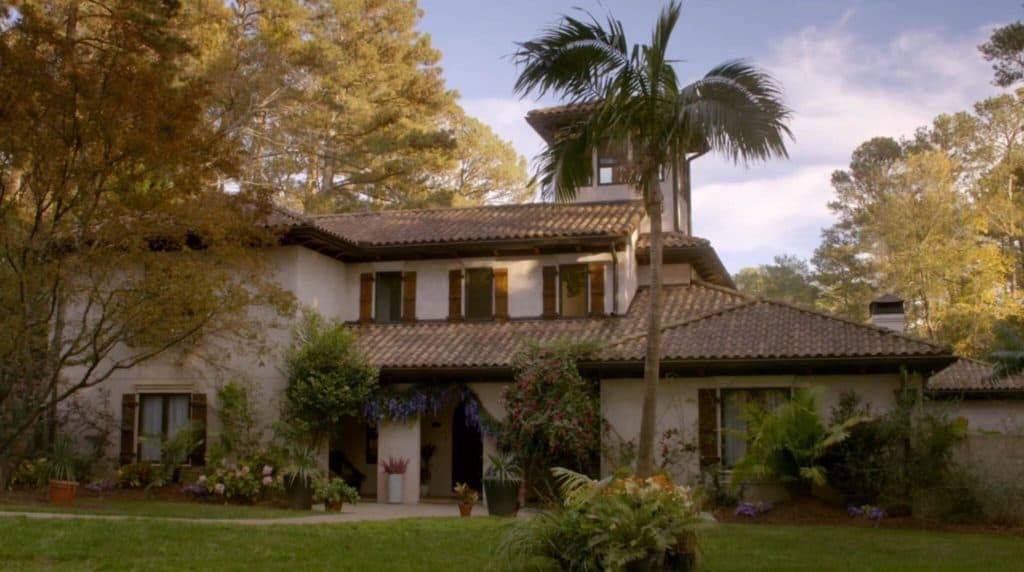 The neighborhood also got a shot-out from Frank Zappa in his 1982 hit song Valley Girl, which he recorded with his daughter, Moon Zappa (who was 14 at the time).
The song makes fun of Valley Girl talk, an early '80s trend that started in California and led to teenage girls around the country saying things like "Gag me with a spoon." It pokes fun at what Zappa believed were spoiled rich girls living in the San Fernando Valley of California, with Encino being singled out due to its wealthy residents.
Celebrities that live in Encino
From Real Housewives to NBA players or Hollywood actors, Encino has managed to attract quite a few A-listers with its small-town feel and quiet streets lined with beautiful homes.
Some of the most famous Encino residents are Selena Gomez (who paid $4.9 million for Tom Petty's old house), Magic Mike actor Channing Tatum, Foo Fighters' Dave Grohl, The Real Housewives of Beverly Hills Dorit Kemsley and Teddi Mellencamp, and NBA baller Tristan Thompson.
Modern Family star (and one of our all-time favorite TV uncles) Jesse Tyler Ferguson also bought a house in this family friendly neighborhood — where he and husband Justin Mikita will be raising their baby boy, Beckett Mercer Ferguson-Mikita, who was born July 7, 2020.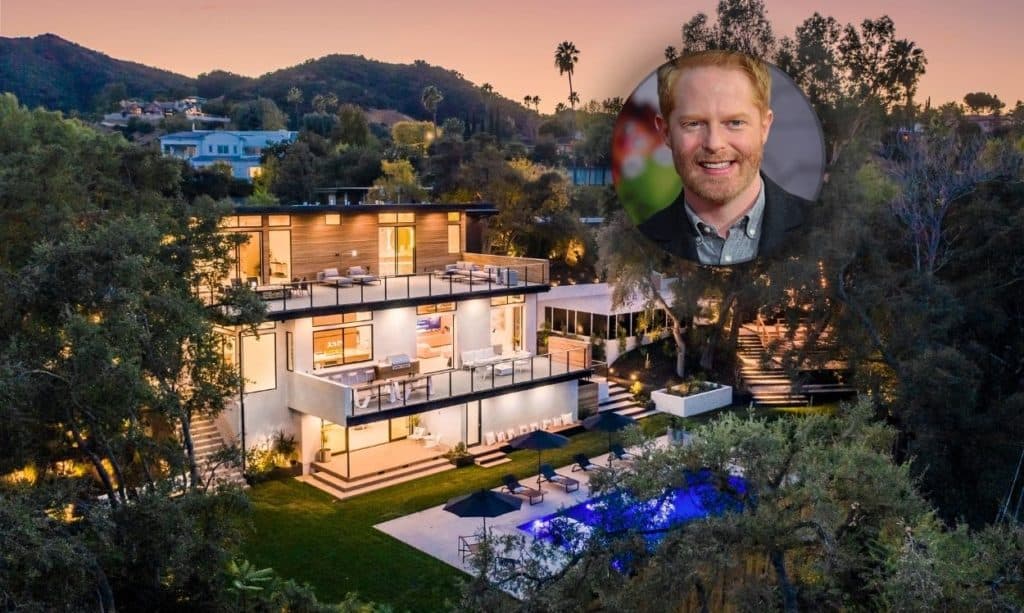 There are also quite a few celebrities that made an exit or are now selling their Encino homes for top dollar. This includes Grammy-winner Kelly Clarkson, Lakers player JaVale McGee, The Masked Singer champion Nick Lachey, and Criminal Minds star Shemar Moore.
Featured image credit: Photo 117465236 / Encino California © trekandshoot | Dreamstime.com
Other great areas to read about
Everything You Need to Know about Brentwood, One of LA's Most Glamorous Neighborhoods
Beverly Park, a Privacy Haven for Hollywood's Biggest Celebrities
The Pocket-Sized Community of Montecito is Home to Some of the Biggest Celebrities (and a Couple of Royals)
There's a Good Reason So Many Celebrities Call Malibu Home