Some call it a desperate need for privacy and security. Others call it conscious alienation and paranoia.
Whatever the reason, one thing's clear: the world's wealthiest all want to live in Beverly Park, Los Angeles' richest and most exclusive neighborhood.
What exactly is so special about Beverly Park?, you might ask. Don't feel bad about not knowing the answer, because the amount of privacy and security around this neighborhood is insane, and that's exactly why celebrities want to live here.
First of all, you can't just go take a stroll through Beverly Park in hopes of running into Mark Wahlberg or Samuel L. Jackson (two of the biggest names on the neighborhood roster). This ultra-exclusive gated community is out of reach even for paparazzi.
There are basically no sidewalks, and taking photos is strictly prohibited. But who needs sidewalks when each property spans acres and acres of land?
There is plenty of room for celebrities to roam around without running into neighbors, visitors, or the prying eyes of the press.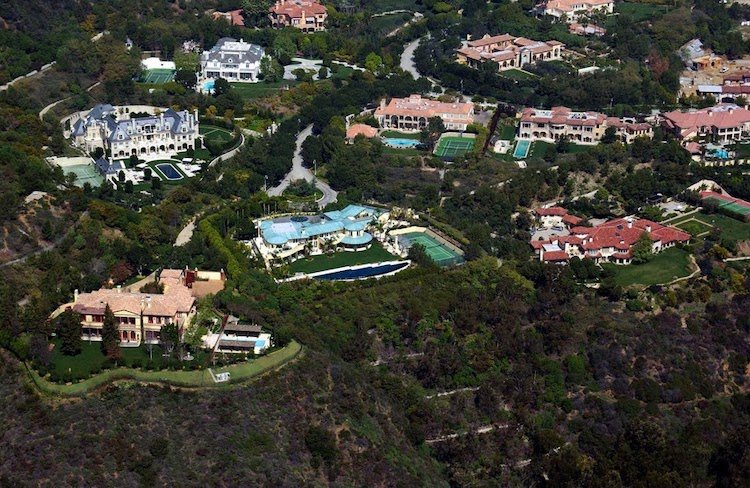 Because of the unrivaled privacy and massive land plots, Beverly Park has become the most sought-after residential destination for the wealthy.
It's actually the richest neighborhood in Los Angeles, home to A-listers in industries like show business, technology, and finance.
But how did Beverly Park come to earn its status of the highest-earning neighborhood in L.A.? Let's go back to see how this Hollywood hotspot first took shape.
The history of Beverly Park
During the 1960s, the area now known as Beverly Park was eyed to become a country club-slash-golf-course for Hollywood's elite.
However, in the 1970s, developers Brian Adler and Elliot Gottfurcht joined forces to turn Beverly Park into "an idyllic community of historic-feeling grand estates that would feel like Beverly Hills of yesteryear."
Beverly Park stretches between Mulholland Drive, Sunset Boulevard, Coldwater Canyon Drive, and Beverly Glen Boulevard.
It's divided into two communities, namely South Beverly Park and North Beverly Park. They both boast the famous Beverly Hills Post Office 90210 zip code, even though they're located in the city of Los Angeles.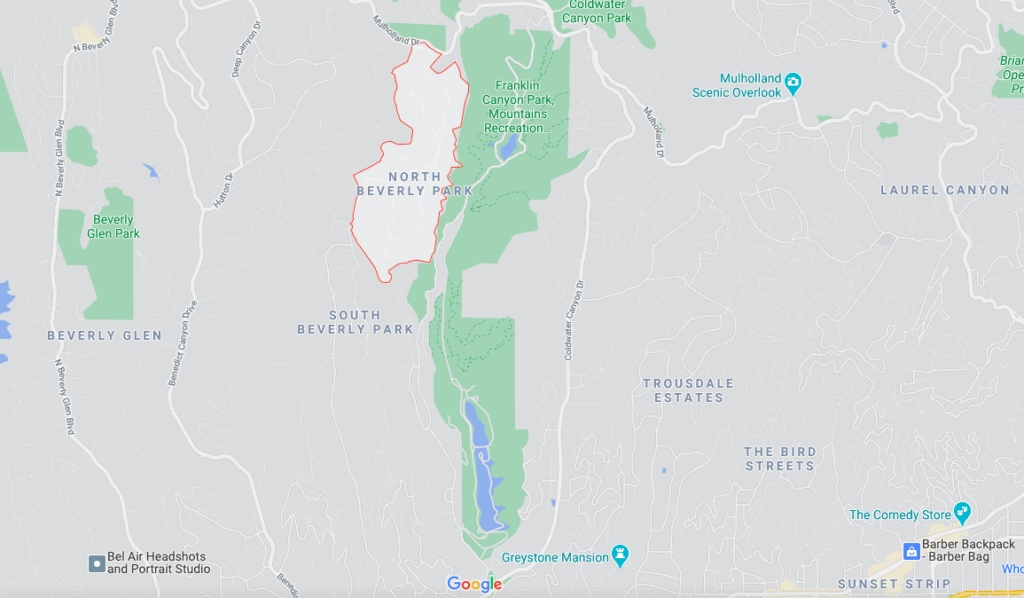 North Beverly Park is the larger of the two communities, encompassing 64 homes, while South Beverly Park is home to merely 16 residences. North Beverly Park is more upscale than the South section, boasting significantly higher prices and an entrance on Mulholland Drive.
Interestingly enough, residents of the two communities don't always see eye to eye, even if they're basically part of the same neighborhood.
In 2008, residents were embroiled in a legal battle concerning the rights of South Beverly Park to use the northern gates at Mulholland Drive.
It wasn't your usual, boring court battle: among the plaintiffs were famous residents like Samuel L. Jackson and Magic Johnson, among others. The dispute was triggered when North Beverly Park restricted access to South Beverly Park via the Mulholland Drive entrance, citing security concerns.
After a long legal battle, the courts decided South Beverly residents could use the northern gates freely, but the disagreements left a sour taste for both communities.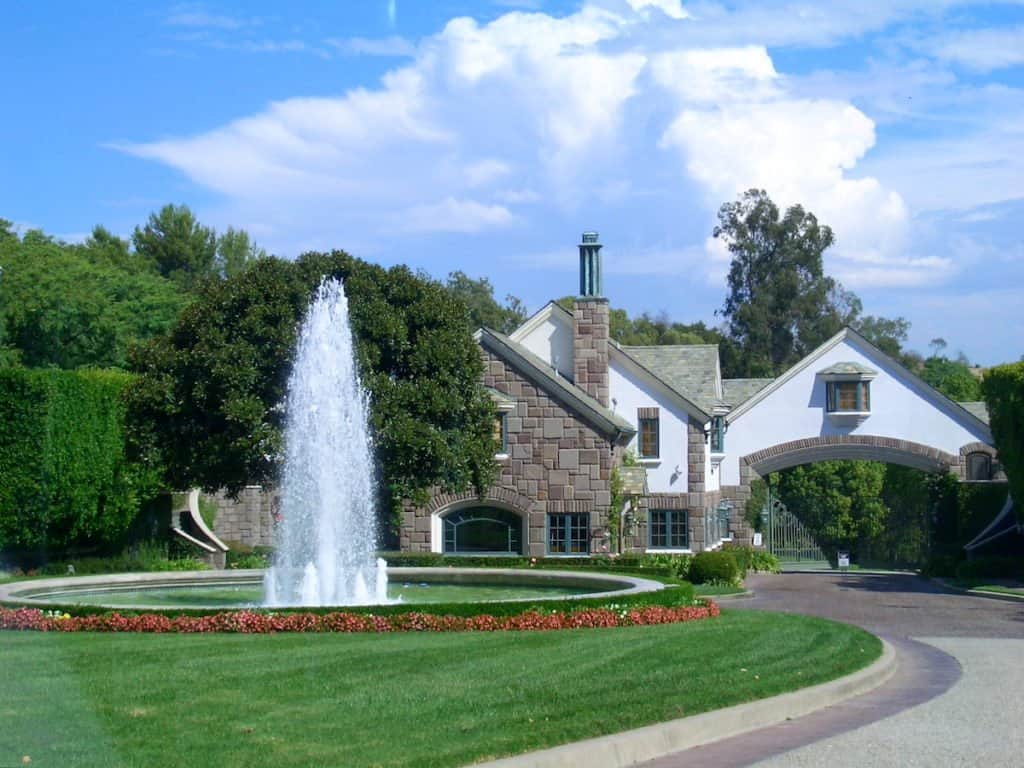 The high-profile residents
You know how in some cities in the U.S., local governments impose limits on how big residences can be? Think of that stunner of a mansion featured on Netflix's Selling Sunset.
It's reportedly the last project of its size to be built in Los Angeles, as the local council voted to regulate the size of new homes in 2017.
Believe it or not, in Beverly Park, a requirement is in place that says homes in this neighborhood must be at least 5,000 square feet in size. Nobody seems too upset about that, given that homes in Beverly Park average roughly 20,000 square feet or more.
This 5,000-square-foot-minimum rule, which is part of a 70-page property covenant that Beverly Park residents must abide by, is by no means a problem for celebrities.
'The bigger, the better' is a motto that famous Beverly Park residents like Mark Wahlberg, Eddie Murphy, Magic Johnson, or Silvester Stallone swear by.
But one of Beverly Park's most famous residents is none other than Lisa Vanderpump, aka one of the Real Housewives of Beverly Hills. A few years back, Vanderpump was living in a palatial mansion designed by Richard Landry, and this mansion made multiple appearances in the popular TV show.
The neighborhood is by no means a stranger to massive mega-mansions, but the Vanderpump estate definitely stood out in its opulence.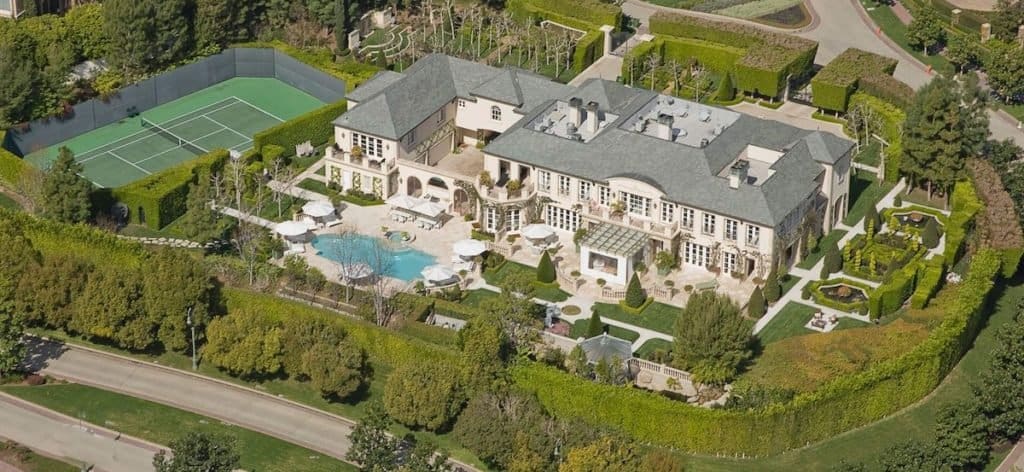 Fast forward a couple of seasons, and Vanderpump reportedly decided to 'downsize,' moving to a gorgeous Beverly Hills residence dubbed Villa Rosa. Her former Beverly Park palace ended up being demolished by the new owners, but luckily we still have plenty of glamorous footage to rewatch if we get nostalgic.
A bit of fun trivia for you here: the old mansion's façade was used in the first season of Schitt's Creek.
If you're feeling sad that your favorite housewife has parted ways with Beverly Park, worry not, because there are still plenty of celebrities in the neighborhood.
Notable residents include Faith Hill and Tim McGraw, Rod Stewart, Denzel Washington, Samuel L. Jackson, and Kimora Lee Simmons, among many others. Here are a few of our favorite celebrity homes in the area:
The priciest home in the neighborhood
All the homes in Beverly Park are massive, uber-glamorous and jam-packed with amenities and state-of-the-art security features. But there is one property that stands out from all the others, and it's got an equally impressive price tag.
Yes, we're talking about Villa Firenze, a 20,000-square-foot, 13-bedroom estate that was once listed for a whopping $160 million.
Previously owned by billionaire Steven Udvar-Hazy, the jaw-dropping property hit the auction block a few years back and banked a "modest" $51 million from the auction sale.
But soon enough, the sprawling estate was re-listed — once again trying to bank a $100+ million sale. Last we heard, Beverly Park's crown jewel was back on the market asking $120 million, a price point that made it the sixth-most-expensive residential listing in the Los Angeles area in May 2022. You can read all about the uber-expensive estate here.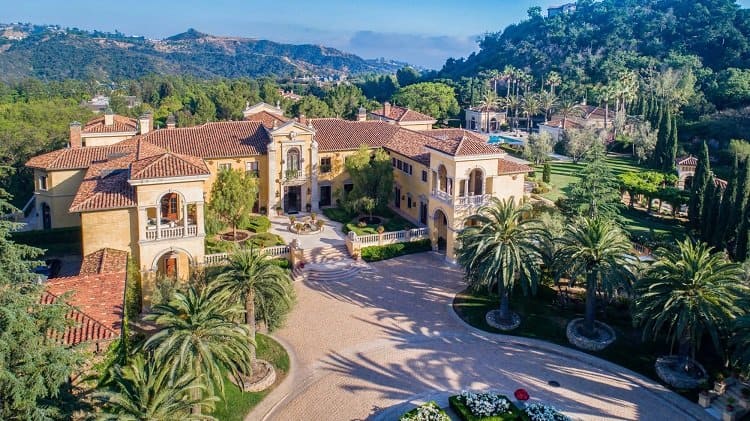 You might ask yourself, what's so special about this residence that makes it worthy of such a high price tag? Well, besides the 13 bedrooms, 17 bathrooms, and 8 powder rooms, Villa Firenze also comes with a home theater, a wine cellar, a gym, a library, a private office, and even maids' quarters.
But that's not all. There's also a 30-car courtyard, a tennis court, a massive swimming pool, and even a walking/jogging trail surrounding the estate!
So, if you want to compete with the likes of Denzel and the Vanderpumps, this is your chance.
You might also like:
10 Major celebrities who call Beverly Hills home
Brentwood, One of LA's Most Glamorous Neighborhoods
10 of the Biggest Celebrities Who Live in Malibu
The Pocket-Sized Community of Montecito is Home to Some of the Biggest Celebrities