For as long as we can remember, celebrities have been snapping up lavish homes and settling down in places like Beverly Hills, Palm Springs, or Malibu.
Looking for that perfect combination of privacy, opulent estates, breathtaking views, and proximity to filming locations or performance venues, A-listers have had their pick from some of the most beautiful and exclusive enclaves out there.
But there's one pocket-sized community in California that's been stealing the spotlight in recent years: Montecito — a small, unincorporated community located east of the City of Santa Barbara — that's only about eight square miles in size, but that packs the punch of a worldly city.
13 of the Biggest Celebrities that Live in Montecito
With its secluded hillside estates, sandy shores, and beautiful mountains, Montecito is favored by some of the biggest Hollywood stars, recording artists, business tycoons, and even real-life royalty.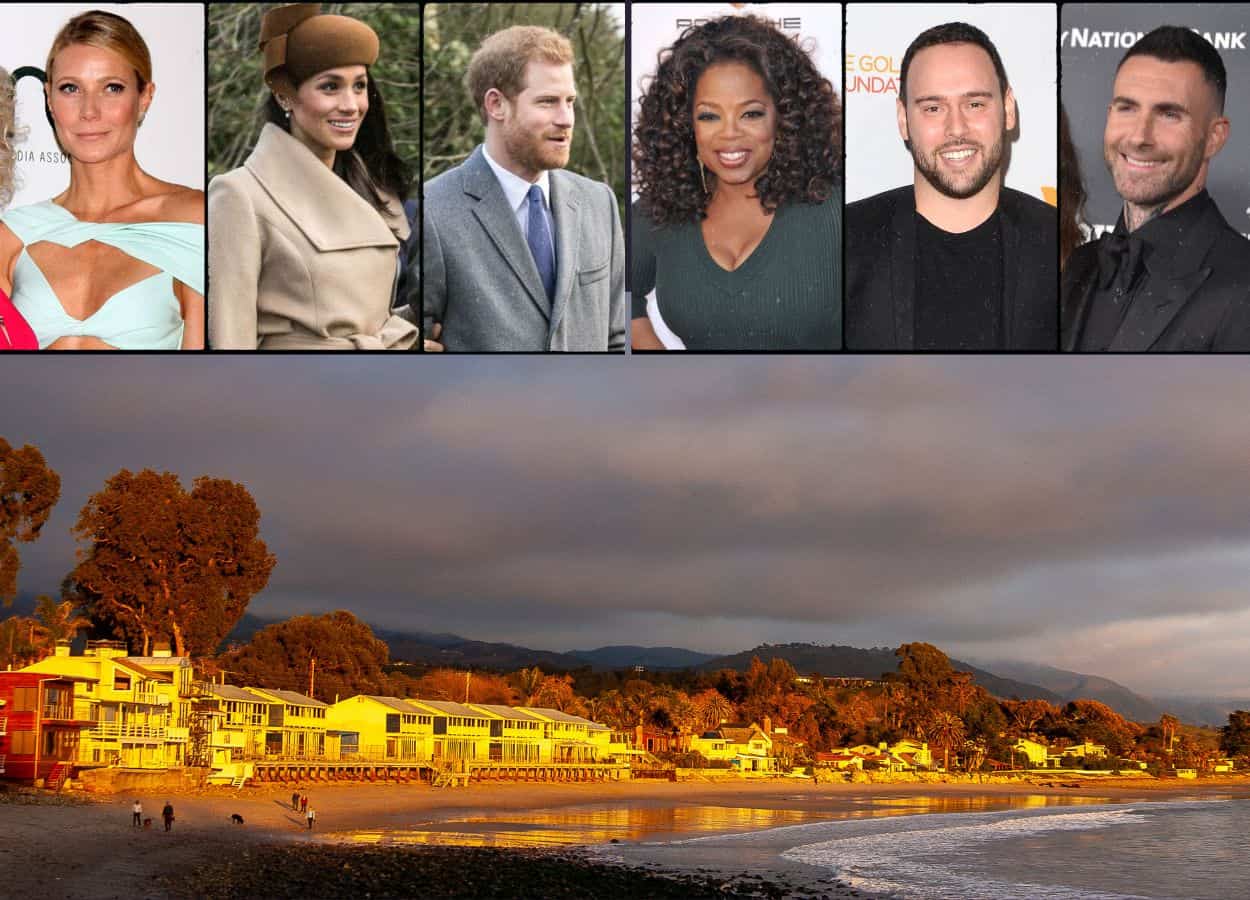 In fact, the enclave is so popular among celebrities, that some went as far as saying that Montecito is to Beverly Hills what Beverly Hills is to Los Angeles (due to the concentration of celebs per capita).
And while that has always been the case, a few notable celebs moving to the area have brought Montecito into the spotlight like never before. So we just had to round up a list of the biggest celebrities living in Montecito, to give you a better sense of just how star-struck this little slice of heaven actually is.
---
Oprah Winfrey
The iconic talk show host has long been a Montecito resident. And who wouldn't be, after getting herself a $100-million home that's so magnificent she dubbed it 'the Promised Land'.
As the story goes, Oprah was invited to a party at this dreamy estate back in 2001 and instantly fell in love with the 42-acre property, so she had to convince the owners to sell it to her. She's been calling it home ever since.
A far, far cry from the shack she grew up in back in Mississippi, Oprah's house in Montecito is anchored by a 23,000-square-foot mansion which is surrounded by perfectly landscaped grounds, rose gardens, terraces and fountains.
The mansion has several living rooms, a library, a kitchen, two home theaters, a wine cellar, an office, 6 bedrooms, and an impressive total of 14 bathrooms.
According to MSN.com, the grounds of the house also has orchards, a koi pond, tennis courts, a pool and pool house, as well as a two-bedroom Craftsman-style guest house spanning 4,000 square feet.
So I don't know about it being the 'Promised Land', but if we are to go all biblical, I think I'd be safe to say Oprah's house and the grounds of her estate could fit pretty much every living soul from Noah's Ark.
---
Prince Harry and Meghan Markle
The two royals may have given up their titles and claims to the UK throne, but that doesn't mean they've given up the royal lifestyle. Prince Harry and Meghan Markle bought themselves an expansive Montecito home — which they paid $14.7 million for in mid-2020 — and while it's no castle, the property is a thing of beauty.
The home has 9 bedrooms and 16 bathrooms, and sits on a large lot with a rose garden and century-old olive trees, Vanity Fair reports. It also has a swimming pool, tennis courts, and a two-bedroom guest house.
In typical English fashion, there's also a tea house on the estate's grounds, and since Meghan and Prince Harry purchased the home as a place to raise baby Archie, there's also a children's cottage for him to play in.
This is the first home the couple ever bought, as their previous accommodation in Windsor, UK — Frogmore Cottage — was a gift from Queen Elizabeth.
Other living arrangements for the two former royals were all rentals, so it's safe to assume that Harry and Meghan's house in Montecito was bought with long-term plans in mind and that the two are ready to commit to making a life for themselves in the dreamy California enclave. As we already know, they're in good company.
---
Rob Lowe
A longtime Montecito resident, Rob Lowe paid $13 million for a sprawling 6.7-acre property that goes by the name Stonehedge Estate.
The purchase came mere months after the West Wing actor sold a significantly larger (and ridiculously beautiful) Montecito house to private equity tycoon Jack McGinley for a whopping $44.5 million — which left Lowe with plenty of equity to invest in local real estate.
While the actor's current home is a little more 'modest' than his previous abode, it's no less impressive. The main mansion on the estate dates back to 1925 and boasts a classic Spanish Revival-meets-Mediterranean architectural style that's typical for the area.
According to Variety, there are also two detached guest cottages on the grounds of the estate, as well as grassy lawns, colorful bunches of lavender, citrus trees, mature eucalyptus trees, and sculpted hedges, plus man-made tile patios and covered loggias for large-scale al fresco entertaining.
Inside, the main house still has its original wood and tile work, and some of its best features include a fireplace-equipped living room with mahogany paneling, a formal dining room with French doors and another fireplace, and a breakfast room with views of the gardens.
The upstairs bedrooms offer stunning views of the Montecito greenery and overlook the Pacific Ocean.
---
Gwyneth Paltrow
Academy Award winner Gwyneth Paltrow is one of the many Montecito celebrities who have built their "forever, forever home" from scratch in the community. She shares the home with her husband, American Horror Story director-producer Brad Falchuk, and their combined four children.
The Good founder bought a $4.9 million tract of land here and built her dream home with her longtime collaborators Robin Standefer and Stephen Alesch of Roman and Williams, as well as designer Brigette Romanek.
The home features an entrance inspired by the famous actress' years in London. It comes with an 18th-century fireplace mantel and leads to a lavish powder room with hand-painted wallpaper, an antiqued mirror, and a reclaimed sink.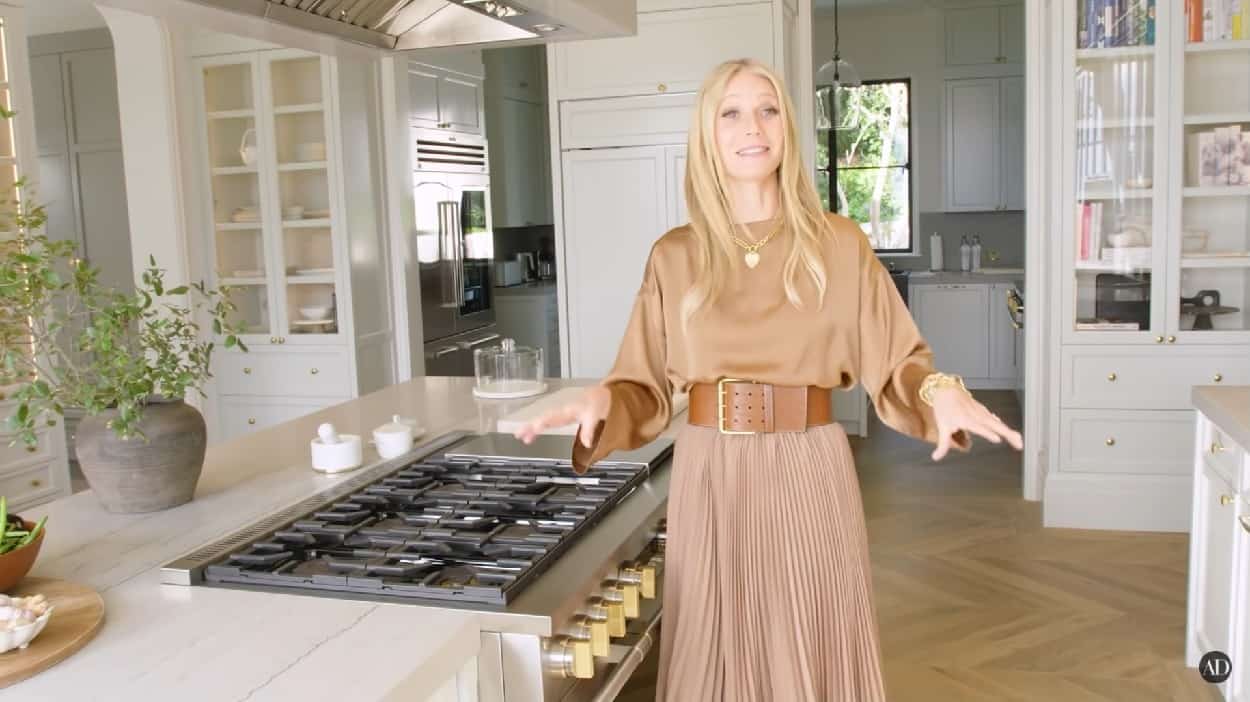 The mom-of-two who loves cooking for her family is proud of her impressive white kitchen with reclaimed tiles from Portugal. A unique feature in the kitchen is the plate of walls which brings a beautiful blue "pop of color to the house".
Each room in the house has completely different flooring to show its own "distinct personality." The living room has unique lighting and a distinctive, over-the-top marble bar that's totally attention-grabbing.
Possibly the best feature of the house is the spectacular indoor spa with a sauna, steam, hot tub, and other amazing features. In case you'd like to learn (or see) more of the Goop founder's house, we have all the deets on Gwyneth Paltrow's house in Montecito.
---
Adam Levine and Behti Prinsloo
In early 2022, Maroon 5 frontman Adam Levine and his South African supermodel wife, Behati Prinsloo have joined the long list of celebrities in Montecito. The Moves Like Jagger singer paid a staggering $52 million to move into Rob Lowe's stunning former mansion.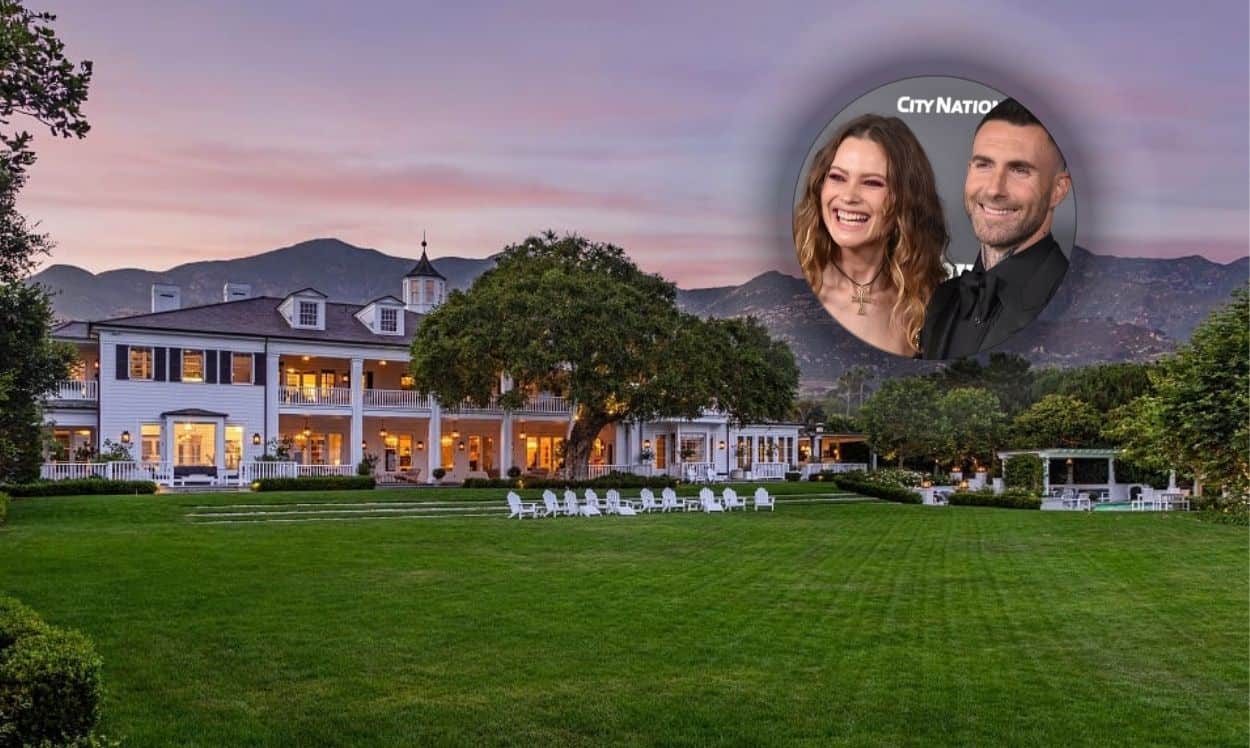 The six-bedroom house — which boasts horizon views of the bright blue Pacific and Channel Islands — is popularly known as Oakview Estate. Spanning over 3.4 carefully manicured acres, the two-story home has 8 full baths, a chef-caliber kitchen, a wine room, and a state-of-the-art movie theater.
The 10,000-square-foot main house, which the former The Voice coach shares with his wife and their three children, comes with multiple formal and informal living areas, a well-appointed master suite, and an additional catering kitchen.
Adam and his family also enjoy luxurious outdoor amenities that include a living area with a fireplace, a pool, and a sunken tennis court. Read more about Adam Levine's house in Montecito here.
---
Scooter Braun
Music mogul, Scooter Braun has scored two mansions worth a whopping $100 million choosing to spend on a brand new, modern abode in Los Angeles' Brentwood suburb and a unique Montecito house modeled after the Alhambra Palace.
The record executive who discovered pop sensation Justin Bieber and has managed A-listers like Ariana Grande and Kanye West, joined the long roster of celebrities that live in Montecito when he bought a spectacular property from serial house-flipper duo Ellen DeGeneres and Portia de Rossi.
The $36 million jaw-dropping residence known as Villa Tragara is a Moorish-style estate with Spanish and Italianate influences that was custom-built by TV commercials director Kinka Usher in 2014.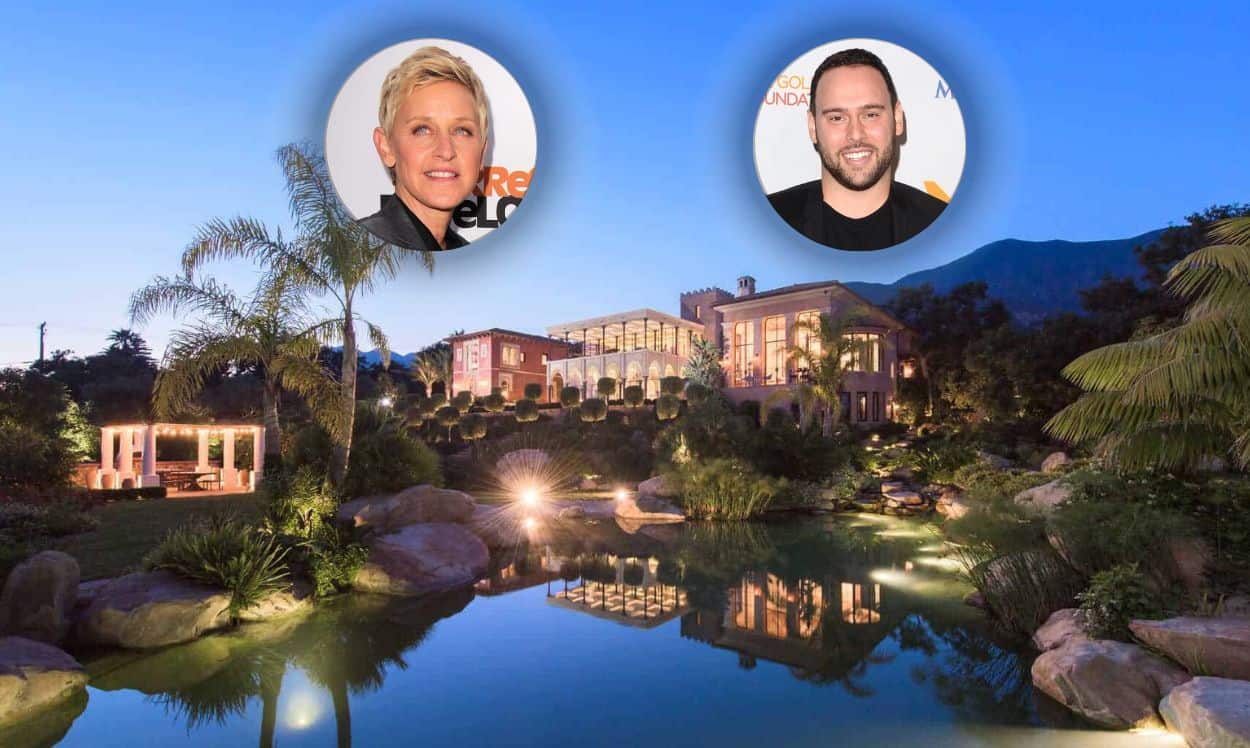 Featuring 11,947 square feet of luxurious living space, the exquisite estate has extraordinary views of the property grounds and the ocean. The dining room overlooks a large koi pond with a floating Japanese pavilion above it and impeccably manicured grounds.
Notable features of the mansion include olive orchard trees, numerous mature trees, a 90,000-gallon swimming pond, waterfalls, bocci, and pickleball courts.
Built for entertainment the outdoor area also includes a firepit, a 16-seat covered pergola with a kitchen that features a pizza oven and barbecue. All the deets on this Moorish-inspired elegant estate can be found here.
---
Larry David
Comedian, actor, and Seinfied co-creator Larry David is another A-list celebrity that lives in Montecito. And he's long been a fan of the area; most recently, he bought a $6.9 million French Normandy-style cottage, followed by another Montecito home for $7.6 million.
Idyllic as his Montecito cottage may be, Larry David traded it for a bigger property just a few months after the purchase.
According to Architecture Digest, the comedian's newest Montecito home is a single-story property built in 1917 that has undergone massive renovations yet retained some of its original charm. Boasting five bedrooms and five bathrooms across 4,326 square feet, the traditional-style home comes with vaulted exposed-beam ceilings, built-ins, and vintage fireplaces. One of its best features is the cupola in the living room which brightens the roofline at night and provides a welcoming beacon to visitors.
The beautiful home is lined with stylish French doors which allow natural light in and open up to the perfectly manicured backyard. Outside, Larry David's house has a large brick terrace, French gardens, gravel pathways, lemon trees, and soothing fountains.
---
Jennifer Aniston
In September 2021, FRIENDS star Jennifer Aniston joined the growing number of celebrities that live in Montecito, by paying a staggering $14.8 million to buy another one of Oprah's lavish estates in the area.
Oprah bought the home in 2021 and sold it a year later. According to Architectural Digest, she separated the property in half, selling the Mediterranean-style home to Aniston and the two cottage houses to her personal trainer and property manager, Bob Greene. The latter sold for $2.3 million, bringing the compound's grand total sale price up to about $17 million.
Jennifer, who holds an Emmy, Golden Globe, and Screen Actors Guild award, now owns the 1998-built villa which has four bedrooms and three-and-a-half bathrooms. The mansion sits across 4,320 square feet and is fondly referred to as a "Tuscan farmhouse."
The famous actress and producer enjoys picturesque ocean and mountain views, multiple terraces, landscaped gardens, and a massive motor court. Jennifer Aniston's house is set on a private lot nestled among oak trees at the end of a long, gated driveway.
---
Dina Manzo
Former Real Housewives of New Jersey star Dina Manzo, who now goes by the name Dina Cantin and her entrepreneur husband Dave Cantin have reportedly bought a house in upscale Montecito as of late. The couple paid an impressive $16 million to acquire the Tuscan-style villa with ocean views which clocks in at just under 6,000 square feet.
'Real Housewives' alum Dina Manzo drops $16M on ocean-view mansion https://t.co/mU4wh6IA9b pic.twitter.com/3g2KxR25nX

— New York Post (@nypost) June 23, 2023
The property was built in 1994 but underwent extensive renovations led by the architect Marc Appleton that turned it into one of "Montecito's most coveted" offerings.
Boasting a total of five bathrooms, a fireplace-equipped primary suite with two closets, a balcony, an en suite lounge, and impressive Pacific Ocean views, the couple's home is a true gem. There are three bedrooms on the upper level, with the staff quarters below. On the grounds, there is a pool, swing, firepit, courtyard, and carefully curated landscaping.
---
Cameron Diaz and Benji Madden
Charlie's Angel leading lady and her musician husband, Benji Madden are now proud homeowners of a Montecito estate which they bought for $12.67 million.
Cameron Diaz and Benji Madden ​Score a Montecito Mansion for $12.7M https://t.co/APEN4w5oUz pic.twitter.com/j7CkAFXHVB

— TimJones.REALTOR (@TimJ_REALTOR) May 20, 2022
The property boasts 6 bedrooms and 10 bathrooms across almost 11,000 square feet and is surrounded by gorgeous ocean, island, and mountain views.
According to Realtor.com, the Montecito celebrities' residence has some quite notable features, like a luxe kitchen with a waterfall marble island, media room, dining area, office, and multiple flex rooms. There are French doors throughout, designed for indoor-outdoor living and to allow plenty of natural light to flood the home.
Reminiscent of her character Amanda's house on The Holiday, Cameron Diaz's house has a stunning primary suite that comes with dual baths, walk-in closets, a bar, and a balcony with ocean views. Another en suite bedroom is on the main floor.
Outside, the 1.77-acre estate is perfect for entertaining with a pool and spa, cabana, and barbecue area. The mansion is set behind dual gates and has majestic grounds which are lined with hedges for added privacy.
More areas where celebrities live
Beverly Park, a Privacy Haven for Hollywood's Biggest Celebrities
17 Celebrities with Swanky Summer Homes in the Hamptons
Everything You Need to Know about Brentwood, One of LA's Most Glamorous Neighborhoods