For as long as we can remember, celebrities have been snapping up lavish homes and settling down in places like Beverly Hills, Palm Springs or Malibu. Looking for that perfect combination of privacy, opulent estates, breathtaking views, and proximity to filming locations or performance venues, A-listers have had their pick from some of the most beautiful and exclusive enclaves out there.
But there's one pocket-sized community in California that's been stealing the spotlight in recent years: Montecito — a small, unincorporated community located east of the City of Santa Barbara — that's only about eight square miles in size, but that packs the punch of a worldly city.
With its secluded hillside estates, sandy shores, and beautiful mountains, Montecito is favored by some of the biggest Hollywood stars, recording artists, business tycoons, and even real-life royalty.
In fact, the enclave is so popular among celebrities, that some went as far as saying that Montecito is to Beverly Hills what Beverly Hills is to Los Angeles (due to the concentration of celebs per capita).
And while that has always been the case, a few notable celebs moving to the area have brought Montecito into the spotlight like never before. So we just had to round up a list of the biggest celebrities living in Montecito, to give you a better sense of just how star-struck this little slice of heaven actually is.
Biggest Celebrities that Live in Montecito
---
Oprah Winfrey
The iconic talk show host has long been a Montecito resident. And who wouldn't be, after getting herself a $100-million home that's so magnificent she dubbed it 'the Promised Land'.
As the story goes, Oprah was invited to a party at this dreamy estate back in 2001 and instantly fell in love with the 42-acre property, so she had to convince the owners to sell it to her. She's been calling it home ever since.
A far, far cry from the shack she grew up in back in Mississippi, Oprah's estate in Montecito is anchored by a 23,000-square-foot mansion which is surrounded by perfectly landscaped grounds, rose gardens, terraces and fountains. The mansion has several living rooms, a library, kitchen, two home theaters, a wine cellar, an office, 6 bedrooms and an impressive total of 14 bathrooms.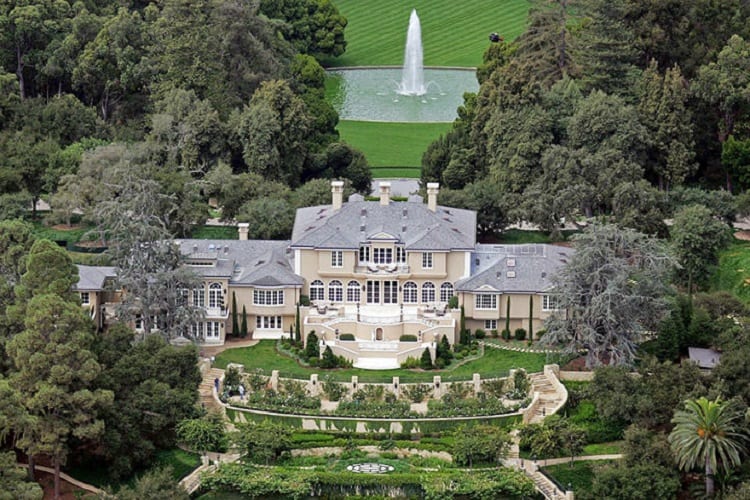 According to MSN.com, the grounds of the house also has orchards, a koi pond, tennis courts, a pool and pool house, as well as a two-bedroom Craftsman-style guest house spanning 4,000 square feet. So I don't know about it being the 'Promised Land', but if we are to go all biblical, I think I'd be safe to say Oprah's house and the grounds of her estate could fit pretty much every living soul from Noah's Ark.
Rob Lowe
A longtime Montecito resident, Rob Lowe paid $13 million for a sprawling 6.7-acre property that goes by the name Stonehedge Estate. The purchase came merely months after the West Wing actor sold a significantly larger (and ridiculously beautiful) Montecito house to private equity tycoon Jack McGinley for a whopping $44.5 million — which left Lowe with plenty of equity to invest in local real estate.
While the actor's current home is a little more 'modest' than his previous abode, it's no less impressive. The main mansion on the estate dates back to 1925 and boasts a classic Spanish Revival-meets-Mediterranean architectural style that's typical for the area.
According to Variety, there are also two detached guest cottages on the grounds of the estate, as well as grassy lawns, colorful bunches of lavender, citrus trees, mature eucalyptus trees, and sculpted hedges, plus man-made tile patios and covered loggias for large-scale al fresco entertaining.
Inside, the main house still has its original wood and tilework, and some of its best features include a fireplace-equipped living room with mahogany paneling, a formal dining room with French doors and another fireplace, and a breakfast room with views of the gardens. The upstairs bedrooms offer stunning views of the Montecito greenery and overlook the Pacific Ocean.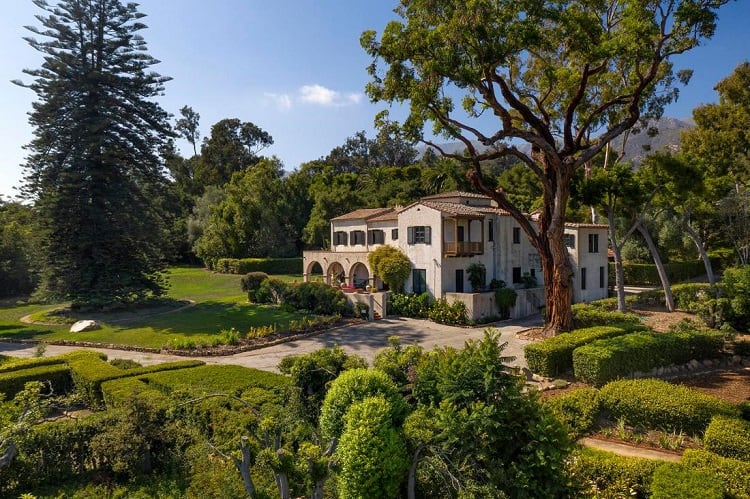 Ariana Grande
The latest newcomer to the area, Ariana Grande bought a $6.7 million English Tudor-style home in Montecito from none other than celebrity house flippers Ellen DeGeneres and Portia DeRossi.
While it isn't fully clear if the Thank You, Next singer will be making the Montecito house her full-time residence, Ariana Grande isn't an active real estate buyer, so it's safe to assume that the purchase is less of an investment and more of a personal lifestyle choice.
Ariana Grande's house in Montecito goes by the name of Porter House, and spans 5,500 square feet. With two bedrooms and three bathrooms, the historic home has beautiful vaulted ceilings, wood paneling, a total of five (!) fireplaces, and is furnished with lots of warm leathers — to give it a barn-like vibe.
In fact, Ellen was the one to decorate the home, and she opted to highlight the property's historic nature with beautiful rustic décor that brings out its best features.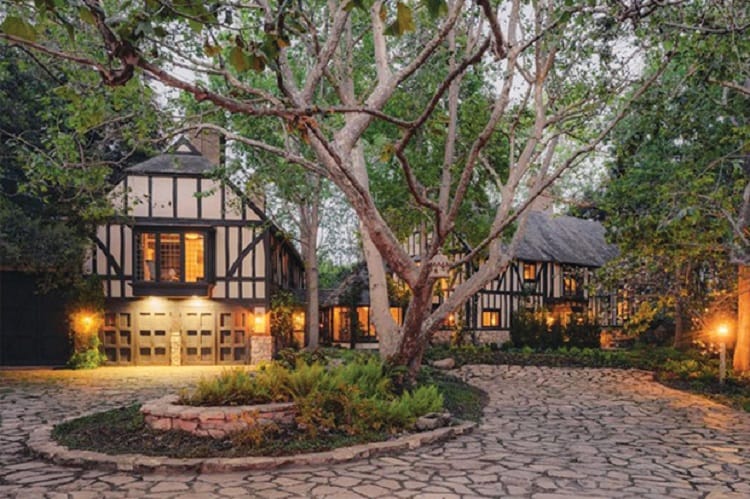 Prince Harry and Meghan Markle
The two royals may have given up their titles and claims to the UK throne, but that doesn't mean they've given up the royal lifestyle. Prince Harry and Meghan Markle bought themselves an expansive Montecito home — which they paid $14.7 million for in mid-2020 — and while it's no castle, the property is a thing of beauty.
SEE ALSO: 'Harry & Meghan' was filmed in this stunning $33.5 million Montecito house
The home has 9 bedrooms and 16 bathrooms, and sits on a large lot with a rose garden and century-old olive trees, Vanity Fair reports. It also has a swimming pool, tennis courts, and a two-bedroom guest house.
In typical English fashion, there's also a tea house on the estate's grounds, and since Meghan and Prince Harry purchased the home as a place to raise baby Archie, there's also a children's cottage for him to play in.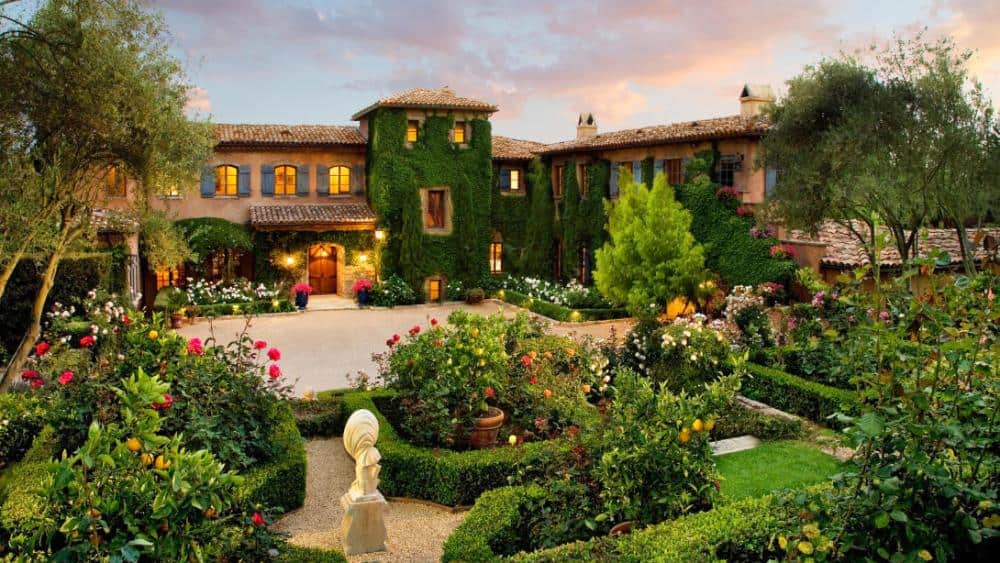 This is the first home the couple ever bought, as their previous accommodation in Windsor, UK — Frogmore Cottage — was a gift from Queen Elizabeth.
Other living arrangements for the two former royals were all rentals, so it's safe to assume that the Harry and Meghan's Montecito house was bought with long-term plans in mind, and that the two are ready to commit to making a life for themselves in the dreamy California enclave. As we already know, they're in good company.
Lead image credits: Westward view of Butterfly Beach and the coastal bluffs in Montecito – Niranjan Arminius, Meghan Markle & Prince Harry – Mark Jones, Rob Lowe – David Shankbone, Ariana Grande – Cosmopolitan UK, Oprah – Aphrodite in NYC, all via Wikimedia Commons
More areas where celebrities live
Beverly Park, a Privacy Haven for Hollywood's Biggest Celebrities
10 Major Celebrities — and Celebrity Couples — Who Call Beverly Hills Home
Check Out 10 of the Biggest Celebrities Who Live in Malibu
Everything You Need to Know about Brentwood, One of LA's Most Glamorous Neighborhoods