Rapper Rick Ross is a certified hustler.
From building his brands to investing in real estate, he definitely knows how to hustle his way to the top.
Back in 2006, Ross released his breakthrough hit Hustlin', which quickly climbed the Billboard charts and helped him skyrocket to fame.
Fifteen years after his debut album was released, he is now one of the richest rappers alive, with a net worth that's estimated to be around $45 million.
With a multi-million dollar bank account comes a lavish lifestyle that we can only dream of. Ross has collected over 100 luxury vehicles, which he proudly parades on Instagram and other social channels.
He also has several real estate properties all over the country. The most extravagant property he has acquired is a megamansion in Atlanta dubbed "The Promise Land".
At 109 rooms, Rick Ross' house is one of the largest private homes in the U.S.
The palatial mansion in Fayetteville, Georgia sits on 235 acres of land and boasts around 45,000 square feet of living space.
It is the biggest home in all of Georgia and one of the largest private homes in the entire U.S.
The property was originally built by boxing champ Evander Holyfield in 1994.
In an interview with The Atlanta Journal Constitution, the boxer revealed that the upkeep of the mansion cost him about $1 million per year.
Rick Ross paid $5,879,000 for the former Holyfield house back in 2014, shortly after it had fallen into foreclosure, joining the long list of hip-hop celebrities that live in Atlanta (and the neighboring areas).
With 109 rooms, the megamansion is almost as big as the White House.
It has 12 bedrooms, 21 bathrooms, and a massive formal dining room that seats 100 people. And Ross is putting all that space to good use, throwing lavish birthday bashes in his opulent home.
Aside from its stunning rooms, the place is also packed with indoor amenities to entertain guests.
There's a 135-seat theater, a bowling alley, a boxing gym, an indoor pool, and a fully equipped recording studio.
Outdoors, you can find a detached guest house and a huge pool that reportedly holds more than 350,000 gallons of water.
As if that's not enough, there is also a basketball court, a tennis court, and a softball court.
It has its own private zoo
The multitude of amenities is only half of the reason why The Promise Land is a one-of-a-kind mansion.
To fill up some of the land space, Ross decided to build his very own private zoo.
His sprawling fenced zoo houses horses, buffalos, and cows. A couple of months ago, it was reported that two lions will be added to Ross' animal collection.
To announce the news, Ross posted a video of the wild cats on Instagram. The short clip showed the two lions — one male and one female — from Senegal who are ready to be shipped to the Promise Land, according to their handler.
"My pet cats are ready to come home," Ross captioned the Instagram video.
If you think that's quite a quirk, you might be surprised to learn that some of the most notorious celebrity homes of all time all had zoos on their premises.
Michael Jackson's longtime home, Neverland Ranch, had a sprawling zoo (he even had an elephant he got as a gift from Elizabeth Taylor), as did Hugh Hefner's Playboy Mansion.
'Coming 2 America' was filmed in Rick Ross' house
Its sprawling landscape and opulent design have made The Promise Land a magnet for movie producers who are scouting for filming locations.
In an Instagram Live, Ross revealed that he charges producers and film crews who come to his home to check out the property.
So if the mansion looks familiar to you, it's because you've probably seen it before.
It made an appearance in the 2018 movie Superfly. Its most notable appearance to date is in the film Coming 2 America, the long-awaited sequel to the timeless Eddie Murphy comedy, Coming to America, which also turns out to be Ross' favorite film.
For Coming 2 America, Rick Ross' opulent mansion was transformed into the Zamunda Palace, where the fictional Prince Hakeem lives with his family.
According to Jefferson Sage, the movie's production designer, they had looked into several other locations before zeroing in on Rick Ross' house in Atlanta.
The palatial mansion had the perfect look to become a royal palace.
"That entrance foyer with the big two-story interior and double-winding staircase was perfect," says Sage. "Off of that, there were two beautiful big rooms with giant windows and 18-foot ceilings. We used five key spaces that we turned into Zamunda," Sage told Variety.
The bedroom and the dining room were converted for the film, to make them suitable for the King in Coming 2 America.
Ross' primary bedroom was also enhanced, turning it from a warm white to a more exotic color palette of blues and silvers.
The dining room also received some upgrades. Its wallpaper was changed and the production created a huge dining table that they left to Ross as a gift after filming.
"They changed the wallpaper in the dining room, so I asked them to keep it up there. They also created that huge dining room table for a dining scene that seats 50-60 people, and they left that for me as a gift. It's humongous," Ross said.
The Promise Land is truly a magnificent beast of a mansion.
Aside from its massive space and stunning architecture, its history is also impressive. With Ross continuing to expand his private zoo, this property will just keep on getting even more spectacular.
Who knows what else is in store for its future? There's still a whole lot of land left for Ross to play with!
The rapper's other homes aren't too shabby either
While none can compare to his palatial Atlanta-area home, there are quite a few other million-dollar properties in Rick Ross's real estate portfolio.
The Rich is Gangsta hitmaker has been making strategic moves in the real estate game for well over a decade, flipping properties for significant gains, with the profits from the sale further growing his already-impressive net worth.
And while he bought — and sold — quite a few homes over the years, we'd be remiss if we didn't go over some of the notable properties he bought in 2023.
His $35 million Star Island mega-mansion in Miami
The newest addition to his portfolio, Rick Ross's house in Miami is a 12,374-square-foot waterfront mansion that cost him a whopping $35 million (the house was listed for $37.5 million).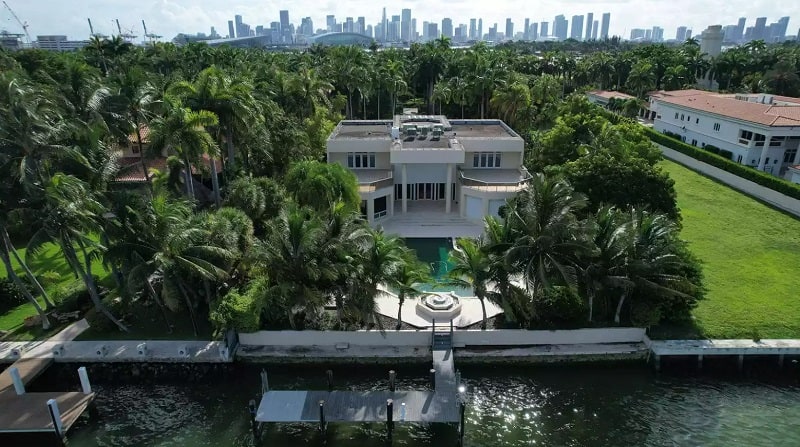 The house is set in the exclusive, guard-gated community of Star Island in Miami Beach, a highly popular neighborhood among celebrities. Gloria Estefan, Shaquille O'Neal, Don Johnson, P. Diddy, and Rosie O'Donnell have all lived here over the years.
Sitting on a 40,000-square-foot lot with 100 feet of waterfront, the rapper's newest home features 6 bedrooms, 8.5 bathrooms, and a grand entry that's said to have won Ross over instantly with its soaring 30-foot ceilings and custom staircase.
It also has a heated pool, a summer kitchen, direct bay and ocean access, and a 40-foot dock for the artist's boats.
The two houses he bought from fellow rapper Meek Mill
When fellow rapper and frequent collaborator Meek Mill complained about his realtor not finding a buyer for his Atlanta-area estate, and took to his socials to promote the property himself, Ross was quick to spot an opportunity.
Not long after Mill's post went live, accompanied by a video tour of the house and the message "My realtor not getting this off fast enough & I think I can lol," news broke that Rick Ross bought the property himself for $4.2 million — in cash.
Set in the coveted Buckhead section of Atlanta, the three-story house has 8 bedrooms, 9 baths, a tennis court, playground, and movie theater with a sauna, a pool, and a jacuzzi.
And it's not the only house Ross bought from Meek Mill.
Ross bought another crib off me for a "m"yesterday! I had to ask him tf you doing with all this property 😂😂😂😂

— MeekMill (@MeekMill) April 19, 2023
Soon after closing on the $4.2 million Buckhead mansion, the Maybach Music Group owner purchased another property from Meek Mill, this time a more modest $1 million abode. But no other details have been made public about that purchase.
Rick Ross's house in Houston with a huge fish tank
Joining the long list of celebrities flocking to Texas, Ricky Rozay too has invested in a Lone Star state house.
The rapper announced the purchase via an Instagram post in which he was donning his best Texas attire — cowboy boots included — and sitting in front of his new mansion in Houston, Texas.
While the Houston deal was mostly kept under wraps, we do know that the Maybach Music Group owner paid $3.5 million for his new Texas abode — which features a custom gate emblazoned with his initials, RR.
More stories you might like
12 most expensive rapper houses: Drake, Jay-Z, and Kanye in the lead
Post Malone's $3 Million Utah Compound Doubles As a Doomsday Bunker
Cardi B's House in Atlanta is Pure Old-World Luxury
See Inside Rapper Polo G's House, a Stately Mansion Worth $5 Million