Funnyman Steve Harvey is the proud owner of a seriously magnificent mega mansion.
In 2020, the Family Feud star, 65, purchased the posh property that was once owned by movie mogul and fellow funnyman Tyler Perry.
Located in the upscale neighborhood of Buckhead in Atlanta, GA, the grand estate cost a cool $15 million, TMZ reports.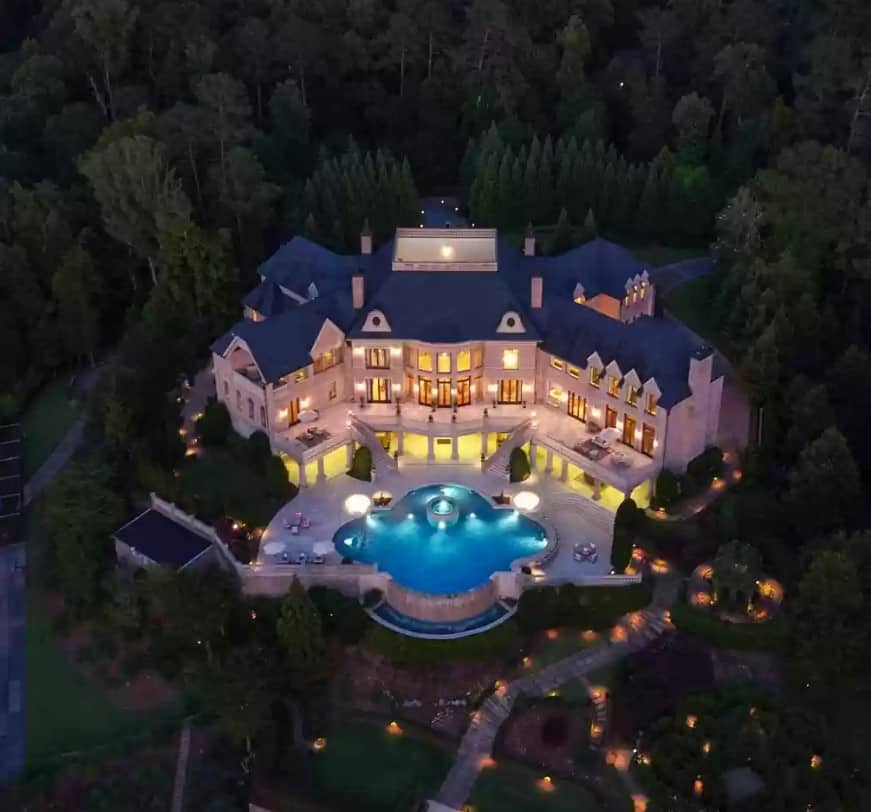 Continue reading about the multi-million dollar digs that Steve, wife Marjorie, and their combined seven children call home.
Steve Harvey's sprawling Atlanta estate
Sitting on 17 acres, the nearly 35,000-square-foot mega mansion is located on prime land overlooking the Chattahoochee River in Atlanta, GA.
"Tyler has a lot of great memories from the house and is happy his friends Steve and Marjorie will be calling it home," a source told TMZ about the house's former owners – and their reaction to the news that Steve Harvey will be making it his home.
Madea star Tyler Perry bought the palatial pad in 2005 for $9 million and spent millions on renovations.
Featuring 7 bedrooms and 9.5 bathrooms, the stunning estate features 17 acres of manicured lawns bordered by trimmed gardens.
Some of the other luxurious amenities include a 70,000-gallon infinity-edged swimming pool with a Versailles-style painting on the bottom, a lighted tennis court, and a fully equipped gym with a separate spa. 
The plush property also offers a guesthouse, a guardhouse, and a detached caretaker suite, along with an advanced security system and a backup generator.
Inside, the house isn't too shabby either.
With a castle-like design based on the Palace of Versailles, the mega-mansion features several formal and informal living and entertaining spaces, a two-story library, a state-of-the-art theater, an indoor swimming pool, a wine cellar, and an underground ballroom complete with a catering kitchen.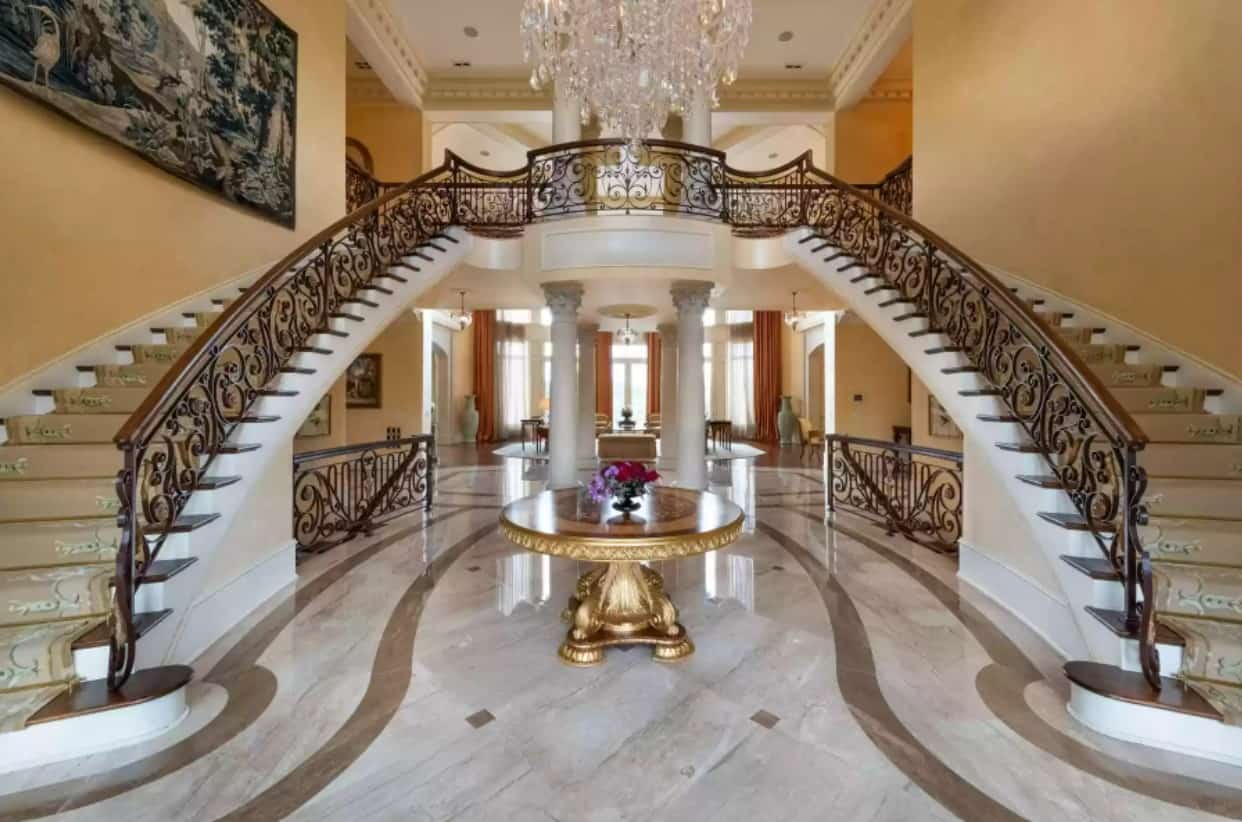 Related: The Biggest Celebrities that Live in Atlanta & their Million-Dollar Mansions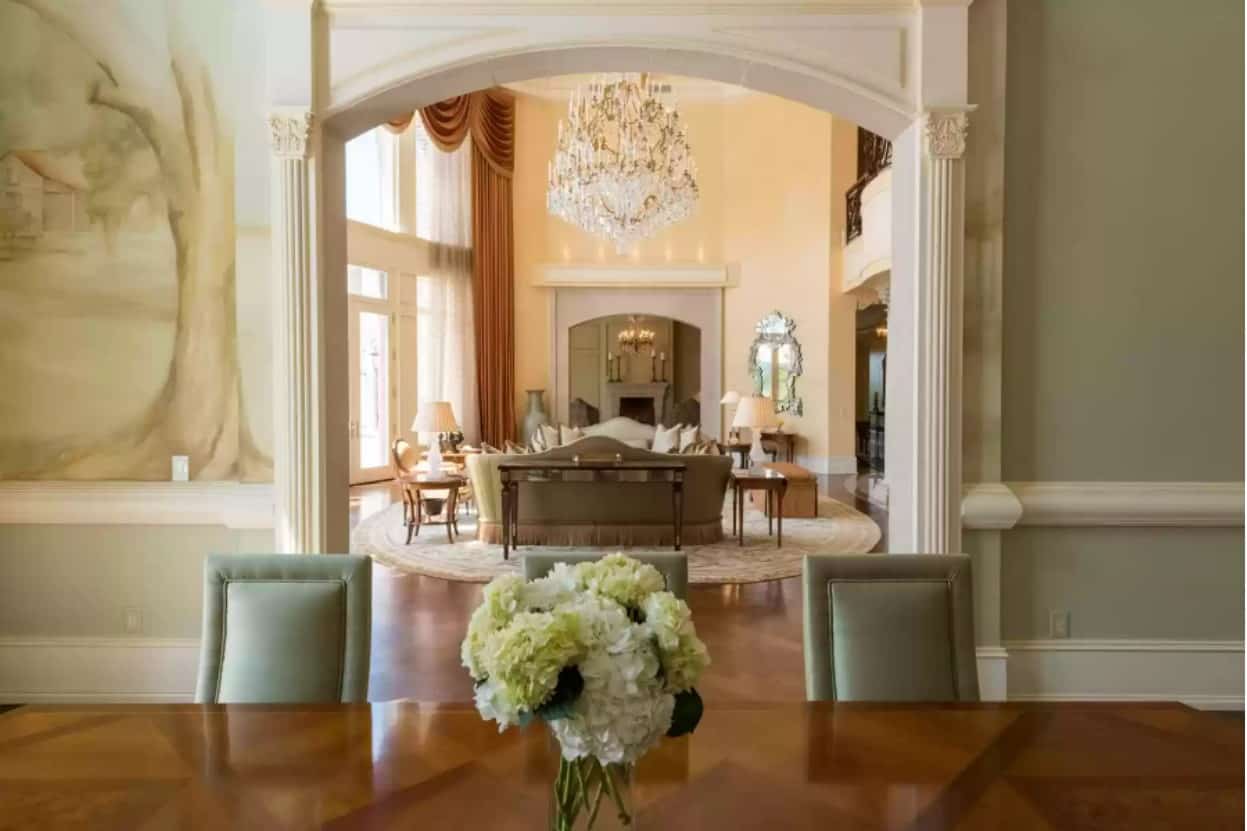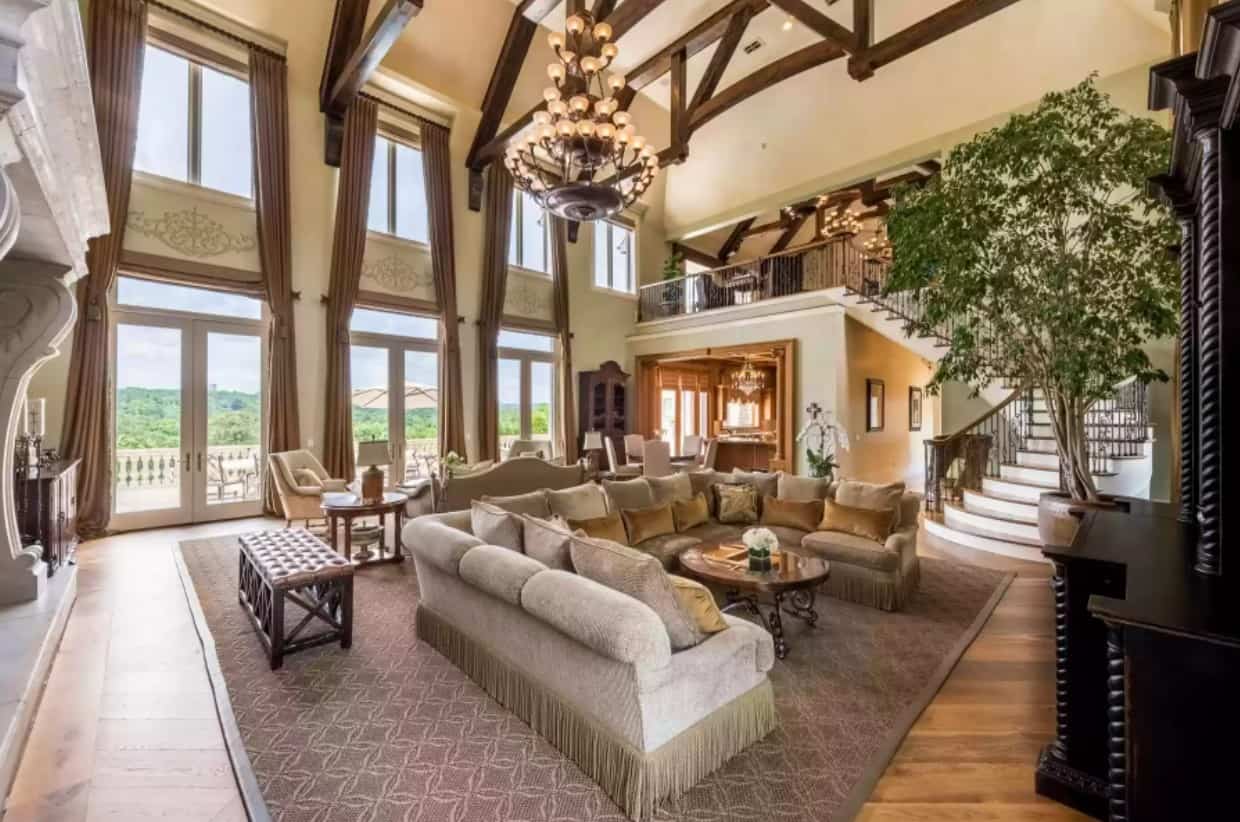 And did we mention the runway for remote-controlled airplanes?
Who has lived in this mega-mansion?
While Perry purchased the palatial pad in 2007, he sold it in 2016 for $17.5 million to David Turner, a former businessman-turned-evangelist who made his fortune manufacturing dried fruit and nuts.
According to Dirt.com, Turner was divinely inspired at the time of the unprecedented sale.
"I went online and I saw this house, and that's when I felt like God told me, 'This is your house,'" Turner said.
God-inspired or not, this was the highest-priced home in the history of the city. As it turns out, Turner sold to Harvey a few years later for $15 million. Although Turner took a $2.5 million hit, it is still the highest-priced home in Atlanta.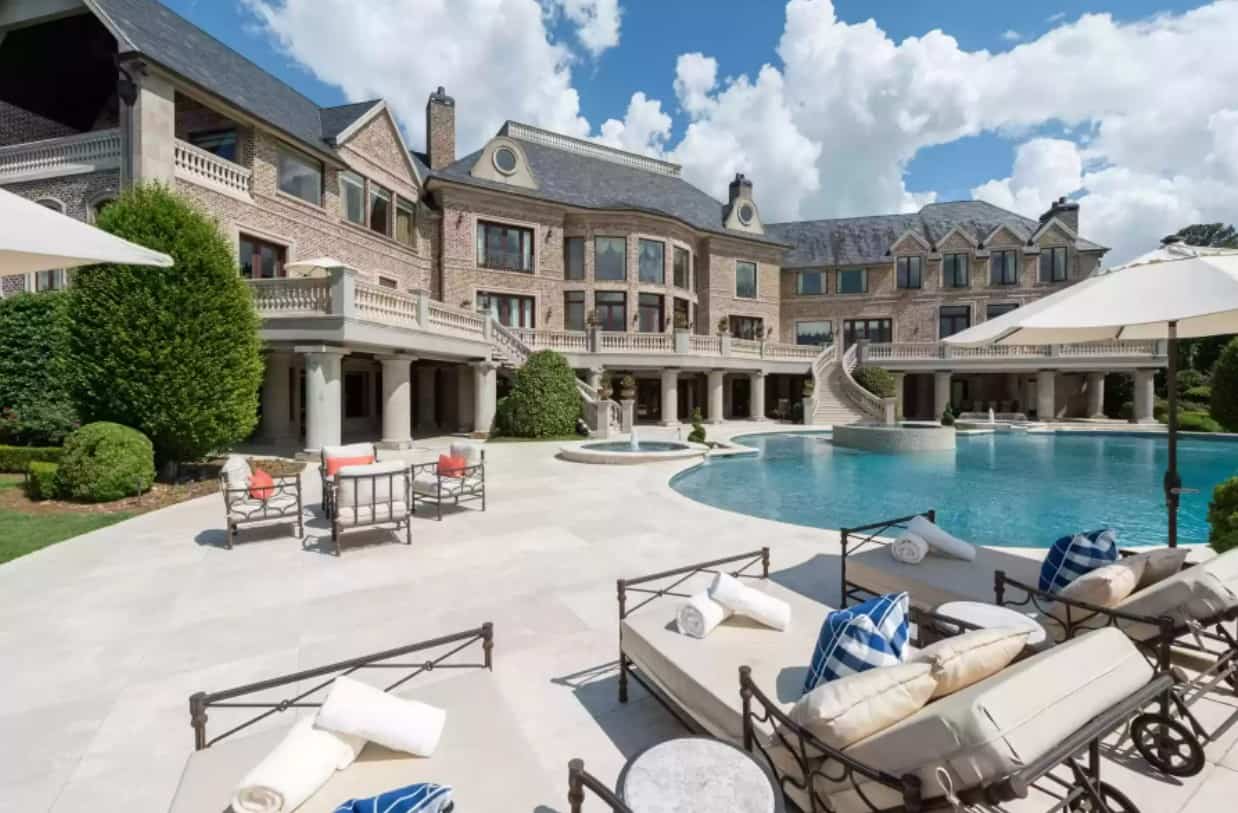 The many homes of Steve Harvey and Tyler Perry
While they're also good pals, Steve Harvey and Tyler Perry are both into real estate investments.
With an estimated net worth of $1 billion, it's no wonder that Tyler Perry is into mega-mansions. Currently, he owns a 24,000 sq. ft. manor in the Beverly Hills area that he famously rented to royal couple Meghan Markle and Prince Harry for a few months in the spring of 2020, before the two royals moved to Montecito.
As for Harvey's other holdings, the TV host owns another large house in Atlanta and he used to be the proud owner of a 6,500-square-foot, 5-bedroom, 6.5-bath estate in Little Elm, Texas.
The Family Feud host parted ways with his Texas house in 2020, selling the stone manor house for an undisclosed amount.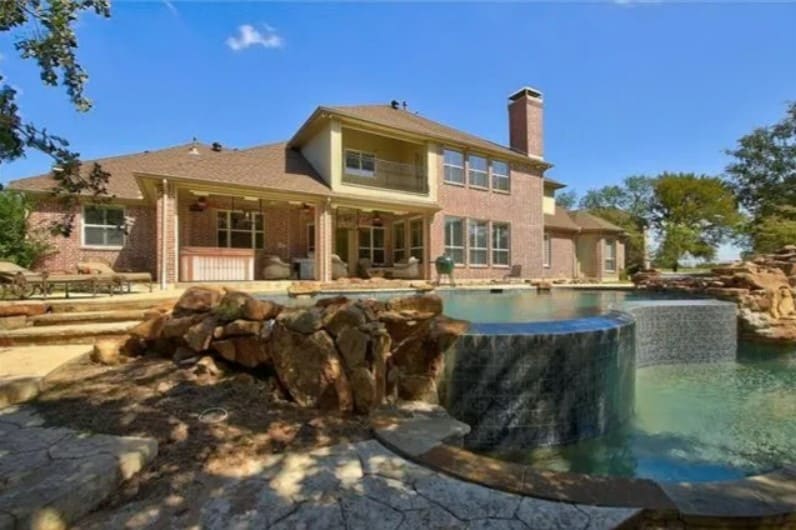 And before buying his current compound in Atlanta, Harvey and his family of nine set up residence in Beverly Hills, Calif.
The Harveys rented in the exclusive Beverly Park guard-gated community for $100,000/ month, Dirt.com reports.
In 2013, Harvey purchased a 5,500 square-foot penthouse on the 88th floor of Trump International Hotel & Tower in Chicago, Illinois, Velvet Ropes reports.
Harvey lived in the posh penthouse while filming his daytime talk show, The Steve Harvey Show. Then in 2018, he sold the luxury condo for $7.7 million.
More stories you might like
Los Angeles or NYC? Where does Ryan Seacrest Live?
From a Prince to a King: A Look at Will Smith & Jada Pinkett Smith's Real Estate Dynasty
Celeb Spotlight: Cardi B's House in Atlanta is Pure Old-World Luxury