Ever since her breakthrough role in the 1995 film Se7en, Gwyneth Paltrow has dominated Hollywood.
With roles in countless blockbusters, from the iconic 1990s hits Shakespeare in Love, The Talented Mr. Ripley, Great Expectations, Emma to her decade-long stint in the Marvel universe playing opposite Robert Downey Jr. as Iron Man's love interest, Pepper Potts, Paltrow has been a constant fixture on the big screen — raking in both millions of dollars in earnings and some of the industry's most coveted awards.
In recent years, her entrepreneurial pursuits have taken center stage.
The actress famously founded Goop, a lifestyle brand that has grown from a modest weekly newsletter into an eCommerce, media, and events empire that's now reportedly valued at over $250 million, making Gwyneth Paltrow one of the richest stars in Hollywood.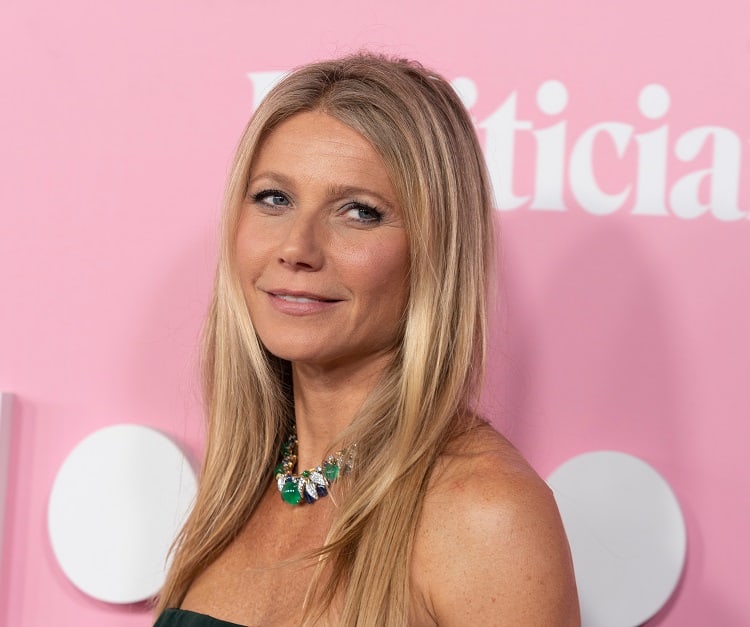 It then comes as little surprise that the Avengers actress has amassed a downright impressive real estate portfolio over the years.
Consisting of several properties she purchased alongside ex-husband Chris Martin (including a house in the Hamptons where she married her now-husband, Brad Falchuk), Paltrow's current real estate holdings include a Brentwood (Los Angeles) mansion which bears the signature of notable developer/designer Windsor Smith, and a John Lautner-designed home in Malibu known as the Garwood Residence.
But her main residence — and her "forever, forever home", as she stated herself — is in Montecito, on the site of a fixer-upper she bought for $4.9-million, then razed completely to build her dream home.
And thanks to an Architectural Digest house tour, we got a good look inside Gwyneth Paltrow's house — and the many ways she made it truly her own.
Where does Gwyneth Paltrow live? A closer look at her dreamy Montecito house
Back in 2022, mom-of-two Gwyneth Paltrow covered the March edition of Architectural Digest and opened up the doors to her luxurious Montecito, Calif. family home, giving us a never-seen-before look at her family life — and the home she helped build.
"We built this from the ground up," the Goop magnate, 49, shares, adding that she enlisted the help of her longtime collaborators Robin Standefer and Stephen Alesch of Roman and Williams, as well as designer Brigette Romanek, a close friend of more than two decades.
Continue reading about her custom-built "forever, forever home" that she shares with her husband, director-producer Brad Falchuk (best known for co-creating hit TV series like Glee, American Horror Story, Scream Queens, and Pose) and their combined four children.
Montecito has always been her go-to
During her two semesters at UC Santa Barbara, the Iron Man star first envisioned Montecito as the perfect setting to build her dream house.
"I've always gravitated toward Santa Barbara. Even when I was living in London, we'd take the kids there for holidays. It was our sweet gem of an escape in the U.S.," she says of her former family holidays with then-husband, Coldplay frontman Chris Martin.
On one visit in 2015, Paltrow discovered the perfect lot for sale with a teardown and tons of potential. "It was like Grey Gardens," Paltrow recalls. "There were wild animals living there and swarms of bugs, but I fell in love with the land and the views."
And soon after, she began building her first ground-up house. "It was quite an undertaking," admits the actress.
Gwyneth Paltrow's house was worth the wait (and the work)
Stepping inside the house feels like a warm and welcoming hug.
"I really wanted the entryway to feel like its own special room," says the Academy Award-winning actress.
Featuring an 18th-century fireplace mantel and reclaimed stone floors from Chateau Domingue, Paltrow says the entrance was inspired by her years in London.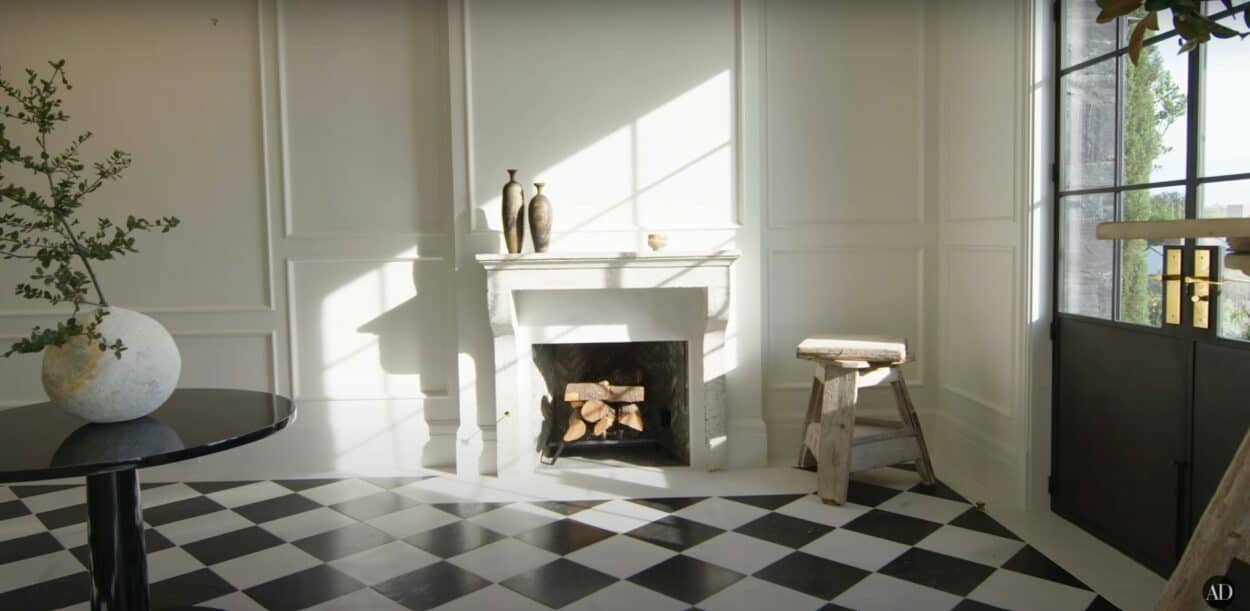 "We conceived of having a fireplace, which is something you see a lot in Europe in an entryway, and just gives this really nice feeling of warmth and welcome as you come in," she shares.
From there, Paltrow takes you to one of her "favorite little rooms in the house." Featuring hand-painted wallpaper, an antiqued mirror and a reclaimed sink, the powder room "is really pretty," says the actress. "I love it."
She deadpans: "It makes me feel very grown up when I pee in here."
An avid foodie, it's all about the places & spaces to eat
And she definitely had dinner parties in mind while building her dream house.
"I entertain a lot; I cook all the time," says the Shakespeare in Love star.
While walking into the dining room, she says it "strikes the right balance" of being welcoming yet formal enough for a dinner party.
SEE ALSO: Robert Downey Jr.'s unconventional houses are a sight to behold
"You can spill pasta and wine and it just wipes right off," Paltrow says of her custom-made dining room table imported from France.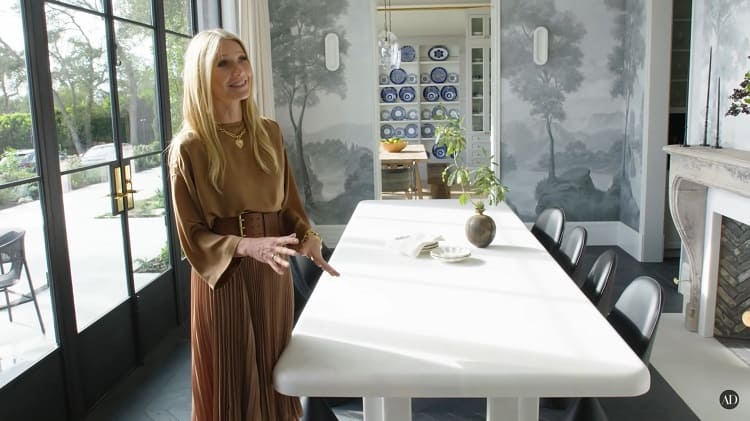 And then there's the "Star Trek" looking chandelier featuring pearls. "I can't decide if it looks like a grasshopper or lily pads," the lifestyle guru says of the unique light feature.
Admittedly, there was some "friction" with her designer friend Brigette Romanek regarding the futuristic lighting feature, but they eventually agreed it is the perfect addition to the space.
The unique wallpaper from MJ Atelier, which was hand-painted by local artists in Los Angeles, also did the walls in the powder room. "The wallpaper really grounds the room into a more traditional feel," says Paltrow.
And now for "the heart of the home."
As the mom-of-two walks into her kitchen, she can't help but gush: "I love it so much."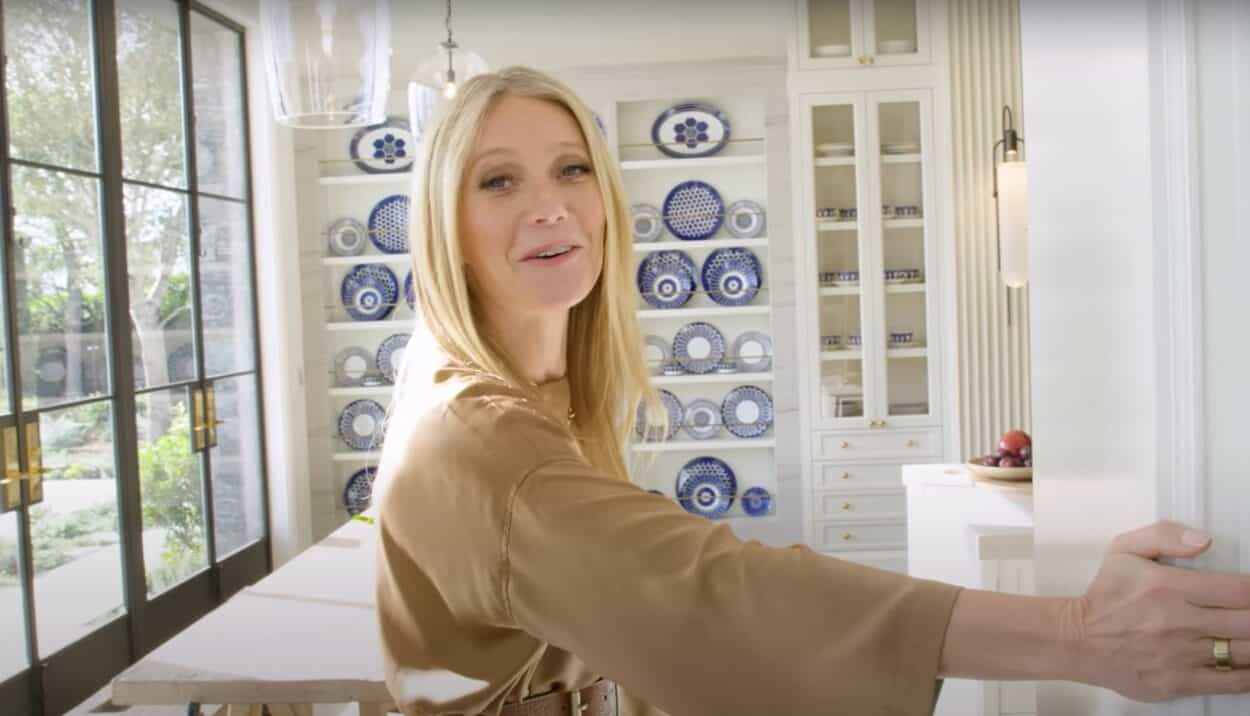 Admitting that she prefers her range in the middle of the room because she "cooks so much" and it allows her to interact with her kids and family members, the actress walks us through her impressive kitchen.
While she loves a white kitchen, the reclaimed tiles from Portugal bring "texture and some homey feeling" to the kitchen.
The plate of walls is another beautiful blue element in the kitchen. "If you get plates with a beautiful pattern you want to see them and usually they're just stacked in the cupboard so we did this plate wall and it brings a pop of color to the house," she shares.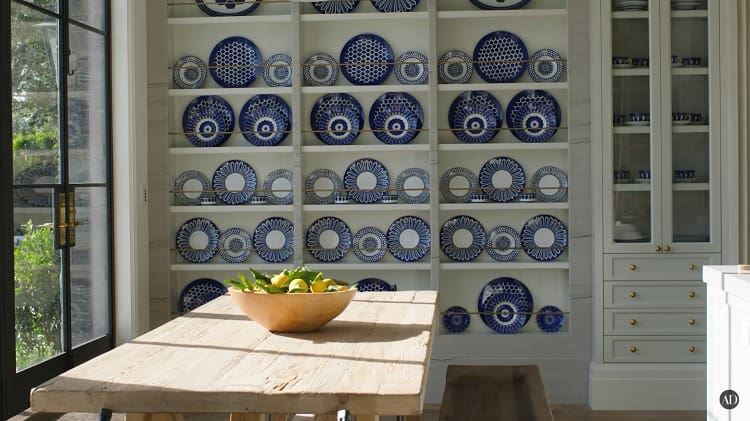 Reminiscent of her days in the UK, Paltrow also dreamed of adding a fireplace in the kitchen.
"It's such a luxury to have a wood-burning fireplace in your kitchen," she says.
It does take me back to my days living in the UK. I had two wood-burning fireplaces in the kitchen, and it was just such an important element of beating those cold, dark winters. And I just got so used to having the fires on all the time."

Gwyneth Paltrow for Architectural Digest
Either way, the kids are happy. Paltrow's son Moses, 16, and daughter Apple, 18, are big fans of mama's creations in the kitchen.
"My son's favorite recipe that I make is turkey meatballs or turkey ragu," says Paltrow. "He loves pasta and he loves turkey sauce." Adding that her daughter also loves pasta, she says Apple's favorite dish "is either this lemon parmesan pasta or a spicy marinara."
While she loves "going to the farmers' market and planning the meal on the fly," Paltrow loves a nicely organized cupboard even more.
"This is like, my dream, to have all my pots lined up. These beautiful cast iron pots," the actress shares.
And now for the "bonkers" living room
While touring her serene family home, Paltrow points out that each room has completely different flooring. "It's such a nice way to offer a distinct personality to a room," says the Sliding Doors star.
To introduce her living room, she says that it's "kind of bonkers in the best way."
"I really wanted it to be a bit of a showstopper," she says of the unique features, including a super luxe swing/ hammock. "I lie in it all the time. I mean, I go there and I read or talk on the phone or whatever, and it's become one of my favorite spots," she shares.
The unique lighting named Paradise City from the famous Guns 'N Roses song has become the "jewelry for the living room," says the Avengers star.
Speaking of showstoppers, that marble bar!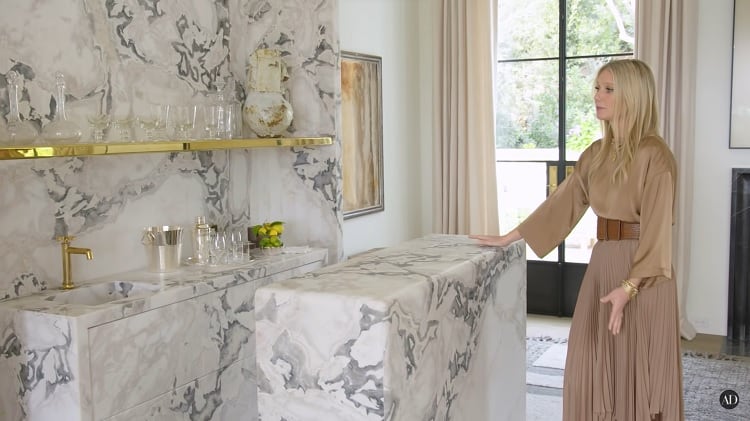 "I found the inspiration for this on the internet… a beautiful jade bar," Paltrow says of the unique living room wet bar. "I don't even know what kind of marble it is, but it's so pretty," adding that she "fell in love with it," immediately upon seeing it at the stone yard.
The indoor spa is the "most incredible thing of the house"
Saving the best for last, Paltrow opens a door for the camera crew while stating, "This is kind of the most incredible thing of the house."
While jaws drop and envy kicks in, the Golden Globe-winning actress reveals the stunning indoor spa.
"I'm into wellness so I feel like it's justified," she says, joking that she should write it off as a business expense. "I come in here everyday and use it all the time."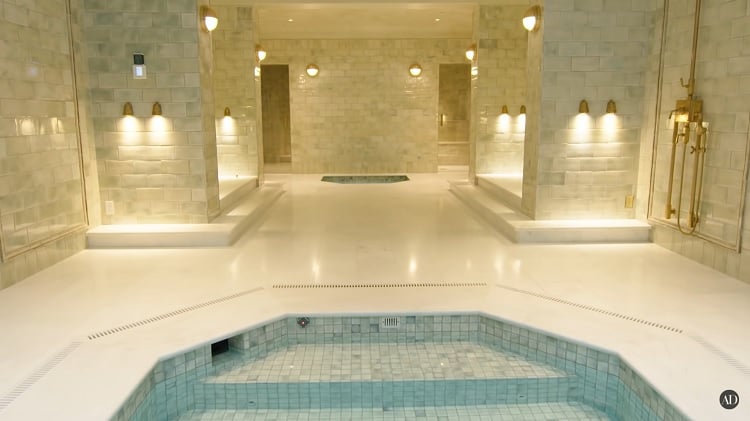 Boasting unlacquered brass elements, which is a theme running through the entire house, she shares the fabulous features of her dream spa.
"There's a cold plunge, excellent for circulation," adding that there's also a "hot tub and then there's a steam and a sauna."
"I think when we were conceiving of the house, we were trying to think of just like a forever, forever home and what would be the few things that are just so special and that you could use when you're much older," Paltrow says of the stunning spa room featuring Waterworks shower fixtures from the Atlas Collection.
"And so, we were kind of thinking it would be amazing to have a real spa."
She lives in the lap of luxury, but mom duties remain
After the grand tour, the mom-of-two signs off to her custom-made dream kitchen.
"I have to go make some meatballs, so see you later," Paltrow says, adding it's been a "real pleasure" to showcase her family home.
But if you'd like more from the Seven star, check out her full video tour here. And see her Instagram post showcasing her cover feature and "labor of love."
Gwyneth put her guest house up on Airbnb
For die-hard fans that not only want to learn about her house but actually experience it, Paltrow had a wonderful surprise: she teamed up with Airbnb to offer an exclusive stay at her guest house. Also included in the stay is a full tour of her Montecito property.
"Loneliness is a human condition, but in the past few years, increased isolation and our lack of community has made our lives even more fragmented," the actress shared in a video she posted to her Instagram."@airbnb had the brilliant idea of doing something to make the world a little less lonely, which is why I'm inviting you to come stay at my Montecito guesthouse for a night."
Unfortunately, Gwyneth Paltrow's guest house is not a permanent listing on the Airbnb website, and only a one-night stay was offered for September 9, 2023.
The actress' childhood home is equally impressive
While Gwyneth Paltrow's house in Montecito stole our hearts, her childhood home is equally impressive.
If you're not familiar with the actress' background, you might be somewhat surprised to hear that Gwyneth Paltrow comes from a lineage of award-winning actresses and directors.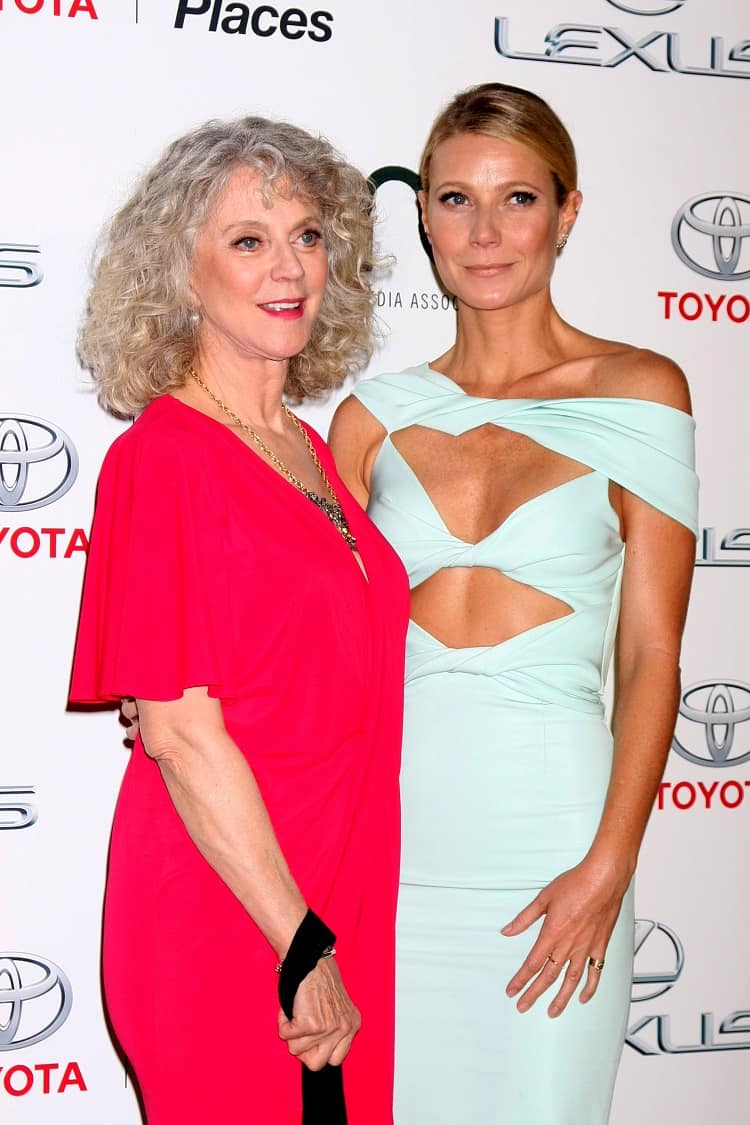 Her mom, Blythe Danner, is a highly accomplished actress and performer, best known in recent years for her role in Meet the Parents. But prior to that, she was also a Broadway sensation with two Emmys and a Tony Award in her name.
Her dad, Bruce Paltrow, was once one of the biggest names in Hollywood. He was a well-respected producer and writer known for his TV series, including St. Elsewhere, The White Shadow, and Tattinger's.
It should then come as little surprise that Paltrow's family lived in a beautiful 6-bedroom mansion set in one of Santa Monica's most desirable neighborhoods — one that recently came to market for a whopping $17.5 million (see inside).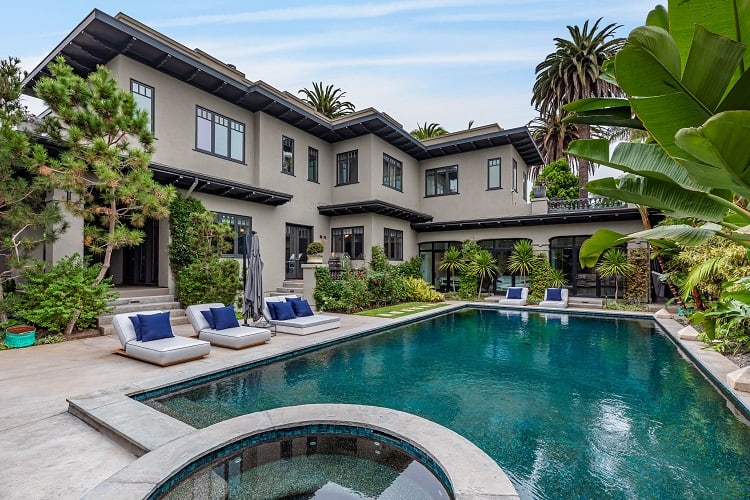 Paltrow's parents bought the beautiful home in 1976 — when the Avengers actress was about 4 years old — and owned it for 30 years.
Built in 1913, the home is set in the sought-after Santa Monica neighborhood of Gillette Regent Square, and has a distinct elegance that hints at its glamorous past and Hollywood ties.
With a generous 6,887 square feet of living space, the house has 6 bedrooms, 6 baths, and one half bath. But that barely scratches the surface of what the property has to offer its future residents, so head on to our feature article to read all about the house Gwyneth Paltrow grew up in.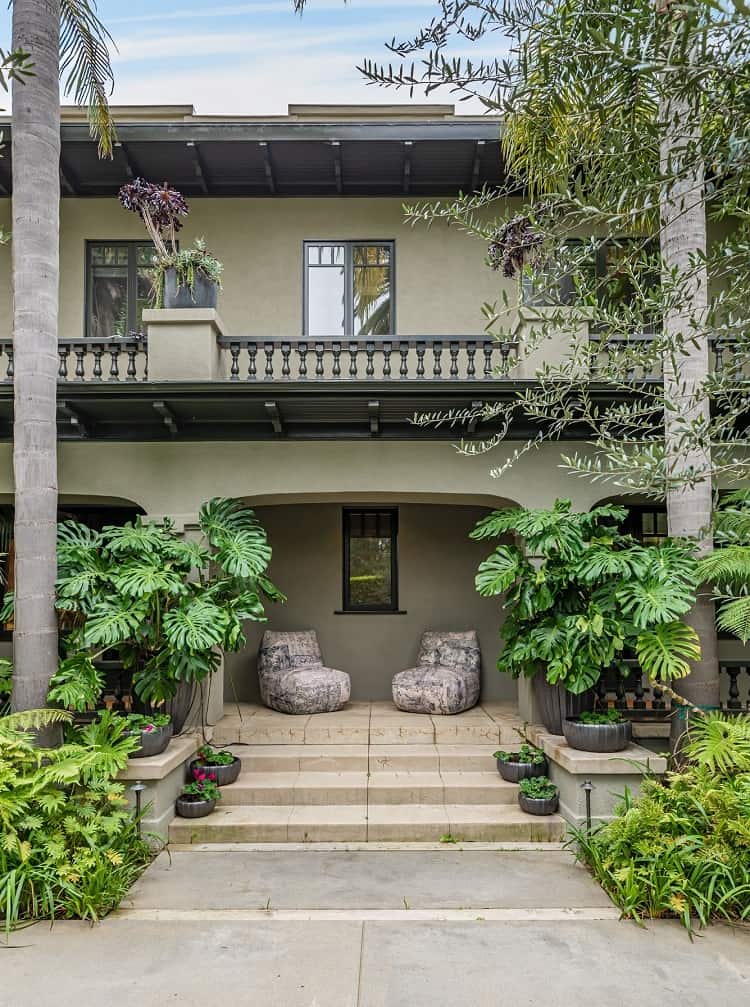 More stories you might like
The biggest celebrities that live in Montecito, from Oprah to Royals
Brad Pitt's home in Carmel, the historic D.L. James house
See Inside 'Modern Family' Star Jesse Tyler Ferguson's House in Los Angeles