Our favorite hotel heiress started the year in the best possible way as a new mom to her baby boy, Phoenix Barron Hilton Reum, whom she welcomed with husband Carter Reum in January 2023.
She also moved into a new place in the semi-remote mountains high above Beverly Hills. With the baby's arrival, the couple may have wanted to have a new crib to signal a fresh new chapter for their family.
The reality star and entrepreneur moved into the 7-bedroom, 11.5-bathroom mansion in February 2023 and we're here to share how she is the true definition of "sliving" in Hollywood.
Paris Hilton's new house in the star-studded Beverly Park
According to Dirt, the former reality star and her venture capitalist husband Carter Reum recently moved to an over-the-top house in Beverly Park, the guard-gated Los Angeles neighborhood infamous for its extravagant mansions.
The Tuscan villa-style mansion with 14,000 square feet of living space is within the same enclave where Adele, Dwayne 'The Rock' Johnson, and Denzel Washington also reside.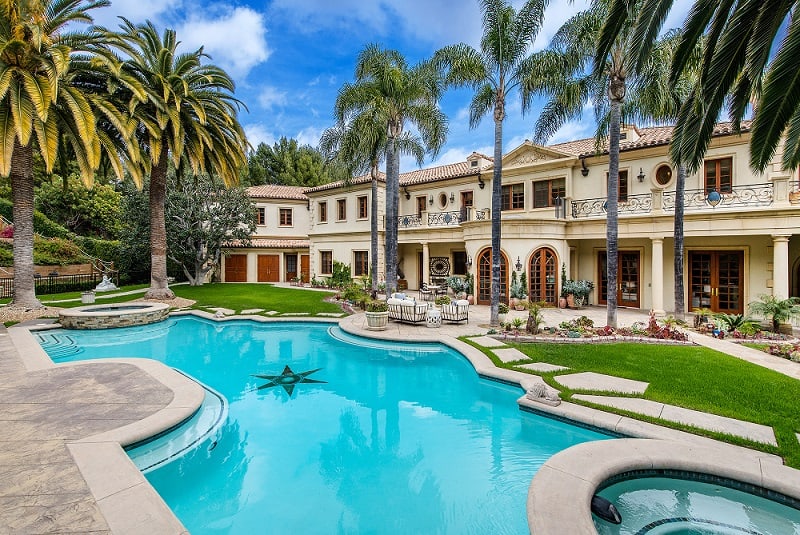 Known to command mind-boggling real estate prices, Beverly Park is undoubtedly Los Angeles' most exclusive area, with its high-profile residents selling their properties for other-worldly prices (Mark Wahlberg recently cashed in $55 million for his megamansion).
The couple seems to have taken a long-term lease, possibly one with a rent-to-own option and they're recorded to be paying $160,000 per month for the house.
The house is owned by local investor Leonid Smirnov, who resides somewhere else in Beverly Hills. It was built in the 1990s and last sold in late 2021 for $21.5 million. Please note that all the pictures inside this article date back to the time of the sale.
Paris Hilton's new house has two separate motor courts, each with space for 10+ vehicles, and an additional attached garage for six cars.
From the front, the crepe myrtle trees & bushes provide bold, bright splashes of color on the house.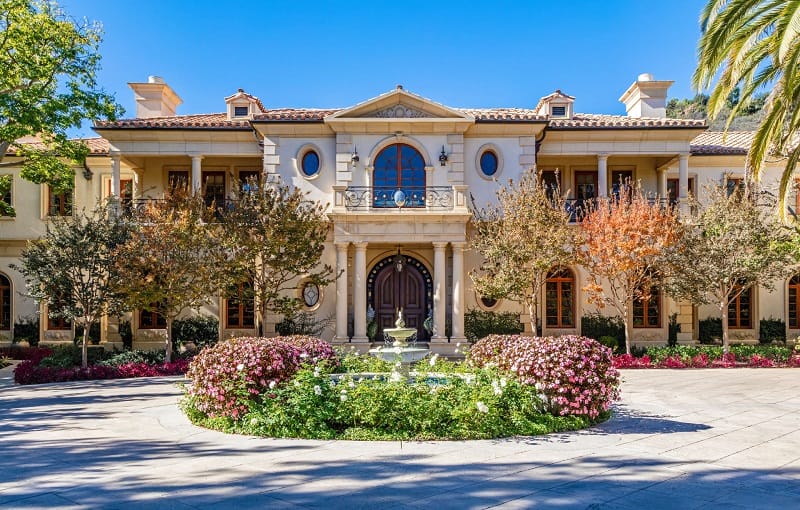 The 3.6-acre estate has a pool and two spas shaded by attractive palm trees which bring a natural aura and peace of mind to the space.
The mansion features covered patios for dining outdoors in summer, a fire pit, and a full-size tennis court. Near the property's far rear, there's a pool house with its own kitchen which is surrounded by lavish vegetable and floral gardens which are all good for the growing the family's mental and physical health.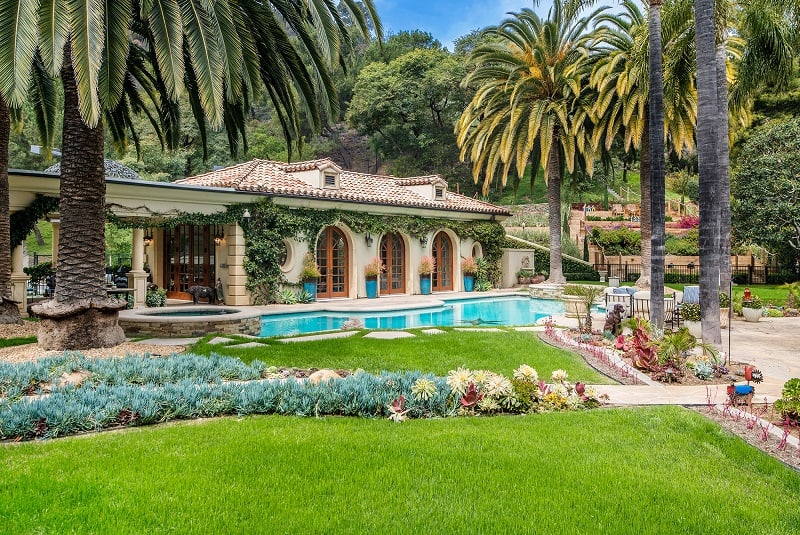 Inside the Tuscan mansion which is built for comfort and entertainment
Inside, the magnificent house has a minimalist black-and-white foyer and stone floors. The stone floors are beautiful, long-lasting, stay naturally cool, and can help keep allergens and dust at bay. We're thinking this is definitely ideal flooring for the couple's baby boy.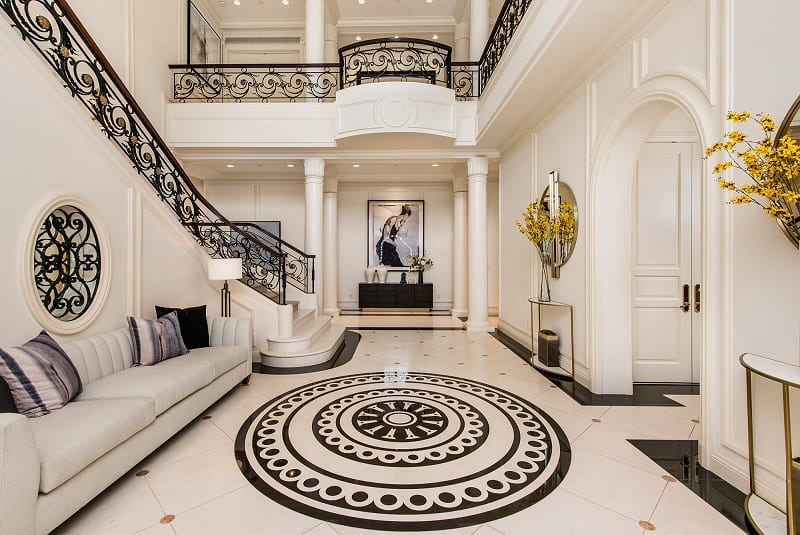 The cozy and welcoming living room which spills outside to a patio has a huge fireplace and green plants which give life and a contrasting green accent color to the room. The comfortable and relaxing family room offers another fireplace and a wet bar.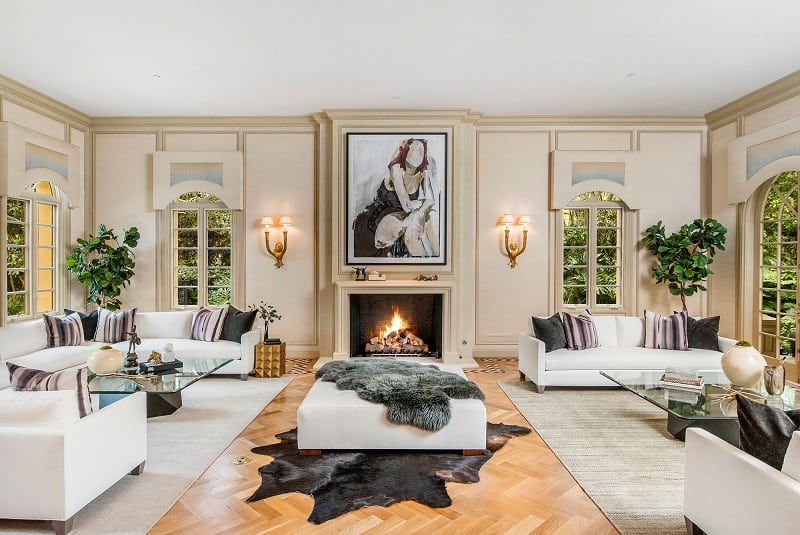 There's also a kitchen kitted out with top-of-the-line appliances. Downstairs is also where you'll find the staff bedroom for a live-in housekeeper or nanny which the first-time mom will likely need.
SEE ALSO: Tour Kendall Jenner's House: A Peaceful, Art-Filled Home in Beverly Hills
Moving upstairs through a staircase with beautiful metal railings you'll find the master suite which has dual baths and dual walk-in closets and a covered balcony that is safe for the baby and also where the new mom can relax while looking out at her gorgeous backyard.
The house is built for entertaining with a wing that has a wet bar and theatre room. There are four more ensuite bedrooms for hosting family and friends, as well as a striking wood-paneled study.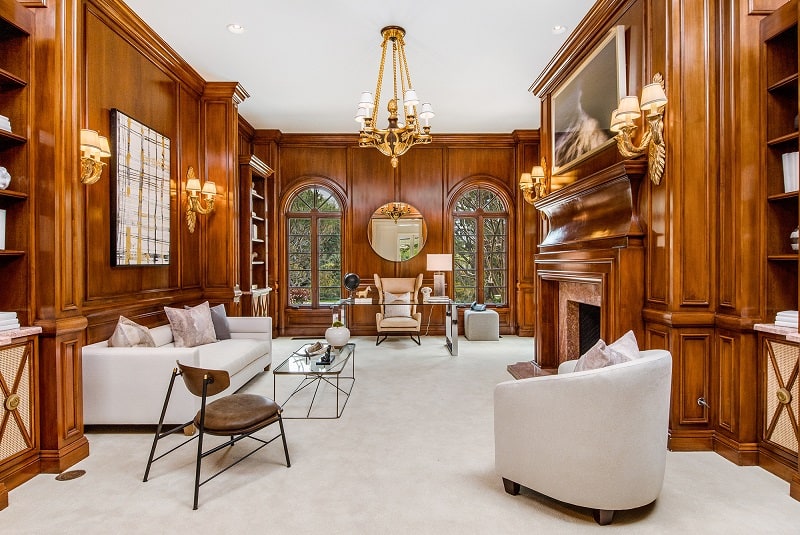 Paris and Carter also own a gorgeous oceanfront Malibu holiday home
Back in 2021, the DJ and recording artist and her then-fiancé Carter Reum spent a whopping $8.4 million for a Malibu house with the perfect ocean views.
The 3,000-square-foot house was built in 1955 and underwent renovations in the 90s. With 3 bedrooms and 3 bathrooms, Paris' Malibu pad comes with its own share of wealthy neighbors. Among them: "Bosch" creator Michael Connelly and Fashion Nova CEO Richard Saghian (who also famously owns California's most expensive home, The One mansion in Bel Air).
The house has beautiful granite kitchen countertops which Paris likely uses to cook dishes by herself or with friends like this fluffy bacon frittata with friend Kim Kardashian for her Netflix show Cooking with Paris.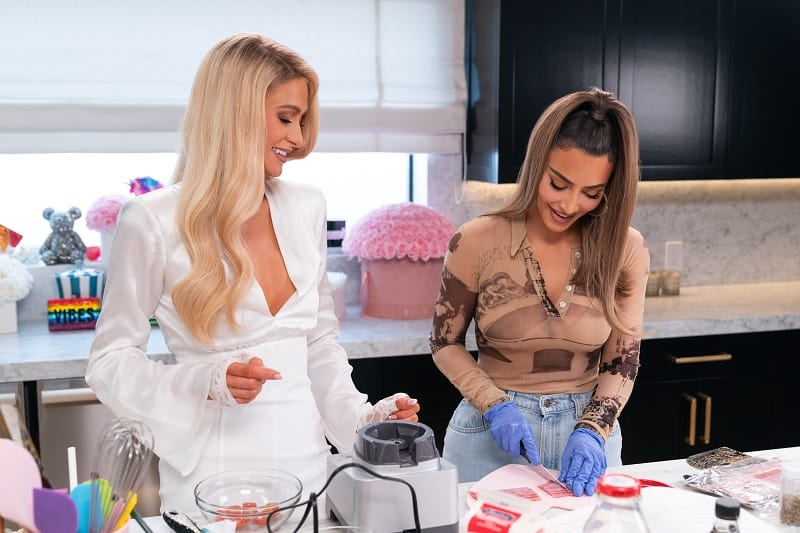 With an outdoor jacuzzi, the 3-bedroom, 3-bath house, is a modern-yet-classic white vacation home and truly the perfect getaway for the couple.
Paris' house in Malibu also served as filming location for the heiress's now-cancelled culinary show, Cooking With Paris. So if you'd like to take a closer look at the couple's vacation home, make sure to watch an episode of her short-lived cooking show.
The couple is a perfect match and their union is a fairytale come true for the heiress
The former Simple Life star and her husband's love story is one for the books. They knew each other for 15 years yet began dating in 2019 and married in 2021. A longtime friend of the Hilton family, Reum is an author, and entrepreneur, and started the venture capital firm M13.
Carter Reum proposed while they were on vacation for Paris's 40th birthday on a private island. Paris' sister, Nicky Hilton, was there to celebrate with the newly engaged couple as was Reum's brother Courtney Reum. As Carter spoke about the engagement and happy news, he mentioned how glad he was to have known the real Paris during their months of dating as it was during the quarantine.
The couple tied the knot in Bel-Air in November 2021, with the journey to the nuptials captured on the reality show Paris in Love. They had an extravagant 3-day wedding affair attended by Paris' celebrity friends like Ashlee Simpson, and Demi Lovato.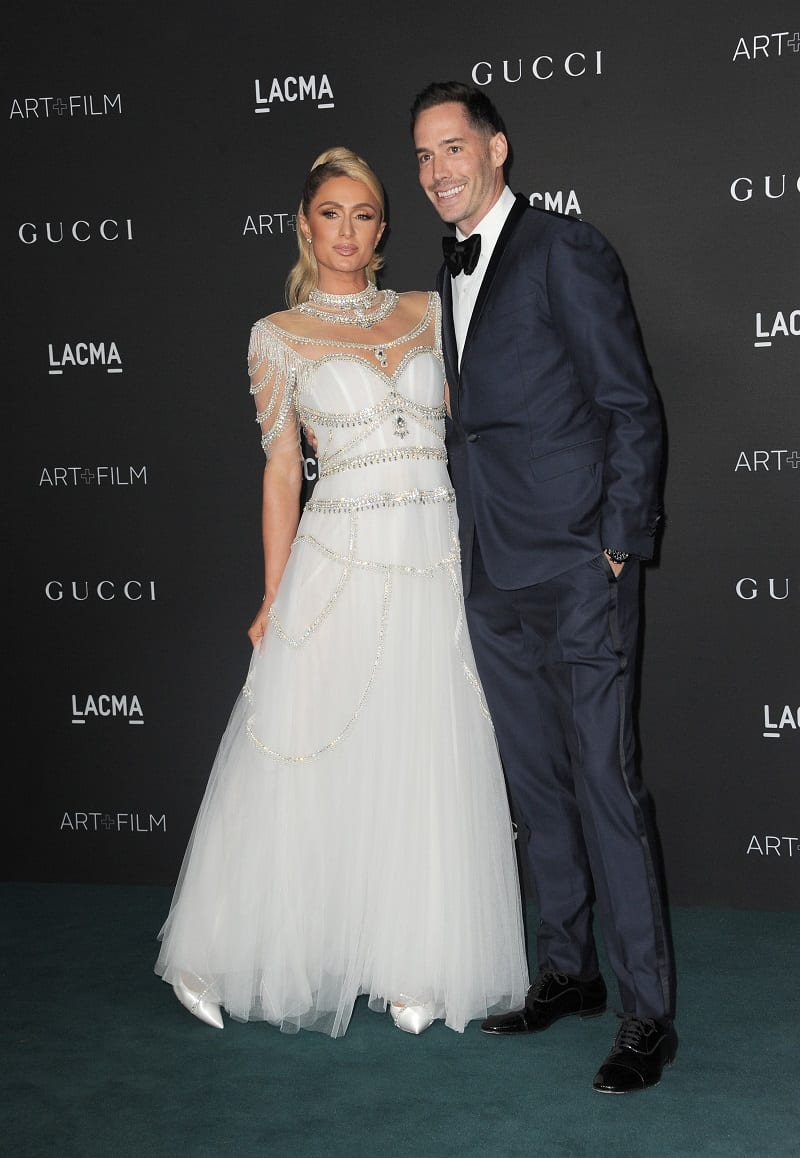 A few months after their first wedding anniversary, they welcomed their baby. While baby Phoenix is the first baby for the 42-year-old heiress, it's the second child for her venture-capitalist husband.
SEE ALSO: Keeping Up With the Incredible Homes of the Kardashians
Sharing the exciting news on social media, Hilton posted a close-up photo of the baby gripping her thumb. News outlets reported the happy news of the couple's first baby Phoenix has a special meaning.
"I want my son to grow up knowing that disaster and triumph go around and come around throughout our lives. And that this should give us great hope for the future," the 42-year-old heiress said. His middle name, Barron, is a tribute to Hilton's late grandfather.
New lux villa for her fur babies too? Paris' dog house
Since Paris now has a new home, do you think she bought another mini-mansion for her dogs? Or maybe relocated the older one to her new crib?
Paris is super close to her fur babies who have their own dedicated Instagram account @hiltonpets where they show off their lavish lifestyle and home.
With sliding glass doors and a perfectly manicured lawn, Paris Hilton's dog house (or rather, dog mansion) is a seriously luxurious crib — and we'd hate for her pets to miss out on the luxury lifestyle they're by now accustomed to. So we really hope the dog mansion made its way to Paris' new house.
It's not even halfway into 2023 and the reality star has a new baby, a new house, and an honest and surprising new Memoir. All we can say is – that's hot!
More stories you might like
See Gwyneth Paltrow's house in Montecito, her "Forever, Forever Home"
Where does Ariana Grande live? The pop star's many luxury houses
Where do the 'Real Housewives of Beverly Hills' Live?
The Murdoch family's lavish homes and vast real estate empire