CBS's long-running show, Two and a Half Men, brought us 12 seasons of laughs at the expense of its fairly unique characters — jingle writer Charlie Harper who leads a hedonistic, carefree life, his 'good-for-nothing' brother, Alan, and quirky nephew Jake — who all lived together in Charlie's Malibu mansion.
Season 9 brought about a big change in casting, when leading actor Charlie Sheen's controversial personal life got him fired from the show (and his character killed off), only to be replaced by Ashton Kutcher.
But for die-hard fans of the series, there is no Two and a Half Men without the original three characters, portrayed by Charlie Sheen, John Cryer and Angus T. Jones.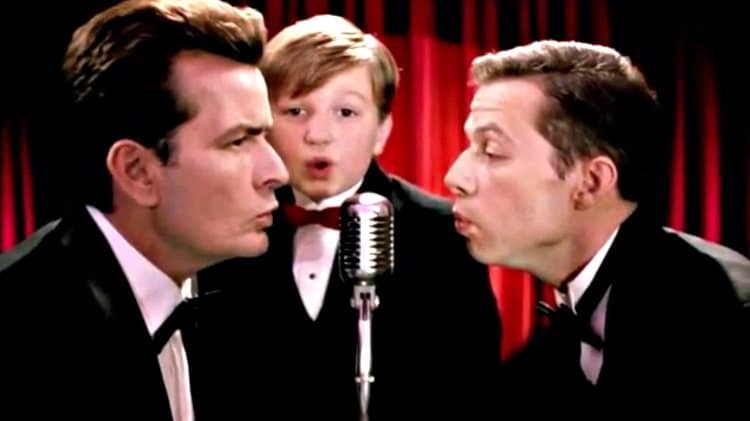 After all, this is the trio that made us laugh out loud and made the show unforgettable. Them and Charlie's Malibu beach house, which served as the center of the action for the entire duration of the show, making it feel like a character in its own right.
How Charlie's Malibu mansion goes from 'den of sin' to 'full house'
From the very first episode, Charlie's bachelor lifestyle is turned upside down when Alan (his brother) comes to live with him after his wife throws him out of their house.
Of course, Alan assures Charlie that it would only be for a couple of days until Judith comes to her senses and takes him back. Oh! And Jake (Alan's son) also needs a place to stay until things get straightened out.
While reluctant, Charlie plays the role of a good brother and allows Alan to live in his house, rent-free.
But the wife never comes to her senses and Alan ends up adding a "few years" to his "couple of days max" situation, turning his brother's otherwise empty and quiet house into a genuine Full House. (fun fact: John Stamos from Full House is actually one of the interested buyers that tours the home after Charlie's untimely death).
And who can actually blame Alan for playing the long game? A rent-free, oceanfront mansion, with the occasional maid service is not exactly common for Malibu (or anywhere else, for that matter).
So let's take a walk down memory lane and remember what made Charlie's house so memorable before it was completely redecorated when its new owner took over.
Location, location, location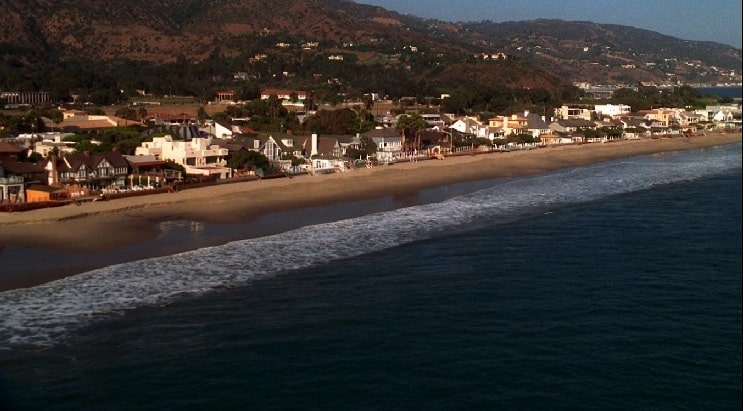 The establishing shot of the beach house is shown in each episode and has imprinted on our brains so heavily that we associate it with the show as much as we do its iconic characters.
That particular stretch of homes that appear in the opening shots is on the 23000 block of Malibu Colony Road, just west of the Malibu Pier, and that's as close as we'll ever get to finding out Charlie Harper's exact address.
We don't know exactly which one of the homes on Malibu Colony Road belongs to Charlie — especially since the house on the show did not exist in real life — but we do know he's be in very good company living here, as many celebrities have bought homes in the area over the years, including Leonardo DiCaprio, Cindy Crawford, and Ridley Scott.
Inside Charlie's house
While the house itself isn't real, and the scenes on the show were filmed on a soundstage, the producers of Two and a Half Men have paid extra attention to all the details that pertained to Charlie's beachfront house.
Since it's located in sunny Malibu, the house is designed in a Mediterranean style.
Throughout the series, every guest makes remarks about the beauty of the area and about Charlie's residence. And for good reason!
The house is extraordinarily inviting. The living room features a dark green velvet sofa, rustic tile floors, and wooden ceilings. Basically, everything those poor girls need to think that Charlie is a serious guy who'll call them the next day.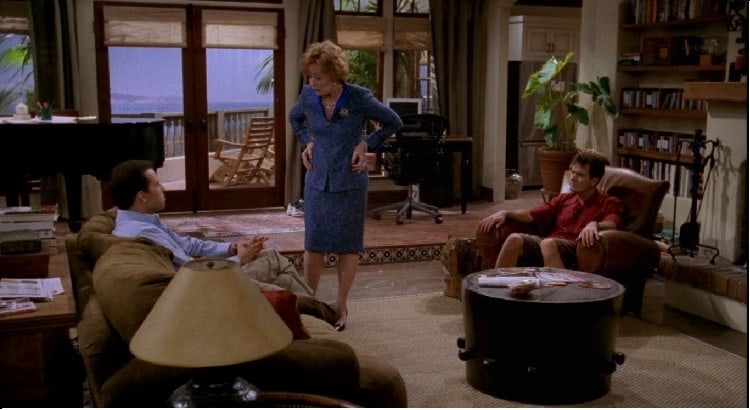 Right by the patio doors, there's the jingle writer's precious Grand piano. While in the show he made quite a fortune by creating catchy jingles for commercials and shows, the real-life Charlie couldn't play a single tune.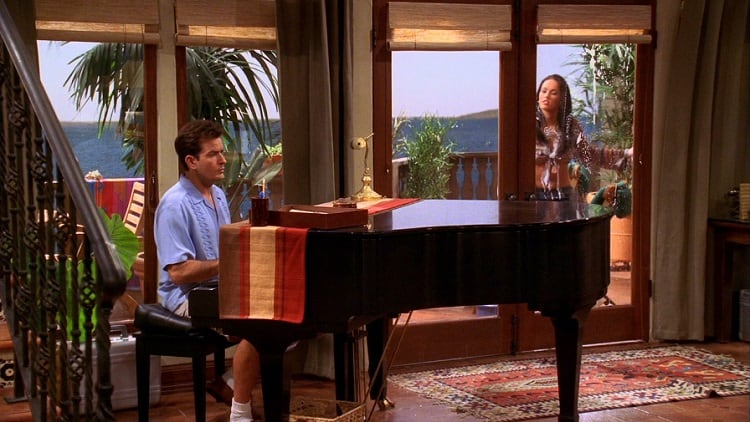 Since we've mentioned the patio, we have to say that it has a gorgeous direct view of the ocean. It's also Rose's favorite place to eavesdrop and make her weird entrances.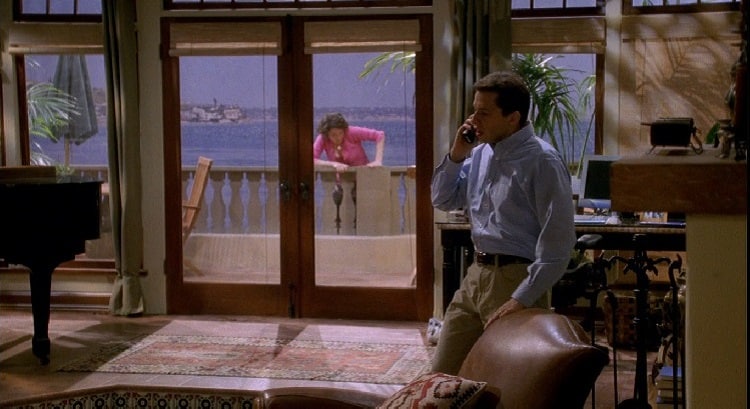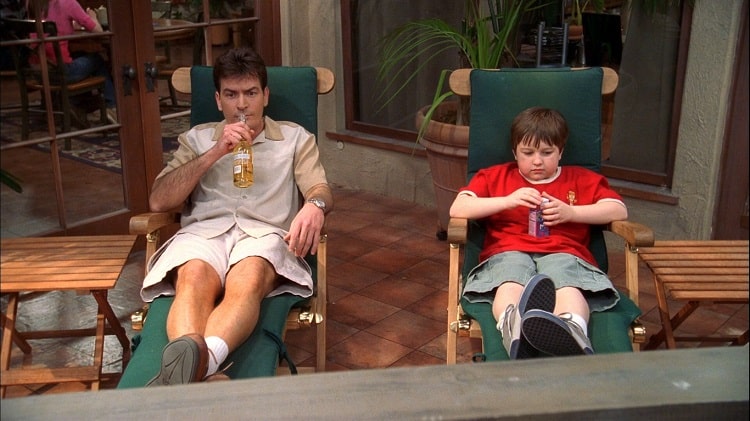 The kitchen and TV area are separated by a sofa. They were decorated in a Spanish style with a warm color palette of creams, beiges, and rich browns.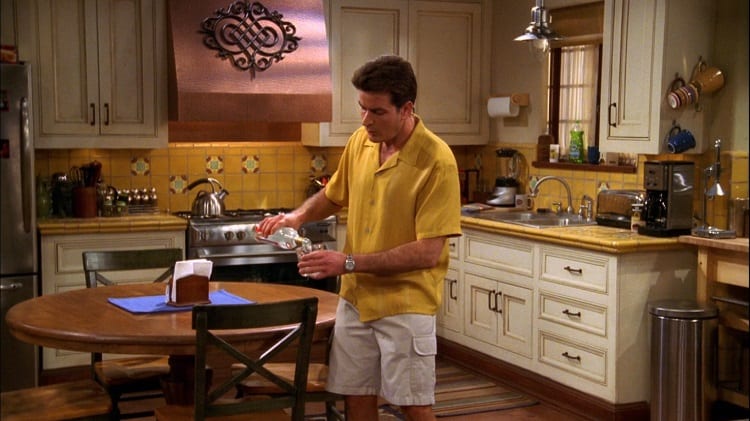 Overall, Charlie's beach house in Two and a Half Men has 3 more bedrooms, 4 bathrooms, and a laundry room. Of course, Charlie's bedroom is the most spacious one and his en-suite bathroom also has a TV.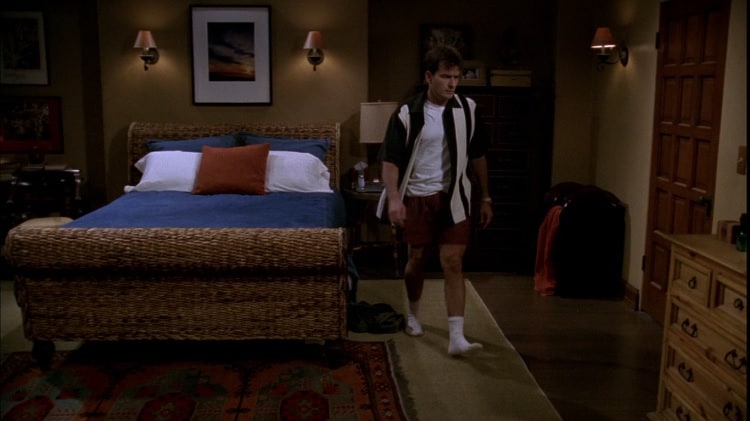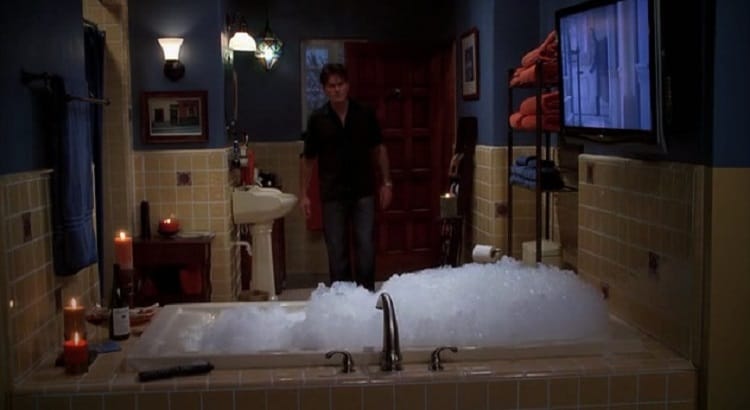 When the house got itself a new owner, it was clear that they'd have to do some serious renovating — it had to reflect Walden's personality and flush Charlie out.
While it looks pretty cool with all the modern furniture and décor, we must say we hate the fact that Charlie's piano was replaced with a computer. But with Walden being an IT genius, it only made sense to do so.
Does the actual house exist though?
Well… we're sorry to disappoint you guys, but Charlie's beach house in Two and a Half Men is actually a Hollywood set designed to look like a real Malibu home. But you've probably expected this since most homes on TV are just sets.
However, the location shot on the 23000 block of Malibu Colony Road that you see with every opening credit scene is very much real and it's a private and very exclusive gated community.
So if you want to live a carefree life in Malibu (just as Charlie did), you should know that homes in the area usually sell in the $11 to $19 million range. No wonder Charlie had three mortgages on it!
More homes from popular TV shows
The 'Fresh Prince of Bel-Air' House Isn't Even in Bel-Air
Tracking Down Barney Stinson's Apartment from HIMYM? Challenge Accepted!
The Real-Life Homes from Modern Family — and Where to Find Them
Monica's Apartment in Friends — The Place where Friendship is Forever