Please note that this article contains affiliate links. If you make a purchase after clicking on one of the links in the article, we will receive a small commission.
Whether you're on your thousandth re-watch or you're only just discovering the comedy marvel that is Friends, I'm willing to bet you adore the gang's iconic 90s apartments and accompanying décor just as much as the fashion and the humor.
In particular, Monica and Rachel's spacious two-bed walkup in Greenwich Village. Those purple walls, the cute yellow peephole frame, the cozy kitchen, the enormous Crittall-style window – it was flawless! So much so, that even we have written extensively on the iconic purple apartment.
And yet, I can't help but wonder, were the show to take place now, what would the apartment look like?
Would it have a bright and airy Scandi-style living room? A classic, New York industrial-inspired kitchen? Maybe Monica's eclectic sense of style would have led her to include some Victorian elements?
As it turns out, this is all a moo point because online retailer FurnitureBox has already re-designed the space in seven of today's most popular interior design styles.
And let me tell you, the results are pretty spectacular! Check them out and pick your favorite:
A contemporary vibe
If Friends aired today, I can imagine the apartment would look just like this!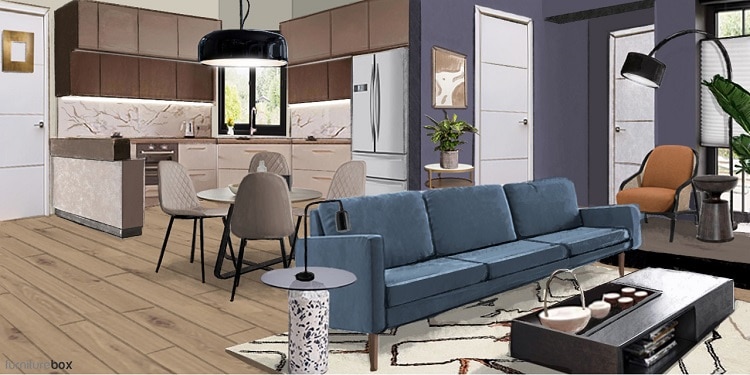 And yes, I'm making mental plans to remodel my own living room immediately.
This version of the apartment is noticeably more minimal than Monica's was, with muted color tones and clean lines giving off it a spacious and airy feel.
It's safe to say I love it, though I might have to rehang Monica's vintage French ad poster for a little nostalgic charm!
Going full Victorian
"You don't own a TV? What's all your furniture pointed at?"
Though this Victorian-style apartment appears without today's mod-cons, I could easily forgo a TV (and any other technology for that matter) to live in a place like this.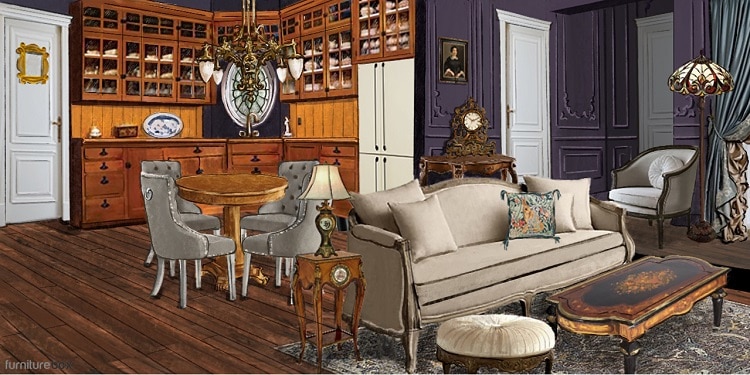 The iconic purple walls remain but with the addition of Victorian wall moldings which add a serious touch of luxury to the living room.
These pair perfectly with the dark wood floors, neutral antique furniture, and the famous Tiffany lamp from the opening credits!
A dramatic Art Deco spin
Oh. My. God! This Art Deco re-imagining is instantly unforgettable and surprisingly cozy.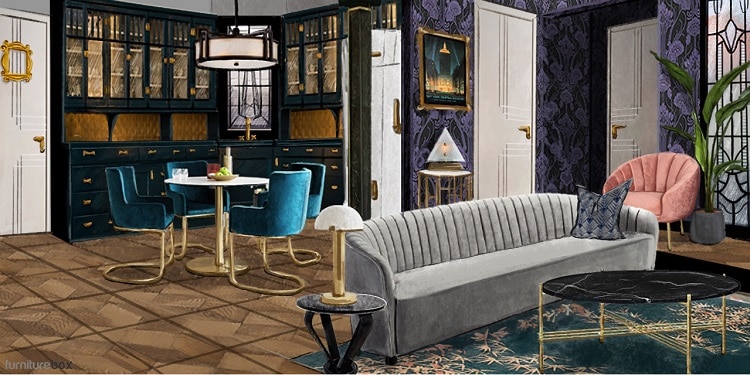 Using The Empire State Building as inspiration, FurnitureBox has created a dark and moody version of Monica's apartment that stays true to set designer John Shaffner's original design.
That means lavender walls, an eclectic mix of colors and textures, and plenty of vintage-inspired knick-knacks to make the apartment feel homely and luxurious.
I certainly don't mind those elegant 1920's style window grilles either!
Going Minimalist
Though the purple walls that we associate most with the iconic Friends apartment are nowhere to be seen, this minimal layout still captures the essence of what is arguably one of television's most famous homes.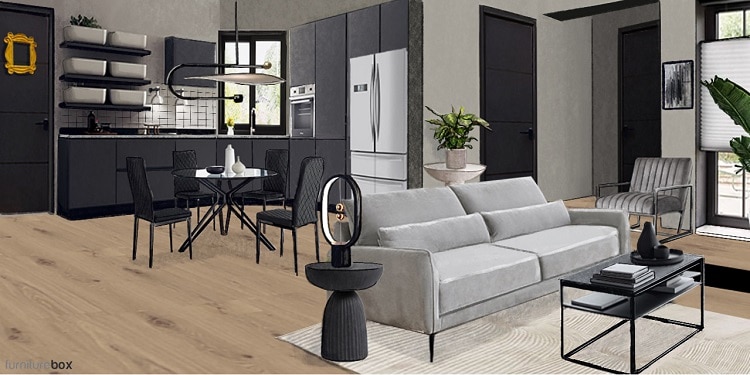 It feels spacious, expensive, and incredibly clean — a point Monica would no doubt adore!
Now don't get me wrong, I'd take this place in a heartbeat if offered, but take away the gilt-framed peephole and it might just lose that irresistibly familiar 'Friends' feel altogether!
'Pivot!'
A Scandinavian twist
This stunning Scandi-style design is not only seriously functional and incredibly welcoming, it also includes a cozy L-shaped sofa which is much more functional for a group of six to hang out on!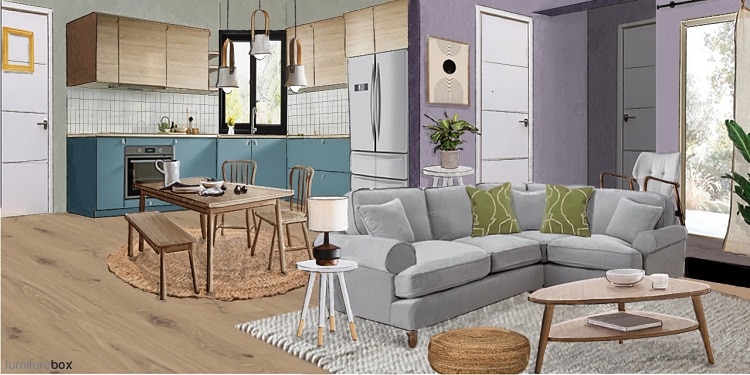 Also, by bringing in softer hues both on the walls and through the furniture, then adding in quirky touches like the moss green pillows and blue kitchen cabinets, the space feels instantly more modern yet still inherently Monica-esque.
An Industrial look for the Friends apartment
Lovers of the New Girl gang's 4D loft or Dev's Manhattan one bed on Master of None are sure to adore this re-imagining.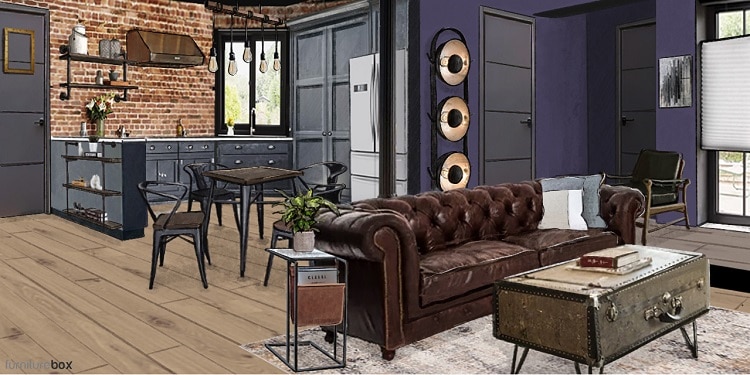 From the hardwood floors and exposed brick walls to the statement leather sofa and bare-bulb lighting, this ultra-trendy apartment is a New York interior lovers' dream come true.
And yes, I adore that the couch so perfectly resembles Central Perk's iconic central seating area!
Farmhouse charm seems like a great fit
If you were wondering what a Friends and Gilmore Girls set-style mash-up might look like, here's your answer!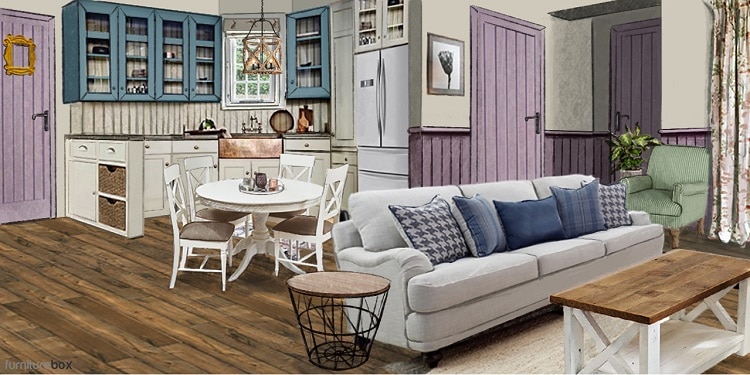 This rustic apartment is incredibly charming and perfectly mixes raw wood finishings with painted accents and textured soft furnishings.
If Monica were to pick an alternative apartment style, I can definitely see it being this one. After adding in a couple more colorful kitchen chairs of course!
What's your favorite style for the FRIENDS apartment?
More stories you might like
The Real-Life Homes from Modern Family — and Where to Find Them
Is It Real? Charlie's Beach House in 'Two and a Half Men'