Design plays a big role in the life of the Petrone family. And that has been thoroughly documented on Ashley Petrone's blog, Arrows & Bow, as well as her popular Instagram account and YouTube channel.
And since thousands of people have been following their journey and subscribed for updates to see how their lovely family home turns out, we thought they'd want to learn about the biggest update of them all: the 5-bedroom home of the Petrones is now for sale!
Chateau Petrone, like the family lovingly calls it, has been recently brought to market asking $2,998,000. In fact, the stunning property may have already landed a buyer — less than 3 weeks after being listed for sale.
Exclusively represented by The Gummow Brothers, comprised of Nick and Brandon Gummow, an affiliated sales team with Coldwell Banker Realty in Northern California, the Petrone family home is already tagged as Sale Pending on the Coldwell Banker website, which means the gifted sales team quickly worked their magic to secure a sale on behalf of their clients. And no wonder a buyer was quick to snap up the property.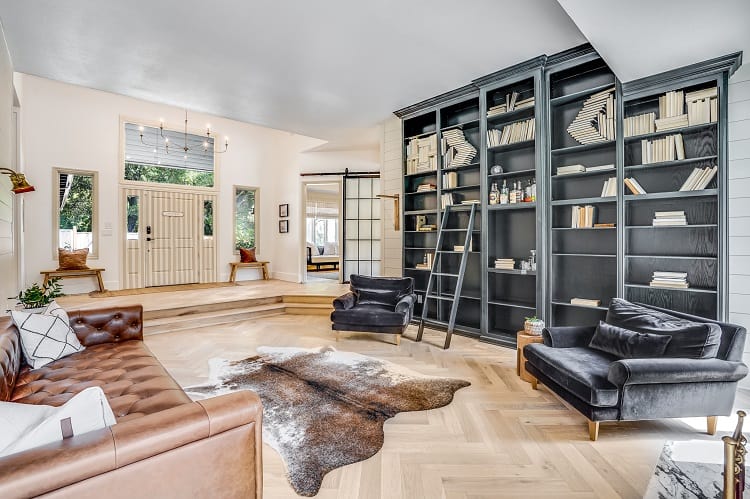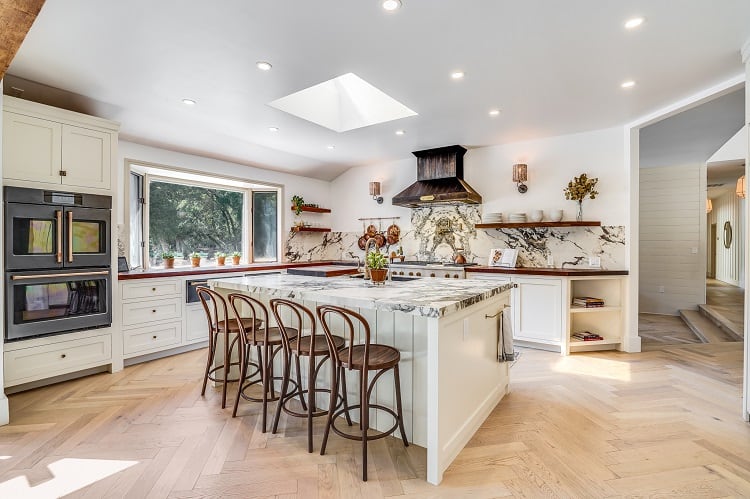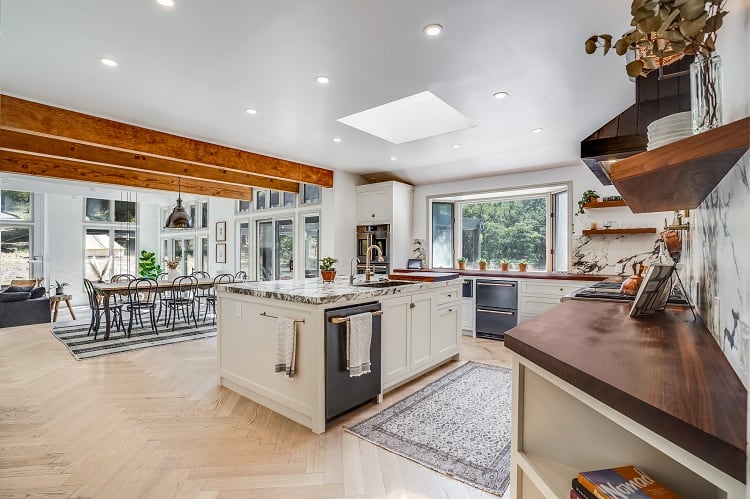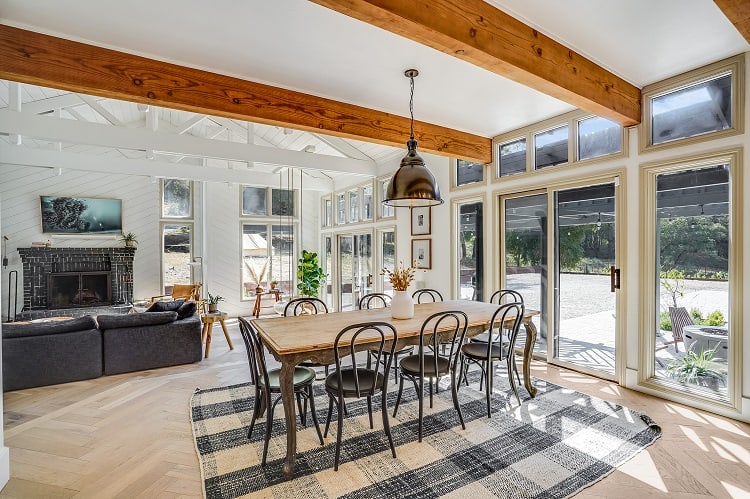 The custom home, which looks like it's been taken straight from the pages of an interior design magazine, was meticulously designed and remodeled by Ashley Petrone herself.
Petrone — who shared the remodel and design journey of Chateau Petrone with hundreds of thousands of followers via her social channels and blog — completely transformed the home into a luxurious and functional, French farmhouse-style residence.
"We put so much love, sweat and attention into remaking this home that we absolutely adore. I imagined each space as open, welcoming, and functional and it truly came alive as such. We hope that the next owner will love it just as much."

Ashley Petrone, Arrows & Bow
The massive remodel included creating an open chef's kitchen with walnut wood and porcelain countertops, high-end cabinetry and appliances, and transforming the living room by adding white shiplap walls, a refinished brick fireplace, wood beamed ceilings, massive windows and outdoor access.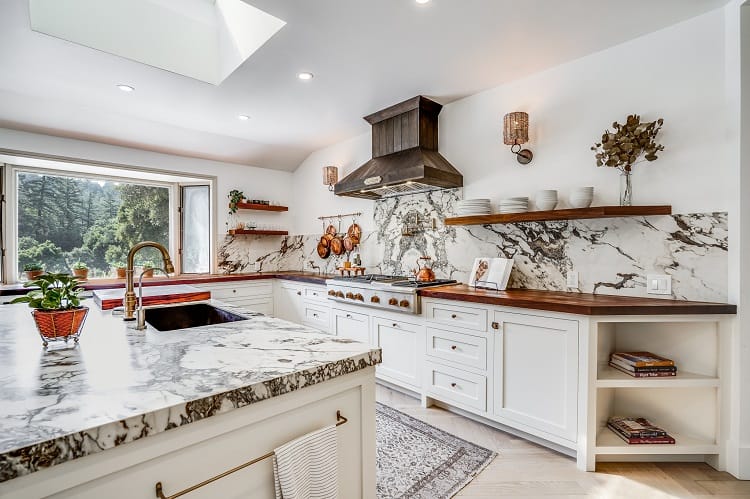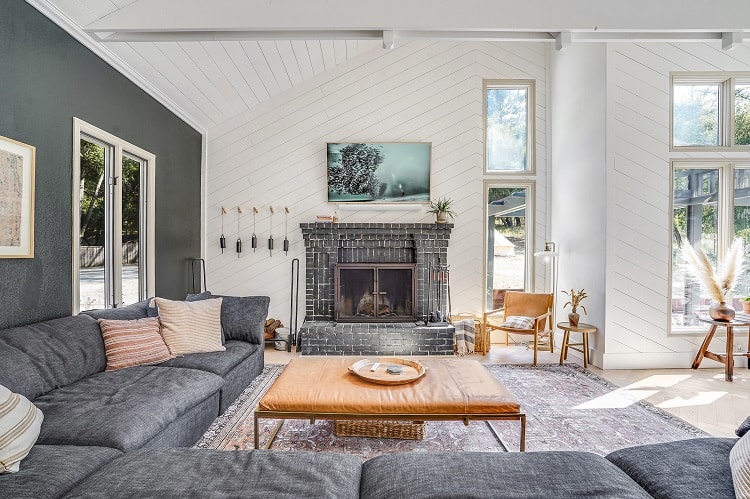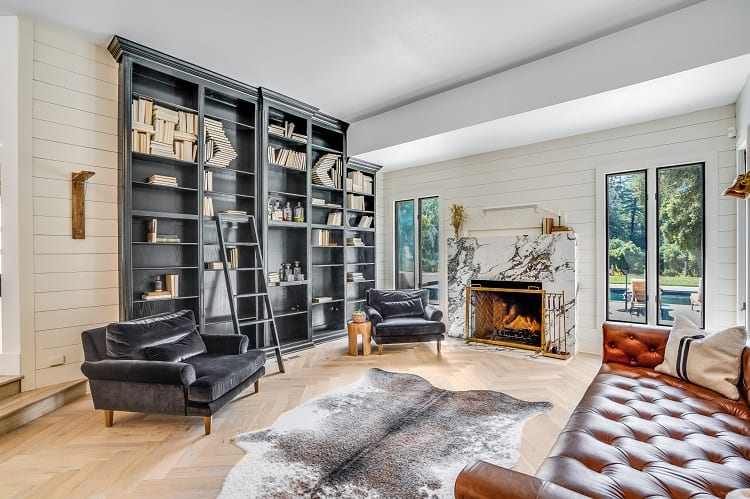 The Petrones also added a stylish library and lounge room with shiplap walls, a porcelain-framed fireplace and a built-in floor-to-ceiling bookshelf with a staircase and a whiskey bar.
All in all, the 3,700-square-foot home comes with five bedrooms, three bathrooms and herringbone flooring throughout.
In the primary bedroom, there's an en suite bathroom, a walk-in closet and even a coffee bar. It also opens up to the lovely outdoor area, with easy access to the pool and spa.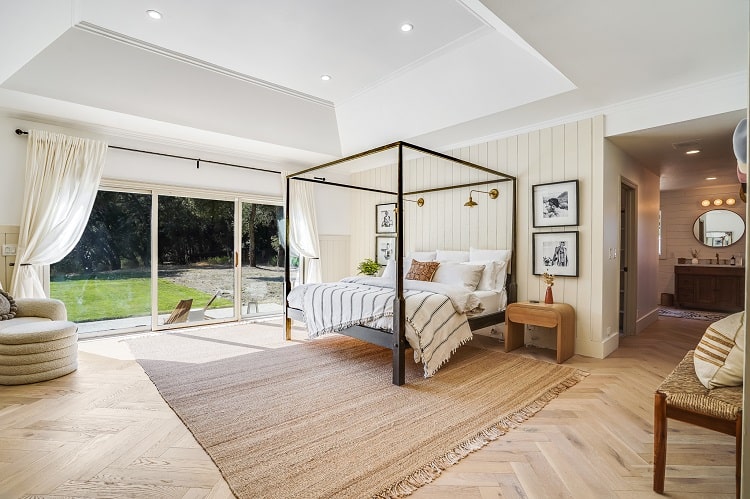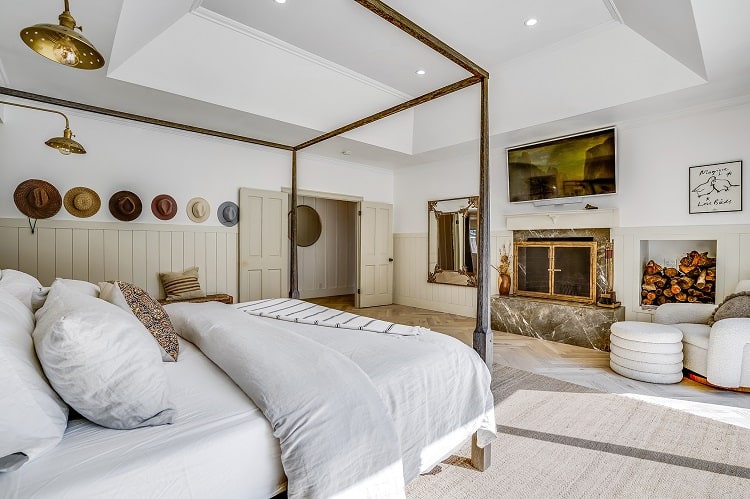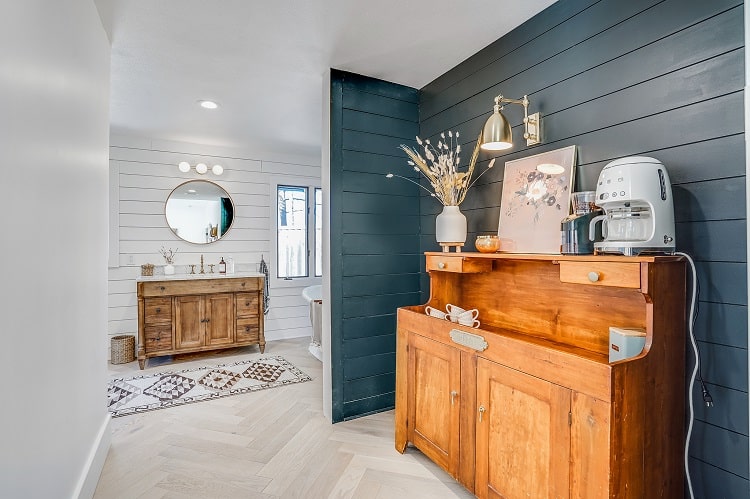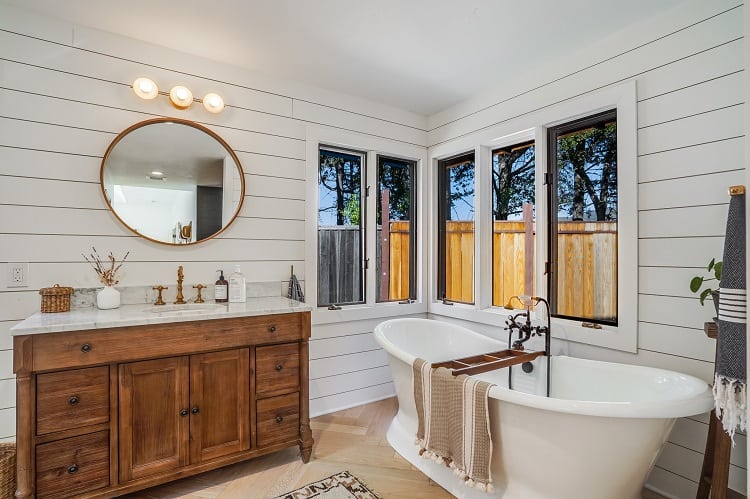 The picture-perfect design extends to the outdoor areas — and there's no shortage of outdoor space.
In fact, the farmhouse sits on a 2.6 acre lot and makes the most of its surroundings, with landscaping designed by Yardzen, a leading online landscape design service that assigns a talented designer to create a customized yard design.
Outdoor amenities include a custom pool and spa, a basketball court and a Shelter Co tent with its own queen bed. There's ample seating, a fire pit, and a barbecue area.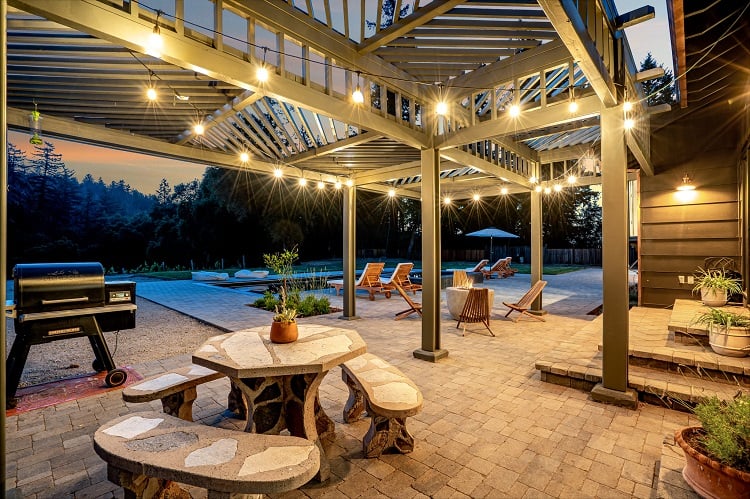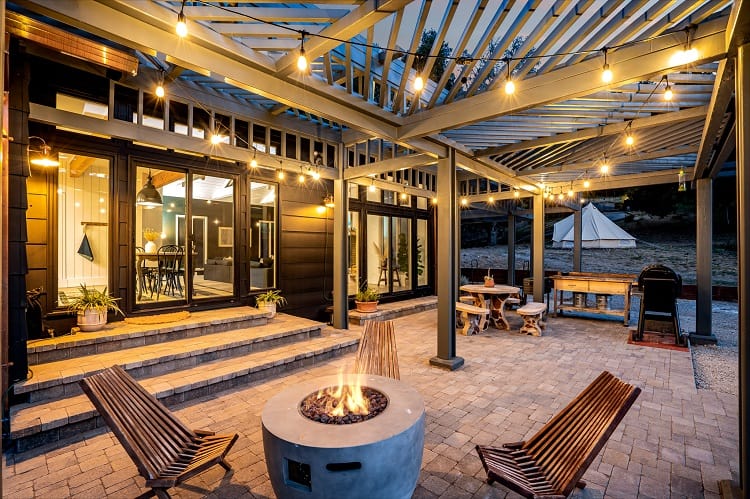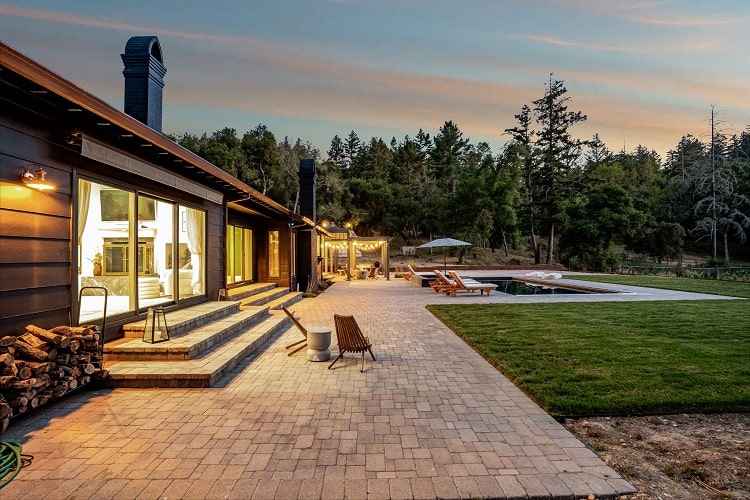 "The transformation of this home is breathtaking with every detail having been meticulously executed. It's privately located at the end of a cul-de-sac and it's only about a four-mile drive from downtown Los Gatos."

Brandon Gummow, listing gent
Location is one other major asset of this property. The lovely farmhouse is set in the Santa Clara County town of Los Gatos, often singled out as one of the best places to live in all of California.
Now, you might be left wondering: What's next for the Petrone family? The family of five will be leaving the state and moving to Florida, where they have purchased — and will be renovating — a small inn.
And while we're sorry to see them part ways with their incredible home, we're looking forward to embark on another design journey featuring Ashley Petrone's impeccable style.
More homes with beautiful interiors
Old Hollywood Glam Meets Modern Designer Interiors in this $3.6M Spanish Villa
Cool Listings: Inside The Wallpaper House, Where Each Room Has its Own Unique Design
Elegant Beverly Hills Estate North of Sunset Boulevard Asks $22 Million
Step Inside the Home of Celebrated Rug Designer Erik Lindström, Now on the Market