Writing about celebrity homes for a living has its perks; we get to step inside some of the most outrageously expensive homes out there, all equipped with the finest amenities and designer finishes that have dream home written all over them.
And while all the rooms of the rich and famous may be swoon-worthy, nothing quite compares to their kitchens. That's why we thought we'd bring back some of the most beautiful celebrity kitchens from our past news stories and dare to daydream a little.
Most beautiful celebrity kitchens we've seen in the past couple of years
The Hemsworth brothers
A few years back, Liam, Luke and Chris Hemsworth bought a lovely contemporary house in Malibu, CA and used it for family stays while they were filming in nearby Los Angeles.
And while they recently parted ways with the modern-yet-family-friendly Malibu home, we want to give a shoutout to this beautiful piece of modern architecture with polished concrete floors and warm wood accents, floor-to-ceiling windows and sliders, and just a touch of steampunk elements.
With an open floorplan that allows for a smooth transition from one room to the next, the airy, light-filled home has huge windows and folding glass doors that open up to picture-perfect views — with the kitchen blending beautifully with the welcoming outdoor area.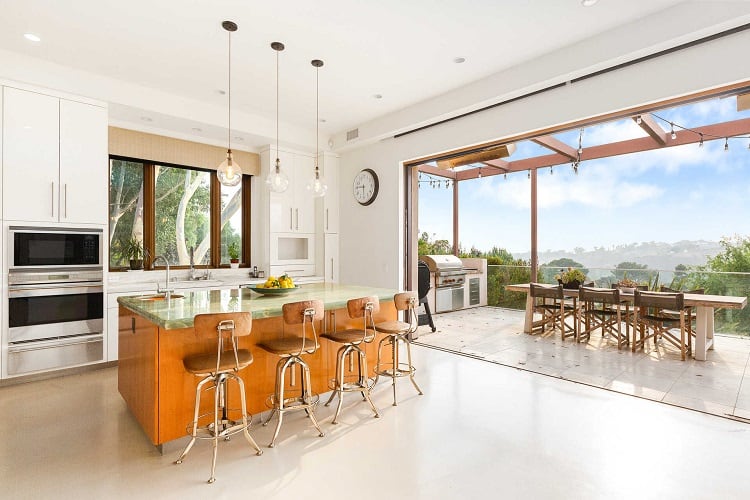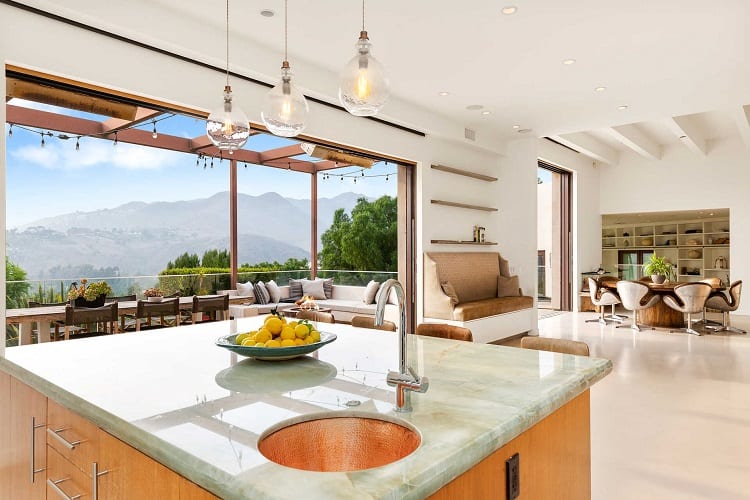 The kitchen and dining area doubles in size by sliding the floor-to-ceiling partitions, with its folding glass doors opening up to a generous deck dining space (with ocean views), an outdoor fireplace, gardens and the yard space below.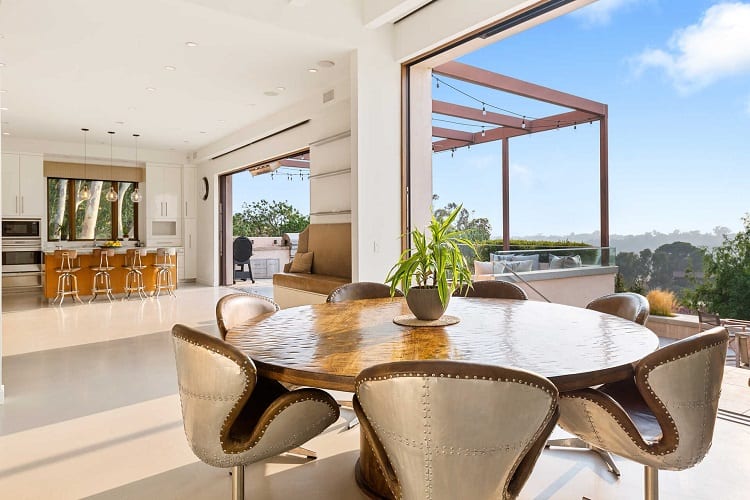 Morgan Brown
Gerard Butler's longtime girlfriend, Morgan Brown, decided to part ways with her West Hollywood home following her highly publicized breakup with the Scottish actor.
An accomplished interior designer and real estate investor, Morgan Brown designed the opulent house herself, leaving her expert touch throughout the nearly 10,000-square-foot compound once priced close to $20 million.
And while the entire Mediterranean-style home is absolutely stunning, it's the kitchen that stuck with us months after we featured it.
The designer kitchen seems like it was born in another era, incorporating stone and dark wood, along with luxurious gold finishes. It also features a La Cornue range (one of the most expensive models in the world), nautical-inspired compass accents and vintage elements.
The exquisite kitchen opens up to an adjoining "rock room", which oozes warmth and charm with its 18th-century fireplace mantle imported all the way from France.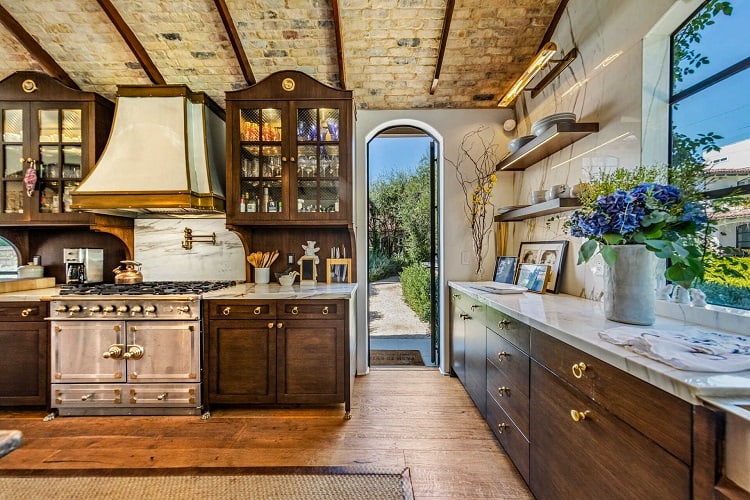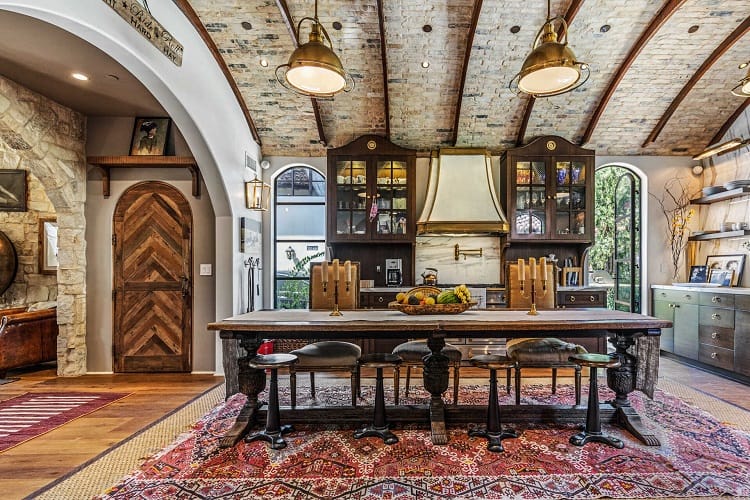 Kelsey Grammer
Famed Cheers and Frasier actor Kelsey Grammer shared a stunning Malibu home with former wife Camille, star of The Real Housewives of Beverly Hills.
After the couple's divorce in 2011, they sold their 7-bed, 13-bath family home in the prestigious Malibu Serra Retreat, but the property resurfaced on the market two years ago with a whopping $20 million price tag.
The sprawling French country-inspired estate has its own claim to fame, having been heavily featured on the first two seasons of Bravo's Real Housewives.
And its most memorable trait is definitely the opulent kitchen, designed by none other than famed celebrity chef Wolfgang Puck.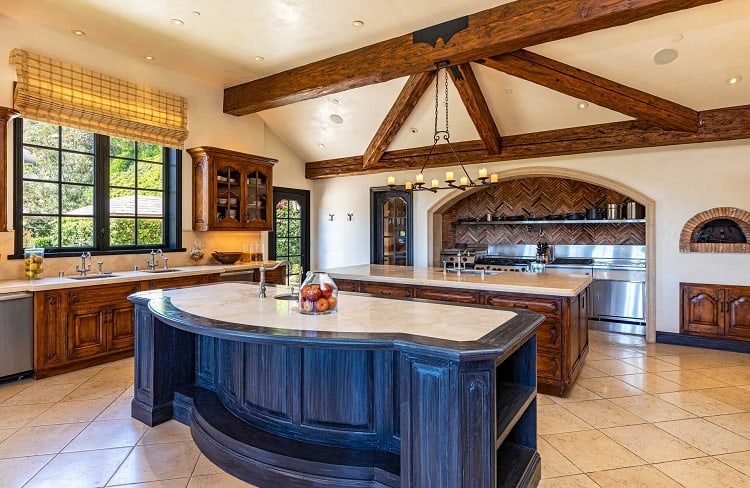 With soaring beamed ceilings towering above the fully-equipped gourmet kitchen, the former celebrity home boasts two separate kitchen islands, a pizza oven, a climate-controlled wine cellar, and what looks like four separate kitchen sinks.
There's also a breakfast nook that opens up to beautiful views.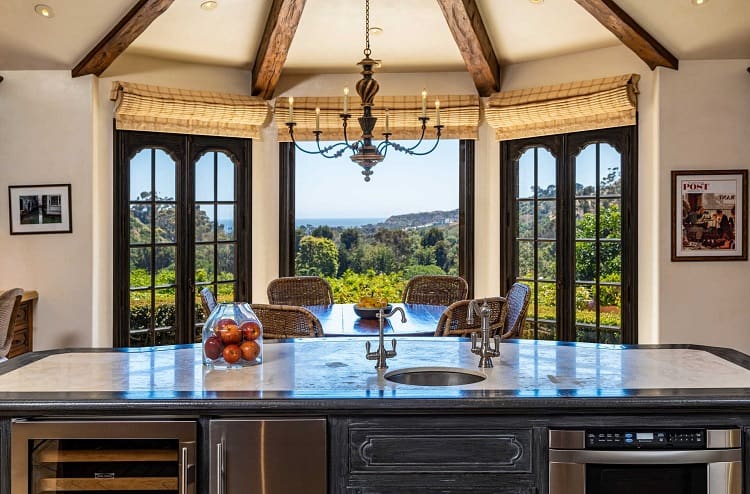 Sylvester Stallone
The Rocky star owned a lovely home in La Quinta, a golf-centered resort city in Coachella Valley, California. He sold the two-story Tuscan-style villa last year for $3.15 million, saying goodbye to both his quiet golf retreat and the beautiful kitchen that anchored it.
But that just gave us the perfect excuse to see where the action hero's hearty breakfasts were prepared. Stallone's spacious kitchen was equipped with dark wood cabinetry, stone floors, and a wood-and-stone center island, perfected by a dining room that opens onto the back terrace.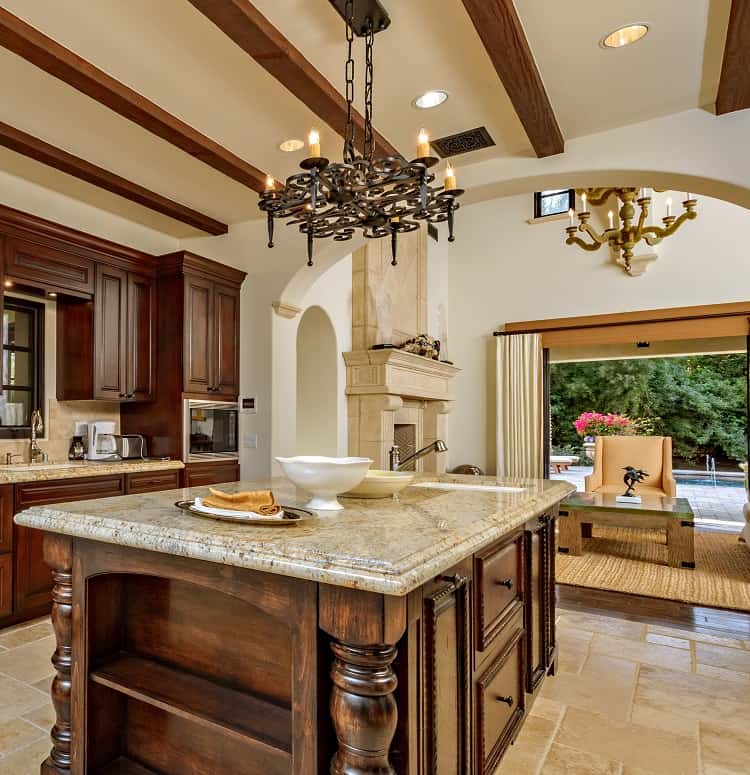 In tune with the rest of the Mediterranean-inspired house, the kitchen features intricate wood carvings, a cast iron chandelier, and vaulted doors. There's also a nice little wine cellar attached.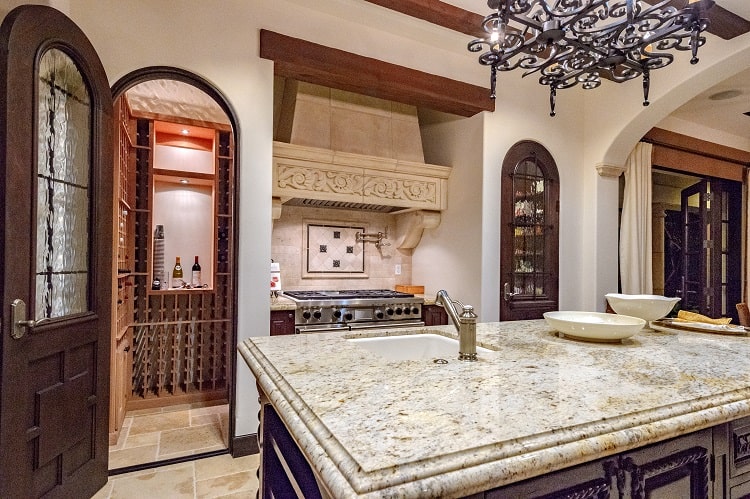 Wayne Gretzky
Canadian ice hockey legend Wayne Gretzky has a very special relationship with his sprawling Thousand Oaks estate.
He first sold the house in 2007 to baseball star Lenny Dykstra, only to buy it back a few years later (though it's worth noting that the property is back on the market, asking well over $20 million).
The home was designed by renowned architect Richard Landry, famous for his high-end residential projects, many of which commissioned by celebrities and athletes like Michael Bolton, Rod Stewart, Sugar Ray Leonard, and Tom Brady.
It then comes as no surprise that Gretzky's kitchen is absolutely breathtaking.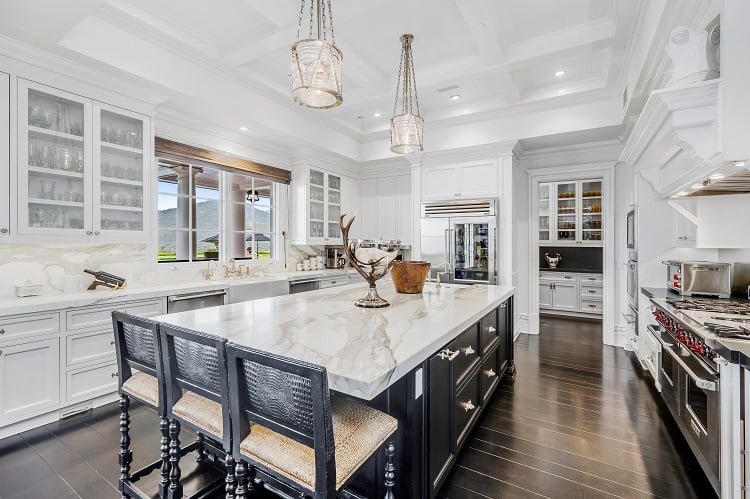 The timelessly elegant marble-decked kitchen plays with contrast and luxurious finishes to elevate the design of this meticulously appointed home. It leads into a walk-in pantry whose design mirrors that of the kitchen.
Chrissy Teigen & John Legend
Celebrity couple Chrissy Teigen and John Legend celebrated their seventh wedding anniversary by purchasing a custom-built, 6-bedroom mansion in Beverly Hills.
The couple paid a whopping $17,500,000 for the contemporary mansion and invested a little more to turn it into their dream home — the two admit that they like buying very modern houses that they then tone down a bit to make them a little cozier.
As can be expected, the kitchen is of special importance to Teigen and Legend, not only for the precious moments the family spends there, but to meet Chrissy's needs for a perfect cooking area.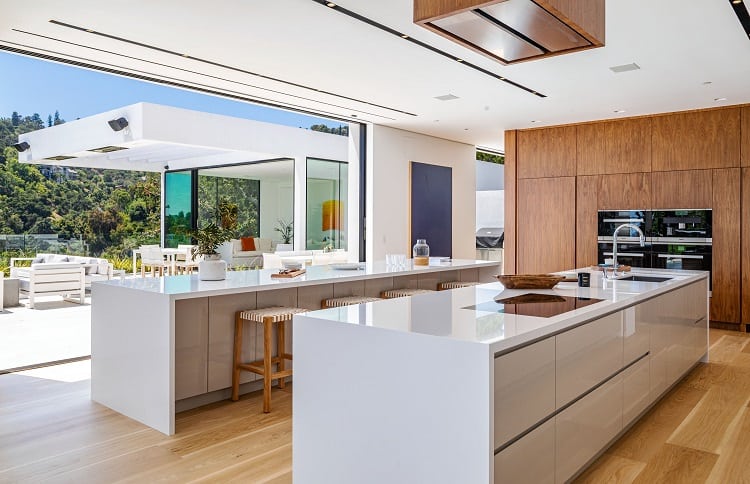 And while we don't know how the couple's kitchen will look post-renovation, we know that their new house came with a gourmet kitchen that features a polished marble wall that reflects natural light, premium Miele appliances, stainless steel soft-closing drawers, and an oversized eat-in island where the family can enjoy their meals while soaking in the scenic views.
Jeff Lewis
Always trust a skilled house flipper to design a dreamy kitchen!
Jeff Lewis, the star of the Bravo reality series Flipping Out, a show that focuses on Lewis' flip projects and his interior design business, brought a most lovely modern farmhouse to market a while ago.
And, as you can imagine, it features a swoon-worthy kitchen!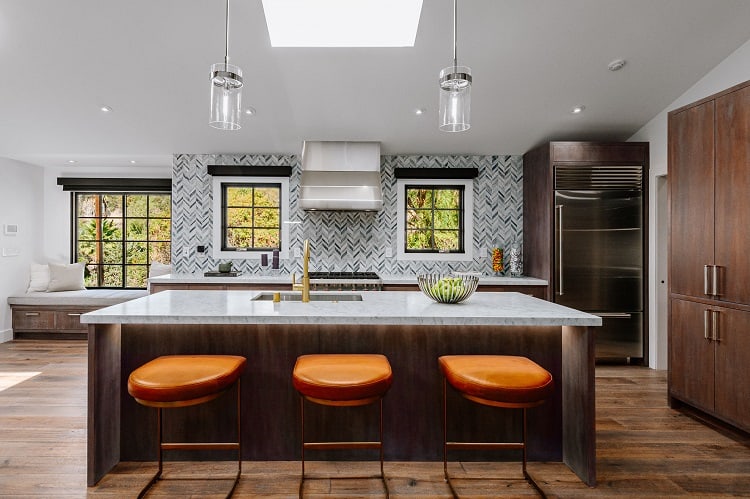 With warm wood tones contrasting with the statement backsplash, brass fixtures, and modern appliances, the beautiful kitchen opens up to an airy dining and living space that's equally welcoming — and whose furnishings have been carefully picked to match the adjoining kitchen.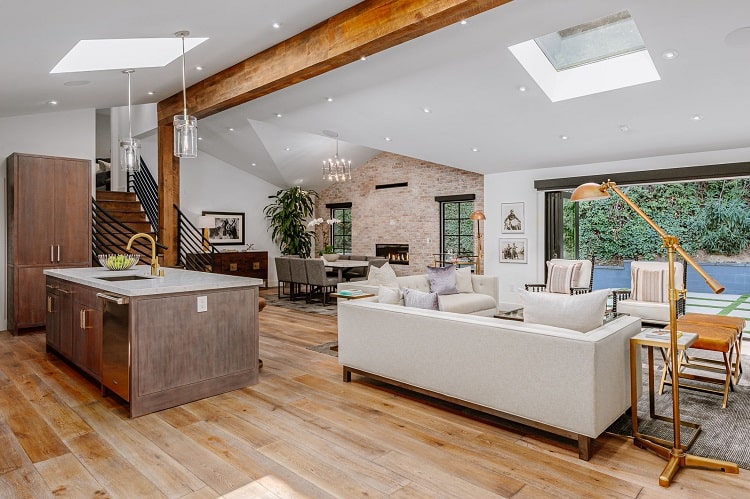 Giada De Laurentiis
Now, if the celebrity is a professional chef, they're bound to take their kitchen to the next level.
Celebrity chef Giada De Laurentiis, the host of Food Network's Giada at Home, sold her wonderful Pacific Palisades home a while back — and said goodbye to her massive kitchen anchored by a 24-foot stone island.
The ultra-modern kitchen has a wall of sliding windows that open up to the outdoor pool and entertainment area (naturally, equipped with a pro barbecue, extending the cooking area to the outdoors as well).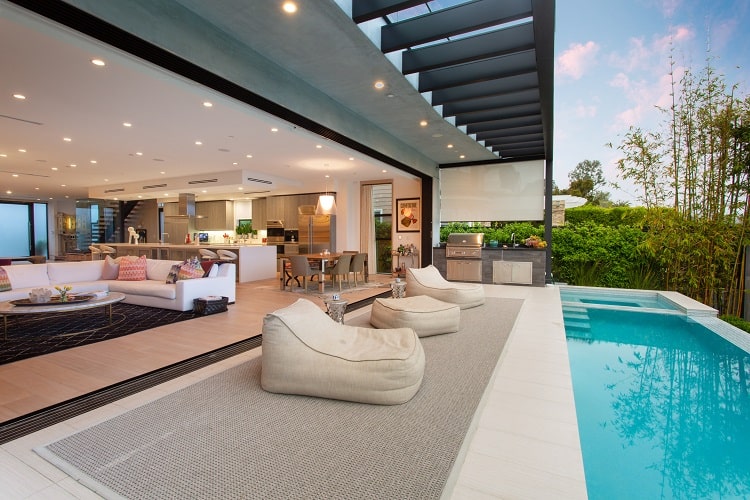 The kitchen was incorporated into an incredibly spacious open floor plan, where it flowed into the perfectly appointed living and dining areas.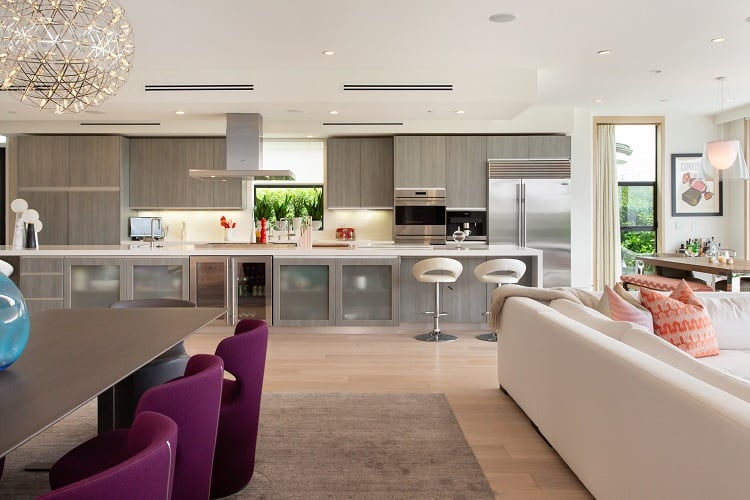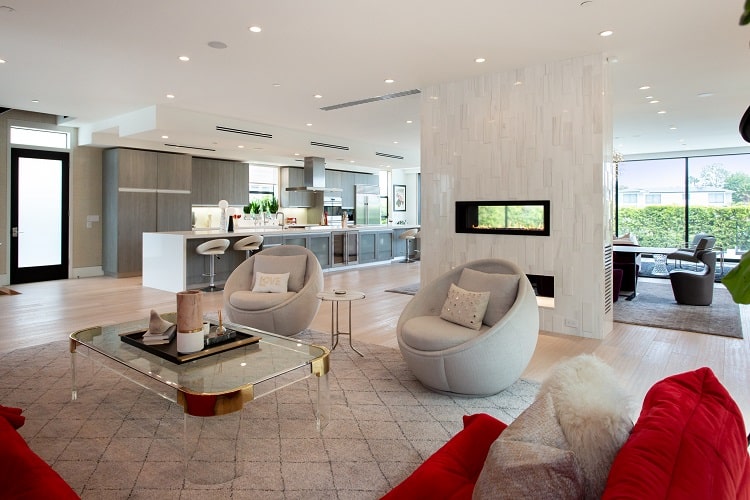 Rob Lowe
There is nothing ordinary about the West Wing actor's former home, a lavish, custom-made mansion in Montecito, CA.
The massive property, which is now owned by Maroon 5 frontman Adam Levine, who bought it for a whopping $52 million, goes by the name of Oakview Estate and its expansive grounds span over 3.4 carefully manicured acres.
Proudly rising in the midst of lush greenery is a two-story, 6-bedroom, 11-bath estate that boasts horizon views of the bright blue Pacific and Channel Islands.
Inside, you'll find a chef-caliber kitchen, multiple formal and informal living areas, a well-appointed master suite, an additional catering kitchen, a wine room and a state-of-the-art professional theater.
Like the rest of the house, the kitchen has been appointed with fine design elements like vaulted ceilings, gleaming hardwood floors, detailed handmade crown moldings, and custom architectural millwork. It is anchored by a massive kitchen island and leads into a walk-in pantry with plenty of extra storage.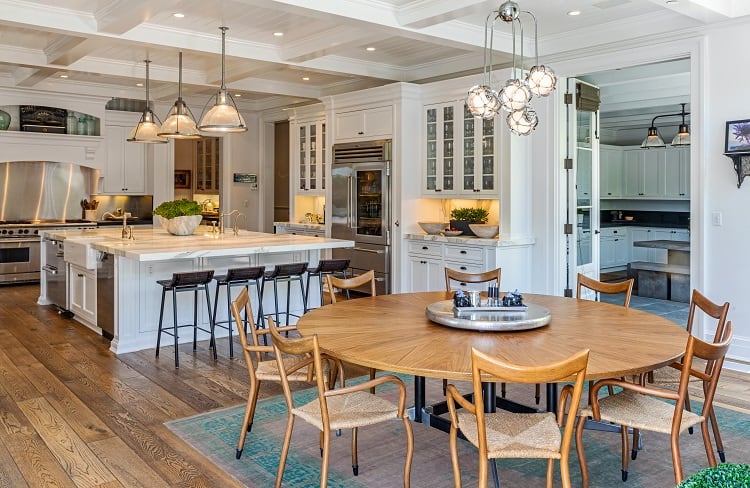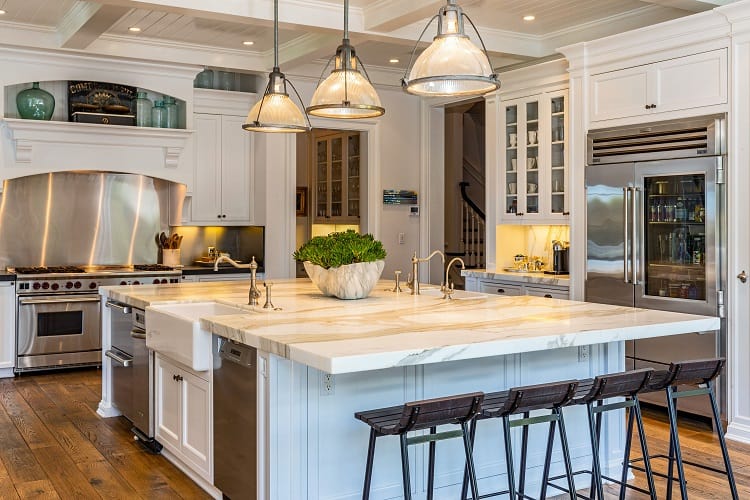 Audrey Gelman
We leave the West Coast for a moment to travel all the way to New York City, where Audrey Gelman, the controversial co-founder and former CEO of all-women co-working space collective, The Wing, bought a Brooklyn home full of character — with an equally unique and delightful kitchen.
A while back, the millennial entrepreneur got her hands on a swanky 4,917-square-foot Colonial Revival property.
The stunning home comes with a two-car driveway, a finished basement, and even a wrap-around porch (a true rarity for New York City). B
ut despite the slew of amenities and upgrades, what stands out most is the unique décor and eclectic mix of funky furniture, and colorful details, alongside timeless pieces, with the kitchen showcasing all of these features in a most striking way.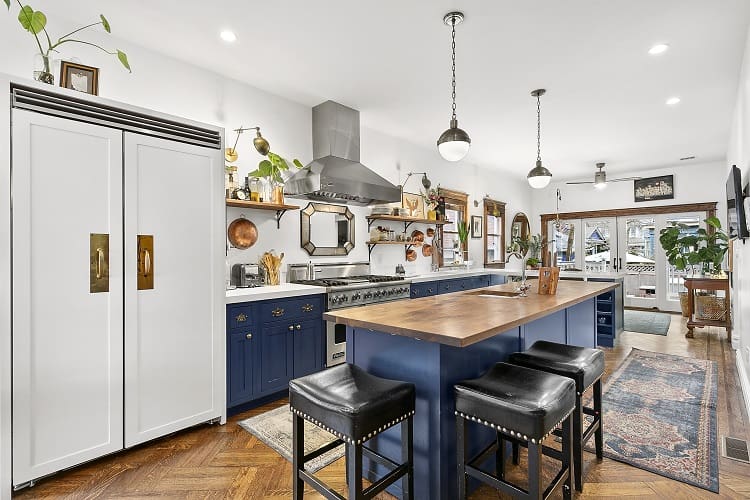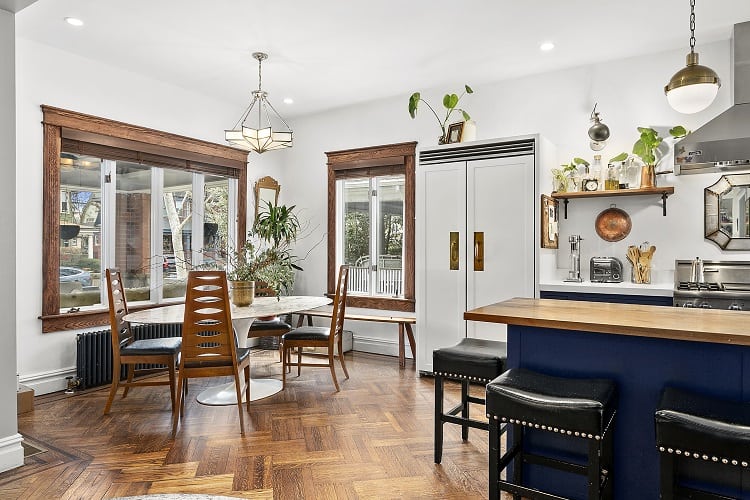 Keep reading
These 9 Popular Celebrities Are Building Their Real Estate Fortunes
The Pocket-Sized Community of Montecito is Home to Some of the Biggest Celebrities (and a Couple of Royals)
12 most expensive rapper houses: Drake, Jay-Z, and Kanye in the lead
Beverly Park, a Privacy Haven for Hollywood's Biggest Names