In 2019, just when I thought the MCU couldn't possibly expand any further, Marvel announced our favorite heroes would be gracing the small screen in a brand new collection of television series. The first to arrive? WandaVision!
I was instantly excited by the thought of getting to know more about these two beloved characters, but nothing could have prepared me for just how much I would fall in love with one of the shows' most instantly iconic, scene-stealing attributes, the Wandavision house, fictionally located at 2800 Sherwood Drive. Otherwise known as the Vision residence.
Said to be located in Westview, New Jersey, the home and its surrounding area shift forward a complete decade each week, beginning in the 1950s and journeying all the way through to modern-day aesthetics.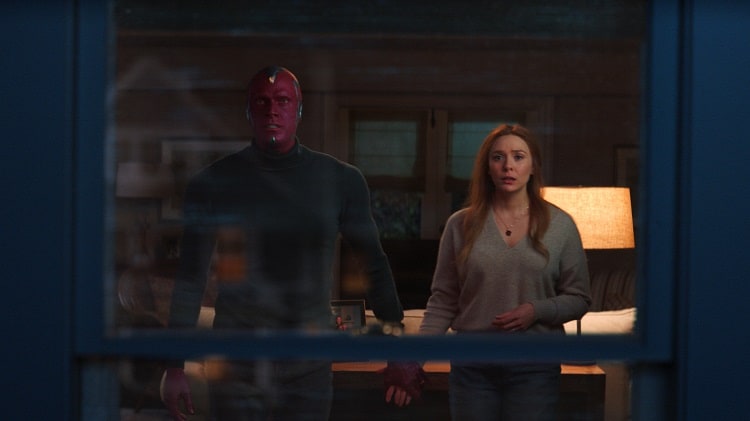 That goes for its architecture and its interior styles (even the clothing of its residents!). As you can imagine, the result is a design lover's dream come true.
From the 1950s to the 2010s: How the Vision residence magically transformed
So why this evolving sitcom structure? As we learn later in the series, Wanda's family were huge sitcom fans and would often watch the classics together.
After Wanda selects The Dick Van Dyke Show and Pietro cries 'Dick Van Dyke, again?! Always sitcom, sitcom, sitcom', a Stark Industries bomb drops on their Sokovian home, killing the twins' mother and father.
SEE ALSO: Tony Stark's house in Iron Man: Is it real?
Seeing as this moment (aside from her time spent with Vision of course) seems to be one of the last true moments of happiness in Wanda's existence, it stands to reason she would manifest her dream life in the style of the shows that brought her and her loved ones so much joy.
So, that's where we begin, in the 50s, replicating the design style of sitcoms such as I Love Lucy and The Honeymooners.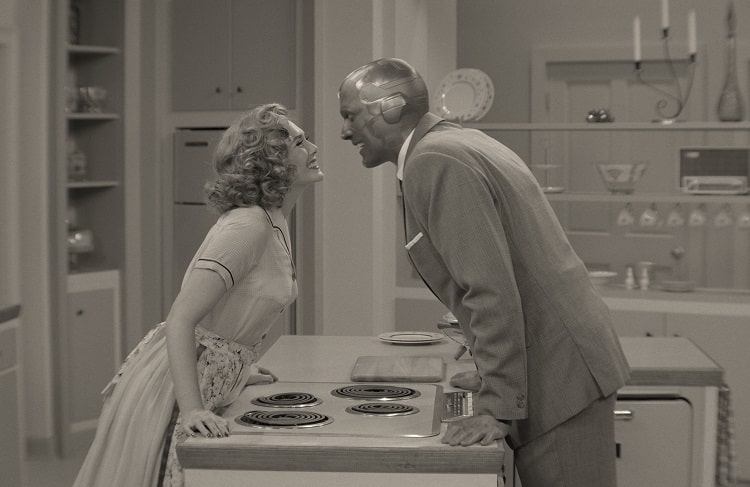 As the show moves along we're treated to all-new interiors reminiscent of Bewitched, The Brady Bunch, Full House, Malcolm In The Middle, Modern Family, and more.
Let's take a closer look at the Wandavision house's interior through the decades — before we try to pin down the filming locations that brought it to life on our screens.
Episodes 1 & 2 – The 50s & 60s
From the vintage malm fireplace and retro kitchen pass-through window to the horizontal wood shutters, every inch of the home we see in the first episode perfectly encapsulates the American middle-class design aesthetic of the 50s.
It even incorporates a kitchen back door for neighbors to enter through and stir up some trouble a la I Love Lucy!
Meanwhile, as the show slides into the 60s for episode 2, we begin to see lowered dark wood ceilings, more exposed brick, as well as floral patterned wallpaper and furniture. Features that truly pop as the episode transitions from black and white to color near its end.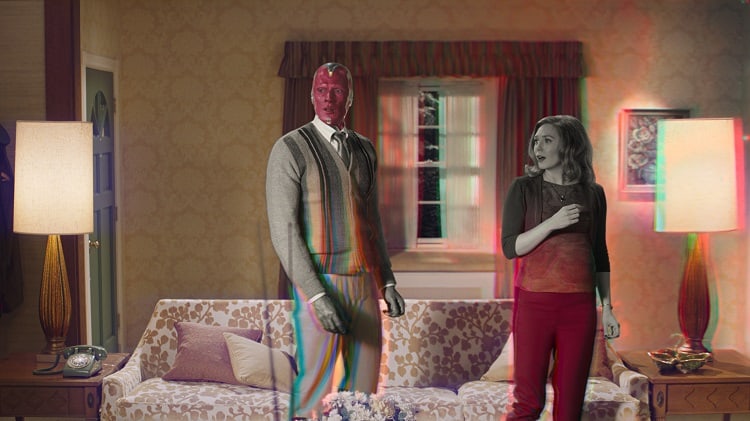 Wondering how the design team was able to create such picture-perfect aesthetics throughout these early episodes?
To make things look as authentic as possible, they used a combination of second-hand and vintage furniture stores all over Atlanta, custom-made items they sketched themselves, and even sourced items on Craigslist.
The team also made sure each piece of furniture was pristine in condition. This would ground the home in a real time period rather than the pieces looking salvaged or dated in any way.
As if all this wasn't enough, episode one was actually filmed in front of a live studio audience! They dressed in 50s period costumes and even sat on vintage wooden fold-out chairs to truly create the atmosphere of a 1950s film set.
Episodes 3-5 – The 70s & 80s
Over the next few episodes, we're witness to the most incredible 70s and 80s style interiors!
Firstly, we see recognizable Brady Bunch influences in the form of interior rock walls, even more dark wood furniture, open stairs, and multi-colored clerestory windows. Not to mention the pair become the proud owners of a gorgeous soft green couch, floral armchairs, and a low round coffee table synonymous with the 70s.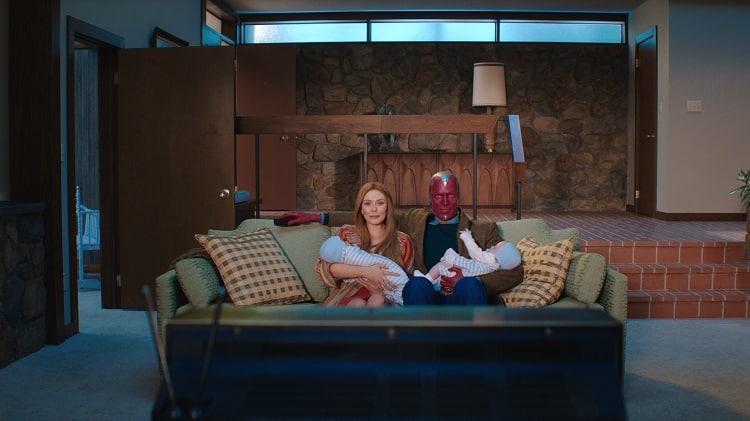 Onto the 80s, we see the living room and kitchen of Wanda's house in Wandavision become a more open-plan space. The stairs appear curved with a vintage runner, plenty of patterned rugs decorate the dark hardwood floors, and the frilliest net curtains sit atop the window frames.
Meanwhile, the furnishings become simpler yet brighter thanks to a mustard yellow sofa with contrasting blue cushions and a set of plush red velvet chairs.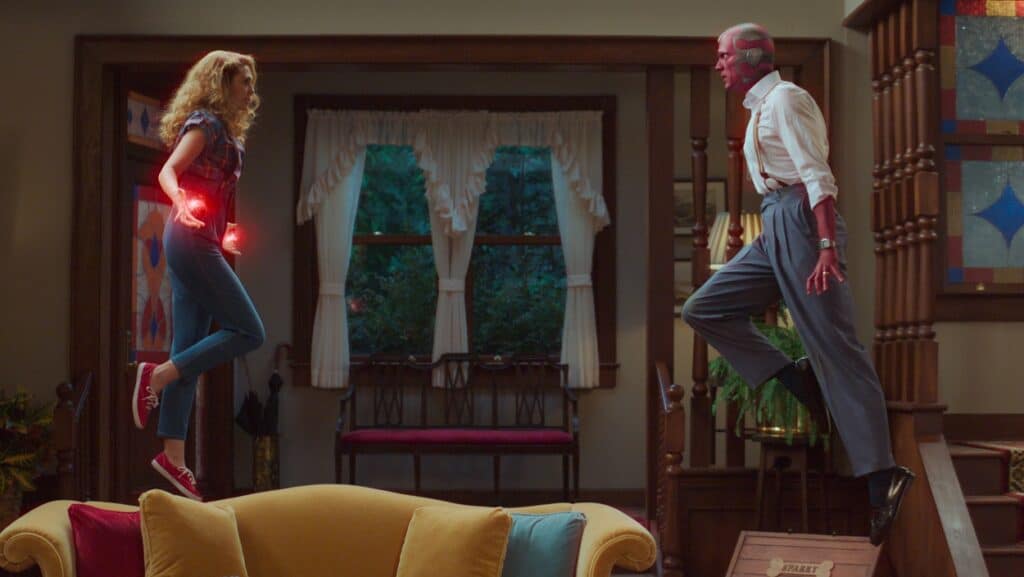 Episodes 6 -9 – The 90s, 2000s, and Beyond
As WandaVision wraps up in the final three episodes, we see the style switch from a multi-camera show to a single-camera one. This means we get to see more of Vision and Wanda's house, and once again, the interiors were phenomenally on-point.
These later homes included decidedly more modern features such as plaid and striped sofas with matching kitchen blinds, white painted doors and banisters, accent walls, and cozy floor-length curtains.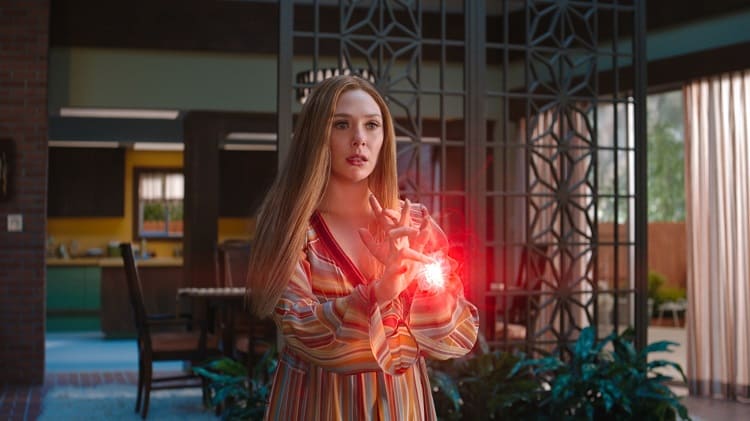 'In a real magic act, everything is fake!'
There's no denying that a home that can magically transform its entire design aesthetic sounds like a dream come true.
However, in reality, it takes an enormous amount of work! In fact, WandaVision's relentlessly busy filming schedule sometimes meant production has just 12 hours to totally refit an entire location ready to film the next episode.
But where exactly was the show filmed?
Given the grandeur and scale of Westview, you might be wondering if you could go visit the town on your next trip to New Jersey? Unfortunately not. The town we see is actually a set located on the Warner Brothers Ranch in Burbank, California.
As for the house itself, the exterior shots were also filmed on the ranch using the famed Blondie Street.
Built in the 1930s, this crescent-shaped block has featured in countless movies and tv shows such as National Lampoon's Christmas Vacation, American Beauty, The Middle, plus Bewitched, a series that WandaVision took huge design inspiration from for its second episode, Don't Touch That Dial.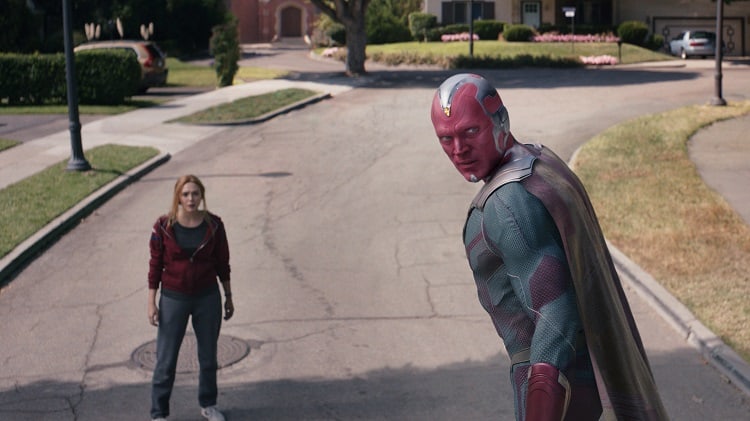 Meanwhile, the inside of the WandaVision house was built on a sound stage at the Pinewood Atlanta studios with the same space being altered weekly to reflect each decade, wow!
Vision may have intended this plot of land for a house 'to grow old in', but the design team behind WandaVision certainly managed to pack enough love (and incredible design) into the few short weeks he and Wanda got to spend there together.
More superhero homes
Doctor Strange's Magical Manhattan Townhouse, Sanctum Sanctorum
You Can Book Tony Stark's 'Avengers: Endgame' Cabin on Airbnb
Placing the Avengers Tower on the NYC Skyline: The Real Building that Stands in its Place
Does the X-Mansion — Charles Xavier's Ancestral Home — from X-Men Exist in Real Life?