In today's modern world, the house goals of yesteryear are a distant memory.
Long gone are the days of window shutters, oversized crystal chandeliers, multiple small rooms, intricate designs, wrought-iron railings, small windows, and large porches with overhanging beams.
Modern mansions favor simple and clean designs with open spaces.
While traditional mansions offer intricate and elegant details, today's luxury homes feature straight lines, geometric shapes, a flat or low-sloped roof, and clean exteriors with little to no texture.
Luxurious homes of the past featured building materials such as brick, wood, plaster, stucco, and stone. Meanwhile, contemporary mansions favor newer, more technologically-advanced building materials including reinforced steel and concrete.
And windows, lots and lots of floor-to-ceiling windows.
Sophisticated smart homes are all the rage, as are connected outdoor spaces, white rooms and simple color palettes, open floor plans, glass walls allowing for ample natural light, green features, security settings, and the utmost privacy.
While traditional mansions typically featured a number of small, single-purpose rooms, modern floor plans include seamless open-ended spaces.
After all, one cannot be confined to small spaces while living that luxurious lifestyle!
A closer look at 18 of our favorite modern mansions
When it comes to stunning estates, we've got you covered.
From wraparound pools featuring panoramic views to glass walls for days, to dream chef kitchens, to seamless indoor-outdoor living spaces, we're taking a look at 18 modern mansions that have knocked our socks off.
And we think you'll (really, really) like them too.
A Marc Whipple-designed modern mansion with a wraparound pool
Designed by acclaimed architect Marc Whipple, this massive 11,200-square-foot home in Beverly Hills is quite a stunner.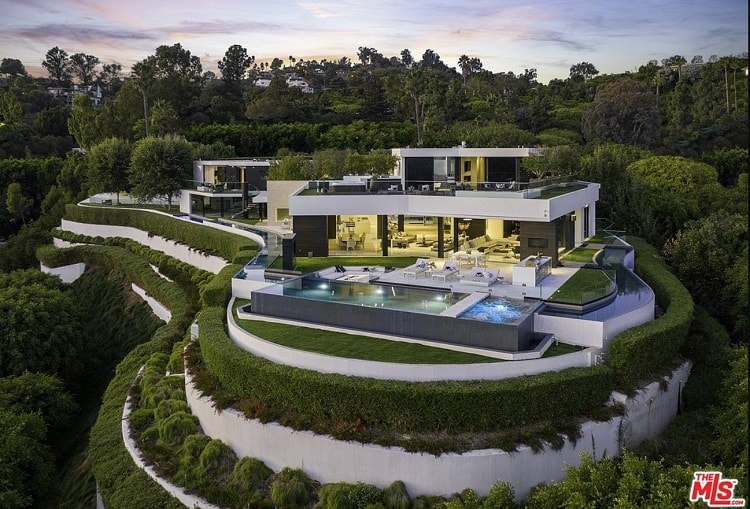 Offering six bedrooms, seven bathrooms, and two half baths, the multi-million dollar manse features disappearing walls of glass, so that its residents can enjoy the stunning views from each and every room.
Speaking of views, they're completely unobstructed, with downtown Los Angeles, Catalina Island, and the coastline on full display. Those lovely landscapes can be seen from the home's stunning wraparound pool.
Other luxurious amenities include a movie theater, a secret Zen garden, gym, guest house, glass wine cellar, gated driveway, and an outdoor kitchen.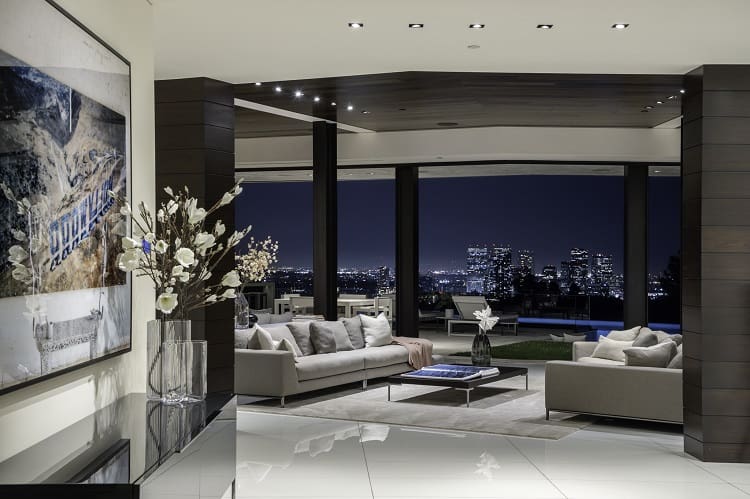 This Beverly Hills manse had its moment of fame a few years back, when it was rented by Rockstar hitmaker Post Malone. It was later listed for sale with a whopping $26 million asking price.
A breathtaking Hollywood mega mansion with museum-quality energy crystals throughout
Built in 2021, this mega mansion is located in the heart of Hollywood.
Boasting panoramic views of downtown Los Angeles, the Pacific Ocean, and the canyon, the home offers six beds, nine baths, and nearly 10,365 square feet of living space.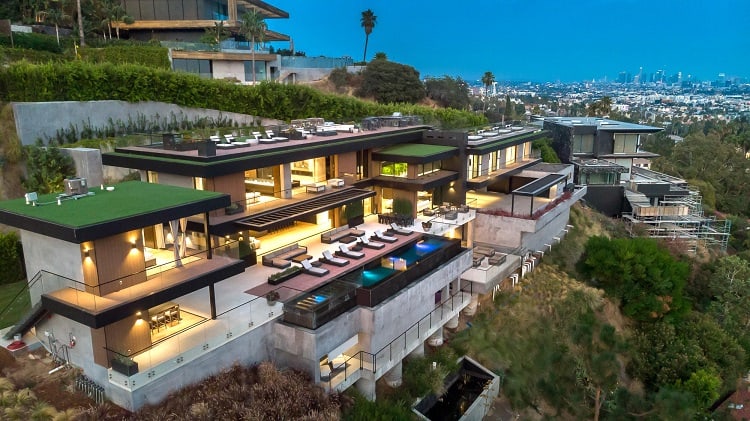 The sophisticated smart home features museum-quality crystals sourced from around the world and placed with extraordinary care throughout to energetically enhance the residence.
Offering double-height ceilings and incredible indoor/ outdoor living spaces, the California compound also includes a custom home theater, fitness center, wine cellar, second living room and all the finest custom finishes.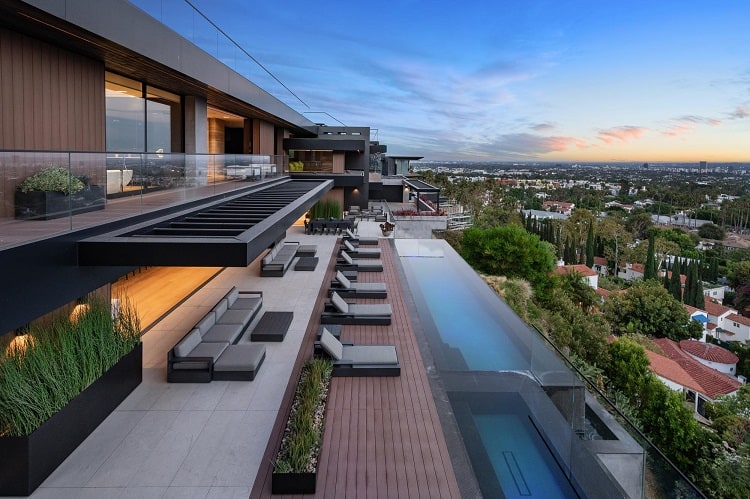 Setting a new gold standard for Southern California living, the picturesque backyard — which is front row to the city and canyons — features a beautiful sparkling pool/spa, a built-in BBQ area, and a grassy green lawn.
See more of this unique Hollywood mega-mansion here.
A striking $150M modern mansion in Bel-Air with 360-degree views
This beautiful home in Bel-Air has all the bells and whistles you'd expect in a modern mansion (and then some).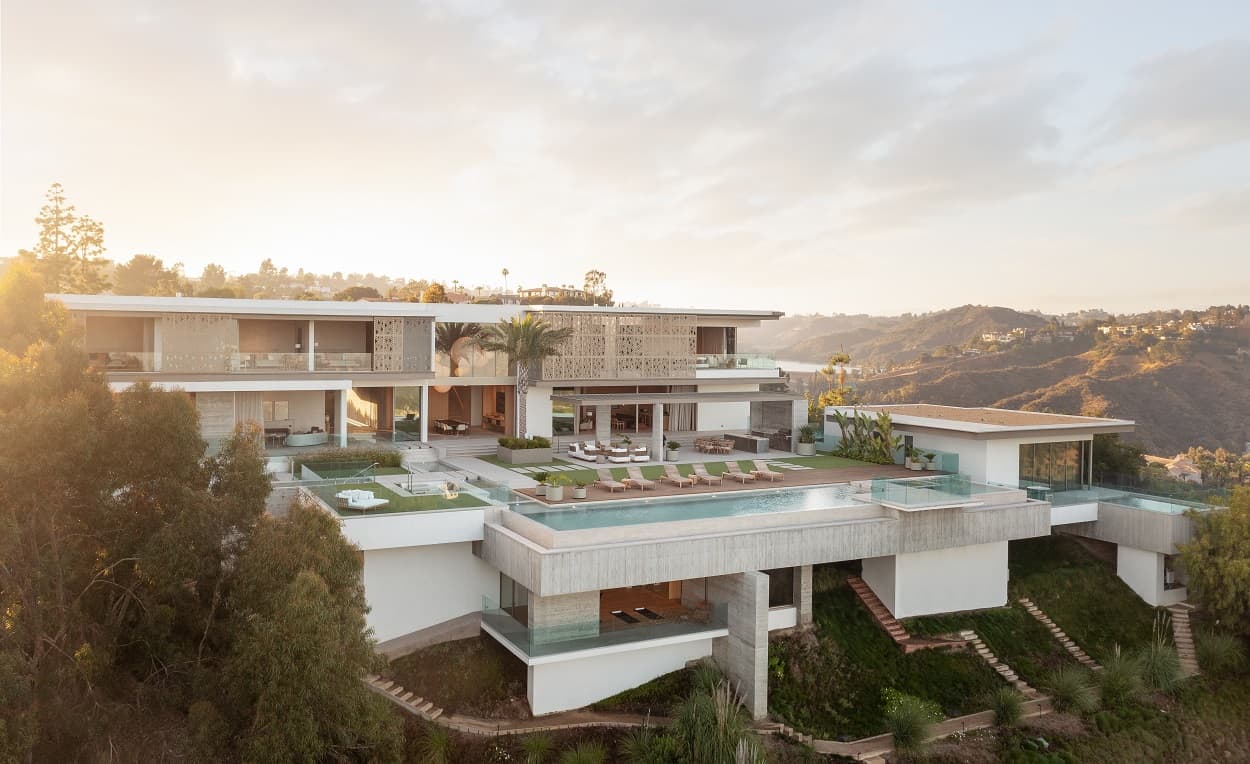 Designed by award-winning architecture and design firm, Saota, the private compound is perched on a promontory high above the city — opening up to unobstructed, 360-degree views of Los Angeles.
Set on a 1.15-acre lot, the swanky crib offers nine bedrooms and fourteen baths spread across 20,841 square feet.
Some of the luxury amenities include an infinity pool with a secluded cabana and pool-side sunken fire pit, three separate staff quarters, and a one-bedroom guest house with a separate, private pool.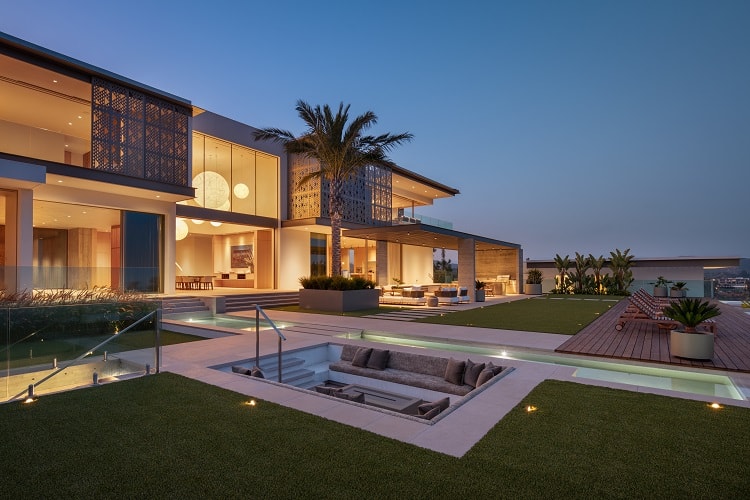 This magnificent manse was owned by George Ruan, co-founder of online coupon-clipping company Honey (now part of Paypal).
The Razor House in San Diego, the real-life Iron Man house
The one-of-a-kind architectural masterpiece known as The Razor House was designed in 2007 by San Diego-based architect Wallace E. Cunningham.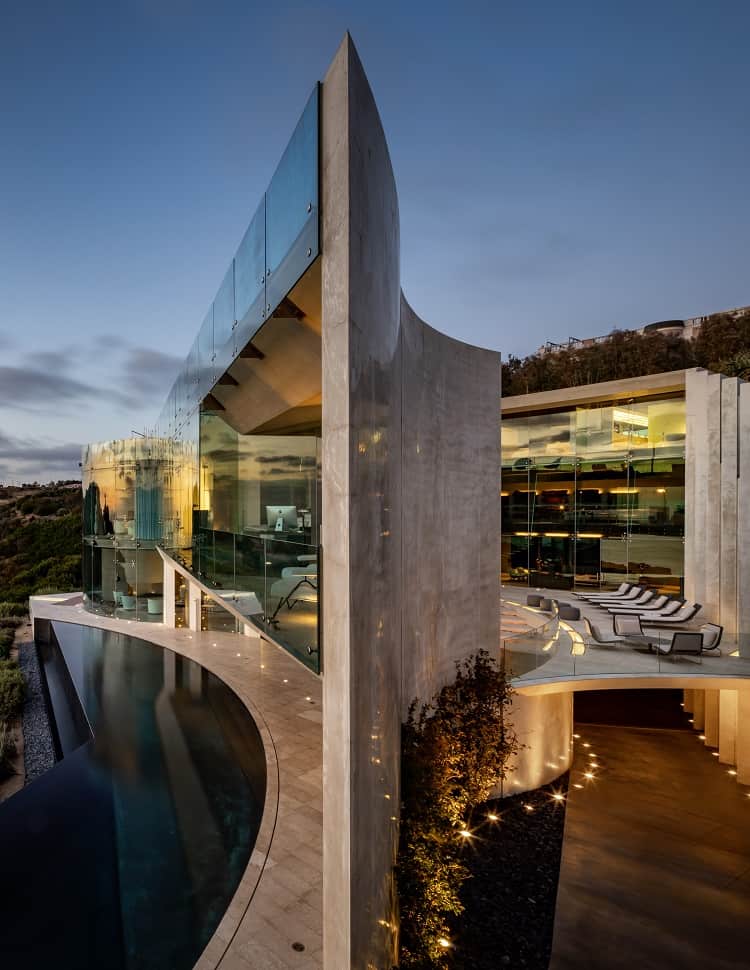 The striking concrete and glass mansion — dubbed 'the Iron Man house' due to its resemblance to Tony Stark's mansion in the famous Marvel movie — is perched on the edge of a cliff overlooking the Pacific Ocean.
Offering endless concrete terraces, the stunning estate has mesmerizing views of surrounding hills and the ocean below.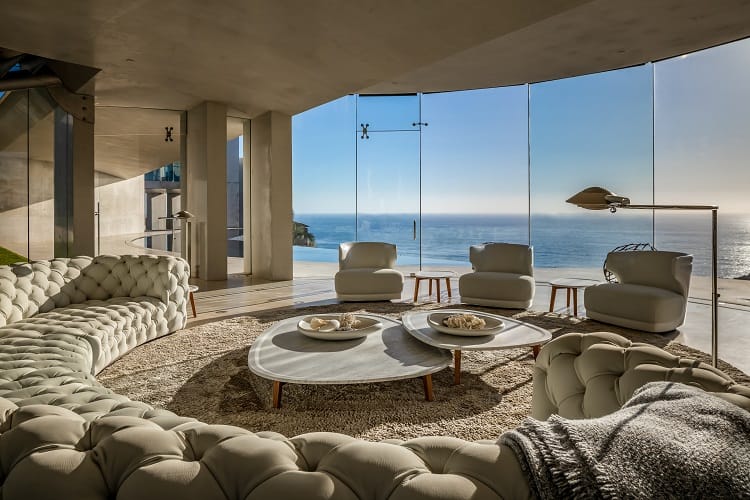 Featuring several outdoor lounge areas, the luxurious three-story home comes with six bedrooms and six baths, with nearly every room opening up to jaw-dropping views.
In 2019, Grammy Award-winning singer Alicia Keys and husband Swizz Beatz bought The Razor House in a $20.8 million deal.
Villa Vella, one of Europe's finest contemporary homes
Spanish dream house, anyone?
Dubbed Villa Vela, this sprawling 23,476-square-foot property is located in the sun-bathed province of Andalusia, Spain.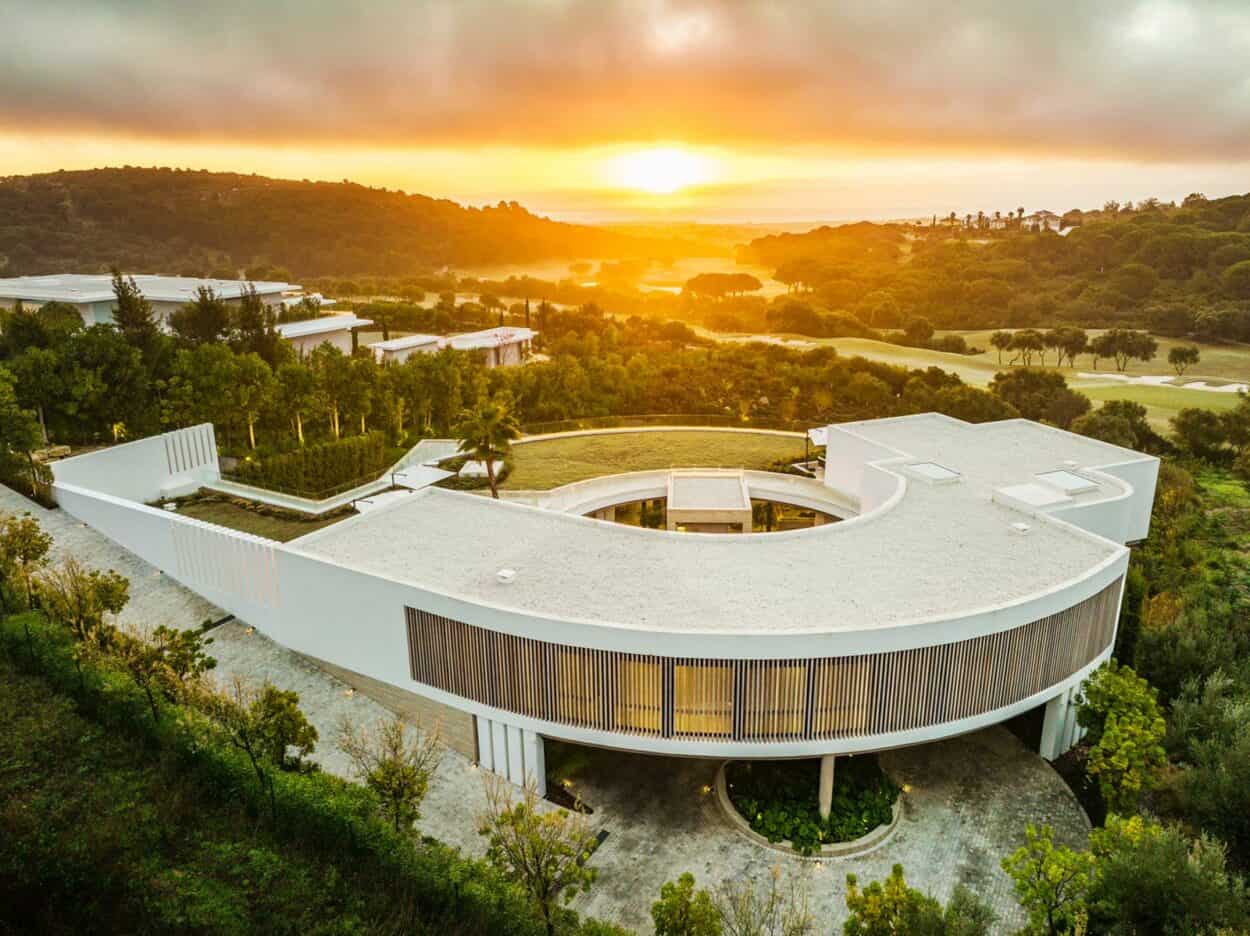 Sitting behind its own gates, at the end of a sweeping driveway, Villa Vela offers a total of six bedrooms and six baths.
The posh property has been designed to be free-flowing and, as such, has an open plan, including floor-to-ceiling retracting windows that open directly onto a terrace that stretches from one end of the house to the other.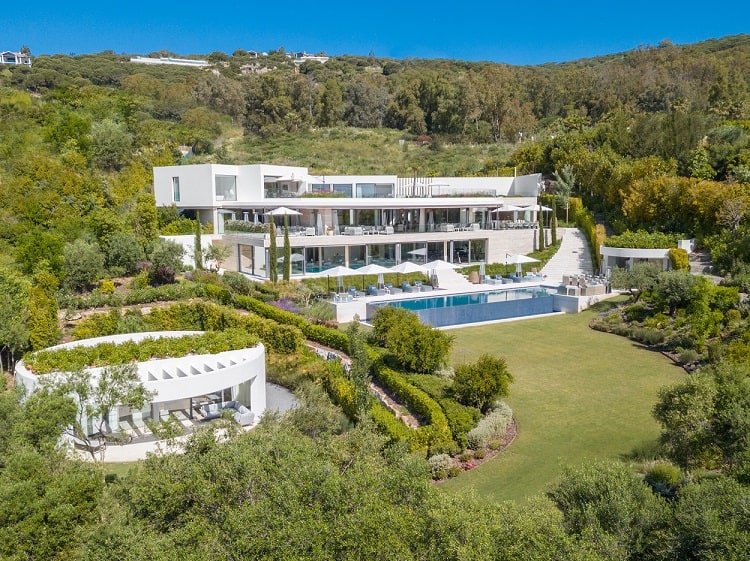 Not to mention, each of the suites has its own outdoor space, and they also all connect directly to the vast upper terrace, its lawn, garden, and dining area, and benefit from breathtaking views.
A futuristic, yacht-shaped mansion perched high atop the Los Angeles hills
This 17,000-square-foot modern residential oasis in the upscale LA neighborhood of Brentwood is redefining luxury living.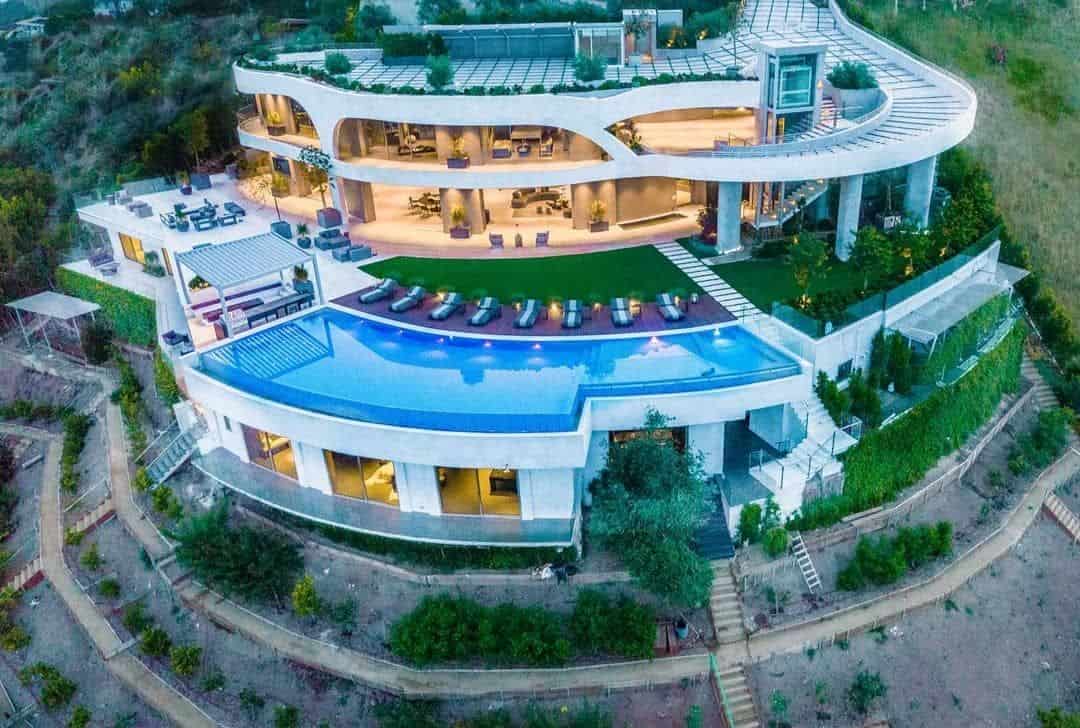 Southern California-based architectural firm de Loren & Associates purposefully designed the building by superior wellness standards, without sacrificing on design but rather adding to it.
Inspired by the clean lines and interior spatial layouts of yachts paired with the motion of the sea, the curving exterior facades are reminiscent of ocean waves, wind, and clouds that make not only for an exhilarating lifestyle but also appealing to the eye.
The modern mansion boasts seven bedrooms, eight bathrooms, and three powder rooms across three levels.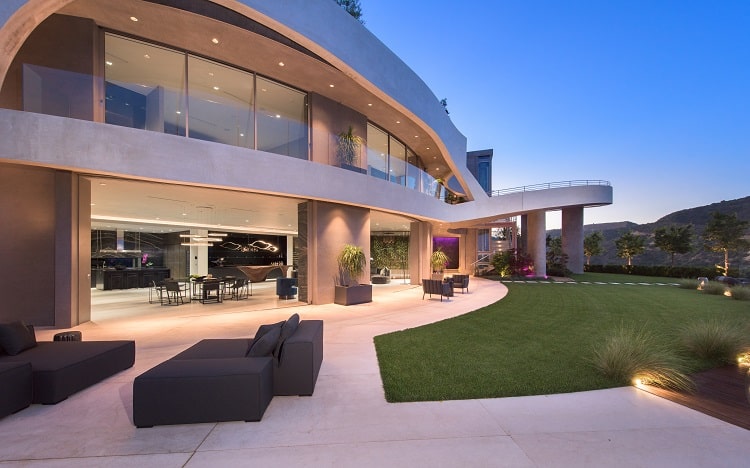 Featuring a massive list of upscale amenities, the beautiful Brentwood home offers a 610-bottle wine cellar, commercial speed glass elevator, movie theater, state-of-the-art gym, a 300 sq. ft. green wall, and a lower-level entertainment area with a full bar, pool table and more.
And there's plenty of room for Stormi and Wolf to explore! Turns out, this luxurious residence is owned by none other than rapper Travis Scott.
A newly-built Encino mansion with bright, airy, and warm interiors
We can't get enough of this amenity-rich mansion with modern interiors and a killer guest house.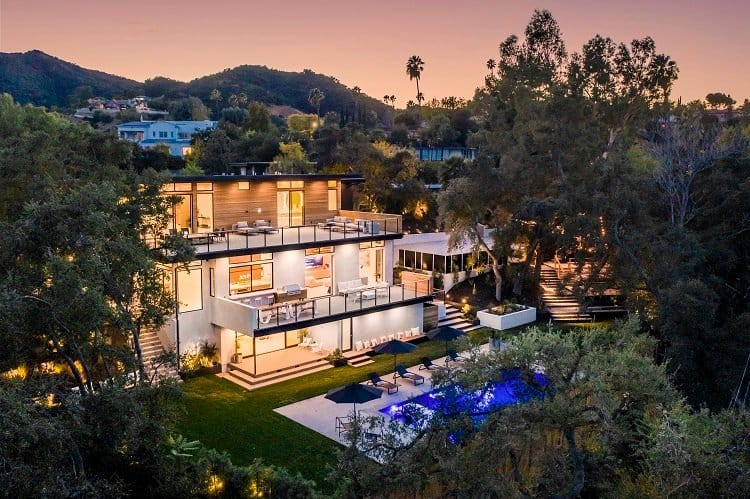 The seven-bedroom, eight-bathroom Encino home offers 9,081 square feet of living space enclosed within a private, gated estate with surrounding landscape.
The stunning estate is a beautiful example of modern California living, with picture-perfect interiors, exquisite finishes, jetliner views, and plenty of attractive amenities.
Featuring warm wood tones, the large windows and Fleetwood doors open up to unobstructed views and plenty of natural light.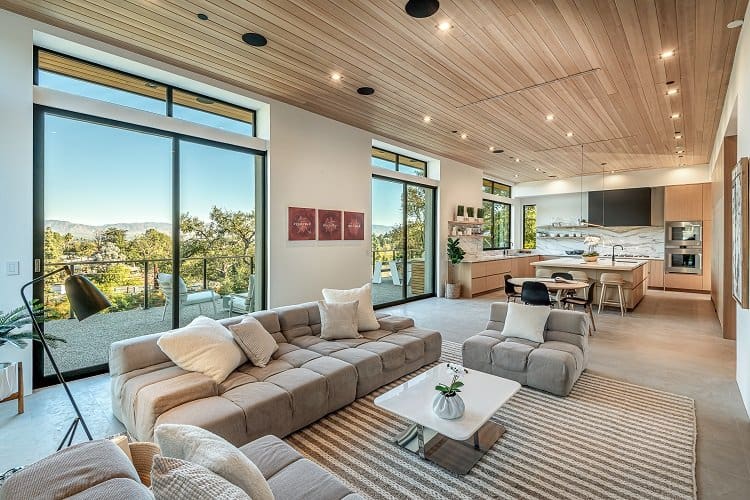 The carefully thought-out finishes give the home a modern vibe that extends into the bedrooms as well. The second level of this luxury Encino home has four bedrooms, including the master suite, which walks out to a 1,200-square-foot balcony with a fire table.
Naturally, this wonderful modern manse caught the eye of a famous buyer; it's now owned by Modern Family star Jesse Tyler Ferguson and husband Justin Mikita.
A modern 4-story house facing one of the most beautiful coastal shorelines in all of California
We love this modern mansion set in the most desirable area of Manhattan Beach, The Strand, an oceanfront neighborhood lined with modern-looking mansions that typically sell in the $5 million to $15 million range.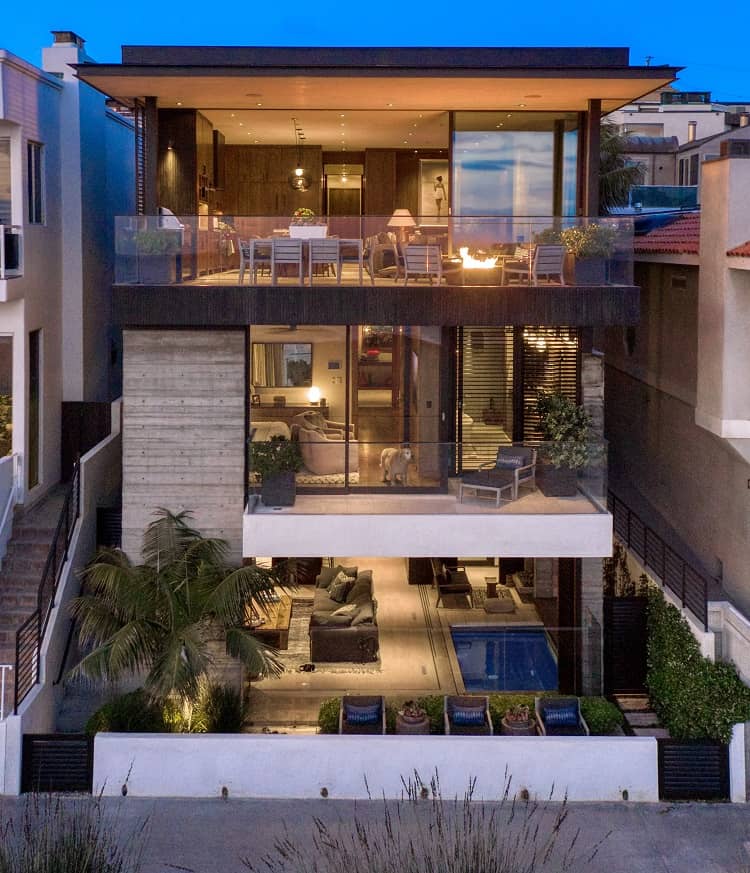 Spanning 6,978 square feet of modern living space, the home offers six bedrooms and eight baths.
Designed by renowned L.A. studio KAA Design, this four-story home was envisioned around life, in all its texture, at the beach.
Rather than cluster sleeping areas on a single floor, they're strategically spaced across the four levels, with the third floor being home to a primary suite with a private office that's luxuriously sequestered in the style of a penthouse.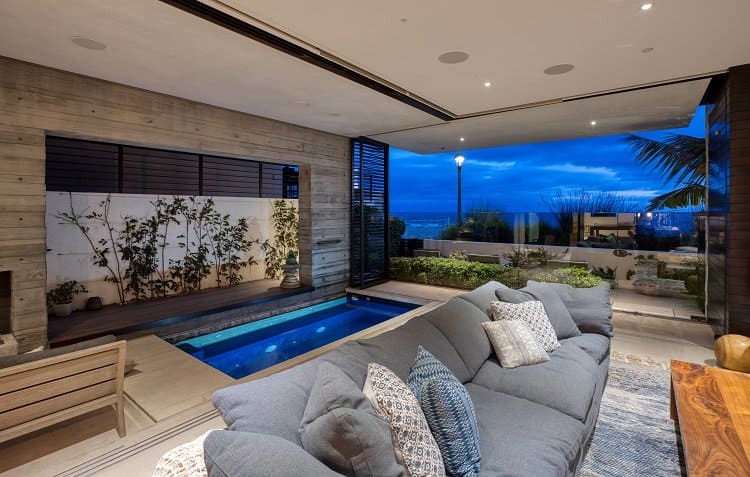 The private elevator takes residents and guests down to the beach room, which is level with the Strand itself, and lounge on the patio, front row to a peaceful scene of sea, sand, and sky.
Read more about this beautiful modern mansion here.
A $70M contemporary marvel that reimagines luxury living for the 21st century
Located in the coveted Brentwood neighborhood of Los Angeles, this modern mansion is what happens when a star-studded team consisting of award-winning architect Noah Walker, AD 100 interior designer, Jamie Bush, and renowned landscape designer, Christine London LTD comes together.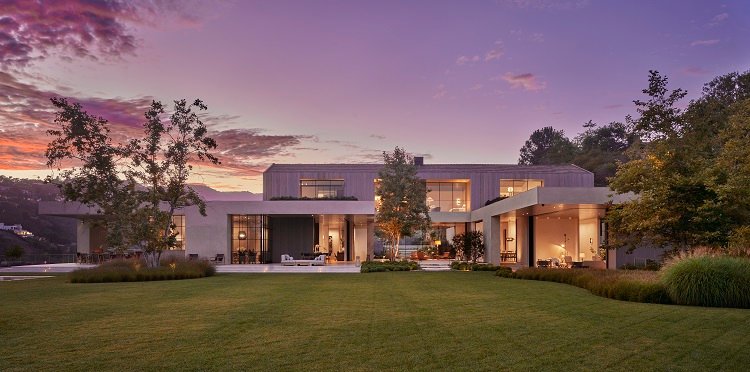 Spanning 19,000 square feet, this beautiful abode is set on a sprawling four-acre lot and offers six bedrooms and 12 bathrooms alongside many recreation rooms.
The plush property has 270-degree views of the city, ocean, and canyon, and a long list of amenities that include a theater room — with acoustical wall paneling and a commercial cinema-quality projection system — a gym with a steam room, a 75-foot indoor lap pool, outdoor architectural pool and dual offices.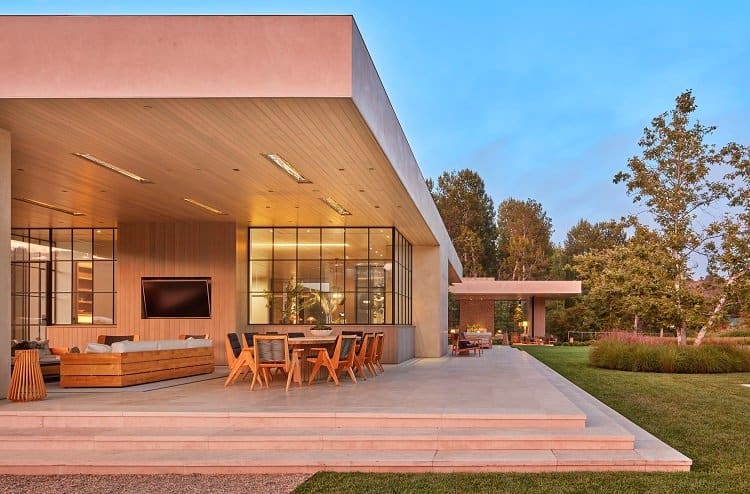 We first covered this luxurious contemporary home when it first came to market last year with an ambitious asking price of $70 million.
Just a few months later, it was purchased by music mogul Scooter Braun (better known as Justin Bieber and Ariana Grande's manager, and Taylor Swift's manager-turned-foe) for $65 million.
The Ora House in San Diego, where contemporary architecture meets serene living
In the hilly, seaside neighborhood of La Jolla in San Diego, a modern cliffside mansion has all the dream house vibes.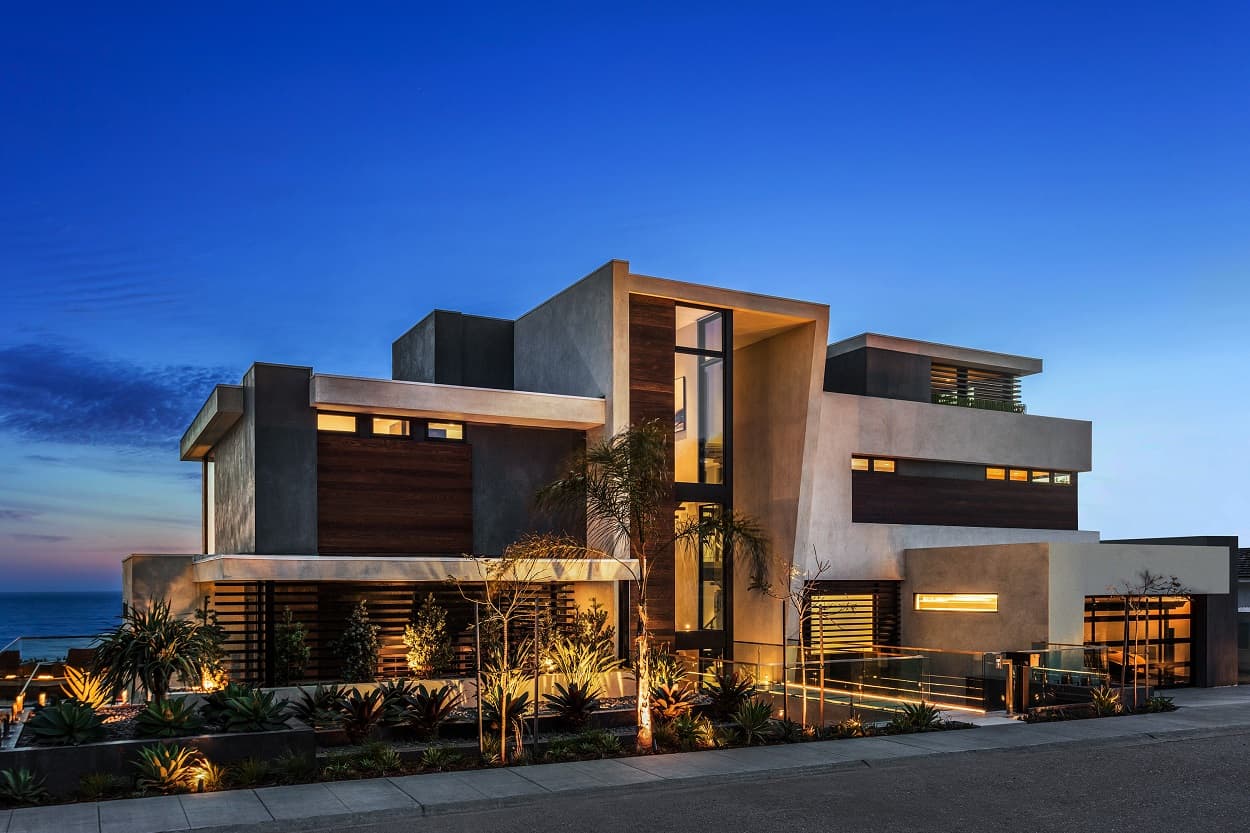 Built by Blue Heron's BH Elite custom home division, the Ora House, as the property has been named, is a true architectural marvel.
The stellar design team incorporated the same innovative biophilic design and advanced Savant technology used in Blue Heron's flagship home, VM001 in Las Vegas, to "enhance the flow of life while creating an overall sense of peace and natural wellbeing."
The cliffside estate is set in La Jolla's exclusive Bird Rock Waterfront enclave and totals 8,878 square feet of living space.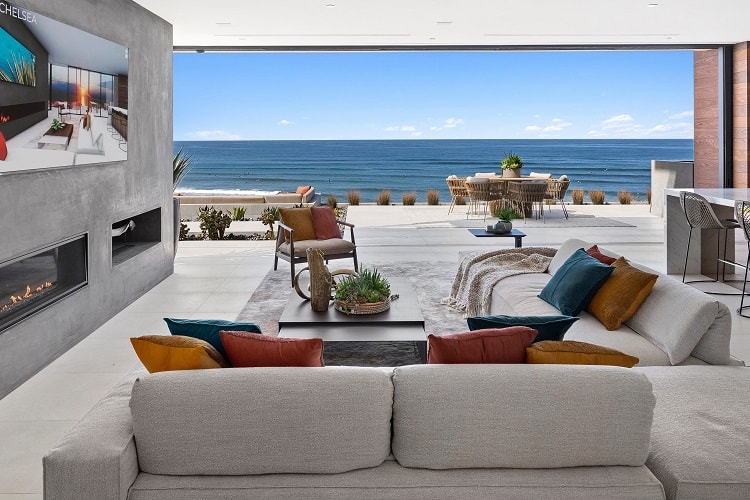 The architectural marvel has five bedrooms and eight baths across its four levels, with each level embracing the outdoors with spaces tailored for both entertaining and private moments.
A striking celebrity compound with a modern heptagon-shaped house
Check out this contemporary compound in La Crescenta, Calif.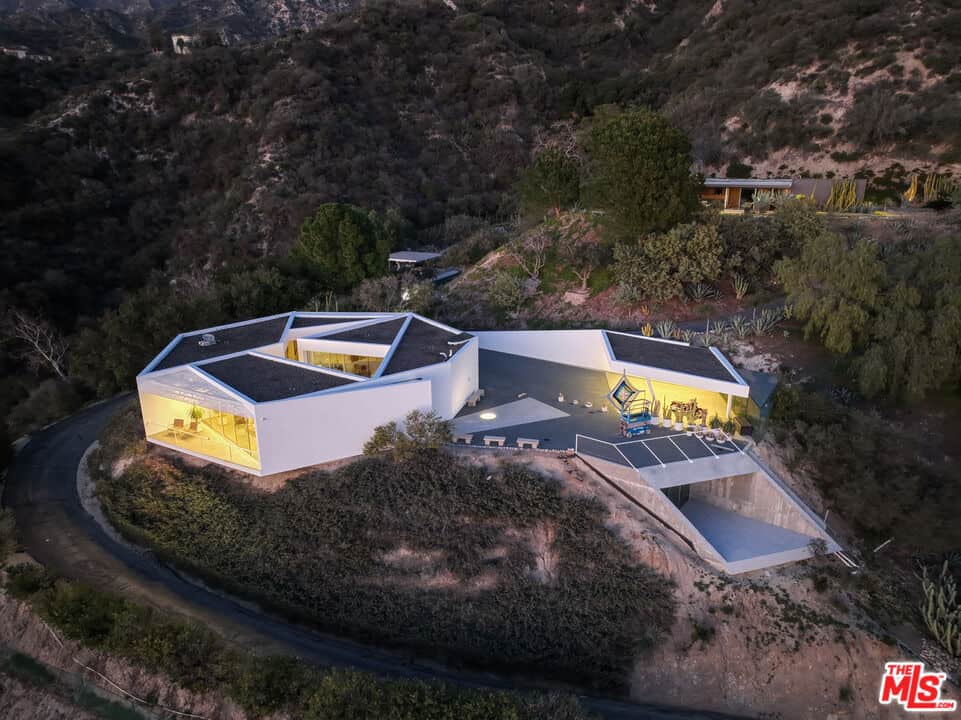 Designed by AD100 architect Michael Maltzan, this dramatic, heptagon-shaped house has spaceship vibes, is surrounded by seven exterior walls (some made out of glass), and is anchored by an open-air courtyard that sits right at the center.
Nearly all the rooms of the house come with sliding floor-to-ceiling windows that open up to either the serene courtyard or beautiful mountain and city skyline views.
Some of the stand-out features of the modern mansion include a primary suite with an entire wall of glass that opens up to a generously sized balcony and a particularly unique bathroom with a blue curved penny-tiled wall surrounding the shower.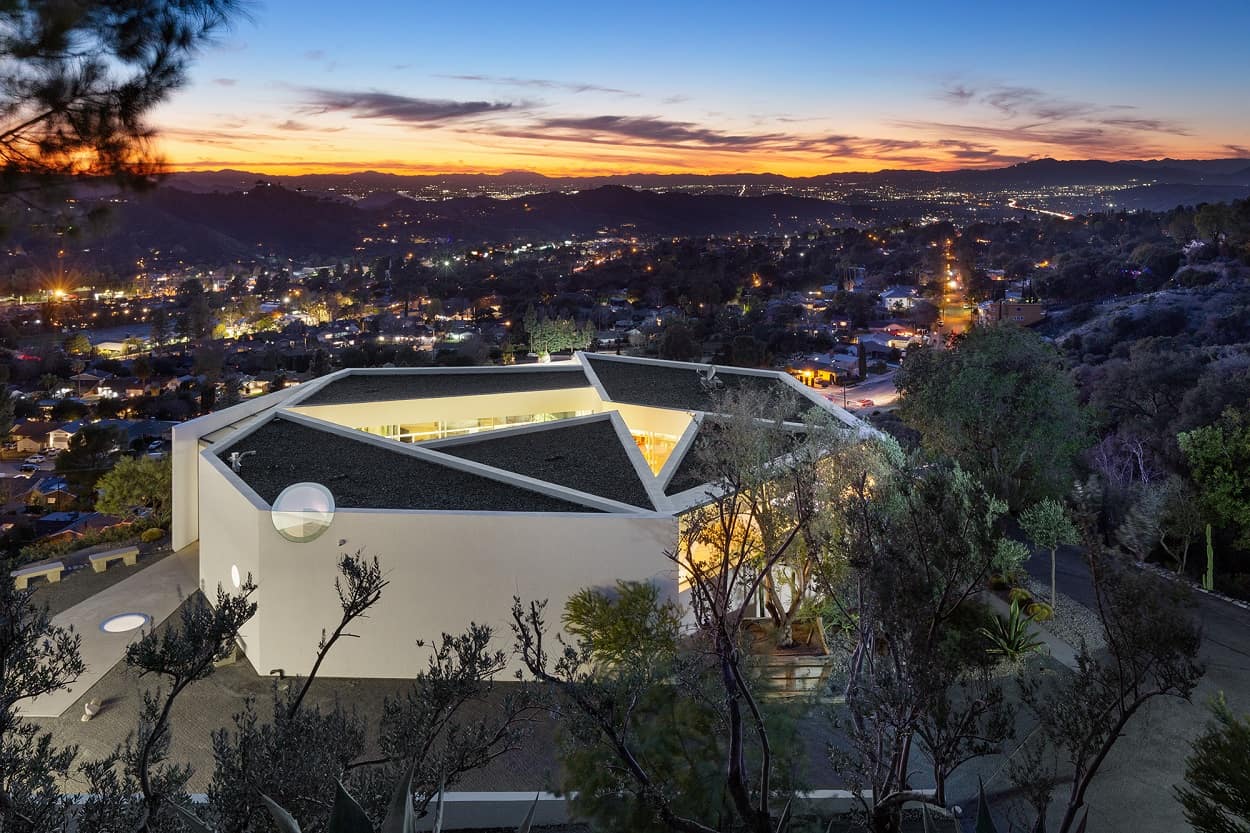 This unique home was owned by Red Hot Chili Peppers bassist Michael Peter Balzary, known professionally as Flea.
A $25 million Napa Valley glass house with killer views
Surrounded by over 40 acres of lush grounds set amidst California's world-class wine country, this striking architectural home goes by the name of Karinya.
The highly suitable moniker originates from the Australian aboriginal culture and is simply translated as "peaceful home."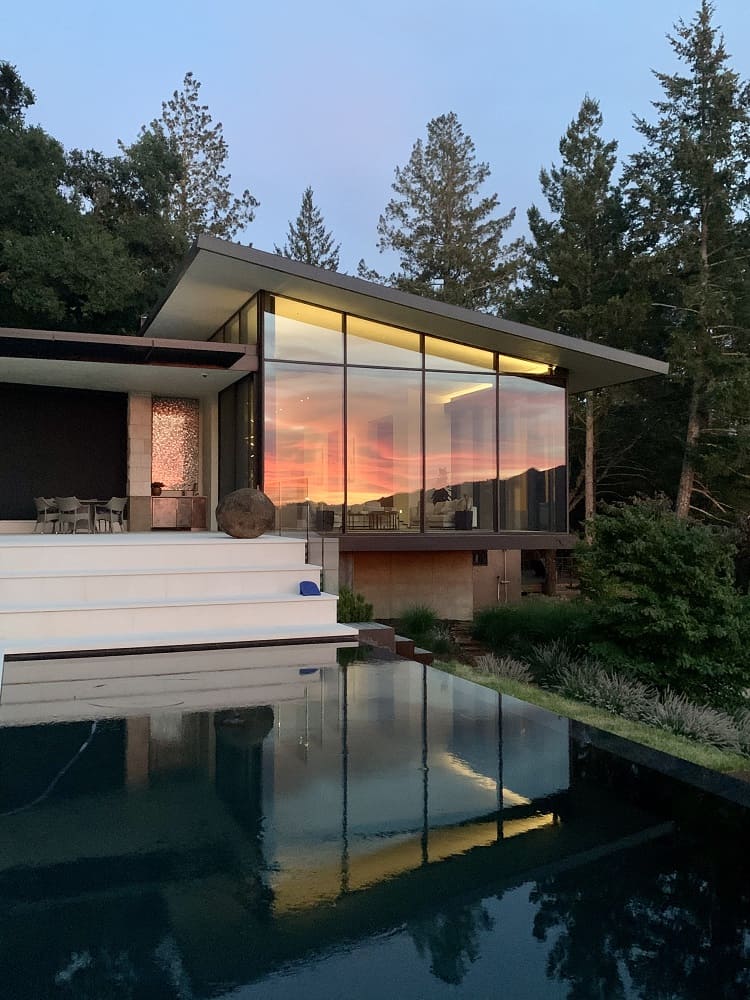 Built in 2017, the stunning estate is nestled in the small community of Deer Park right next to St. Helena in Napa County.
Spanning 8,837 square feet, the impressive residence was built with natural materials, a deep connection to the valley's views, and a design that boasts both beauty and luxury.
Not a detail is spared at Karinya, with many luxurious features such as endless walls of glass, a 2,000-bottle wine room, and an acoustically-designed media/ theater room.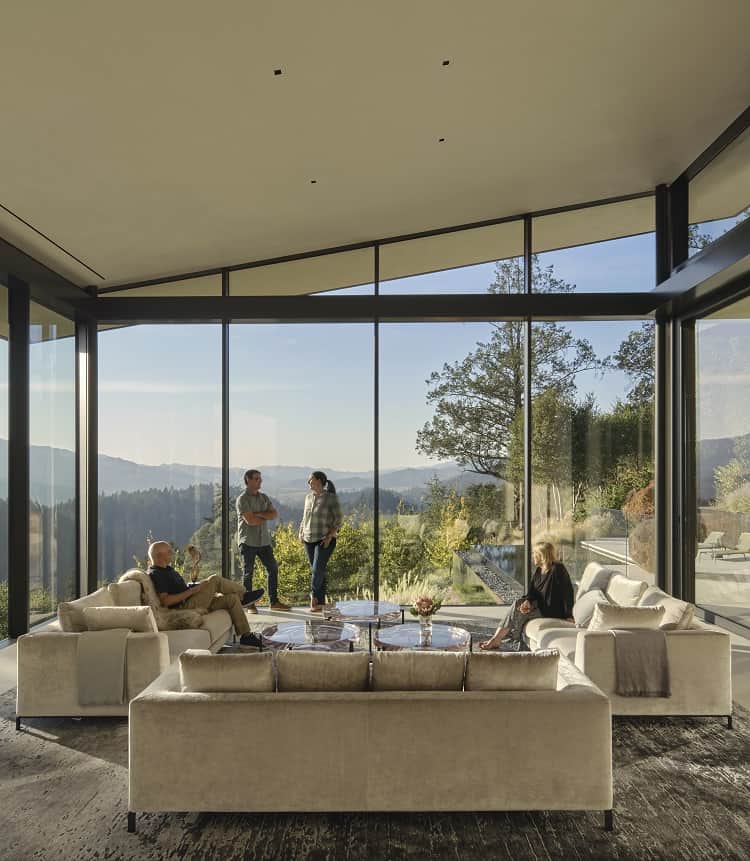 Fitting a modern dream house, it also comes with a detailed smart home system with mobile phone control access that controls the music, air conditioning, security and programmable LED recessed lighting in 11 separate zones and a fire sprinkler system.
See more of this lovely Napa Valley home here.
A modern mansion that was once featured in the Oscar-winning "La La Land" movie
Set in the popular Encino neighborhood of Los Angeles, this modern mansion offers an impressive cutting-edge design.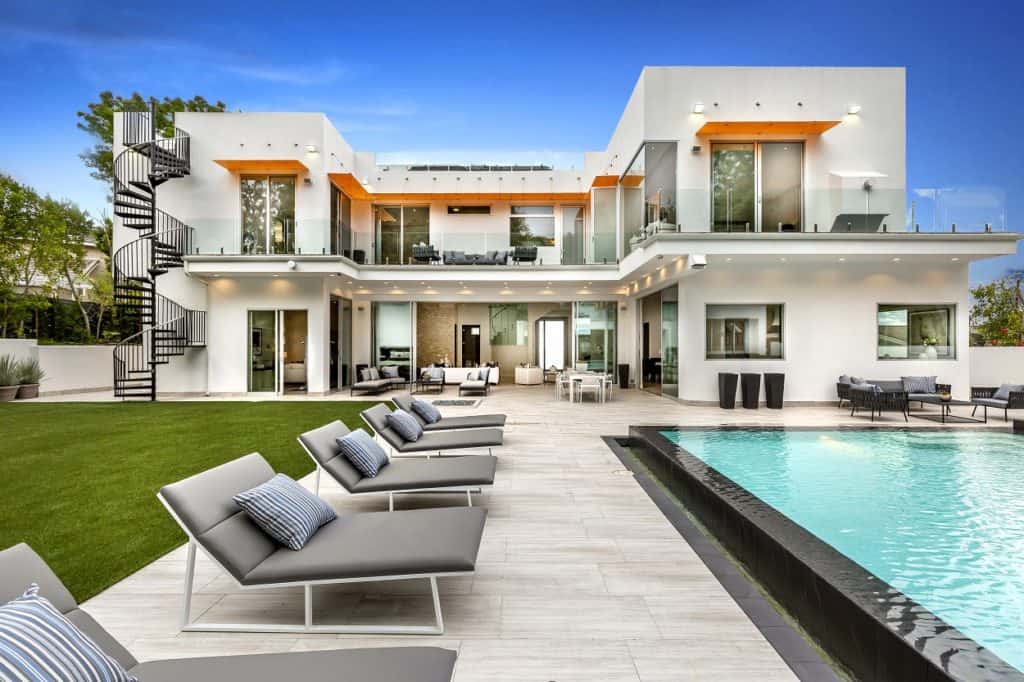 The six-bedroom home wows with its soaring ceilings and walls of glass that bring the outdoors in.
Complete with an infinity pool and spa (with a cascading waterfall) and a nifty pool/guest house with a sundeck for outdoor entertainment, the home is peppered with outdoor spots to relax and enjoy the lovely Cali weather.
In case you're getting a strong sense of deja vu, this beautiful home was featured in the popular film, La La Land.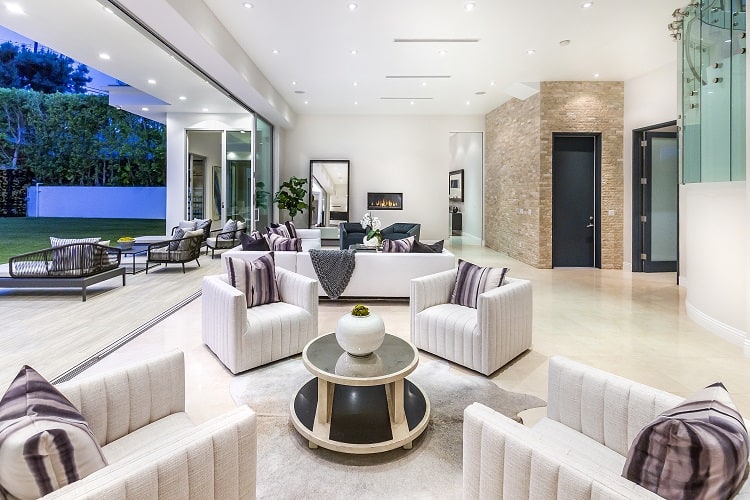 As the story goes, Mia (played by Emma Stone) and her friends attend a lavish party hoping to meet influential people in the business and finally get their lucky break.
You guessed it, this memorable movie scene was filmed at this gorgeous Los Angeles estate.
A celebrity chef's former home with a massive kitchen anchored by a 24-foot stone island
Located in the coveted Via Bluffs enclave of Pacific Palisades, this modern mansion spans 6,500 square feet of luxurious living.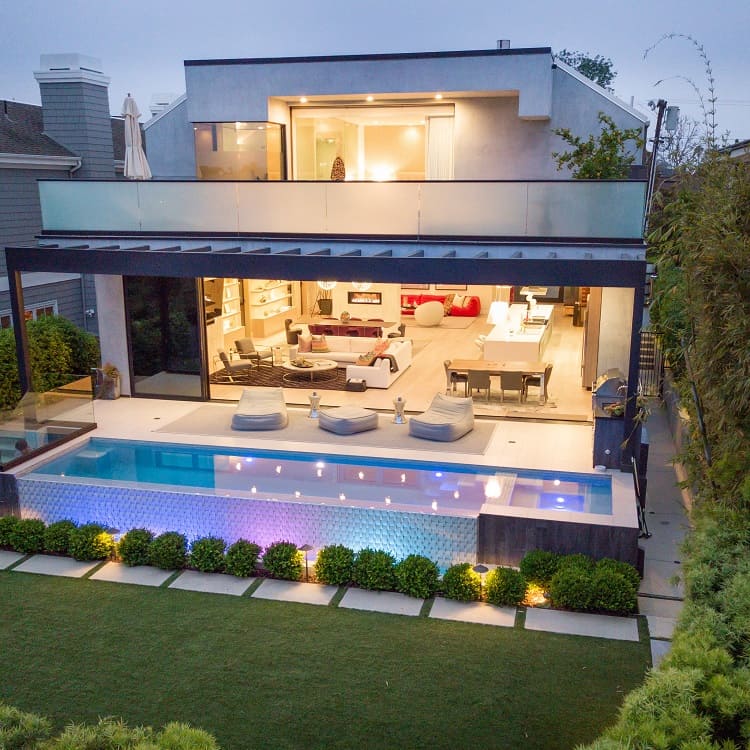 Offering massive sliding windows that open up to beautiful views of Potrero Canyon and beyond, the sumptuous five-bedroom, five-bathroom home is filled with natural light streaming in from the surrounding floor-to-ceiling windows and sliding glass doors, while the skylights pour even more light onto the main and top floors.
The Pacific Palisades property also flaunts features like a dual-faced fireplace, a nearly 24-foot kitchen island, and a distinct living room that's pouring out onto the outside deck overlooking the pool.
A large open-layout living area is anchored by an impressive dream kitchen.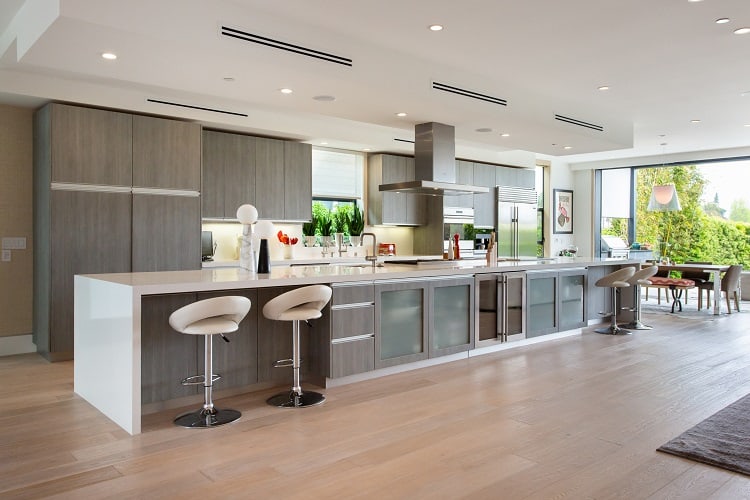 This beautiful home was once owned by celebrity chef, Everyday Italian, and Giada At Home star Giada de Laurentiis.
A beautiful modern mansion tucked in the Hollywood Hills
Built in 2019, this Marc Whipple-designed home is a true Hollywood gem.
Located on the glamorous Sunset Strip, in the Hollywood Hills West neighborhood of Los Angeles, this home oozes that clean-lined modernist approach, while still offering warmth and comfort.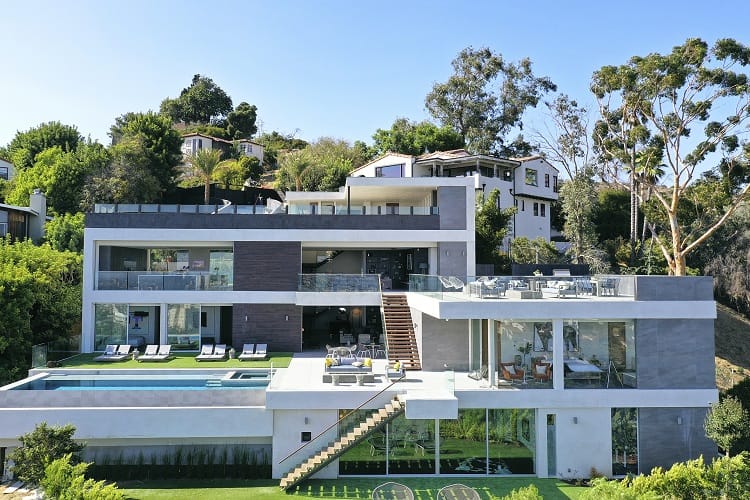 The posh property incorporates five bedrooms, six bathrooms, as well as two half-bathrooms, all with breathtaking views spreading from the Hollywood sign right to the Pacific Ocean.
The main entrance offers an open-concept kitchen and three terraces that total 5,000 additional square feet of outdoor living space.
And, the middle level features a second living room and a luxurious 'floating glass box' master suite.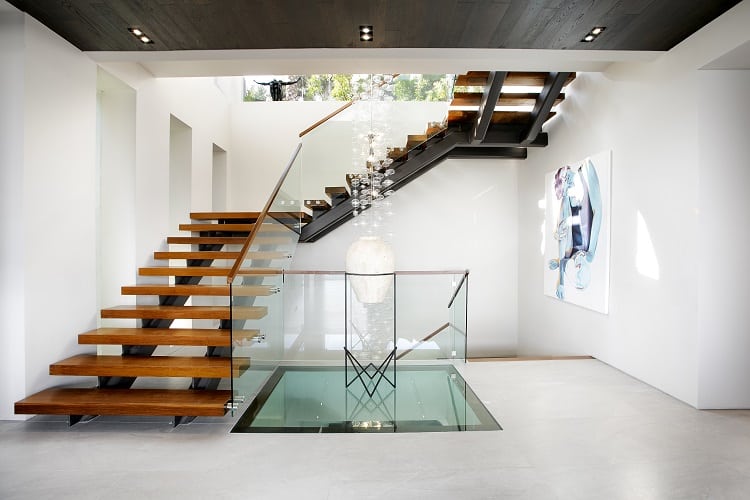 All the bedrooms offer easy access to the infinity pool, which provides stunning views of the surroundings and a perfect setting to enjoy summer nights and sunsets in complete privacy.
A Malibu gem that's often rented to high-profile celebrities
This Malibu celeb magnet is the epitome of indoor-outdoor Cali living, featuring large glass walls that seamlessly blend the interior with the grounds.
Perched above the Pacific Ocean, the three-bedroom, three-bathroom, 2,100-square-foot Malibu mansion is every bit the modern gem.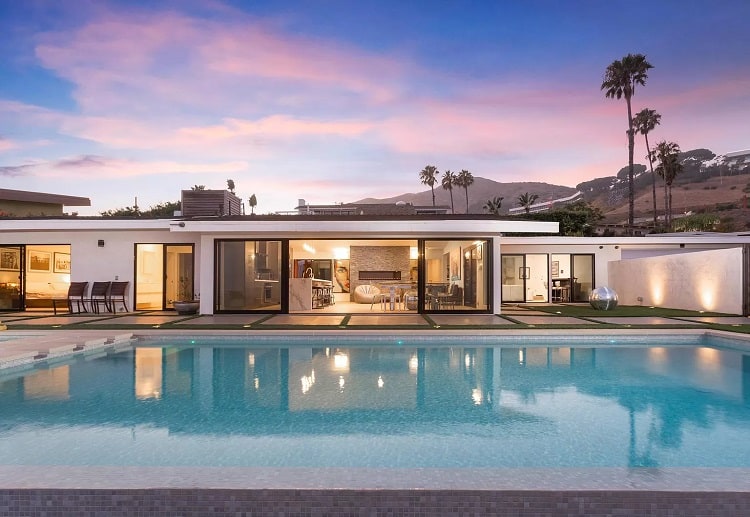 It's the perfect property for entertaining, as it includes an infinity pool with fabulous ocean views, a spa, and a fire pit.
The entertainment continues inside, as the house includes not one, but three indoor fireplaces, as well as a media room, making sure you stay entertained throughout the entire year.
Amenities include everything you could possibly need, from in-unit laundry and air conditioning to five parking spaces, an outdoor patio, and a cabana.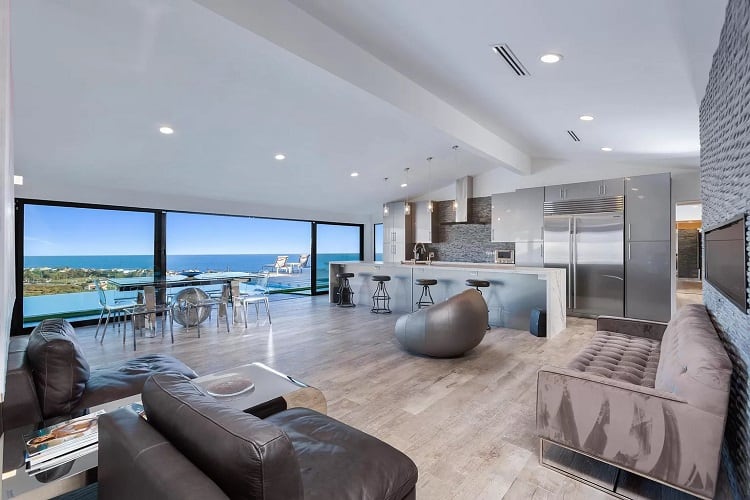 The house not only rents out to celebrities such as Matthew Perry, Cardi B, and Taraji P. Henson, but it's also owned by one.
Betty Moon, a celebrated Los Angeles musician, songwriter and producer, currently owns the plush property which she recently renovated before listing it for rent.
An impeccably designed modern mansion that embraces indoor-outdoor living
Located in the upscale neighborhood Pacific Palisades in Los Angeles, this three-story home was designed and built by renowned developer/designer duo David and Eliana Rokach.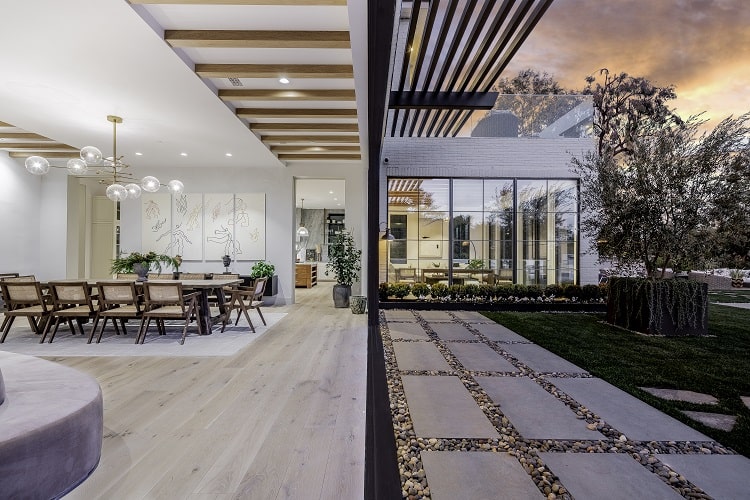 This multi-million dollar mansion offers a sprawling 13,543 square feet of modern living space and packs nine bedrooms and twelve bathrooms.
Boasting unobstructed views of the Pacific Ocean and the Santa Monica Canyon, the stunning estate offers an open-concept living/dining room finished in a chic, contemporary style.
The living room features custom-made electronic sliding steel doors that open to a beautiful outdoor area, which features a barbecue area, a grassy backyard, and an infinity-edge swimming pool opening up to views for miles.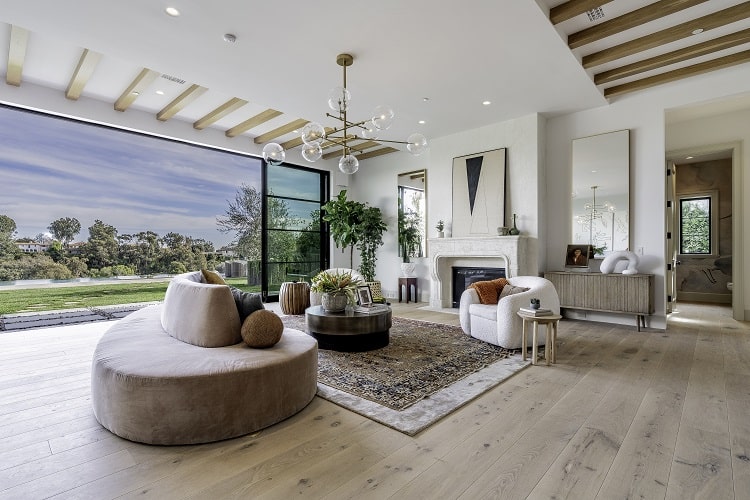 A modern hillside lair with canyon views
Situated in Los Angeles' coveted Brentwood neighborhood, this hillside lair with expansive living spaces, eco-friendly details, and ultra-high-end finishes gives us serious dream house goals.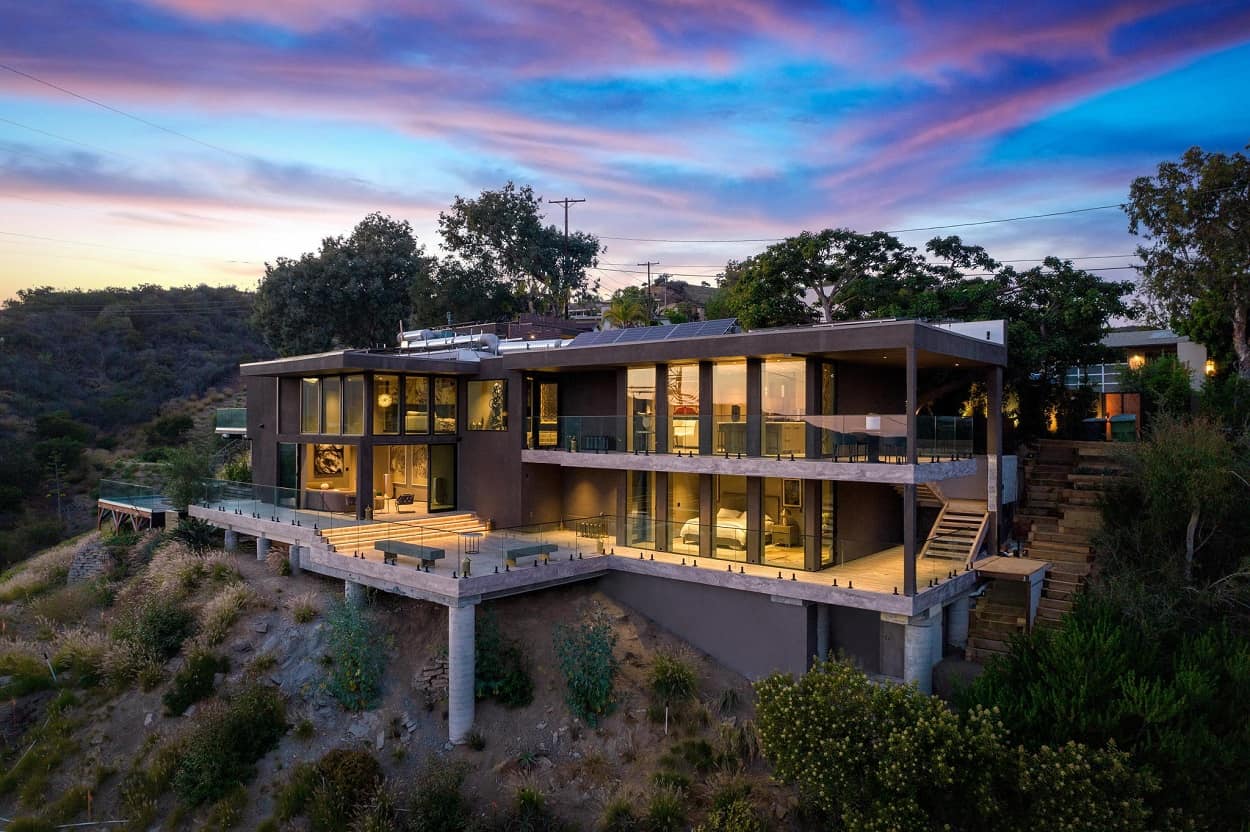 The main entrance features a Japanese-imported Yakisugi front door and bonsai adorned atrium that leads to the open-concept living space.
Here, a chic palette of luxurious stone and reflective glass is accented by unique designer details, and floor-to-ceiling windows provide natural light throughout the day.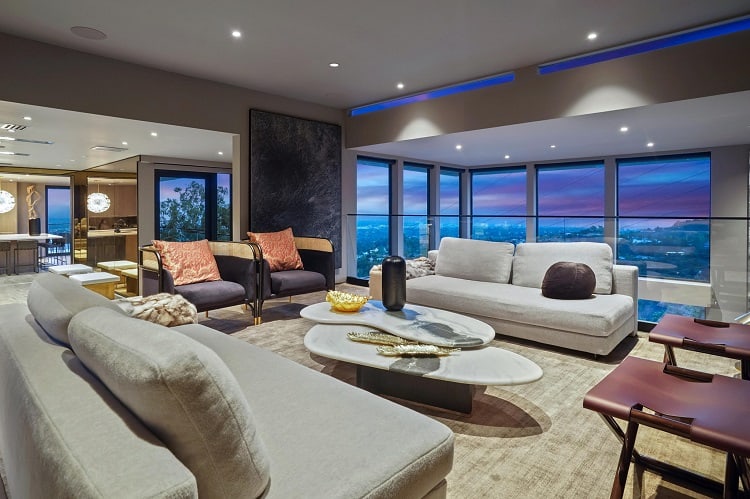 Offering sweeping views of the canyon, the four-bedroom home comes equipped with the latest technology for entertainment, comfort, and sustainability.
This includes a full automation system, Lutron Solar System lighting, home theater and surround sound from Bang & Olufsen, a home gym, and much more.
More stories you might like
The One mansion saga: from a $500M listing to its $141M auction sale
The Architect of Hollywood: the Irresistible Appeal of Paul Williams-Designed Homes
What Are Spec Homes? A Recent History & the Biggest, Boldest Spec Mansions to Come to Life
Massive Home in the Sky Above MoMa Asks $46.7 Million