In the hilly, seaside neighborhood of La Jolla in San Diego, a new cliffside mansion has recently hit the market. And it's holding headlines with its ambitious asking price and endless list of customizations.
Priced at $32.5 million, the custom-built house has the potential to earn a top spot in the list of San Diego's priciest home sales — and set a new record for La Jolla.
The most expensive house ever sold in La Jolla was another newly-completed beachfront mansion that sold for $24.7 million in early 2021.
Brett Dickinson of Compass, the agent that closed the record-breaking sale has been hired to market the new listing alongside agent Deborah Greenspan of Pacific Sotheby's International Realty.
The Ora House: contemporary architecture meets serene living
Built by Blue Heron's BH Elite custom home division, the Ora House, as the property has been named, is a true architectural marvel.
Rivaling La Jolla's most famous modern mansion, the Razor House (famously owned by Alicia Keys and husband Swizz Beatz and often confused with Tony Stark's futuristic mansion in Iron Man), the Ora House boasts a striking contemporary design.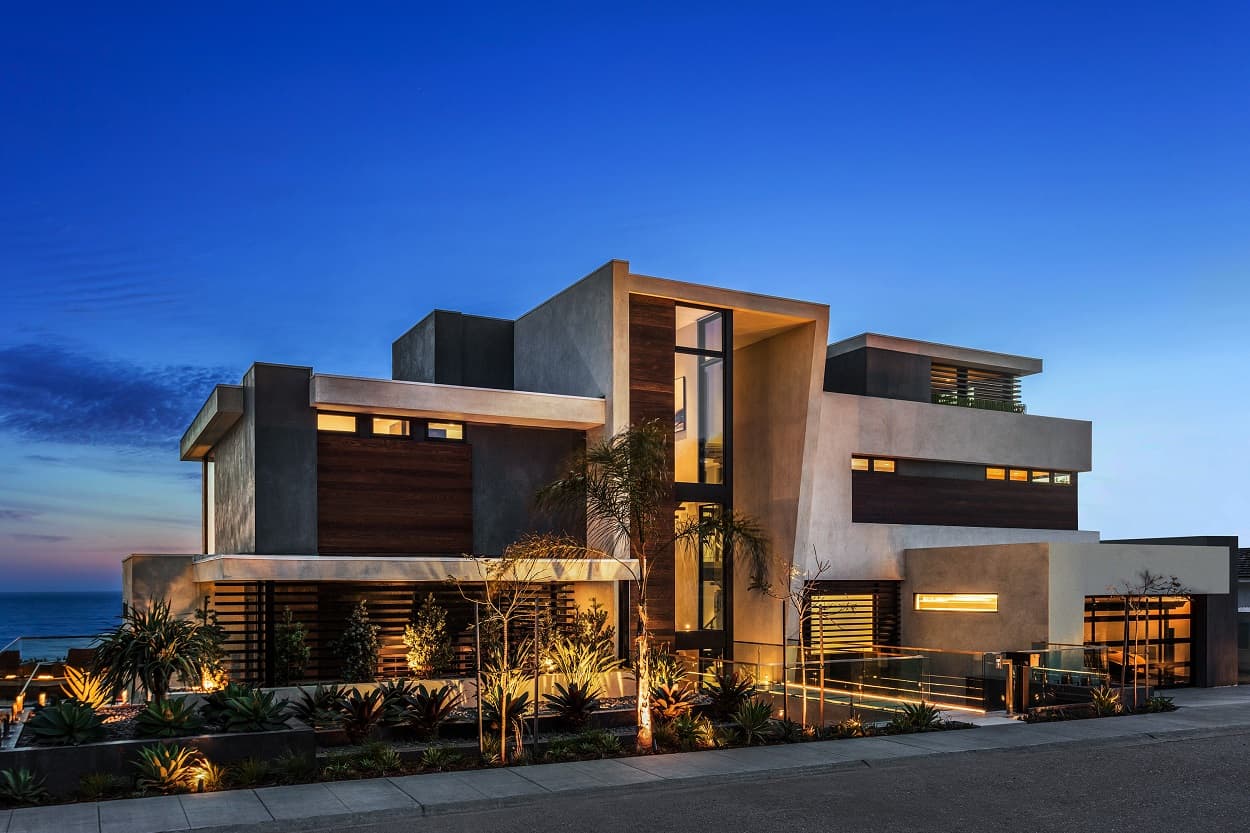 If you're not familiar with the architectural firm's celebrated past projects — like the VM001 in Las Vegas and the dramatic 3eleven, also set in La Jolla — Blue Heron is a design-led development firm that accentuates aspirational living through personalized home experiences.
For the Ora House, the stellar design team incorporated the same innovative biophilic design and advanced Savant technology used in Blue Heron's flagship home, VM001 in Las Vegas, to "enhance the flow of life while creating an overall sense of peace and natural wellbeing."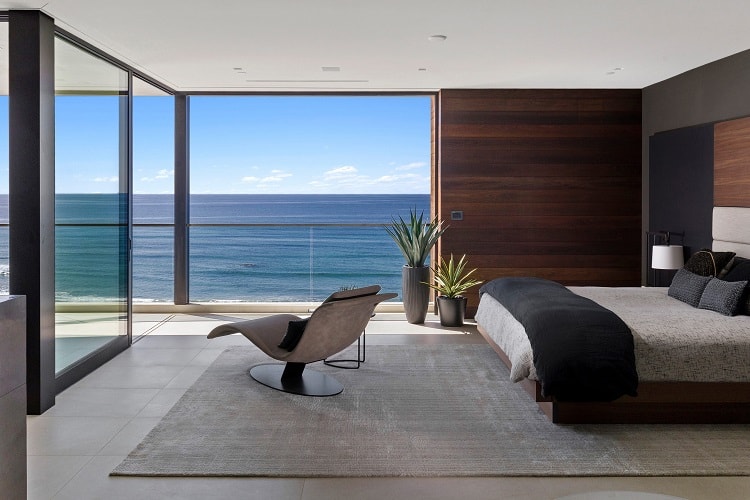 "We believe that extraordinary home design is about creating experiences that amplify your life, and the Ora House is the best possible example of a home that evokes a powerful response," said Tyler Jones, Blue Heron's CEO and Founder.
"Every time the future residents enter this home, they will experience the carefully considered journey and the attention to detail that connects this space to the ocean and the surrounding environment," he added.
It has close to 9,000 square feet of luxury living space
The cliffside estate is set in La Jolla's exclusive Bird Rock Waterfront enclave, and totals 8,878 of living space.
The Ora House has 5 bedrooms and 8 baths across its four levels, with each level embracing the outdoors with spaces tailored for both entertaining and private moments.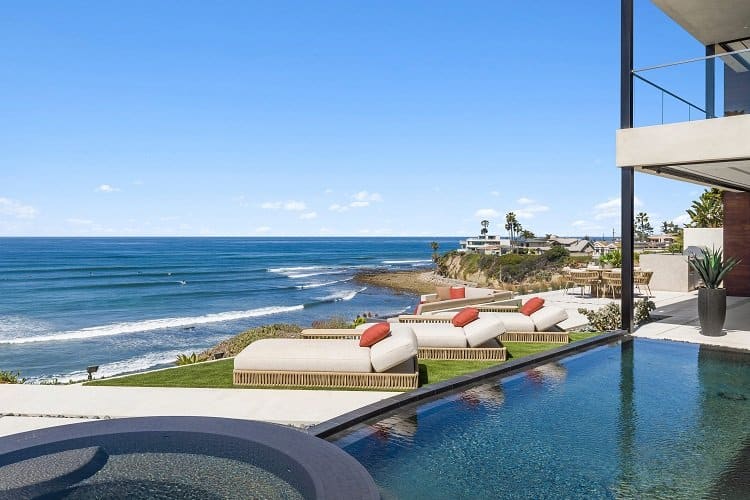 The garden level wraps around an outdoor courtyard below a unique bridge entry experience.
Featuring a cascading waterfall, the lounge, media room, and lower-level suite offer a multisensory experience filled with natural light and enhanced by the sound of flowing water.
Accessed by an entry bridge, the home's main level — where the kitchen and great room are located –opens up to expansive ocean views.
Also on this level: a bar and game room, pool and spa, dining room with wine display, primary bedroom, primary lounge, primary covered deck, and a partially covered sky deck.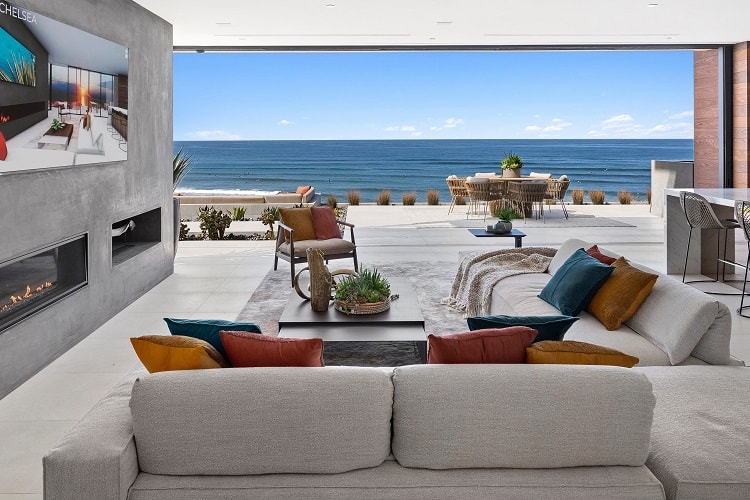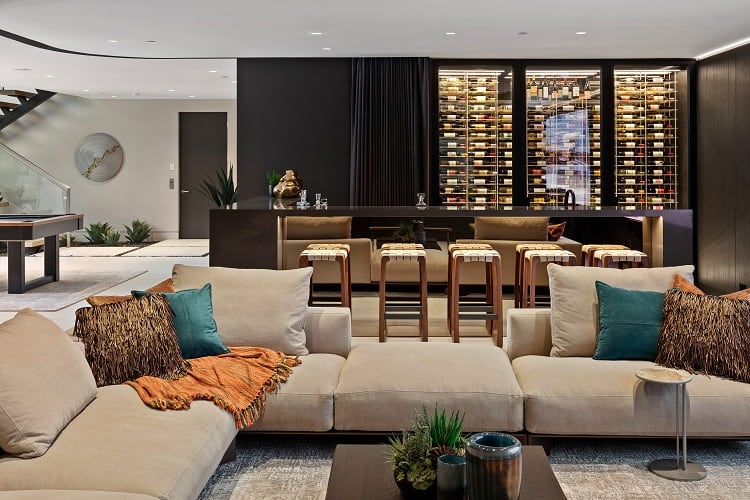 An elevator and four-level stairwell provide access to each floor, and there's also a four-car garage with a lift that stores two cars on the main level and two cars on the basement level.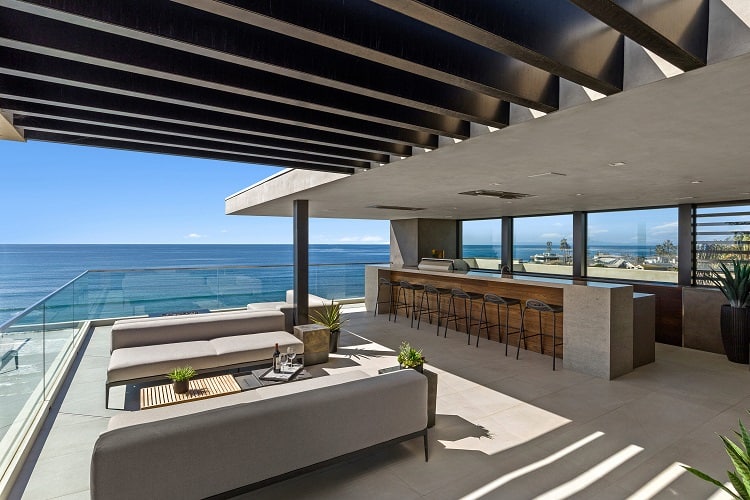 "The Ora House's iconic architecture, brilliant siting and deft application of biophilic design differentiate it from all other waterfront properties along the coast," said listing agents Brett Dickinson of Compass and Deborah Greenspan of Pacific Sotheby's International Realty in a joint statement.
"All three facets work in harmony to provide a truly unique visual and sensorial experience that can never be replicated on the water. Each interior and exterior space at the Ora House features distinct combinations of the four elements of matter – water, earth, light and fire."
The Ora House could set a new record for La Jolla
Within the past year, San Diego home prices have accelerated at a level not seen since the housing boom days of 2004, the San Diego Tribune reports.
And demand remains high, even in the ultra-luxury segment.
In the first four months of 2022 there have already been 19 sales priced over the $10 million mark compared to 44 sales in 2021 and only 25 in 2020.
Out of the 19 uber-expensive home sales, 5 were in the affluent neighborhood of La Jolla. And the Ora House will likely add to the tally.
If Blue Heron's Ora House sells anywhere near its asking price, it will dethrone the El Paseo Grande beachfront mansion that's currently holding the record of most expensive home ever sold in La Jolla.
In fact, it would likely earn a top spot in the ranking of San Diego County's priciest sales of all time — currently led by the 2007 sale of a Del Mar oceanfront home that traded hands for a whopping 48.2 million. That property was later purchased by Melinda and Bill Gates for $43 million.
More stories you might like
Bing Crosby's Estate — That Once Welcomed JFK and Marilyn Monroe — Sells for $4.15 Million
Beverly Park's Ultra-luxurious Villa Firenze Re-lists for $120 Million
At $29.5 Million, The Island House is One of Orange County's Priciest Listings
The Complete History of The Manor, Now Back on the Market Asking $165 Million