One of New York's most exquisite homes/art galleries, known as the Waterfall Mansion, has recently hit the market. The unique townhouse with a celebrated past — which includes serving as home and studio to two of New York's most influential textile designers of all time — is listed for sale with a whopping $34 million price tag.
Built in 1899 as a carriage house, the sleek 5-story Waterfall Mansion saw an incredible transformation over the years, now operating as a luxury single family residence set atop an incredible private gallery space.
A creative collaboration between real estate developer Kate Shin and renowned architect Toshiko Mori has turned this historic 22-foot-wide carriage house into a breathtaking, tranquil oasis with a distinct modern edge and a focus on sustainability.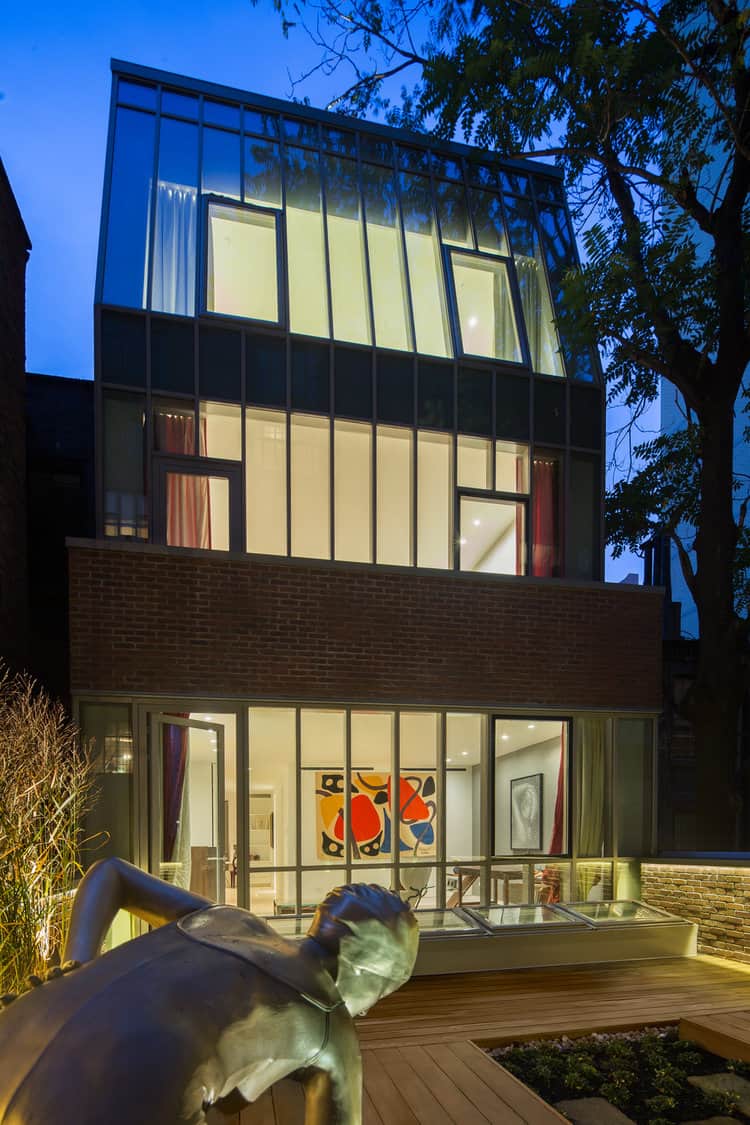 The history of the Waterfall Mansion
The property dates back to the turn of the 20th century, when it was built as a carriage house — a type of dwelling that began popping up in the 1800s to store wagons, buggies, and horses, and later became highly desirable residential properties due to their unique features (think very tall arched doors, initially meant to make room for carriages to pass through).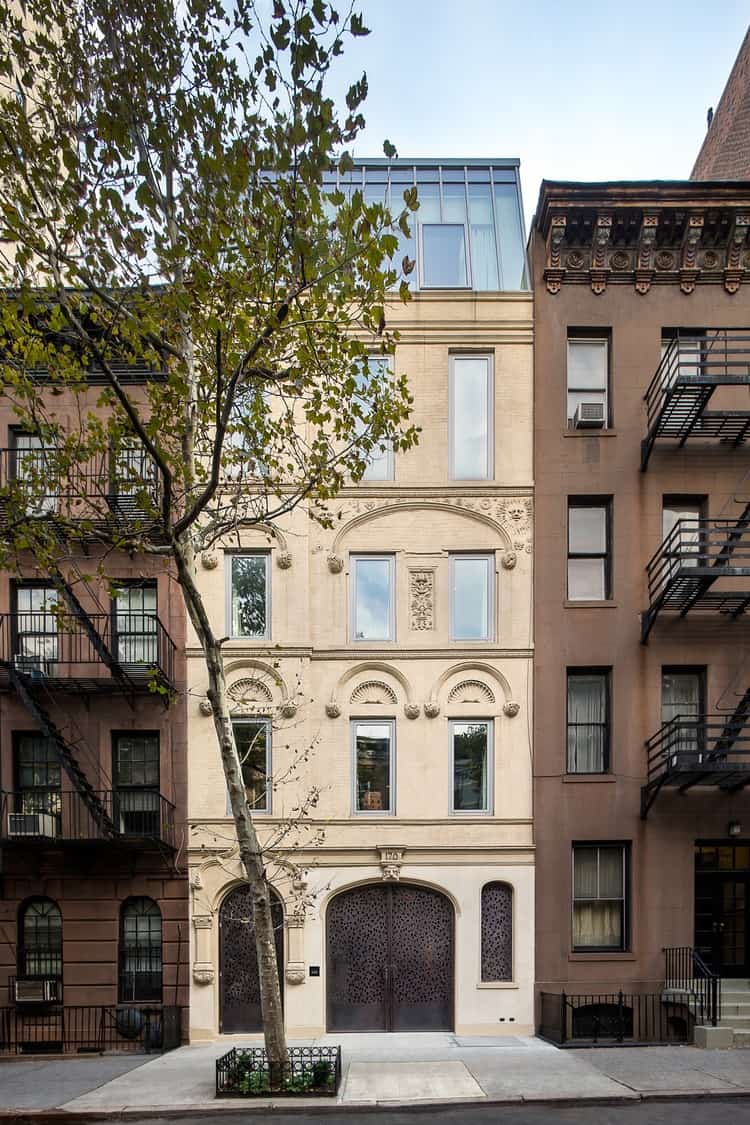 Later converted into a townhouse, the Waterfall Mansion became home to two of the most influential textile designers of the postwar era, D.D. and Leslie Tillett. The couple, whose prints were associated with the likes of Claire McCardell and Jacqueline Kennedy Onassis, used the townhouse as both a residence and studio, then passed it along to their three children, who continued to grow the business.
Textiles made by the Tilletts in the Upper East Side home were worn by the likes of Greta Garbo, Gary Cooper and Harry Truman. Their work was celebrated by a 2012 exhibit at the Museum of the City of New York titled "The World of D. D. and Leslie Tillett", the NY Times reports.
But it wasn't just the home's illustrious past owners that got their own exhibits. In recent years, The Wallpaper House has been used as an elite gallery and event space, hosting events for top names such as Gucci, Remy, Rolls Royce, Kedar Entertainment, Swatch Group, Shiseido, Clé de Peau, Beauté, FENDI, SONY, the United Nations, and the Caterpillar Foundation.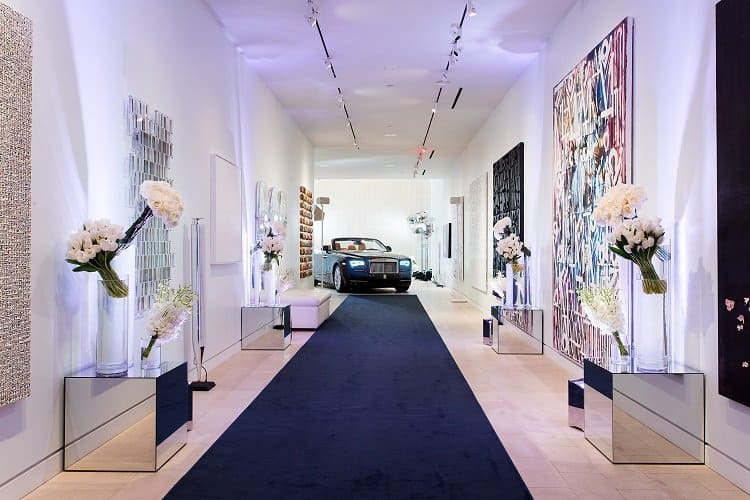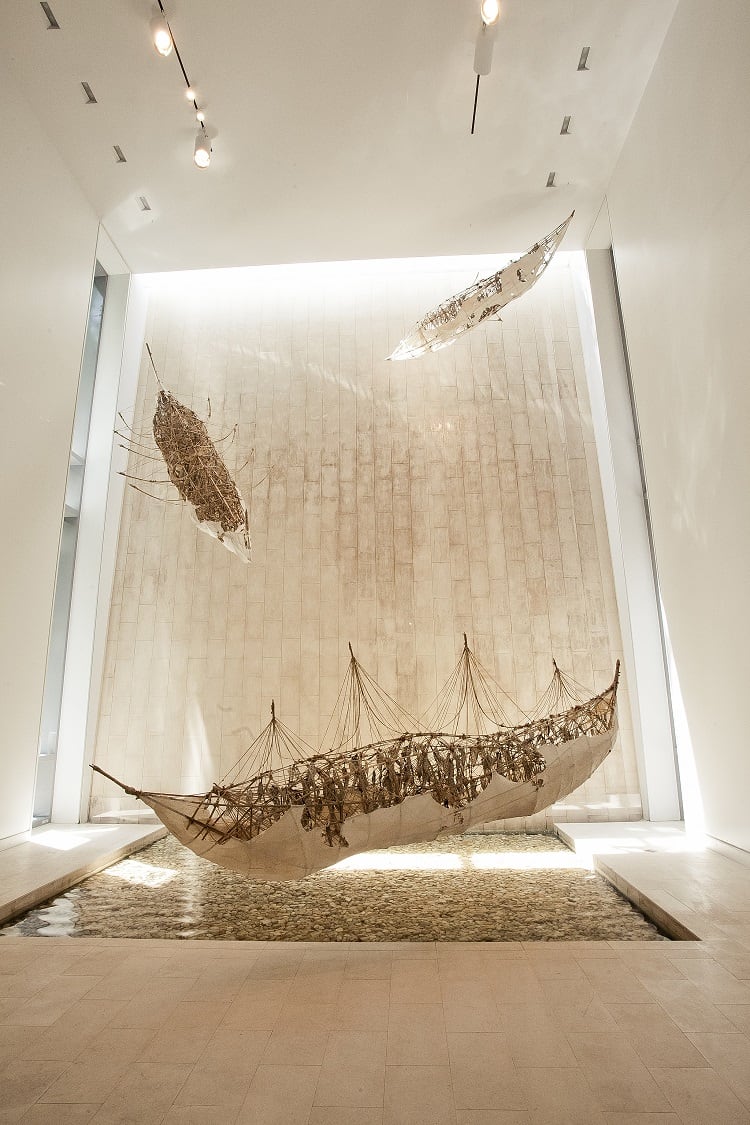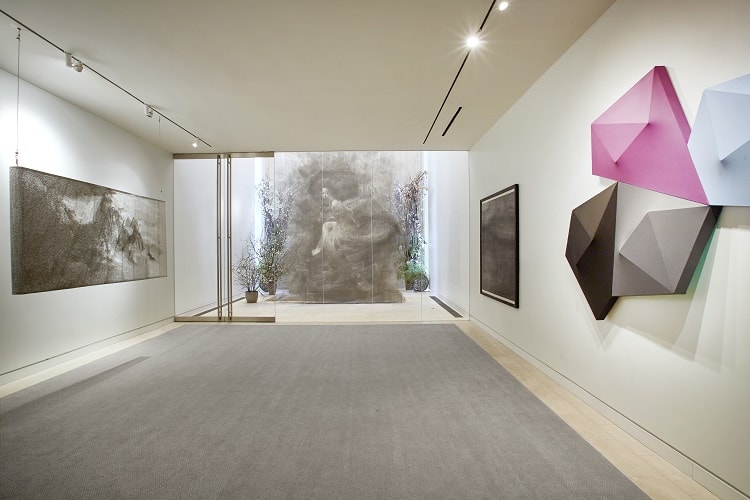 A luxury 5-story townhouse with an elaborate art gallery
Currently configured as a mixed-use space with an art gallery that spans several floors, the Waterfall Mansion offers a little over 11,000 sq ft of space, with 6 beds and 6.5 baths.  
Notable features include a professional grade kitchen, sprawling terrace, and a rooftop with a skyline view. Each floor was carefully designed to highlight the prolific art featured throughout the property, and incorporates distinct materials meant to elevate the design such as marble, black slate, maple flooring, limestone, and custom glass tile.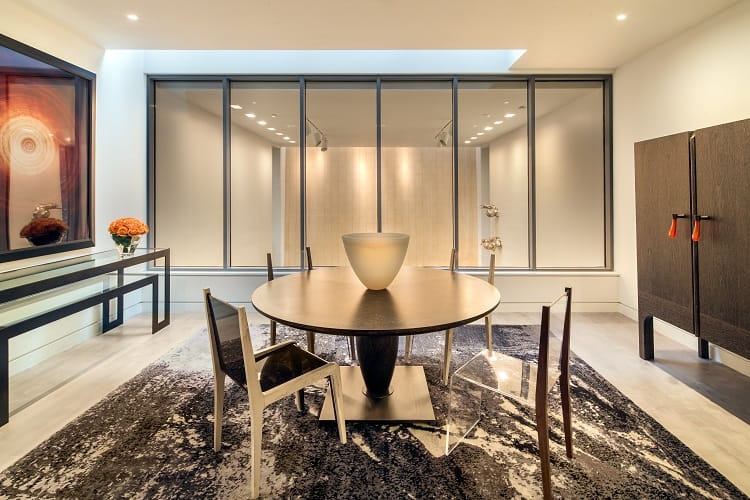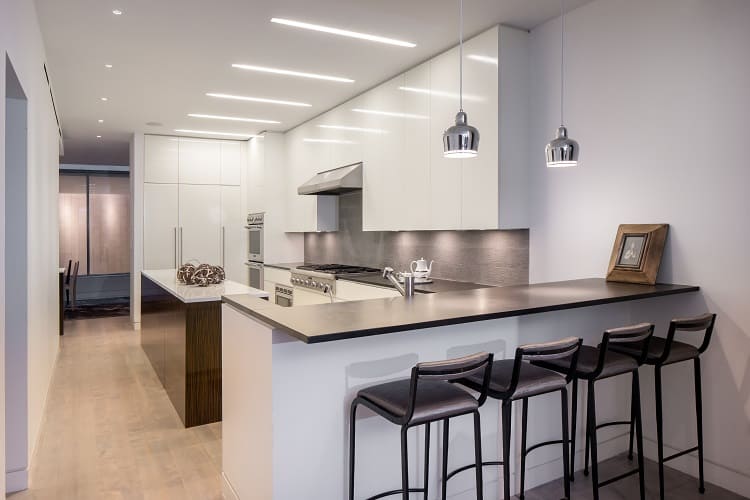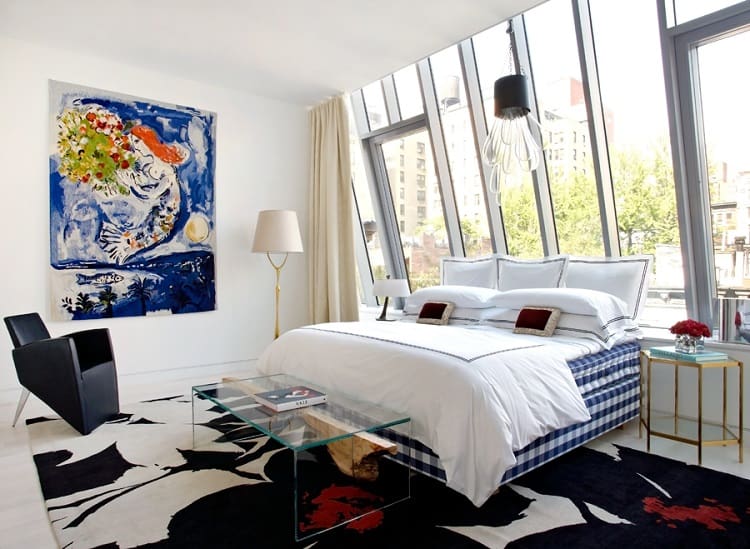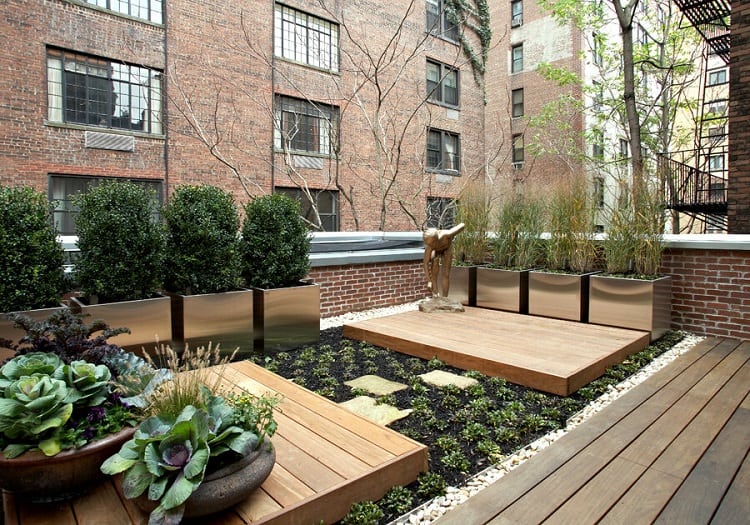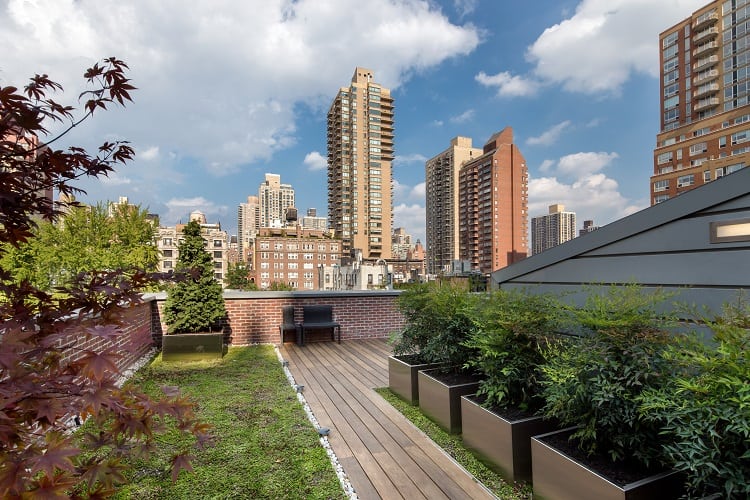 But the most unique feature — which also gave it its moniker — is a 22 foot x 23 foot indoor waterfall that's the centerpiece of the property.
The home's current owner, real estate developer Kate Shin, added the extraordinary water feature as a tribute to her childhood homes in Korea, each of which featured a waterfall.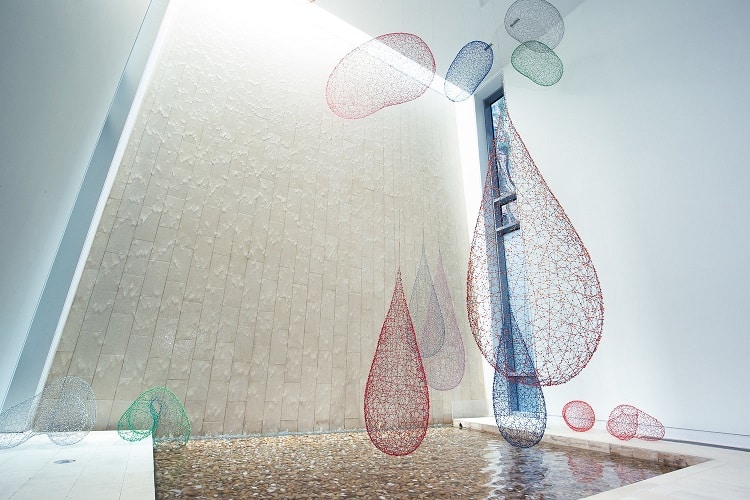 Shin worked closely with renowned architect Toshiko Mori to transform the historic carriage house into a modern marvel that's gained notoriety due to its unique features, modern interiors, and meticulously restored 19th century brick façade.
It's also worth noting that the Waterfall Mansion is eco-friendly and LEED Silver certified, having been constructed with green design elements that include naturally sourced and environmentally sustainable materials. 
Now on the market for $34 million
The Upper East Side townhouse has recently hit the market, and its owner is seeking $34 million for the unique property.
It's listed with Howard Morrel and Leslie Hirsch (Morrel Hirsch & Advisors) of Compass, who are no strangers to selling and marketing unique homes. They represented the Richard Avedon Foundation in its purchase of a carriage house at 451 W 54th Street, similarly configured for private events and corporate functions. Other notable deals closed by the power duo include selling 101 E 63rd Street (also known as the Halston House) to fashion designer Tom Ford.
More unique homes in New York City
This Stunning Former East Village Synagogue-Turned-Rental is Seeking New Residents
Timelessly Elegant, Architect-Owned Townhouse in the Heart of Manhattan Back on the Market for $17M
Newly Renovated, 1915-Built Townhouse in Park Slope Asks $4.4 Million
This $3.5M Apartment Was Once Owned by Filmmaker Nancy Dine, Muse of Famed Artist Jim Dine