Okay, I might be overly hyped about this one.
Had my eyes set on it since the listing popped up on the COMPASS website with the status coming soon. But bear with me, there's good reason for it.
This stunning penthouse loft at 5 East 7th St. spans an entire block — from 17th to 18th Street — totaling 6,000 square feet of luxurious living space, including 4 bedrooms and 4.5 baths.
Impressive as that might be, it's the massive outdoor space that makes this penthouse stand out, as it adds an additional 4,000 square feet of outdoor space to the property, including 2 (!) rooftop decks with gorgeous city views and a 20-foot pool.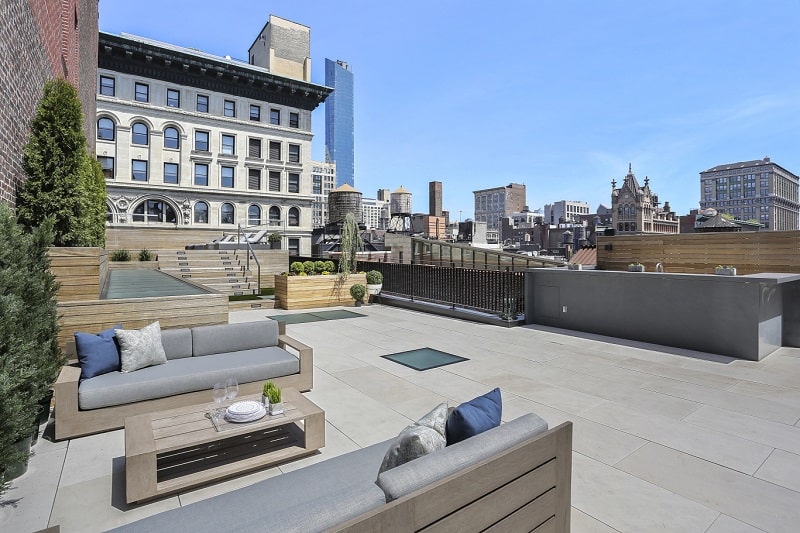 And that's quite the city view to have, as the 5 East 7th St. penthouse looms above the Union Square Green market, with the heartwarming Madison Square Park, a plethora of designer boutiques, and some of NYC's top destination restaurants at its feet.
The massive outdoor area is rightly coined as "a private sky yard." The penthouse's outdoors accommodate two large limestone rooftop decks — an approximately 3,000-square-foot main deck a prized ~1000 sq. ft. additional elevated outdoor living room with glass railings and open views on 3 sides.
The main tier offers a 20′ stainless steel swimming pool with Olympic-strength swim current, outdoor shower, 16 walk-on skylights, full-size outdoor bar in Pietra Cardosa, and a full outdoor barbecue.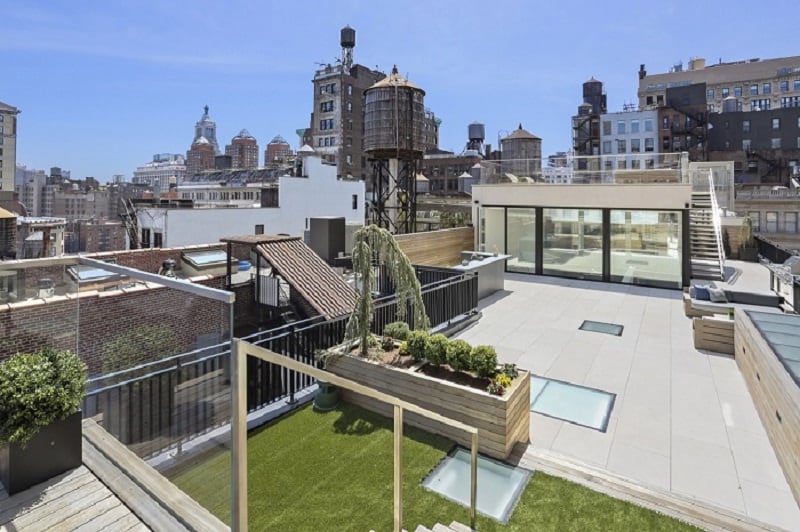 The interiors are nothing short of impressive either, with a unique layout meant to maximize the light that flows in — with the 20 oversized windows on 4 exposures, 12 to 25′ ceilings, and 16 skylights ushering in tons of light, beautifully reflected in the predominantly white furnishings.
With 4 bedrooms, 4.5 baths, 2 private keyed elevator entries, video surveillance, the penthouse has been appointed to raise the bar in luxury living.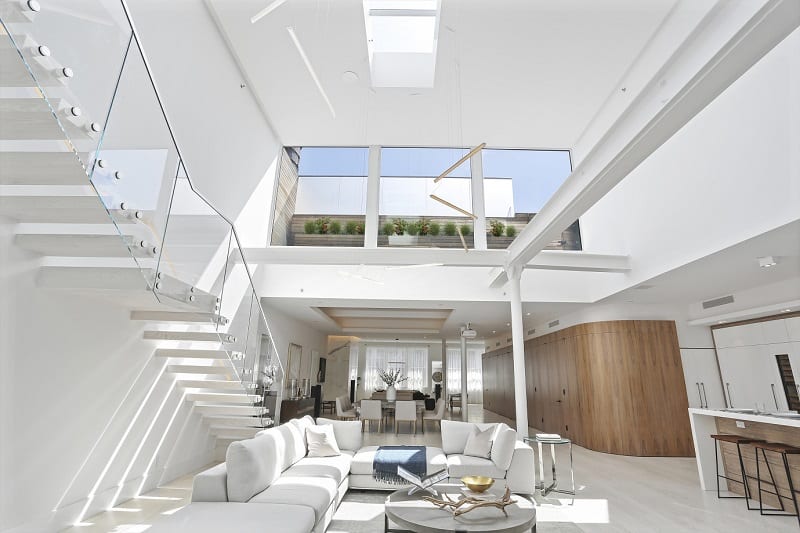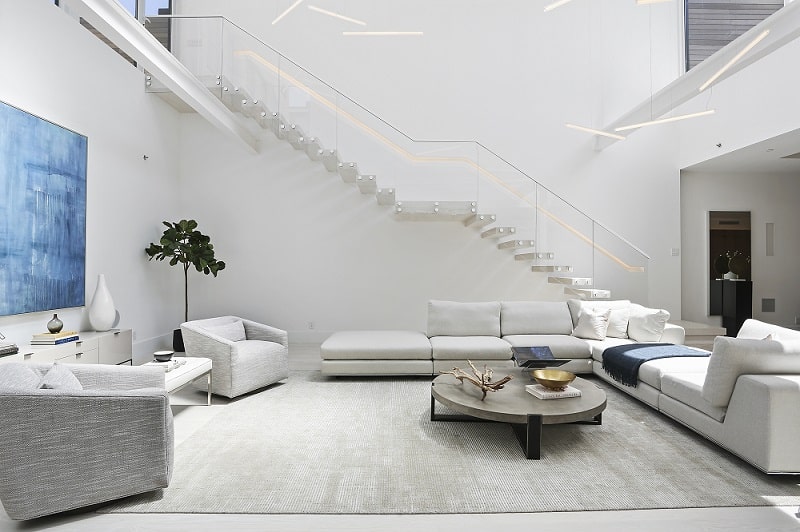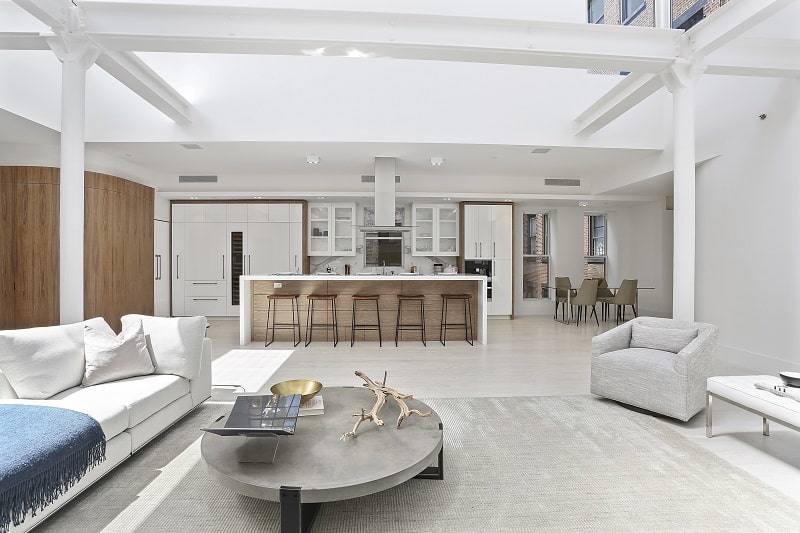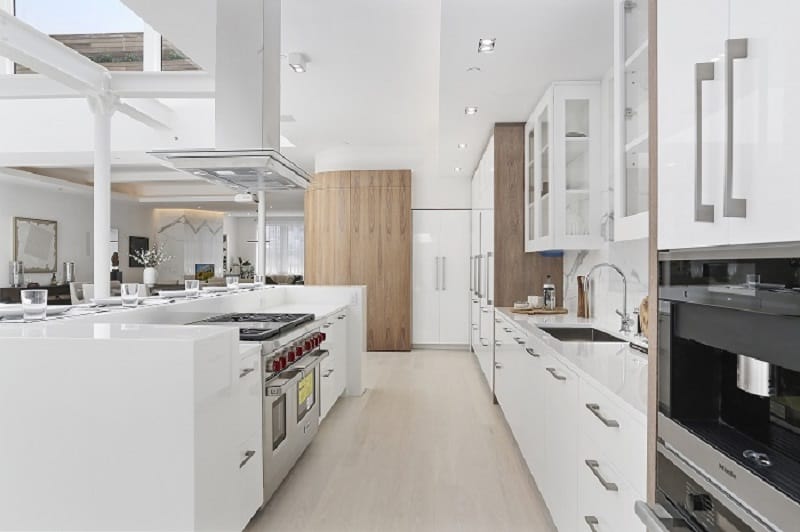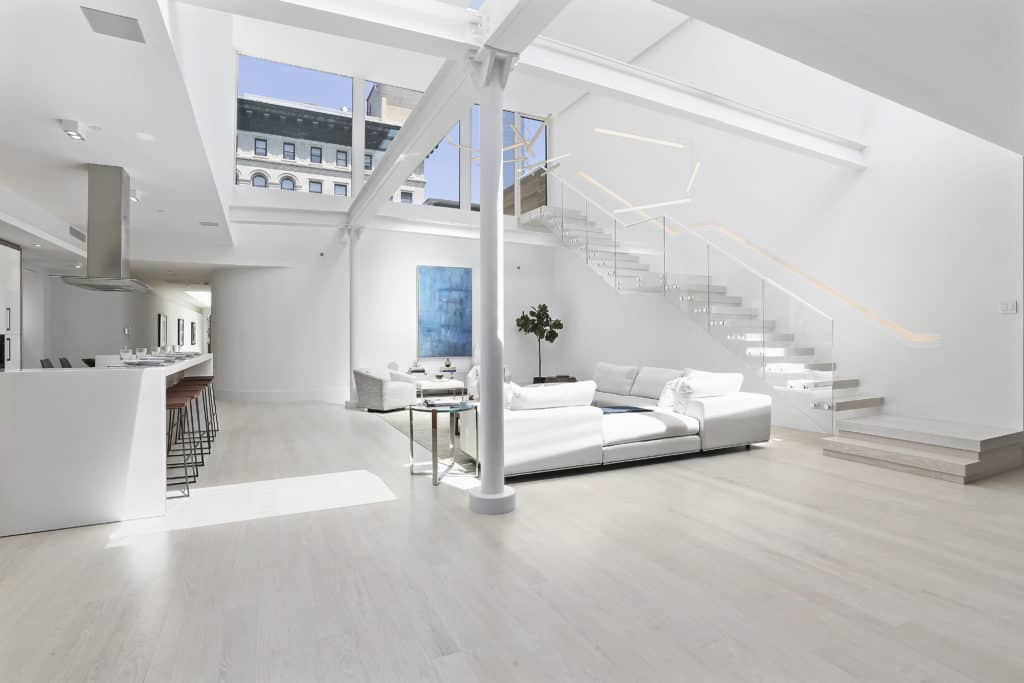 Initially launched with a $17 million price tag, the 5 East 17th St. penthouse already had a buyer lined up, but the sale fell through at the last moment. It's now being brought to market by top producer Brian K. Lewis with COMPASS for a cool $14,950,000 — and likely won't spend a long time looking for a buyer. I mean, have you seen it?!
More luxury home news:
Manhattan Townhouse Known as 'the Waterfall Mansion' Has a Towering 23-Foot Indoor Waterfall
A First Look at the Newly Completed Residences at 130 William, One of NYC's Newest Skyscrapers
This $10M Penthouse at One Clinton Towers Over Brooklyn, Offers Jaw-Dropping City Views
SNL Funny Guy Pete Davidson Lives in a Posh $1.2 Million Waterfront Condo