An elegant townhouse located on Manhattan's posh Upper East Side has recently been re-listed by Warburg Realty, with an asking price of $16,950,000. Included in the price: a plethora of modern amenities and a prime location in the very heart of Manhattan, close to Central Park.
Located at 9 East 81st Street, this charming, 6,975-square-foot home was originally built back in 1878, in a brick, neo-Federal style. In 2014, it was renovated by architect Peter Pennoyer in a classic and chic Upper East Side fashion, in collaboration with landscape architect Madison Cox.
Currently, the home is owned by renowned architect Sharon Davis, so you know every architectural and design detail is on point.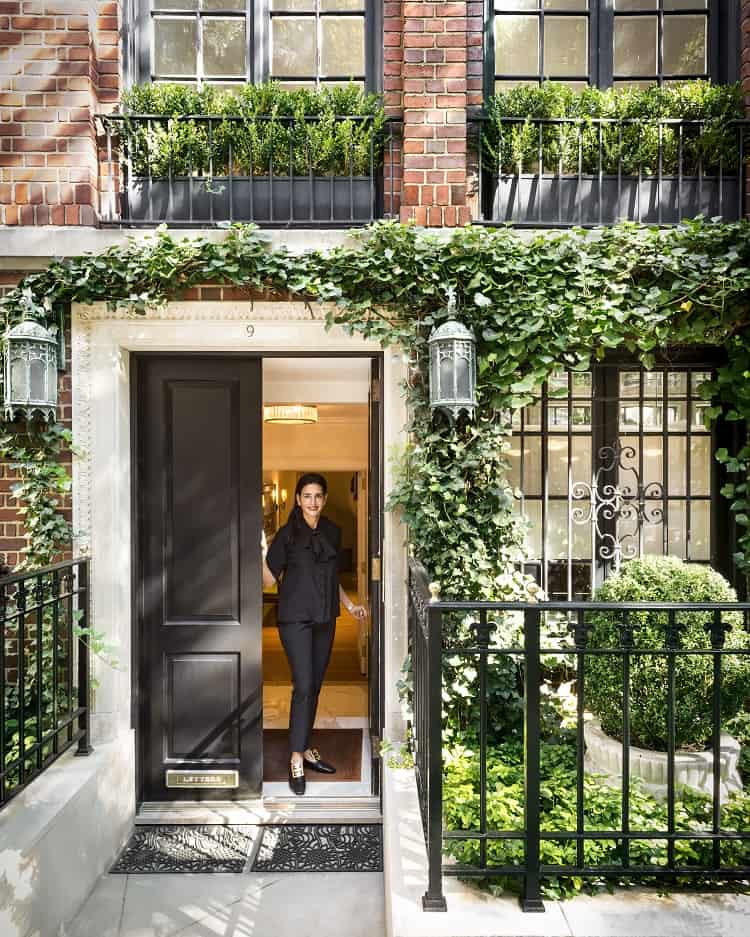 The townhouse features two lower floors perfect for entertaining and lounging, and an additional three private levels above. The garden-floor vestibule entrance leads into a formal dining room that has access to a charming private garden with a fountain and lots of greenery. This is the ideal place to welcome guests and enjoy dinners with family or cocktails in the garden.
Owner Sharon Davis' approach to interiors values personal expression, functionality, and the stewardship of natural and cultural resources, and her UES townhouse is a perfect reflection of that.
The parlor floor is the main lounging area, featuring a massive, 18'x41' living room with soaring ceilings, gallery walls, a cozy fireplace, and three oversized casement windows letting in abundant natural light.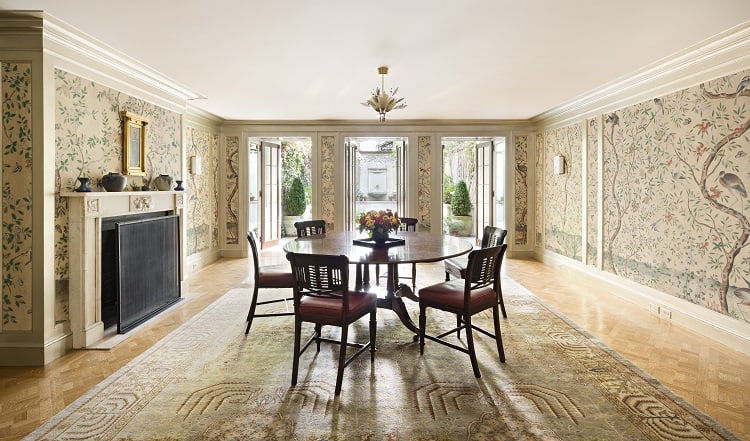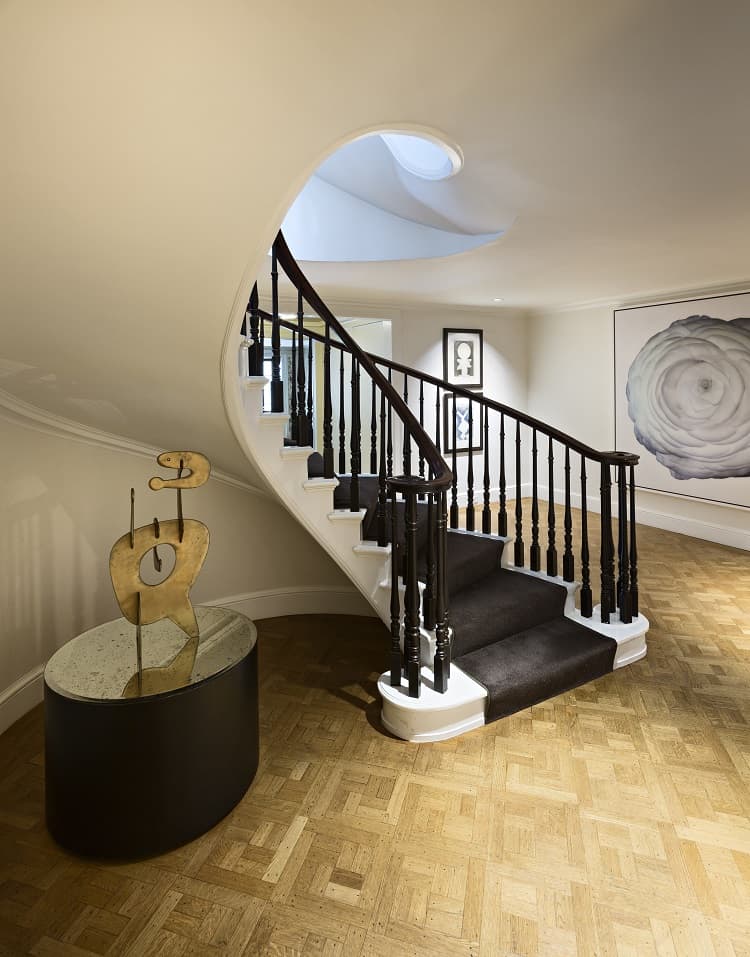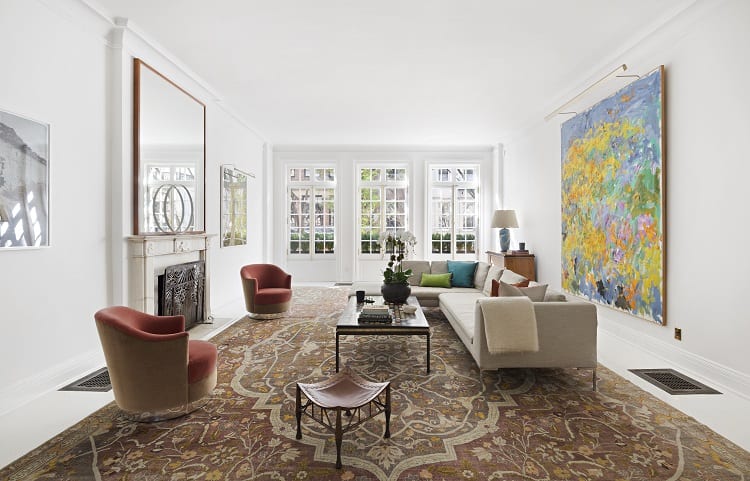 Also on the parlor floor you'll find a beautiful wood-paneled library with a fireplace, perfect for reading sessions, as well as an entertaining kitchen/wet bar with two full-size wine refrigerators. There is also a large terrace that overlooks the garden below.
---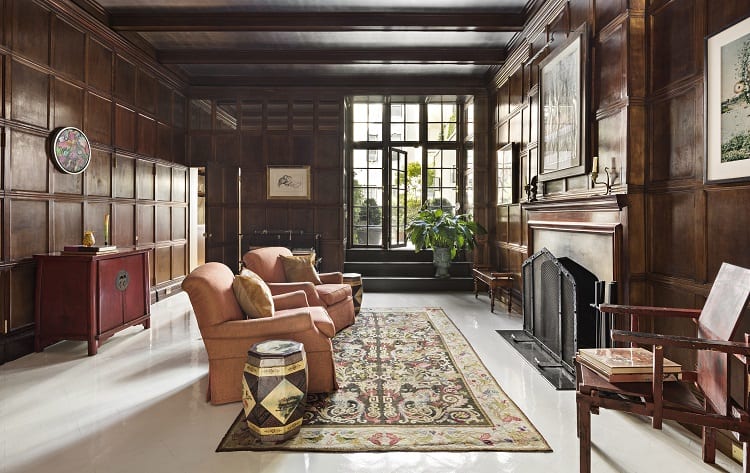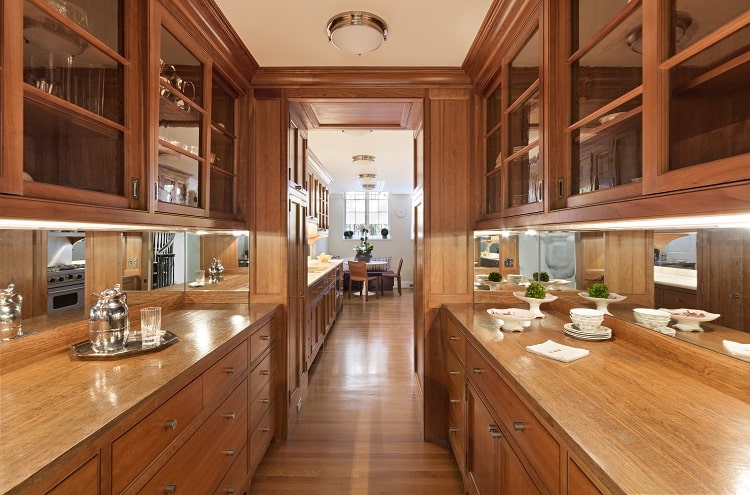 A grand floating spiral staircase or a modern elevator will take you to the private floors above, which can accommodate eight total bedrooms. On the third floor is the master bedroom with a fireplace, two full bathrooms connected by a walk-in closest, a separate dressing room and a private terrace.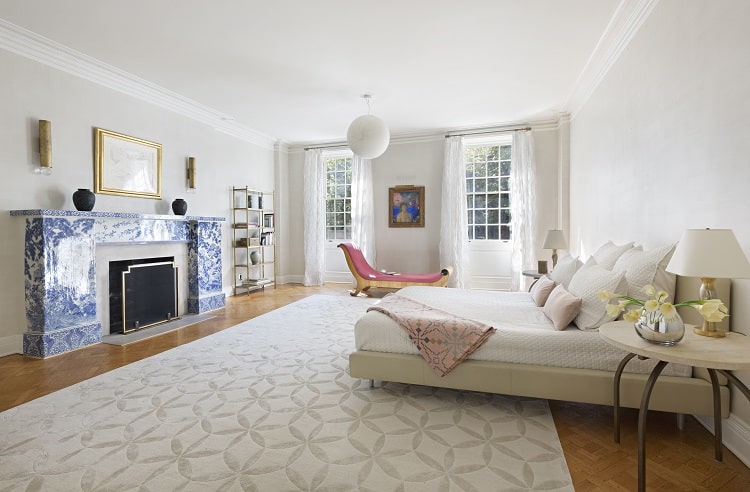 Above, there are two more floors with six additional bedrooms, one of which is currently being used as a home office and another as a small den. These upper floors also include four full bathrooms, a laundry room, and a beautiful skylight covering the staircase.
The home is fitted with air conditioning and security systems, and also comes with a finished basement. The location is unrivaled, as you're just steps away from Fifth Avenue, Central Park, and the Metropolitan Museum of Art.
If you want to check out this townhouse for yourself, make sure to reach out to the brokers and schedule a tour. Warburg Realty's Wendy N. Arriz and Sophie Harris are in charge of marketing the property to prospective homebuyers.
TV Producer Michael Davies Ready to Part Ways with Bright & Gorgeous Tribeca Townhouse
These 4 Luxury Homes for Sale All Come with Gorgeous, Dream-Like Libraries