Almost 30 years after her breakthrough role as Keanu Reeves' co-star in the action thriller Speed, Sandra Bullock is one of the biggest names in Hollywood.
With her body of work spanning from cult classics like Demolition Man to raunchy comedies (The Heat), rom-coms (The Proposal, While You Were Sleeping), dramas (2019's The Blind Side earned her an Academy Award for Best Actress), all the way to science fiction thrillers (Gravity) and horrors (Bird Box), it feels like there's nothing she can't do.
And that extends beyond her acting skills.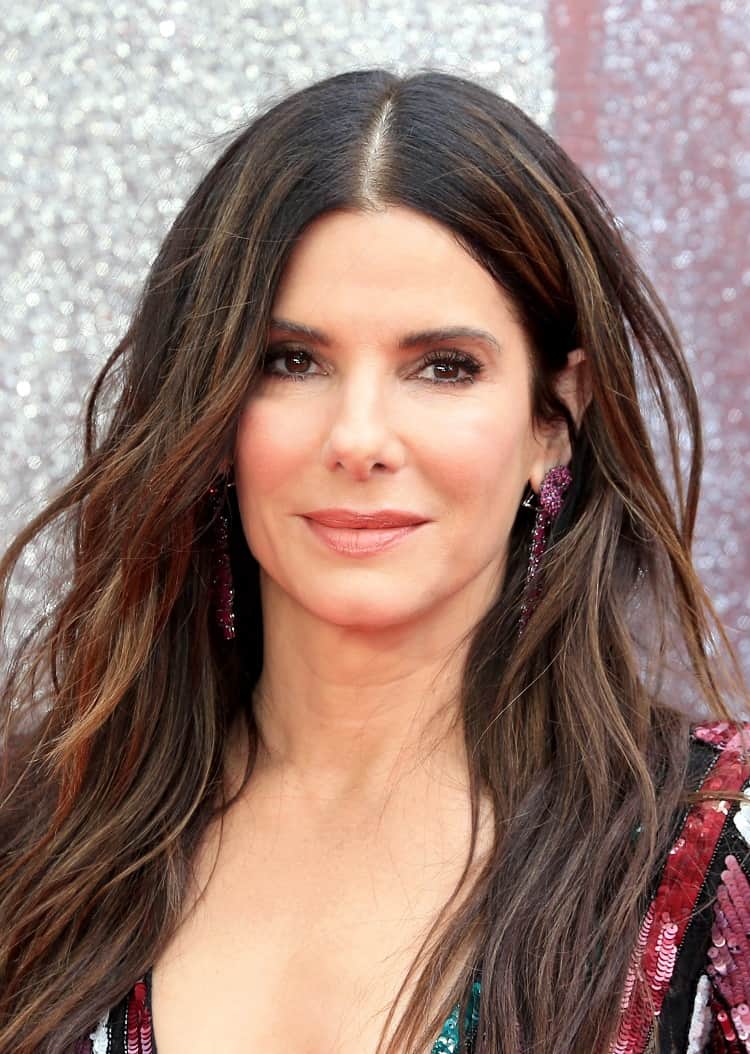 The actress, whose most recent hits include Netflix thriller-drama, The Unforgivable, the action-adventure comedy The Lost City, and the action film Bullet Train — now in cinemas — is also quite active on the real estate scene.
Bullock's real estate portfolio is almost a match for her A-list resume (and has just as much range).
At one point, Architectural Digest reported that the actress owned "at least 17 properties scattered across the country."
Among them: a 91-acre hilltop compound with an organic avocado farm in North San Diego which hit the market in October for $6,000,000 (Alan Long with Avenue8 held the listing). Fast-forward to December, and the property has already been sold, cashing in $5.6 million for the actress.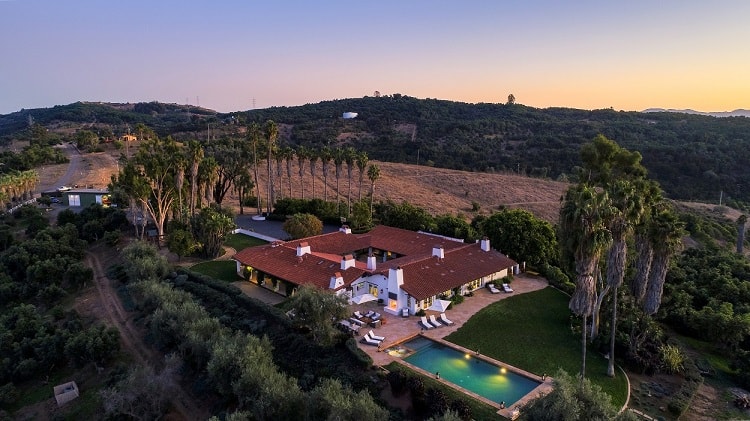 The Farm: Sandra Bullock's ultra-private, quiet retreat
Located in the Palomar Mountain Range north of San Diego and just west of the Cleveland National Forest, the property is a private escape where natural beauty reigns supreme.
You'll find everything from towering eucalyptus trees to groves of organic avocado trees, citrus, persimmon, olive and palm trees, colorful rose gardens, walking, and hiking trails, you name it.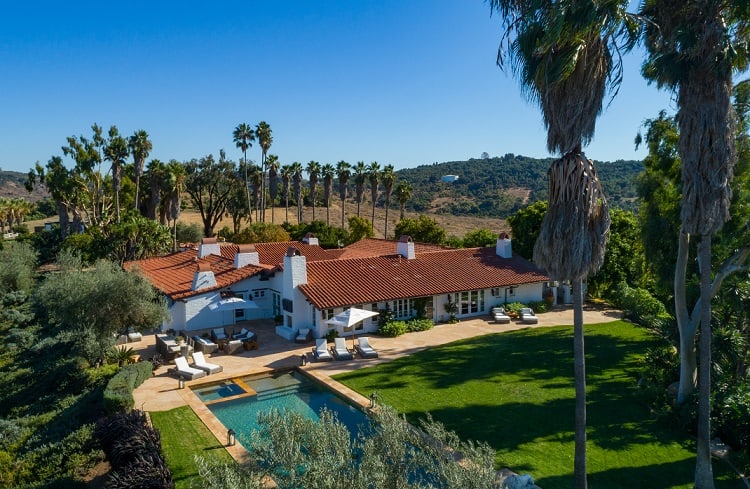 While those alone wouldn't warrant the $6 million asking price, the three separate land parcels that make up the property's total of 91 acres sure do.
Especially since one of the parcels contains the main house — a beautiful one-story adobe-style ranch with all the bells and whistles.
Sandra Bullock's house has 4 bedrooms and 6 baths, a large living room with high-pitched white wood ceilings, and a library with fireplace and illuminated shelving.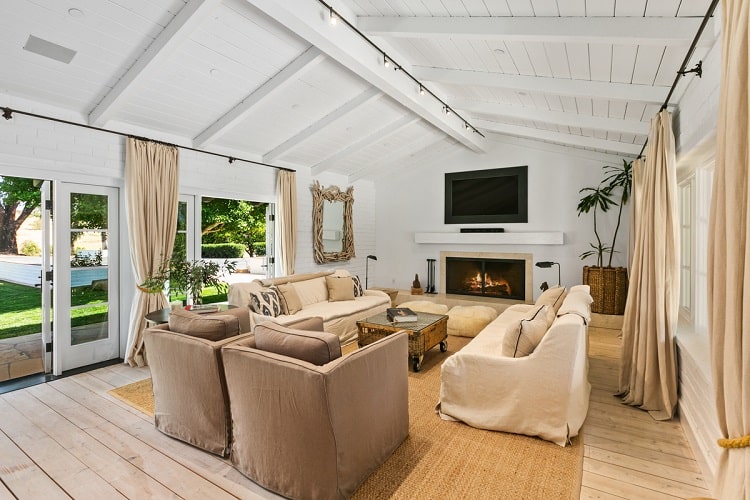 The large, bright eat-in kitchen comes with custom La Cornue ovens and range, and quite a few high-range appliances. It also has soapstone counters and Italian marble backsplash with an inlay mosaic mural.
The formal dining room doesn't leave much to be desired either, boasting beamed white wood ceiling, a bay of French casement windows, a marbled wet bar/buffet, and a wine refrigerator.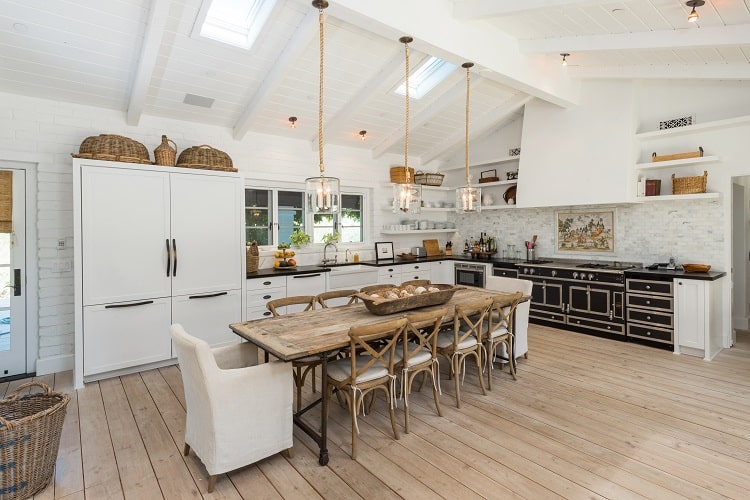 SEE ALSO: Where does Adele live? A look at the $58M 'house that Rocky built'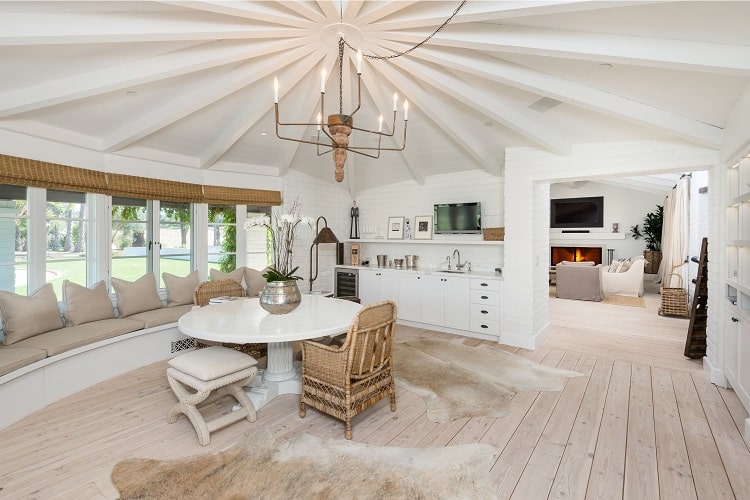 Each of the four bedrooms come with their own en-suite bathroom, but the primary bedroom stands out with an adobe fireplace, spacious lounge area, and private access to the pool.
It also has a lavish bath with a jetted bathtub (that opens up to views of the property's lush grounds), a large steam shower, and built-in antique vanities with dual sinks.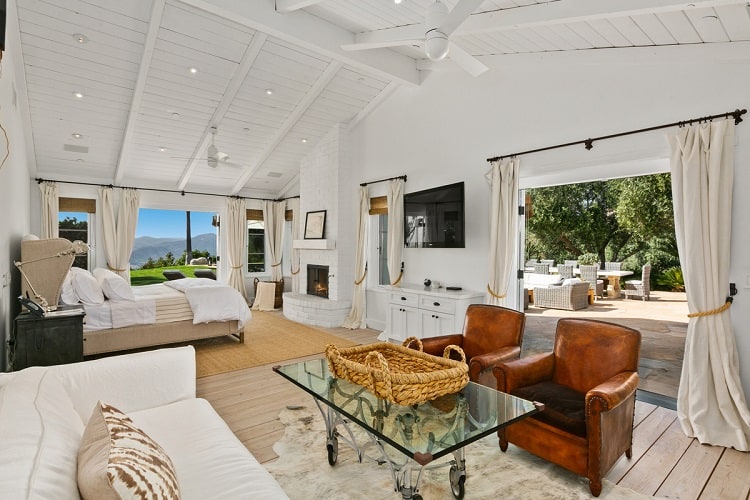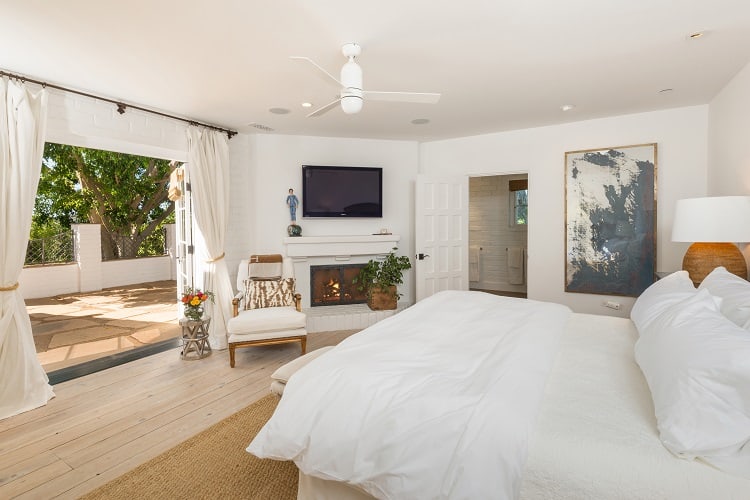 Outside, a whole series of amenities compete for attention.
From the heated saltwater pool and spa (which has an automated pool cover) to the Bocce ball court and the plentiful outdoor entertainment areas, modern amenities compete with farm additions like a walk-in chicken coop and a 1,200 high-quality Dusa/Hass organic avocado tree orchard.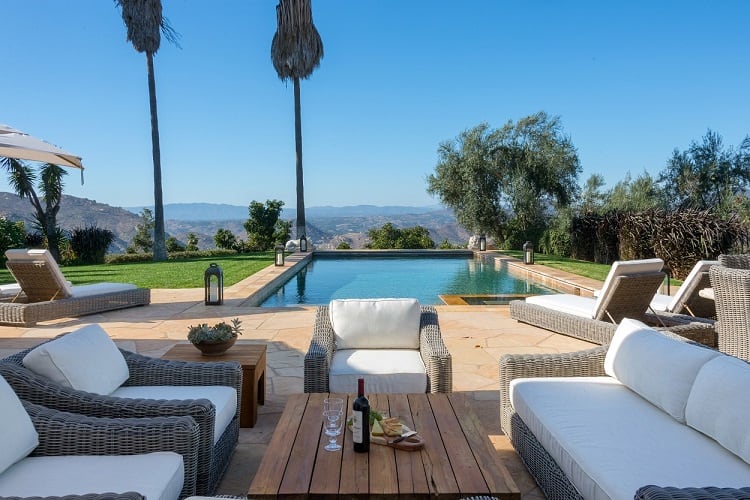 But the actress' property extends beyond the main house.
The compound consists of three separate legal parcels, one for the main house, another an undeveloped lot, and a third, 30-acre parcel that's currently housing an additional 3-bedroom, 2-bath dwelling.
There's also the option to buy the property without the 3rd parcel (the one with the extra 3-bed home).
The celebrity home also has the potential to generate revenue from the many fruit-producing trees on the property. Already certified for its organic Hass avocado grove and grapefruit, lemon, and persimmon, crops can be extended to include grapes — and even have a vineyard and winery on-site.
Horse enthusiasts can also turn it into an equestrian estate.
According to the San Diego County Assessor's Office (and reported by the San Diego Tribune), the sale closed on November 9, which means the property had a very short run on the market, highly atypical for million-dollar homes. But that speaks volumes about the quality of the celebrity home — and the professionalism of the agents repping the property (who knew how to price it just right).
Avenue8's Alan Long shared the listing with Kay O'Hara of HomeSmart Realty West and Melissa Russell of Willis Allen Real Estate.
Where will Sandra Bullock be living now?
From the looks of it, Sandra Bullock has had it with the West Coast for the time being.
The actress has already sold a West Hollywood condo in 2022, rented out her Malibu home, and is now parting ways with her San Diego compound.
According to the New York Post, Bullock is looking to relocate to the East Coast, to be closer to family.
Listing agent Alan Long, who's also friends with the actress, told the publication that "She is looking for a farm closer to her sister on the East Coast."
And while we're wishing her the best of luck with that, it can't be easy to find a property that matches her San Diego compound — both in terms of amenities and finishes.
But she has plenty of other properties to fall back on in the meantime.
Sandra Bullock owns homes throughout the country, including a Beverly Hills mid-century bungalow she bought last year for $2.7 million, a Victorian-era mansion in New Orleans purchased back in 2009 with her then-husband Jesse James, a spacious Soho townhouse in New York City, and a Malibu pad that she's now renting out.
More celebrity homes you might like
Lady Gaga's house in Malibu
Dwayne 'The Rock' Johnson's house
Neil Patrick Harris' house in Harlem
Michael Jackson's house, Neverland Ranch