At the end of a private drive, in the midst of 7 acres of greenery, sits one of the most recognizable modern homes in all of Greenwich, Connecticut.
Famously designed by Ulrich Franzen, an architect best known for his "fortress-like" buildings and Brutalist style, the private residence known as the Morris House stands out with its unique design and contemporary feel, which isn't at all typical for an area populated by more traditional-style homes.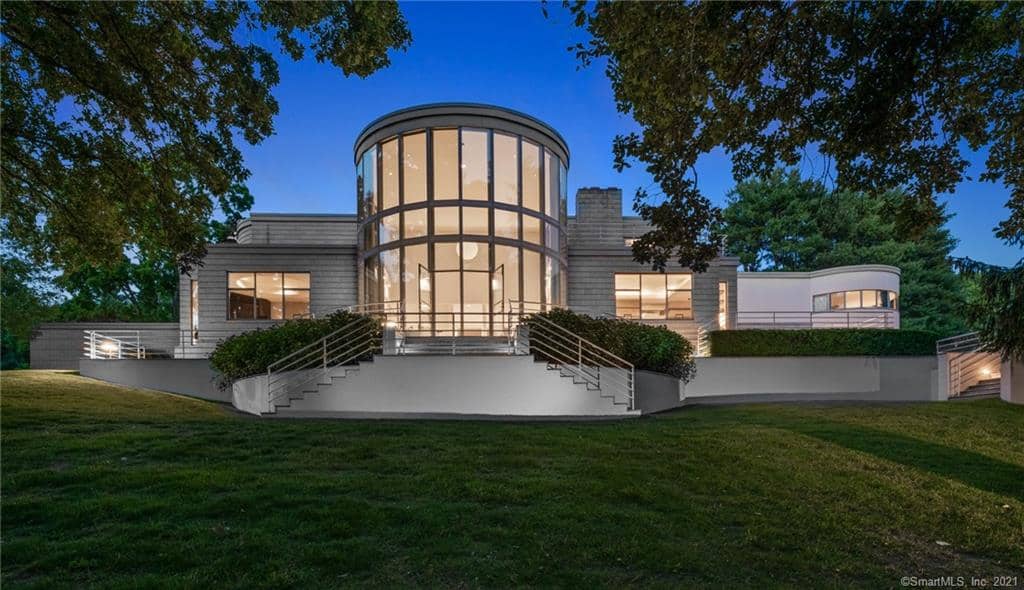 With bold architecture that attests to the architect's prevalence for powerful forms, the 66 Cherry Valley Road property in Back Country, Greenwich, CT is equally (if not more) dazzling after you cross its threshold.
Stepping inside the glass-walled atrium, you're welcomed by a live tree — planted in the floor — that softens the transition from the lively, green outdoors to the modern interiors.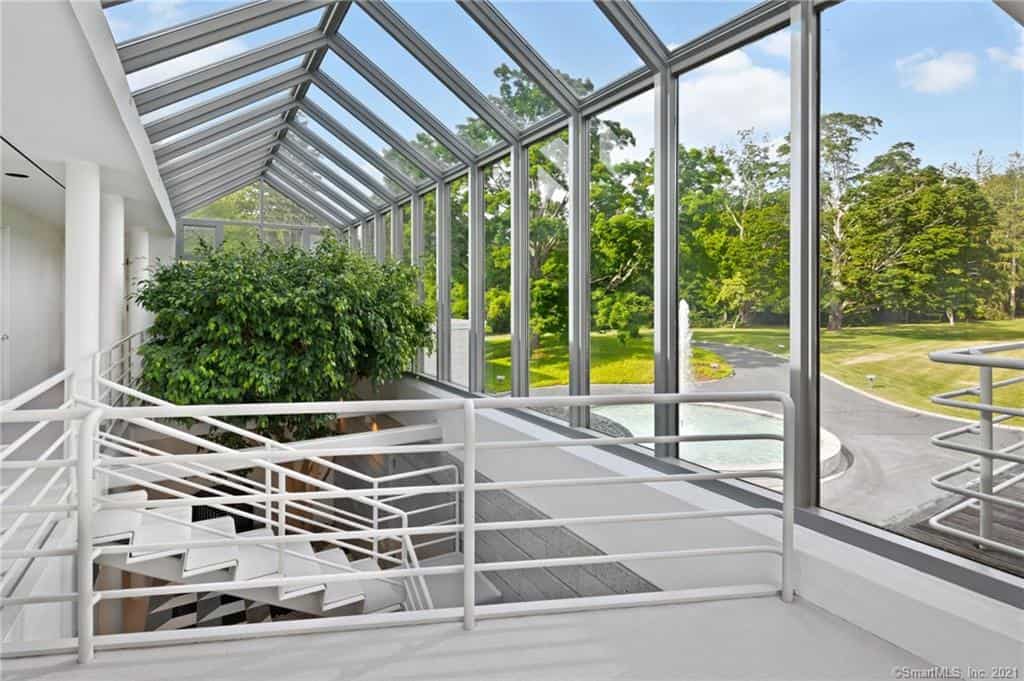 The 8,888-square-foot home is anchored by a striking living room whose glass windows rise two stories tall — inviting plenty of natural light in, as well as unparalleled views of the greenery that surrounds the home.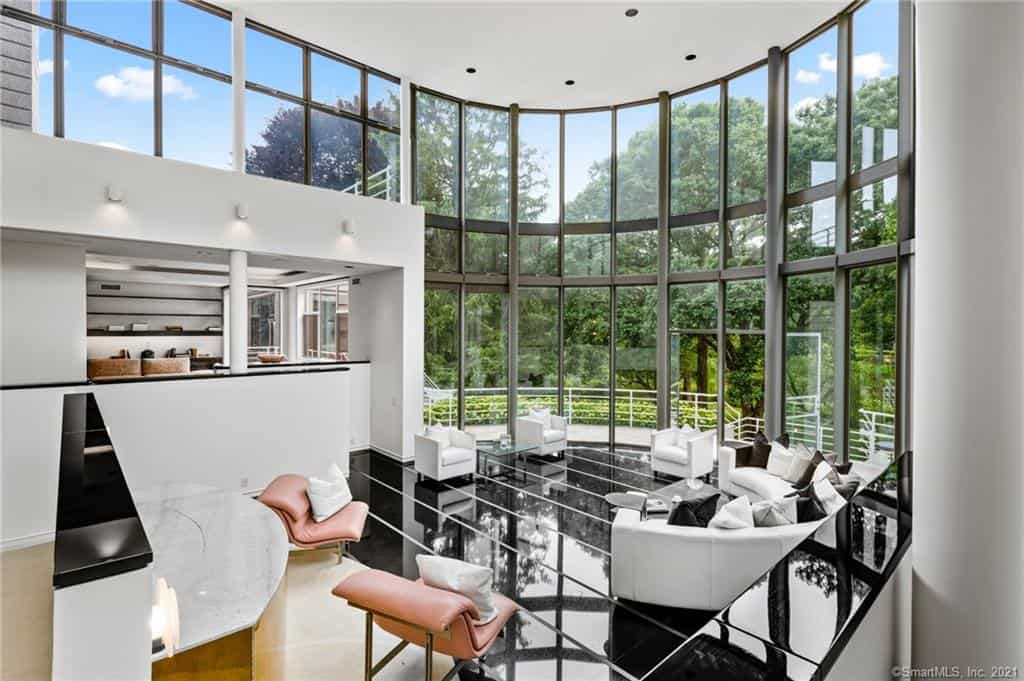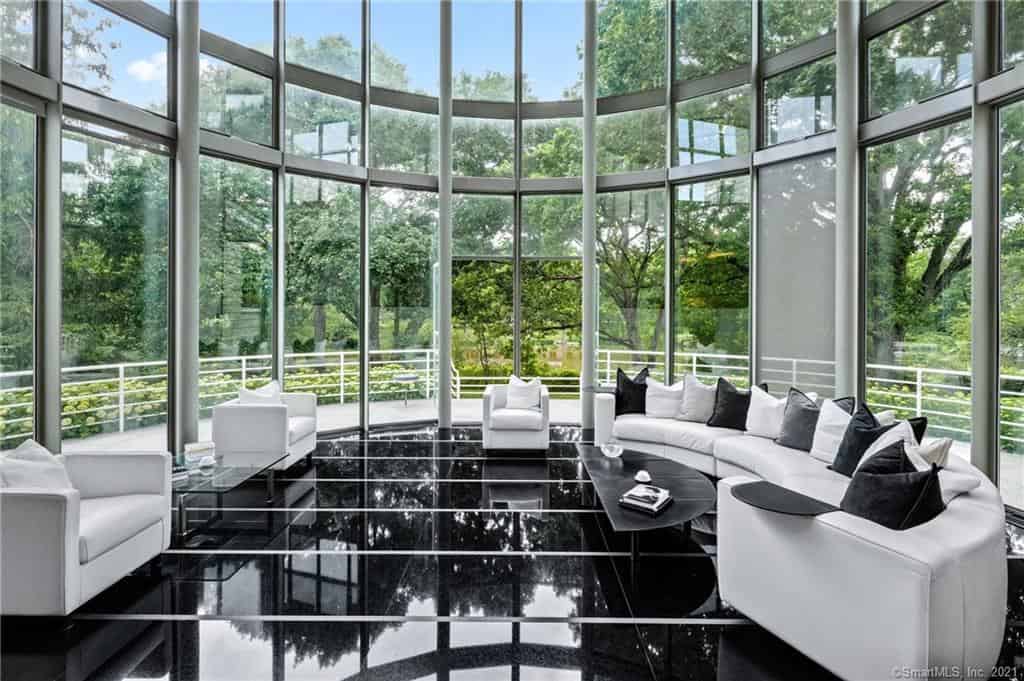 The Morris House was thoughtfully designed to separate entertaining spaces and common areas from private family quarters. The first floor is dedicated to gathering and entertaining, featuring dual living rooms, a formal dining room, and a chef's kitchen with a butler's prep area.
Currently on the market for $7,400,000 (listed with The Agency's Todd David Miller and Cliff Smith), the architecturally distinct property has 6 bedrooms and 10 baths, and includes a separate 2-bedroom cottage.
Interiors open to expansive shaded patios, an outdoor kitchen, pool/spa and an illuminated tennis court in a park-like setting.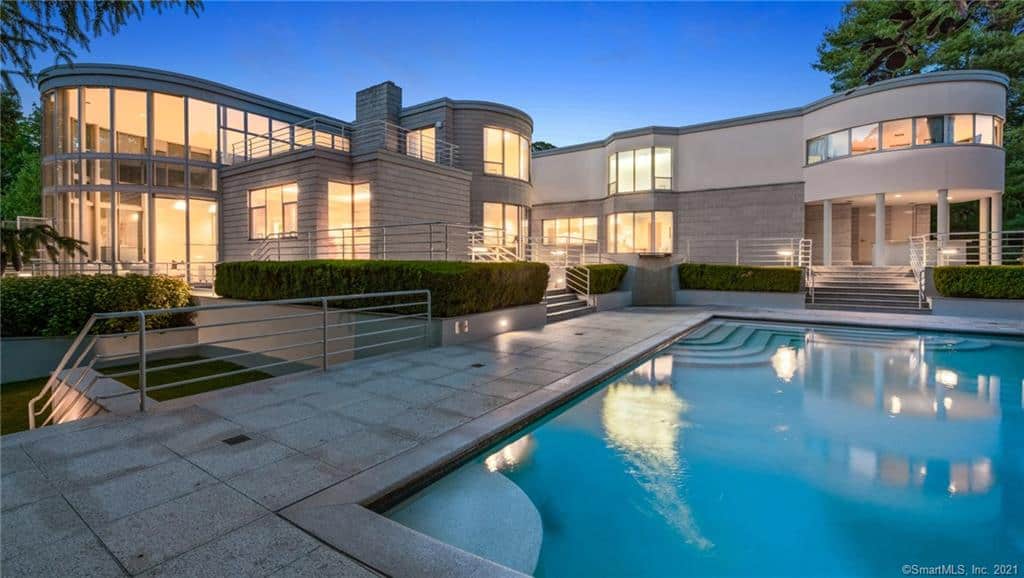 Built in 1992, the property is one of several architectural projects Franzen completed in the area.
The German-born architect lived in Rye, New York, where he built his award-winning family home, known as the Franzen House.
Part of the influential group of architects that emerged from the Harvard University Graduate School of Design, Ulrich Franzen worked under the world-renowned architect I.M. Pei before starting his own firm, Ulrich Franzen & Associates, in 1955.
His most notable projects are the Philip Morris headquarters in New York City and the headquarters for the Miller Brewing Company in Milwaukee, WI, but it's his private residences that are often quoted as his most creative works.
More stories
The Breakers mansion in Newport, the Vanderbilt summer estate
Winfield Hall, the Historic Woolworth Mansion in Glen Cove