Blend futuristic art with immaculate California nature and you'll get Malibu's groundbreaking Glass-and-Steel House — if you can shell out $59.5 million, that is.
41800 Pacific Coast Highway's not-so-humble price point of nearly $60 million includes four bedrooms and six bathrooms with a detached one-bed, one-bath guesthouse on 8,206 square feet of pure architectural excellence.
The unrivaled property is situated on a pristine Malibu beach lot boasting a Harrison Reef tide pool and dramatic ocean and canyon views. Best of all, the location is distinctly private, ensuring its next owner the utmost exclusivity.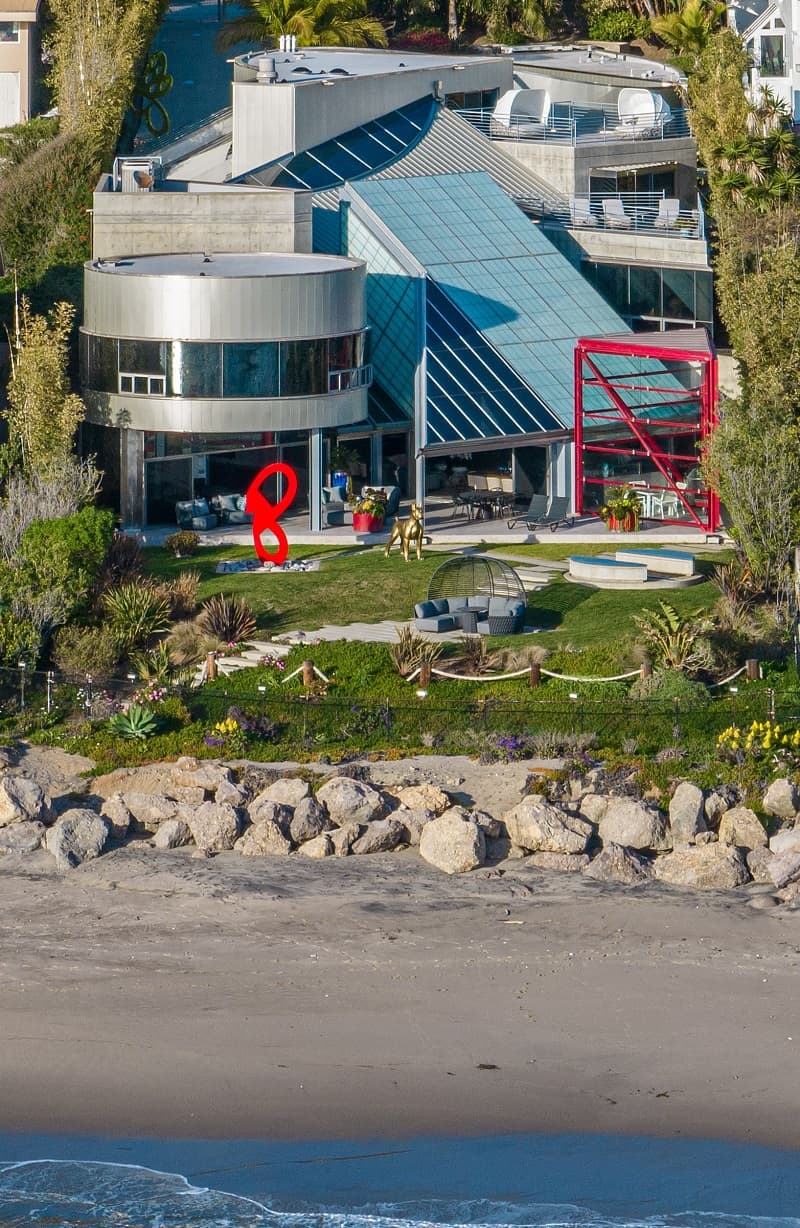 An Ed Niles masterpiece
Renowned architect Edward R. Niles, who's been creating iconic structures since 1979, expertly balanced cutting-edge ideas with timeless elements to create arguably his best endeavor — the Malibu Glass-and-Steel House — which is, in essence, a livable art piece to the likes of the Guggenheim Museum.
The avant-garde abode is defined by sharp geometric angles, varied shapes, and out-of-the-box materials like glass, steel, and concrete, all thoughtfully executed and flowing beautifully together.
In other words, it's a far cry from your average home.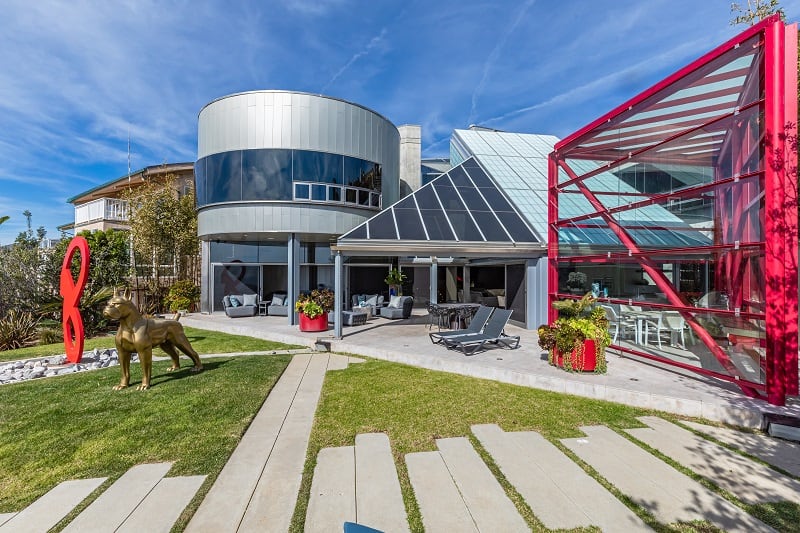 Feng Shui and Japanese influences
Despite its futuristic appeal, the house still manages to achieve a homey feel by balancing the cold steel and concrete with warm natural elements throughout.
The original owner of the house, Dr. Wei-Tzuoh Chen, was passionate about Feng Shui – and it's noted in the carefully curated details.
The home's prime location on a hill just 75 feet away from water adheres perfectly to the ancient Chinese art form's principles, and its south-facing facade is ideal for balance, harmony, and good fortune.
See also: Alicia Keys' house in San Diego is a futuristic clifftop mansion
Taking Feng Shui to the next level, architect Niles strategically incorporated the lucky number 8- doubling in meaning as the infinity symbol throughout the house, from its eight separate structures united as one to tasteful sculptures and furnishings highlighting the powerful number that represents abundance.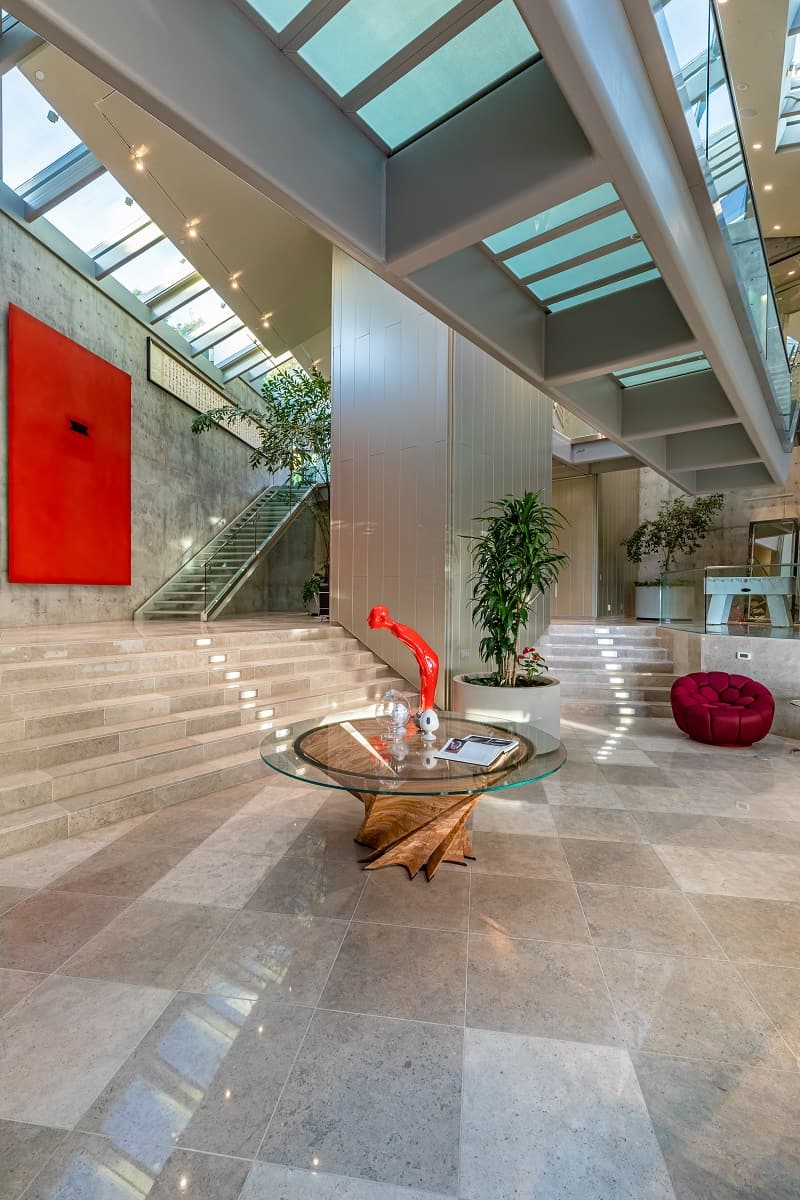 The notes of red carefully scattered across the grounds also symbolize luck and prosperity, which the future homeowner is bound to have already, considering the property's eye-boggling price tag.
Niles also tapped into the Japanese architectural Shoji concept of translucency when designing the modern masterpiece, and its influence can be seen in the property's abundant windows that lend way to striking views of the Southern California coastline.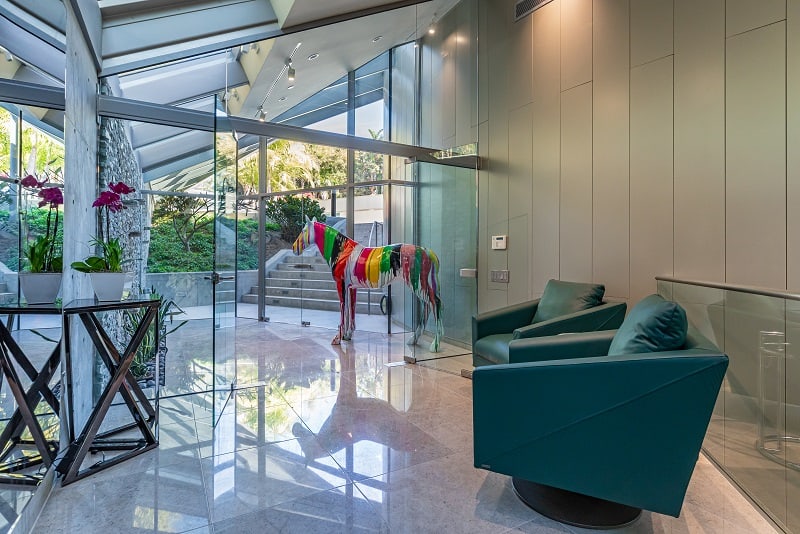 Even the ceiling is made of glass, giving the interior a bright atrium vibe while filtering in the sunshine.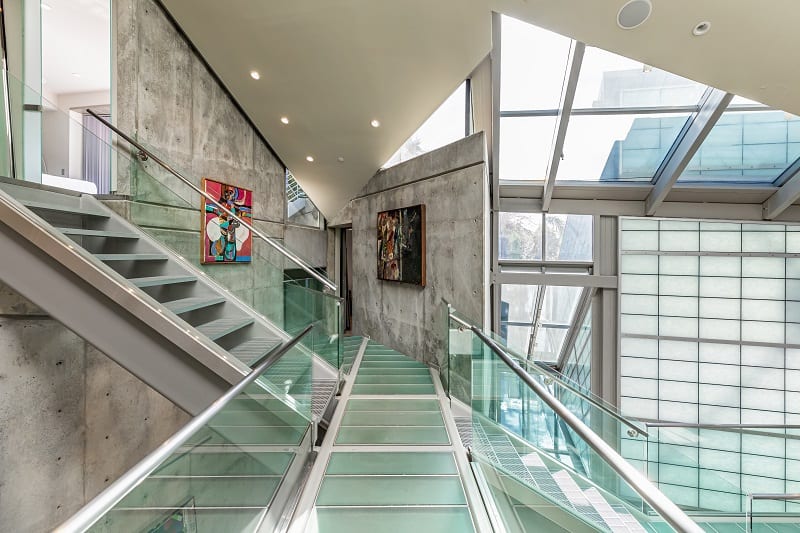 Now listed for $59.9 million
Originally listed in March 2023 with an ambitious $68.8 million price tag, the Ed Niles-designed home recently had its price re-adjusted to $59.9 million.
Madison Hildebrand and Jennifer Chrisman at Compass and Wendy Wong and Katherine Quach of Treelane Realty Group are spearheading the home sale.
Says Hildebrand, "It's a rare occurrence where art meets nature. From the moment you arrive, you realize it's unlike any other property along the Malibu coastline. Every angle, shape, and material was carefully thought out to provide a unique experience. And, being only 25 minutes from the Camarillo airport, it's perfect for those looking to escape unnoticed."
Steel beams and floor-to-ceiling glass walls juxtapose the lush canyon surrounding them. But the real magic lies inside.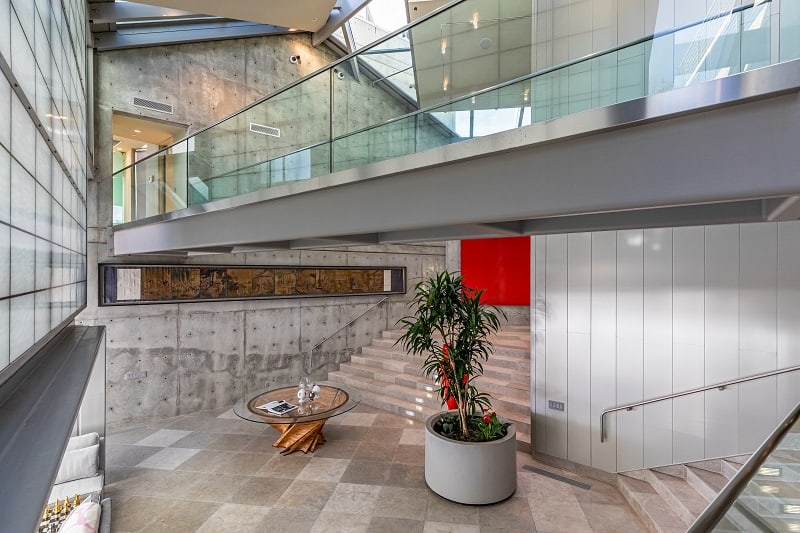 Enter the private gates and through a minimalist yet dramatic foyer and you'll be greeted with an open floor plan featuring the main living space and sleek stainless steel Bulthaup kitchen, including Sub-Zero refrigerators, limestone floors, and high-quality cabinetry and furniture designed by the architect himself.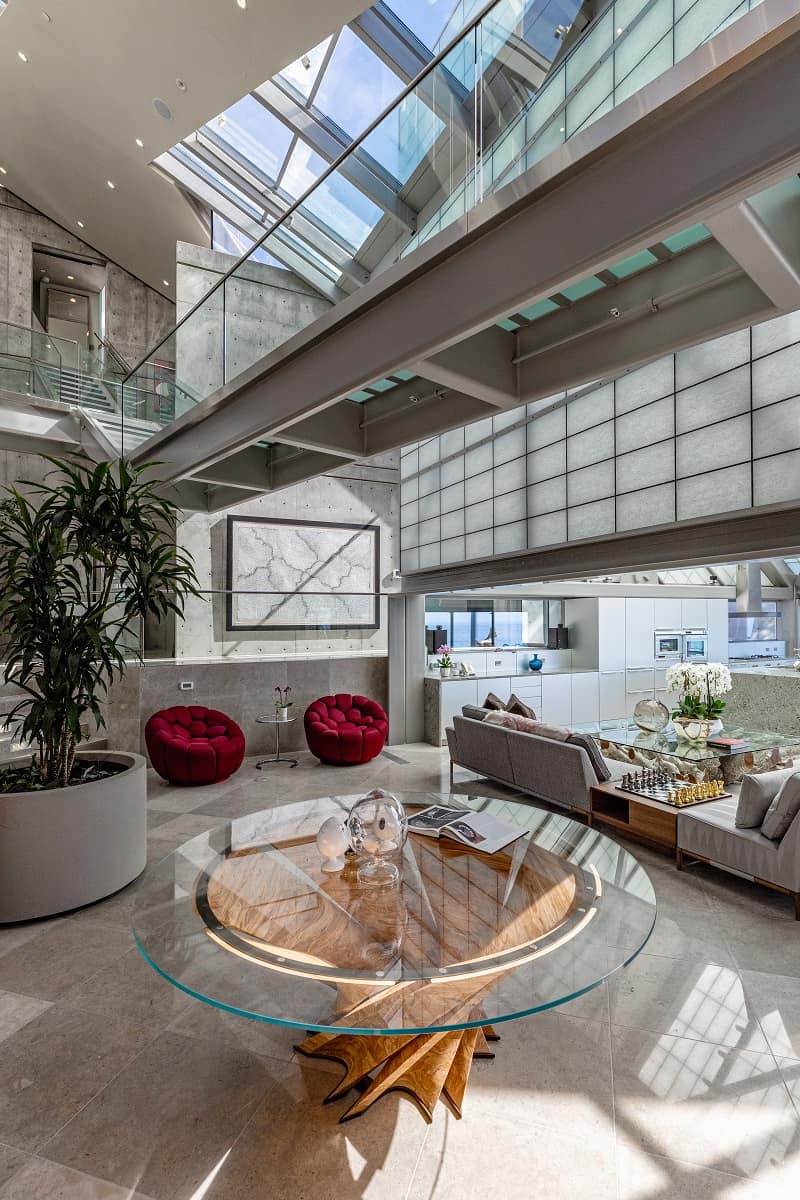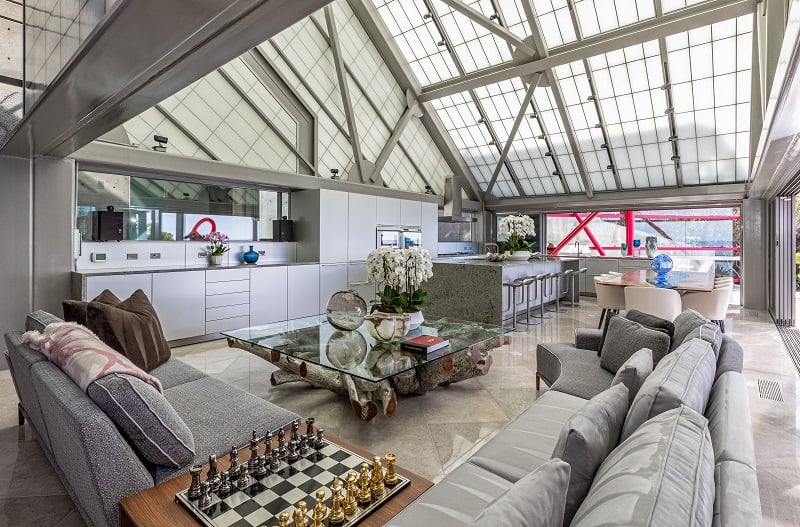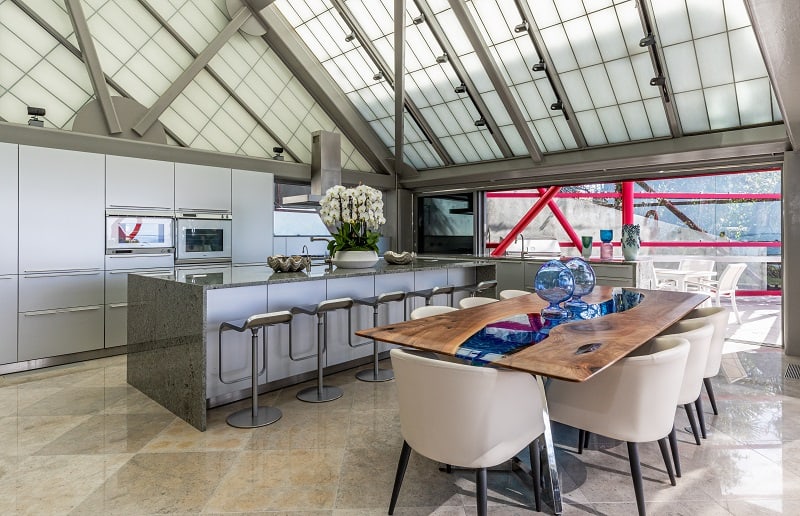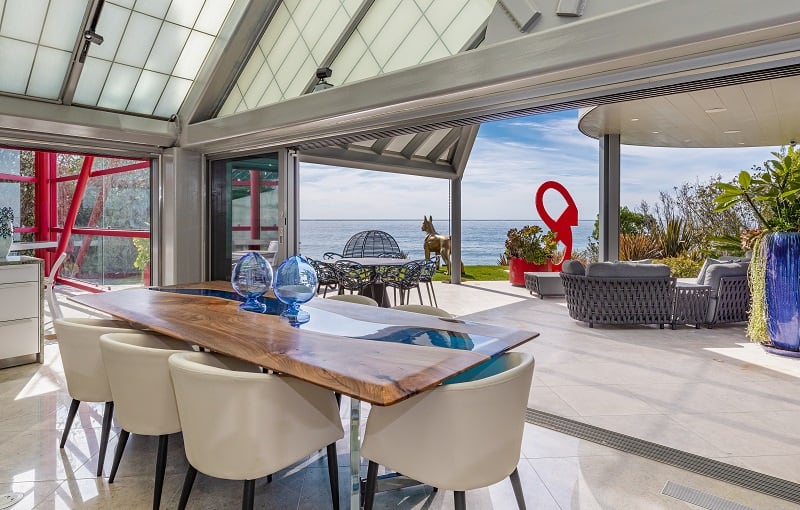 While the main floor is spectacular, the upstairs — which features four en-suite oceanview bedrooms and living spaces and can be accessed by hydraulic elevator — is just as otherworldly and aesthetically pleasing.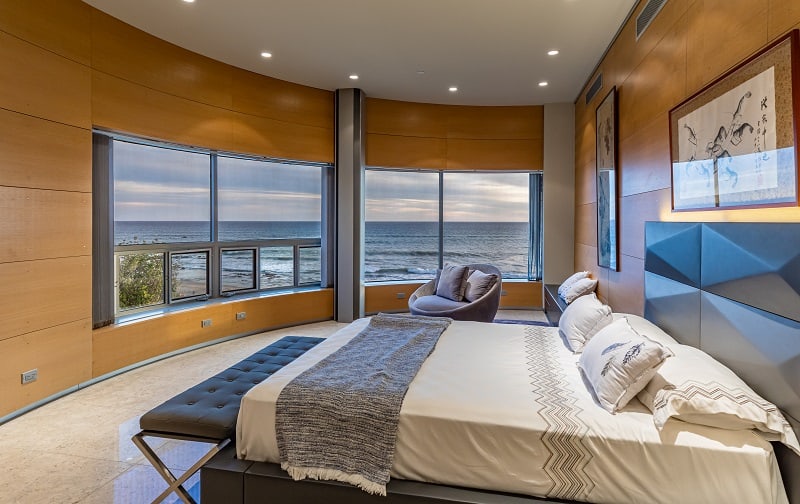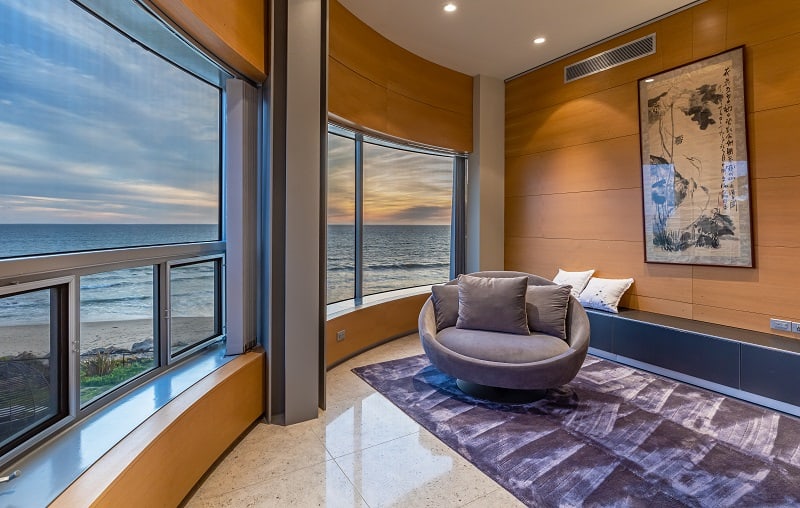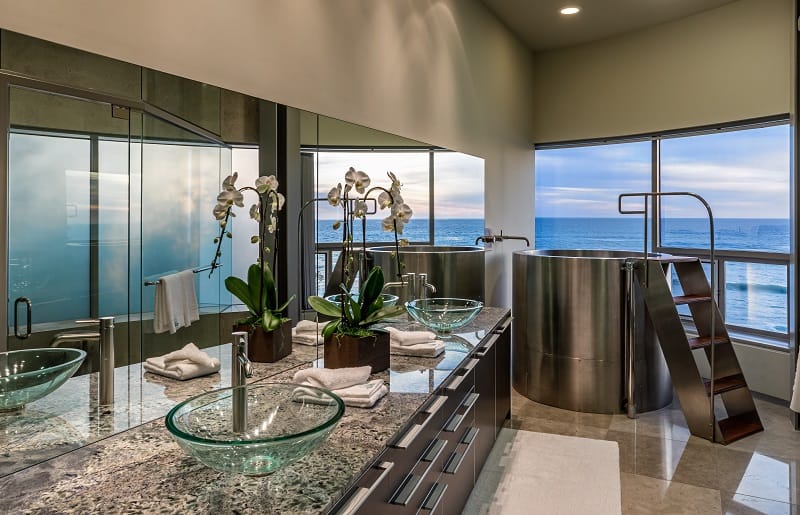 This home boasts bragging rights beyond its one-of-a-kind structure and world-class location, though.
Featuring a state-of-the-art music room, a soundproof home theater that seats up to 19 people, and a built-in audio system throughout the structure, it's also an entertainer's paradise.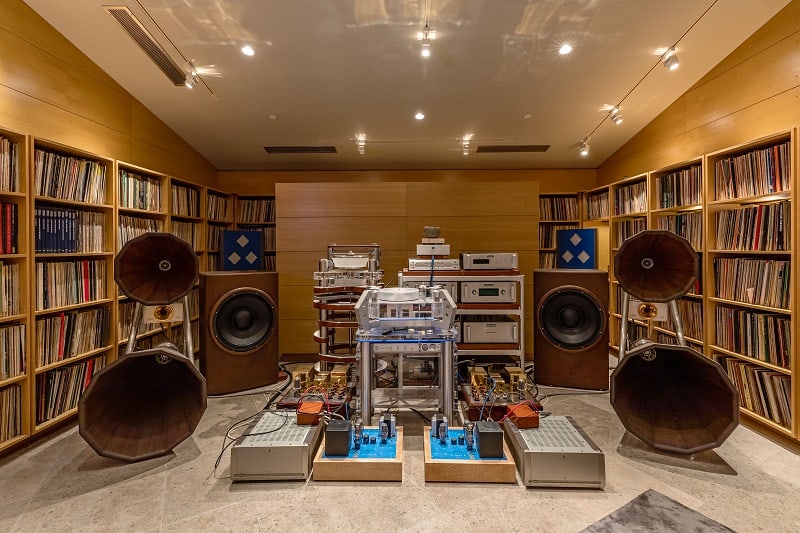 You can effortlessly bring the party outside thanks to the property's expansive outdoor space with enough room to host over 100 guests.
Between the Japanese soaking tub, conversation fire pit, and barbecue area — all with outstanding vistas of the home's 75-foot fine sand beach and the breathtaking ocean beyond it — you can bet that no guest will get bored.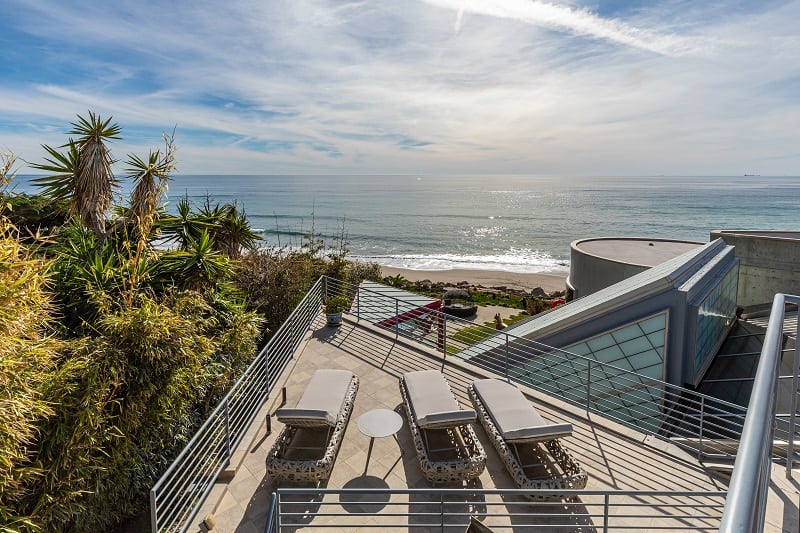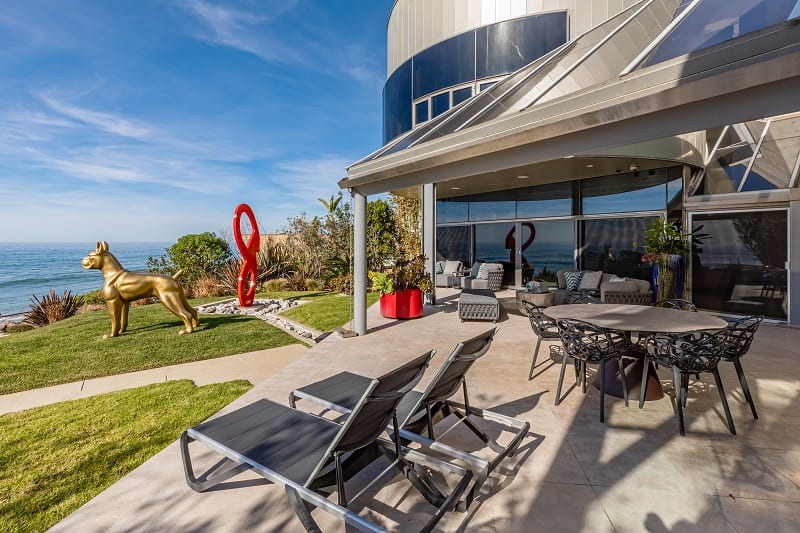 One multi-millionaire with almost $60 million to spare will be fortunate enough to call this innovative and tasteful home (and a slice of Malibu Beach) all their own. And we'll be keeping an eye out to see who the lucky future owner will be.
More stories
Architect Harry Gesner's personal home, the $22.5M Sandcastle House in Malibu
The Sowden House, an architectural gem with a grim backstory and ties to the Black Dahlia case
The Chemosphere House and 6 other striking John Lautner-designed homes