Please note that this article contains affiliate links and we will get a small commission from any purchase you make by clicking on one of these links
Personal touches are what transform a house into a home and there's no better way to do that than by creating a photo wall.
After all, pictures are worth a thousand words and the feelings they evoke are priceless! Memories may fade but photos can instantly transport you back in time to relive the best moments of your life.
Photo walls or gallery walls have become quite a popular home decor trend in recent years and with good reason. They are a great way to revamp a bland wall, create a focal point in a room, and add some character and personality to your space.
When it comes to statement walls, most people choose wallpaper or a bold shade of paint but a photo wall is a great, modern alternative to these. The best part is that it's extremely versatile. You can always move the pieces around or even completely change the pictures and artwork whenever you feel like it, giving your wall a fresh new vibe each time.
Creating a beautiful photo wall
The task of creating a gallery wall may seem overwhelming and time-consuming but it doesn't have to be.
First things first, you need to decide what you'd like to display up there. If you're not keen on displaying family pictures, you can feature original artwork, interesting prints, typography art, and even your favorite quotes.
The best part is that there are no rules. It all comes down to your personal style. You just need to experiment a little and figure out what will work for your space.
Of course, you can't have a photo wall without photo frames and that's where we come in. Check out these unique wall picture frames that are sure to add some oomph to your home!
Fotochain Photo Display 
If you're a fan of vintage-inspired home décor, this Fotochain photo display is perfect for your gallery wall.
It comes as a set of three frames suspended by a metal chain hanging from a matching knob. You can pick from a couple of different finishes including chrome, matte black, and brass.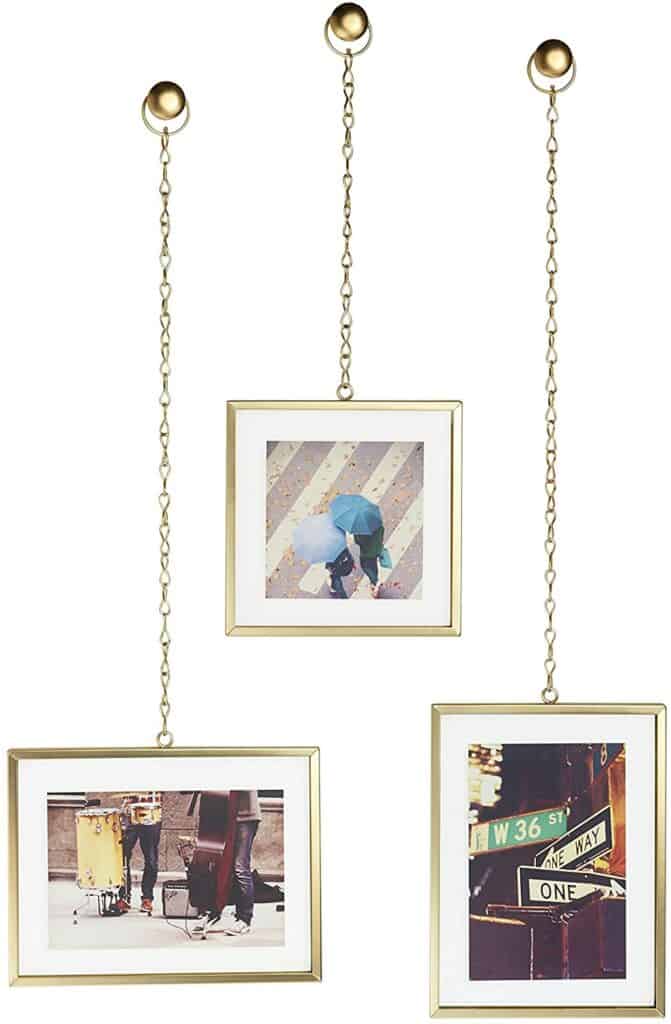 You can also opt for circular frames instead of the rectangular ones if you're looking for something unique. The frames hold one 4×4-inch and two 4×6-inch photos and the display is super easy to mount. Click here to get this classic beauty.
Umbra Luna Picture Frame Collage
The trickiest part of creating a gallery wall is the placement of the individual frames.
The best way to do it is by putting up a mock display with brown kraft paper and painter's tape but if that sounds like too much work, this Umbra frame is a great alternative.
It allows you to showcase nine 4×6-inch photos in a single frame that's easy to hang and clean. Say yes to an awesome photo wall and no to racking your brains. Buy this sleek photo frame here.
Gallery Perfect 12-Piece Frame Set
If your home has a modern minimalist theme, this wall photo frame set would look fabulous as part of a gallery wall!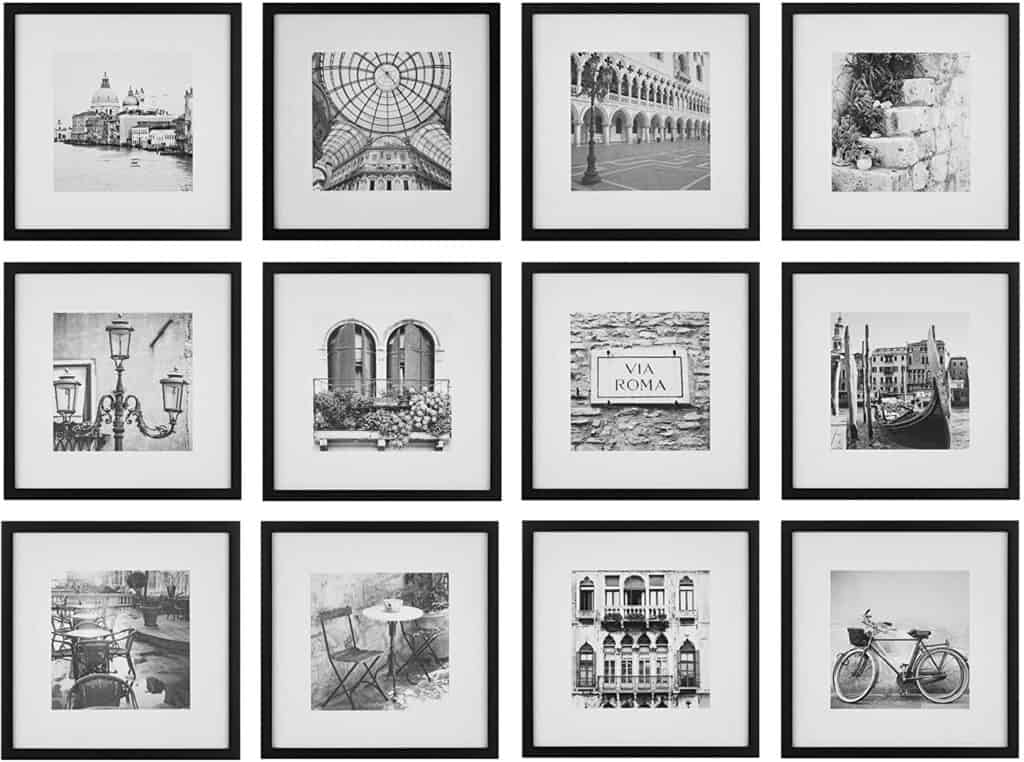 The uniformity and clean lines will instantly add a touch of sophistication and to make it more cohesive, just add black and white photographs. Each frame measures 13.1" x 13.1" and can hold a 8"x 8" photo.
The best part is that it comes with an easy-to-hang template that will help you plan exactly where and how to hang each frame. Make it yours by clicking here.
Kate and Laurel Bordeaux Expressions 10-Piece Set
A cozy farmhouse-inspired home is incomplete without a picture frame collage wall dedicated to family.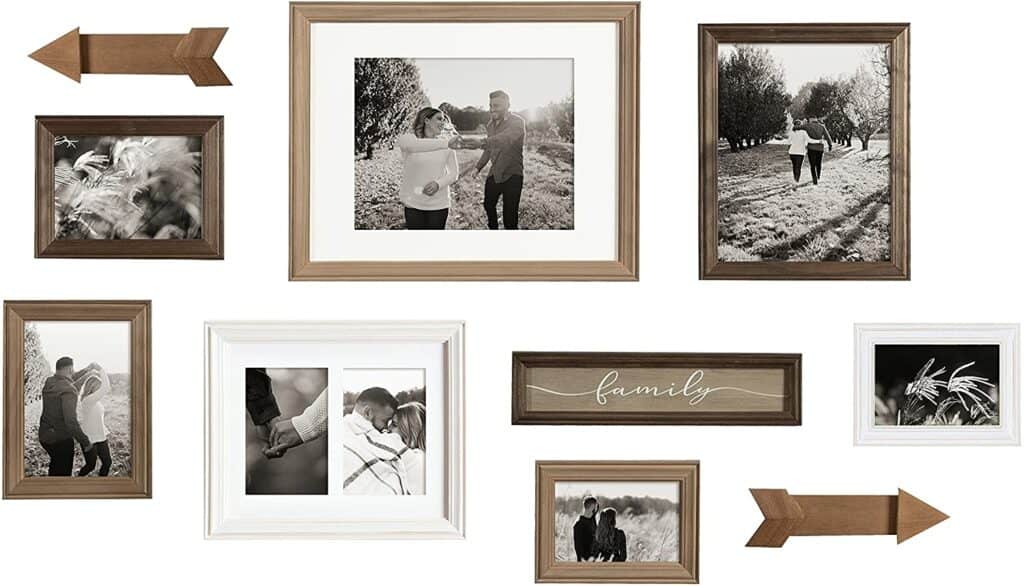 This 10-piece rustic set comes with 7 frames of assorted sizes, 2 decorative wooden arrows, and another slim frame with four face paper options including "Family" in white or brown, "Our Story" and "Love."
You can separate the pieces if you'd like but they look amazing as one cohesive display. Get your set here.
Gallery Perfect Collage Gallery Wall Kit
When it comes to photo walls, a mix and match look can be a hit or a miss depending on the pieces you pick.
If you like this look but aren't too confident about creating it from scratch, go for this lovely gallery wall kit.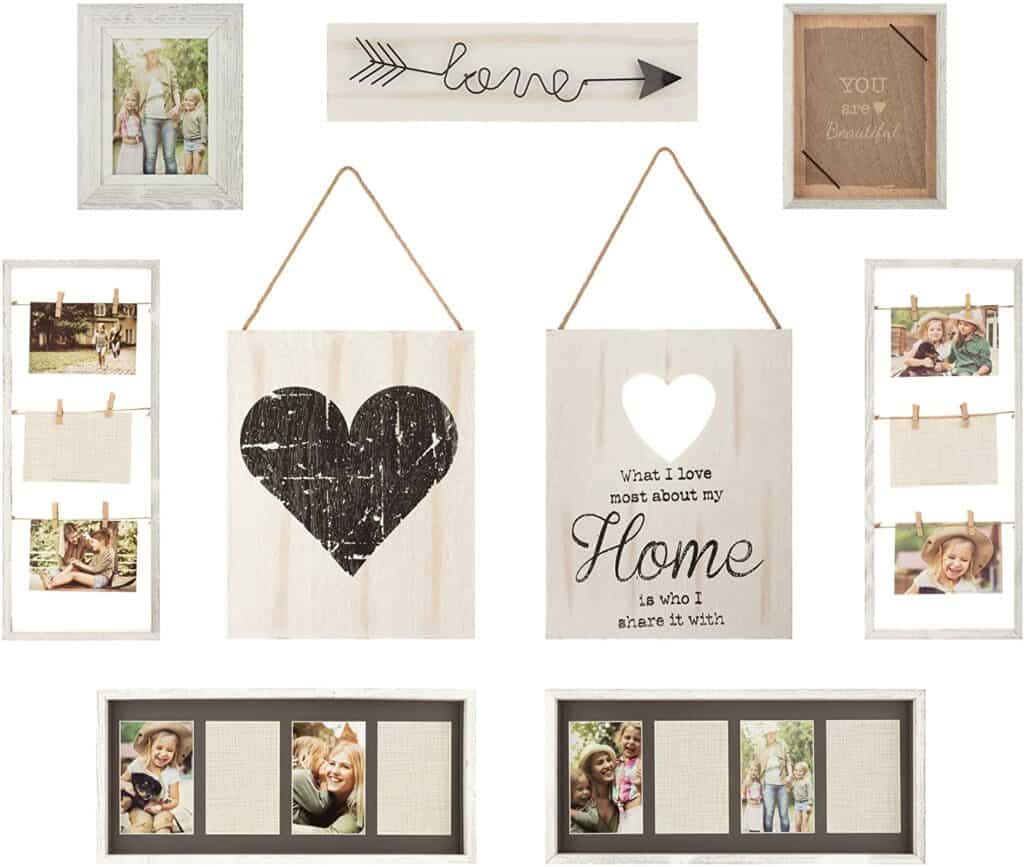 It comes with many different options to display your photos as well as a "Home" and "Heart" décor sign.
The pièce de résistance, however, is the wooden plank with a black wire arrow detail with the word "Love." Order now to make this shabby chic frame set yours.
Umbra Exhibit Picture Frame Gallery Set
If you're looking for something that's different and eye-catching, look no further than this frame set by Umbra.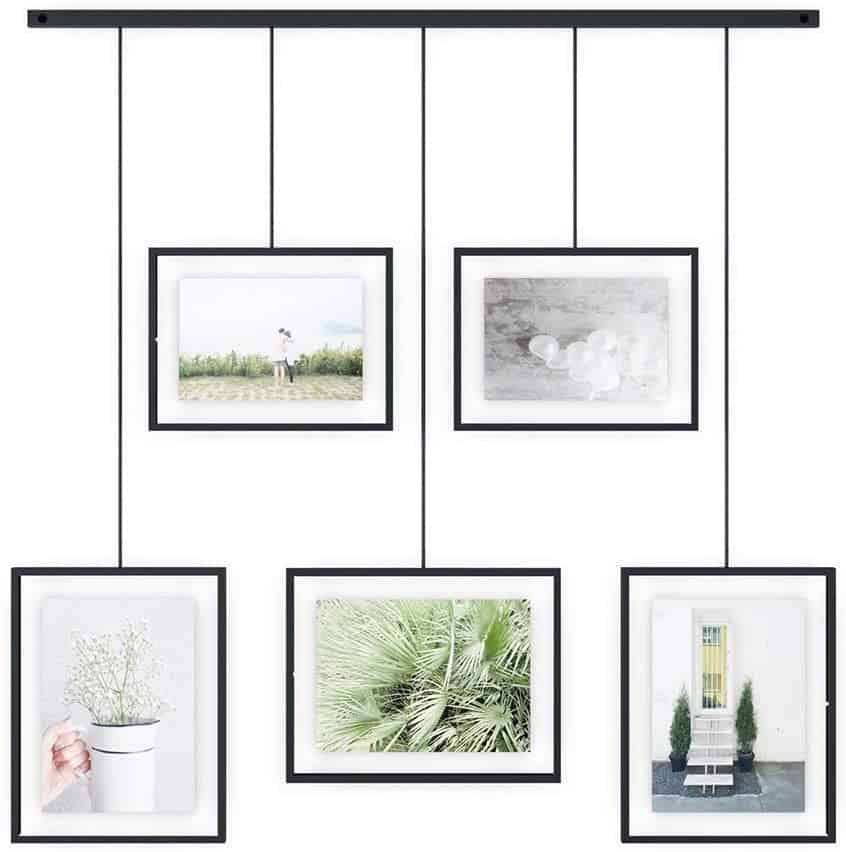 It features five hanging, gallery-style frames, two 4×6 and three 5×6 suspended from a sleek beam. The beauty of this set is that it's entirely customizable and you can create different looks based on your space.
It also comes in a couple of other finishes including brass, white, and chrome. Because the pictures are hanging from the beam, you don't have to drill multiple holes on the wall, making it perfect for a rental. Get it here.
Dimmable 50-Photo Clips String Lights
Another fantastic option for a rental space or dorm room is this fun string light with clips that allow you to display up to 50 photos.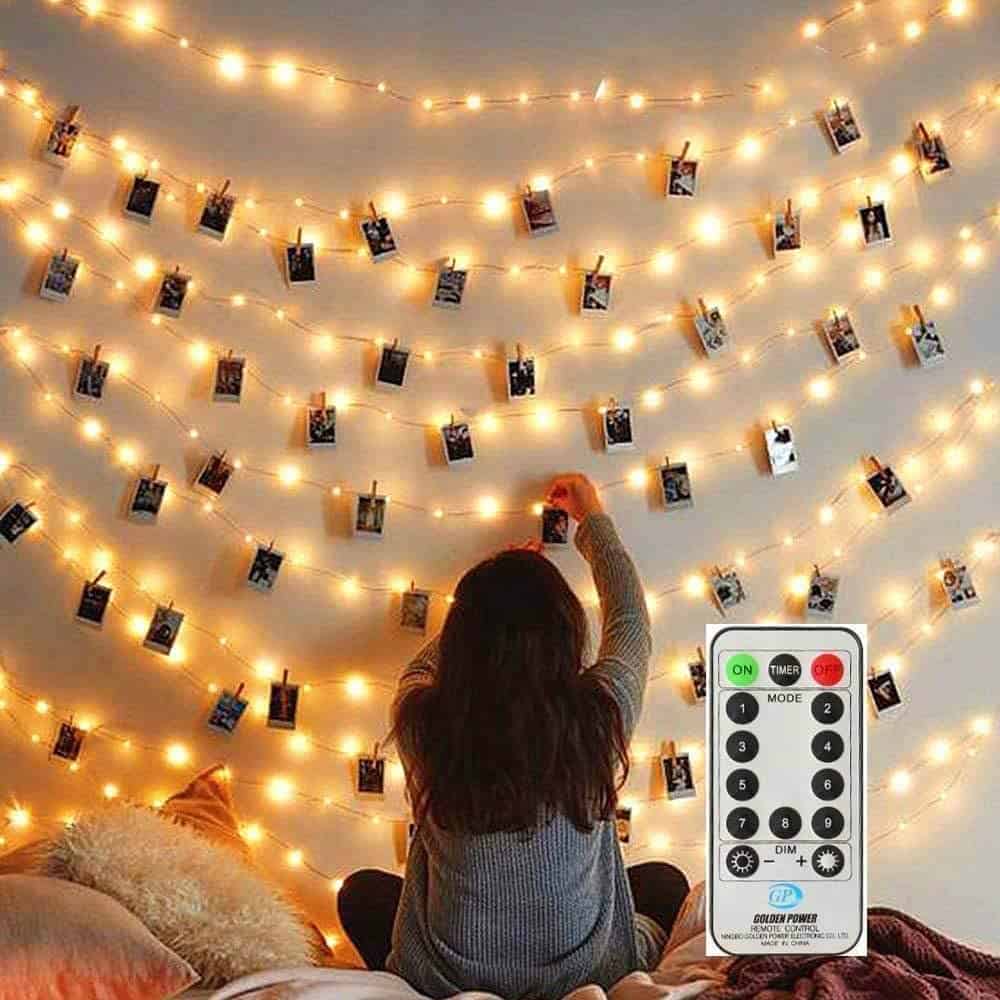 The fairy lights add a dreamy touch and are powered by 3AA batteries. They also come with a remote control with 8 lighting modes, a timer, and a dimmable feature.
This would look best with Polaroid shots but of course, you can also use regular pictures, cards, quotes, and so much more! Bring the magic of these lights home by clicking here.
Mkono Hanging Photo Display With Stars
Embrace the star that you are with this quirky hanging photo display complete with stars, metal chains, and 25 wooden clips.
This set would be great for a smaller space like a home office, a bedroom, or even a nursery.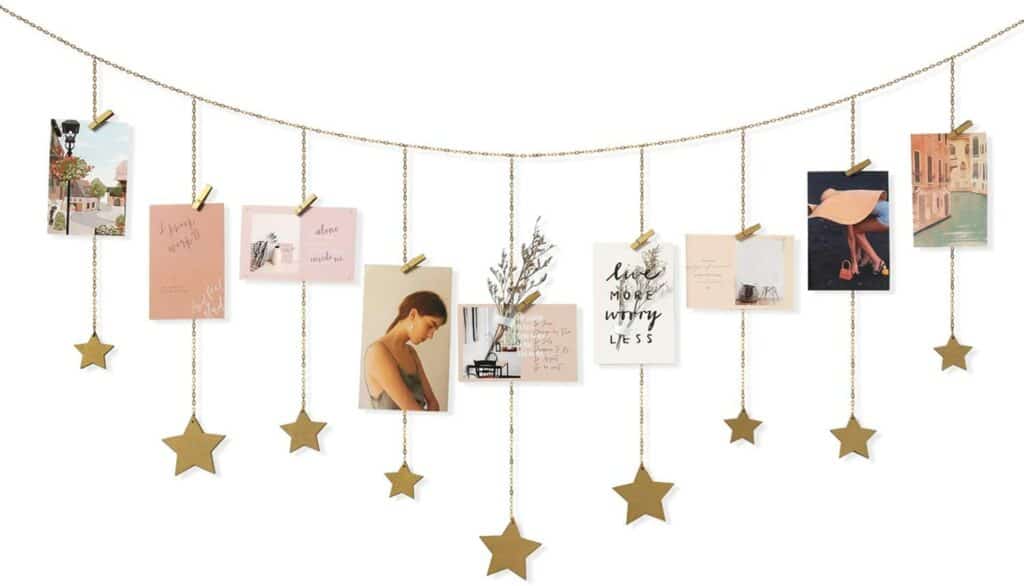 The stars are made of wood board and finished off with a gold metallic paint. It comes with all the necessary hardware and is a breeze to hang. Click here to get this bohemian beauty.
Giftgarden Set of 3 Floating Shelves
Just because you live in a rental, doesn't mean you have to give up on your dream of having a beautiful gallery wall. You just have to think outside the box…or should we say shelf?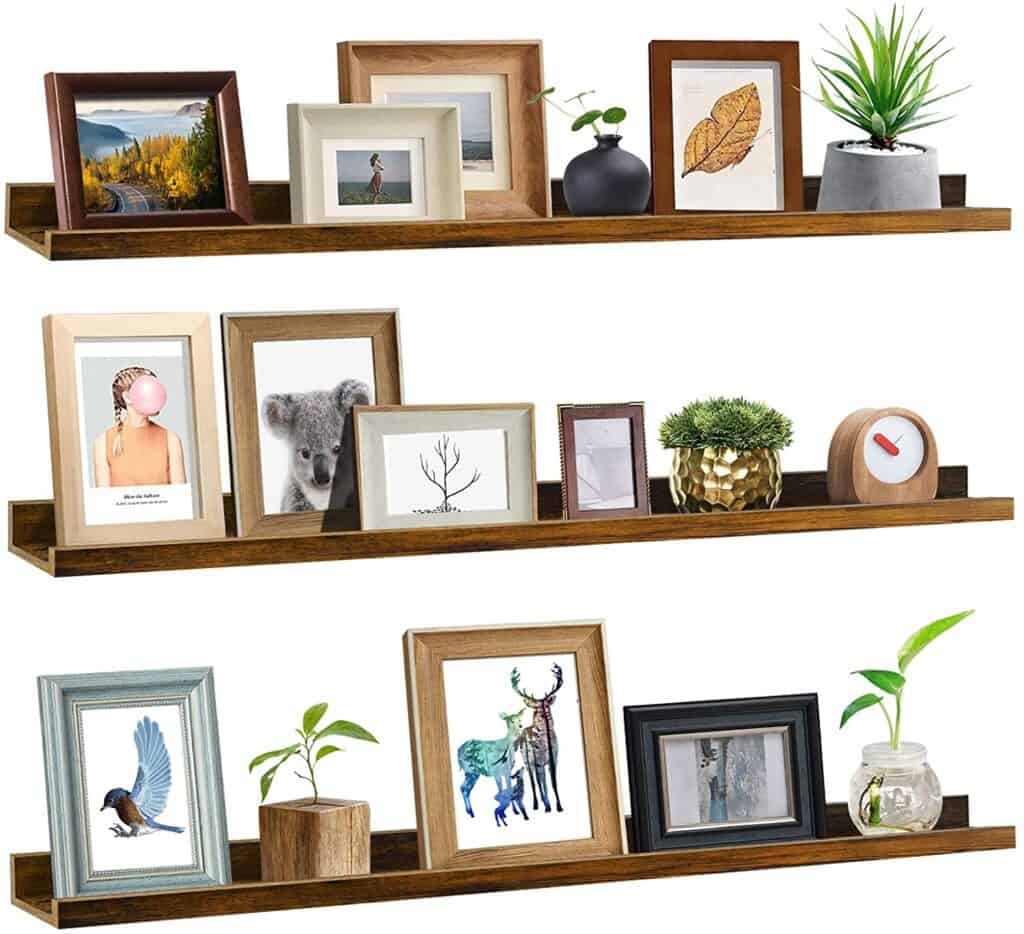 These rustic wooden floating shelves are a great way to display your pictures and artwork without destroying the wall.
This set comes with three shelves in different sizes that you can either hang separately or combine as per your needs. The package includes wall anchors, screws, a handy lever, as well as an instruction booklet for easy installation. Grab it today.
Wallniture Denver Modern Set of 2 Floating Shelves
If you like the idea of floating shelves but want something a little more modern, this set by Wallniture Denver has your name written all over it.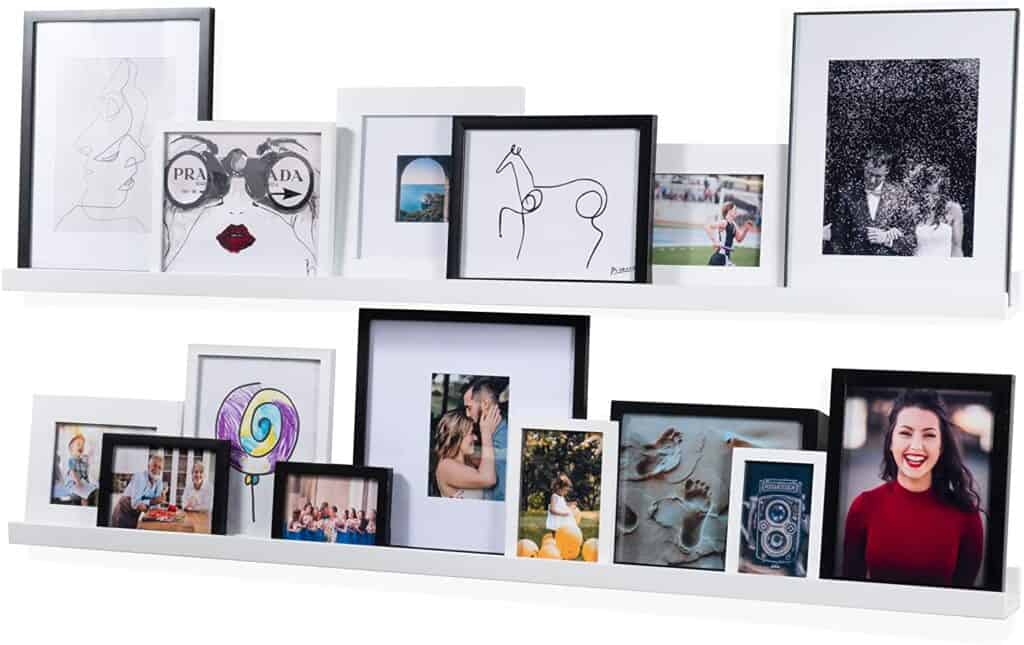 Each shelf is 56 inches long and is a breeze to install.  Its beauty lies in its simplicity and it would be a great way to display your most treasured memories. Make your gallery wall dreams a reality by buying it here.
More stories you might like
The 15 Best Luxury Candles to Brighten your Home & Complement your Decor
The Cutest Cat Condos You Can Get on Amazon
10 of the Most Stylish Minimalist Wall Clocks You Can Buy on Amazon
Here's Everything You Need to Set Up a Meditation Corner in Your House