One of the most exclusive homes in the entire Napa Valley region has recently been listed for sale — asking a whopping $25 million.
This price point makes it the most expensive active home listing in the county, the Napa Valley Register reports.
Surrounded by over 40 acres of lush grounds set amidst California's world-class wine country, the striking architectural home goes by the name of Karinya, a moniker that originates from the Australian aboriginal culture and is simply translated as "peaceful home."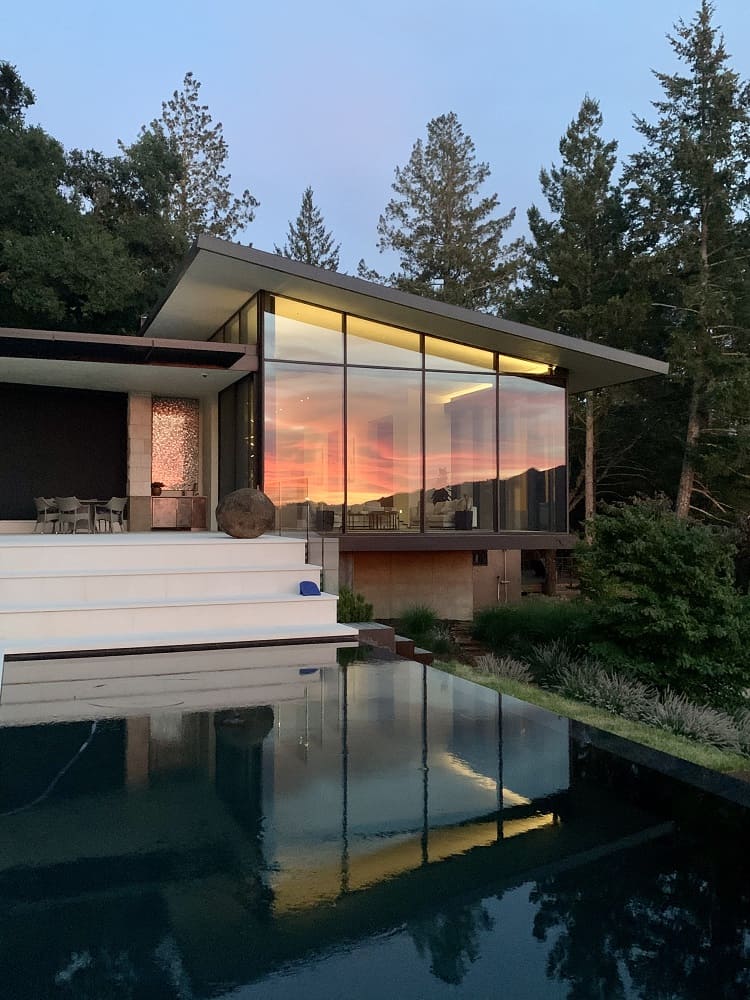 The house was built in 2017 by its current owners, Greg Casserly, CEO of Tarsadia Investments, and his wife Nola Casserly, who worked alongside a stellar team to erect the main structure on the massive 41-acre property they had purchased back in 2011.
"Every space of this contemporary home was designed by the owners and architect to create warm and inviting spaces that thoughtfully feature the natural elements in which they are located. In addition, the home was perfectly positioned to take advantage of the beautiful sunsets and expansive valley views from the highest point on the property."

Cyd Greer, listing agent for Karinya in Napa Valley, Coldwell Banker Brokers of the Valley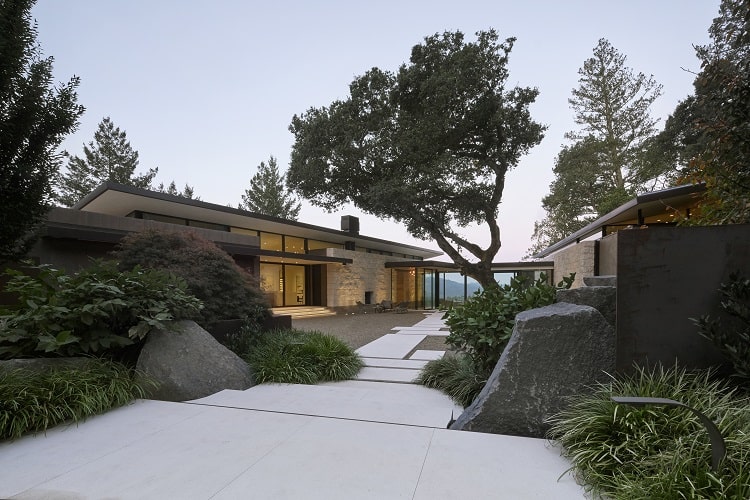 Location, location, location: Privacy meets contemporary living and stunning views
Nestled in the small community of Deer Park right next to St. Helena in Napa County, the unique property sits right in the heart of California's Wine Country.
And it makes the most out of its location, with over 41 acres of natural woodland and carefully crafted landscaping, plus sweeping views of its beautiful surroundings.
Listed at $25 million by Coldwell Banker Brokers of the Valley, the elegant and refined estate is the product of the well respected design/build team: Signum Architecture, Cello & Maudru Construction, Shawback Design, and Jack Chandler Design.
Spanning 8,837 square feet, the impressive residence was built with natural materials, a deep connection to the valley's views, and a design that boasts both beauty and luxury.
Hold onto your wine glasses… the main house will take your breath away
Not a detail is spared at Karinya. The main home features a luxurious living space featuring a great room with open spaces for living, dining and cooking.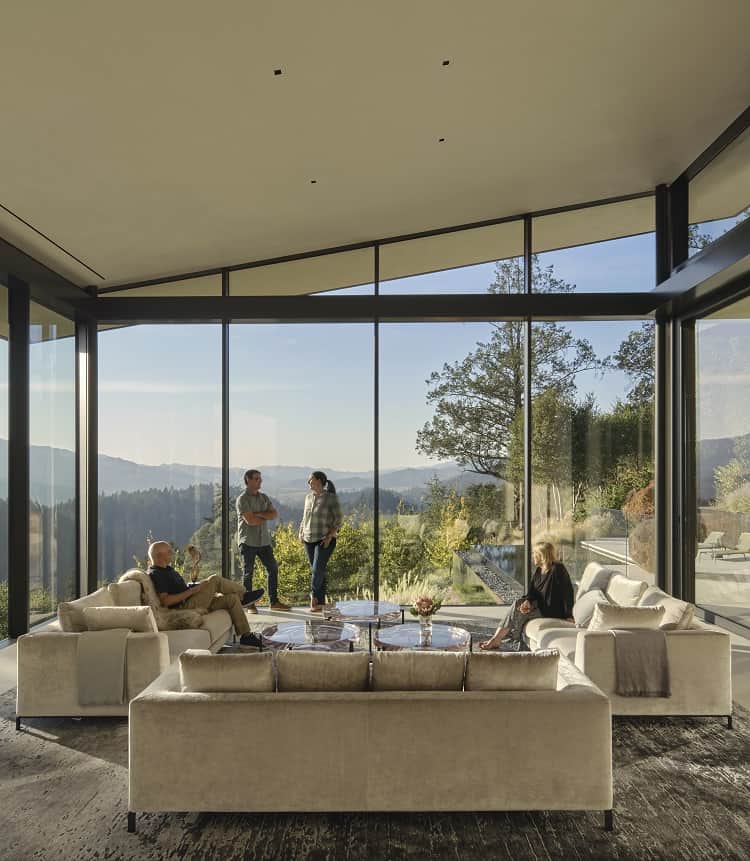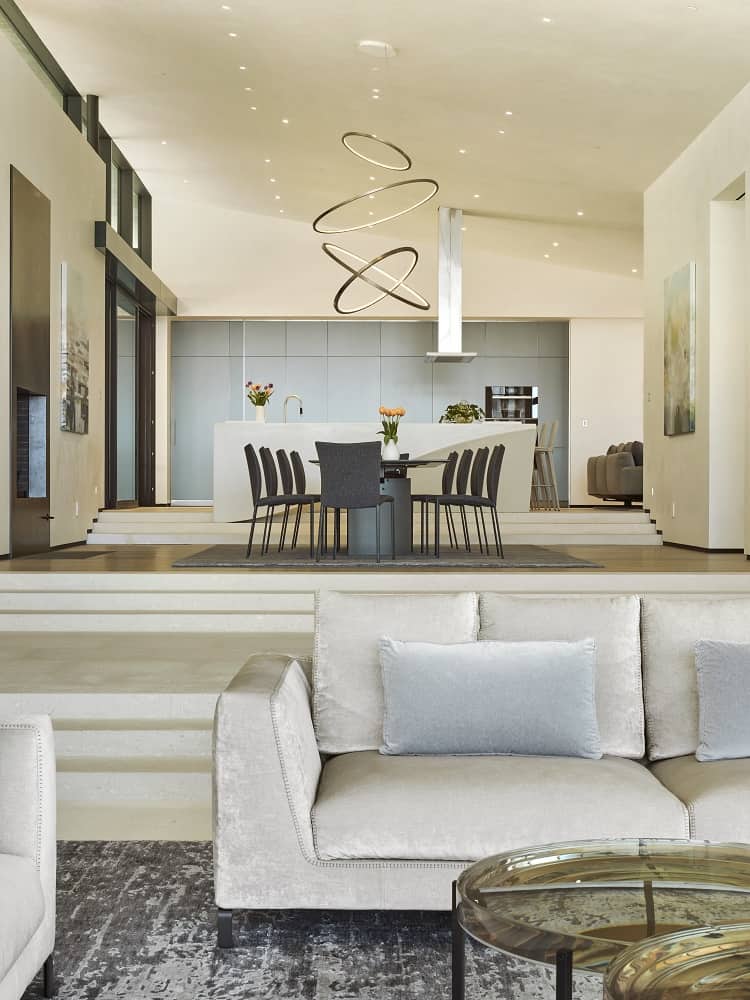 With crafted custom white oak cabinetry, the kitchen connects to the spacious dining and living areas. Including overflow kitchen storage in a unique pantry, the laundry room and attached mudroom are accessible by the building's elevator.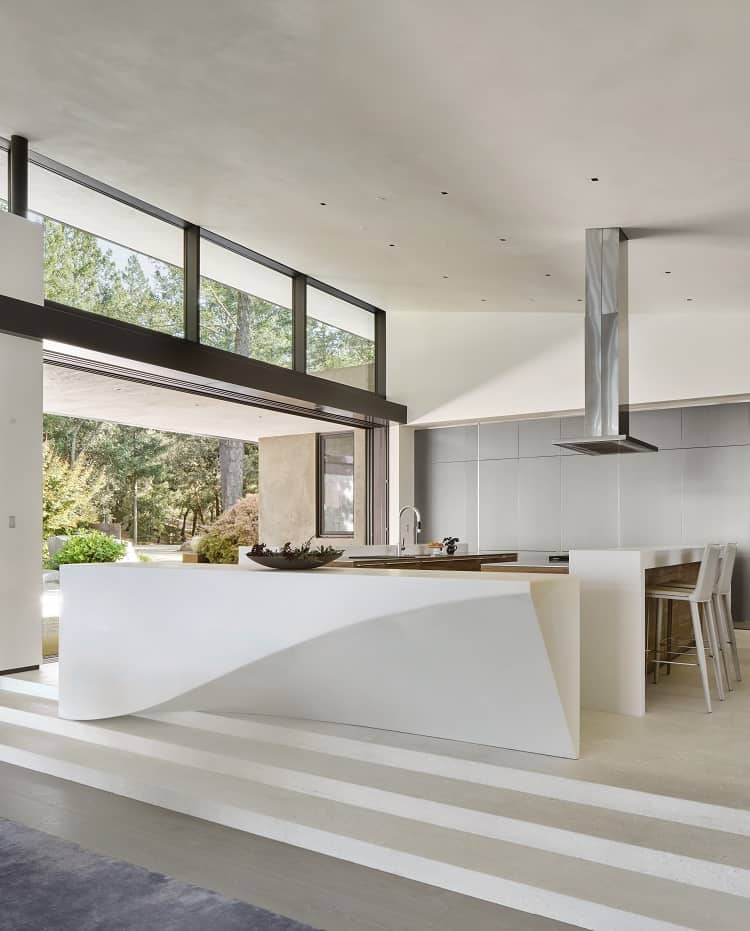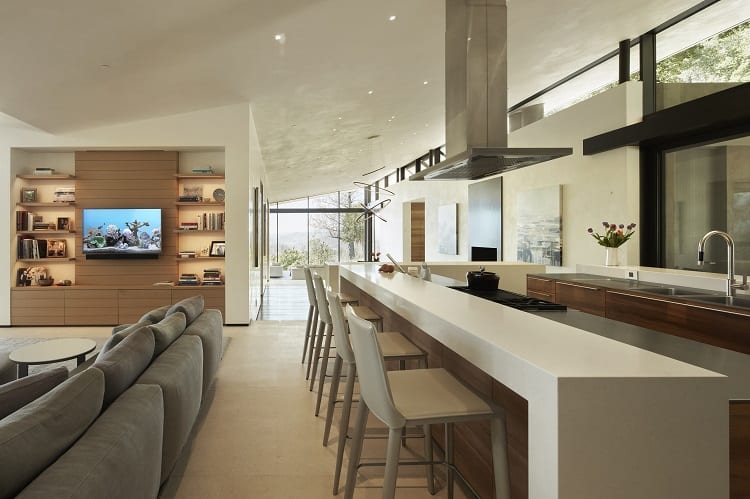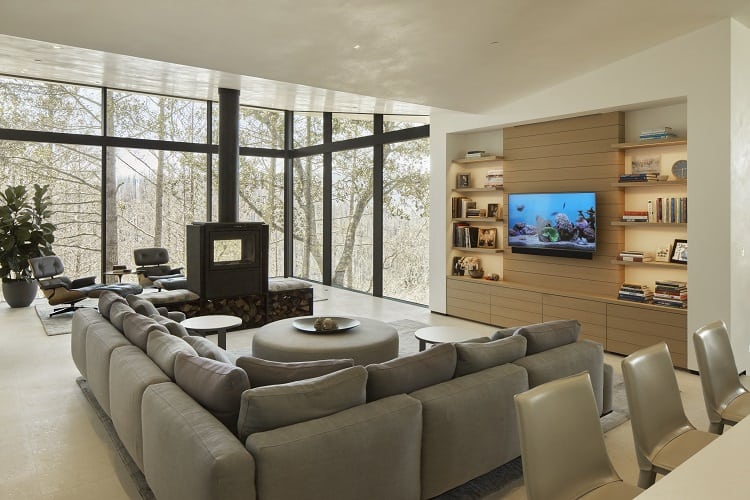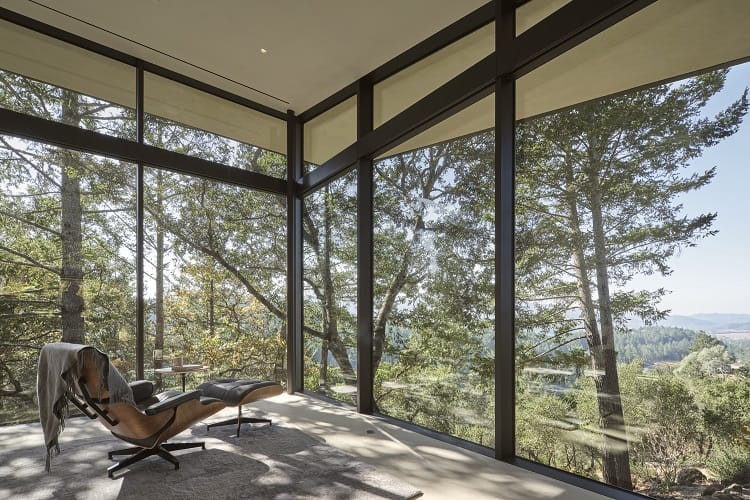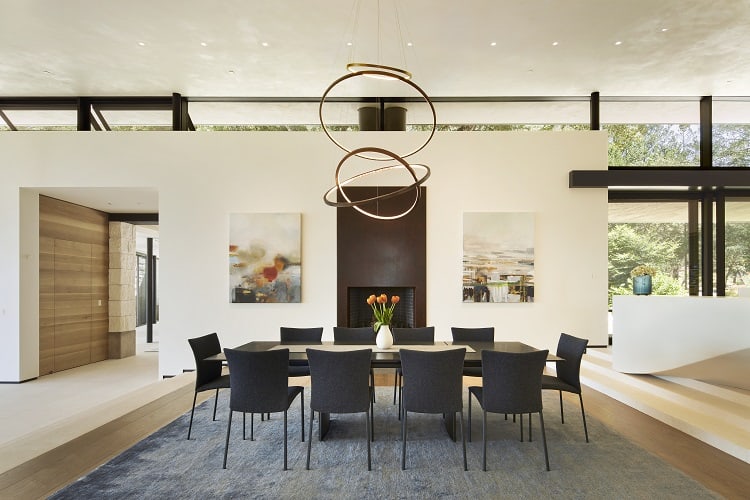 Featuring a custom window and door system, the home also offers motorized Mecho shades, stucco, steel and hand-hewed Bianco Avorio limestone from the Veneto region of Italy.
Of course, every dream home in Napa has a wine cellar. But Karinya's temperature-controlled white and red wine library boasts custom racking like no other with specialized lighting and storage space for 2,000 bottles.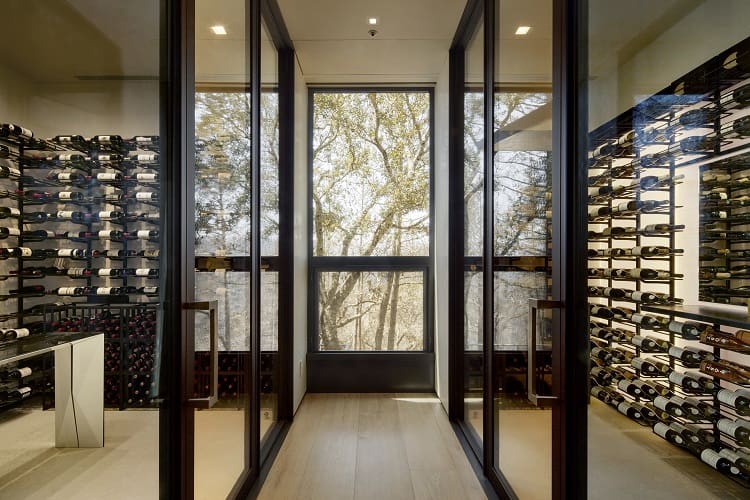 Other luxurious features of the home include a spacious gym/yoga studio, massage room with separate masseuse access, acoustically-designed media/theatre room and private guest suite wing with hospitality area (central living area and private deck). It has also been equipped with a smart home system with mobile phone control access for music, air conditioning, security and programmable LED recessed lighting in 11 separate zones and a fire sprinkler system, to name just a few of its upscale features.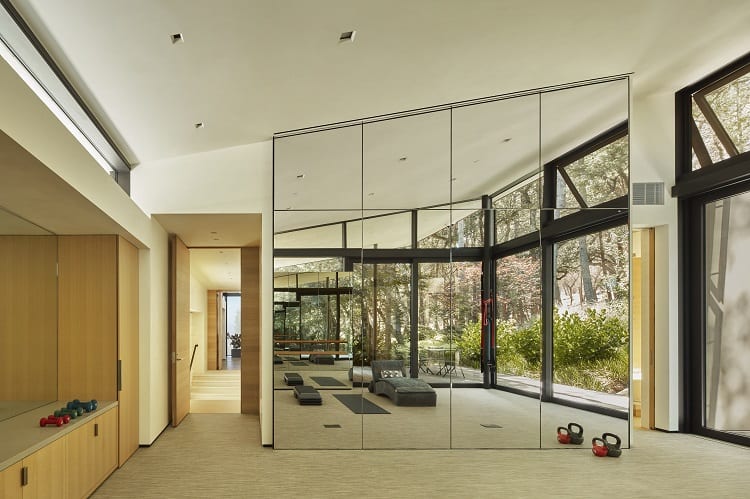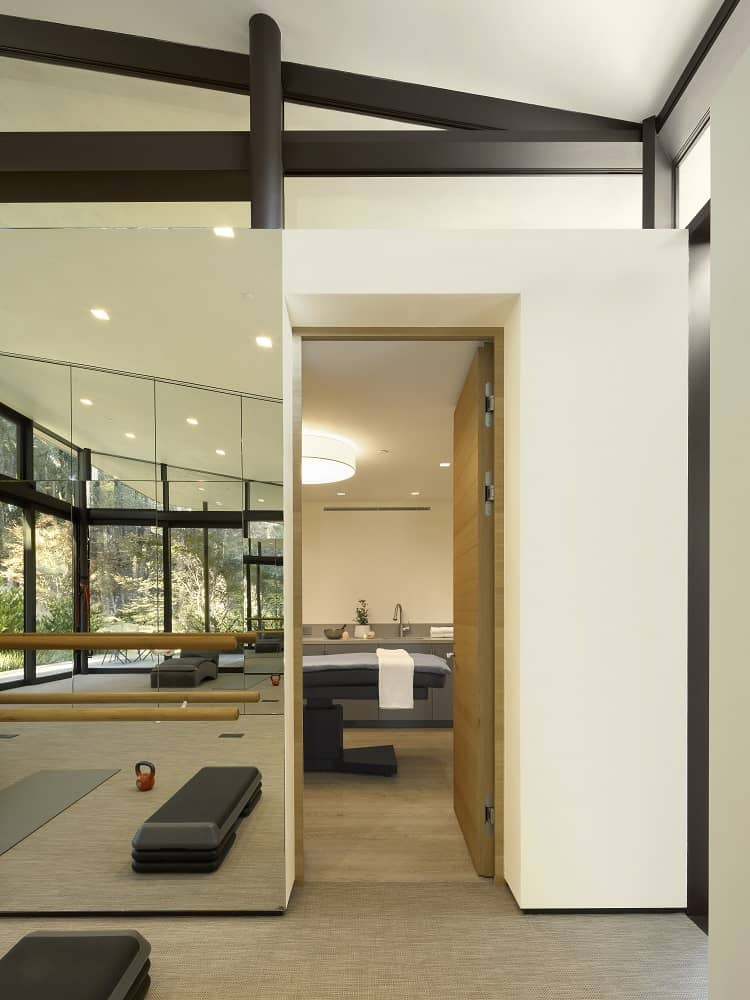 Welcoming residents and guests alike
Driving into Karinya is an experience in its own right. A secure 'disappearing' entry gate welcomes you to the impressive property. As you approach the multi-million dollar mansion, the peaceful sounds from a spectacular granite rock water feature invite you to take in the property's breathtaking Napa Valley views.
The main house accommodates three-bedroom en suites and an additional two half-bathrooms. Floor-to-ceiling glass windows open up to mesmerizing views and the surrounding trees and sweeping views invite relaxation.
In fact, the unique setting paired with the glass walls are reminiscent of one of the most striking movie homes, Edward Cullen's sleek glass house in the Twilight saga.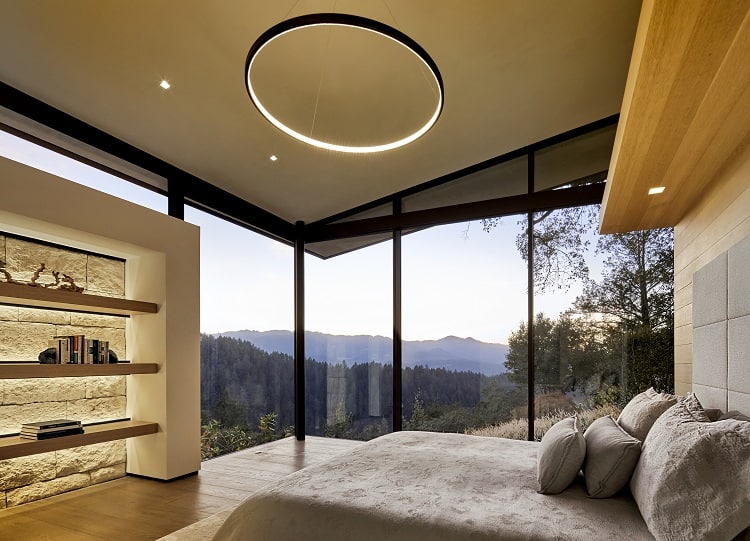 But there's plenty of room to welcome visiting (or long-term) guests too.
A renovated A-frame guest home also sits on the property and includes one bedroom with two bathrooms, a living / kitchen space and a loft.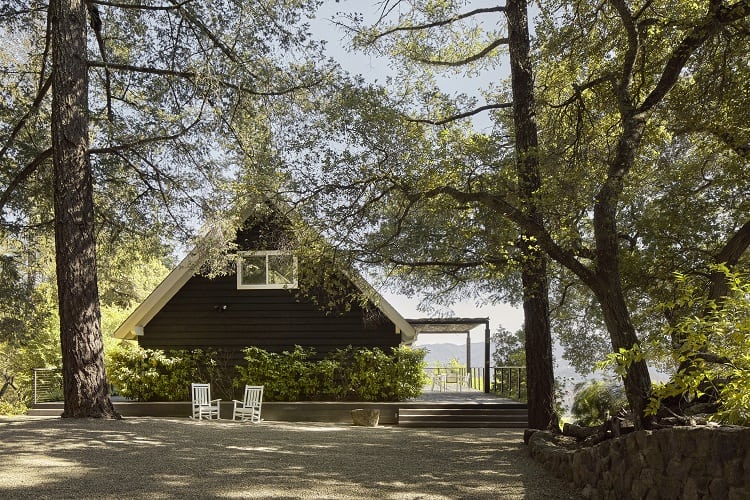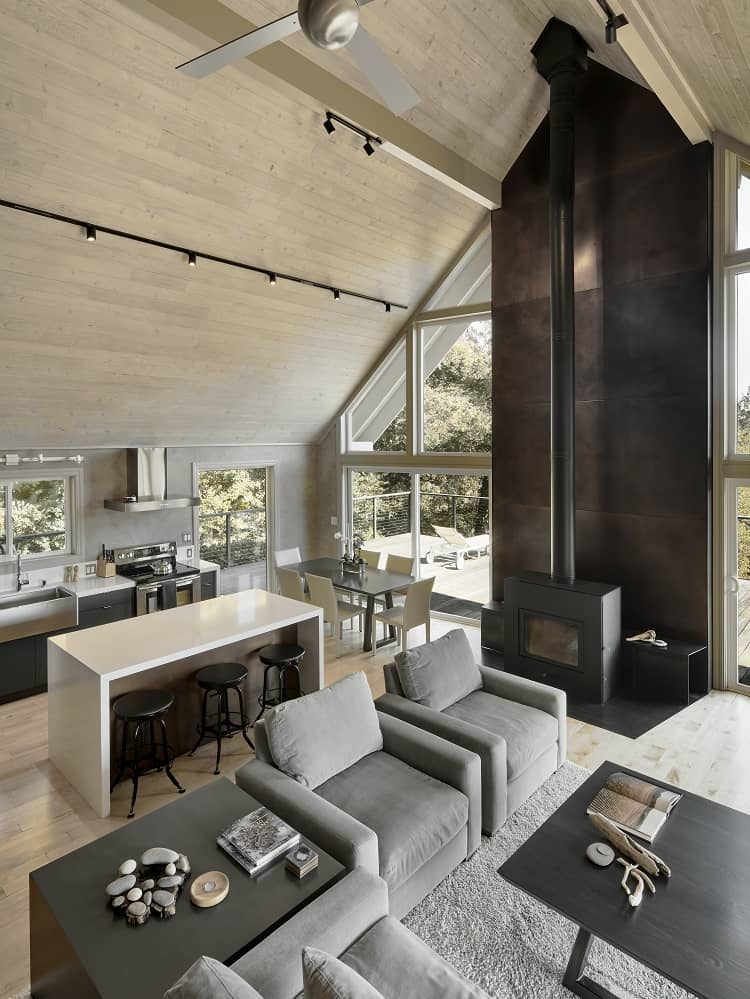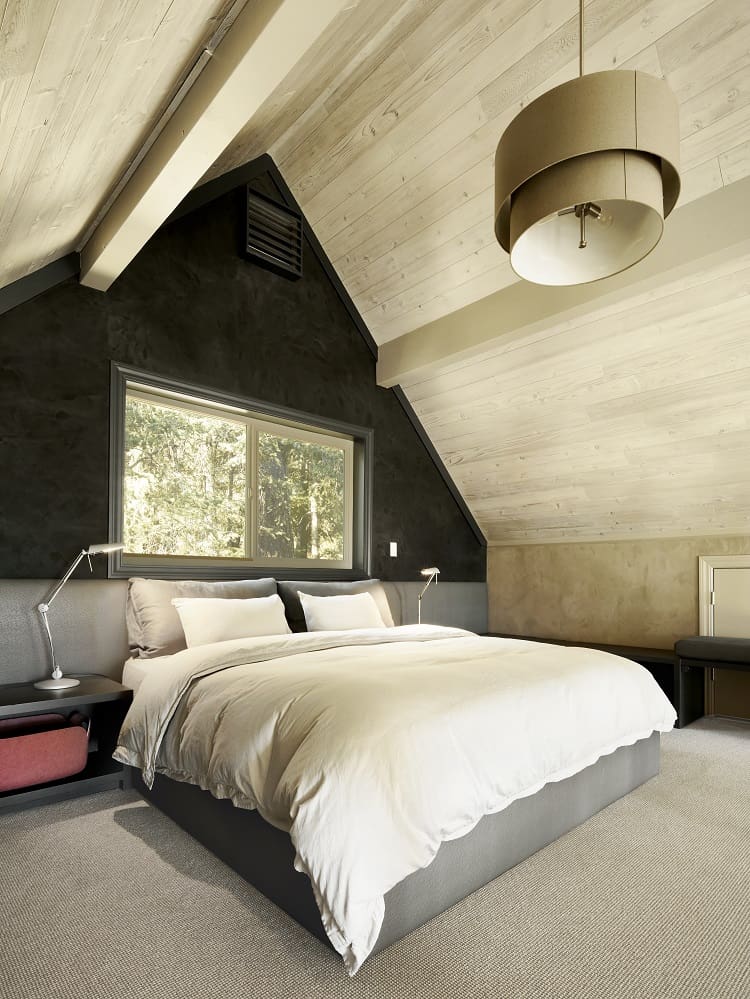 Keep cool at Karinya: check out the property's outdoor features
While there's loads of luxurious living space, Karinya also makes the most of the idyllic setting it finds itself in.
With an outdoor barbecue kitchen and pizza oven, guests can sip on their favorite wines while soaking up the sweet California sunshine.
Featuring an outdoor courtyard, the property's infinity-edge pool is surrounded by impressive landscaping and sweeping views of the valley.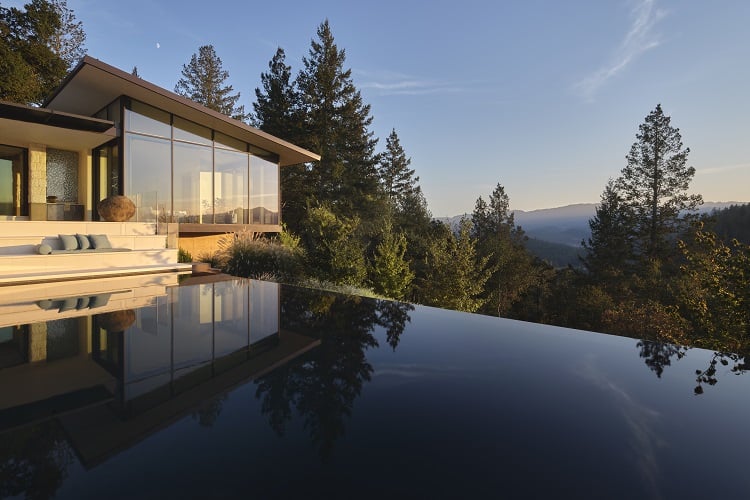 The posh property also features an enclosed raised vegetable garden, a bocce court and hiking trails throughout the property.
For more information about this multi-million dollar home in Napa Valley, see the full details here, or reach out to listing agent Cyd Greer, affiliated with the St. Helena office of Coldwell Banker Brokers.
More stories you might enjoy
Hillside House Overlooking San Francisco Looks Like the Perfect Villain Lair
Cool Listings: A $24M Santa Monica Home Designed with Wellness in Mind
$38 Million Rosenthal Estate Has Its Own Vineyard and an Orchard with 600 Avocado Trees
Joe Rogan's Real Estate Experience: Living a Luxurious Lake Life in Austin, Texas