Welcome to Throwback Thursday, a web series where we revisit the most memorable properties we've covered in the past — and see what happened to them. Ranging from architecturally distinct properties to luxury listings with some quite unique features, to unforgettable houses that left us daydreaming about potentially moving in one day, Throwback Thursday revives our past favorites and provides an update on whether or not they're still on the market, how much they sold for, and, if the information is publicly available, who bought them.
What do all of Hollywood's nefarious movie villains have in common other than a desire to take over the world? Deviously well-designed and incredibly luxurious homes, of course.
From Dr. Strangelove's War Room to Stavro Blofeld's Elrod House in Diamonds Are Forever, from Wallace Corporation Headquarters in Blade Runner 2049 to the Vandamm House in North by Northwest, each dwelling seems to be more striking than the last. 
The fact is that behind every memorable villain lies an impressive lair. There must be something about the grandiose architecture, modern lines, and pristinely lavish interiors that make planning world domination easier. Of course, the stunning views don't hurt either.
While these characters are abominable, you've got to agree that they have impeccable taste when it comes to architecture. If you've ever dreamt of living in your own supervillain lair, we have just the property.
Perched high above Sausalito, this sleek and modern hillside residence is designed by acclaimed architect Obie Bowman.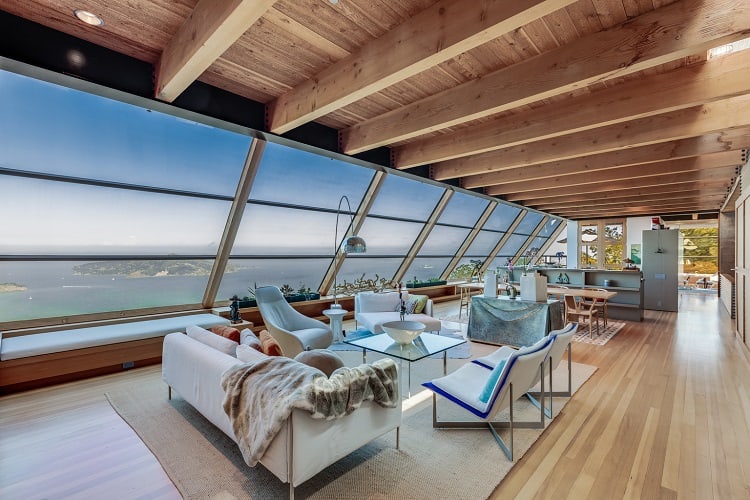 Known for his sculptural and sustainable residential projects that are truly unique and reflective of their owners, the "Cope House" is no different. It was originally designed for Newton Cope Jr, a former owner of the Huntington Hotel.
Apparently, Cope fell in love with Bowman's houses in the coastline community of Sea Ranch and instantly knew that he was the one who should design his new home. It didn't take much for the skilled architect to make Cope's hillside dreams a reality.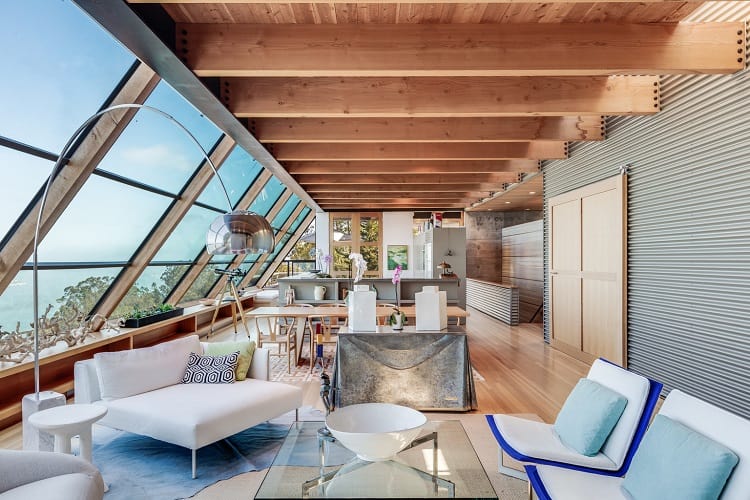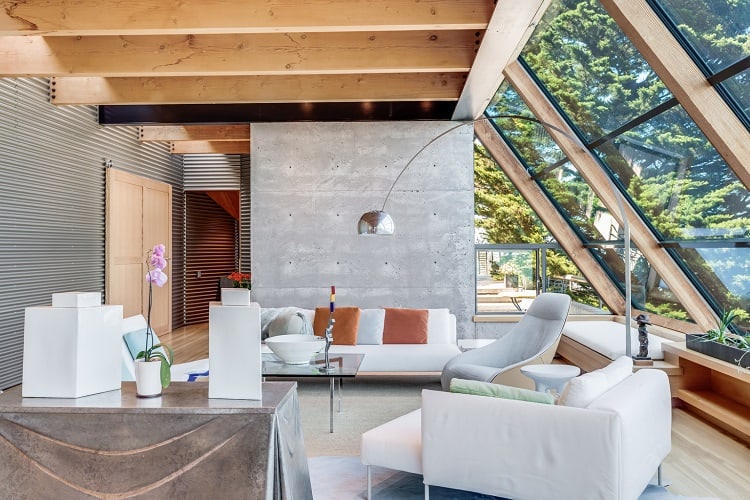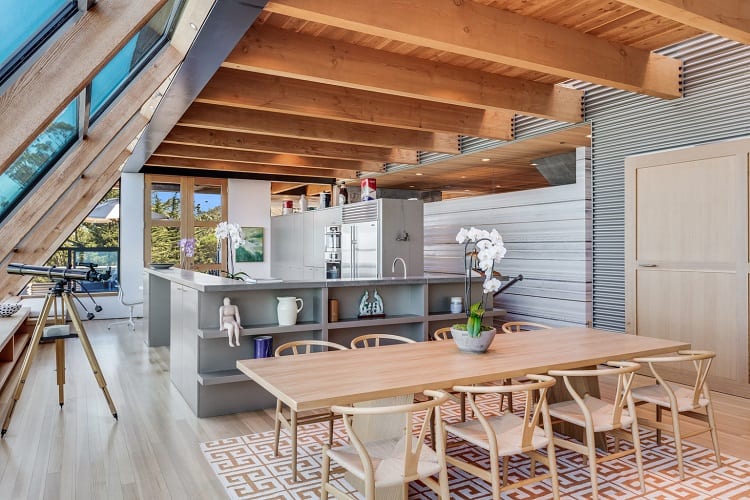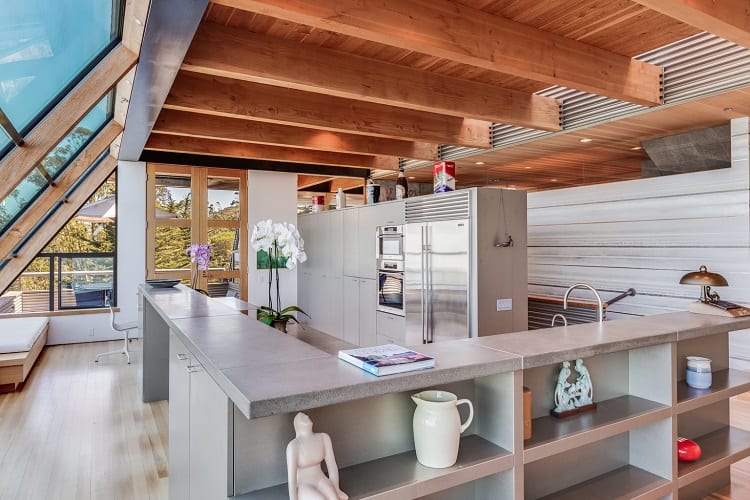 Located just minutes from the Golden Gate Bridge, the 4,217-square-foot property offers dramatic views of Belvedere, San Francisco Bay to the east, Tiburon to the north, and the city to the south.
The interiors also feature many design elements that are typical of Bowman's style including Douglas fir ceilings and floors, exposed beams, metal walls, composite concrete, and steel.
They all create a harmonious flow and a feeling of casual luxury.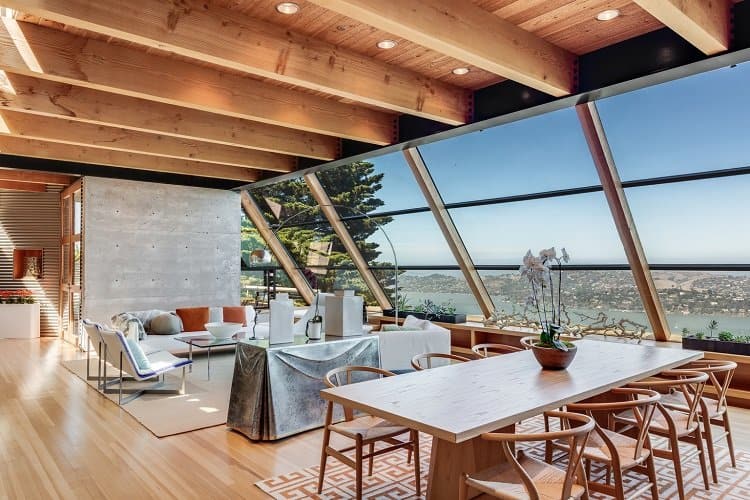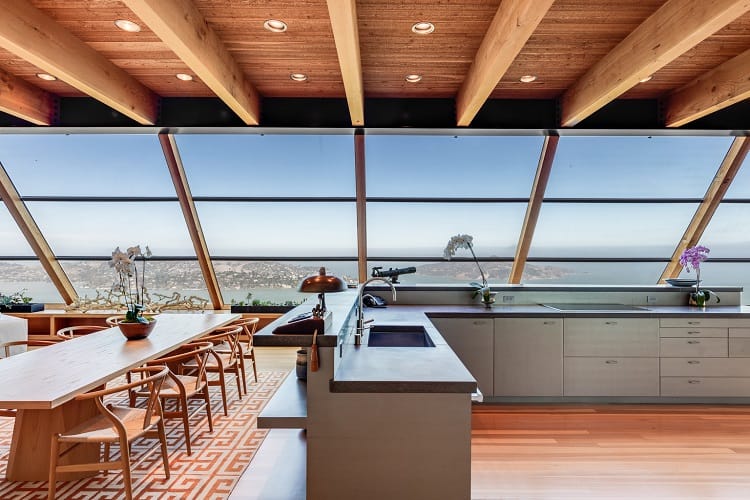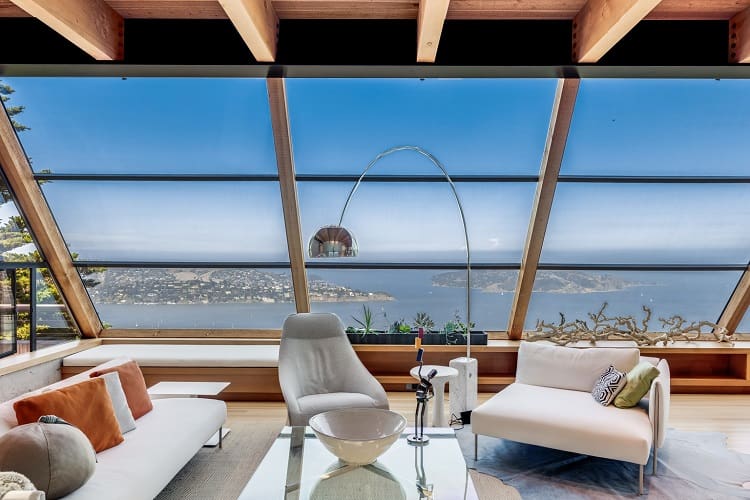 The house has three levels and is 750 feet above sea level with imposing glass windows that allow plenty of natural light in. The ground floor has a lovely sky-lit open space that makes up the living, dining, a very well-equipped kitchen, and deck area.
The master bedroom and garage are also on this level. As you walk upstairs, you will come across two home offices with views that make WFH seem like a dream! The lower levels have two en-suite bedrooms that would be great for kids and guests alike. One of them opens into a deck and the media room is also here.
All in all, the property has 3 bedrooms, 3 full baths, and 2 partial baths. There's an interior access to get to the spacious 3-car garage with storage. There's also a 2-car driveway as well as a parking pad behind the gated entrance.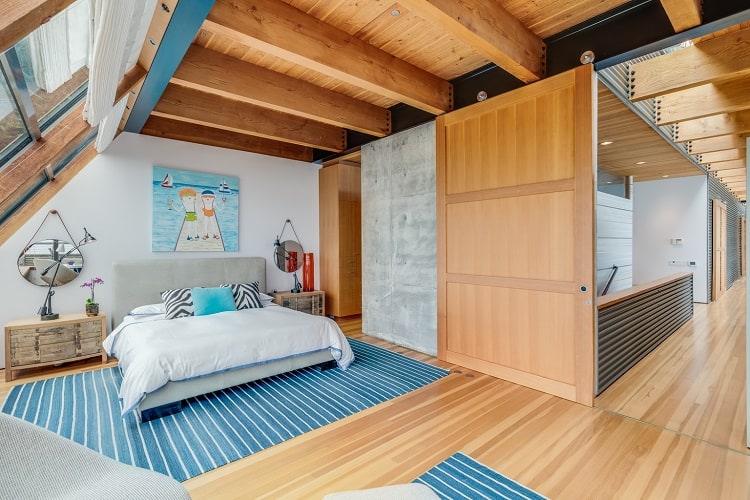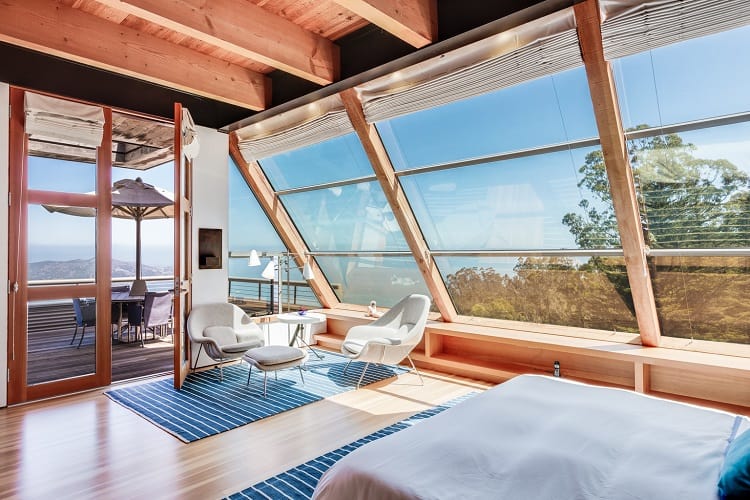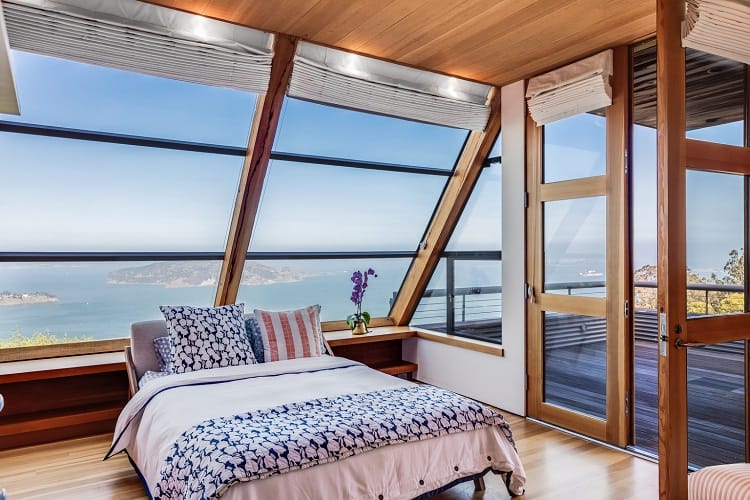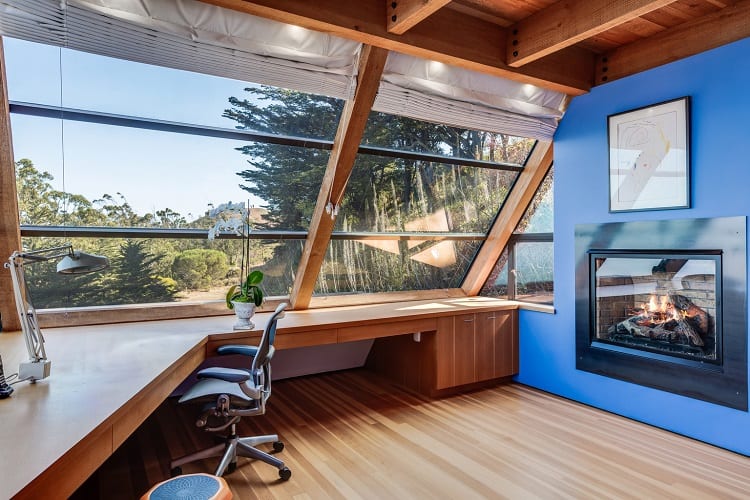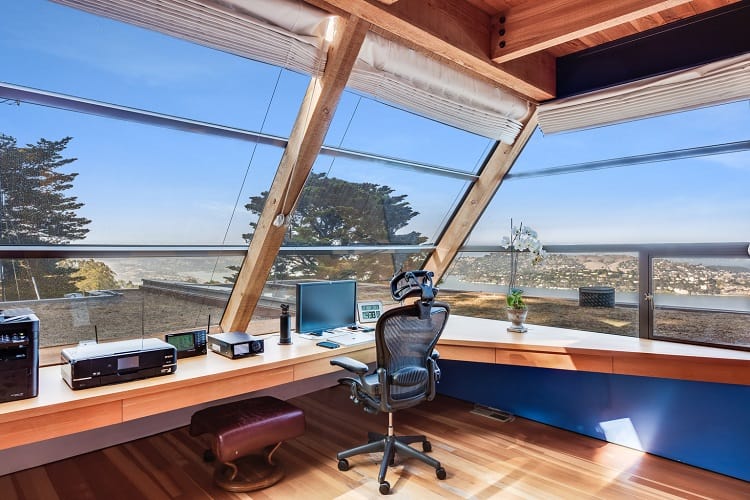 Property update
When we first covered it back in October 2021, the Sausalito property was listed with Tim Allen Properties and The Nierenberg Group, both of Coldwell Banker Realty, for $5.25 million.
The stellar team found a buyer in record time (it took just a little over a month for the listing to be marked as Contingent on the brokerage's website), with a transaction going through in mid-October 2021.
That's no easy feat, given that multi-million dollar properties normally take a while to sell, and sometimes need to go through quite a few price adjustments before landing a buyer. The final sale price was $5 million.
Given the unique home's proximity to San Francisco, its spectacular views, warm architecture, and calming natural setting, this a trophy residence that anyone would be lucky to call home (with or without any plans of world domination). So seeing two deals close in just as many years isn't all that surprising, if you ask us.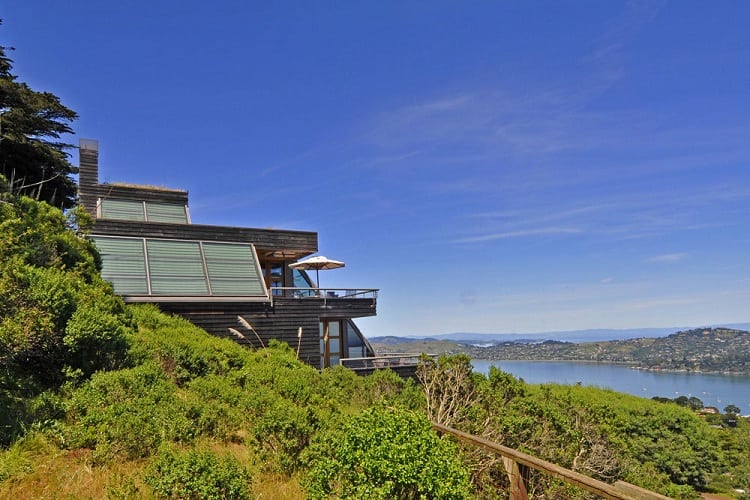 Now, if the photos haven't swept you off your feet, make sure you check out this awesome listing video featuring Sasha De Sola of the San Francisco Ballet.
More stories
You Can Buy the San Francisco House Where Frank Herbert Wrote 'Dune'
The most memorable James Bond houses, from villain lairs to ancestral homes
The Chemosphere House and 6 other striking John Lautner-designed homes