Whether you're a die-hard Daniel Craig fan or only care about the classic installments with Sean Connery at the helm, there's no denying that every James Bond house — from villainous lairs to sprawling ancestral homes — have been pretty darn spectacular in every 007 movie to date.
Much like James Bond's cars, watches, and outfits, the striking abodes that made their way onto our screen now have a bit of a cult following themselves, with people traveling continents away for a chance to step in 007's carefully polished shoes. So we thought we'd give them a hand by narrowing down their search for the most iconic James Bond locations.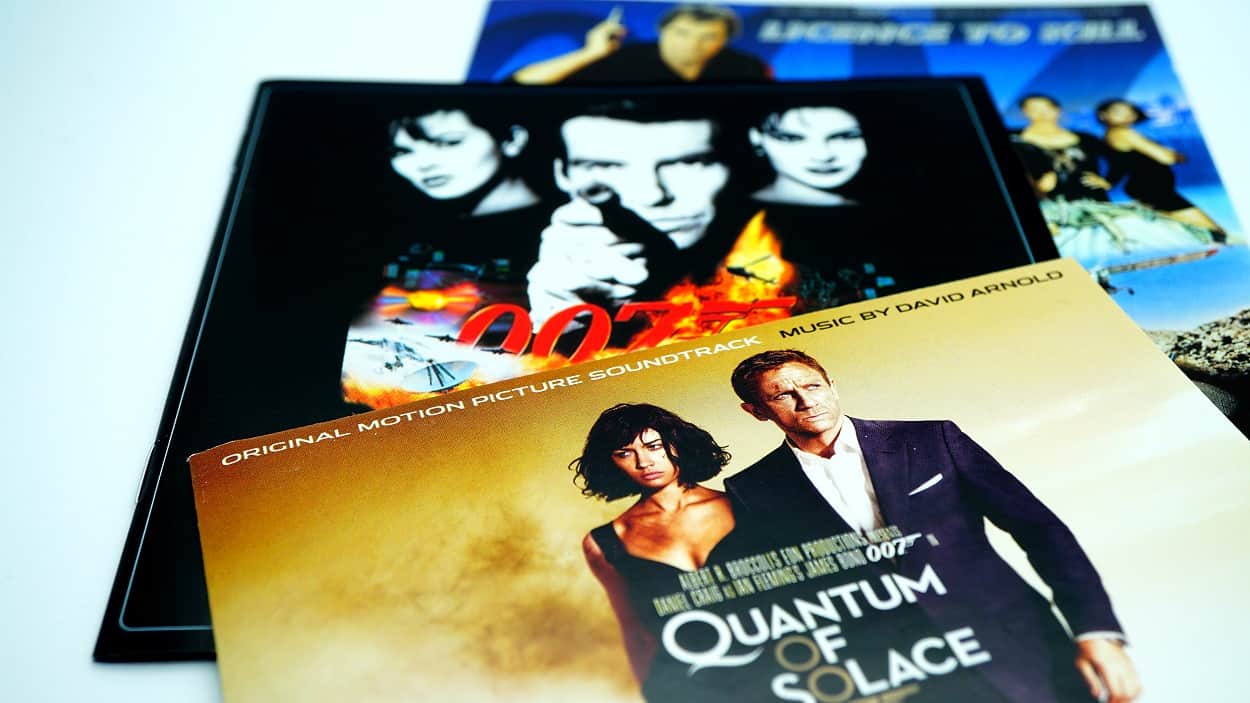 Where to find each of the most memorable James Bond houses in real life
From Bond's own charming yet dilapidated family estate in Skyfall to Blofeld's infamous Volcano lair in You Only Live Twice, these stately structures have had me so utterly intrigued, I went on a not-so-secret mission of my own to track them all down…
And while some memorable properties were real, others were purposefully built to serve their on-screen role in the 007 franchise, and a handful of them are set nowhere near where we thought we'd find them.
James Bond's house in No Time To Die (2021)
If you've found yourself daydreaming about James Bond's house in No Time To Die, you're not alone.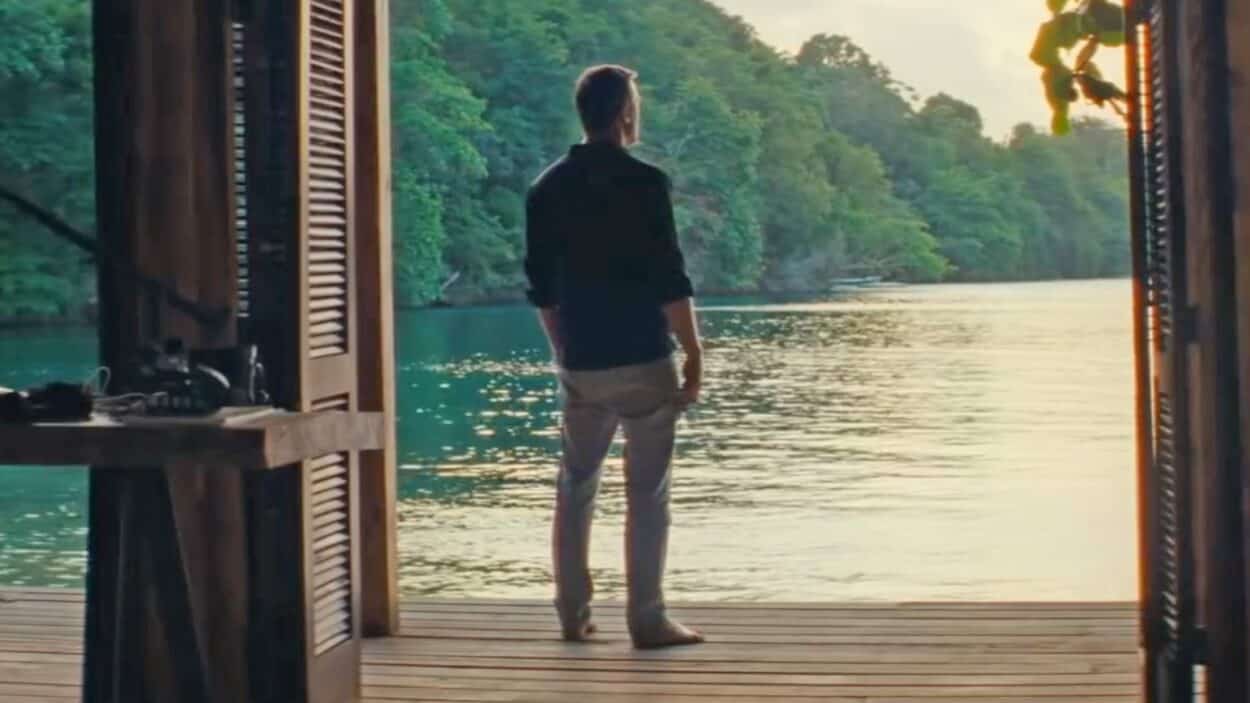 I've often dreamed of jetting off to his dreamy waterside villa and living out my days in tranquil solitude. As it turns out, that wouldn't pan out, as 007's house was custom-built on a private beach called Coco Walk in Jamaica, especially for the movie.
The location is so remote that there were no roads to access the building site so all materials had to be transported there by boat.
The production employed local builders to help give James' retirement property an authentic Jamaican feel and made sure the design was a little more 'rough and ready' than the chic modern residences we're used to seeing in Bond's world.
Fascinatingly it includes many design features inspired by Bond author, Ian Flemming's actual home, better known as The Fleming Villa. There's even a reproduction of his desk in Bonds' bedroom.
So, while it might not be possible to visit this specially-constructed movie home, I bet that's got you wondering about The Flemming Villa.
Well, good news then, Ian Flemming's house in Jamaica does welcome guests, and you can step in the author's footprints on what was once his private beach at GoldenEye, in Oracabessa Bay!
The author's home sleeps up to 10 people, has its own private beach plus a private pool, and each of the three bedrooms has its own tropical garden bath. There's even dedicated staff and a butler so you can truly live like 007 during your stay.
---
Blofeld's HQ in Spectre (2015)
Aside from Christoph Waltz's flawless portrayal of Blofeld, 007's 2015 offering remains truly unforgettable for one other reason. You guessed it, the James Bond house Spectre gave us was the ultimate villain's lair and after tracking it down in real life, I only love it more.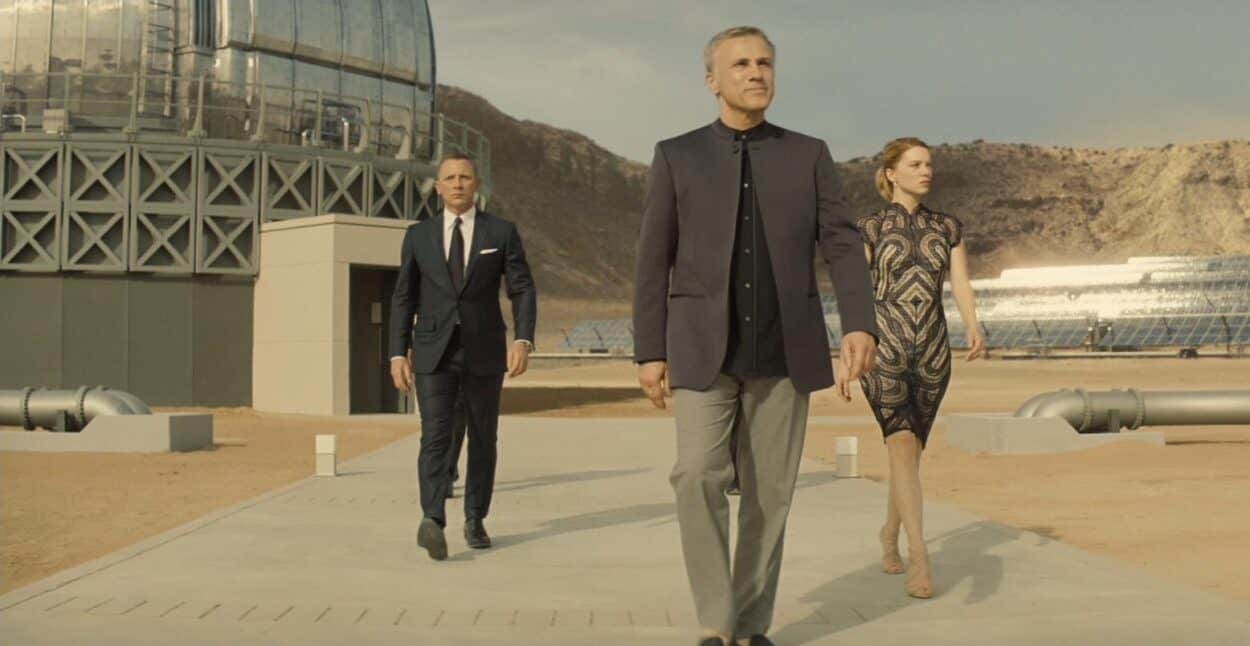 While the biggest chunk of scenes depicting Blofeld's base were filmed at the rock formation of Gara Medouar, near Erfoud, the villa set within the crater is a real mansion set on the outskirts of Marrakesh.
The real-life Dar Bianca mansion in Marrakech, Morocco was used as the headquarters of Blofeld's organization. It boasts nearly five sprawling acres of parkland, an artificial stream to give the impression the home is floating on water, and extensive views of the Atlas mountains.
SEE ALSO: Is the 'Glass Onion' house real?
A far cry from the vast crater the home appeared to sit/hide in in the movie. As for the inside, it has a 9,472-square-foot floor plan complete with three huge bedrooms, an expansive lounge with floor-to-ceiling windows, and a state-of-the-art fitness center.
Oh… and a separate 3-bed guest house for any lucky visitors.
---
Skyfall, James Bond's ancestral home in Skyfall (2012)
Skyfall, the childhood home of James Bond, did more than just give a catchy title — and provide a nice explosion site — for the 23rd movie in the James Bond series.
It put James Bond's story into context and gave us a glimpse into how 007 was born (both literally and figuratively), serving as a backdrop for the closest thing we'll ever see as an origins story for the iconic character. And his ancestral home — which also gave the movie its name — played a big part in that.
Said to be located in the barren rural lands of Glen Coe, Scotland, Skyfall wasn't an actual house.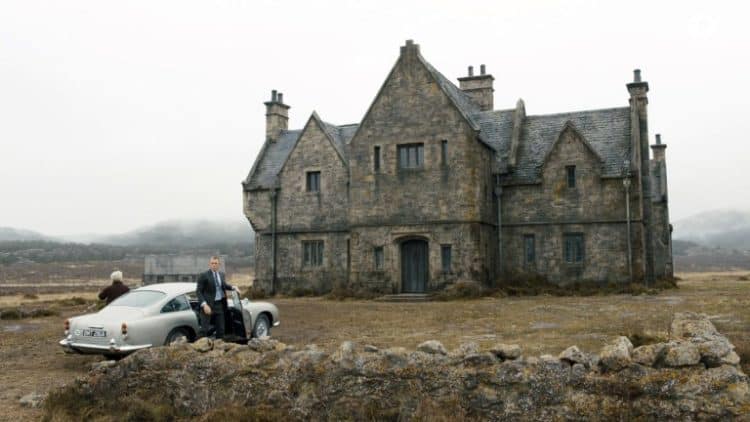 In real life, the property was purpose-built from scratch at Hankley Common, in Surrey, England (and not in Scotland, as the movie would make you believe).
The property was designed, built and used as a filming location all within the span of six months, culminating with a fire that engulfed it into flames — and you can read all about its location and short-lived history in our feature article on Skyfall, James Bond's childhood home in the Scottish Highlands.
---
Franz Sanchez's Oceanside Hideaway – Licence To Kill (1989)
In Timothy Dalton's final outing as Bond (James Bond), he escapes from the roof of a most magnificent villa belonging to a merciless drug lord, Franz Sanchez.
Seeing as it's clearly real from the movie, I've always wondered where in the world it is. A little digging and, thanks to loveproperty.com, I discovered it's called Villa Arabesque. You'll find it in Acapulco, Mexico, overlooking the bay.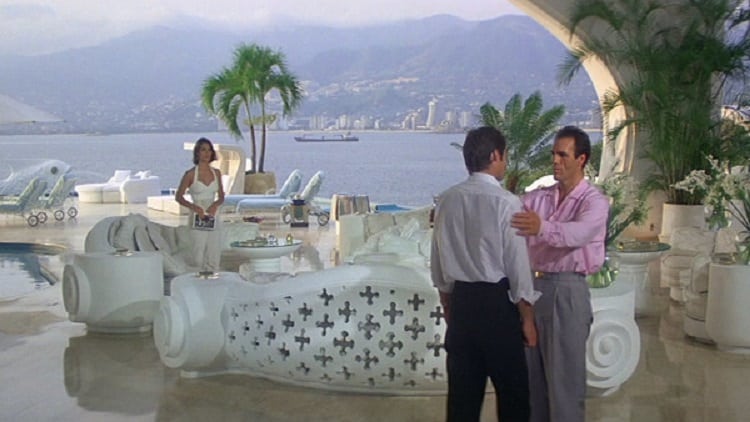 Aside from its 40,000-square-foot floor plan, infinity pool, breathtaking views, and, you know, featuring in one of the greatest cinema franchises of all time, this very real residence has a seriously star-studded history to boast about.
Parties hosted here in the 1980s were attended by the likes of Sylvester Stallone and off-duty Bond star, Roger Moore.
---
Hai Fat's House in The Man With The Golden Gun (1974)
Still dreaming of that picturesque house from Man With The Golden Gun? Me too. Hai Fat's millionaire mountainside mansion just outside of Bangkok, Thailand, is in real life known as The Dragon Garden – and it's not in Thailand at all!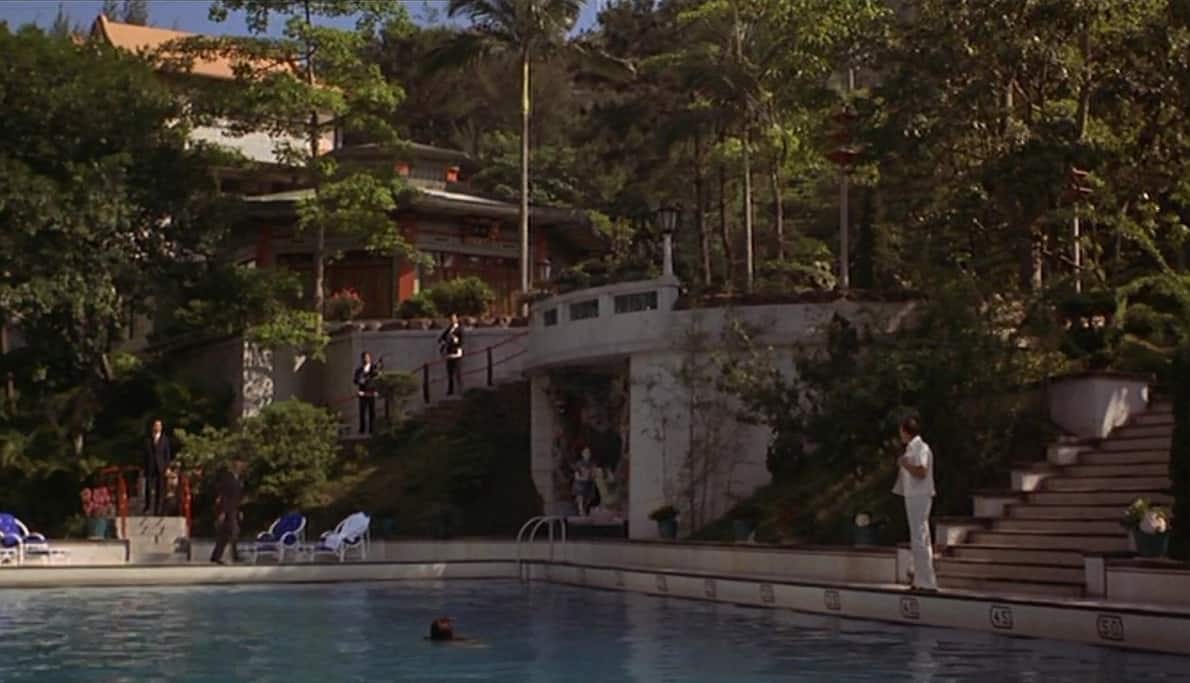 It's in Castle Peak in Kowloon, Hong Kong, set above eight hectares of lush land with views of the sea and surrounding mountains. It looks like it could be one of the most beautiful places on earth, and the good news is, it's open for visitors.
---
The Elrod House – The Diamonds Are Forever House (1971)
In Palm Springs, California, on the edge of a hill at 2175 Southridge Drive, you'll find The Elrod House.
Designed by architect John Lautner in 1968, just three years before Diamonds Are Forever was released, this five-bedroom, five-and-a-half-bathroom mansion was an unforgettable fixture in the 1971 classic and continues to be one of the most searched-for homes in the Bond movie universe.
Enveloped by palm trees, the Diamonds Are Forever house has a 60-foot circular living room, a state-of-the-art gym with floor-to-ceiling windows, an indoor/outdoor pool, and the most breathtaking views over the valley.
Can you visit The Elrod House? Unfortunately not. This is a private dwelling and not available for tours, *sigh*.
But you can always learn more about this striking home by checking out our article on John Lautner's most memorable designs, The Elrod house among them.
---
Blofeld's Volcano Lair – You Only Live Twice (1967)
When it comes to tracking down the humble abodes of Bond's endless list of enemies, Blofeld's iconic volcano lair is always first to spring to mind.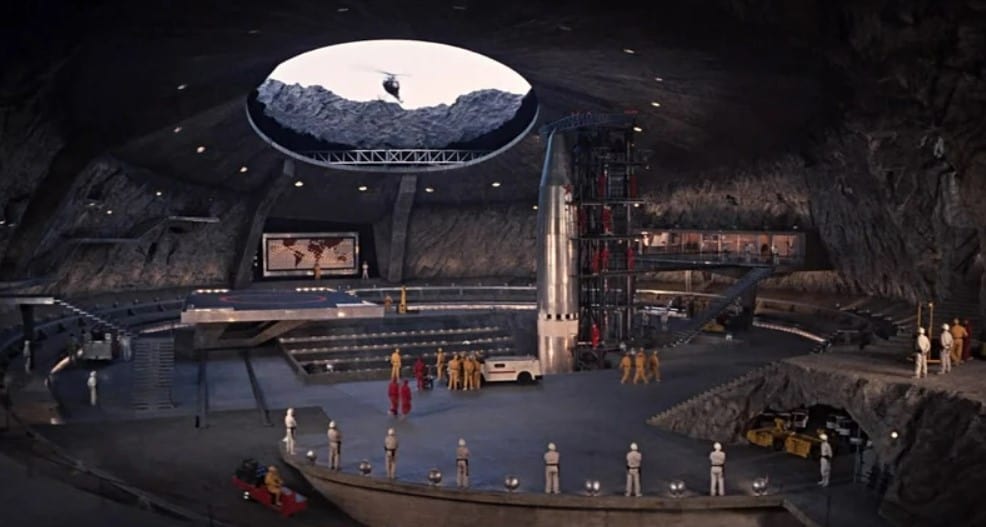 The headquarters of Spectre located in the depths of an extinct volcano was actually a sprawling million-dollar set constructed (like most James Bond locations) at Pinewood Studios in Iver, England and designed by none other than Ken Adams.
However, if we're talking about the exterior of this staggering residence, you're looking at Mont Shinmoedake — an active volcano located in Kirishimu National Park in southern Kyūshū, Japan which erupted as recently as 2021!
---
Chateau D'Anet – Thunderball (1965)
Built in 1548 by King Henry II for his mistress Diane De Poitiers, Château d'Anet shines in one of Thunderball's most iconic chase scenes.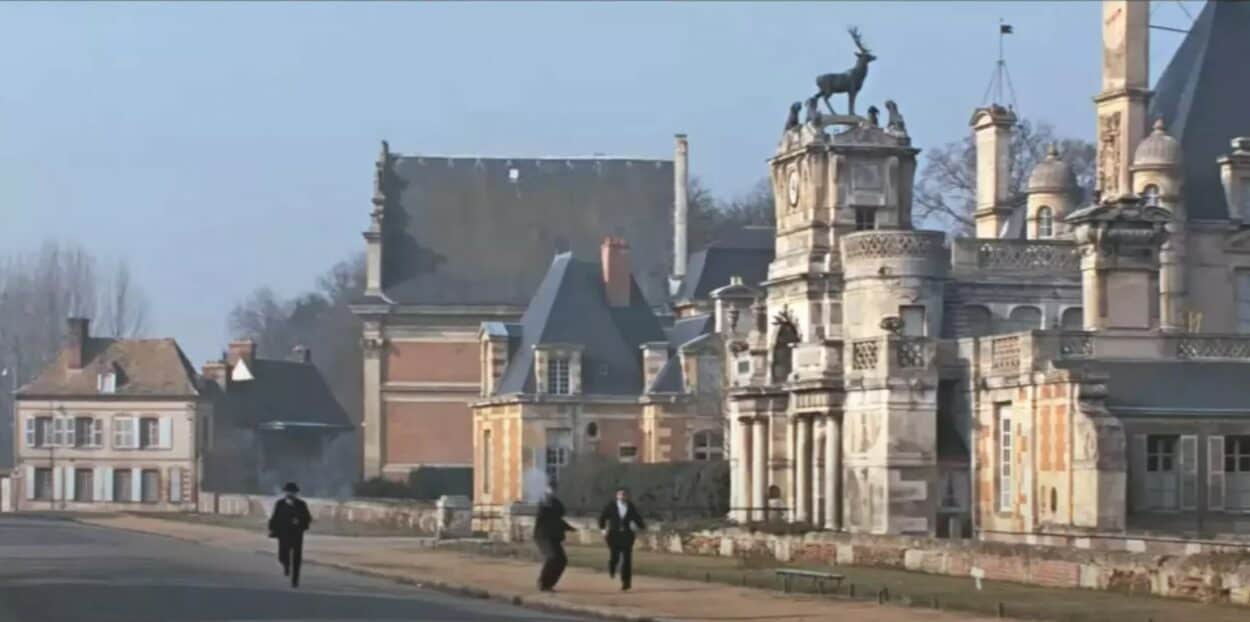 In a bid to capture a dangerous Spectre operative, and with the help of his trusty jet pack and famed Aston Martin, Bond pursues him both in and around this stunning historical structure.
Fancy stepping inside? Next time you find yourself in Anet, roughly 80 kilometers west of Paris, you can. Today the castle is a famous tourist attraction with tours available almost every day of the year.
SEE ALSO: Solving the case of 221B Baker Street, the 'real' home of Sherlock Holmes
---
Auric Stud Farm – The Goldfinger House (1964)
"Do You expect me to talk?"
"No Mr. Bond I expect you to die!"
With a runway for his private planes, stables full of well-bred horses, and a dungeon located underneath, Auric Goldfinger's dwelling for dastardly deeds is one of the most memorable lairs of the 007 franchise.
Who could forget that enormous rumpus room complete with a pool table cum control panel, electronic floor-to-ceiling blackout shutters, and an ascending three-dimensional floor map perfect for plotting his most evil plan!
So, where is the house located? Not in Kentucky as the movie suggests. According to harnessracingupdate.com, the production created the farm, including the infamous rumpus room, on the back lot of Pinewood Studios in Buckinghamshire, England.
Fun fact, IMDB reports that Goldfinger was entered into the Guinness Book of World Records for being the fastest-grossing movie in history at the time of its release!
---
The Under Water Lair – Dr. No (1962)
As famous for Ursula Andress's white bikini (which sold for an eye-watering £41,000 at a Christie's auction in 2001) as it is for being arguably the best Bond movie of all time, this film marked 007's first cinematic outing.
Amazingly, Ken Adam, the set designer behind Dr. No, Goldfinger, Thunderball, You Only Live Twice, The Spy Who Loved Me, and more, had only fourteen thousand dollars of the movies' one million dollar budget allocated to his efforts. He had to argue for an extra six thousand dollars to bring the sets to life!
The most memorable of those sets? Dr. No's lair of course.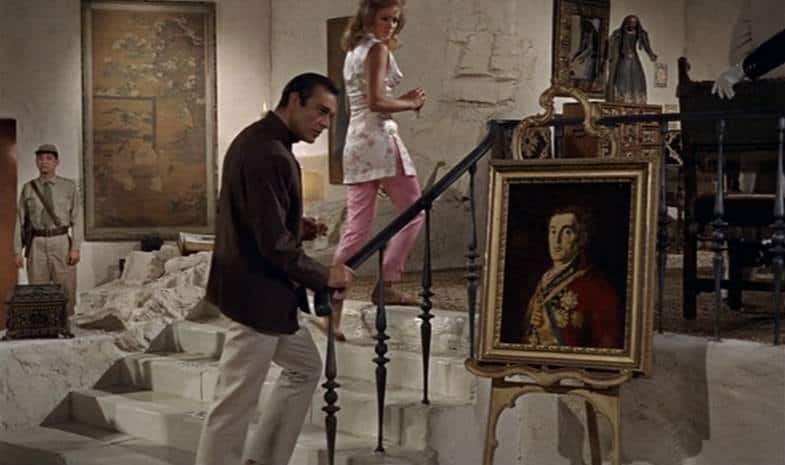 Hundreds of feet beneath sea level, the room boasted stone-clad walls, a conspicuous-looking fish tank, and an enormous concrete fireplace and bear skin rug. Perhaps unsurprisingly, this underwater home never really existed, they created it on a set at Pinewood Studios.
And the result was nothing short of spectacular. Take a quick tour of Dr. No's lair — alongside James Bond himself — by watching this short scene from the 1962 movie:
Something else you might not know and will likely find as hilarious as I did? Apparently, all of the sets for the movie were made smaller than they would have been in real life so that Sean Connery's Bond would look taller on screen!
More stories you might like
Is it Real? Skyfall, James Bond's Childhood Home in the Scottish Highlands
Does the X-Mansion — Charles Xavier's Ancestral Home — from X-Men Exist in Real Life?
John Wick's House is Real – And Just as Complex as Our Favorite Badass Character
Bruce Wayne's manor in Christopher Nolan's Dark Knight trilogy