Once the most expensive home listed for sale in the U.S., South Florida's sprawling Gemini mansion has a new owner — and a new claim to fame.
Billionaire Larry Ellison, who famously co-founded the Oracle Corporation, paid a record-breaking $173 million for the Manalapan estate back in June 2022, USA Today reports.
The price point makes the oceanfront property the priciest home to ever sell in the state of Florida. It also makes it the third most expensive home ever sold in the U.S. at the time of writing.
The tech mogul bought the former Ziff family estate in an off-market deal from fellow billionaire Jim Clark, who paid a 'mere' $94.2 million for the ocean-to-lake mansion just last year.
Larry Ellison's house comes with 16 acres of ocean-facing land, a park-like botanical oasis, a total of 33 bedrooms and 85,000 square feet of living space, a PGA-standard golf practice area, a sports complex, and bird and butterfly gardens, among others.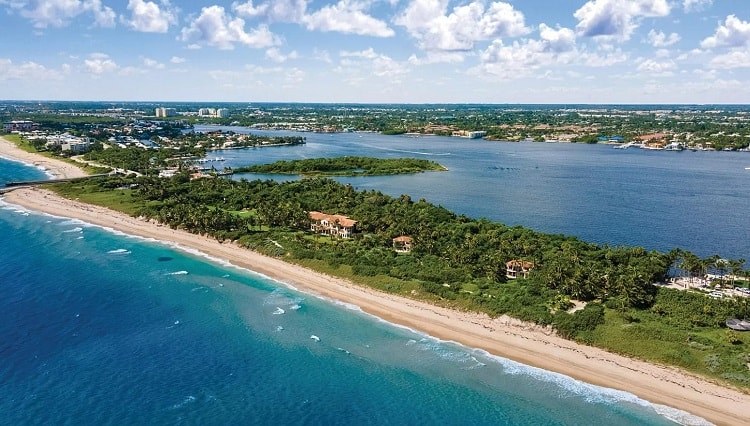 Included in the sale was also a part of the nearby Bird Island, which brings the total up to more than 22 acres of land.
Larry Ellison is not the property's first famous owner
The Palm Beach estate's history dates back to the 1940s when it served as home to Gloria Guinness — a socialite and fashion icon known for her high-profile marriages.
It was later owned by the Ziff family, which ranks #19 on Forbes' list of wealthiest families in the U.S.
The publishing magnates held on to the property for decades, a time in which the property came to be known as the Ziff family estate.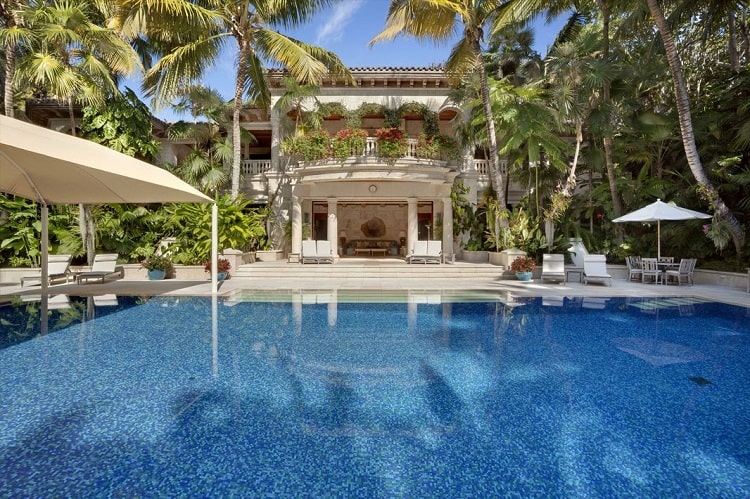 They then tried to sell it for $195 million, a price point that made the Gemini mansion the most expensive listing in the U.S. at the time, but that failed to attract any interested buyers.
Then, in March 2021, software billionaire Jim Clark (who co-founded Netscape) took it off the market after getting a major discount: he paid *only* $94 million for the Manalapan property.
Mr. Clark told the Wall Street Journal that he and his wife, Kristy, bought the property as a "spur of the moment purchase" when they thought they were going to live in Florida most of the time.
But they decided to stay in New York, so it was time to find a new owner for the massive estate, passing it along to fellow billionaire Larry Ellison. Clark cashed in nearly $80 million in profit from the sale, after owning it for a little over a year.
SEE ALSO: Billionaire Warren Buffet's house in Omaha is surprisingly modest
And since Clark didn't make any significant changes to the Gemini mansion during his ownership, we can rely on past listing information to give you all the deets on this magnificent estate.
Everything we know about Larry Ellison's house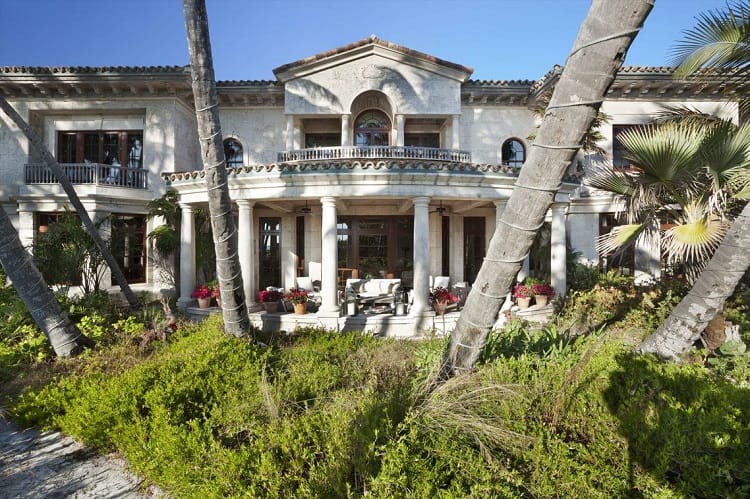 The property is set on a barrier island in Manalapan, just south of South Beach. The Ziff estate spans the width of the barrier island, with roughly 1,200 feet of frontage on the Atlantic ocean and about 1,300 feet on the Intracoastal Waterway.
With a 12-bedroom main residence, a 7-bedroom guest house, north and south ocean cottages, and dedicated spaces for the estate manager's home and office, the Gemini mansion is a true private oasis.
See for yourself in the video below, which was released back in 2017, when the property was listed with a whopping asking price of $195 million:
---
Manalapan's Gemini mansion: what $173 million buys you in South Florida
Let's break it down:
Location: 2000 S Ocean Boulevard, Manalapan, Florida — a 20-minute drive to Palm Beach
Structures: the mansion, a guest house, two "ocean cottages", a manager's house and office, and a tree house
Bedrooms: 12 bedrooms (main house), 7 bedrooms (guest house)
Bathrooms: 34 full / 13 half bathrooms
Square footage: 84,988 square feet of interior space
Sports amenities: a PGA-standard golf practice area, a "sports complex" with tennis, basketball, mini-golf, and playgrounds
Tech setup: a "museum-quality" climate-control system, advanced security system, cell phone signal booster, two elevators, backup generators, and propane supplies
Quirks: a freshwater pond, bird sanctuary, a butterfly garden complete with a model train, and a fully-furnished underground tunnel connecting different parts of the compound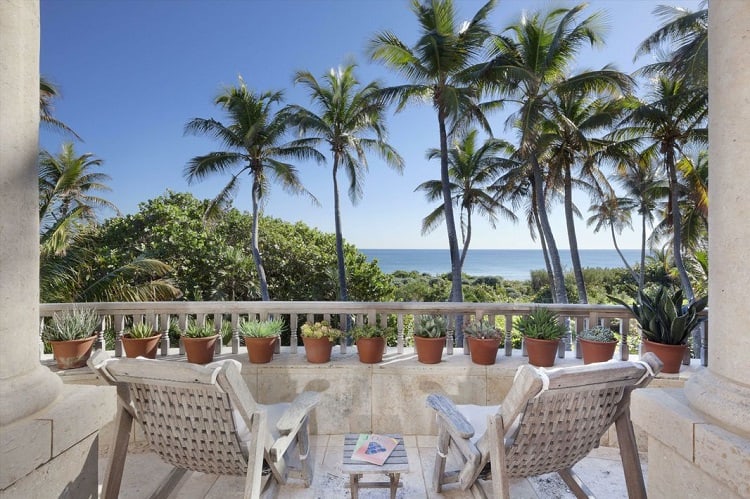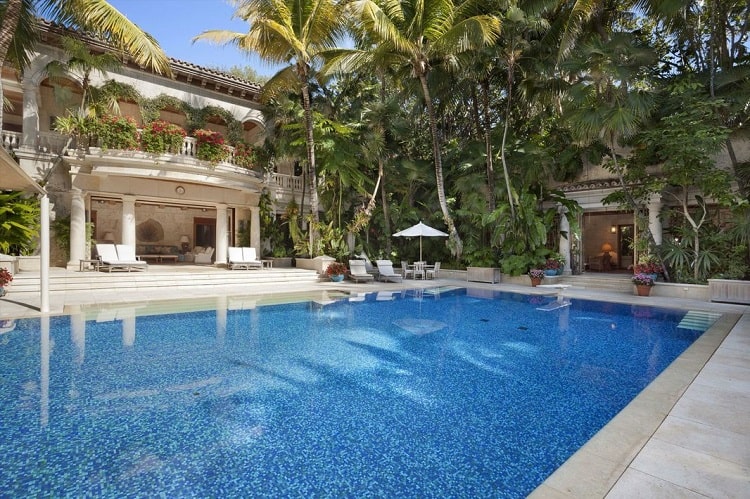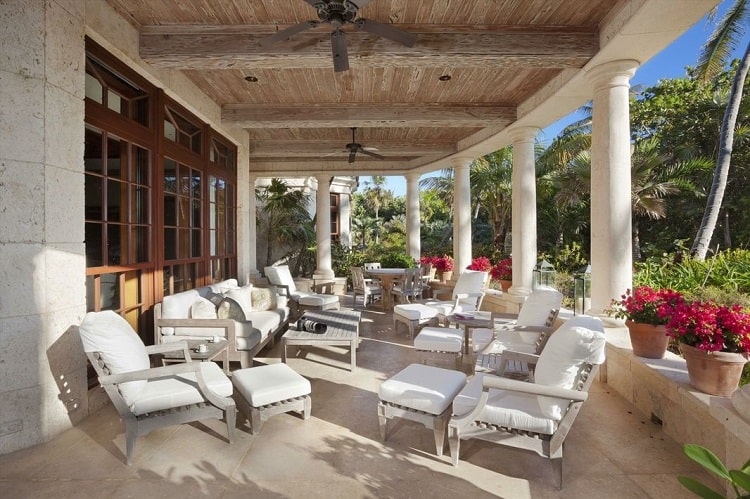 Other homes Larry Ellison owns
A regular presence on the list of the 10 richest people in the world, Larry Ellison has long been owning million-dollar homes worthy of his billionaire status.
With a net worth of well over $100 billion, Ellison earned his enormous fortune as the founder of software giant Oracle, which he also ran as CEO up until 2014. His Oracle paycheck (which ran as high as $90 million/year back in the day) and holdings in the company briefly made him the richest man in the world in the 1990s, surpassing then-frontrunner Bill Gates (see the Microsoft founder's house here).
Unsurprisingly, his vast fortune bought him a whole series of sprawling properties and mansions.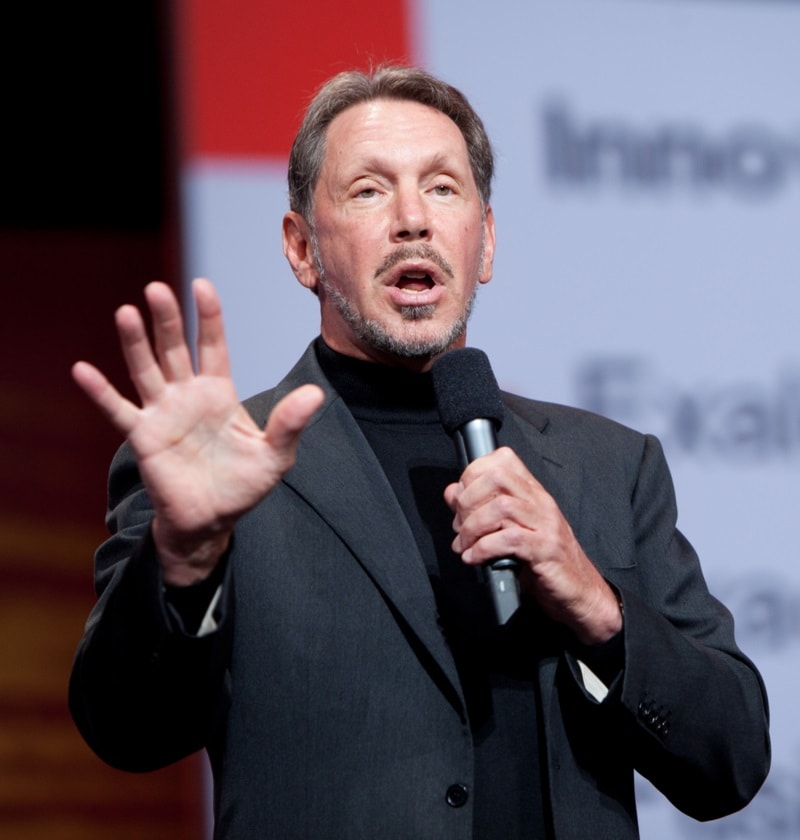 Larry Ellison owns Florida's most expensive home, the $173 million Gemini mansion pictured above, another trophy estate in nearby North Palm Beach (which he listed for sale at $145 million), a Japanese-style home in Woodside, Calif. worth around $70 million, the historic Beechwood Astor Mansion in Newport, RI, and most of the Hawaiian island of Lanai.
He's also been actively snapping up mansions in Malibu's Carbon Beach (aptly called "Billionaire Beach" due to its many ultra-wealthy residents) and owns multiple properties in Tahoe.
A serial trophy home buyer, the Oracle co-founder often adds to his vast real estate portfolio — so please forgive us for not being able to keep up with his every purchase. But there are a few staple properties that he's long-held — ones he likely won't part ways with them anytime soon.
The Beechwood Astor Mansion in Newport, RI
The Beechwood Mansion (which was once owned by the ultra-wealthy Astor family), is a Gilded Age mansion which dates back to the 1850s.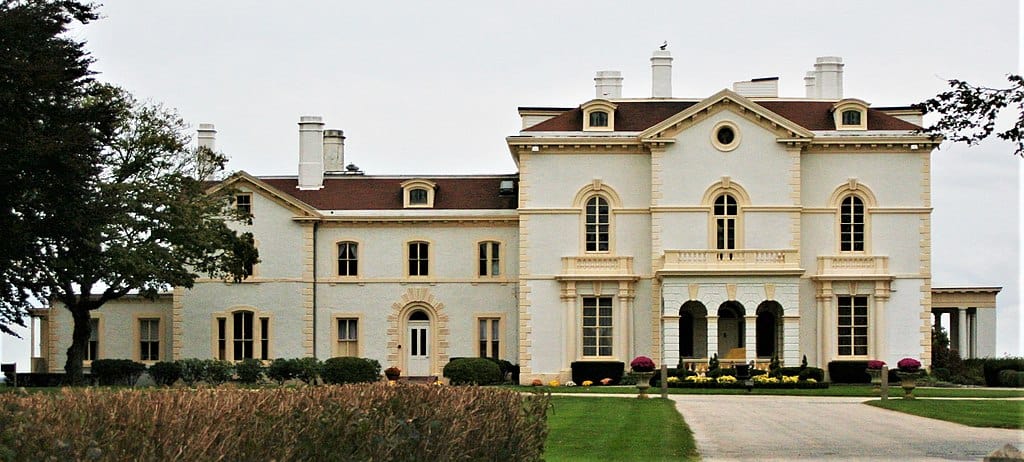 Back in 2009, Ellison spent the summer in Newport, Rhode Island, training with his BMW Oracle Racing team, when he fell in love with the property.
By January 2010, he had bought it for $10.5 million, and soon announced plans of converting the mansion's first floor into the "Beechwood Art Museum", where he would display his collection of 18th- and 19th-century art.
SEE ALSO: The Breakers mansion in Newport, Rhode Island, the Vanderbilt summer estate
Ever since, Ellison reportedly spent over $100 million restoring the mansion and the other buildings on the estate to their former glory.
Larry Ellison's mansion in North Palm Beach
Set in the exclusive gated community of Seminole Landing in North Palm Beach, the sprawling 6.5-acre estate is the largest oceanfront property currently on the market in South Florida.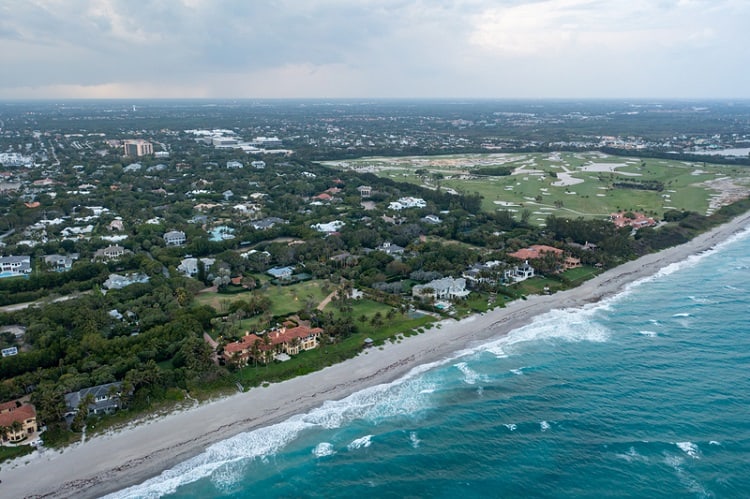 The billionaire paid $80 million for it in 2021, only to list it one year later for a whopping $145 million. If the property sells anywhere near its asking price, it too will become one of Florida's most expensive homes ever sold — though it can't compete for the top spot, a record set by Ellison himself with the purchase of Manalapan's Gemini mansion.
The property is anchored by a 15,000-square-foot Mediterranean-style mansion with six bedrooms and 11.5 bathrooms and also features a swimming pool, pond, pavilion and tennis court. Most importantly, it has an impressive 563 feet of water frontage.
The island of Lanai in Hawaii
Since 2012, Larry Ellison owns about 98% of the entire island of Lanai, the sixth-largest of the Hawaiian Islands.
He paid a mindboggling $300 million to purchase  98% of Lanai's 90,000 acres, plus the two Four Seasons resorts that provide most of its jobs, a significant chunk of its homes, and practically all its commercial properties, Bloomberg reports.
Ellison's ownership brought major changes to the island, and turned it from a quiet tropical oasis into a common destination for the world's elite, with the billionaire's friends often stopping by for visits by yacht or private jet.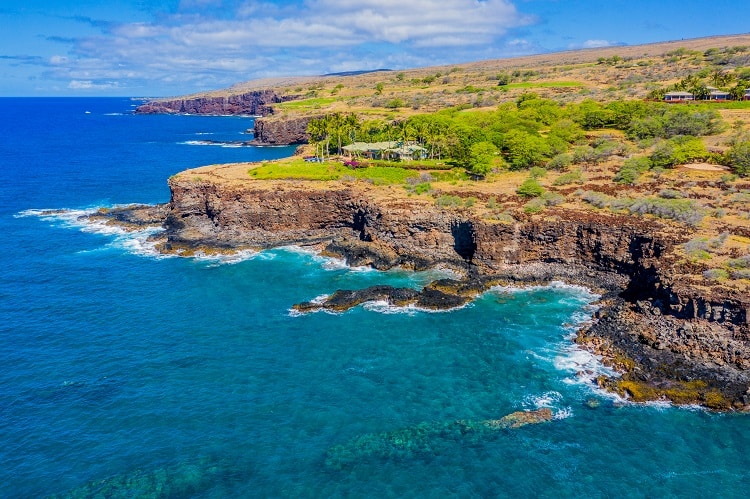 Where does Larry Ellison live?
With so many million-dollar homes to his name, you might wonder "where does Larry Ellison live?"
Well, we have the answer to that, thanks to an email he sent to his employees addressing Elon Musk's decision to move to Texas. In 2020, Musk was a part of the California exodus, which saw many software giants and Silicon Valley companies relocating to Texas or other tax-friendly destinations.
"I've received a number of inquiries about whether or not I will be moving to Texas," Ellison wrote in an email to employees, obtained by Recode.
"The answer is no. I've moved to the state of Hawaii and I'll be using the power of Zoom to work from the island of Lanai," he said, and signed off: "Mahalo."
Well, there you have it. Thought we're left wondering: who lives in Larry Ellison's mansions when he's off enjoying his private paradise in Lanai?
Please note that some of the above images date back to 2017 when the Manalapan mansion was listed for sale with the D'Angelo/Liguori team with Premier Estate Properties. This article was initially published in February 2017, covering news of the ultra-luxurious property being publicly listed for sale. It was recently updated to reflect the current state of the property and to identify Larry Ellison as the new owner of the Gemini mansion and to include information on the billionaire's other homes.
---
More beautiful mansions:
The Murdoch family's lavish homes and vast real estate empire
The Complete History of The Manor, Now Back on the Market Asking $165 Million
The Beverly House, where Jackie O & JFK Honeymooned and where Coppola Shot "The Godfather" Is No Easy Sell
'Full House' Creator Jeff Franklin Asking $85M for Former Cielo Drive Murder House in LA