Once the most expensive home listed for sale in the U.S., South Florida's sprawling Gemini mansion has a new owner — and a new claim to fame.
Billionaire Larry Ellison, who famously co-founded the Oracle Corporation, paid a record-breaking $173 million for the Manalapan estate, USA Today reports.
The price point makes the oceanfront property the priciest home to ever sell in the state of Florida. It also makes it the third most expensive home ever sold in the U.S.
The tech mogul bought the former Ziff family estate in an off-market deal from fellow billionaire Jim Clark, who paid a 'mere' $94.2 million for the ocean-to-lake mansion just last year.
Larry Ellison's new house comes with 16 acres of ocean-facing land, a park-like botanical oasis, a total of 33 bedrooms and 85,000 square feet of living space, PGA-standard golf practice area, a sports complex, and bird and butterfly gardens, among others.
Included in the sale was also a part of the nearby Bird Island, which brings the total up to more than 22 acres of land.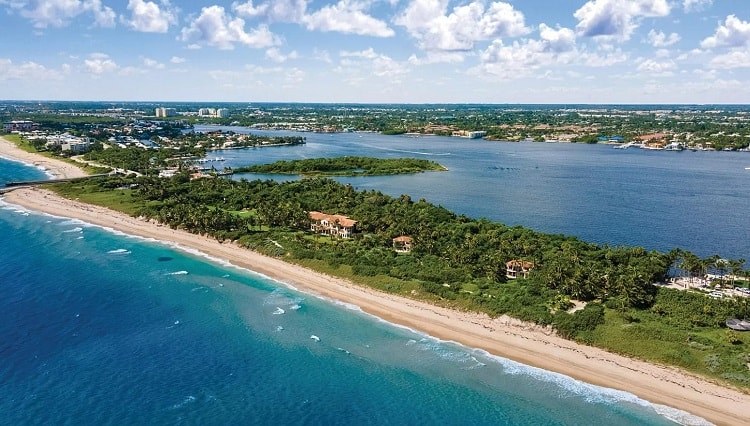 Larry Ellison is not the property's first famous owner
The Palm Beach estate's history dates back to the 1940s when it served as home to Gloria Guinness — a socialite and fashion icon known for her high-profile marriages.
It was later owned by the Ziff family, which ranks #19 on Forbes' list of wealthiest families in the U.S.
The publishing magnates held on to the property for decades, time in which the property came to be known as the Ziff family estate.
They then tried to sell it for $195 million, a price point that made it the most expensive listing in the U.S. at the time, but that failed to attract any interested buyers.
Then, in March 2021, software billionaire Jim Clark (who co-founded Netscape) paid just $94 million for the Manalapan property.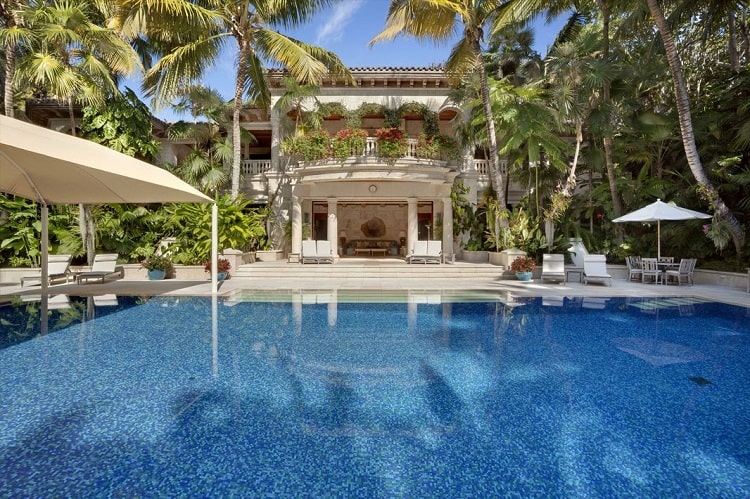 Mr. Clark told the Wall Street Journal that he and his wife, Kristy, bought the property as a "spur of the moment purchase" when they thought they were going to live in Florida most of the time.
But they decided to stay in New York, so it was time to find a new owner for the massive estate, passing it along to fellow billionaire Larry Ellison. Clark cashed in nearly $80 million in profit from the sale, after owning it for a little over a year.
And since Clark didn't make any significant changes to the Gemini mansion during his ownership, we can rely on past listing information to give you all the deets on this magnificent estate.
The property is set on a barrier island in Manalapan, just south of South Beach. The Ziff estate spans the width of the barrier island, with roughly 1,200 feet of frontage on the Atlantic ocean and about 1,300 feet on the Intracoastal Waterway.
With a 12-bedroom main residence, a 7-bedroom guest house, north and south ocean cottages, and dedicated spaces for the estate manager's home and office, the Gemini mansion is a true private oasis.
See for yourself in the video below, which was released back in 2017, when the property was listed with a whopping asking price of $195 million:
---
Manalapan's Gemini Mansion: What Larry Ellison Got for $173 Million
Let's break it down:
Location: 2000 S Ocean Boulevard, Manalapan, Florida — a 20-minute drive to Palm Beach
Structures: the mansion, a guest house, two "ocean cottages", a manager's house and office, and a tree house
Bedrooms: 12 bedrooms (main house), 7 bedrooms (guest house)
Bathrooms: 34 full / 13 half bathrooms
Square footage: 84,988 square feet of interior space
Sports amenities: a PGA-standard golf practice area, a "sports complex" with tennis, basketball, mini-golf, and playgrounds
Tech setup: a "museum-quality" climate-control system, advanced security system, cell phone signal booster, two elevators, backup generators, and propane supplies
Quirks: a freshwater pond, bird sanctuary, a butterfly garden complete with a model train, and a fully-furnished underground tunnel connecting different parts of the compound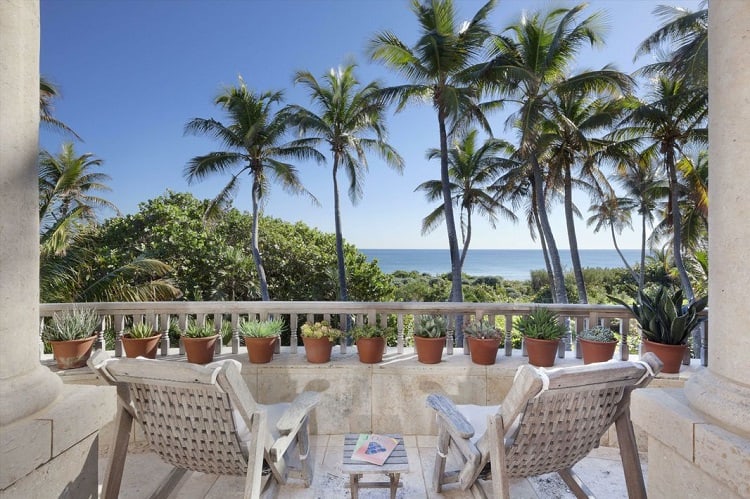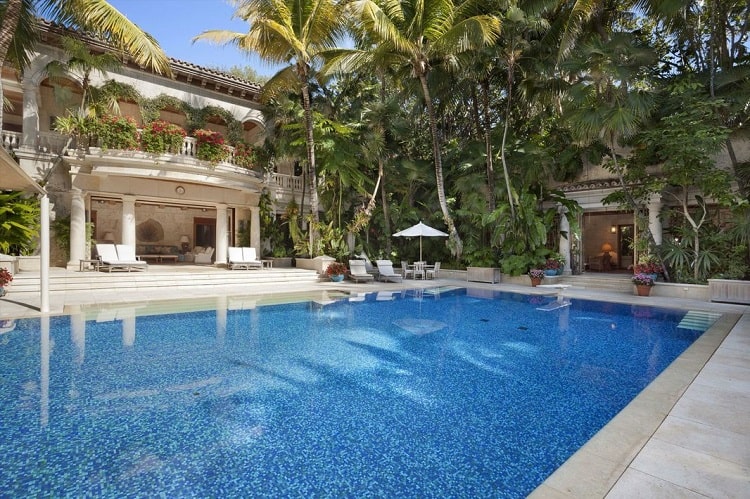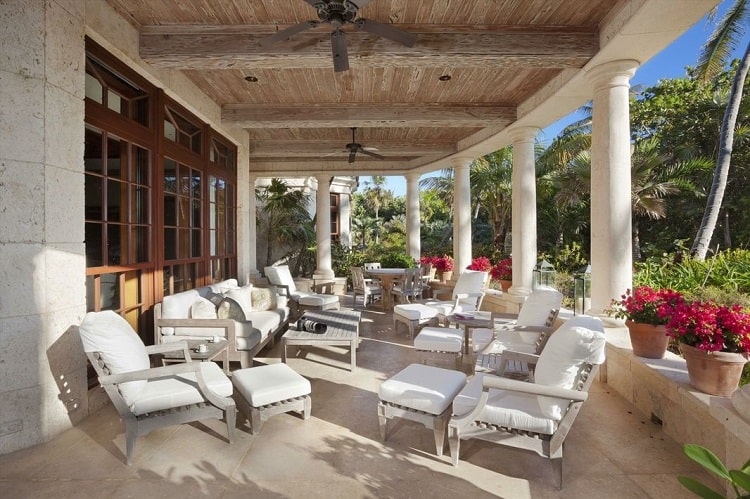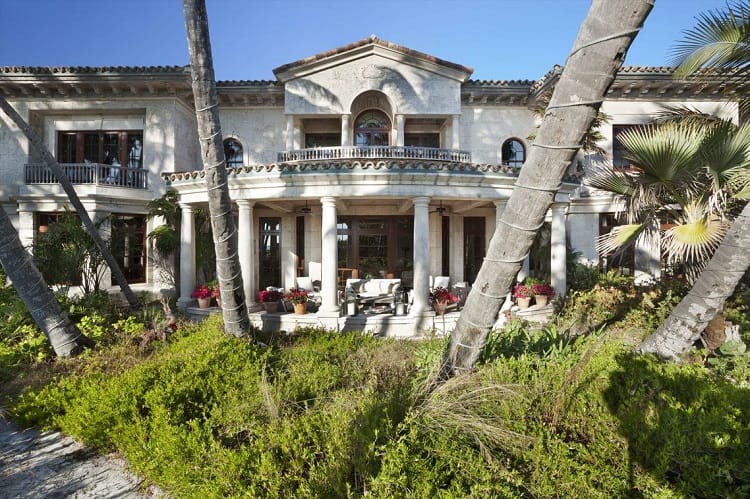 Please note that the above images date back to 2017, when the property was listed for sale with the D'Angelo/Liguori team with Premier Estate Properties. This article was initially published in February, 2017, covering news of the ultra-luxurious property being publicly listed for sale. It was recently updated to reflect the current state of the property and to identify Larry Ellison as the new owner of the Gemini mansion.
---
More beautiful mansions:
The Complete History of The Manor, Now Back on the Market Asking $165 Million
The Beverly House, where Jackie O & JFK Honeymooned and where Coppola Shot "The Godfather" Is No Easy Sell
'Full House' Creator Jeff Franklin Asking $85M for Former Cielo Drive Murder House in LA
Frank Lloyd Wright's Ennis House is So Much More Than Just 'the Blade Runner House'