TV producer Jeff Franklin

is selling his Los Angeles home for a whopping $85 million

The Beverly Hills mansion

sits on the grounds of the ill-fated Polanski/Tate estate, where the gruesome Manson murders took place in 1969

Sharon Tate's house

was completely razed in the '90s to make way for the swanky mansion

Now called Villa Bella

, the opulent estate was re-imagined by Richard Laundry, The King of the Megamansion

It features nine bedrooms

, 18 bathrooms, and 21,000 sq ft of living space, and amenities galore
---
Los Angeles – It seems silly to be spooked by a house, doesn't it?
But certain addresses can conjure spine-tingling fear and bone-chilling anxiety at a simple mention. Think of the Amityville house, the Conjuring house, the Stanley Hotel, the Exorcist house – the list could go on and on. 
If you were around during the 1960s, or if you've watched Quentin Tarantino's 'Once Upon a Time in Hollywood,' then you might also be familiar with this infamous address: 10050 Cielo Drive.
The property's grim history before Jeff Franklin's house was built
Long story short, the luxury home carefully nestled in a Beverly Hills cul-de-sac was the backdrop for one of the worst crime scenes in history.
The now-notorious, luckily disbanded Manson Family broke into the Cielo Drive property and went on a killing spree that would effectively put a stop to the carefree hippie vibes of 1960s California.
Needless to say, nobody really wanted to spend the night at 10050 Cielo Drive after the unfortunate events of August 8, 1969, let alone live there.
Trent Reznor gave it a try in the 1990s, during the recording of The Downward Spiral, but even he couldn't handle it, moving out just a year later.
The 'Full House' creator is ready to move on after two decades on Cielo Drive
Eventually (and thankfully), Sharon Tate and Roman Polanski's former love nest was completely razed and replaced with a much bigger, much fancier estate that erased any trace of creepiness and murder.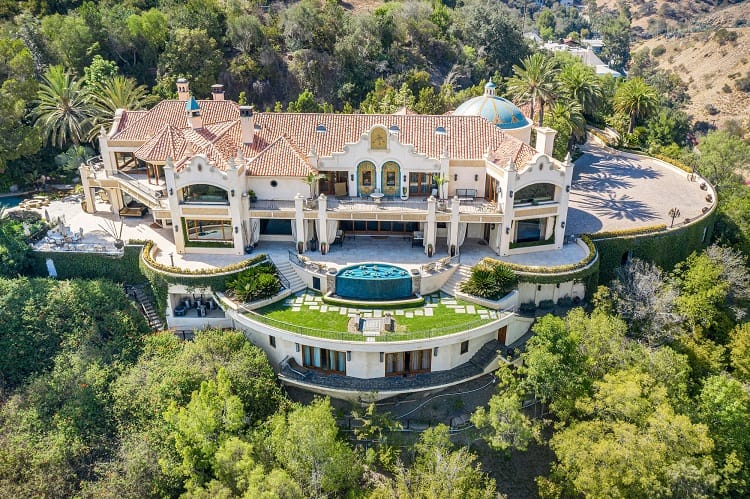 To divert from its sordid past, the new and improved home got a new address, 10066 Cielo Drive, and a new name – Villa Bella.
Then, in 2000, the 21,000-square-foot, nine-bedroom, 18-bathroom mansion finally landed its dream owner, 'Full House' creator Jeff Franklin.
The acclaimed Hollywood producer paid $6.375 million for Villa Bella at the time and moved in a few years later in 2007. Seemed like a match made in heaven.
Fast forward to 2022, and Franklin is parting ways with the Beverly Hills megamansion — not long after he sold another famous property in his portfolio, the actual Full House house in San Francisco.
And the price he's asking for it is 13 times higher than what he paid for it back in 2000.
That's right, the 'Sharon Tate murder house,' as some still call it to this day, is on the market for $85 million.
If Franklin gets his way, the sale will go down in history as one of the priciest home sales ever to close in Beverly Hills. For now, another Jeff holds that record, namely Bezos, who shelled out $165 million for David Geffen's house in 2020.
An endless list of amenities worth $85 million
So, you might be wondering, who in their right mind would pay $85 million to live on the site of a former murder mansion?
*Inhales* Where should we even start?
Jeff Franklin really went out of his way to make the Cielo Drive property as luxurious as it could be, working with none other than Richard Landry on the project.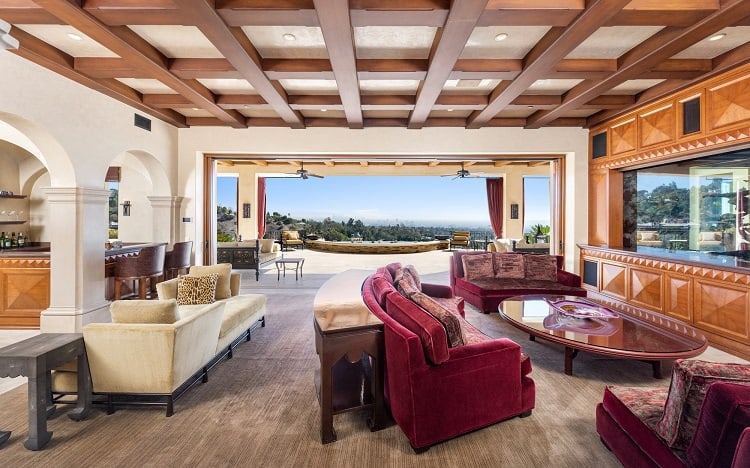 The only things you need to know about Landry is that he's a renowned architect who designed the homes of the biggest celebrities in Hollywood, and that his nickname is 'the King of the Megamansion.'
That should tell you all you need to know about his work on Jeff Franklin's house.
Richard Landry and Jeff Franklin went all out to transform Villa Bella into an ultra-private, ultra-exclusive, ultra-luxurious estate worthy of a Hollywood A-lister.
The 21,000-square-foot Andalusian-style villa featured nine bedrooms, 18 bathrooms, and a fine collection of amenities.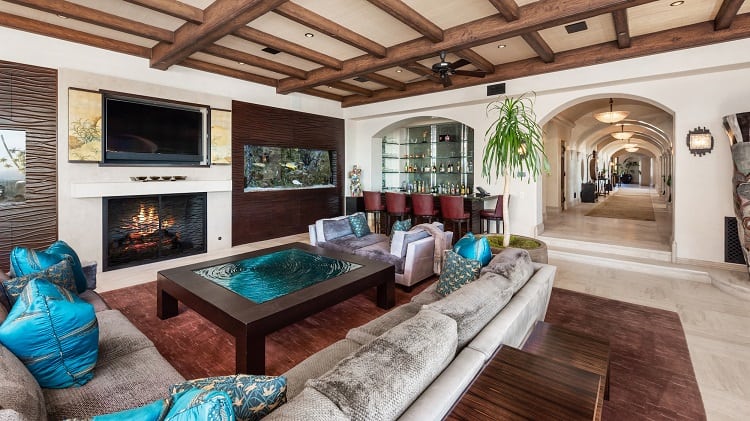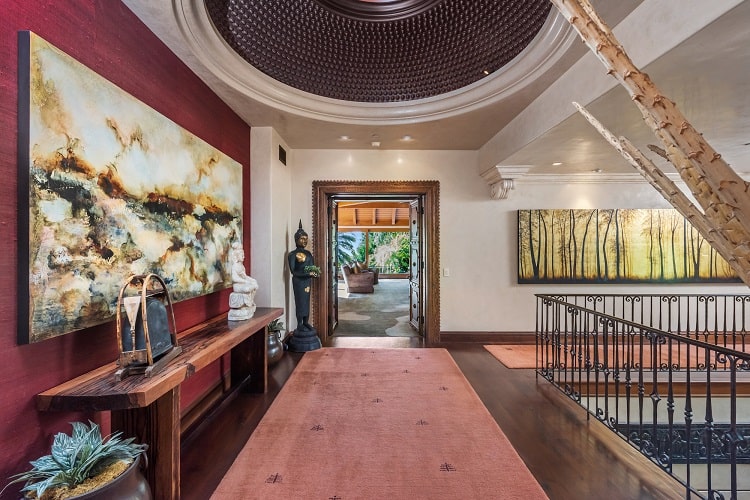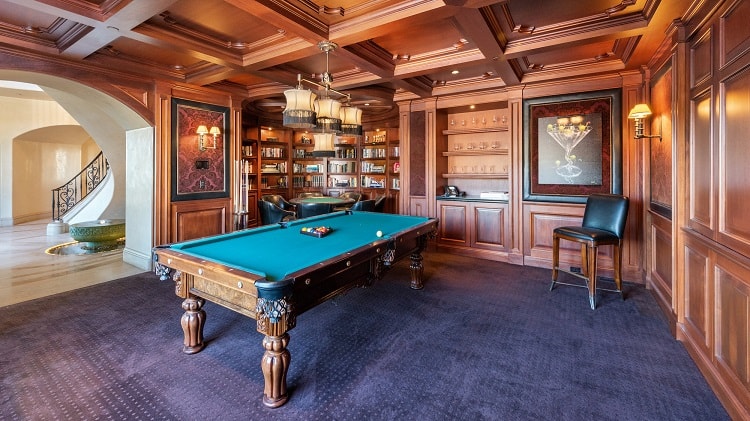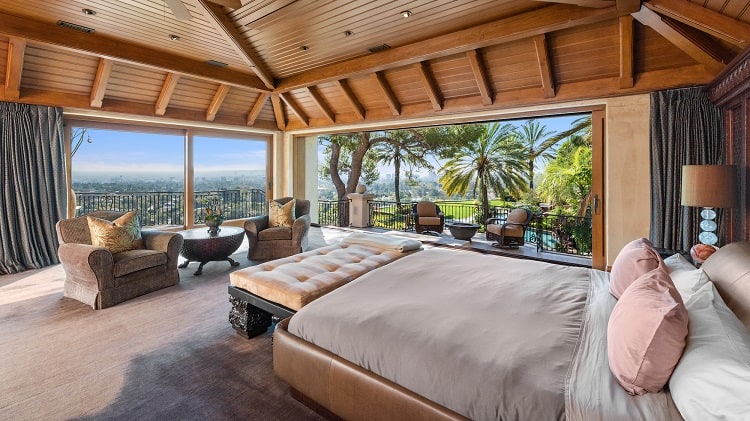 It also incorporates a 75-yard swimming pool, a 16-subterranean garage, a movie screening room, a wine cellar, six bars, five aquariums, and even a museum dedicated to Elvis Presley.
Indoor / outdoor living at its finest
Double gates welcome you to Villa Bella, followed by a winding driveway and a custom-painted dome atop the entry.
Inside, you'll find arched doorways, ultra-high ceilings, high-end finished throughout, and abundant natural light. Other amenities include a spa, a home gym, a hair salon, and a billiards room.
Exquisite city views can be enjoyed from the decks and balconies, as well as from a tower viewer if you want to zoom in on anything. Basically, everything you need to live, work and play from home in 2022.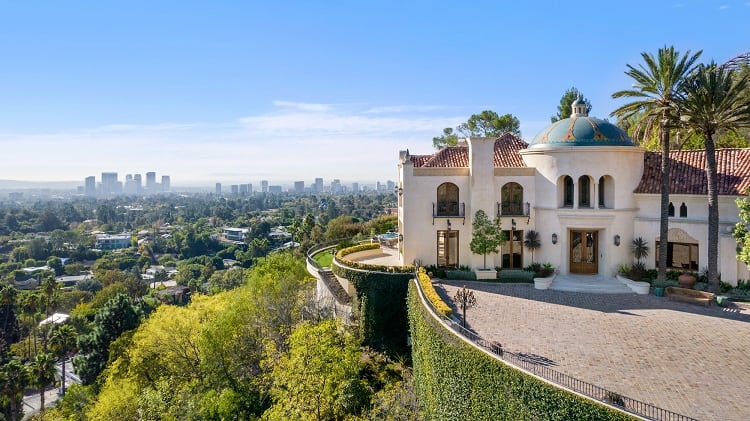 The luxury amenities continue as you step outside.
Besides the gigantic swimming pool, you'll find three waterfalls, a 35-foot water slide, a swim-up bar, a koi pond, and a private grotto that harks back to the Playboy mansion.
There are also cabanas, lounges, fire pits, and a guesthouse.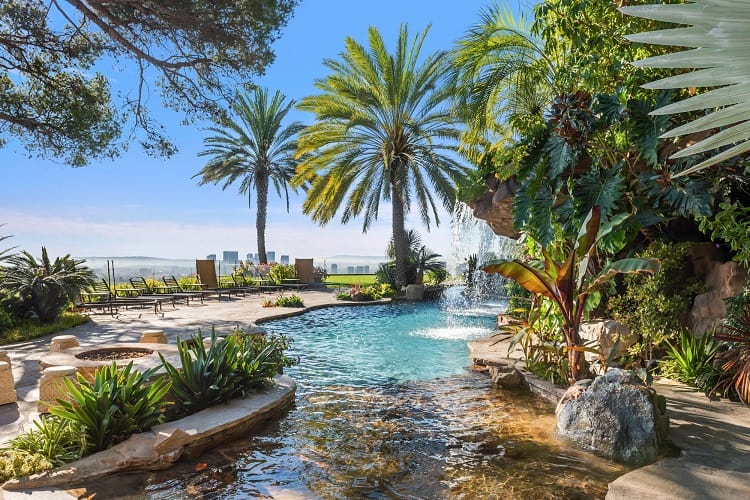 The makeover of the 'Sharon Tate murder house' was a huge undertaking, and was even covered by Architectural Digest in a feature titled 'A Dream Reimagined.'
As the listing for Villa Bella — held by Josh and Matt Altman of Douglas Elliman — states, the property offers 'unparalleled luxury in the most desirable zip code in the world': that would be 90210.
The 'ultra private palatial masterpiece' exudes opulence and was previously available for rent at a rate of $250,000 per month.
More stories you might like
What Happened to the Sharon Tate Murder House on Cielo Drive
Adele Buys Stallone's Mansion, One of the Most Expensive Celebrity Homes in Recent History
'Revisiting the Real 'Full House' in Honor of Bob Saget's Most Memorable Role
Rick Dalton's House in 'Once Upon a Time in… Hollywood'