As one of the richest people alive, one would expect Rupert Murdoch to have a lavish real estate empire.
And being the 31st richest person in the United States and the 71st richest in the world, he most certainly does.
With a net worth of $21.7 billion, the media tycoon — who owns cable channel Fox News, The Times of London, and The Wall Street Journal, among others — and his children are the proud owners of some seriously swanky pads.
And we couldn't help but do some digging on their digs.
Especially since a new CNN original series titled The Murdochs: Empire of Influence sheds light on Rupert Murdoch's massive media empire in a seven-part documentary/family drama that rivals HBO's Succession.
Continue reading about the Murdoch family's lavish homes and their impressive real estate empire.
Rupert Murdoch's homes
Sure he knows all about the media, but Rupert Murdoch also knows a thing or two about investments. Real estate investments, in particular.
For some serious real estate envy, let's take a look at the billionaire's posh properties across the globe.
Montana cattle ranch
Montana is for millionaires!
Just ask Rupert Murdoch and his newly divorced ex-wife Jerry Hall.
The News Corp Chairman and CEO, 91, and the former model, 66, purchased a sprawling Montana cattle ranch in 2021, Forbes reports.
The former couple paid a whopping $200 million for the massive compound.
The cattle ranch was originally purchased over 70 years ago by Fred C. Koch, the late founder of Koch Industries. Ranked as the second largest private company in the US, the conglomerate has been run for decades by one of his sons, Charles Koch, a well-known Republican donor.
Dubbed Beaverhead Ranch, the 340,000-acre working cattle farm is located in southwest Montana near Yellowstone National Park.
2021 RANCHLAND DEAL OF THE YEAR
Beaverhead Ranch is heralded as the largest ranch transaction in Montana history. https://t.co/6944irSZRr#land #landforsale #buyland #investinland #landreport #ranchland #DOTY #dealoftheyear #montana #cattleranch #rupertmurdoch #beaverheadranch pic.twitter.com/qMRU7oA1up

— The Land Report (@landreport) July 19, 2022
Spanning across two different counties, Beaverhead boasts an impressive 50 miles.
Some of the standout features include a 28-mile-long river for trout fishing and 25 homes, which are mostly used by employees.
Marking Montana's largest ranch transaction in history, ownership of Beaverhead comes with "a profound responsibility," Murdoch said.
He added: "We feel privileged to assume ownership of this beautiful land and look forward to continually enhancing both the commercial cattle business and the conservation assets across the ranch."
Bel-Air winery
In 2013, Murdoch purchased Moraga Vineyards and Estate, a 13-acre winery and mansion in Bel-Air, Calif.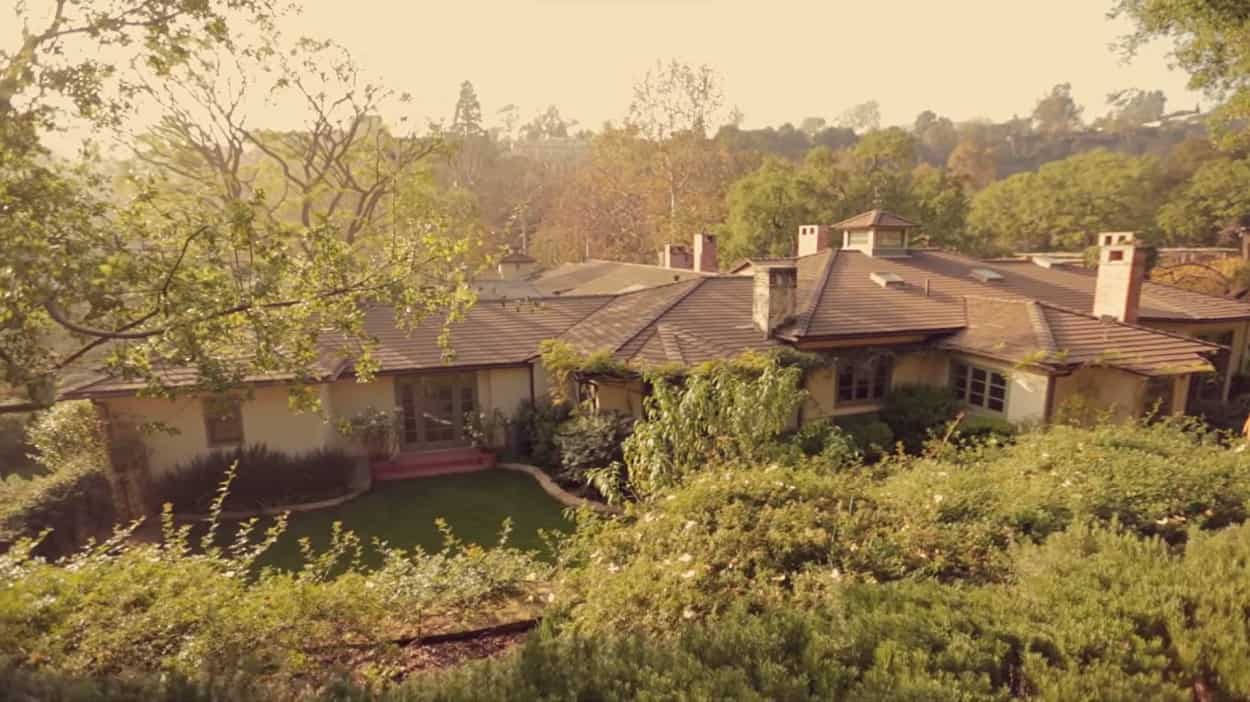 Shelling out $28.8 million for the California compound, Murdoch is the proud owner of the winery, which sells a Bordeaux-style red for $175 and a sauvignon blanc for $115.
The main residence is a 7,500-square-foot Mediterranean-style mansion built by the estate's original owner, Academy Award-winning film director Victor Fleming.
Flemming erected the home back in the 1930s and conceived his masterpieces Gone with the Wind and The Wizard of Oz in the vineyard's inspiring setting.
New York City penthouse
It goes without saying, every billionaire needs a penthouse in NYC.
Located at the foot of Madison Square Park, Murdoch coughed up $57 million in 2014 for the top three floors of the glassy One Madison condominium tower. The media mogul also bought another full-floor apartment beneath it.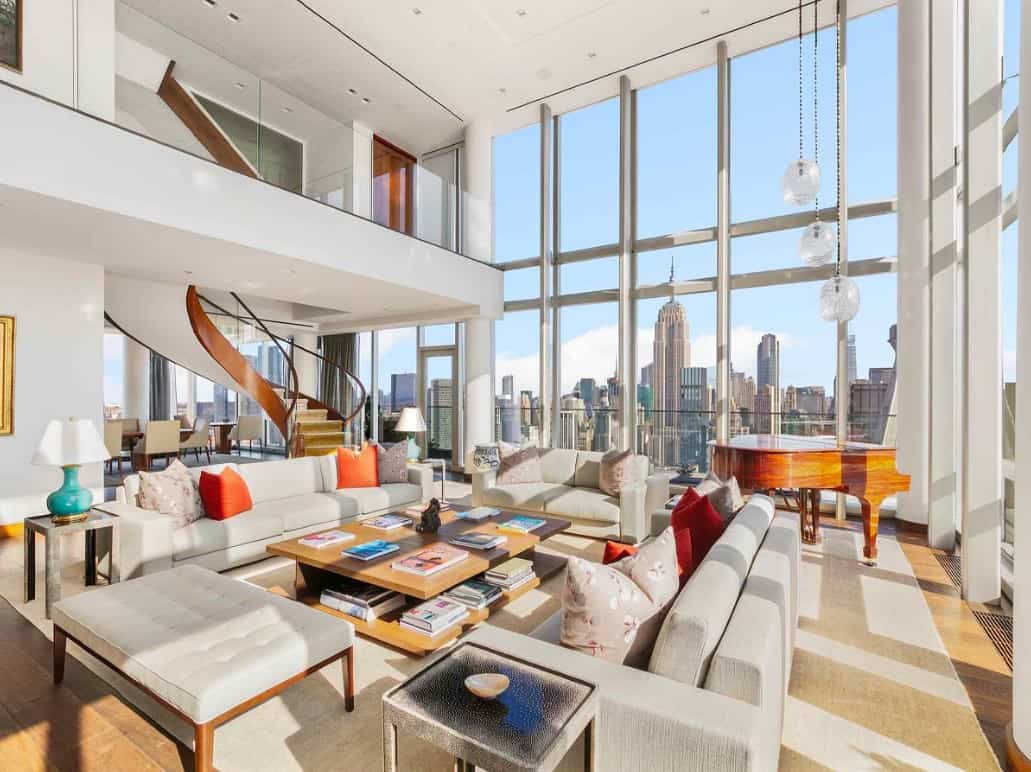 Boasting 360-degree views of the Big Apple, the penthouse portion alone spans nearly 7,600 square feet.
But the patriarch of the Murdoch family may not get to enjoy his NYC pad for much longer.
Early in 2022, Rupert Murdoch decided to part ways with his swanky Manhattan condos, listing the 3-level penthouse at One Madison and another full-floor apartment he owns on the 57th floor for sale, asking $78 million for the two condos.
English estate
Just a few years into their marriage (his fourth and her second), Murdoch and Hall purchased an English estate in 2019.
The 18th-century house and estate is located in the English village of Binfield Heath, which is just northeast of Reading.
And it sounds like a piece of Oxfordshire countryside heaven.
The $12 million English estate is known as Holmwood House, a Grade II listed Georgian property near Henley-on-Thames.
According to Daily Mail, the house was once a haven for 19th Century poets Algernon Charles Swinburne and Lord Tennyson.
Built in the 1700s, the property boasts 26 acres and offers a list of luxurious features, including a library, ballet studio, infinity pool and 11 bedrooms each with a bathroom.
Not to mention the three guest houses.
Australia ranch
Before he was a billionaire media mogul, Murdoch purchased a ranch located in his native Australia.
Known as Cavan Station, Murdoch purchased the ranch in the mid-1960s.
The property played a significant role in Australia's production of fine wool and today operates as a roughly 25,000-acre sheep and cattle ranch in New South Wales.
The Murdoch family real estate portfolio
What about the rest of those wealthy Murdochs?
Papa Rupert isn't the only one with posh pads. A few of his children (he has fathered six) are also savvy when it comes to real estate investments.
Here's a look at some of the other Murdoch family luxurious estates.
Lachlan Murdoch's house
Lachlan Murdoch, the 51-year-old son of Rupert Murdoch is also living in the lap of luxury.
The businessman and mass media heir paid a whopping $150 million for an already-famous estate in Los Angeles' Bel-Air neighborhood. If that sounds like a lot, it is.
In fact, it's a local record.
As it turns out, Lachlan is the proud owner of the most expensive home ever sold in the city.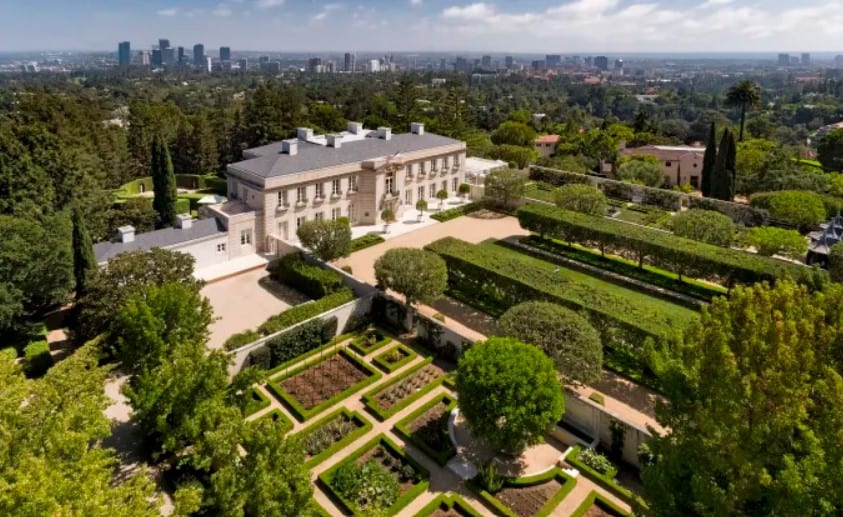 According to CNBC, the well-to-do heir purchased the California compound in 2019.
Prior to the eldest son of Murdoch, the property was owned by billionaire media mogul Jerry Perenchio, one-time Univision chairman and CEO, who died in 2017.
Spanning 25,000-square-foot, the mega-mansion boasts 11 bedrooms and 18 bathrooms, a 12,000-bottle wine cellar, a 75-foot swimming pool, acres of private gardens, and secret underground tunnels.
The 10-acre property is known as Chartwell Estate, and its exterior was used in the credits of The Beverly Hillbillies TV series.
James Murdoch's homes
In 2014, patriarch Rupert Murdoch sold his Beverly Hills manse for $30 million.
And he kept it in the family.
The multi-million dollar paycheck came from none other than his younger son James.
According to Dirt, the plush property sits on 6.4 acres in the 90210. Since it was never publicly offered for sale, there are no pictures available, so we'll have to settle for a Google Earth view of the property.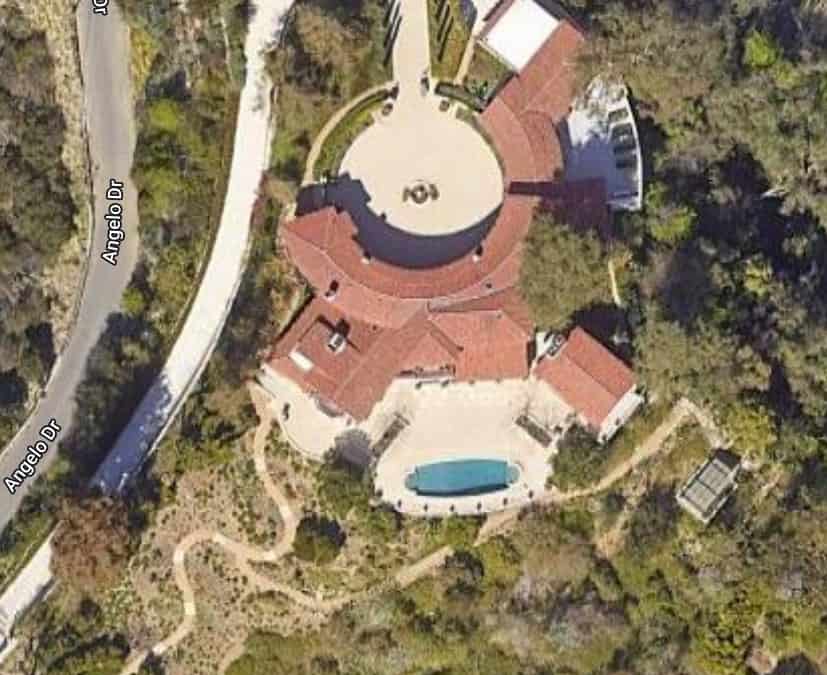 Designed by vaunted architect Wallace Neff and built in the mid 1920s for film pioneer Fred Niblo and Australia-born actress Enid Bennett, the mansion offers 8,651 square feet of luxurious living space.
Featuring 11 bedrooms and 9 bathrooms, the stunning estate is crab-shaped with a circular forecourt on the main house, as pictured above.
In case the 'big one' hits Los Angeles, James is building an 'end of times' home up north.
Located in a remote part of Canada, the home is designed to be self-sufficient, Daily Mail reports.
The custom home will have the capacity to provide its own water as well as solar-powered energy.
In 2013, James paid $1.3 million for the property in beautiful British Columbia. The 445-acre property in western Canada is located in Nascall Bay in the Dean Channel — about an hour from Bella Coola by boat.
According to Coast Mountain News, the custom home features an apocalyptic-style bunker.
The remote property boasts a cedar six-plex with 6 double rooms, bathrooms, and a common room, a two-room cabin overlooking the water, two cedar one-bedroom fully self-contained cabins, a 1300-foot gravel landing strip, three kilometers of road that leads to a boat launch at Nascall Lake, a floating restaurant that seats 25, and a 100-foot cedar dock for large boats and floatplanes.
Elisabeth Murdoch's home
Located in southern England, Murdoch's daughter Elisabeth is building a multi-million dollar mansion for her family of six.
According to Daily Mail, the massive compound located on the fringe of the Cotswolds will be one of the most expensive properties in the country, once construction is finished.
Elisabeth Murdoch's new build £100 million house in Westwell #Oxfordshire pic.twitter.com/WapG2K0WEL

— Stephen Medlock 🗽 Queen for all my life 🇬🇧🇫🇷 (@stephenmedlock) May 14, 2022
Estimated to be worth tens of millions, the manse will have an indoor, zinc-clad swimming pool, spa, tennis court, three terraces, two dining rooms, a double-height entrance hall, and nine bedrooms – each with its own bathroom.
The home will also feature a cinema, gallery, and plant room, parking for 15 cars, a wooded area and formal fruit, flower and vegetable gardens.
Needless to say, the Murdochs are living large.
More stories you might like
Where Does Warren Buffett Live? The Modest Home of the World's Tenth Wealthiest Person
Everything You Need to Know About Bill Gates' House, Nicknamed Xanadu 2.0
Where do the six sharks on 'Shark Tank' live?
Where Elon Musk Lives Since Declaring He "Will Own No House"